A.G. Newsletter #117: Krua Thai, Jeni's Bramblebery Crisp, Proof's Ham Sandwich & Isaan Station
A.G. Newsletter #117: Krua Thai, Jeni's Brambleberry Crisp, Proof's Ham Sandwich & Isaan Station

Hey there newsletter readers,

If you haven't been keeping up with all the blog craziness you've been missing good stuff. This week alone I wrote about dinner at Red Medicine, making my own corn tortillas from scratch, the mystery of Stendahl the food writer, and chocolate cranberry oat cookies that soothed a screaming child.

PLUS: lots of links to interesting stories, banana chocolate blondies, etc. It's been a busy week.

Now on to newsletter stuff!

Last week I drove on the highway to experience what's supposed to be some of the best Pad Thai in Los Angeles at a place called Krua Thai. I really liked the entrance: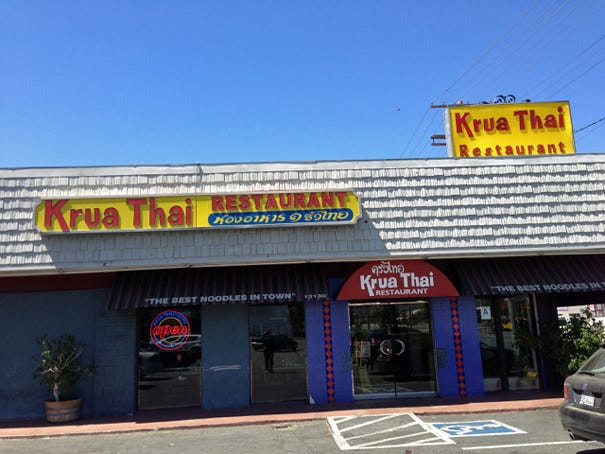 As for the Pad Thai, I've gotta say: it really wasn't worth the drive.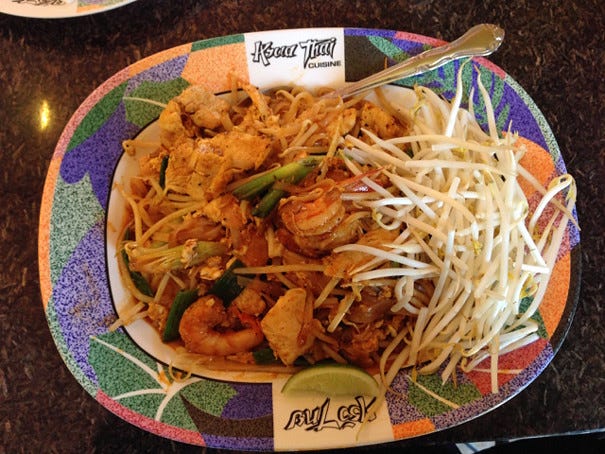 It was good--had good lime flavor, possibly from kaffir lime leaves--but I found it overly sweet. Plus, I'm kind of down on shrimp lately after reading a Buzzfeed piece that says they feed on human feces. BLECH.

A few nights later, I hung out with my friend John in Glendale and we ordered a pizza. I may blog about that later. Afterwards, I was craving dessert so I bought a pint of Jeni's Brambleberry Crisp: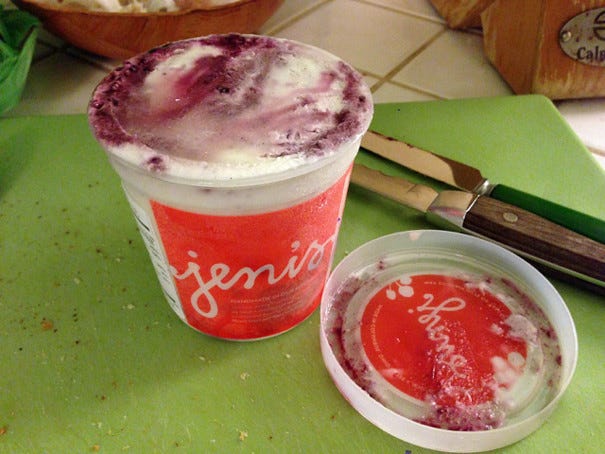 This ice cream is OH so expensive but OH so good. (And the OH stands for Ohio where the ice cream is from!) Let's look down from the top: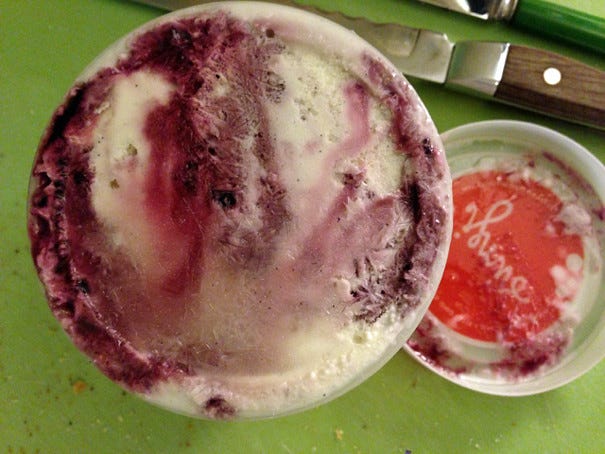 What's so great about it is the ingredients are all the best and the white vanilla part is super tangy from what I think is cream cheese. Then there's the texture of the crisp, the sweetness of the fruit, it's terrific. And if you eat a little at a time, it's not more expensive than buying the cheaper stuff... you just eat smaller portions.

Have I told you lately about how much I love Proof Bakery sandwiches? Their bread is out of this world and the fillings are always perfectly balanced. Last week I tried their Italian ham sandwich which came with herb butter and radishes: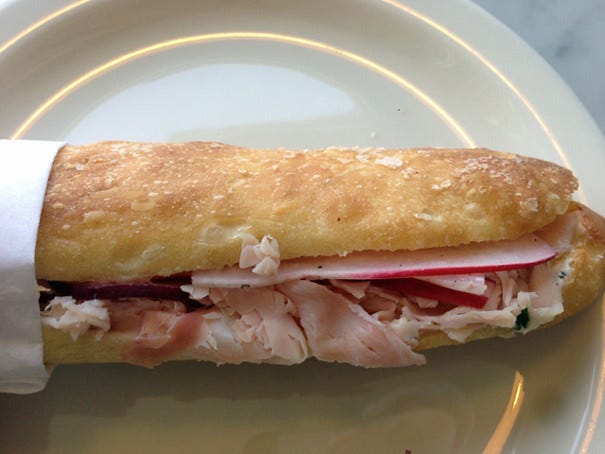 My my my my that was good. I'm basically a regular there. And I always wind up buying something sweet; this week it was a macaroon, the Jewish coconut kind.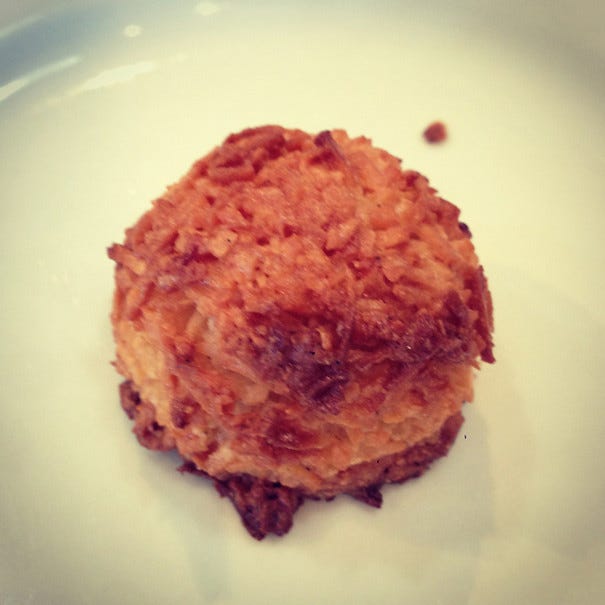 I made it last as many bites as I could which, sadly, wasn't very many.

Finally, I had a much better Thai experience at the end of the week when I joined my friends Doug, Brian and a new friend, Bart, for dinner at Isaan Station in Koreatown.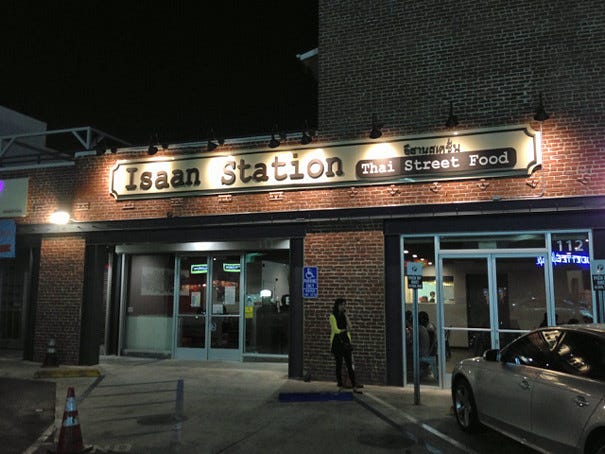 As the sign says, they serve Thai Street Food and it's among the best I've ever had (2nd only, really, to Night + Market).

The papaya salad was bright acidic and just spicy enough: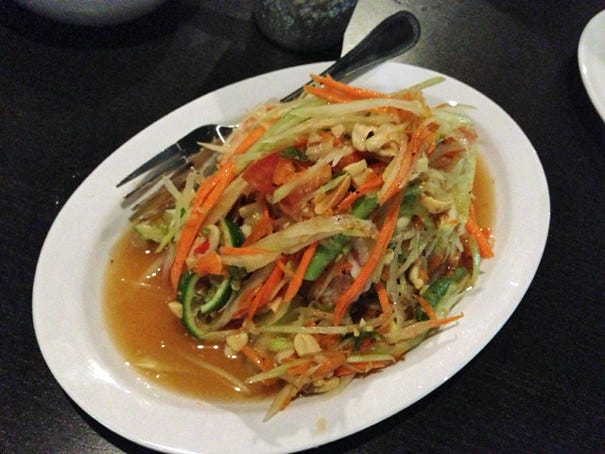 This dish scared me a little when Brian ordered it but I loved it when I had it: deep-fried dried beef.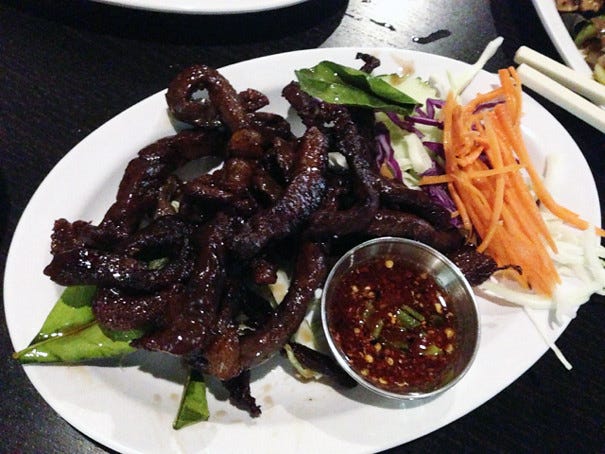 It was crispy, beefy and sweet...with a fiery dipping sauce.

These noodles were nice and filling: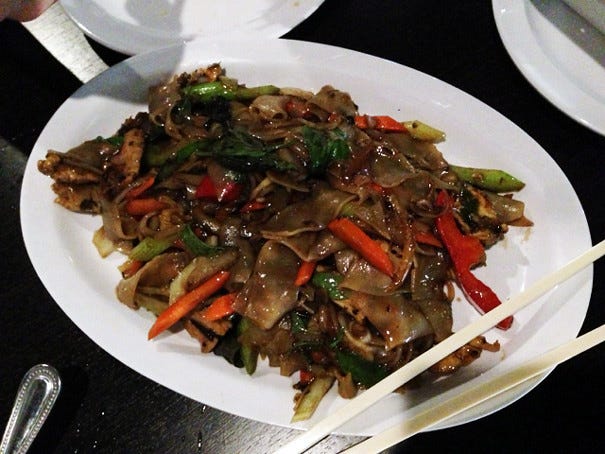 The green curry looks humdrum but it was explosively spicy: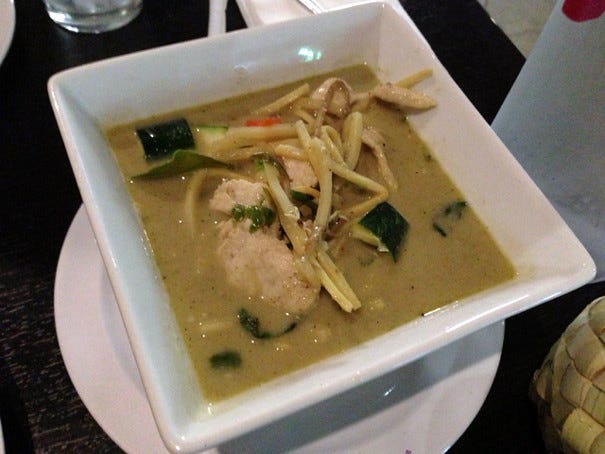 The best of all, though, was the pork neck: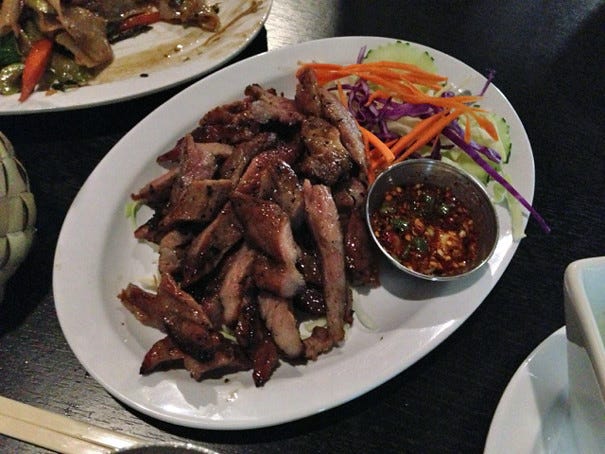 Tender meaty morsels packed with flavor. Don't skip it.

And that's all for this week folks! I've gotta go spatchcock a chicken.

Until next time....

Your friend,
Adam (The Amateur Gourmet)

Your friend


Reading this in a browser? Get next week's in your inbox by signing up here.

Follow Me!
On Twitter
On Facebook

Check Out My Cookbook!
Secrets of The Best Chefs

Recent Food Posts

Food Is Art At Red Medicine

Who Was Stendahl The Food Writer?

Chocolate Cranberry Oat Cookies So Good They'll Stop Your Kid From Crying

Tasting Notes: Flemish Sour Ale, Delirium Tremens, Centine Toscana

Why Small Things Still Matter

A Trip To L.A.'s Grand Central Market

The Ticket System

It's So Easy To Make Your Own Corn Tortillas

Breakfast For Company at a Moment's Notice

Happy Eggs?


*|LIST:DESCRIPTION|*

Unsubscribe *|EMAIL|* from this list.

Our mailing address is:
*|HTML:LIST_ADDRESS_HTML|*
Copyright (C) *|CURRENT_YEAR|* *|LIST:COMPANY|* All rights reserved.

Forward this email to a friend
Update your profile
*|IF:REWARDS|* *|HTML:REWARDS|* *|END:IF|*