A.G. Newsletter #118: Red Hill, Jinpachi, Sycamore Kitchen, Proof & Gjelina-To-Go


Hey there newsletter readers,

Whoah what's happening? A newsletter on Monday? How is this possible? Well I'm flying to New York tomorrow to keep Craig company while he edits his movie so I'll only have so much battery life on the plane and so I'm writing my newsletter right now. Aren't you lucky?

Before we get started, I really hope you saw some of the bright shiny posts I wrote last week. Most popular of all was:

10 Food Rules Worth Breaking

Click it and see all the food rules it's ok to break. You'll be shocked, I tell you, SHOCKED.

Here's what else you missed: a healthy dinner I invented with sweet potatoes and black chickpeas, a meditative post on What's Stopping Me From Becoming A Vegetarian, a rant about Craig leaving the pan to soak when he does the dishes, Make Your Own Taco Night, and, finally, the post I posted today about 4-Hour Lamb, White Beans and Olive Tapenade.

Now then, on to newsletter stuff....

Do you remember once I went to a place called Red Hill in Echo Park? I've tried to go back a few times but parking there is a nightmare. Then last week I got a spot so I went there and had a KALE SALAD.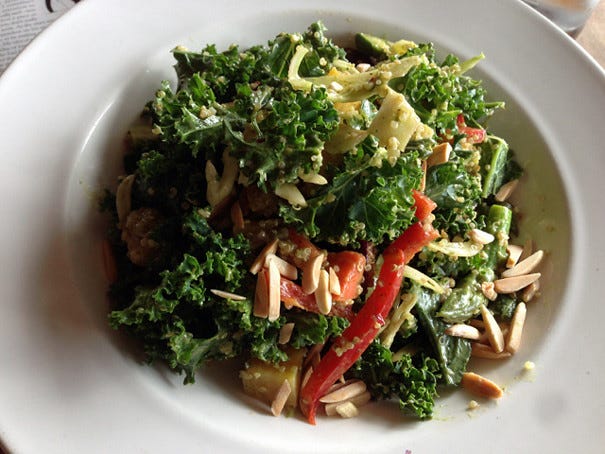 My least favorite part of this salad was the kale itself. The best part was all the stuff hidden in there: toasted almond slivers, red peppers, golden beets, etc. But the salad was well-dressed and very plentiful; despite it being a bunch of rabbit food, I didn't leave hungry which is saying a lot. Still: I had a cookie at a coffee shop afterwards just to round things out.

Another place I've written about before is Jinpachi. They have a great sushi lunch and I had it again last week and very much enjoyed it: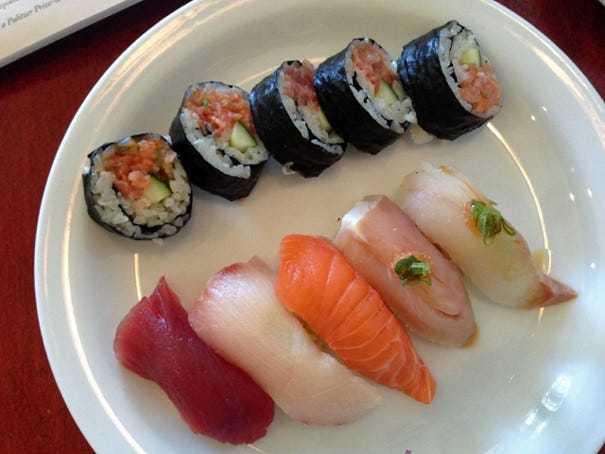 See: doesn't that look enjoyable? L.A. has great sushi (though my favorite lunch sushi spot remains Taro Sushi in Park Slope. In fact, I'll probably go there when I visit New York this week.)

Last year, I went to the newly-opened Sycamore Kitchen with my friend John for breakfast. I have to say: I was not crazy about my quinoa oatmeal with apple butter. In fact, I thought it was kind of gross.

But recently my friend Leila moved to L.A. so I joined her there to give it another chance and this time around it was a hit.

Well almost a hit. I had a chicken salad toast with grapes and tarragon that would've been great if the toast was hardier; as it was, it kind of crumbled apart when I lifted it: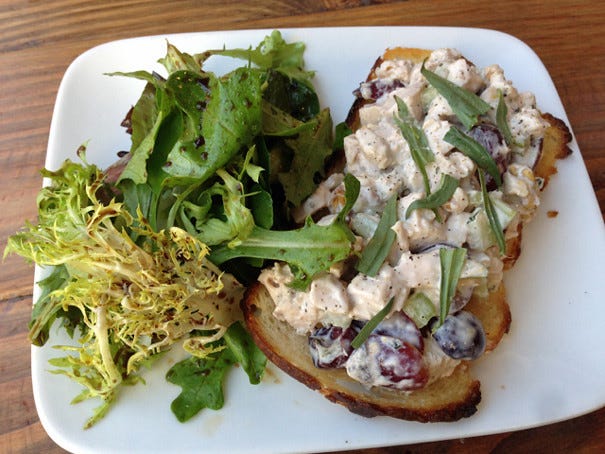 Leila had a beef salad that she very much enjoyed: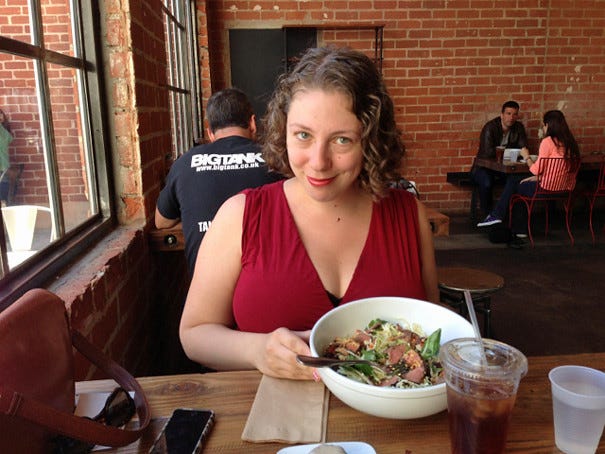 Then we shared this mini-bundt cake with dates that was very tasty indeed: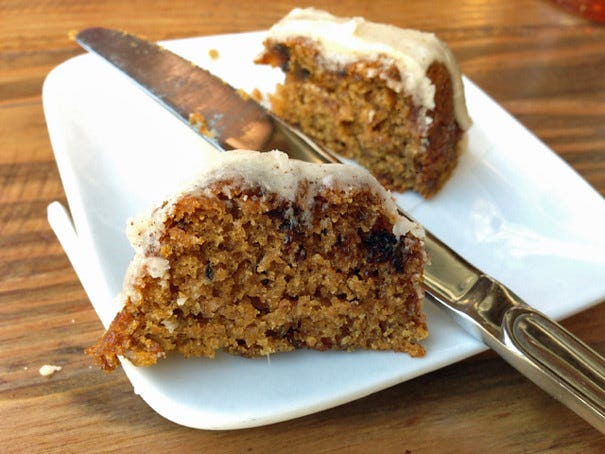 So good job, Sycamore Kitchen. I'll be back again soon.

You won't be shocked to know that I went back to Proof Bakery in Atwater Village for another delicious sandwich. I also had a black sesame financier and a cappuccino (while continuing to read John Lahr's biography of his father, Bert Lahr, which I've been reading for months and months):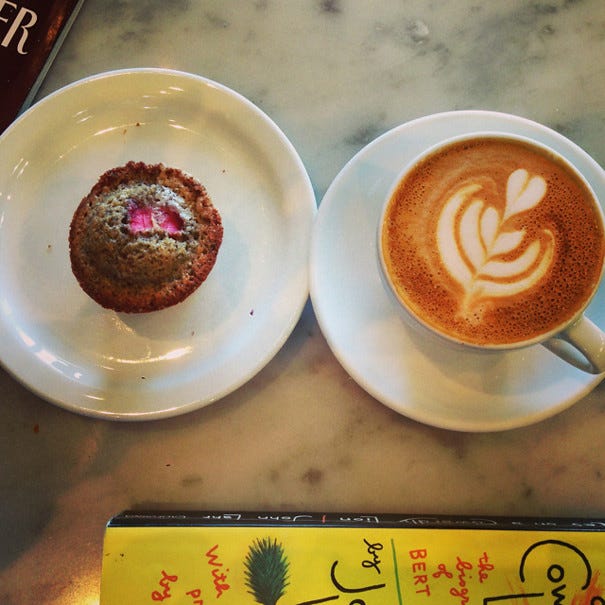 Finally, I dropped Craig at the airport on Saturday and treated myself to a trip to Venice Beach afterwards where I had this plate of salads at Gjelina-To-Go.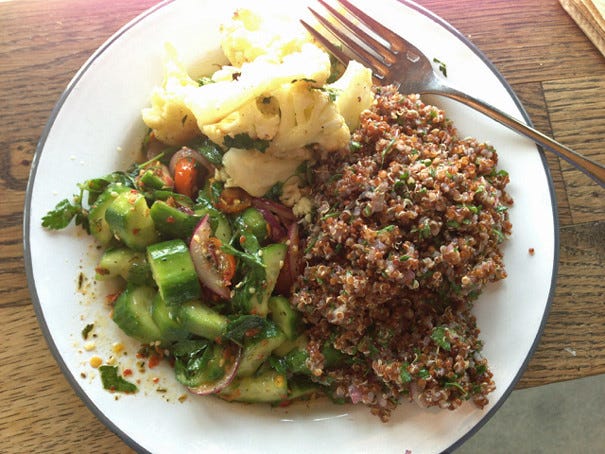 I have to say, I love Gjelina-To-Go (I go there all the time) and I love bright acidic salads for lunch but these salads--fattoush, quinoa and cauliflower--were SO acidic, I felt like I'd gargled down a whole bottle of red wine vinegar when I was done. It was a bit too much.

And that's all for this week folks!

Check the blog tomorrow. There may be a recipe involving Reese Witherspoon and Bourbon.

Until next time...

Your friend,
Adam (The Amateur Gourmet)





Reading this in a browser? Get next week's in your inbox by signing up here.

Follow Me!
On Twitter
On Facebook

Check Out My Cookbook!
Secrets of The Best Chefs

Recent Food Posts

Food Crimes: Soft on Soft Sandwiches

Four-Hour Lamb Shoulder with White Beans and Olive Tapenade

I Am Disappointed in This Parsley-Scented Hand Soap

A Cook's Nightmare and a Cook's Dream

10 Food Rules Worth Breaking

Make Your Own Taco Night (with Homemade Corn Tortillas)

Soaking The Pan

What's Stopping Me From Becoming A Vegetarian?

Black Chickpeas and Roasted Sweet Potatoes on Black Chickpea Hummus

Let's Order A Pizza

Food Is Art At Red Medicine

Who Was Stendahl The Food Writer?

Chocolate Cranberry Oat Cookies So Good They'll Stop Your Kid From Crying



*|LIST:DESCRIPTION|*

Unsubscribe *|EMAIL|* from this list.

Our mailing address is:
*|HTML:LIST_ADDRESS_HTML|*
Copyright (C) *|CURRENT_YEAR|* *|LIST:COMPANY|* All rights reserved.

Forward this email to a friend
Update your profile
*|IF:REWARDS|* *|HTML:REWARDS|* *|END:IF|*