A.G. Newsletter #119: Momofuku, Birder's, Porsena, Pies n' Thighs, Ernie, Big Gay Ice Cream, Pippin, Joe Allen & The New Franny's


Wow, people,

I go to New York and suddenly I have more to write about than humanly possible. Is it because there's more to eat in New York than in L.A.? Not at all. It's just that when I'm here for a concentrated period of time, I try to cover as much ground as I can. Hence all the meals.

Before we get to those meals, though, I really hit a nerve with readers yesterday when I asked: Do Any Young People Eat Cottage Cheese? There are over 100 comments already. Turns out many do.

I hit a similar nerve last week when I confessed My Paper Towel Problem. Turns out lots of readers have a paper towel problem too. DO YOU?

A few of you asked for the recipe for the cheesecake I posted from the Easter Brunch I attended a few weeks ago. Here it is: Double-The-Cream-Cheese Cheesecake with Strawberries and Raspberry Sauce. Thanks, Andrea, for sharing the recipe!

Ok, now on to newsletter stuff...

The second I got off the plane, on Tuesday last week, I hopped into a cab and met my friend Greg for dinner at Momofuku Noodle Bar. Momofuku is, for me, an only-in-New-York kind of place not because they serve ramen (there's plenty of that in L.A.) but because they do so in a style all their own. The pork buns are not to be missed so of course we ate those first: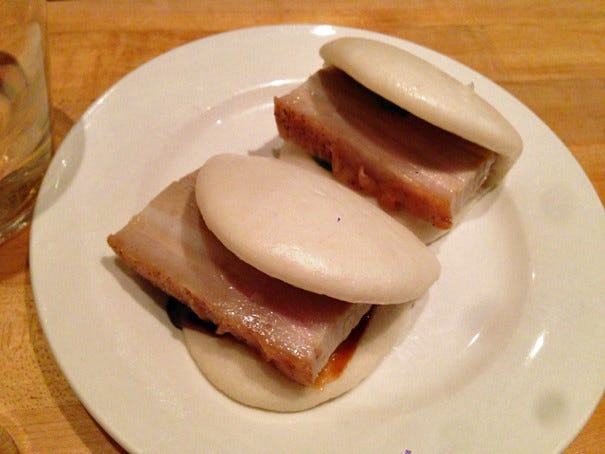 We also shared these incredible spicy rice cakes which were like a chewy, Asian riff on gnocchi.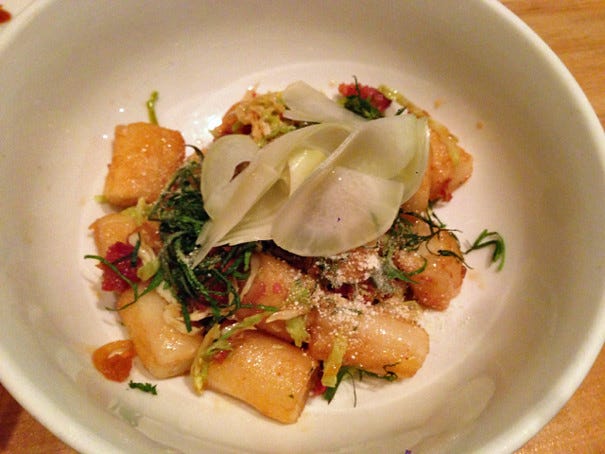 For my entree, I had the chilled fish ramen which I thought would be refreshing (it came with a sardine on top):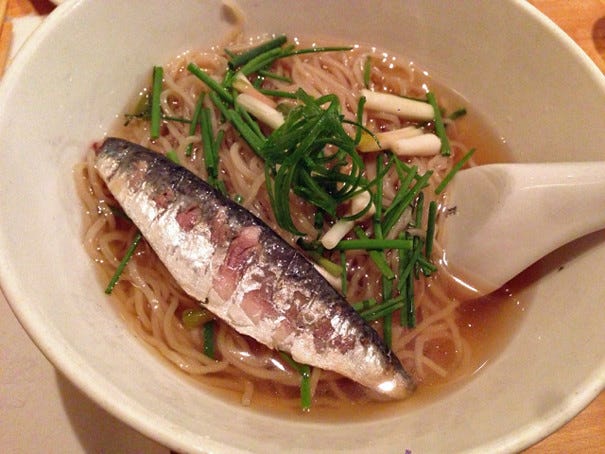 This was a little too subtle and fishy for me to love and also wrong for the weather that night (it was chilly outside) so I made a wrong choice. Greg enjoyed his steak and egg dish though: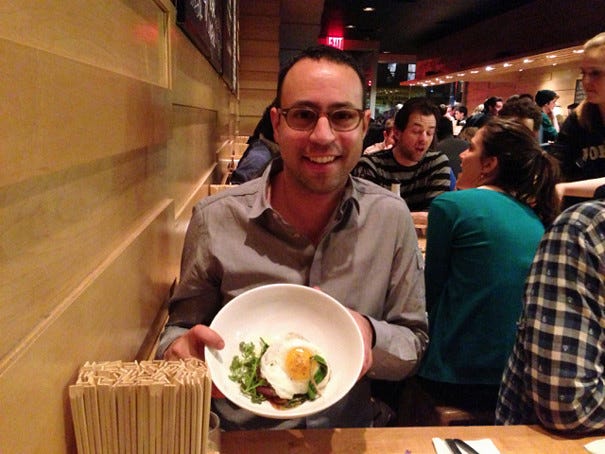 For dessert we shared a miso pudding that came topped with an apple gele and pistachios: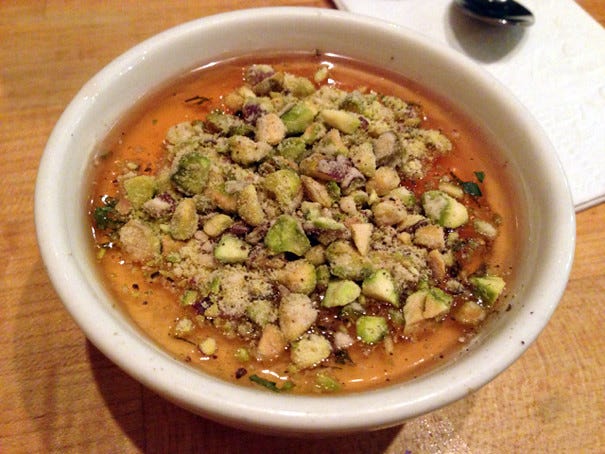 It was weird at first but it grew on me. LITERALLY. IT'S STILL GROWING...SOMEBODY HELP.

The next day, I was lucky enough to see a screening of my friend Rob's movie at the TriBeCa Film Festival, "A Birder's Guide To Everything." The movie's very sweet and lovable and afterwards Rob did a Q&A with his co-screenwriter, our friend Luke, and a few others who worked on the movie.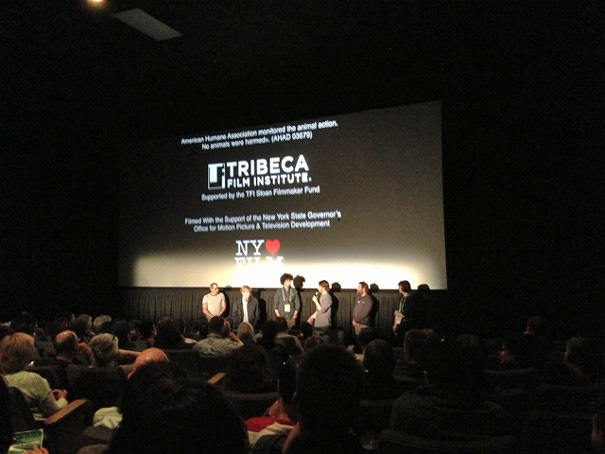 Funny: after the screening, Rob introduced me to one of the actors, James Le Gros, who you may know from "Girls" (he's the husband of the woman Jemima Kirke babysits for in Season 1). Rob told him I was a food blogger and he laughed and said, "I played a chef who kidnaps and tortures a food blogger in 'Bitter Feast.'" I almost ran away screaming.

That night, I met Craig for dinner at one of New York's hidden gem restaurants, Porsena in the East Village. I was lucky enough to do a video with Sara Jenkins, its owner, a few years ago and I found her utterly charming. So is her restaurant. (And so, come to think of it, is her iPad app.) Here's what it looked like inside on this night.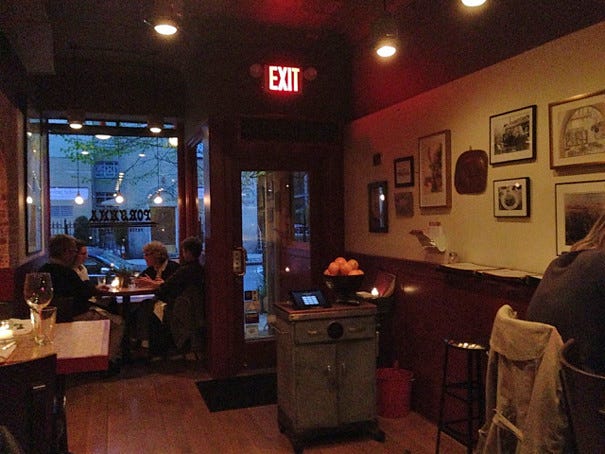 And here's a sign I fully agree with: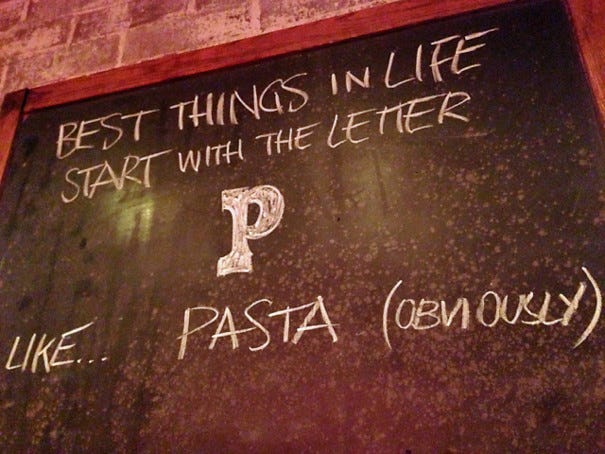 We loved our waitress who shared a big laugh with us when, after we ordered a bunch of food (including cheese), she suggested a wine that "would help cut the cheese." I said, "Did you just say the wine would cut the cheese?" She paused a moment and burst out laughing. I'm a very mature diner.

So there was this wonderfully fresh mozzarella with pickled eggplant.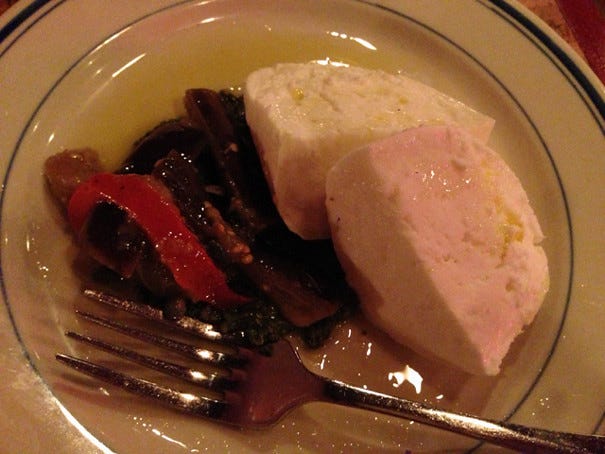 The kitchen sent over this incredible flatbread with three kinds of dipping sauce.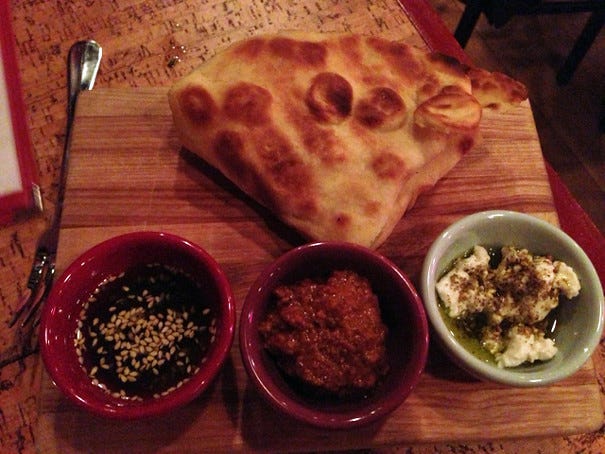 The pasta that I had was like spring on a plate: shells (I forget the official name) with peas and pea shoots and all kinds of spring pea-related stuff.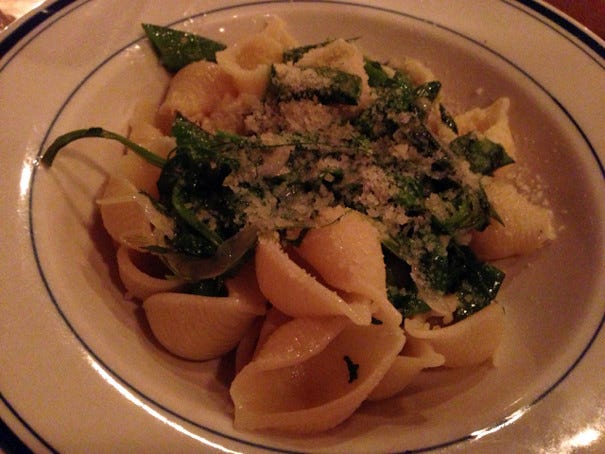 Craig had some kind of rigatoni with sausage and bread crumbs: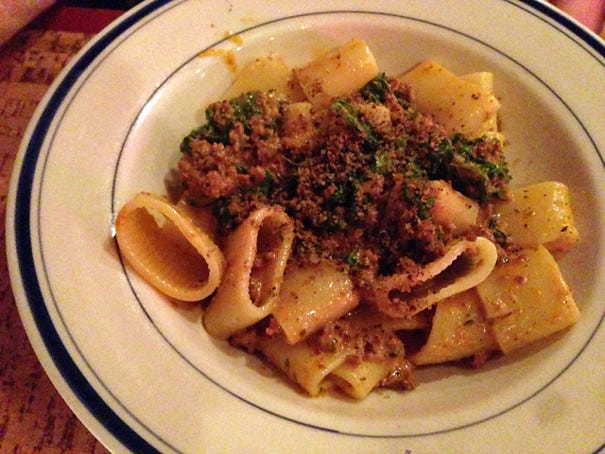 We both loved every bite.

For dessert we had panna cotta which came drizzled with olive oil and totally hit the spot.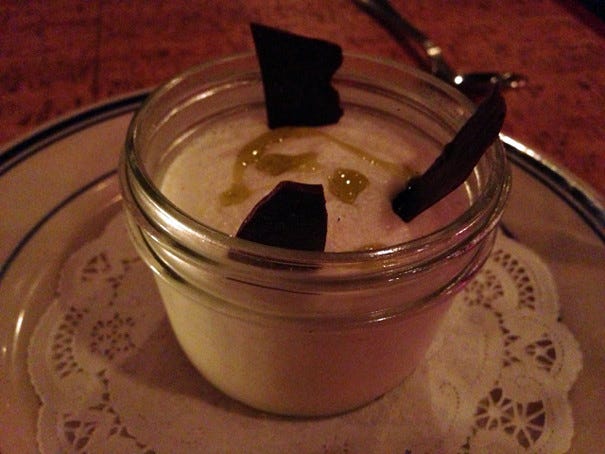 The next night, I met my friends Patty and Lauren and their adorable baby Audra for dinner at Pies n' Thighs in Williamsburg.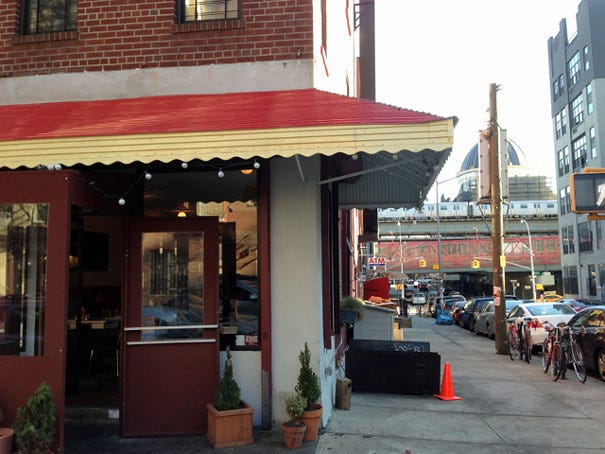 Here's little Audra, growing up so fast.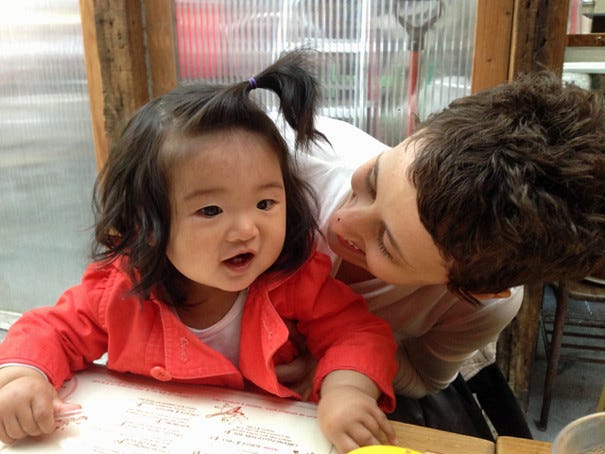 And here's my fried chicken plate with coleslaw and a biscuit.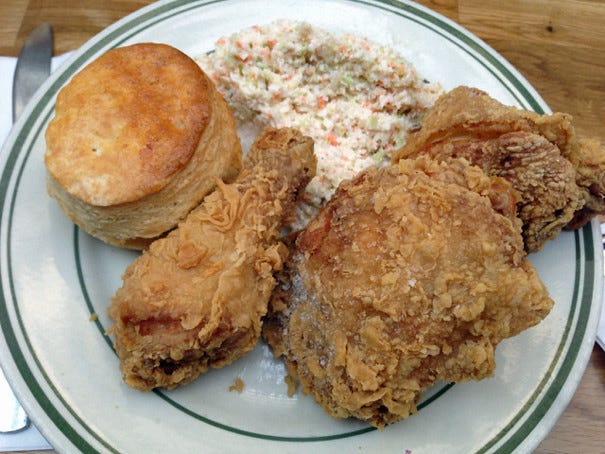 The chicken here isn't just good, it's DAMN GOOD. Seriously. The chicken is moist and tangy from buttermilk and the exterior is perfectly crispy and salty. It may be my favorite fried chicken I've had. You can quote me on that.

For dessert, we shared this very good key lime pie.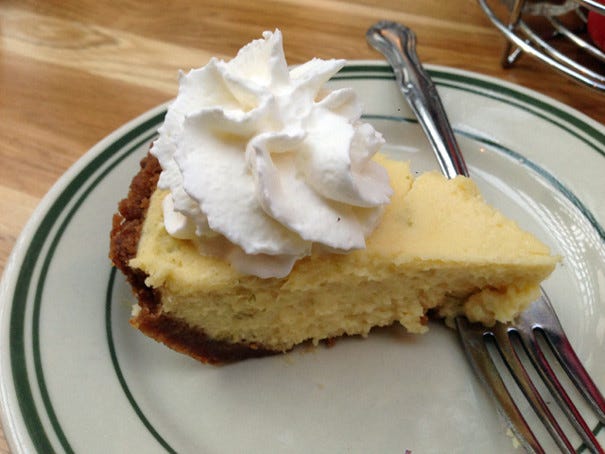 On Friday night, we hung out with our friends Jimmy and Raef and Chris. Jimmy and Raef got a new dog named Ernie and here he is on Jimmy's lap with Chris looking on.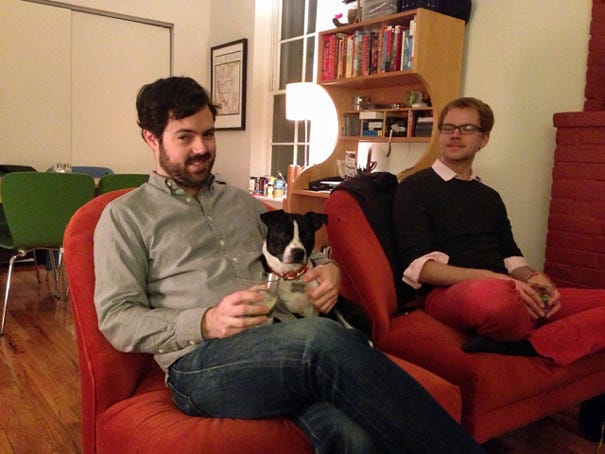 And here he is licking Chris's face: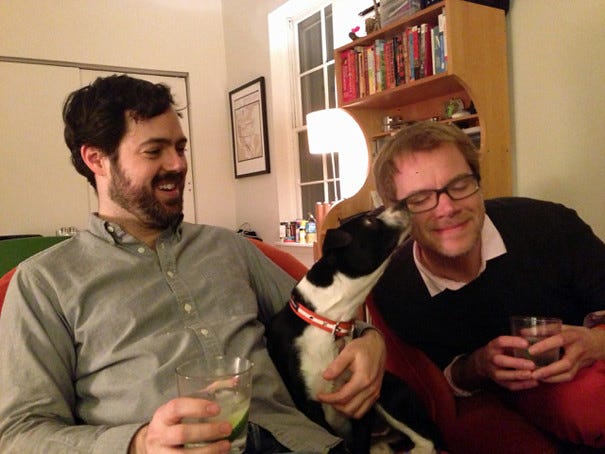 We all went to dinner (well, minus Ernie) at a restaurant called Exchange Alley that was very good but so dark none of my pictures came out. I loved my chicken dish, though.

For dessert, we wandered over to the Big Gay Ice Cream shop which was positively mobbed. I'm so happy for those guys. I did a video with them once too.

Here we are cueing up outside.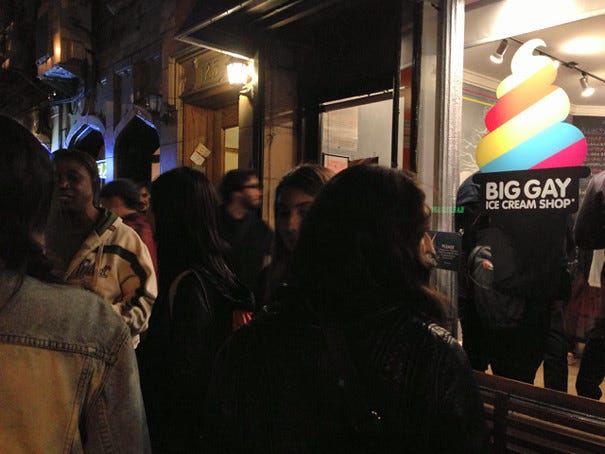 Here's Raef with his Salty Pimp.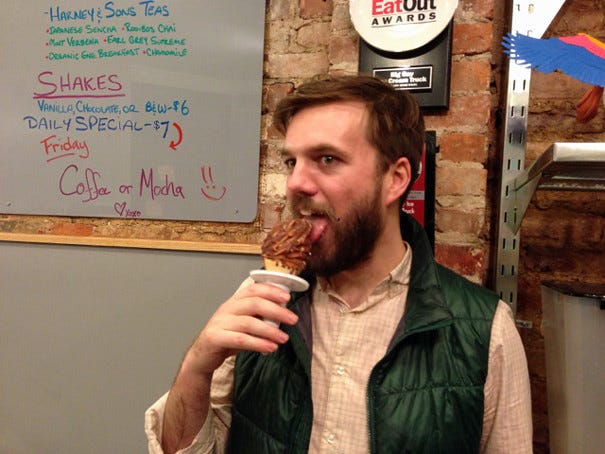 And here's my apple gobbler with apple butter, Bourbon and butterscotch.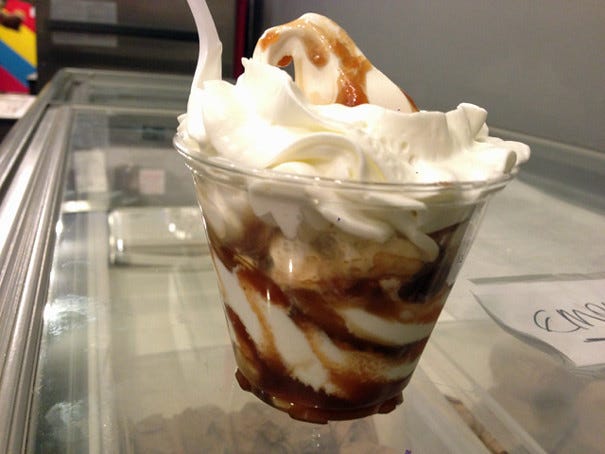 On Saturday, we had a beautiful day walking around the city. So beautiful, in fact, I posted a bunch of pictures from that day on the blog. Check them out here.

Saturday night, I was so excited because I got to see the revival of one my all time favorite musicals, Pippin. You can see how excited I am in this picture.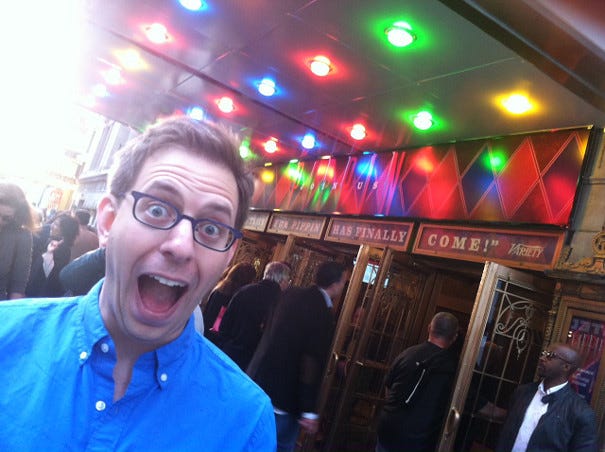 The show didn't disappoint. It was an absolute spectacle with great dancing and singing and even more impressive acrobatic feats. If you're a Pippin fan, you should go see it. And take me.

For dinner, we went to a famous New York theater institution, Joe Allen.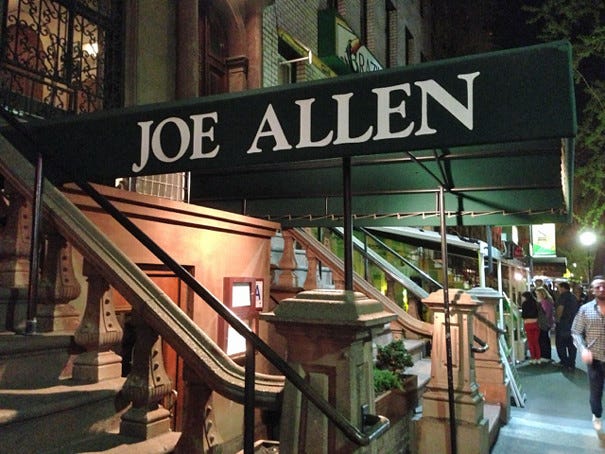 You don't go for the food, you go for the people watching. Once I saw William Finn there eating with Wendy Wasserstein. Another time I saw Chita Rivera.

On this night, we didn't see any famous people but we enjoyed the atmosphere (they have a wall of flops, covered with posters from famous flop Broadway shows, like "Lolita" by Edward Albee). I drank a Manhattan which felt appropriate.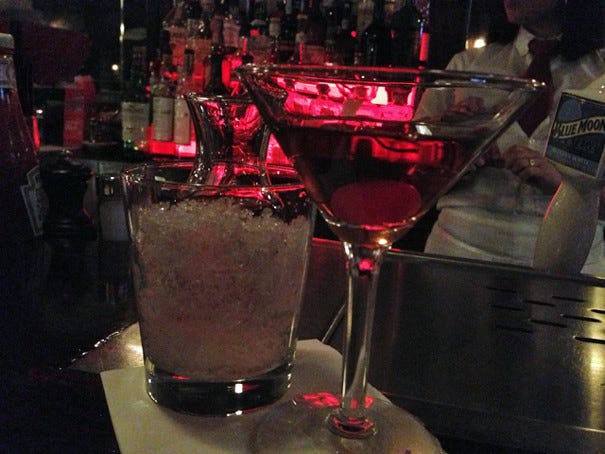 I ate a chicken sandwich that came with garlic potato chips. It was really good, as a matter of fact.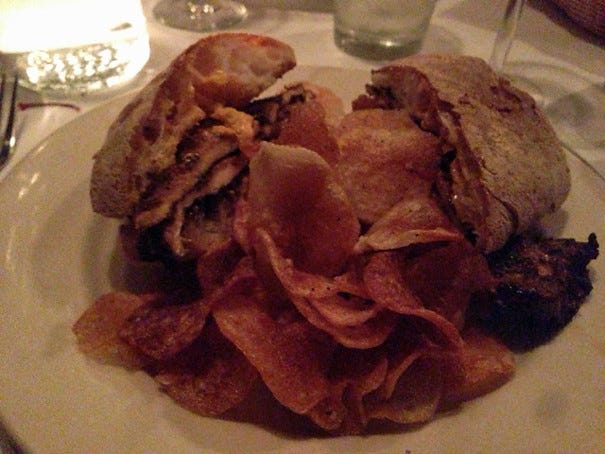 Finally, on Sunday our friend Dara had us over for appetizers and drinks. Here she is presenting us with smoked salmon on cucumber slices (yum).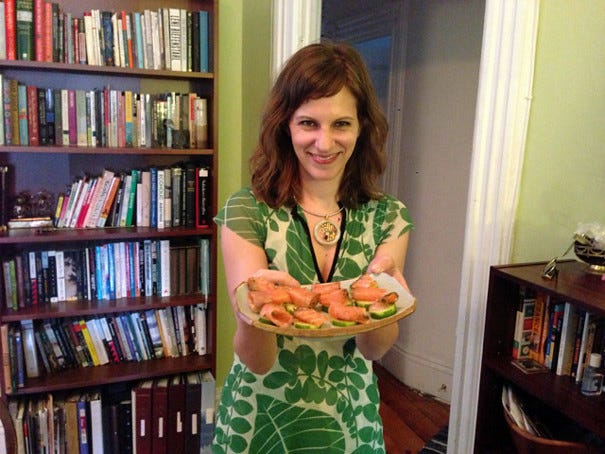 After we watched her gorgeous short film "Flutter" and another short she made, a funny one that involves meatball subs and a psychic, we went with her, her husband Kieran, her producer and her producer's husband to The New Franny's.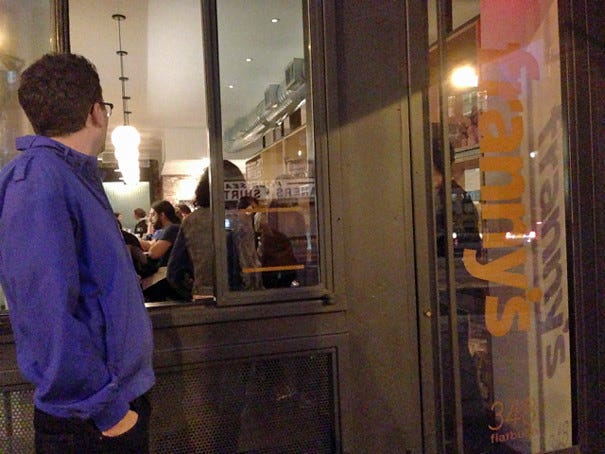 The new Franny's is really the old Franny's in a new location. There's lots more space now. See: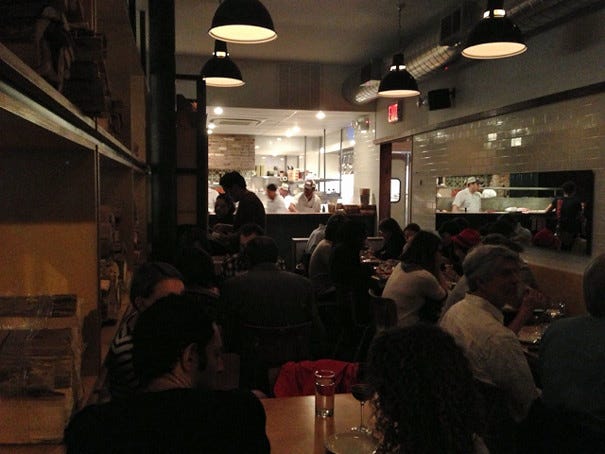 A bigger bar.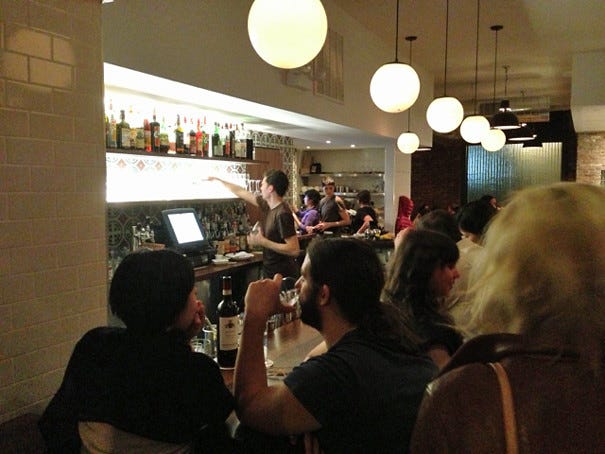 And a downstairs which is where we ate.

Oh my, so much food. Let's get to it. Bruschetta (what was on that? I don't remember!) and gigante beans served hot.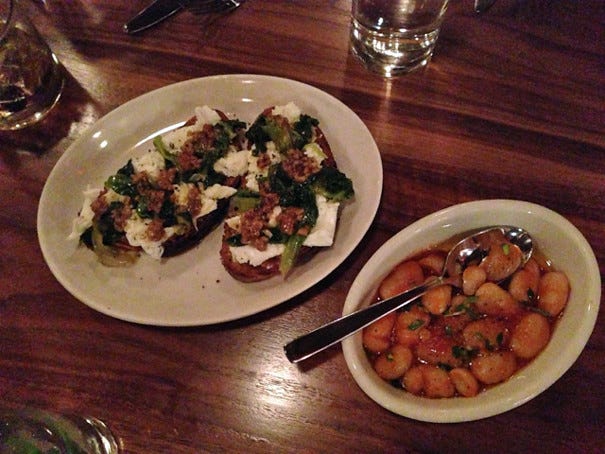 Pea shoot salad: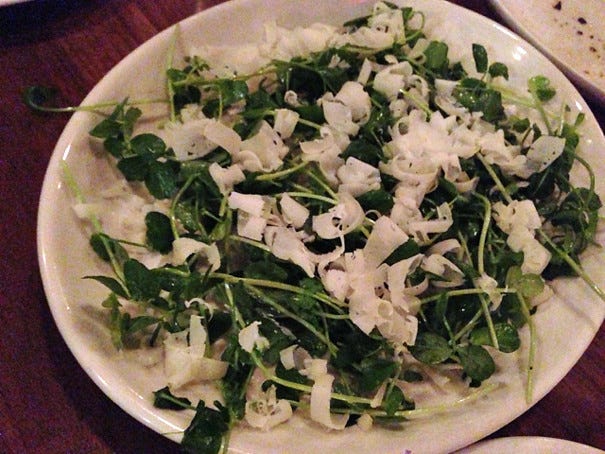 Shrimp and potatoes on a creamy sauce.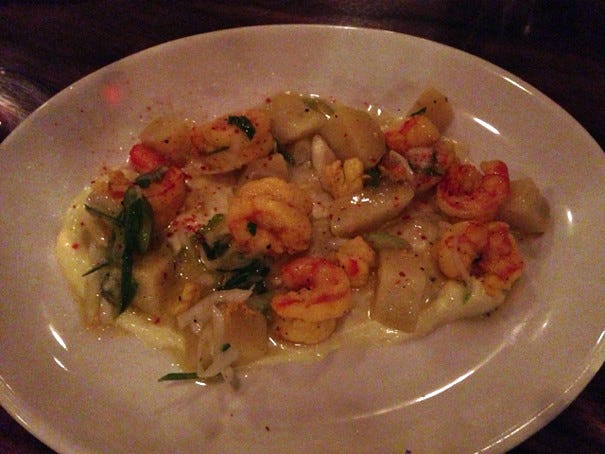 Shaved turnip salad.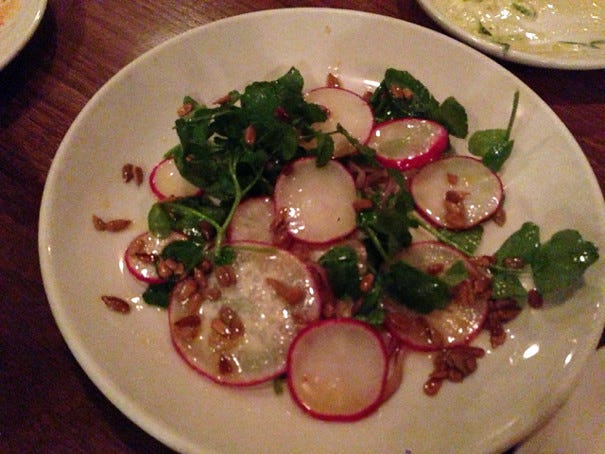 Fried dough pockets stuffed with cheese on tomato sauce: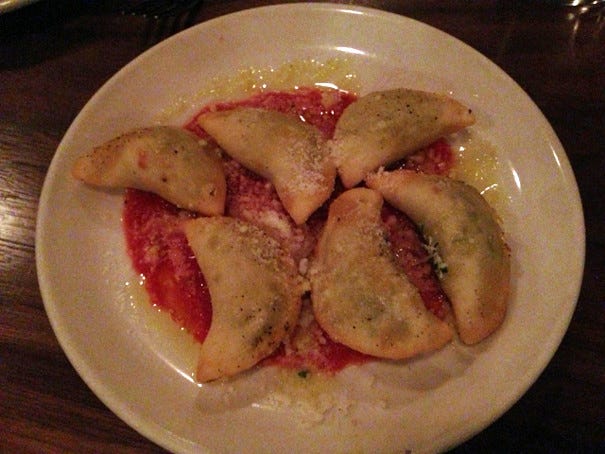 Pizza with anchovies and Pecorino: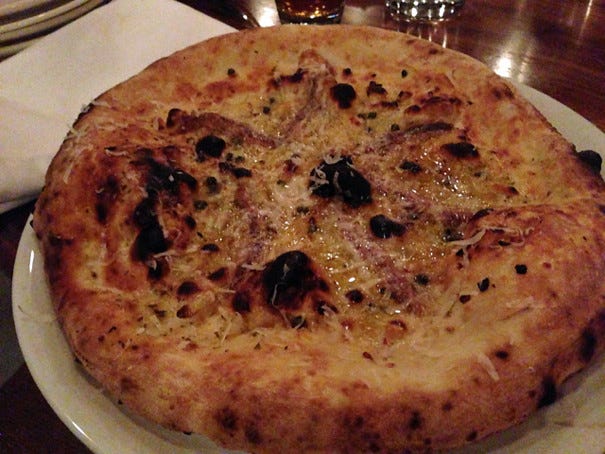 And cavatelli with green stuff!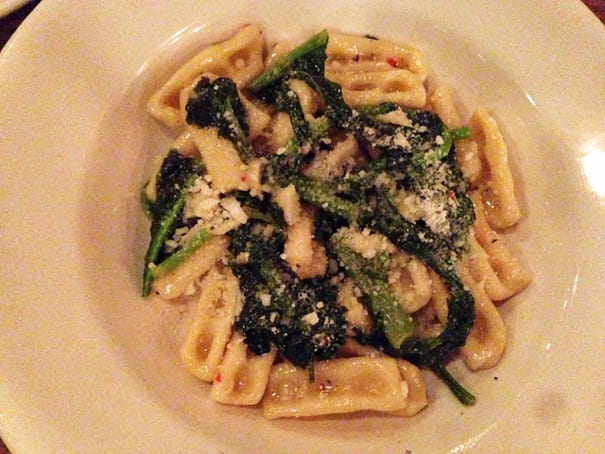 If I weigh 800 pounds when I get back to L.A., now you'll know why.

Ok, I have to run out the door... my friend Diana has a play reading I need to get to.

That's all for this week, folks!

Until next time....

Your friend,
Adam (The Amateur Gourmet)

P.S. I forgot to highlight this funny post (well I thought it was funny) from last week: Reese's Criminally Drunk Blondies. You may get a kick out of them.

Reading this in a browser? Get next week's in your inbox by signing up here.

Follow Me!
On Twitter
On Facebook

Check Out My Cookbook!
Secrets of The Best Chefs

Recent Food Posts

Double-The-Cream-Cheese Cheesecake

El Celler de Can Roca

Do Any Young People Eat Cottage Cheese?

Ligurian Lemon Cake with Raspberries

Springtime in New York

Tom Cruise Makes Soup Dumplings

Anatomy of a Superior Sandwich: The Captain's Daughter at Saltie

Scrambled Eggs with Gruyere, Fried Pita with Olive Tapenade & Tomato Salad

The Food Personality Quiz

Hot Coffee Drink vs. Cold Coffee Drink

Sweet Potato Curry

Two Dogs Dining

My Paper Towel Problem

Chicken and Hummus Together on a Plate with Pita

Reese's Criminally Drunk Blondies

Food Crimes: Soft on Soft Sandwiches

Four-Hour Lamb Shoulder with White Beans and Olive Tapenade

I Am Disappointed in This Parsley-Scented Hand Soap

A Cook's Nightmare and a Cook's Dream

10 Food Rules Worth Breaking

Make Your Own Taco Night (with Homemade Corn Tortillas)

Soaking The Pan

What's Stopping Me From Becoming A Vegetarian?

Black Chickpeas and Roasted Sweet Potatoes on Black Chickpea Hummus

Let's Order A Pizza

Food Is Art At Red Medicine

Who Was Stendahl The Food Writer?

Chocolate Cranberry Oat Cookies So Good They'll Stop Your Kid From Crying



*|LIST:DESCRIPTION|*

Unsubscribe *|EMAIL|* from this list.

Our mailing address is:
*|HTML:LIST_ADDRESS_HTML|*
Copyright (C) *|CURRENT_YEAR|* *|LIST:COMPANY|* All rights reserved.

Forward this email to a friend
Update your profile
*|IF:REWARDS|* *|HTML:REWARDS|* *|END:IF|*