A.G. Newsletter #120: Terroir, Brooklyn Sandwich Society, Corsino, The Marrow, Library Bar & Tree Quilt
A.G. Newsletter #120: Terroir, Brooklyn Sandwich Society, Corsino, The Marrow, Library Bar & Tree Quilt

Hey there newsletter fans,

I'm back in L.A. after 10 days in New York. The funny part is it was way more beautiful in New York than it is here right now. My last day in New York, we were on the Highline, the sun was beating down, and it couldn't have been more gorgeous. In L.A. it's rainy, cold, and kind of depressing. But there's a certain charm to depressing weather and also L.A. weather is so often the same, it's nice to have something different for a change.

Before we get started, 3 posts to point out to you:

* I dared myself to make dinner with cottage cheese WHICH I HATE. Here are the results.

* Today I dared to ask: What's The Big Deal About Ramen?

* If you like oatmeal but don't want to dirty a pot, make muesli. It's really easy and may be a new regular thing for me.

Ok, now on to newsletter stuff!

My last week in New York was jam-packed with social activity. On Wednesday, I met up with my friends Kenny and Brendan for drinks at Terroir which is easily my favorite wine bar in New York.

Here's some of the white wine we were drinking and fried risotto balls which were killer good with beets and Gorgonzola inside: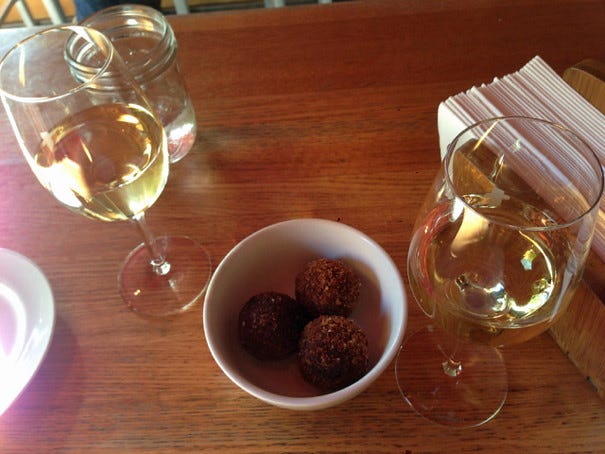 See?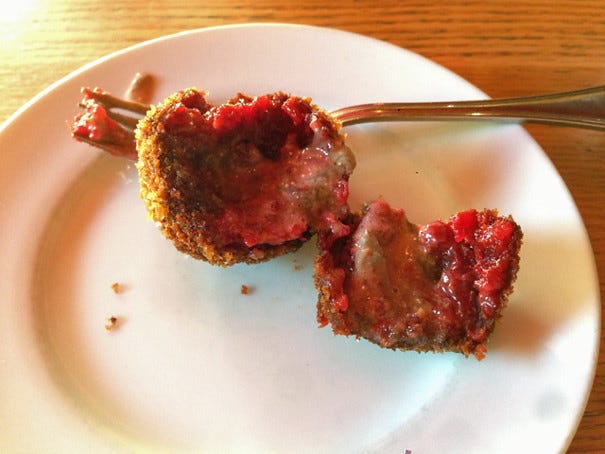 While there, Marco Canora--the awesome chef/owner whose main restaurant, Hearth, is right next door--popped in and we chatted for a bit. He snuck away and came back with this gorgeous plate of his famous gnocchi (featured in my cookbook) spruced up with morels. It pays to be friends with chefs.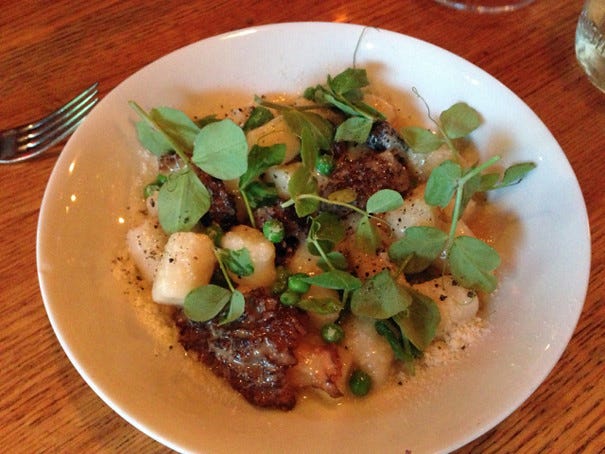 The next day, I met my friend J.J. Goode (co-author of April Bloomfield's cookbook and also several others) for lunch at The Brooklyn Sandwich Society.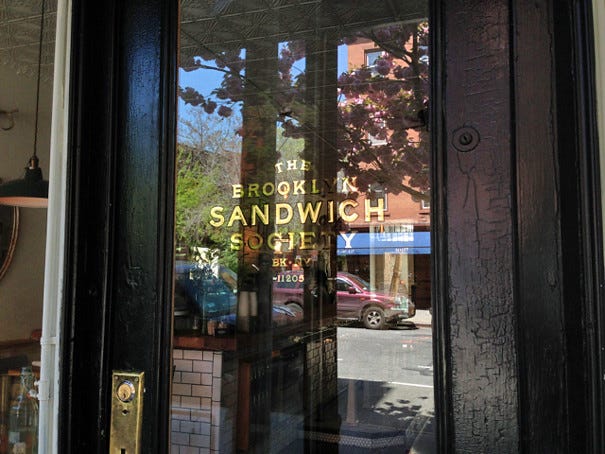 This day in Brooklyn (Ft. Greene) was storybook perfect; it was the universe conspiring to bring me back to New York. We sat outside and each had a healthy sandwich of mashed up cannelini beans, carrots, and tzaziki. I liked it.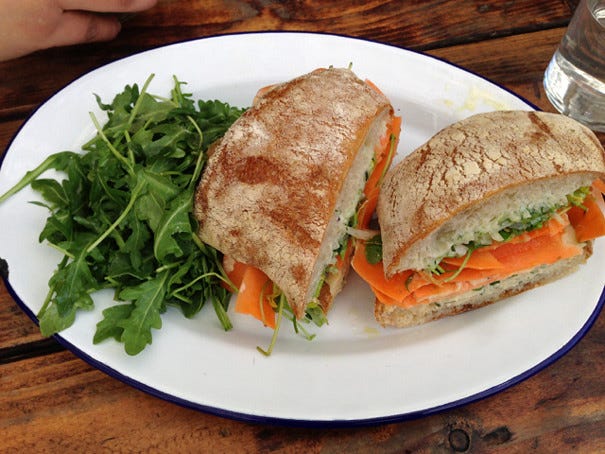 My only complaint: if you're not sitting on the bench, you're sitting on these weird stool thingies and they're very uncomfortable. Message to Brooklyn Sandwich Society: get chairs!

On Friday night, we met up with our friend Morgan and I made a fatal mistake. I thought Fatty Cue in the West Village didn't take reservations so I said, "Let's just meet there at 8:30." Turns out they DO take reservations so when we showed up they said they had nothing for us.

This was a bad place to be: Friday night in the West Village with no dinner reservation. I scanned my brain for restaurants that might work and my brain hit upon Corsino which is owned by the people who own 'ino (which doesn't exist anymore) and is rarely crowded.

Well, on this night it was crowded but not crazily so. They said we'd only have to wait 20 minutes.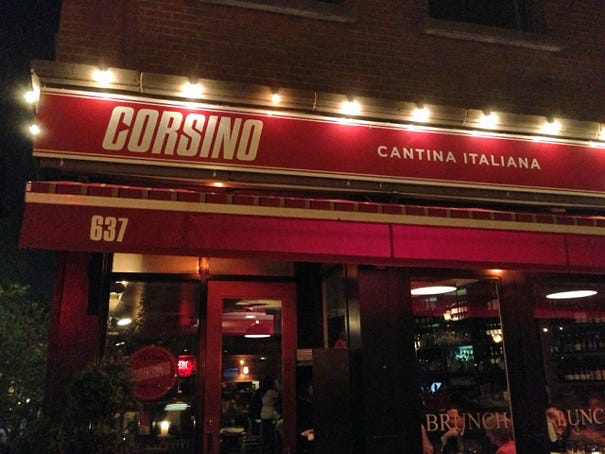 Turns out we had to wait a little longer, but the staff was so nice about it, they gave us free glasses of Prosecco to make up for that. That was a nice touch.

The food was really really good. Here's Morgan with our escarole salad: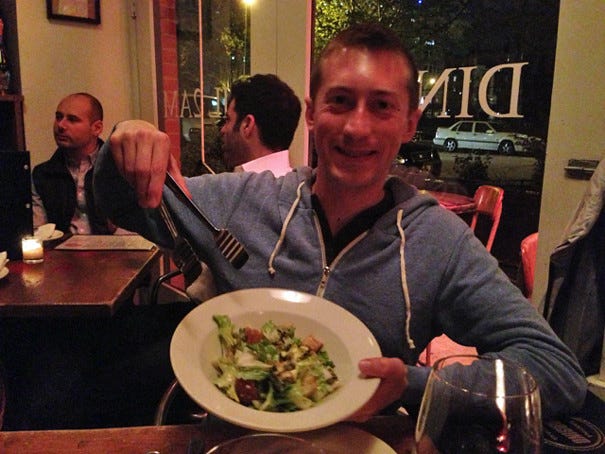 Here's some bruschetta that we shared: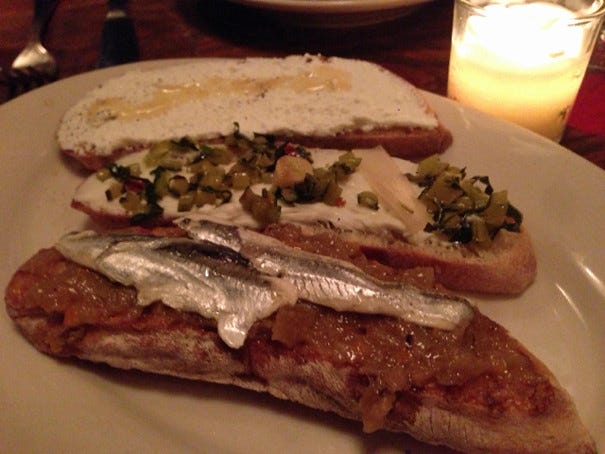 And burrata on toast with pickled watermelon rind on top (that's what Morgan says it is, I didn't recognize the taste. I thought it was stewed apples.)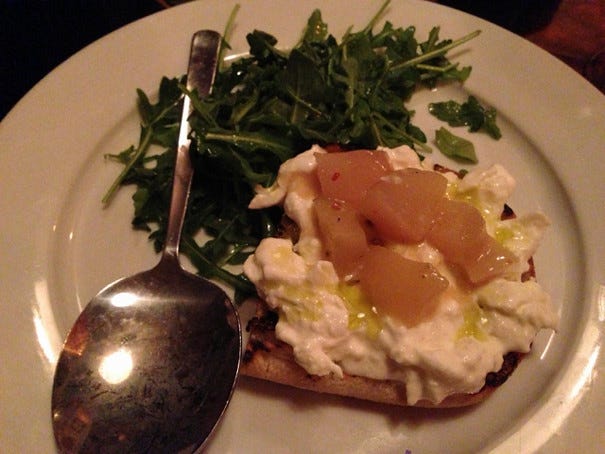 I absolutely loved my pasta, rigatoni with cranberry beans in a satiny sauce (maybe enhanced with butter) with tart cherry tomatoes. I'd love to recreate this at home.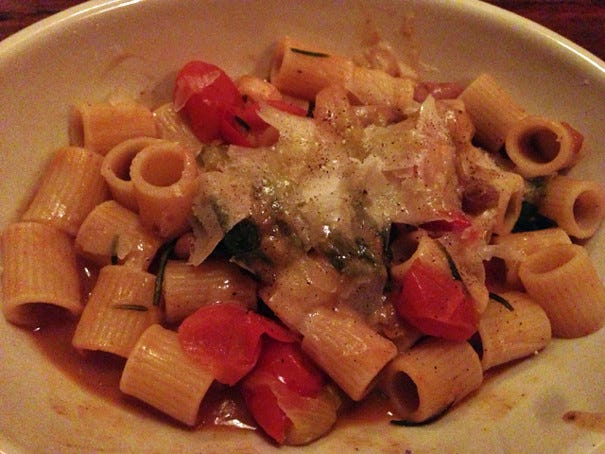 The next morning, I met up with my old friend Lauren for brunch at Harold Dieterle's new German restaurant, The Marrow.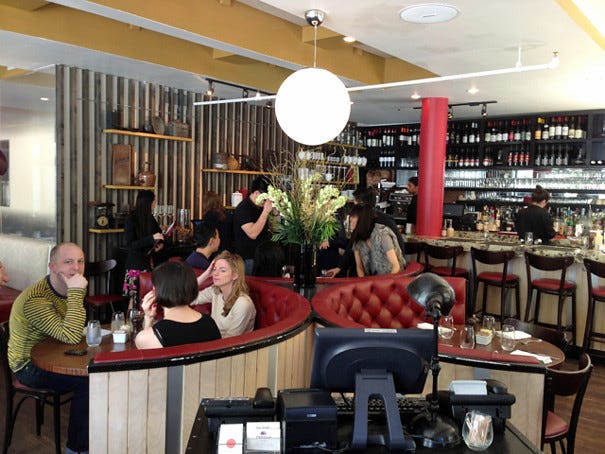 We shared a piece of coffee cake (here's Lauren modeling it):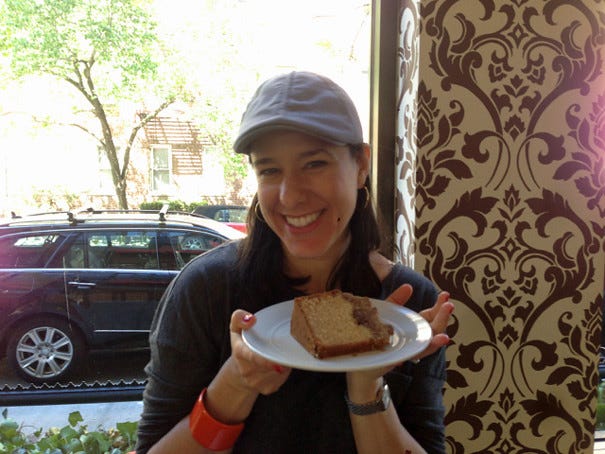 And also a potato pancake (we're really into cake apparently) that came topped with apple butter and trout roe.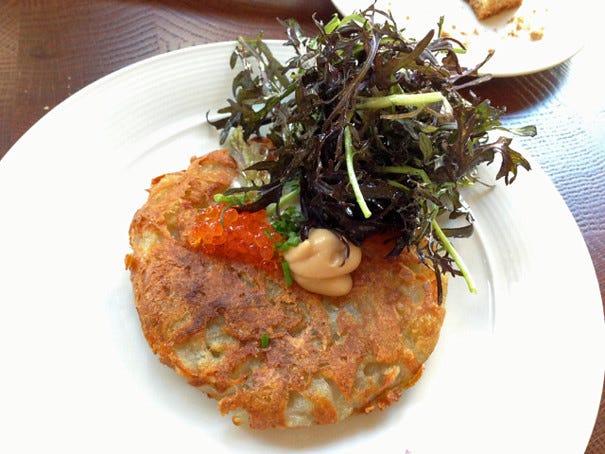 I had a crab frittata which was a bit too much to eat: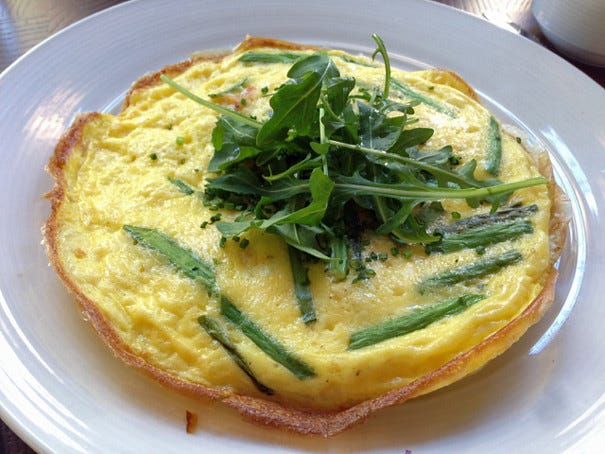 Lauren had poached eggs on cauliflower-creamed kale: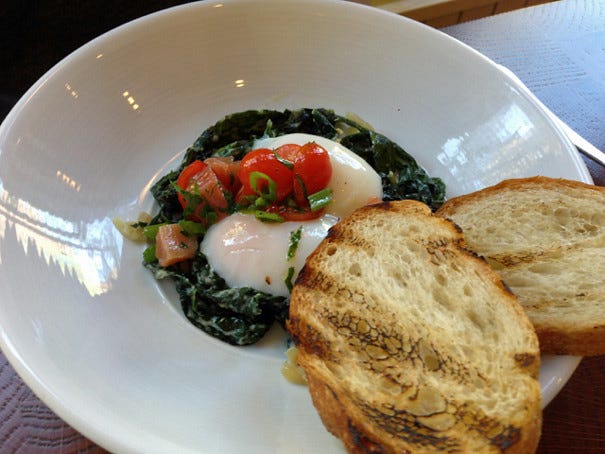 All-in-all it's a great brunch spot, not crazy crowded if you go when it opens and very sunny which is something I like.

My last night in New York, Craig and I went to Grand Sichuan (my old favorite) and then wanted to grab a drink before calling it a night. I remembered that the Public Theater recently had a renovation and that there was supposedly a new bar in there.

The bar--called The Library Bar--is hidden away upstairs and it's a great thing to know about.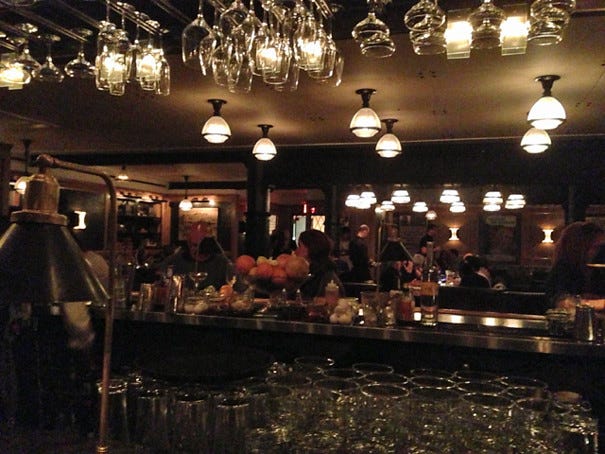 The drinks are good and the crowd is lively and an interesting theater-going sort. This may become a regular place for us.

Finally, one of my newsletter readers named Linda was really taken with a picture I posted a few weeks ago of a tree in Atwater Village blooming in front of a blue house. Here's that picture: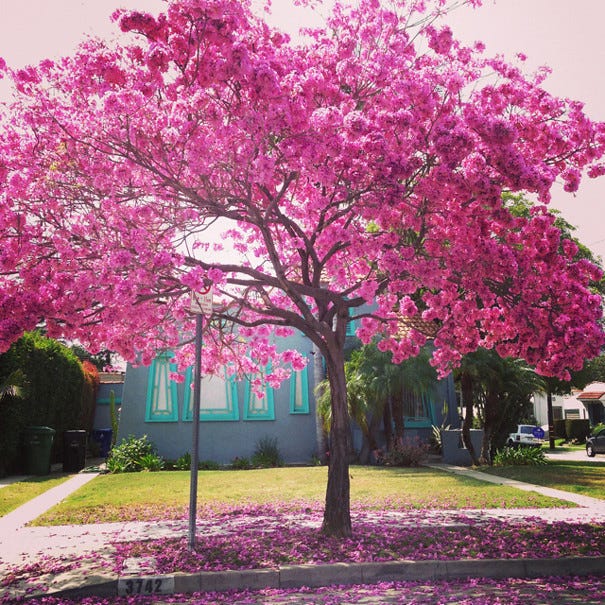 Linda turned it into a quilt: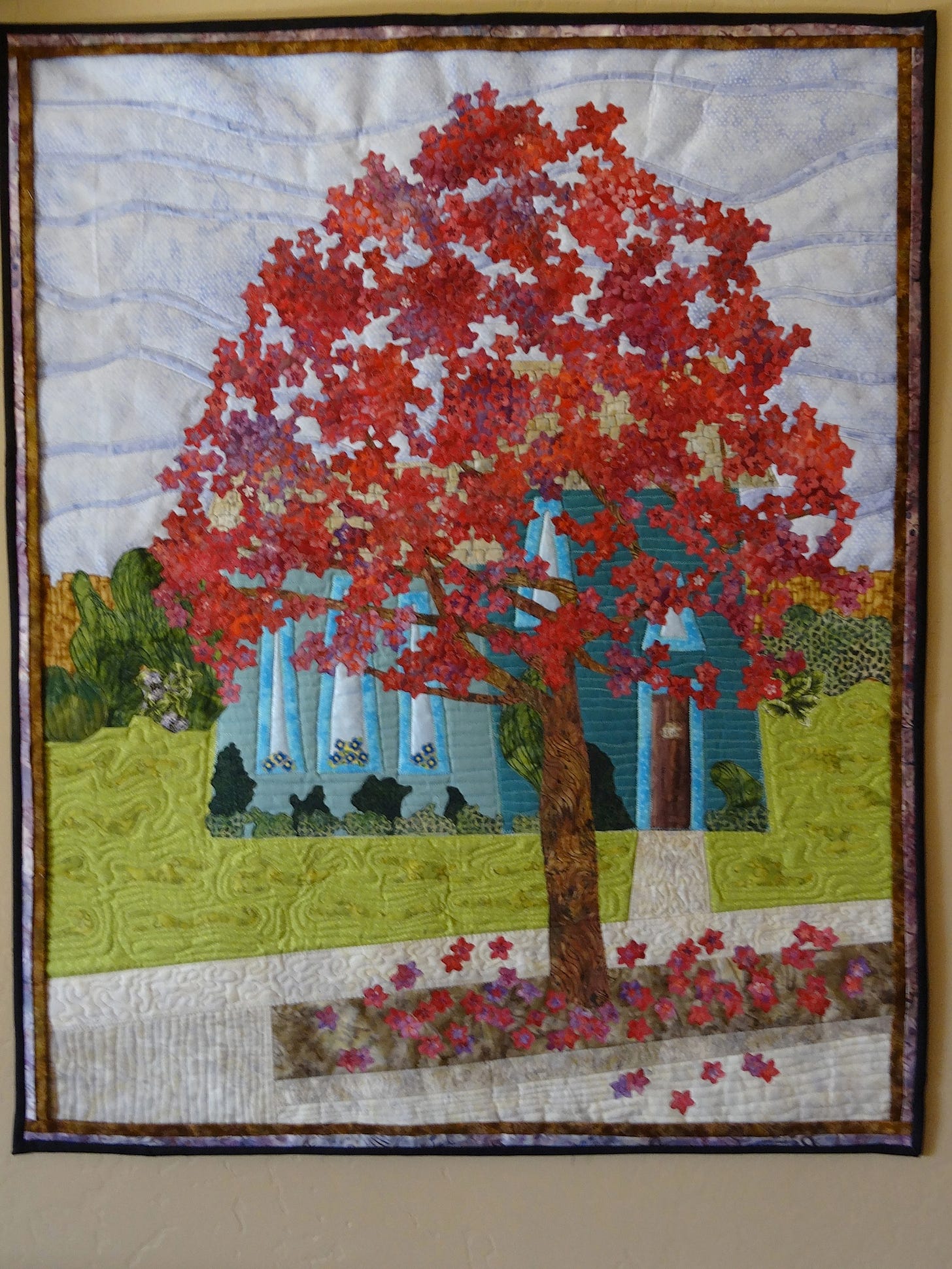 How cool is that? Thanks, Linda, for sending it my way. I'm impressed.

That's all for this week folks!

Until next time....

Your friend,
Adam (The Amateur Gourmet)



Reading this in a browser? Get next week's in your inbox by signing up here.

Follow Me!
On Twitter
On Facebook

Check Out My Cookbook!
Secrets of The Best Chefs

Recent Food Posts

Makin' Muesli

What's The Big Deal About Ramen?

The Great Cottage Cheese Dinner Challenge

My First Full English Breakfast

The Mast Brothers Salted Caramel Bonbon

Throwed Rolls

A Really Good Radicchio Salad

Please Don't Tell But I've Never Had a Drink at Please Don't Tell

Double-The-Cream-Cheese Cheesecake

El Celler de Can Roca

Do Any Young People Eat Cottage Cheese?

Ligurian Lemon Cake with Raspberries

Springtime in New York

Tom Cruise Makes Soup Dumplings

Anatomy of a Superior Sandwich: The Captain's Daughter at Saltie

Scrambled Eggs with Gruyere, Fried Pita with Olive Tapenade & Tomato Salad

The Food Personality Quiz

Hot Coffee Drink vs. Cold Coffee Drink

Sweet Potato Curry

Two Dogs Dining

My Paper Towel Problem

Chicken and Hummus Together on a Plate with Pita

Reese's Criminally Drunk Blondies

Food Crimes: Soft on Soft Sandwiches

Four-Hour Lamb Shoulder with White Beans and Olive Tapenade

I Am Disappointed in This Parsley-Scented Hand Soap

A Cook's Nightmare and a Cook's Dream

10 Food Rules Worth Breaking




*|LIST:DESCRIPTION|*

Unsubscribe *|EMAIL|* from this list.

Our mailing address is:
*|HTML:LIST_ADDRESS_HTML|*
Copyright (C) *|CURRENT_YEAR|* *|LIST:COMPANY|* All rights reserved.

Forward this email to a friend
Update your profile
*|IF:REWARDS|* *|HTML:REWARDS|* *|END:IF|*