A.G. Newsletter #121: Little Dom's, Jar, Brunette at Shortcake, Hinoki & The Bird & Bludso's BBQ


Hey there newsletter fans,

It's only Tuesday and already I've:

* recapped a wild and crazy weekend at VEGAS UNCORK'D where Diana and I shared a table at Border Grill with Robin Leach and ate fluffy buttermilk pancakes at a diner called Blueberry Hill;

* shared a killer recipe for LINGUINE WITH CLAMS;

* declared THIS the Best Chocolate Chip Cookie in the World;

* caused a ruckus by shaming People Who Salt Their Food Without Tasting It First;

* listed The Top 5 Instructional Cooking Shows You Can Watch Online;

And:

* revealed my Vegas Recovery Salad.

Phew!

Now then, on to newsletter stuff....

I write about lunch at Little Dom's all the time but it's a really great lunch and this time I went there with my friend John. Here he is with his sopressata sandwich: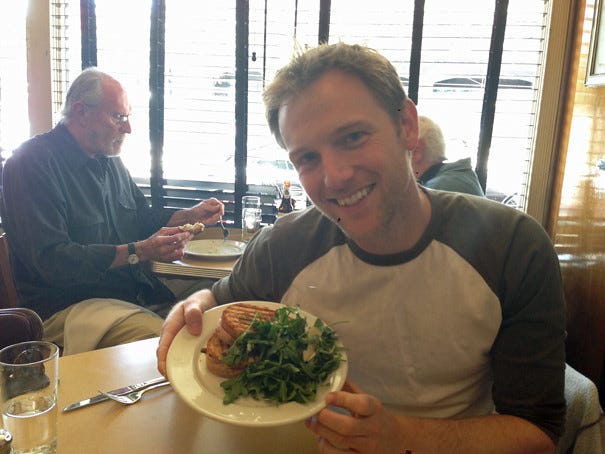 And here's my salmon sandwich which is always very good.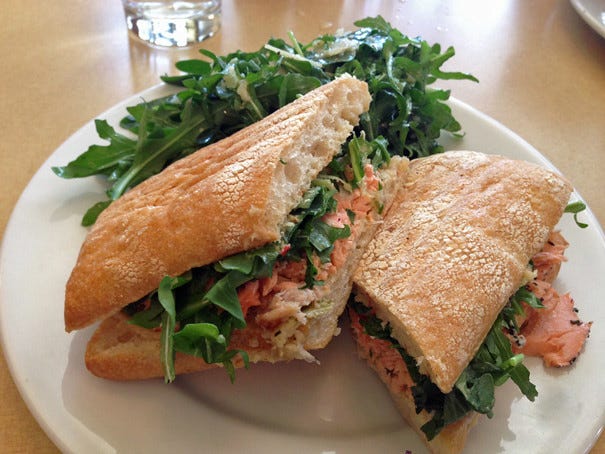 My parents were in town last week after taking a cruise from Vancouver to Los Angeles. I was excited to take them to Jar, where I took Craig earlier this year for his birthday, and I have to say it was a really off night.

My salad with blue cheese and red onions was gratifying, sure: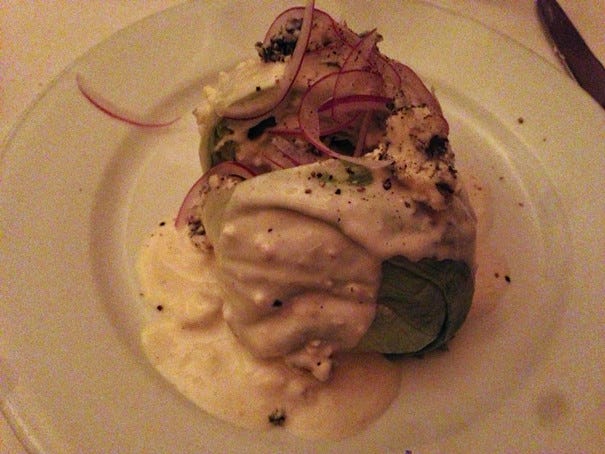 But my mom ordered the lobster tasting menu, a Monday night special (for $50) and the first course, braised endive, came out without any lobster on it. A server swept into the kitchen and back out with a little dinky plate with lobster chunks on it. "Here's your lobster ma'am," he said, "my apologies."

My steak, which was excellent last time I went there, was completely raw in the middle.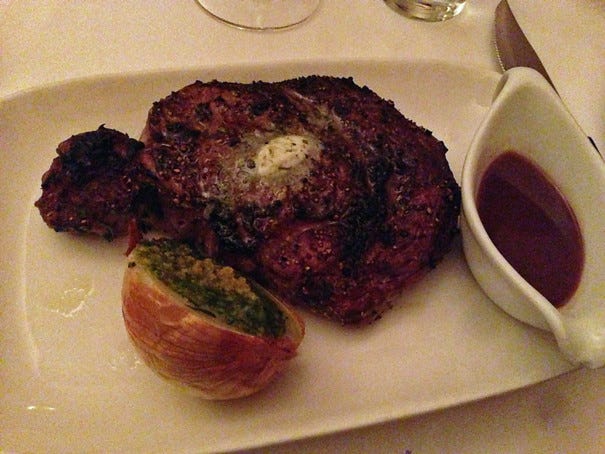 I don't normally send anything back at a restaurant but the waiter took one look and swept my plate away and said it was a mistake. So, to their credit, they fixed it.

The flavors were all good, though, it was just a sloppy night. Let's give Jar another chance down the road, ok?

The next day, I met my parents at the Grove where we walked around and I tricked them into buying me Kiehl's products. Before that, though, we sat down at Short Cake and had coffee. Here are my parents with their coffee: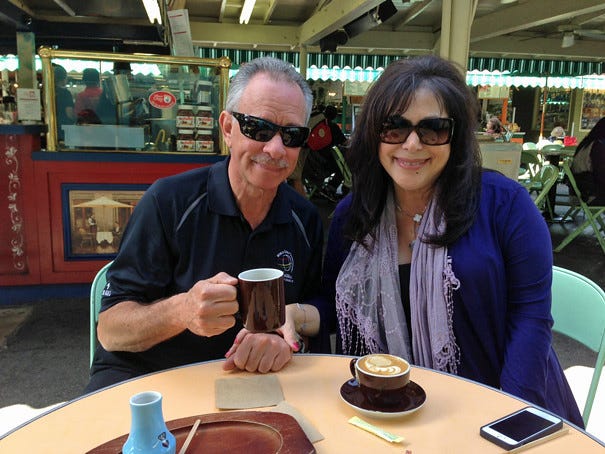 And here's the brunette, a blondie with pine nuts and thyme (a Short Cake signature pastry):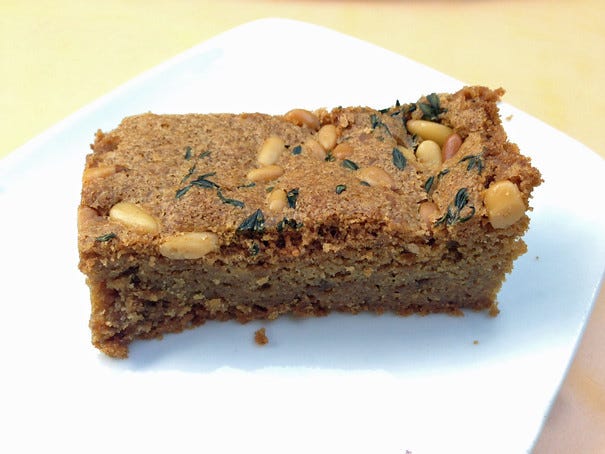 Yum.

That night we had a meal my parents absolutely loved at a restaurant I randomly selected because I'd been hearing good things: Hinoki & The Bird.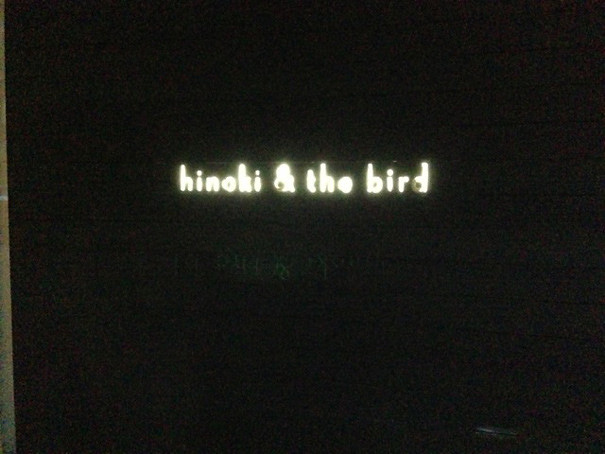 This place is swanky and properly described (in one of the reviews I read) as like "a James Bond villain's lair." See?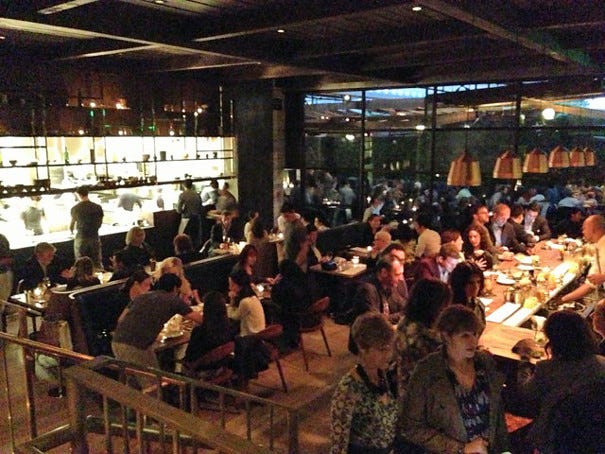 So we sat down and started reading the menu. A funny thing happened.

My whole childhood, my dad would quiz me on random facts from movies, facts that were treated as importantly as real world facts. So, for example, my dad would often ask me, "What makes time travel possible?" and I would have to say, "The Flux Capacitor" because that's the answer (from "Back To The Future.")

One of those questions was always, "What's the building from 'Die Hard'?" If you asked me that at any point in my life I would've immediately answered, "The Nakatomi Plaza."

There couldn't be a trip to L.A. without my dad pointing to that big pink building and saying, "It's the Nakatomi Plaza."

(He also might imitate Alan Rickman and say, "McClaine!")

So we both got a big kick out of it when we sat down and saw a cocktail on the cocktail menu called....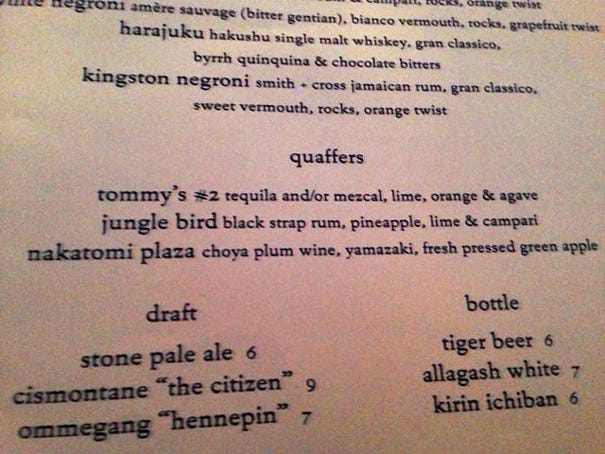 My dad surprised my mom and I by ordering it. When it came, he took a sip and seemed to like it; my mom said, "Don't drink it if you don't like it, you're going to get sick." But he drank it and didn't get sick.

The food at Hinoki & The Bird is like the food at ABC Kitchen with a more Asian flair. So, just like at ABC Kitchen, there's pumpkin toast, though Hinoki's is better: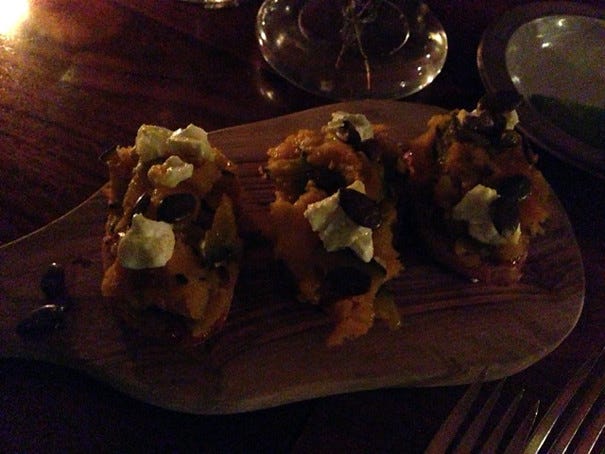 There's also a crab toast: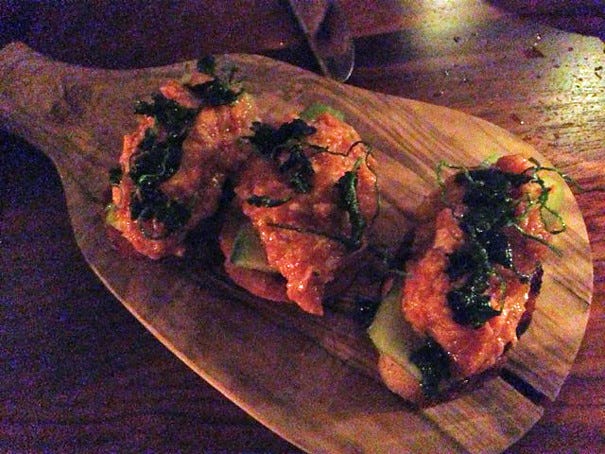 The comparisons stop there, though, and the dish that you have to get when you go to Hinoki is definitely the lobster roll. It comes on a black bun that has charcoal in it.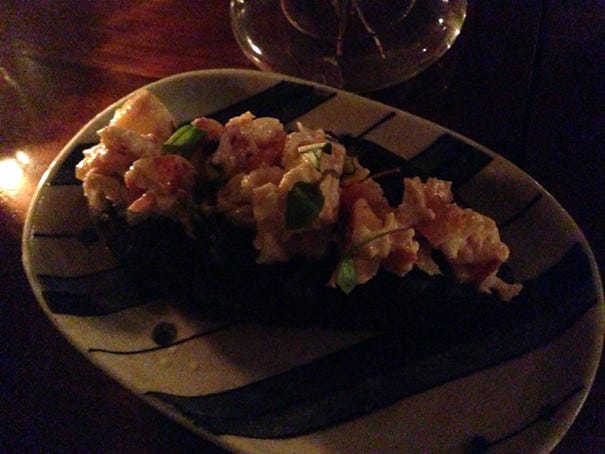 I didn't really taste the charcoal, but the lobster filling was top notch.

We also shared the salt and pepper calamari.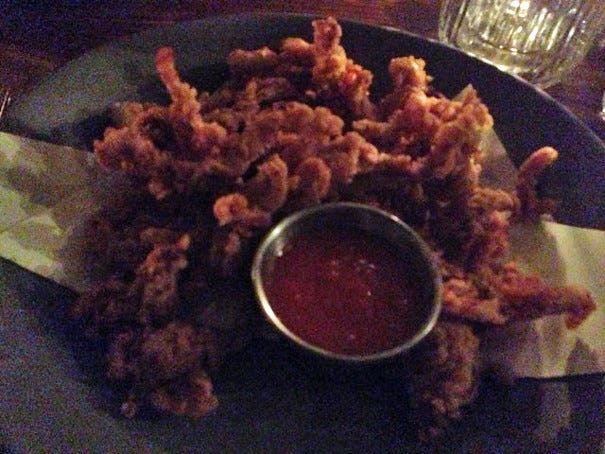 And a kale salad: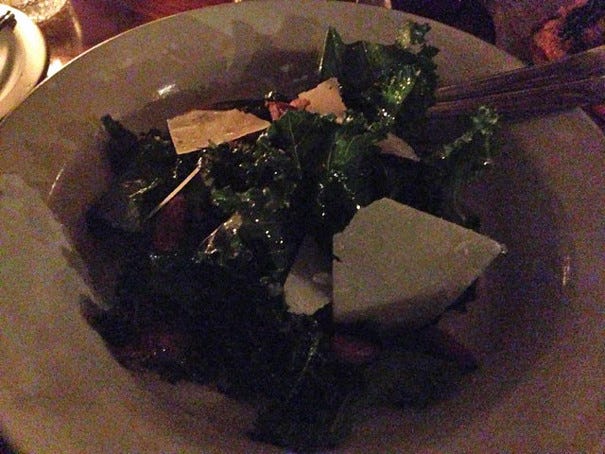 The only misfire was the skate which the waiter effusively recommended even though he warned it's a "7 on a scale from 1 to 10" in terms of heat. "If you don't like it, though, I'll swap it out no problem."

I took him up on that and when it came out, there were several things I didn't really like about it: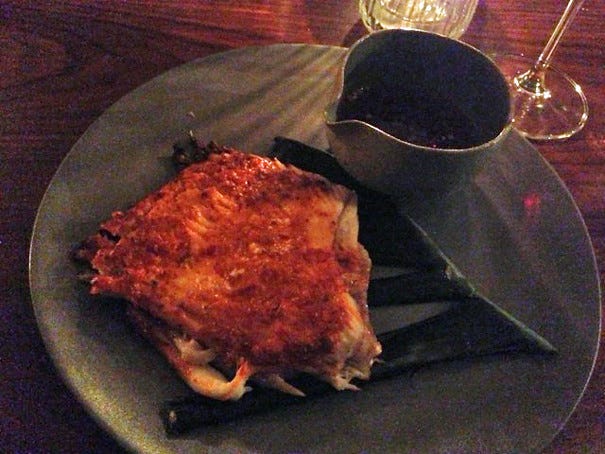 1. The skate was soggy rather than crisp; 2. there were bones; 3. it was unpleasantly spicy.

So when he asked how I liked it, I was honest and he, nicely enough, let me switch it for the cod which I absolutely loved. It came with a piece of burning hinoki wood on it that infused it with smoky flavor.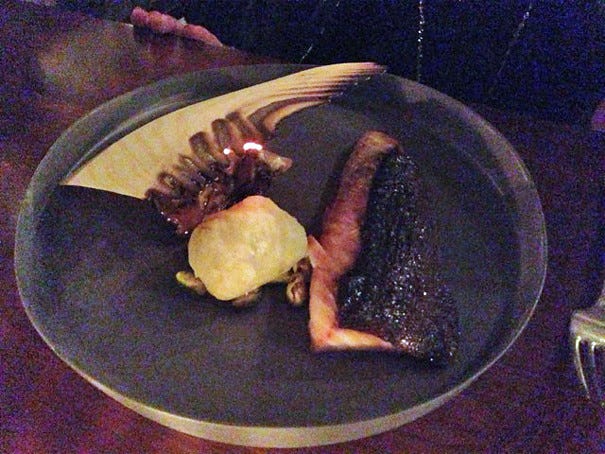 For dessert we shared this incredible ice cream sandwich: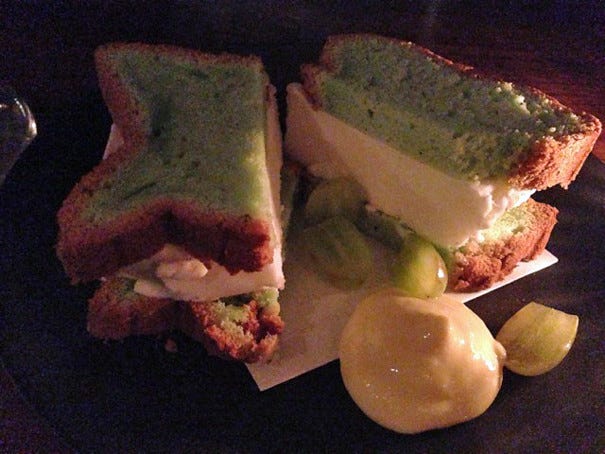 And this deconstructed chocolate dessert which would've been better if it wasn't deconstructed.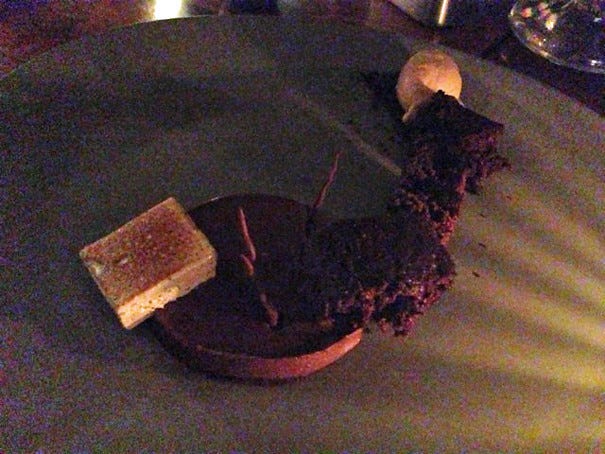 All in all, we loved our meal at Hinoki and can't wait to go back.

Finally, I had dinner last week with my friend Billy at Bludso's BBQ and then an awful thing happened.

See: if you notice the pictures above, people's faces? They have black dots on them. That's because my phone had a piece of dirt trapped in the lens. So I went to the Apple Store and they swapped out my phone. Before they did, I e-mailed all these pictures to myself. Then I gave up my old phone, took my new phone and met Billy at Bludso's.

After Bludso's, I connected the new phone to my computer and clicked "restore" and totally erased all the Bludso's pictures. Dumb!!!

But Bludso's BBQ is really terrific. The environment is clean and bustling; the cocktails are strong and, most importantly, the BBQ is dang good. Don't skip the cornbread.

Ok, that's all for this week folks!

Until next time....

Your friend,
Adam (The Amateur Gourmet)


Reading this in a browser? Get next week's in your inbox by signing up here.

Follow Me!
On Twitter
On Facebook

Check Out My Cookbook!
Secrets of The Best Chefs

Recent Food Posts

Movie Theater Popcorn

Makin' Muesli

What's The Big Deal About Ramen?

The Great Cottage Cheese Dinner Challenge

My First Full English Breakfast

The Mast Brothers Salted Caramel Bonbon

Throwed Rolls

A Really Good Radicchio Salad

Please Don't Tell But I've Never Had a Drink at Please Don't Tell

Double-The-Cream-Cheese Cheesecake

El Celler de Can Roca

Do Any Young People Eat Cottage Cheese?

Ligurian Lemon Cake with Raspberries

Springtime in New York

Tom Cruise Makes Soup Dumplings

Anatomy of a Superior Sandwich: The Captain's Daughter at Saltie

Scrambled Eggs with Gruyere, Fried Pita with Olive Tapenade & Tomato Salad

The Food Personality Quiz

Hot Coffee Drink vs. Cold Coffee Drink

Sweet Potato Curry

Two Dogs Dining

My Paper Towel Problem

Chicken and Hummus Together on a Plate with Pita

Reese's Criminally Drunk Blondies

Food Crimes: Soft on Soft Sandwiches

Four-Hour Lamb Shoulder with White Beans and Olive Tapenade

I Am Disappointed in This Parsley-Scented Hand Soap

A Cook's Nightmare and a Cook's Dream

10 Food Rules Worth Breaking




*|LIST:DESCRIPTION|*

Unsubscribe *|EMAIL|* from this list.

Our mailing address is:
*|HTML:LIST_ADDRESS_HTML|*
Copyright (C) *|CURRENT_YEAR|* *|LIST:COMPANY|* All rights reserved.

Forward this email to a friend
Update your profile
*|IF:REWARDS|* *|HTML:REWARDS|* *|END:IF|*