A.G. Newsletter #122: L&E Oyster Bar, Car Accident, Zucchini Sandwich, Kubrick at LACMA (Milkshake) & Border Grill Downtown


Hey there readers,

I've been cooking up a storm here in Los Angeles. It's nice to be back in my kitchen after all this running around to New York and Las Vegas. Here are some things I posted about this week:

* A Spring Pea Puree with Preserved Lemon that's a great way to start a spring/summer dinner party;

* A firecracker of a dish, Eggplant Dirty Rice from Manresa's David Kinch... so much flavor, you don't even realize it's vegetarian;

* Grilled cauliflower with kumquat olive relish (an original recipe, not to brag or anything);

And, for dessert...

* A classic Creme Caramel with video of me unmolding it. Did it come out ok? Click to find out.

Also, I wrote a post about how to not follow a recipe. It's called: How To Not Follow A Recipe. You may find it interesting.

Now, on to newsletter stuff!

Last week, after declaring my (possibly temporary) pescatarianism, I joined my friends Mark and Diana for dinner at L&E Oyster Bar in Silverlake. I really like this place; it's like my west coast answer to Pearl Oyster Bar (minus the lobster roll). Everyone gets hush puppies free on the house, a really nice gesture.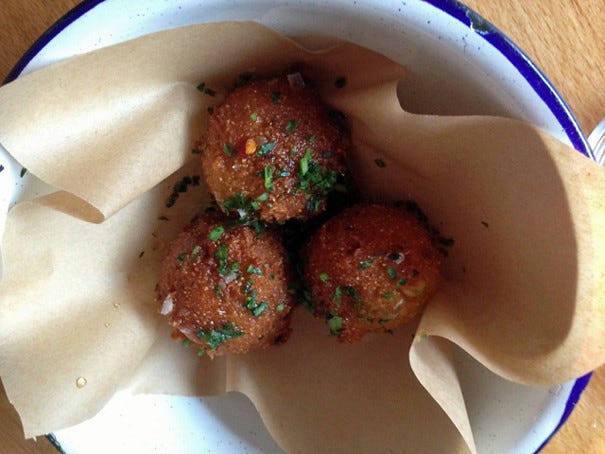 They're coated in honey and hot out of the fryer. I probably could've eaten the whole basket, but one had to suffice.

Naturally, we got oysters... half a dozen.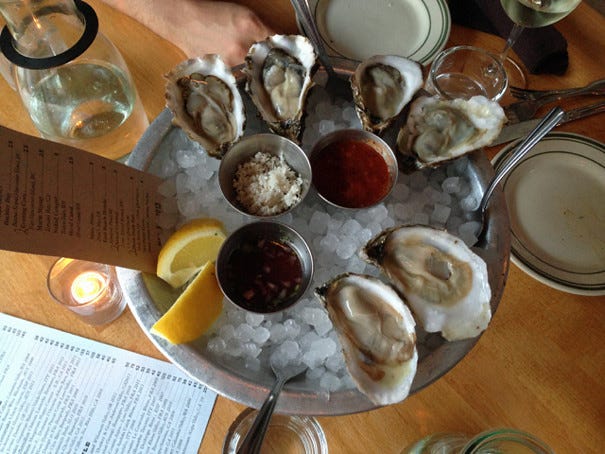 These oysters are as fresh as fresh can be (I know because we had oysters somewhere else last night and they tasted less than fresh; so fresh oysters are really special).

After that, we shared smoked mussels with chorizo toast (I didn't eat the chorizo toast) and a salad with smoked fish in it.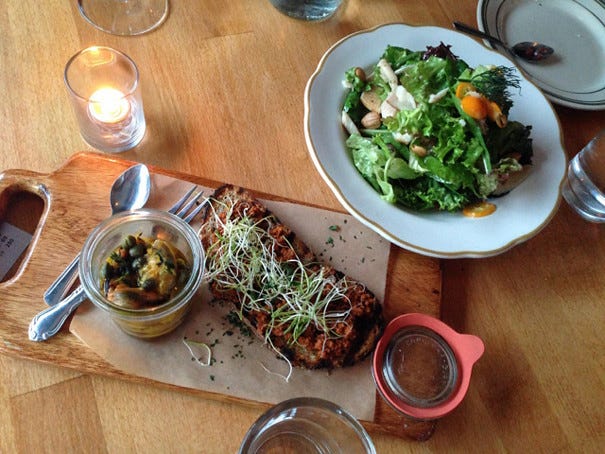 For my entree, I had the halibut (my dad would add: "for the hell of it") and it was smashingly delicious.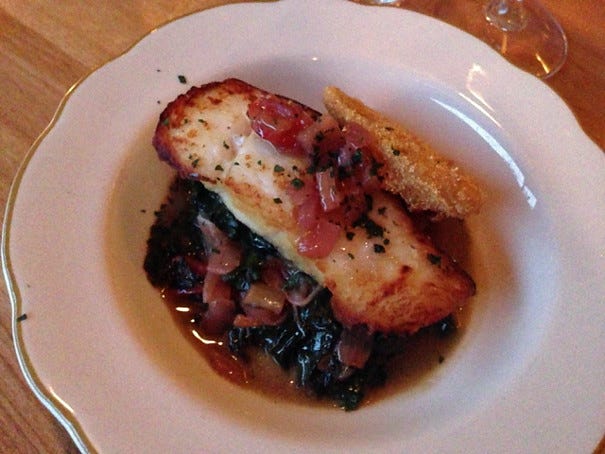 The fish was perfectly seared, there was a fried green tomato on the side and then the greens--which I don't normally love--had amazing flavor from fresh corn broth. It really was a masterful dish.

We shared this chocolate dessert...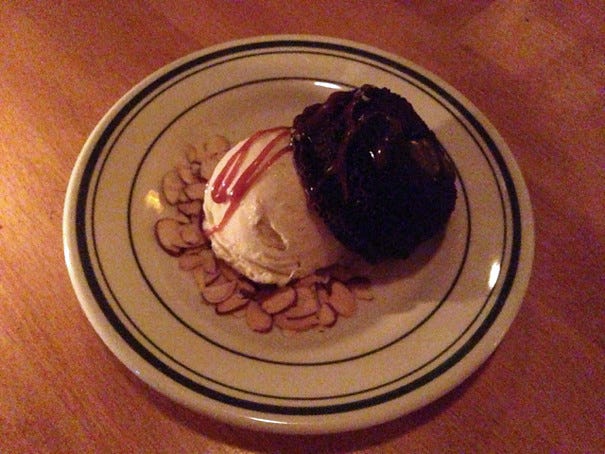 ...which was very good if not quite memorable.

A few days later, I got into a really stupid car accident. Basically, going along on Fountain I went through an intersection, traffic stopped and my car was jutting out into the street. So I cut to the right to move my car up into this little parking area when a woman coming from behind was speeding into that exact same space to try to make it through the intersection before the light turned red (or possibly after). Here's the damage to my car.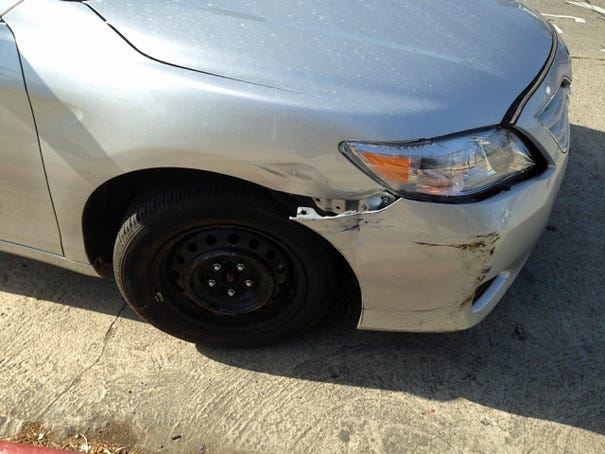 Luckily, no one was hurt and actually the woman was very nice (even though it seemed like she was trying to drive away right after it happened). The big pain is having to wait a long time to get the car repaired. Thankfully, I can share a car with Craig in the meantime.

On to happier stuff....

Actually, maybe this isn't so happy: I ate a zucchini sandwich at Proof Bakery last week.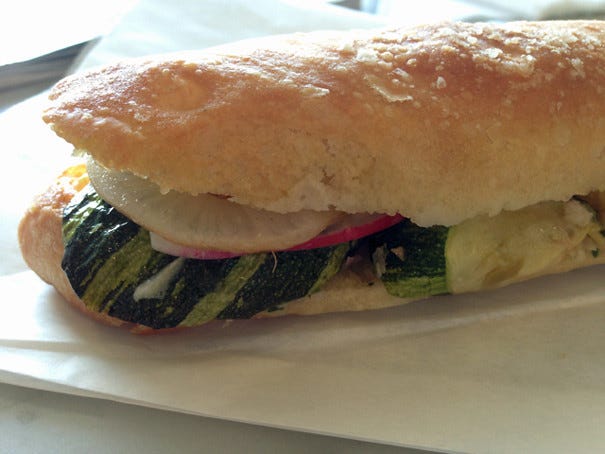 I love the sandwiches at Proof Bakery, especially the bread, and this one had great things about it--a Meyer lemon relish being the best part--but I wasn't crazy about roasted zucchini on a sandwich. Kinda mushy and weird. Not a fan.

On Saturday night, Craig came back from New York (I know because I picked him up at the airport) and we went to Umami Burger where we both had tuna burgers. Then, on Sunday, I made breakfast and then we went to see the Stanley Kubrick exhibit at LACMA.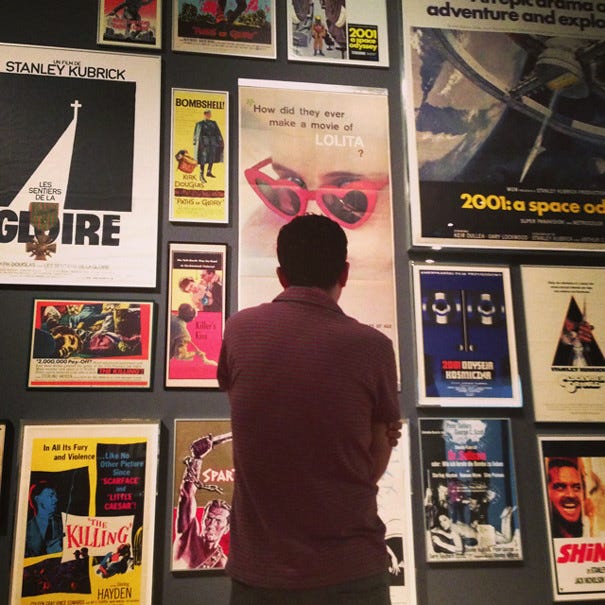 It's a really terrific exhibit, especially if you're a fan of Kubrick (I have his box set and love most of his movies). You can see cooking utensils from 2001: A Space Odyssey: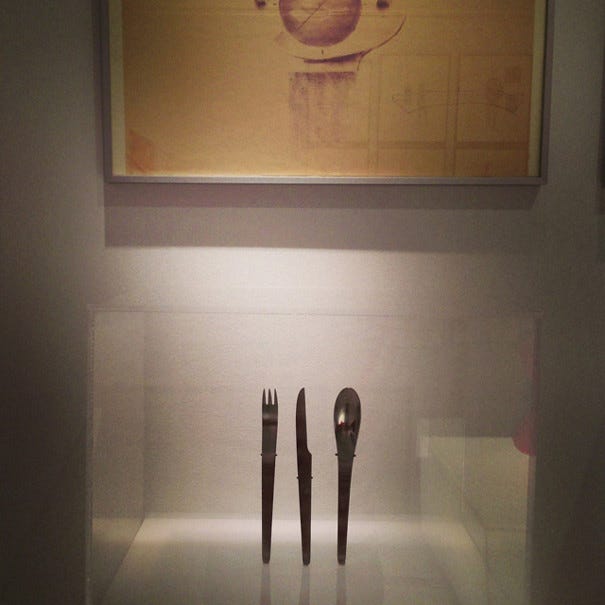 And the dresses those twin girls wore in The Shining.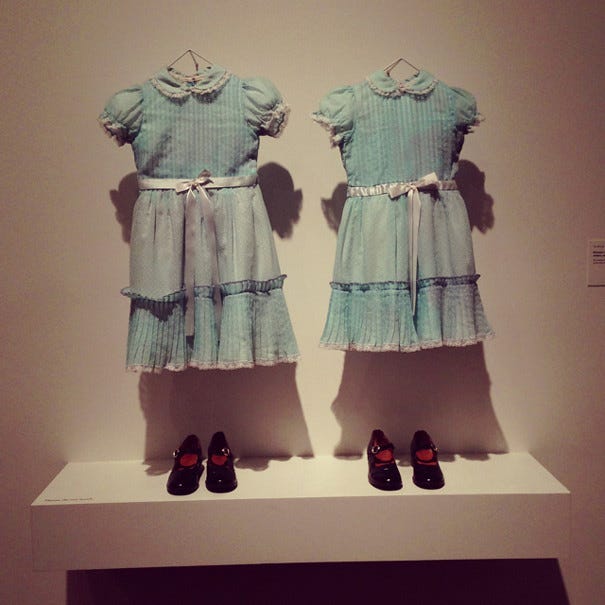 Creepy!

When it's all over, and you leave, you'll notice a little coffee shop across the way.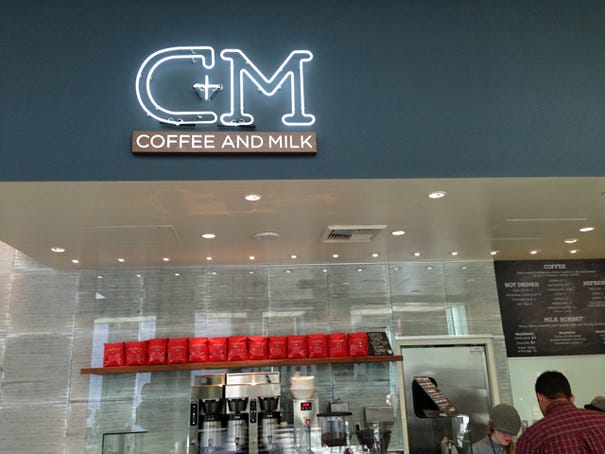 We were feeling peckish so we decided to share a chocolate milkshake which cost $7. $7!

But man was this milkshake good: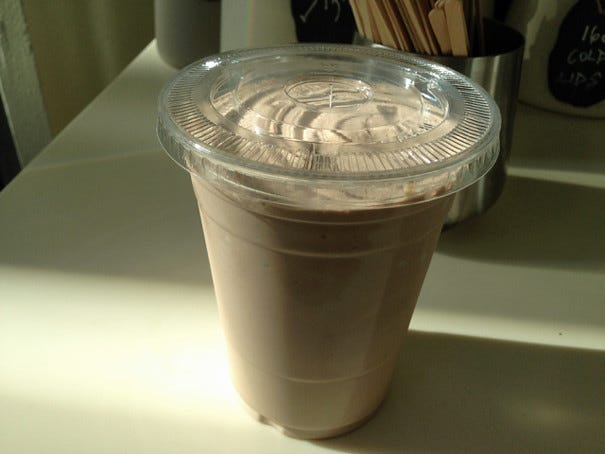 Craig said they made it the right way, "With vanilla ice cream and chocolate syrup." I said, "That's nice" and grabbed it back so I could finish it.

That night, we met Mark and Diana for dinner at The Border Grill downtown. Diana and I were eager for Mark and Craig to experience the excitement of the food we ate at The Border Grill in Vegas.

Turns out, Sunday night at The Border Grill downtown is "small plate" night and it's a really good deal. Each person pays $25 and you can order as many small plates as you can eat. See, it's on the menu.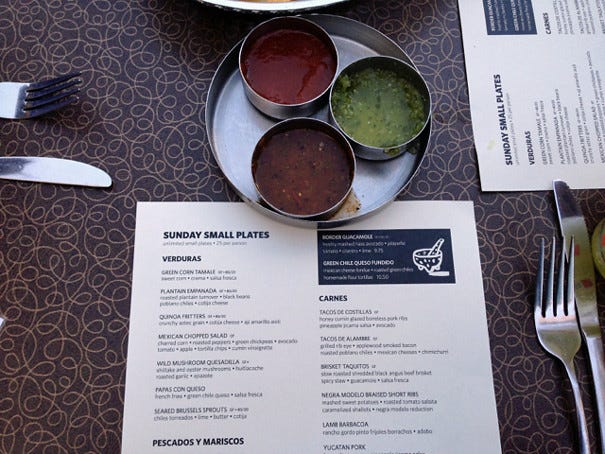 I had a fried plantain empanada, a chopped salad (with fruit in it) and a ceviche tostada to start.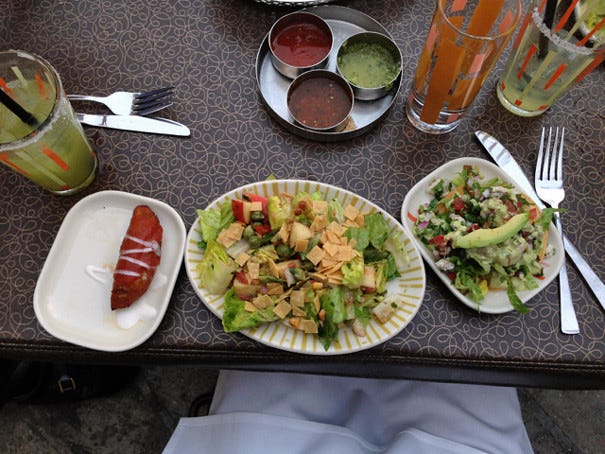 Then I had a grilled fish taco and shrimp and grits with the most incredible grits (similar to the corn mixture Mary Sue Milliken demo-ed in Vegas):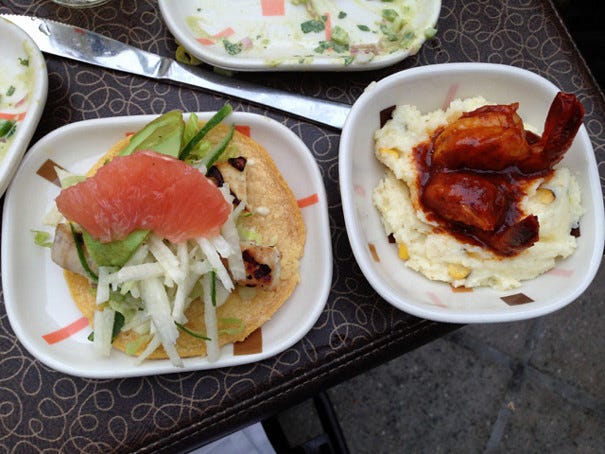 At that point, I was totally stuffed (and slightly buzzed from two margaritas which, on Sunday, are only $7 because it's an all-night happy hour); here's everyone at the table.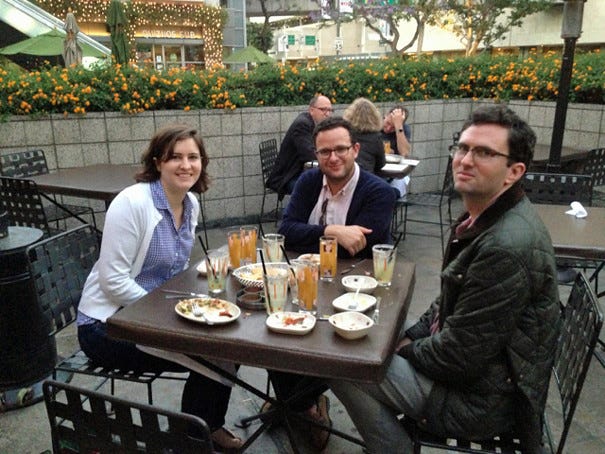 You also get dessert with the deal though the rice pudding here wasn't as good as the one in Vegas (it was missing the creme fraiche).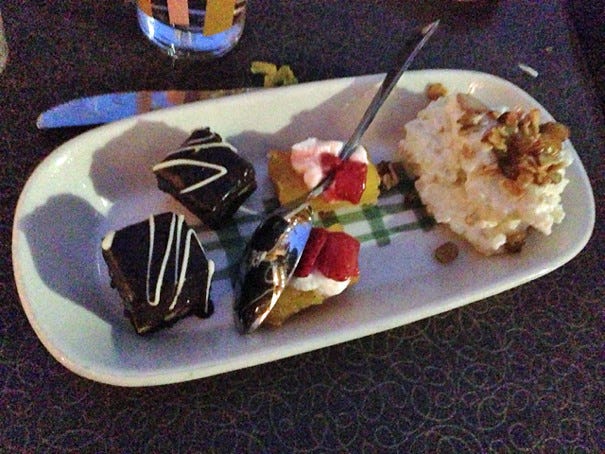 That's a mediocre brownie on the left and something with pineapple in the middle. The dessert, at least as part of this deal, needs work.

But everything else was super tasty... I'm anxious to go back to experience the more plated food. (Though maybe next time we'll go to the original Border Grill which is further west.)

That's all for this week folks!

Until next time....

Your friend,
Adam (The Amateur Gourmet)




Reading this in a browser? Get next week's in your inbox by signing up here.

Follow Me!
On Twitter
On Facebook

Check Out My Cookbook!
Secrets of The Best Chefs

Recent Food Posts

Creme Caramel

Grilled Cauliflower Steaks with Kumquat Olive Relish

How To Not Follow A Recipe

Eggplant Dirty Rice

Spring Pea Puree with Preserved Lemon

Reasons To Make Granola This Weekend

2 Deviled Eggs for 3 People

The Best Restaurant Bathrooms in New York

My Life As A Four-Day Pescatarian

Healthy Egg Salad with Yogurt, Olives and Scallions

Vegas Recovery Salad

The Top 5 Instructional Cooking Shows You Can Watch Online

People Who Salt Their Food Without Tasting It First

The Best Chocolate Chip Cookie in the World

Linguine with Clams

Vegas Uncork'd

Movie Theater Popcorn

Makin' Muesli

What's The Big Deal About Ramen?

The Great Cottage Cheese Dinner Challenge

My First Full English Breakfast

The Mast Brothers Salted Caramel Bonbon

Throwed Rolls

A Really Good Radicchio Salad

Please Don't Tell But I've Never Had a Drink at Please Don't Tell

Double-The-Cream-Cheese Cheesecake

El Celler de Can Roca

Do Any Young People Eat Cottage Cheese?

Ligurian Lemon Cake with Raspberries

Springtime in New York

Tom Cruise Makes Soup Dumplings

Anatomy of a Superior Sandwich: The Captain's Daughter at Saltie

Scrambled Eggs with Gruyere, Fried Pita with Olive Tapenade & Tomato Salad

The Food Personality Quiz

Hot Coffee Drink vs. Cold Coffee Drink

Sweet Potato Curry

Two Dogs Dining

My Paper Towel Problem

Chicken and Hummus Together on a Plate with Pita




*|LIST:DESCRIPTION|*

Unsubscribe *|EMAIL|* from this list.

Our mailing address is:
*|HTML:LIST_ADDRESS_HTML|*
Copyright (C) *|CURRENT_YEAR|* *|LIST:COMPANY|* All rights reserved.

Forward this email to a friend
Update your profile
*|IF:REWARDS|* *|HTML:REWARDS|* *|END:IF|*