A.G. Newsletter #123: Vegan Meatballs, The 101, Salami Sandwich, The Kitchen & Craig's Negroni


Hey gang,

Did you have relaxing, stress-free Memorial Day weekends? We certainly took it easy. Watched lots of movies, ate lots of food, yadda yadda (do people still say "yadda yadda" all these years after "Seinfeld"? It definitely serves a purpose). Before we get into all of my goings-on, let me point you to a few things that went up on the blog today:

* A crazy--I mean positively CRAZILY DELICIOUS--Mac and Cheese with THREE CHEESES those cheeses being Cheddar, Gruyere and Blue. Click that; you won't believe it.

* A guest post from Craig's parents about the Celebrity Cruise I sent them on as my official correspondents. Full report here.

* This totally weird but compellingly terrific BURNT BRIOCHE with homemade ricotta and blueberry tarragon jam from SQIRL here in L.A. Yes, they burn it on purpose.

Ok, on to newsletter business...

Last week, I turned a corner with my pescatarianism. Mainly: I stopped being a pescatarian and ate a delicious burger. You can read about my thought process here (and see the burger that I ate). Before that burger, I ate this vegetarian meatball sandwich from The Oaks: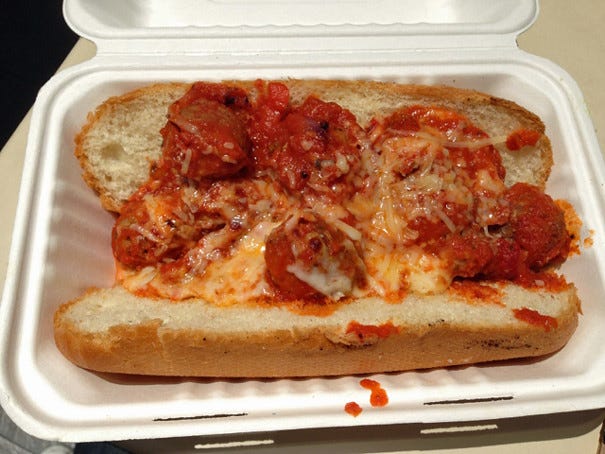 I have to give The Oaks credit: this is a tasty vegetarian meatball sandwich. I don't know how they make their vegetarian meatballs (I'm guessing lentils are involved) but the way they treated them, with tomato sauce and lots of cheese, was very smart.

Though I think these meatballs were the final straw in my not eating meat. They made me crave actual beef. Which is kind of funny that vegetarian meatballs turned me into a carnivore again. But that's pretty much what happened.

On Wednesday, we went to a birthday party where we had quite a bit to drink. So Thursday I woke up hungover and craving, in a profound way, a breakfast burrito. Craig didn't share this craving (he probably didn't drink as much as I did) so I went by myself to the 101 Diner just down the street to satisfy it. Here I am reflected in the mirror.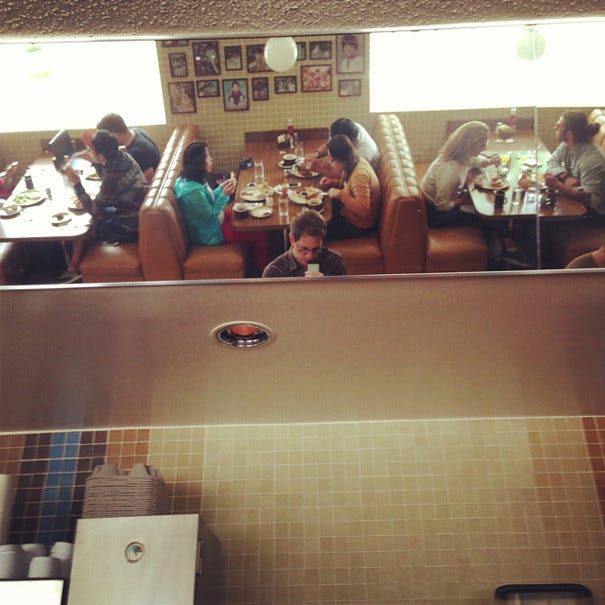 And here's my breakfast burrito which totally hit the spot.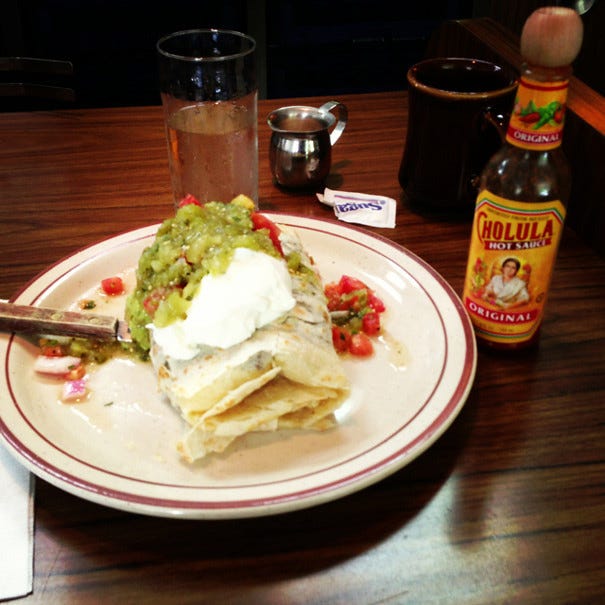 On Friday I returned, once again, to Proof Bakery (are you sick of me going there yet?) for another sandwich. This time I had a MEAT sandwich--after last week's zucchini sandwich fiasco--and I was very happy with my choice of salami with Meyer lemon butter.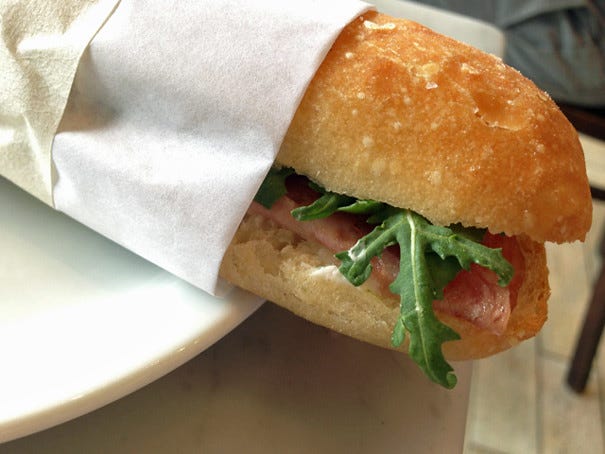 What's so good about this sandwich is how thinly the salami is sliced. It's barely a whisper of salami so it's not overwhelming in any way. It's actually kind of a delicate sandwich.

On Saturday, we tried to go to breakfast at Square One but it was so crowded we decided to look up our next best option and found it at The Kitchen on Fountain right next to Akbar.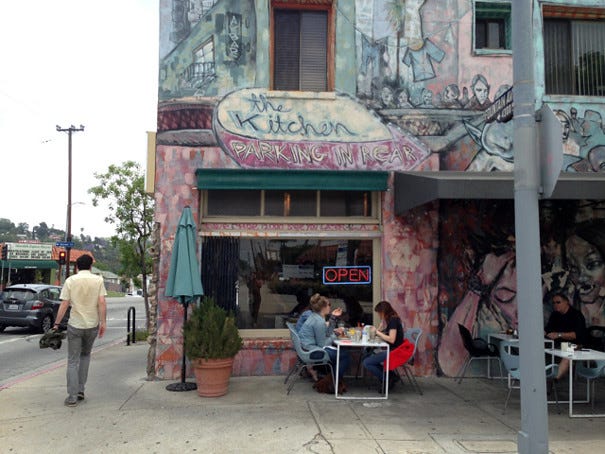 It's a cute place, not very crowded, and these warm doughnut holes certainly left a good impression.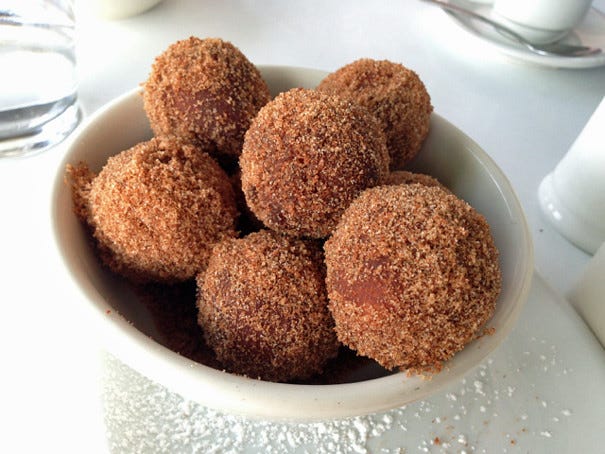 As for the main courses, Craig's baked eggs were overcooked (that's happened every time I've ordered baked eggs at brunch; if you see "baked eggs" on a brunch menu, I say: avoid it) and my eggs with a red wine sauce were just ok. For some reason, the sauce looked too much like grape gum.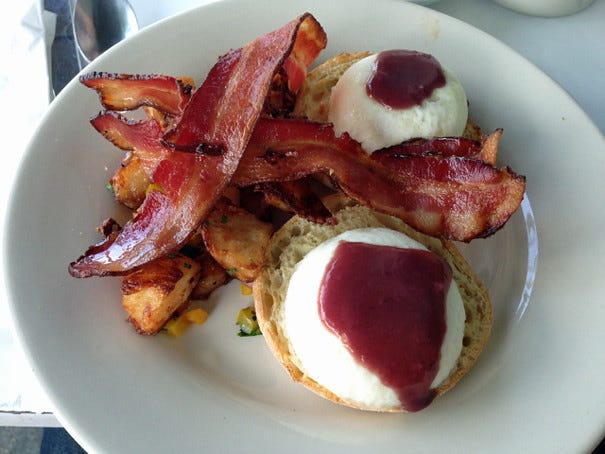 But it all tasted good.

That night, Craig and I watched Billy Wilder's Witness For The Prosecution which, if you haven't seen it, is an absolutely wonderful movie. I can't recommend it enough. Before the movie, Craig made his signature Negroni which he's presenting to me here: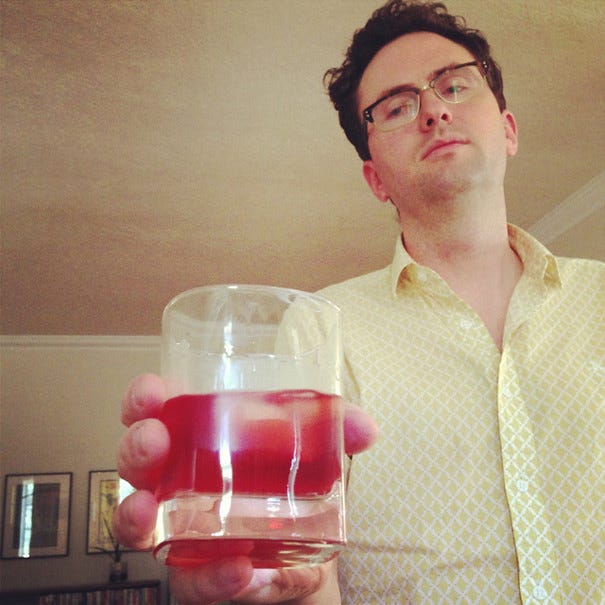 Ladies and gentleman, I was down for the count. That's one strong drink.

Ok, folks, that's all for this week!

Until next time....

Your friend,
Adam (The Amateur Gourmet)





Reading this in a browser? Get next week's in your inbox by signing up here.

Follow Me!
On Twitter
On Facebook

Check Out My Cookbook!
Secrets of The Best Chefs

Recent Food Posts

Mac with Cheddar, Gruyere & Blue Cheese

Cruising For Food

Burnt Brioche with Homemade Ricotta and Blueberry Tarragon Jam at SQIRL

Sunday Morning Kumquat Jam

Eggs Adam Roberts in Homemade Corn Tortillas

The Burger That Ended It All

On The Precipice of Meat

Writing Recipes Out By Hand

Creme Caramel

Grilled Cauliflower Steaks with Kumquat Olive Relish

How To Not Follow A Recipe

Eggplant Dirty Rice

Spring Pea Puree with Preserved Lemon

Reasons To Make Granola This Weekend

2 Deviled Eggs for 3 People

The Best Restaurant Bathrooms in New York

My Life As A Four-Day Pescatarian

Healthy Egg Salad with Yogurt, Olives and Scallions

Vegas Recovery Salad

The Top 5 Instructional Cooking Shows You Can Watch Online

People Who Salt Their Food Without Tasting It First

The Best Chocolate Chip Cookie in the World

Linguine with Clams

Vegas Uncork'd

Movie Theater Popcorn

Makin' Muesli

What's The Big Deal About Ramen?

The Great Cottage Cheese Dinner Challenge

My First Full English Breakfast

The Mast Brothers Salted Caramel Bonbon

Throwed Rolls

A Really Good Radicchio Salad

Please Don't Tell But I've Never Had a Drink at Please Don't Tell

Double-The-Cream-Cheese Cheesecake

El Celler de Can Roca

Do Any Young People Eat Cottage Cheese?

Ligurian Lemon Cake with Raspberries

Springtime in New York

Tom Cruise Makes Soup Dumplings

Anatomy of a Superior Sandwich: The Captain's Daughter at Saltie

Scrambled Eggs with Gruyere, Fried Pita with Olive Tapenade & Tomato Salad


*|LIST:DESCRIPTION|*

Unsubscribe *|EMAIL|* from this list.

Our mailing address is:
*|HTML:LIST_ADDRESS_HTML|*
Copyright (C) *|CURRENT_YEAR|* *|LIST:COMPANY|* All rights reserved.

Forward this email to a friend
Update your profile
*|IF:REWARDS|* *|HTML:REWARDS|* *|END:IF|*