A.G. Newsletter #124: Stella Barra, Sycamore Kitchen, Shortcake, Sushi Ike & Cavatappi


Hey there good people,

Oh my God, my brain is so fried studying Craigslist and Westside Rentals every 20 minutes. In case I didn't mention this last week, Craig and I have to move on July 1st (our landlords are selling our apartment) so I'm trying to find our next place to live. I'm being really picky, this first week of looking, because I want a little backyard, washer and dryer in-unit, two parking spots and a kitchen that isn't sad. (Click that to see my post about sad kitchens.)

In happier news, I cooked Diana a birthday dinner this year that included:

* A jicama and mango salad with a jalapeño lime dressing;

And...

* A Smoky Beef Chili (from none other than famous French chef Daniel Boulud).

There was dessert too but I haven't blogged about that yet.

So that was a happy event and also we went this weekend to visit our friends at the Big Gay Ice Cream truck who are here in L.A. They turned me on to The Ultimate Street Dog. Check it out, you won't believe it.

Now, on to newsletter stuff....

On Monday, last week, we celebrated our friend Rob's birthday by going bowling in Santa Monica. First, though, Craig and I grabbed pizza at this great, fast pizza place called Stella Barra.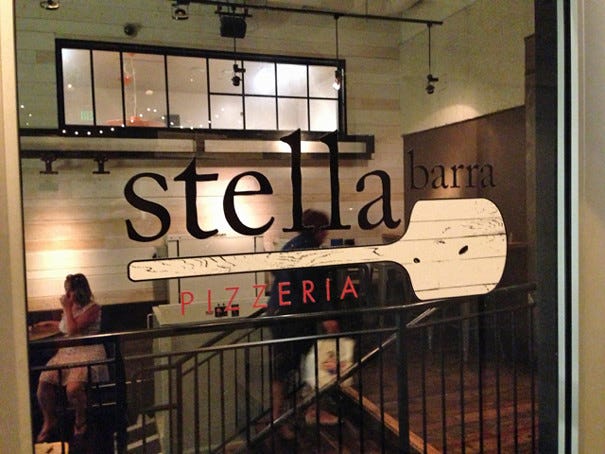 There's one near us too at the Arclight and I'm glad to know about it. We started by sharing this Brussels sprout salad which was pretty good (I liked the fried almonds).




And then we shared this pizza which had porchetta on it. Yes, porchetta.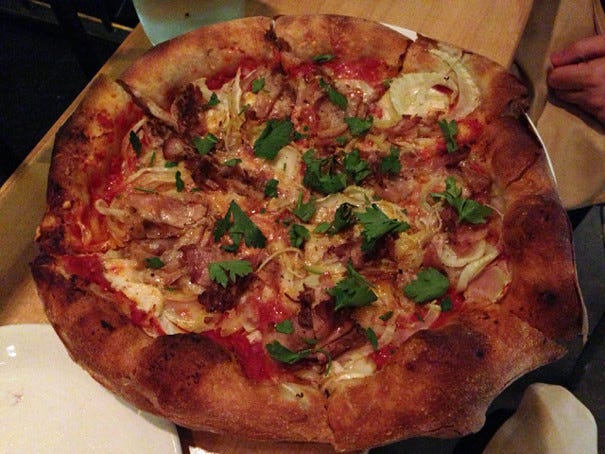 I was really impressed with the crust... incredibly light and crunchy and flavorful. This is good stuff and relatively fast.

Bowling-wise, I had a good 2nd game: I scored a 94. Here's a scene of everyone bowling.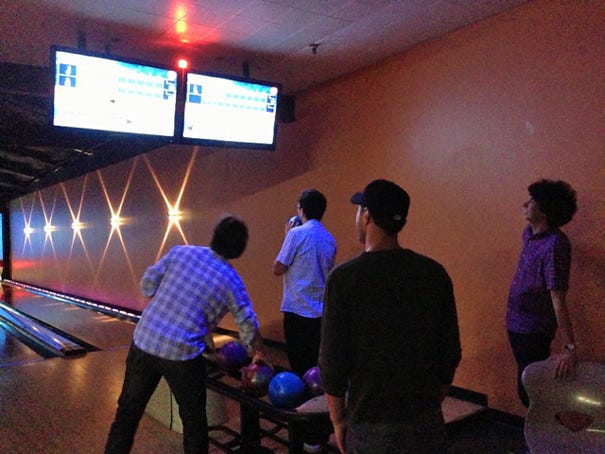 The next day I grabbed a salad for lunch at Sycamore Kitchen. This salad, with raw kale, blue cheese, and dates was pretty good if not quite great.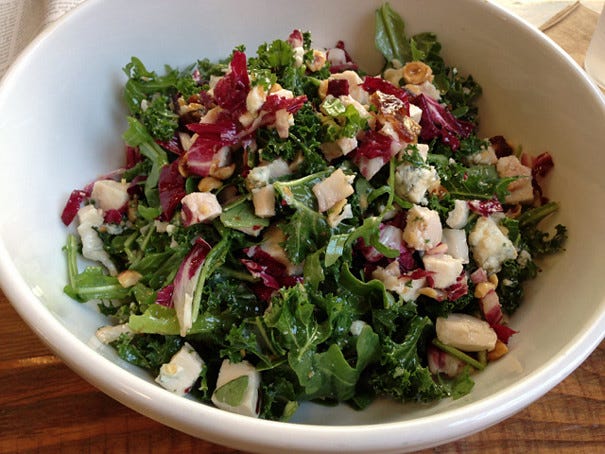 (The one I had there yesterday was truly awful but I may save that for a post or next week's newsletter.)

Another day, another salad. This one was at Shortcake in the Farmer's Market which isn't owned by Nancy Silverton but she's somehow affiliated. I know that because for lunch there I had Nancy's Chopped Salad which is the same salad they serve at Mozza. Chopped iceberg, various meats, cheese and an oregano dressing.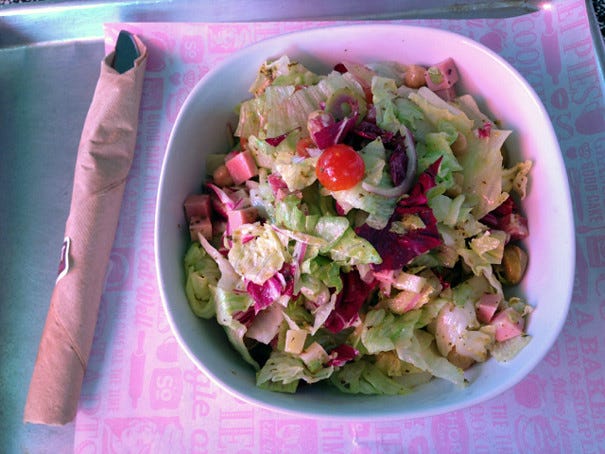 My diet rule is that if I have a salad for lunch I can have a pastry afterwards. It's a pretty terrific diet.

This time around, I had a twice-baked hazelnut croissant. Take that, New York City Cronut!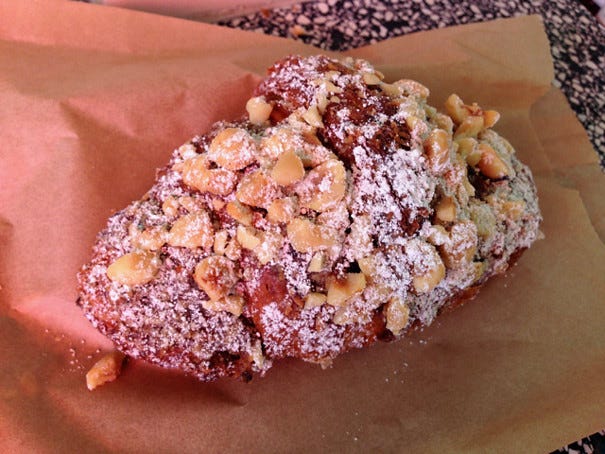 On Thursday night, we went to Sushi Ike with Diana and shared this enormous platter of terrific sushi.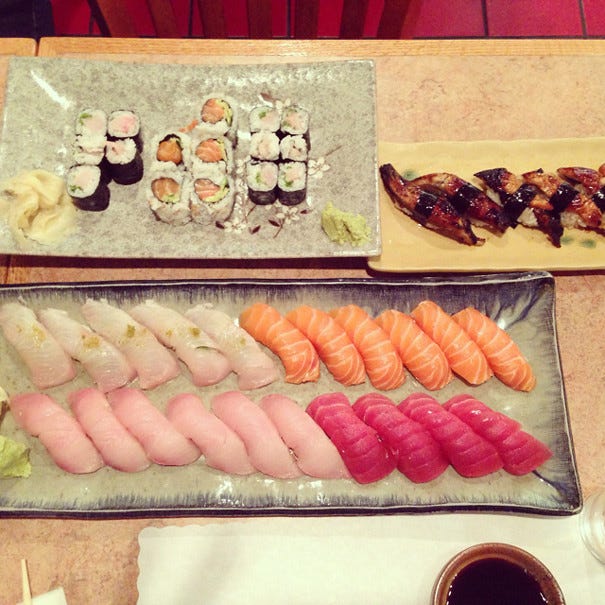 Please don't ask me to name all that fish. Suffice it to say, the yellowtail was my favorite.

Finally, on Friday (or was it Saturday?) Craig requested that I make his favorite pasta dinner, Cavatappi with Sun-Dried Tomatoes (click that for the recipe). This really is one of the best recipes I know.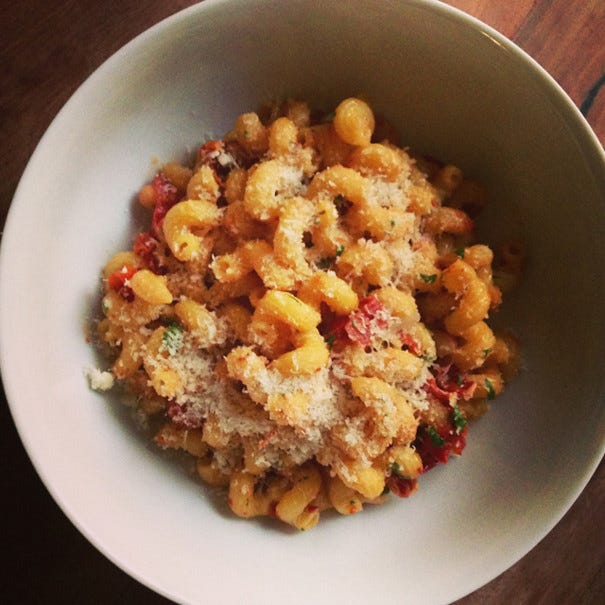 That's all for this week folks!

Thanks for giving me a break from the apartment search. Now back on to Craigslist and Westside Rentals I go.

Until next time!

Your friend,
Adam (The Amateur Gourmet)


Reading this in a browser? Get next week's in your inbox by signing up here.

Follow Me!
On Twitter
On Facebook

Check Out My Cookbook!
Secrets of The Best Chefs

Recent Food Posts

Jicama and Mango Salad with Jalapeno Lime Dressing

Nothing To Make For Breakfast? Make Breakfast Anwyay

Can You Spell Knaidel?

Seared Salmon with Roasted Broccoli

Pasta! Pasta! Pasta!

Toasted Garlic Couscous with Preserved Lemon

Cherries in Salad

Dear Ina

Mac with Cheddar, Gruyere & Blue Cheese

Cruising For Food

Burnt Brioche with Homemade Ricotta and Blueberry Tarragon Jam at SQIRL

Sunday Morning Kumquat Jam

Eggs Adam Roberts in Homemade Corn Tortillas

The Burger That Ended It All

On The Precipice of Meat

Writing Recipes Out By Hand

Creme Caramel

Grilled Cauliflower Steaks with Kumquat Olive Relish

How To Not Follow A Recipe

Eggplant Dirty Rice

Spring Pea Puree with Preserved Lemon

Reasons To Make Granola This Weekend

2 Deviled Eggs for 3 People

The Best Restaurant Bathrooms in New York

My Life As A Four-Day Pescatarian

Healthy Egg Salad with Yogurt, Olives and Scallions

Vegas Recovery Salad

The Top 5 Instructional Cooking Shows You Can Watch Online

People Who Salt Their Food Without Tasting It First

The Best Chocolate Chip Cookie in the World

Linguine with Clams

Vegas Uncork'd

Movie Theater Popcorn

Makin' Muesli

What's The Big Deal About Ramen?

The Great Cottage Cheese Dinner Challenge

My First Full English Breakfast

The Mast Brothers Salted Caramel Bonbon

Throwed Rolls

A Really Good Radicchio Salad

Please Don't Tell But I've Never Had a Drink at Please Don't Tell

Double-The-Cream-Cheese Cheesecake

El Celler de Can Roca

Do Any Young People Eat Cottage Cheese?

Ligurian Lemon Cake with Raspberries

Springtime in New York

Tom Cruise Makes Soup Dumplings

Anatomy of a Superior Sandwich: The Captain's Daughter at Saltie

Scrambled Eggs with Gruyere, Fried Pita with Olive Tapenade & Tomato Salad


*|LIST:DESCRIPTION|*

Unsubscribe *|EMAIL|* from this list.

Our mailing address is:
*|HTML:LIST_ADDRESS_HTML|*
Copyright (C) *|CURRENT_YEAR|* *|LIST:COMPANY|* All rights reserved.

Forward this email to a friend
Update your profile
*|IF:REWARDS|* *|HTML:REWARDS|* *|END:IF|*