A.G. Newsletter #125: The New Apartment, The Morrison, Pain au Chocolat Banana, Laurel Hardware & Topanga Canyon


Hey there everyone,

Remember me? Probably not!

I've been so lost in the morass of finding an apartment I couldn't keep up with my newsletters, let alone my blog. But fantastic news: we found an apartment in my favorite L.A. neighborhood, Atwater Village (you know all about it from my newsletters b/c I'm always writing about Proof Bakery). Here's a look at the kitchen. Pretty nice, right?

And now you get an exclusive look at the rest of the apartment. Here's our living room: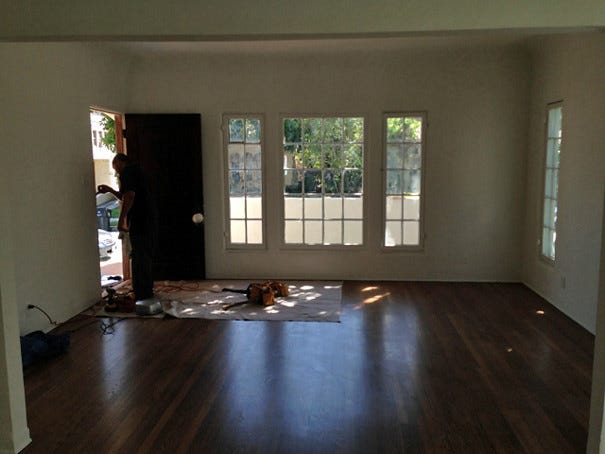 We'll put our couch against the window oh and there's a little porch outside, so we'll get chairs for that.

Then this is the dining room which doesn't look like much yet but will look really nice with our table and furniture in it: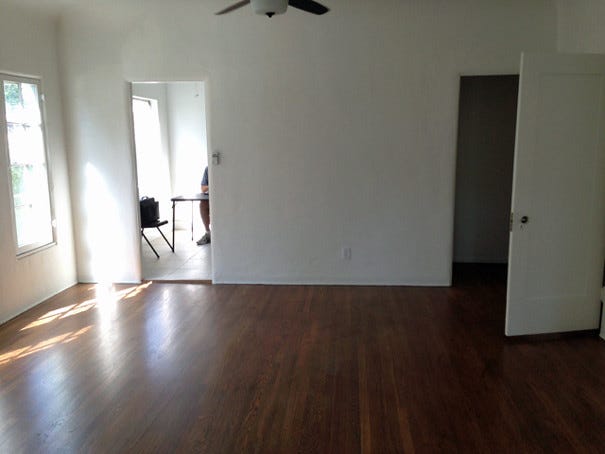 See where a person is sitting in there? I'm super excited because that's where we're going to put a little table in the kitchen for me to sit at when cooking, looking at recipes, eating breakfast, etc. I've never had a breakfast nook and even though it's not an actual nook, I'm going to call it that, so don't judge me.

So yes, we're really excited about the new apartment and we move in on MONDAY which is only 6 days away. So there's still lots to do.

In the meantime, I've been trying to get back to my regular blogging schedule. So here are some things you might enjoy:

* I found a Foolproof Apple Pie recipe that I still screwed up, but I recovered nicely;

* If that's too much work, I found these No-Bake Chocolate Peanut Butter Cookies which are a cinch to make;

* Recently, I discovered that Lolita the cat likes to drink out of our water glasses...apparently a lot of readers relate!

* Got a fat tush? Make fattoush!

Ok, now on to newsletter stuff...

Let's go back to our new neighborhood, Atwater Village. After signing our lease, Craig and I decided to explore our new surroundings. There are two main drags through Atwater: Glendale and Los Feliz. We live off of Los Feliz which means we're near The Village Bakery, Costco, and some really incredible bars and a gastropub (The Morrison).

The bars really are something else. Craig said they were "four of the best bars I've ever seen."

My two favorites are The Griffin, which has an interior that's like something out of Harry Potter: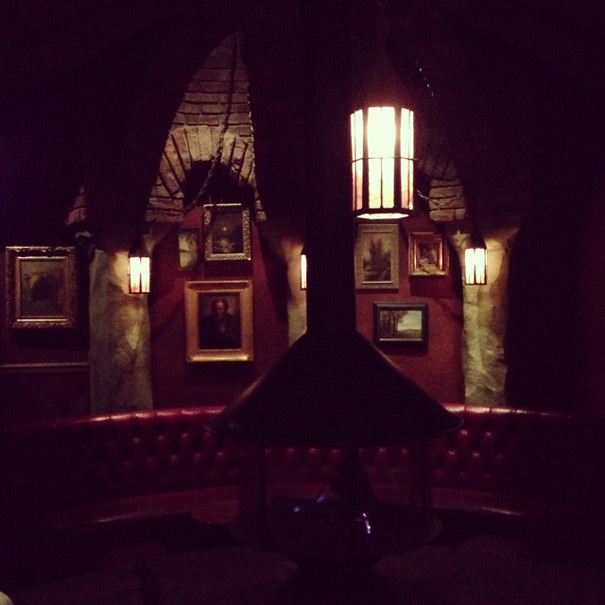 And The Bigfoot Lounge which is like something out of Twin Peaks.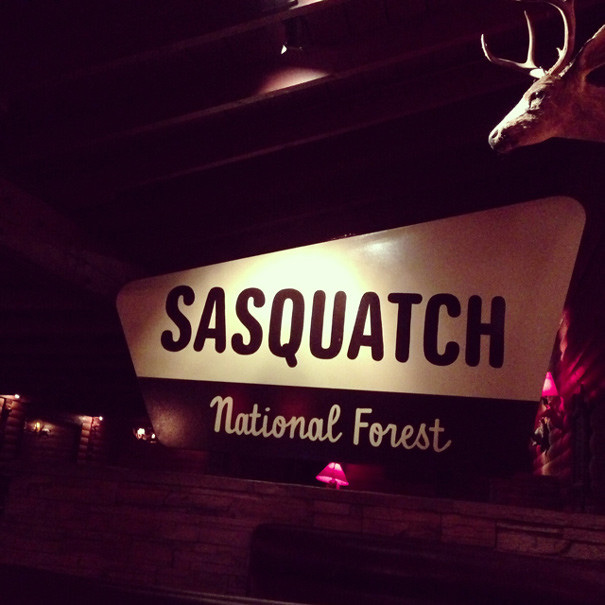 There's also this historic restaurant called Tam O'Shanter where Walt Disney used to have lunch; I can't wait to give it a try.

For dinner that night, we went to the gastropub, The Morrison, where everyone was watching some big basketball game involving something called The Heat? We focused on our food which was, indeed, very good.

I really enjoyed my lemon chicken: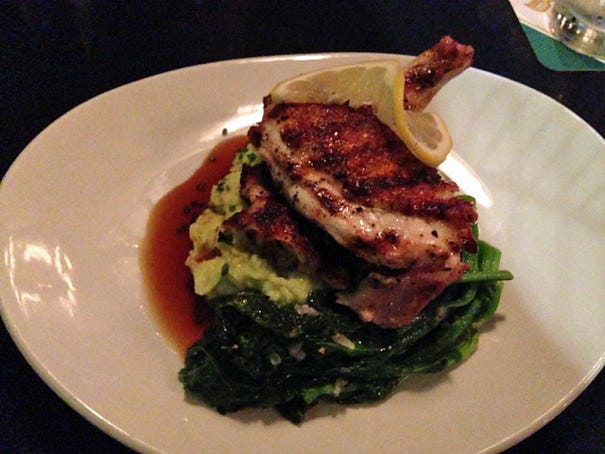 As Craig's mom would say, it had "a good do" on it.

Craig got the duck confit mac and cheese which sounds wildly decadent and it pretty much was.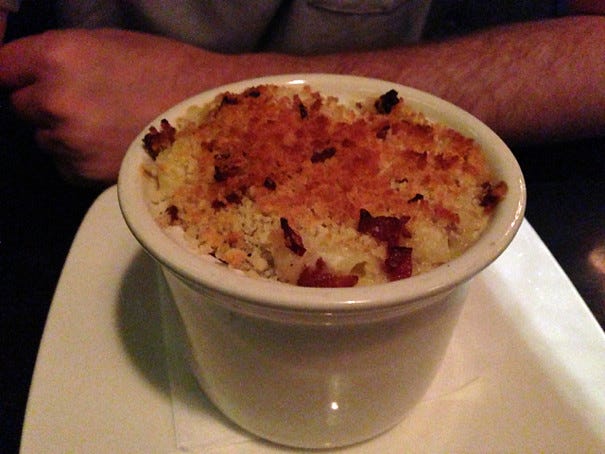 Earlier that week, I'd gone to the other side of Atwater and experienced a novel take on the chocolate croissant at Proof Bakery. Say hello to the Pain au Chocolat Banana: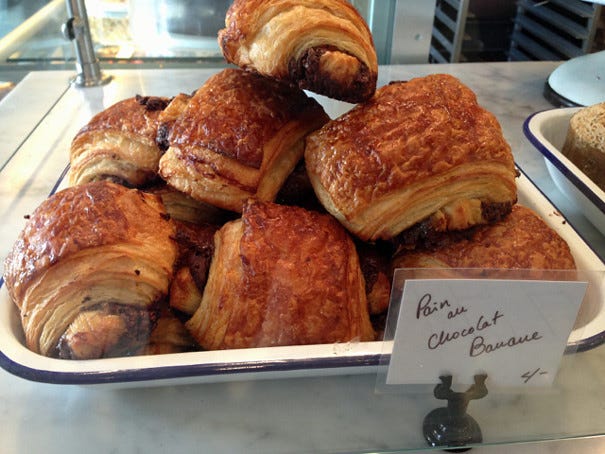 Proof already makes the best croissants I've had in California; these are a fun twist, with some fresh banana pumped in for added flavor. It totally works.

Now before this Atwater Village love affair started, Craig and I were still looking all over, including West Hollywood. That's why we wound up eating not once but TWICE at Laurel Hardware on Santa Monica.

Here's a really good turkey sandwich I had there for lunch: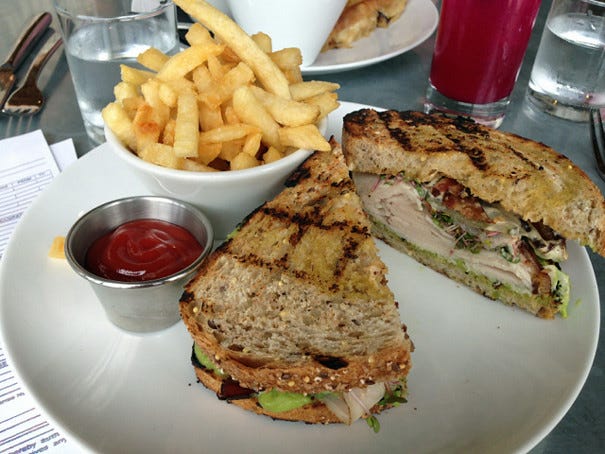 It had avocado, bacon, lots of good stuff...one of the best turkey sandwiches I've had in a long time.

Then, for dinner a few nights later, I had this fish dish (mackerel? I forget) on a corn puree that was very good: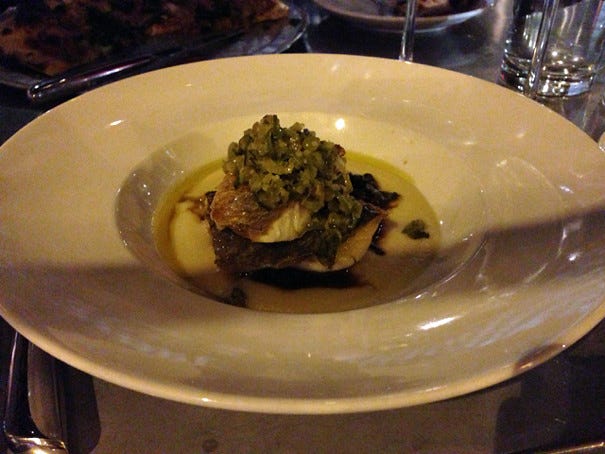 And Craig enjoyed his pizza there: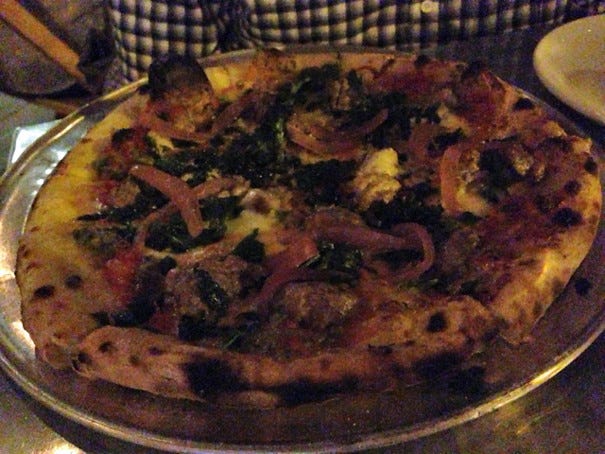 So Laurel Hardware is a good place to go.

Finally, we visited Craig's Aunt Liz, Uncle Chris, Cousin Katie and her boyfriend John in Topanga Canyon on Sunday and they cooked us up a feast. Here's everyone at the table: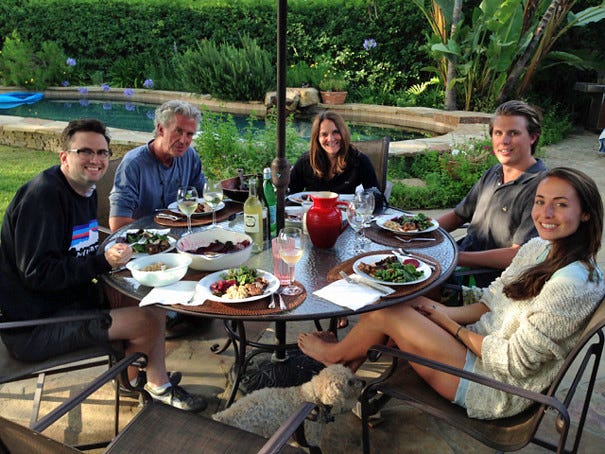 Chris made the lamb meatballs from my cookbook and they came out great.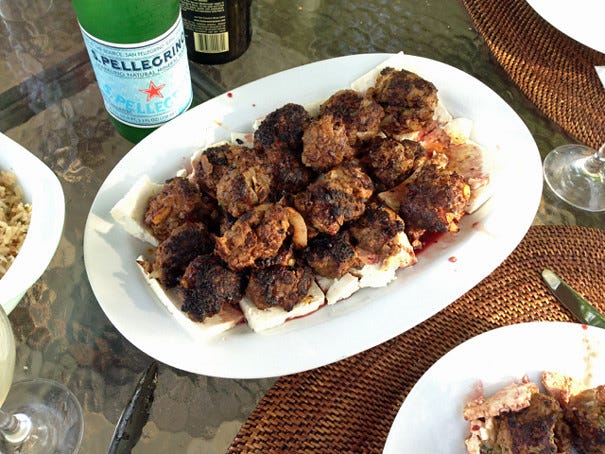 And Katie made a killer carrot cake for dessert: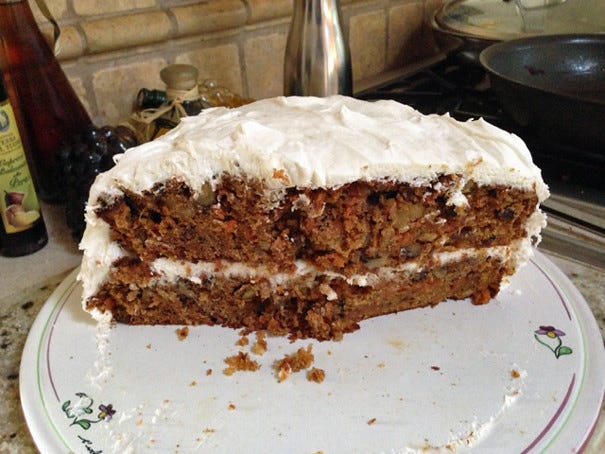 Ok, that's all for this week folks!

Next week when I write this newsletter, we'll be living in an entirely different place. How exciting.

Until then....

Your friend,
Adam (The Amateur Gourmet)


Reading this in a browser? Get next week's in your inbox by signing up here.

Follow Me!
On Twitter
On Facebook

Check Out My Cookbook!
Secrets of The Best Chefs

Recent Food Posts

The Art of the Cheese Plate

The Salty Turnip and Egg at Ruen Pair

Mustmayostardayonnaise

Diana's Butter-Roasted Potatoes

Got A Fat Tush? Make Fattoush

The Case of the Cat and the Water Glass

Sneak Peek: Our New Kitchen

Reader Mail: How To Entertain?

No-Bake Chocolate Peanut Butter Cookies

Kachin Chicken Curry

Rocio's Mole de Los Dioses

Foolproof Apple Pie

Cinnamon Toast French Toast

The Porch Swing

What Time Do You Eat Dinner?

My Ultimate Comfort Food: Fusilli with Bacon Tomato Sauce

Life's Too Short For A Bad Chocolate Chip Cookie

Stovetop-Charred Baba Ganoush

Mozza Moments: Spring Peas & Yogurt Cheese, Caramel Copetta with Marshmallow Sauce

Sunday Morning Potatoes

Make Your Rice Go Bling

Chocolate Chile Pound Cakes

When Your Bad Lunch Ruins Someone's Good Lunch

The Ultimate L.A. Street Dog & Big Gay Ice Cream

Sad Kitchens

Smoky Beef Chili

Jicama and Mango Salad with Jalapeno Lime Dressing

Nothing To Make For Breakfast? Make Breakfast Anwyay

Can You Spell Knaidel?

Seared Salmon with Roasted Broccoli

Pasta! Pasta! Pasta!

Toasted Garlic Couscous with Preserved Lemon

Cherries in Salad

Dear Ina




*|LIST:DESCRIPTION|*

Unsubscribe *|EMAIL|* from this list.

Our mailing address is:
*|HTML:LIST_ADDRESS_HTML|*
Copyright (C) *|CURRENT_YEAR|* *|LIST:COMPANY|* All rights reserved.

Forward this email to a friend
Update your profile
*|IF:REWARDS|* *|HTML:REWARDS|* *|END:IF|*