A.G. Newsletter #126: Sqirl, Diana Does It Again, Allegria, Proof & Clotilde's New Book


Hey gang,

Well we did it: we packed up our lives at the old apartment and shifted them over to our new apartment in Atwater Village. It wasn't easy. In fact, it was a huge pain in the butt. But, somehow, we managed and now we're getting ourselves set up. Currently, men are installing an air conditioner in our living room, a subject of much debate because Craig thinks it's an eyesore and I think I'll die in that kitchen if we don't have an a/c and another heat wave hits like it did last week. So we compromised by admitting I'm right.

And as that's been getting set up, I started with the most important thing: my cookbooks. Here's a post all about my new cookbook shelf which I pilfered from Craig. How did I organize it? How many books did I fit on it? You'll have to click to find out.

And you should click this link to see the last meal I cooked in our old apartment: Melissa Clark's Spicy Pork Stew with Hominy and Collard Greens. It's a ridiculously good dinner, especially in summer.

Now on to newsletter business....

I took Craig to Sqirl last week so he could experience the place for himself. It's hard to describe. It's sort of a hipster enclave down on Virgil that serves high-quality food in a scruffy environment. I mean, check out this sandwich I had....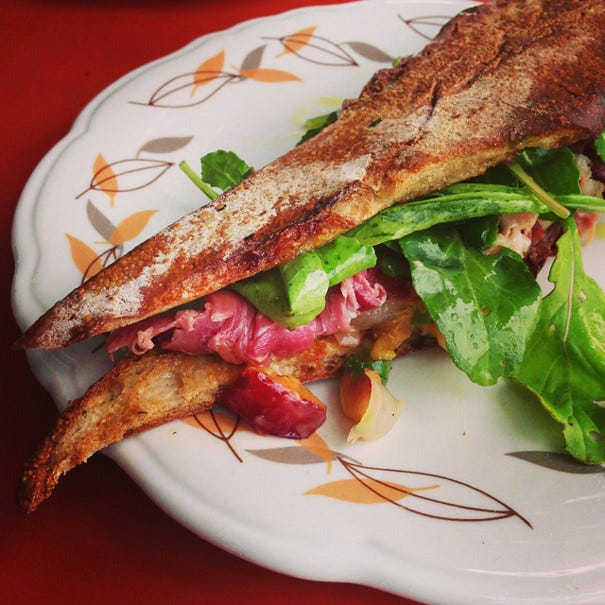 That's Mangalista ham (from really well-treated pigs) on a fresh baguette with nectarine salsa. It's a WOW experience, that sandwich.

Craig had potato hash with a fried egg on top and he really enjoyed it too.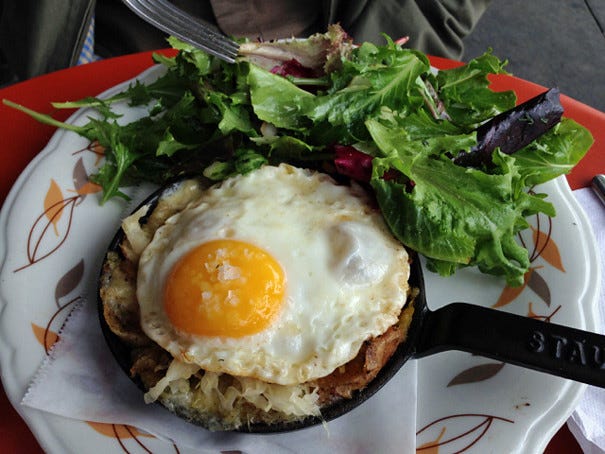 Now let's talk about my friend Diana. In this post on the blog about her butter-roasted potatoes, I confessed that Diana's giving me a run for my money with her cooking skills lately. And as a farewell dinner (they lived up the street from us at our old apartment, a little further away at our new place) she made a meal that was truly accomplished.

Some credit goes to Mark, her husband, who manned the grill like manly men supposedly do. He fired it up for a marinated flank steak while Diana finished up an incredible corn spoon bread from Smitten Kitchen's site. Here's the finished plate.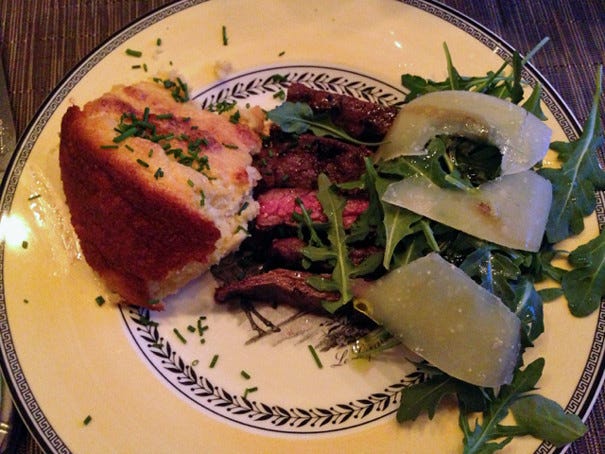 I mean, come on Mark and Diana. Can't you just, like, nuke some mac and cheese or something so I feel better about myself?

And to rub salt in the wound, Diana served up an exemplary cherry tart for dessert.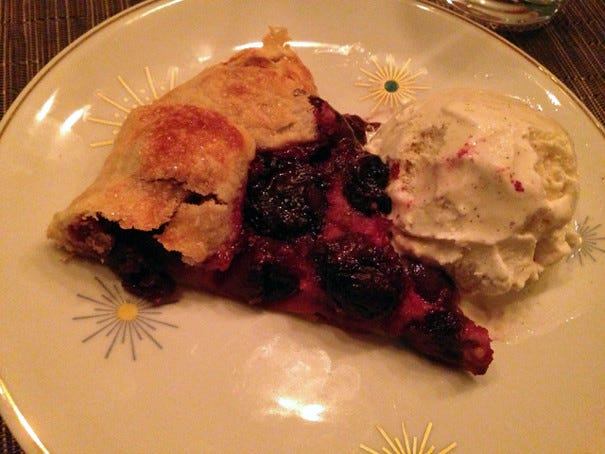 Her crust was effortlessly flaky; my crusts are effortfully dense. Jealousy aside, it was a lovely dinner. Thanks Mark and Diana!

On Friday and Saturday, Craig and I moved as much stuff as we could to the new apartment before the real movers arrived on Monday. That meant packing up the whole kitchen and carrying big heavy boxes to our cars, trucking them over, and unloading them. By the end of the day, we were sweaty and gross and famished.

I suggested we have dinner at Allegria in Silverlake because it's really cute and casual and good. Turns out it's also realllllly slooooow because there's only one waitress for 10 tables but that's part of the charm, I suppose.

Here's our dinner in progress: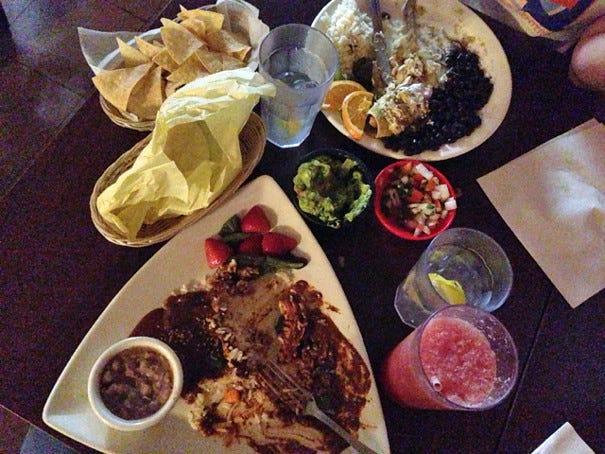 On my side, that's chicken mole with refried beans, corn tortillas, and watermelon agua fresca; in the middle there's some guacamole and pico de gallo and tortila chips; on Craig's side, that's enchiladas suisa which has a green tomatillo sauce. It all totally hit the spot.

You know how I always talk about Proof Bakery in my newsletters?

Well now I live really close by to it so I can go whenever I want. In fact: I'm here right now!

But last week I treated myself to this extraordinary piece of frangipane cake with mascarpone, apricot filling and almonds. I deserved it after all the packing I had to do.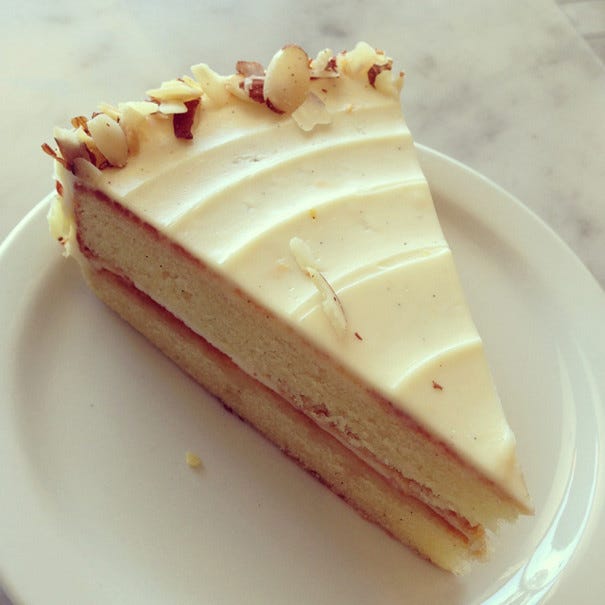 It was a very subtle cake but it had a lot of my favorite flavors in it. I would gladly eat it again.

Finally, the first piece of mail that arrived for me at the new place was a package from Random House. It's Clotilde's new book!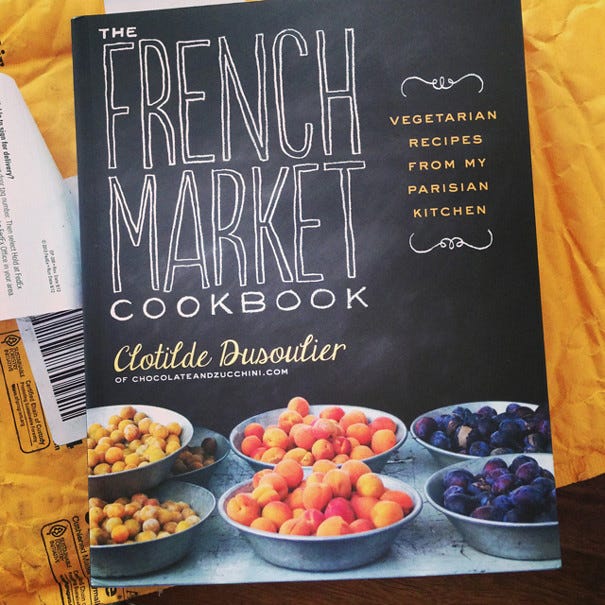 This book's an absolute stunner and I'm not just saying that because Clotilde's a friend. The design is whimsical but really beautiful and the recipes are just the right mix of seasonal/healthful and delightful/decadent. Check it out here.

That's all for this week folks!

Now I have to go finish unpacking the kitchen before my parents come see it on Friday.

Have a great 4th!

Until next time...

Your friend,
Adam (The Amateur Gourmet)





Reading this in a browser? Get next week's in your inbox by signing up here.

Follow Me!
On Twitter
On Facebook

Check Out My Cookbook!
Secrets of The Best Chefs

Recent Food Posts

Melissa Clark's Spicy Pork Stew with Hominy and Collard Greens

Seeking My West Coast Hummus Place: The Hummus Bar & Grill

My New Cookbook Shelf

Sweet Potato Hash with Aleppo Pepper and Poached Egg

Shophouse (The New Chipotle)

Malted Waffles

I Am Not An Actress

The Art of the Cheese Plate

The Salty Turnip and Egg at Ruen Pair

Mustmayostardayonnaise

Diana's Butter-Roasted Potatoes

Got A Fat Tush? Make Fattoush

The Case of the Cat and the Water Glass

Sneak Peek: Our New Kitchen

Reader Mail: How To Entertain?

No-Bake Chocolate Peanut Butter Cookies

Kachin Chicken Curry

Rocio's Mole de Los Dioses

Foolproof Apple Pie

Cinnamon Toast French Toast

The Porch Swing

What Time Do You Eat Dinner?

My Ultimate Comfort Food: Fusilli with Bacon Tomato Sauce

Life's Too Short For A Bad Chocolate Chip Cookie

Stovetop-Charred Baba Ganoush

Mozza Moments: Spring Peas & Yogurt Cheese, Caramel Copetta with Marshmallow Sauce

Sunday Morning Potatoes

Make Your Rice Go Bling

Chocolate Chile Pound Cakes

When Your Bad Lunch Ruins Someone's Good Lunch

The Ultimate L.A. Street Dog & Big Gay Ice Cream

Sad Kitchens

Smoky Beef Chili

Jicama and Mango Salad with Jalapeno Lime Dressing

Nothing To Make For Breakfast? Make Breakfast Anwyay

Can You Spell Knaidel?

Seared Salmon with Roasted Broccoli

Pasta! Pasta! Pasta!

Toasted Garlic Couscous with Preserved Lemon

Cherries in Salad

Dear Ina




*|LIST:DESCRIPTION|*

Unsubscribe *|EMAIL|* from this list.

Our mailing address is:
*|HTML:LIST_ADDRESS_HTML|*
Copyright (C) *|CURRENT_YEAR|* *|LIST:COMPANY|* All rights reserved.

Forward this email to a friend
Update your profile
*|IF:REWARDS|* *|HTML:REWARDS|* *|END:IF|*