A.G. Newsletter #127: Geoffrey's Malibu, July 4th, Michael's 30th at The Ivy & Spago and The Atwater Village Farmer's Market


Hey people!

We're settling into our new place in Atwater Village and I'm really, really liking it. Check out the first dinner party that we hosted on Sunday night (the dish featured in that post--Pasta with Bacon, Chickpeas and Spinach--is already building a fan base; 3 separate people wrote me the same day to say they made it!)--and then click this post to see the other side of the kitchen (with the burners and also a new plant my parents got us as a housewarming). It's a happy time. Oh, also, Oven-Broiled Eggplant Dip. And the very controversial: Vegans Should Eat Oysters.

Ok, then...on to newsletter stuff!

Last week my parents were here with my brother Michael and sister-in-law, Tali, to celebrate my brother's 30th birthday. We kicked things off at RivaBella in Beverly Hills but my pictures came out bad so let's skip to the next day, July 4th, when we went to lunch at Geoffrey's in Malibu with Craig's aunt and uncle. As you can see, the place is really ugly.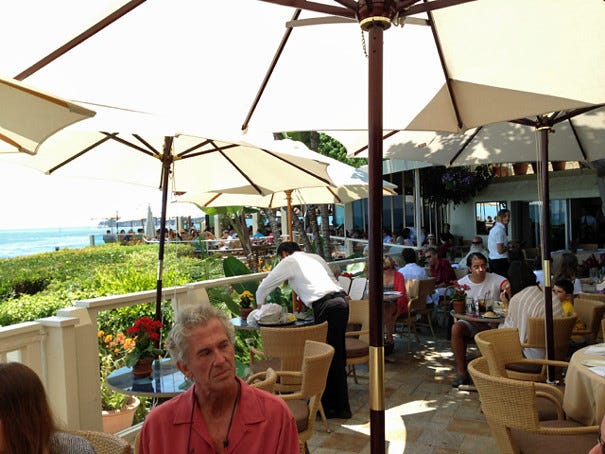 When my parents come to L.A., they eat a lot of corn soup. I don't know how they manage it. They eat it at The Ivy (more on that in a second) and they eat it here at Geoffrey's. I joined them and had a good, rich bowl with a crab cake at the center.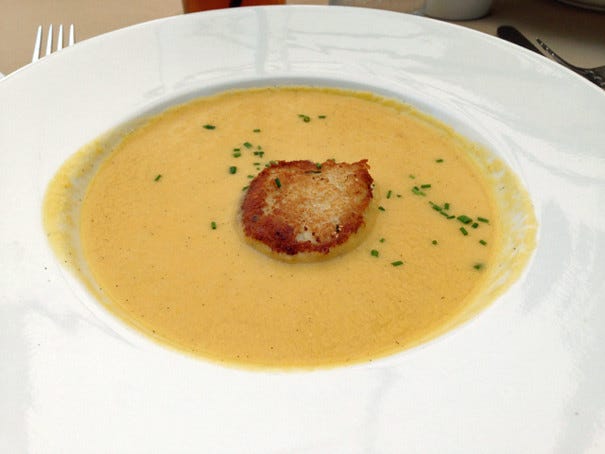 For my entree, I had paella (I figured it made sense staring at the ocean).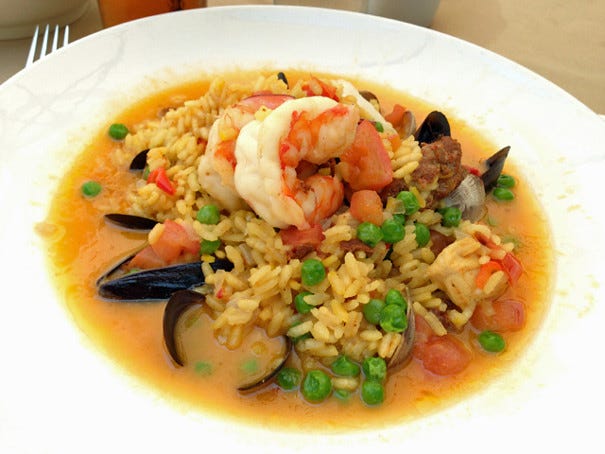 It had good flavor but I'm pretty sure the texture was all wrong. Isn't good paella supposed to have crust on the bottom? This was sopping wet; almost like a seafood soup with rice.

Later that day, Michael and Tali came to our new apartment and hung out with Lolita. Lolita took a liking to Michael.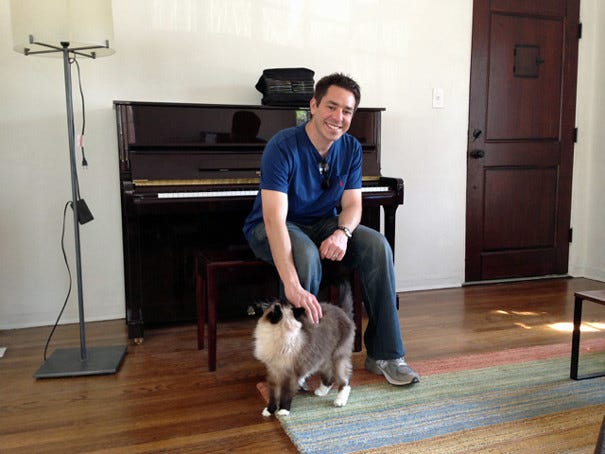 Then it was off to Mark and Diana's for July 4th. This time around, Mark and Diana--who've been showing me up lately--made a killer cocktail with muddled jalapeño and I forget what else. Then they got to grilling (are you ready for it?) hamburger that they GROUND THEMSELVES. Geesh! They used a mixture that contained oxtail. OXTAIL. Here's Mark manning the grill (is that sexist?):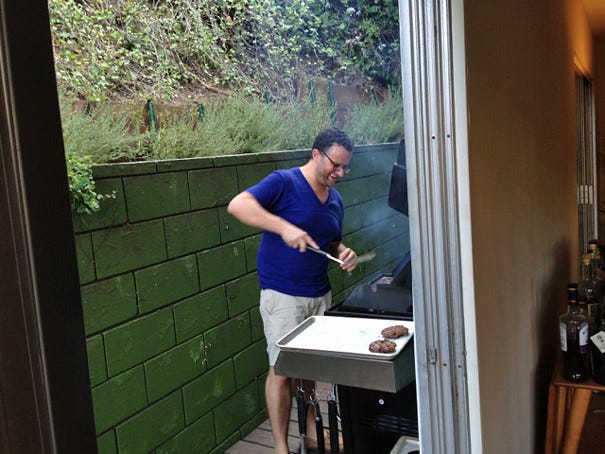 And here's the finished burger with cheese and two sides, one brought by me (potato salad, that I'll blog about later in the week) and Diana's famous sugar snap pea salad.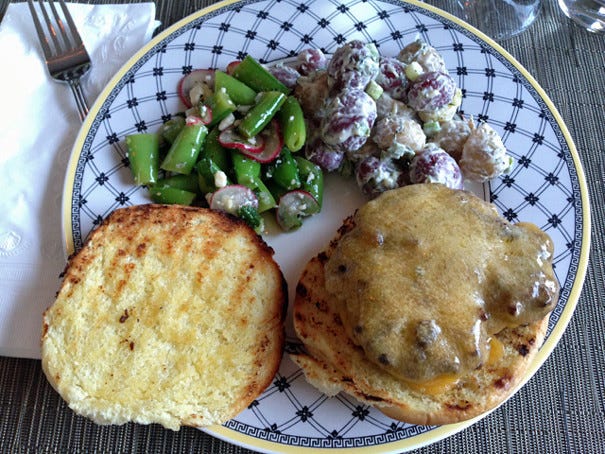 Um, yum.

And then there was this plum cobbler for dessert. I mean, c'mon!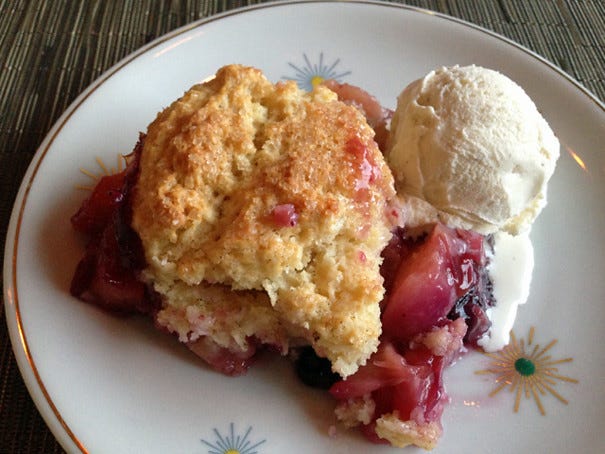 Here's everyone gathered at the table.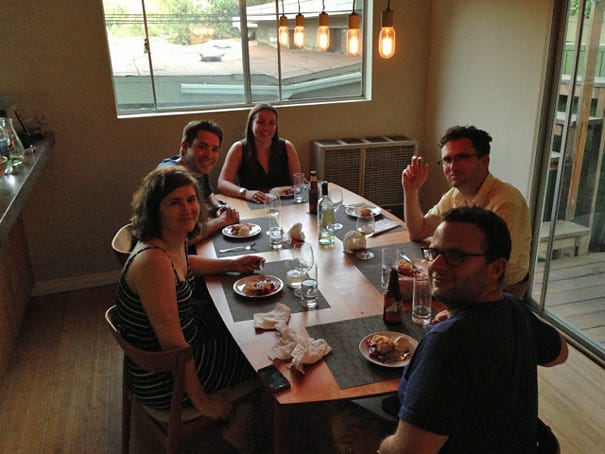 After that, it was off to the movies where we saw WORLD WAR Z which was very good. This is actually a July 4th tradition now; last year we saw MAGIC MIKE.

Michael's actual birthday started out in Santa Monica, where we met up with our 91 year-old Uncle Jerry at The Ivy (told you I'd come back to that). Here's everyone toasting Michael with champagne.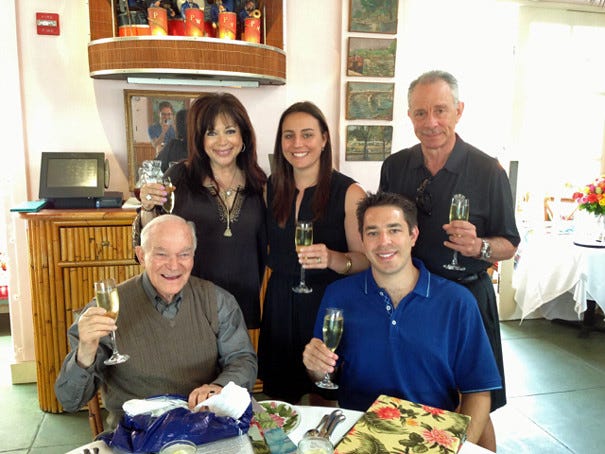 And here's the corn soup.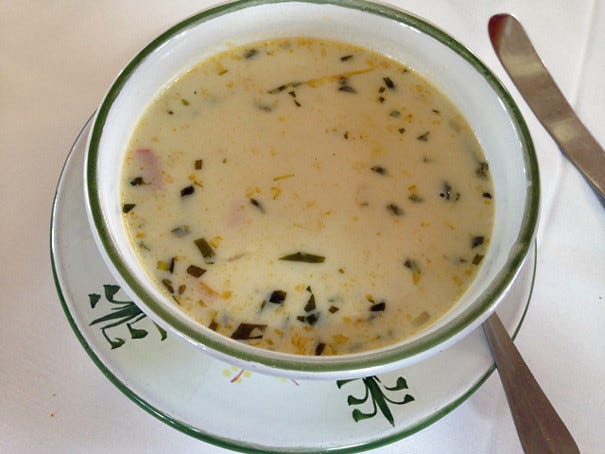 This was more watery than the one at Geoffrey's but lighter and more refreshing because of it. Then I had this Cobb salad which was a bit skimpy with the good stuff and a bit heavy with the lettuce.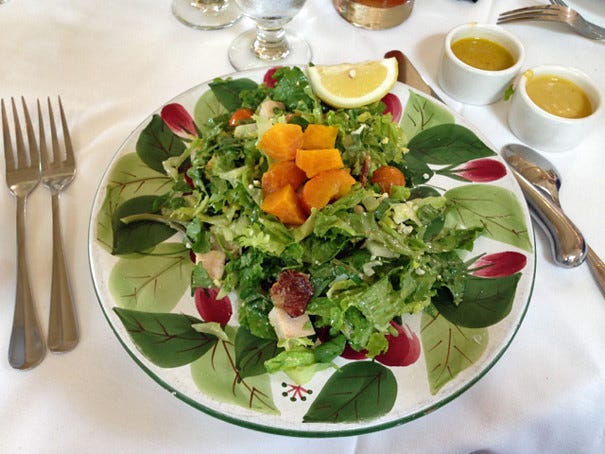 For dessert, we all shared this banana split.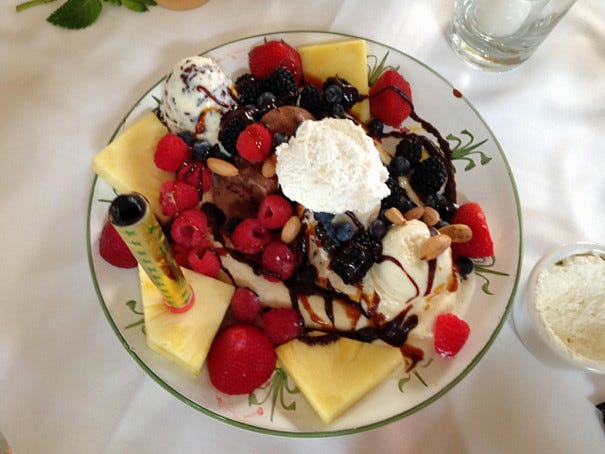 Michael's birthday festivities concluded at an L.A. classic: Spago. Here he is toasting with Craig.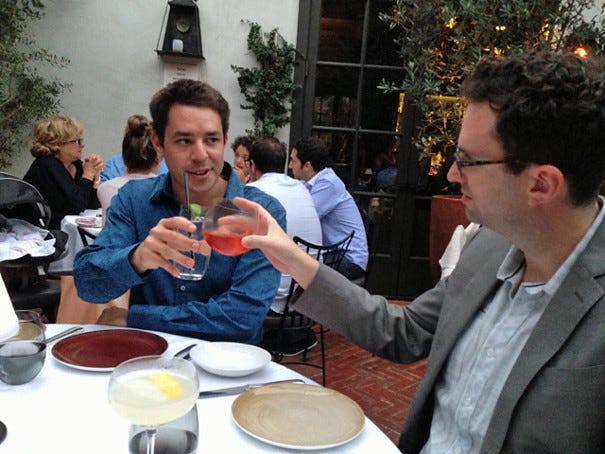 And here's my dad with a slice of the famous smoked salmon pizza (his shirt nearly gave me a seizure).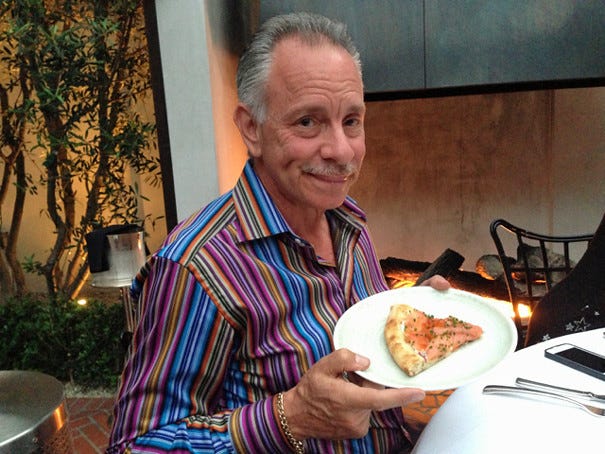 The best part of the meal (and it was a really excellent meal, so this isn't a criticism) by far was this bread basket. It was outrageously delicious.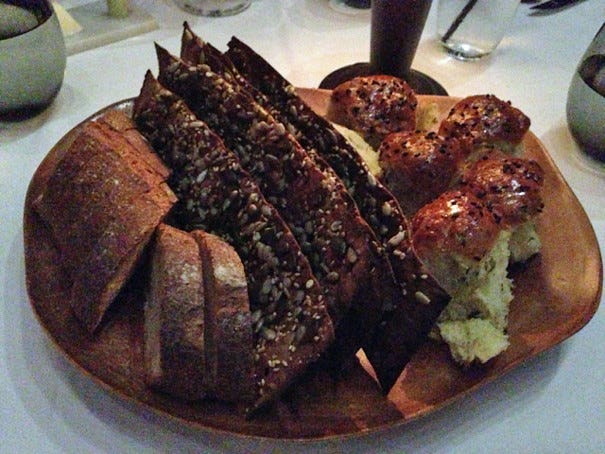 The rolls were soft and eggy (like challah) and the bread on the left, I'm sure, was very good (I actually didn't eat any of that) but in the middle were these INCREDIBLE crackers positively studded with seeds. These were so good that I asked my mom to ask the waitress for some to take home (moms are good for that) and I served them the next night with the eggplant dip. If they sold these in a store, I'd buy cartons of it and never stop eating.

For my food food, I started with this fig and burrata salad which was seasonal and refreshing.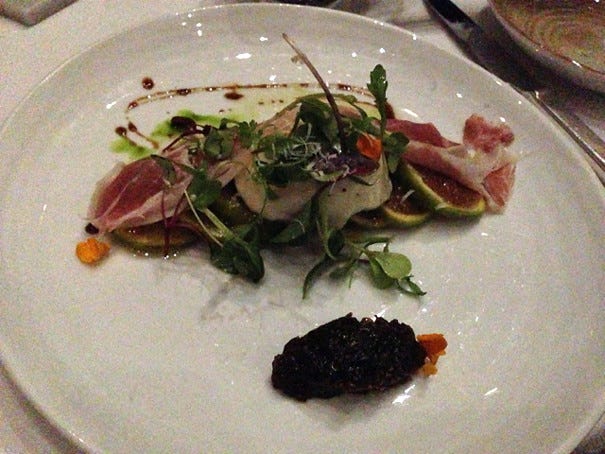 For my entree, I had the veal chop which was expertly prepared.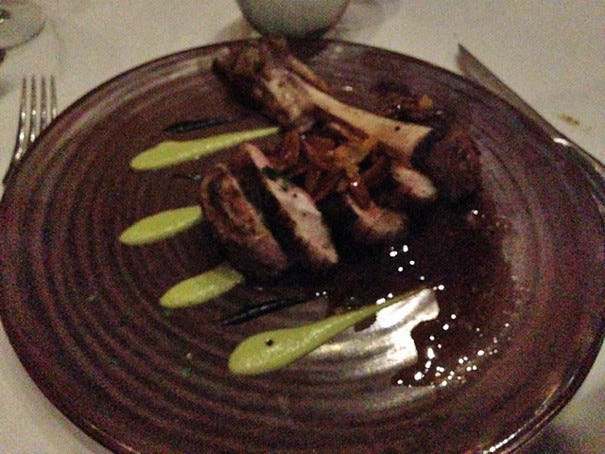 Secretly, my mom had ordered a cake for Michael's birthday. At the end of the night, it came out festooned with a candle.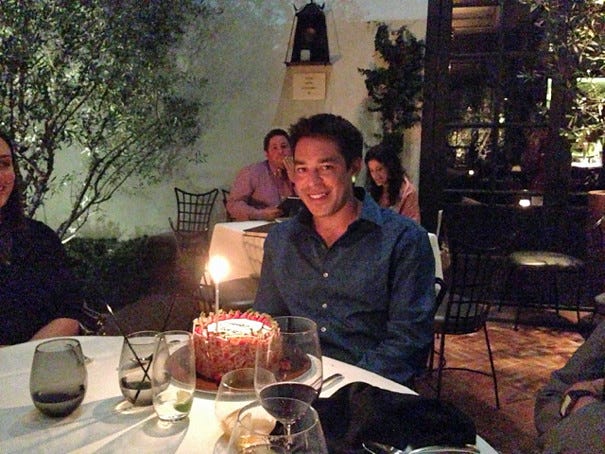 Happy birthday, Michael!

On Sunday, after my family had left, I hit up the Atwater Village Farmer's Market.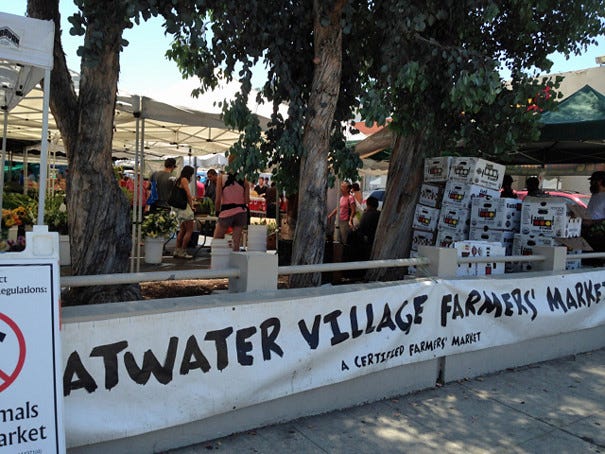 While I was lucky to live near the Sunday Hollywood Farmer's Market in my old apartment, this is going to work way better for me because: (A) It's easier to park; (B) it's smaller, so more manageable; and (C) it's just adorable.

Look at the gorgeous eggplant: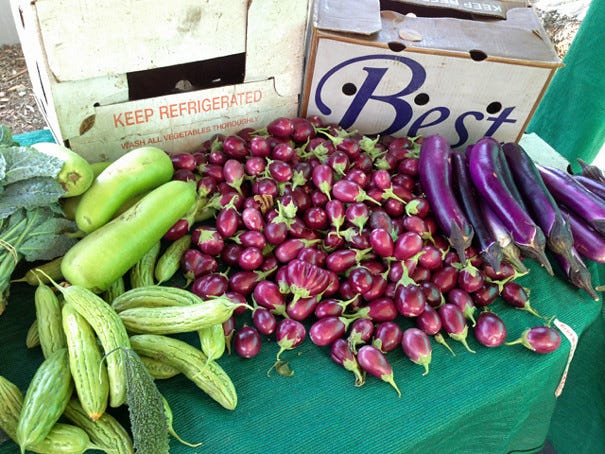 Giant watermelons: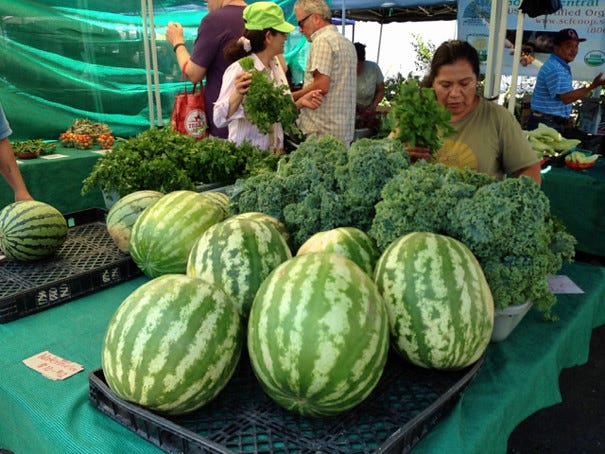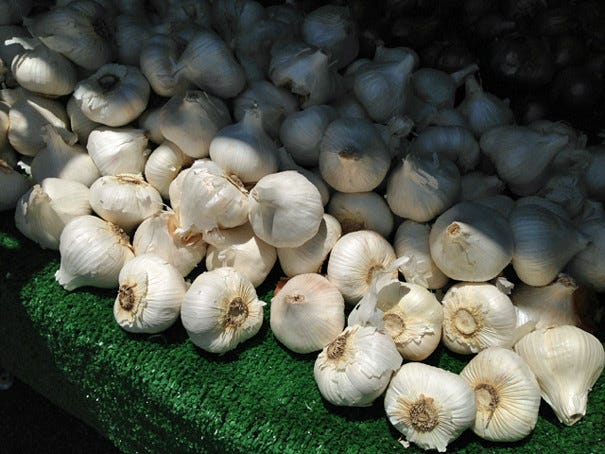 And a panoply of plums: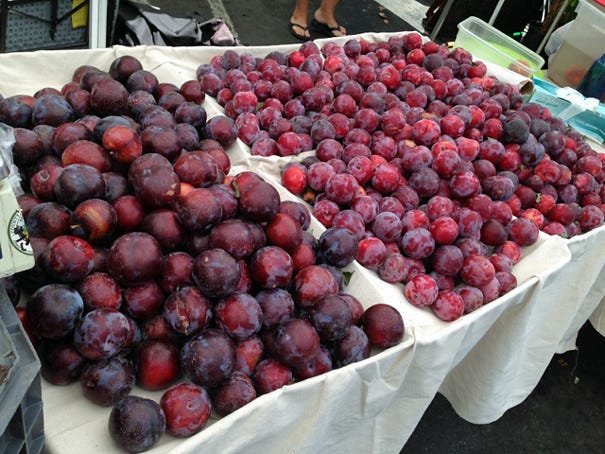 That's all for this week folks!

Tomorrow I'm hosting two very special dinner guests and recording the conversation. Why? Stay tuned!

Until next time...

Your friend,
Adam (The Amateur Gourmet)






Reading this in a browser? Get next week's in your inbox by signing up here.

Follow Me!
On Twitter
On Facebook

Check Out My Cookbook!
Secrets of The Best Chefs

Recent Food Posts

Vegans Should Eat Oysters

Oven-Broiled Eggplant Dip

The Other Side of Our New Kitchen & A Plant

Good Garlic

Pasta with Chickpeas, Bacon and Spinach

Melissa Clark's Spicy Pork Stew with Hominy and Collard Greens

Seeking My West Coast Hummus Place: The Hummus Bar & Grill

My New Cookbook Shelf

Sweet Potato Hash with Aleppo Pepper and Poached Egg

Shophouse (The New Chipotle)

Malted Waffles

I Am Not An Actress

The Art of the Cheese Plate

The Salty Turnip and Egg at Ruen Pair

Mustmayostardayonnaise

Diana's Butter-Roasted Potatoes

Got A Fat Tush? Make Fattoush

The Case of the Cat and the Water Glass

Sneak Peek: Our New Kitchen

Reader Mail: How To Entertain?

No-Bake Chocolate Peanut Butter Cookies

Kachin Chicken Curry

Rocio's Mole de Los Dioses

Foolproof Apple Pie

Cinnamon Toast French Toast

The Porch Swing

What Time Do You Eat Dinner?

My Ultimate Comfort Food: Fusilli with Bacon Tomato Sauce

Life's Too Short For A Bad Chocolate Chip Cookie

Stovetop-Charred Baba Ganoush

Mozza Moments: Spring Peas & Yogurt Cheese, Caramel Copetta with Marshmallow Sauce

Sunday Morning Potatoes

Make Your Rice Go Bling

Chocolate Chile Pound Cakes

When Your Bad Lunch Ruins Someone's Good Lunch

The Ultimate L.A. Street Dog & Big Gay Ice Cream

Sad Kitchens

Smoky Beef Chili

Jicama and Mango Salad with Jalapeno Lime Dressing

Nothing To Make For Breakfast? Make Breakfast Anwyay

Can You Spell Knaidel?

Seared Salmon with Roasted Broccoli

Pasta! Pasta! Pasta!

Toasted Garlic Couscous with Preserved Lemon

Cherries in Salad

Dear Ina




*|LIST:DESCRIPTION|*

Unsubscribe *|EMAIL|* from this list.

Our mailing address is:
*|HTML:LIST_ADDRESS_HTML|*
Copyright (C) *|CURRENT_YEAR|* *|LIST:COMPANY|* All rights reserved.

Forward this email to a friend
Update your profile
*|IF:REWARDS|* *|HTML:REWARDS|* *|END:IF|*