A.G. Newsletter #128: Big Sappy News, A Podcast, Chosun Galbee, SQRL, & Golden Road Brewing


Hey folks,

If you're the mushy sort who gets all choked up when you hear someone that you know and like is getting married, you may want to grab a tissue. Something happened at Rustic Canyon, last Thursday, and that's all I'm going to say. You'll have to click to find out.

(I think you can guess!)

The other exciting news is that I started a podcast called THE CLEAN PLATE CLUB and I'm really proud of it. The concept is this: I invite a food person and a non food person over for dinner with me and Craig and record the conversation. Our first guests were L.A. Weekly Food critic Besha Rodell and author/playwright/NY Magazine Smash-recapper Rachel Shukert. Click here to listen on my blog or click here to listen in iTunes.

Now on to newsletter stuff...

We met up with our friend Rob and other friends at Chosun Galbee down in Koreatown last week. I didn't do any of the ordering, but I did do lots of eating. We started with the little plates of banchan: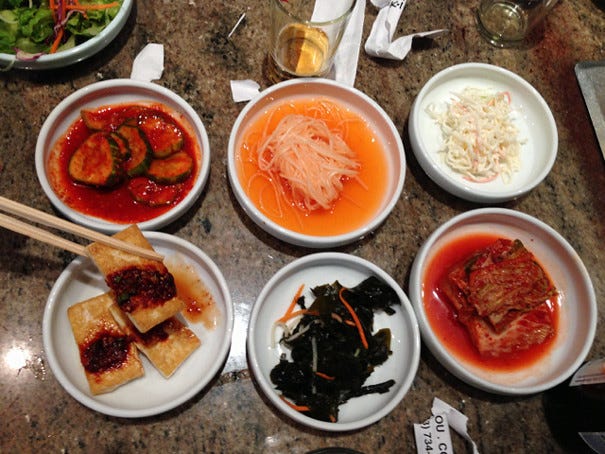 Shared an enormous seafood pancake: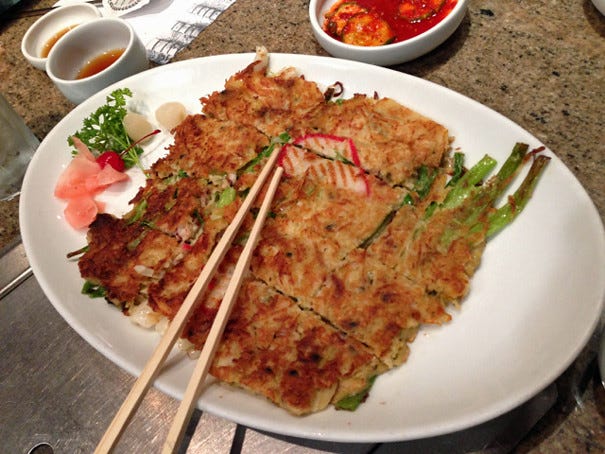 There was this kimchi soup: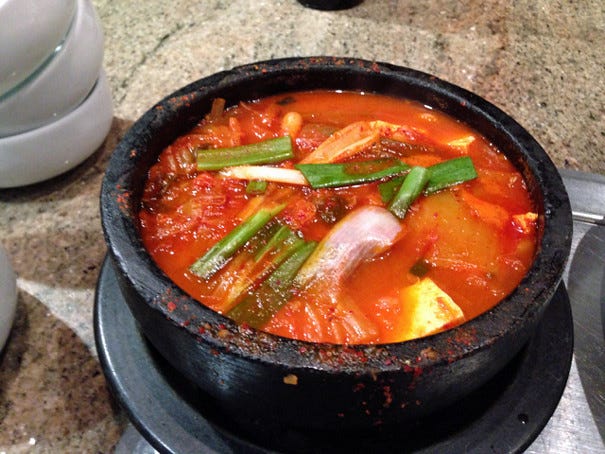 And, finally, THE BEEF. And pork.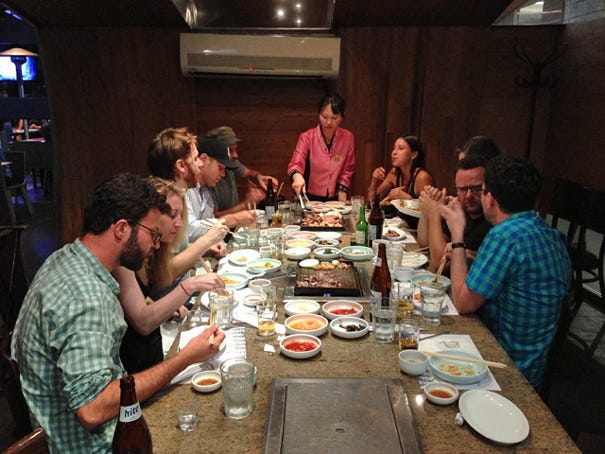 This place was good though I think I like Park's a little better and also this place that a Korean wrestler owns that I went to with Jim Cantiello but I forget the name.

On Thursday, I went with Diana to SQRL because she'd never been there. The food was, once again, top notch. We shared a cheddar sandwich with tomato jam and kale that was oh so good: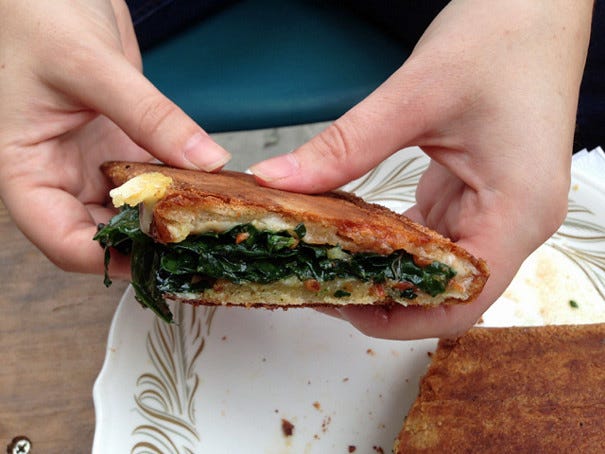 We also shared a Mangalista ham sandwich that had so much interesting flavor, it gives Iberico ham a run for its money.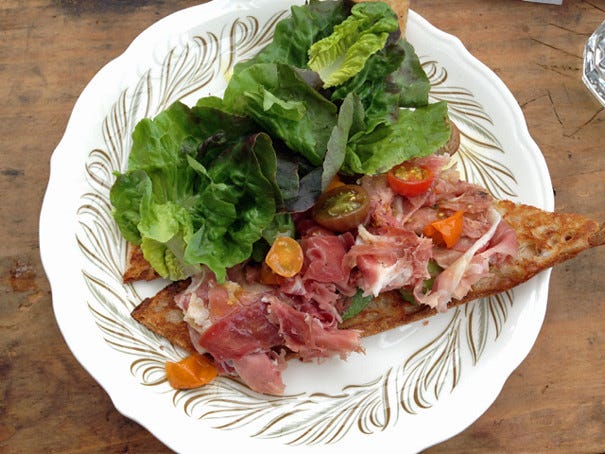 Finally, on Friday, we met up with our friends Greg and Jordan at Golden Road Brewing company right here in Atwater Village.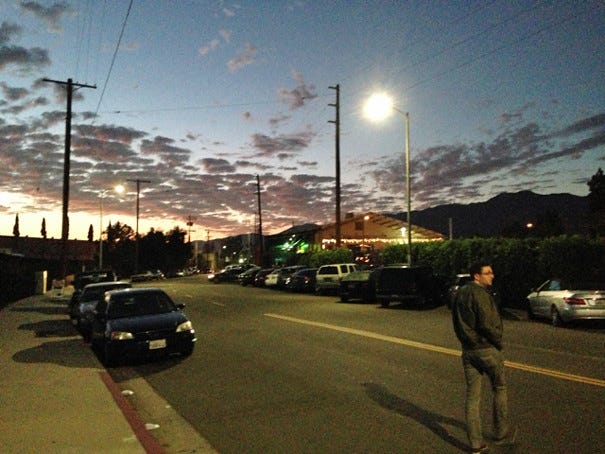 The place was totally bustling but we still managed to score a table. Here's the scene inside: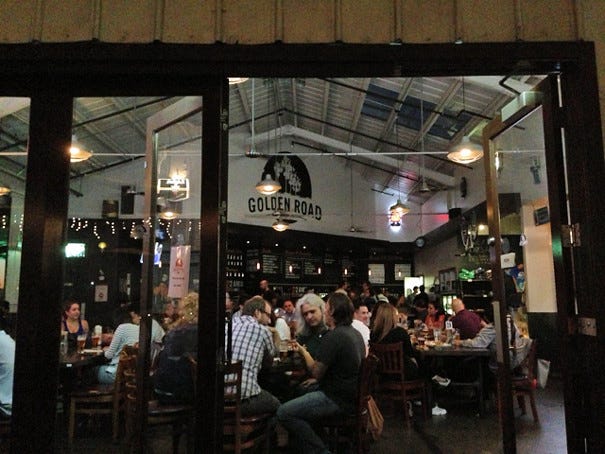 The cool thing about this place is they make their own beer. I had fun talking to the woman behind the counter about what kind of beer I should get; I wound up with an IPA that tasted of citrus.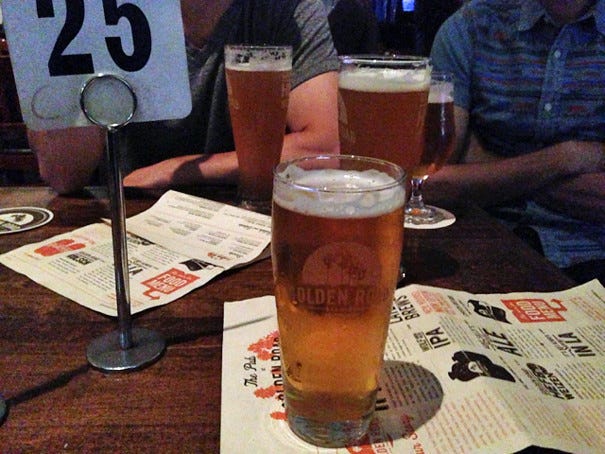 And I had a hamburger that had sun-dried tomatoes on it but don't judge.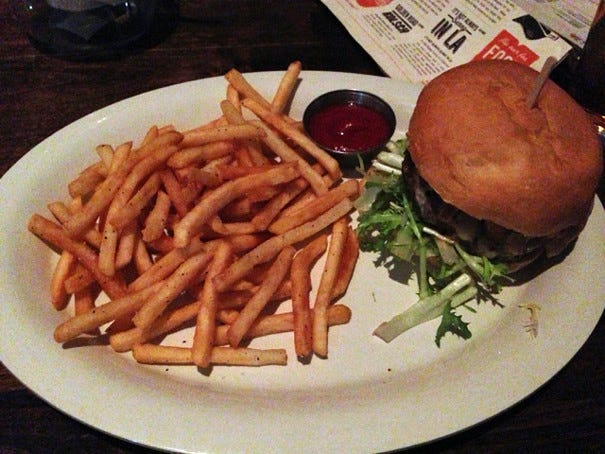 All right, that's it for this week folks!

I'm headed to Seattle, Bellingham and the San Juan Islands on Thursday and won't be back until the following Saturday, so there'll be no newsletter next week. But when I'm back I'm going to be producing blog posts, newsletters and podcasts like crazy... so get ready.

Until next time....

Your friend,
Adam (The Amateur Gourmet)













Reading this in a browser? Get next week's in your inbox by signing up here.

Follow Me!
On Twitter
On Facebook

Check Out My Cookbook!
Secrets of The Best Chefs

Recent Food Posts

Something Happened at Rustic Canyon

Almond Cake with Plums

The Clean Plate Club Logo Contest

The Clean Plate Club, Episode #1: Besha Rodell, Rachel Shukert

Breakfast Crepes with Eggs, Bacon and Cheese

The Kingston Negroni

The Top 5 Dishes I've Eaten In My Travels

Vegans Should Eat Oysters

Oven-Broiled Eggplant Dip

The Other Side of Our New Kitchen & A Plant

Good Garlic

Pasta with Chickpeas, Bacon and Spinach

Melissa Clark's Spicy Pork Stew with Hominy and Collard Greens

Seeking My West Coast Hummus Place: The Hummus Bar & Grill

My New Cookbook Shelf

Sweet Potato Hash with Aleppo Pepper and Poached Egg

Shophouse (The New Chipotle)

Malted Waffles

I Am Not An Actress

The Art of the Cheese Plate

The Salty Turnip and Egg at Ruen Pair

Mustmayostardayonnaise

Diana's Butter-Roasted Potatoes

Got A Fat Tush? Make Fattoush

The Case of the Cat and the Water Glass

Sneak Peek: Our New Kitchen

Reader Mail: How To Entertain?

No-Bake Chocolate Peanut Butter Cookies

Kachin Chicken Curry

Rocio's Mole de Los Dioses

Foolproof Apple Pie

Cinnamon Toast French Toast

The Porch Swing

What Time Do You Eat Dinner?

My Ultimate Comfort Food: Fusilli with Bacon Tomato Sauce

Life's Too Short For A Bad Chocolate Chip Cookie

Stovetop-Charred Baba Ganoush

Mozza Moments: Spring Peas & Yogurt Cheese, Caramel Copetta with Marshmallow Sauce

Sunday Morning Potatoes

Make Your Rice Go Bling

Chocolate Chile Pound Cakes

When Your Bad Lunch Ruins Someone's Good Lunch

The Ultimate L.A. Street Dog & Big Gay Ice Cream

Sad Kitchens

Smoky Beef Chili

Jicama and Mango Salad with Jalapeno Lime Dressing

Nothing To Make For Breakfast? Make Breakfast Anwyay

Can You Spell Knaidel?

Seared Salmon with Roasted Broccoli

Pasta! Pasta! Pasta!

Toasted Garlic Couscous with Preserved Lemon

Cherries in Salad

Dear Ina




*|LIST:DESCRIPTION|*

Unsubscribe *|EMAIL|* from this list.

Our mailing address is:
*|HTML:LIST_ADDRESS_HTML|*
Copyright (C) *|CURRENT_YEAR|* *|LIST:COMPANY|* All rights reserved.

Forward this email to a friend
Update your profile
*|IF:REWARDS|* *|HTML:REWARDS|* *|END:IF|*