A.G. Newsletter #130: Carousel, Sassafras, Glass Octopus, Shophouse & The Fish Peddler


Hey there newsletter fans,

Do you like nachos? Can you imagine them with homemade tortilla chips? You can't? Then you need to click this link to my KILLER HOMEMADE NACHOS. They really are killer.

If you're looking for something a little more nourishing, check out The Ultimate Weeknight Dinner: Braised Chicken Thighs and Cauliflower with Olives and Capers. It's an original recipe by ME and it's really, really good.

Oh: and guess what? We got a new kitchen table and it's totally rad. Click here to see it. You'll like it, promise.

Now, on to newsletter business...

Last week, I had some business in Pasadena (actually, I had to pick up the chairs for the kitchen table) and on my way there, I stopped at Carousel which is near the Americana mall.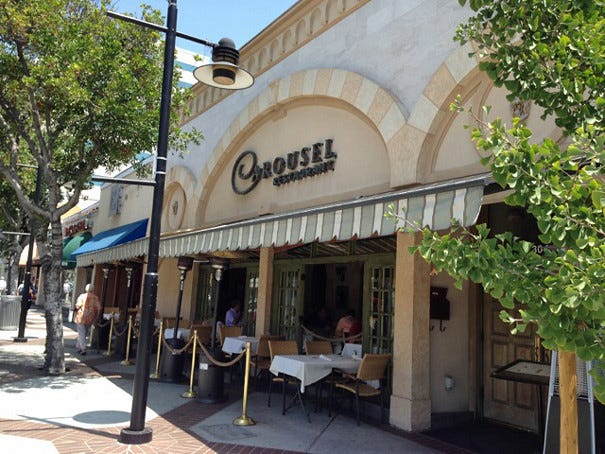 On my constant search for a place to replace Hummus Place in New York, Carsouel seemed like a reasonable contender. The food was in the right wheelhouse.

Funny, even though the woman who seated me was INCREDIBLY friendly, once seated, I was totally ignored for about 10 minutes. It got to the point where I was ready to get up and leave when a man in a suit and tie, who was probably the manager, saw me fidgeting around and rushed over, apologized for the lack of a server, and took my order. Saved by the guy in a suit.

The food came out promptly: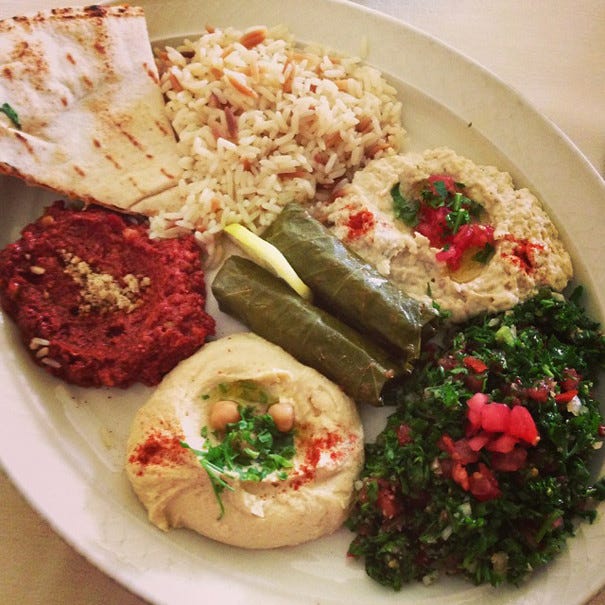 I ordered a vegetarian platter that came with hummus, eggplant dip, and something I'd never had before, Muhammara which is a spicy walnut dip. There was Sarma (stuffed grape leaves), Tabbule (parsley salad) and stuffed grape leaves. All for $10.95.

I really enjoyed it all, though for some reason it didn't do for me what Hummus Place does for me. I blame the pita which was very flat, almost stale, and not puffy and warm like the Hummus Place pita.

Interestingly, we had a meal similar to this a few nights later at the Mark Bittman-recommended restaurant Adana which I blogged about today. That meal was excellent too though also suffered from paltry pita. Try a little harder with your pita, Los Angeles!

Last Tuesday, I met a friend at a bar on Vine Street called Sassafras.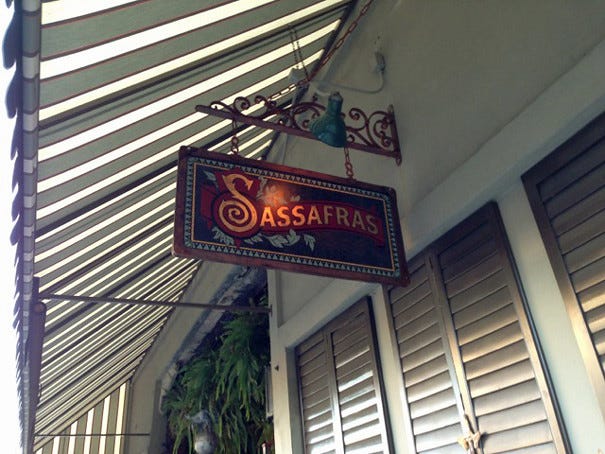 The place has a very cool decor, reminiscent of New Orleans. See?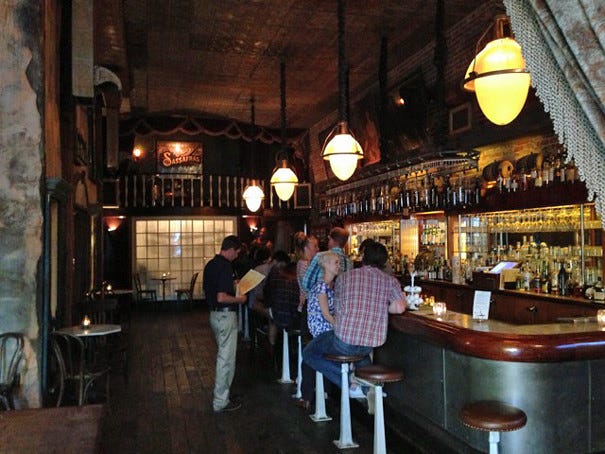 I ordered a very deadly drink--THE HURRICANE--which came in a used candle holder; my friend, Marcus, ordered a Black Strap Old Fashioned.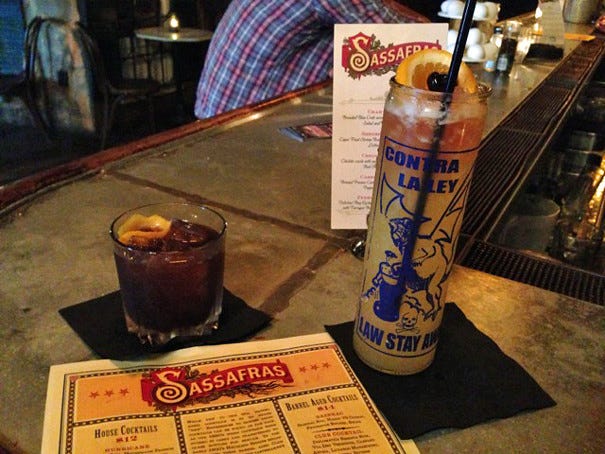 Man, was that drink strong... but really good and fresh-tasting, not like something that comes out of a huge plastic tap like you see on Bourbon Street.

So Craig was really happy last week...his glass octopus arrived! He bought it at a glass store in Bellingham, Washington, when we were there and he eagerly awaited it the whole next week, missing a few delivery days in the process. But at last, it came. Here it is: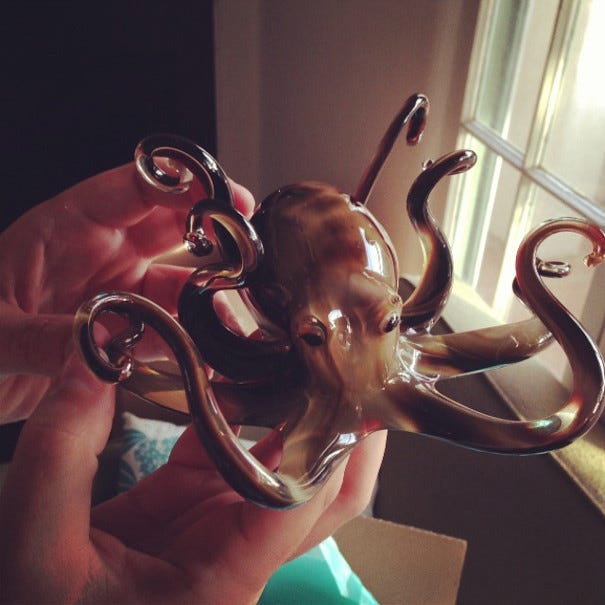 You have to admit that's a pretty nifty glass octopus. Hope it survives any earthquakes we may experience out here in L.A.!

On Friday night, we went to see "Blue Jasmine" and beforehand we needed to grab dinner near the Arclight. Stella Barra pizza was totally packed, so I took Craig across the street to Shophouse, that new Chipotle-owned restaurant I blogged about a few weeks ago.

I was lukewarm on it last time around, but this time I really liked it. I got the meatballs over rice with a green curry sauce: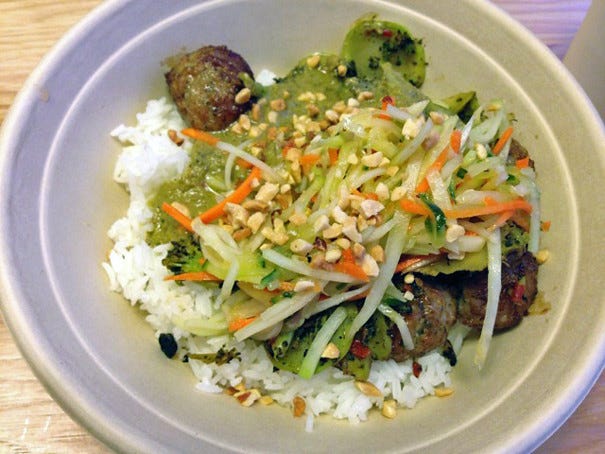 Super tasty and super cheap... it's a good place to know about.

Finally, on Saturday night, we walked out of our place trying to figure out dinner. Outside The Bigfoot Lodge (one of our local bars) we spied a food truck called The Fish Peddler.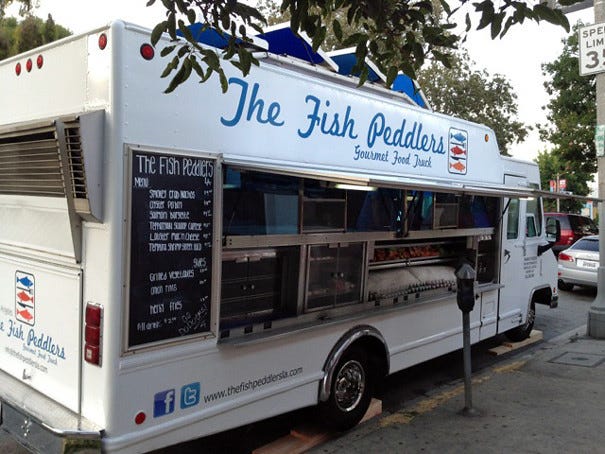 How often do you get to patronize a food truck right outside your door for dinner? Not very often, I imagine.

I ordered an Oyster Po'boy which was freshly fried: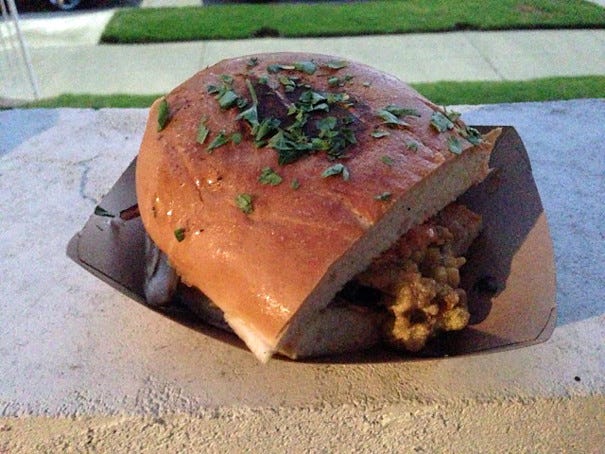 And Craig got the craziest thing I've ever seen someone eat off a truck: heirloom tomato salad with seared scallops on top. Look at this...doesn't it look like it's from a restaurant?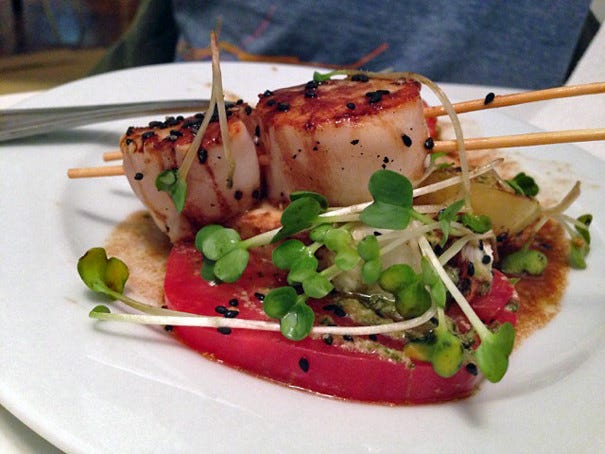 That's one of our plates (we brought it home) and it looks like a picture from a fancy joint. So: thanks food truck for parking so close to us.

That's all for this week, folks!

Oh: tune in to my blog tomorrow... I'm posting the 2nd episode of The Clean Plate Club. This one features Midtown Lunch founder Zach Brooks and Academy-Award winner Luke Matheny.

Until next time....

Your friend,
Adam (The Amateur Gourmet)
Reading this in a browser? Get next week's in your inbox by signing up here.

Follow Me!
On Twitter
On Facebook

Check Out My Cookbook!
Secrets of The Best Chefs

Recent Food Posts

Killer Homemade Nachos

Adana

The Ultimate Weeknight Dinner: Braised Chicken Thighs and Cauliflower with Olives and Capers

A Kitchen Table

My Top 10 Favorite Breakfast Recipes

How To Make A Summer Farmer's Market Feast

Do You Really Speak To The Manager?

Clamming For The First Time

BBQ vs. Cookout

The Night People Paid To Eat My Food (A Charity Dinner in Bellingham)

Fried Rice for Breakfast

The Most Disgusting, Inedible Dinner I've Ever Cooked

Explain Yourself, Minute Maid Lemonade

New Apartment? New Oven? Buy This.

Something Happened at Rustic Canyon

Almond Cake with Plums

The Clean Plate Club Logo Contest

The Clean Plate Club, Episode #1: Besha Rodell, Rachel Shukert

Breakfast Crepes with Eggs, Bacon and Cheese

The Kingston Negroni

The Top 5 Dishes I've Eaten In My Travels

Vegans Should Eat Oysters

Oven-Broiled Eggplant Dip

The Other Side of Our New Kitchen & A Plant

Good Garlic

Pasta with Chickpeas, Bacon and Spinach

Melissa Clark's Spicy Pork Stew with Hominy and Collard Greens

Seeking My West Coast Hummus Place: The Hummus Bar & Grill

My New Cookbook Shelf

Sweet Potato Hash with Aleppo Pepper and Poached Egg

Shophouse (The New Chipotle)

Malted Waffles

I Am Not An Actress

The Art of the Cheese Plate

The Salty Turnip and Egg at Ruen Pair

Mustmayostardayonnaise

Diana's Butter-Roasted Potatoes

Got A Fat Tush? Make Fattoush

The Case of the Cat and the Water Glass

Sneak Peek: Our New Kitchen

Reader Mail: How To Entertain?

No-Bake Chocolate Peanut Butter Cookies

Kachin Chicken Curry

Rocio's Mole de Los Dioses

Foolproof Apple Pie

Cinnamon Toast French Toast

The Porch Swing

What Time Do You Eat Dinner?

My Ultimate Comfort Food: Fusilli with Bacon Tomato Sauce

Life's Too Short For A Bad Chocolate Chip Cookie

Stovetop-Charred Baba Ganoush




*|LIST:DESCRIPTION|*

Unsubscribe *|EMAIL|* from this list.

Our mailing address is:
*|HTML:LIST_ADDRESS_HTML|*
Copyright (C) *|CURRENT_YEAR|* *|LIST:COMPANY|* All rights reserved.

Forward this email to a friend
Update your profile
*|IF:REWARDS|* *|HTML:REWARDS|* *|END:IF|*