A.G. Newsletter #131: Little Flower, Hugo's Tacos, Flowers, Canele, Proof Granola and Dinner at Doug & Brian's


Hey there gang,

Did you get a chance to listen to the 2nd episode of The Clean Plate Club? It features Midtown Lunch founder Zach Brooks and Academy Award winner Luke Matheny and it's actually blowing up on iTunes. It's had over 5,000 listens since I posted last week... that's pretty nuts! Join in the fun by clicking here. (And if you want recipes for what we ate, here's the Avocado Soup and here's the Cheese Enchiladas with Chile Con Carne.)

In other news, I made Heavenly Hummus with Homemade Pita Chips the other day and people are really digging that post. People are also digging this recipe for Spicy Chickpeas with Curry Leaves and Kale. Guess I'm on a roll.

Not really, though because I had a CAKETASTROPHE the other day. Click that link to see how I recovered.

Ok, now on to newsletter business...

I discovered, recently, that I can drive to Pasadena pretty easily without taking a highway. Just drive up to Colarado, make a right, and sail on down. On the way, you pass Little Flower which I checked out once before and wanted to check out again. This time, I tried their Curried Chicken Salad.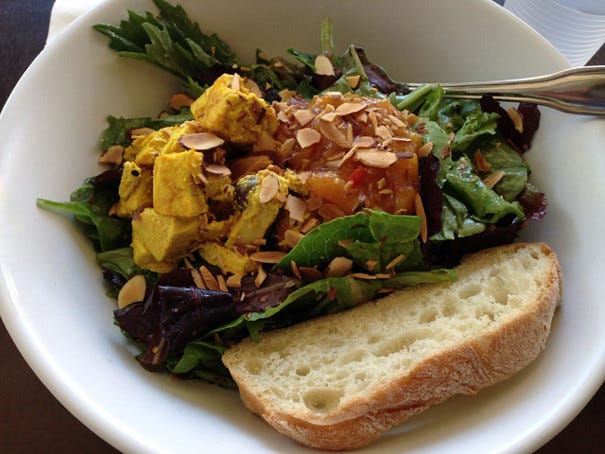 It's a really strange presentation, this salad. A well-dressed mesclun mix is piled into a bowl, on the left there's a pile of curried chicken salad (with grapes) and in the middle? A pile of apricot jam.

It sounds off-putting, but it weirdly works. You stab a bite of chicken, a little lettuce and some apricot jam on to your fork and all of those flavors and textures somehow work. It's like going to some weird aunt's house and just accepting this strange bowl of food she put in front of you. I got a kick out of it. (The place itself is such a madhouse, though, I can't imagine eating there regularly.)

Little Flower is famous for its salted caramels (they were recently named one of the best desserts in L.A.) so I bought two to bring home.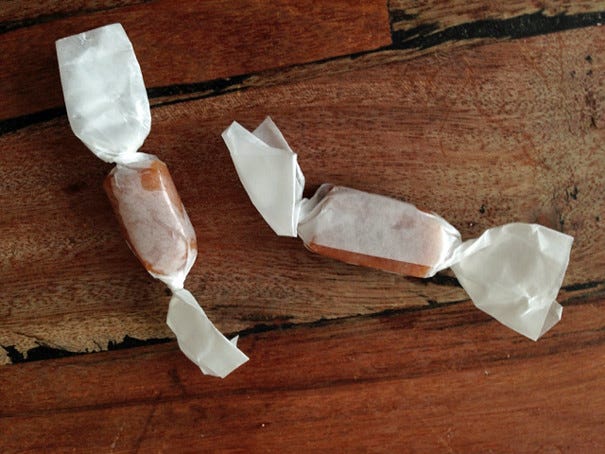 It's cute how they're wrapped individually, like that. I was hoping it would just melt in my mouth, but instead it got stuck on my teeth. I realize that's how most caramels are but that's not really for me (I'm the son of a dentist, after all). Still: if you like that sort of thing, they're good.

On the other side of Atwater is a place called Hugo's Tacos that a very famous celebrity recommended to Craig recently (is it name-dropping if you don't actually name the celebrity?). So, hankering for a taco, I wandered over there and grabbed lunch.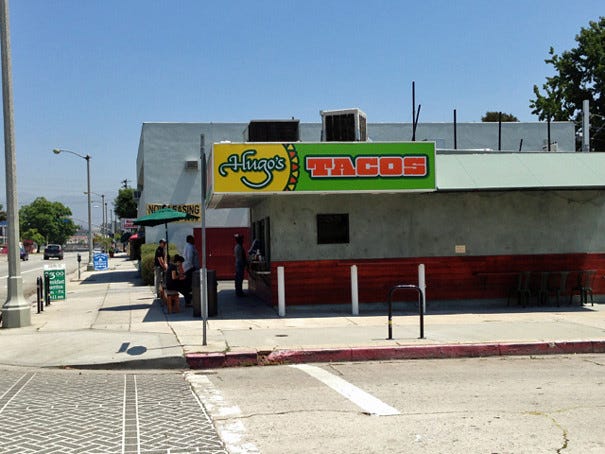 You order from a little window. I chose 3 grilled fish tacos in soft tortillas with 3 different salsas (pico de gallo, tomatillo and chipotle/honey). Here they are: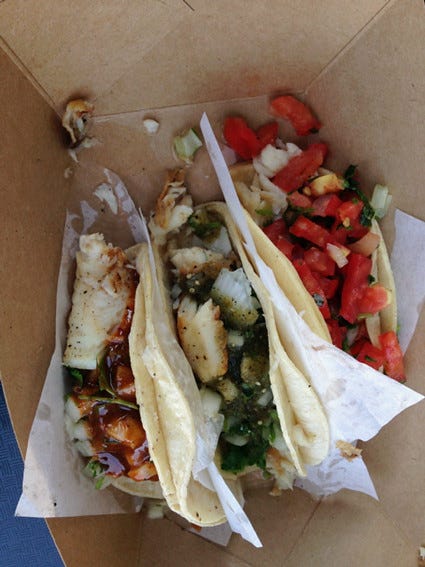 These were super good, though I started to wonder about the fish. Don't you wonder when you eat really cheap fish where it comes from? Sometimes I do (in a way that I don't always worry about meat). But, whatever, it tasted good and was a delightful thing to eat in our new neighborhood. I will be back.

Nearby, actually, is a place called Atwater Village Farm that I blogged about once before. The other day I was there and spied the most beautiful flowers. They were $15, so I couldn't justify that, but after talking to the woman there she said she could sell them to me for $12. I couldn't resist. Aren't they beauts?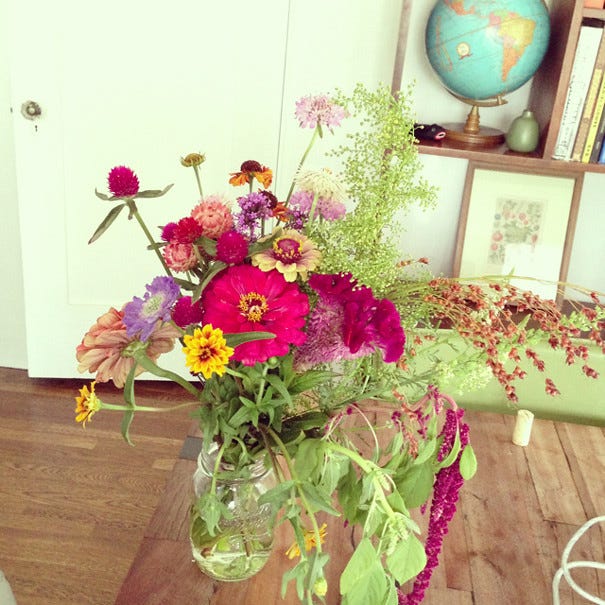 I'm glad I bought them, though I can't make a habit out of it or anything.

Next up: ANOTHER Atwater place, Canele, where Craig and I wound up the other night. There was no special occasion. It was Friday night, we were standing at a sausage and beer place called Links & Hops that looked perfectly fine, but then Craig said, "Should we go check out what's going on at Canele?" I was halfway out the door by the time he finished that sentence because I love Canele so much. It really is one of my favorite restaurants in L.A., it's just so good and charming.

This time around, we shared an heirloom tomato salad: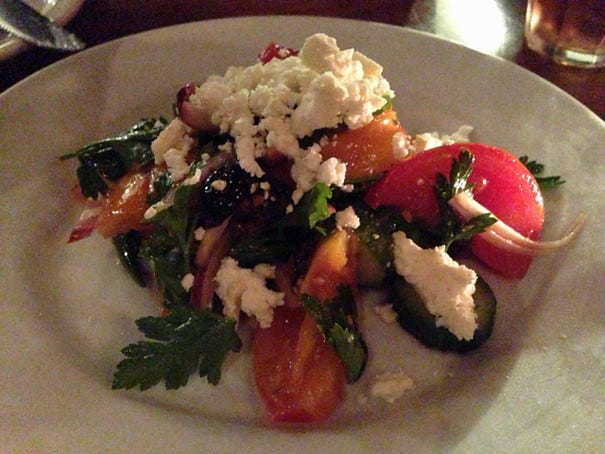 Craig had a pork dish that was so generous it looks like they gave him half a pig: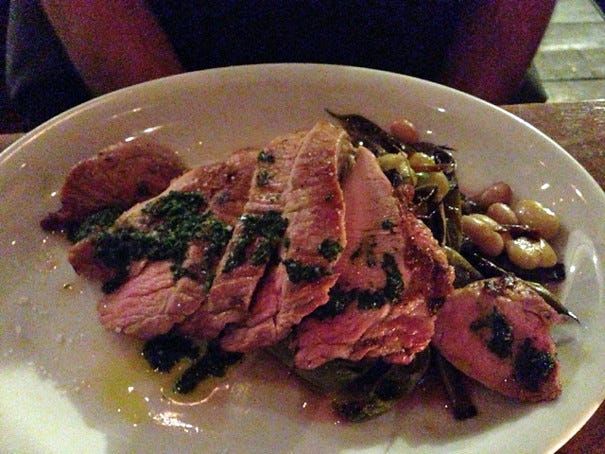 I had a wonderful seafood stew with clams and halibut and a terrific broth: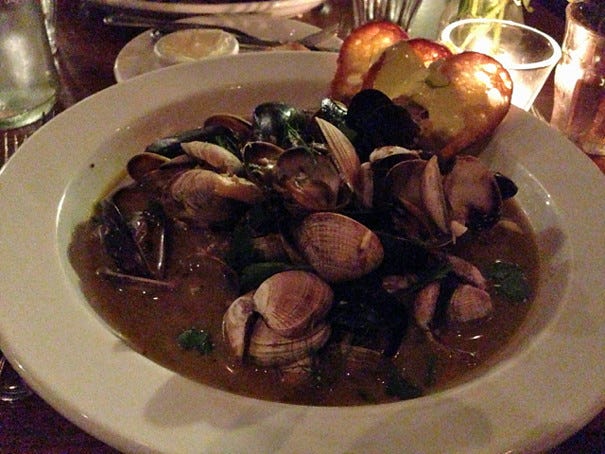 Man, I love that place.

I also love Proof Bakery where I went this Sunday to do the crossword puzzle while getting my knives sharpened at the farmer's market. That place is a madhouse on Sundays, so it's really not the best place to sit, but still... I always manage to get a seat.

On this particular Sunday, I decided to eat light so I had their yogurt and granola which was truly wonderful and notable. There was a layer of fruit on the bottom (apricot?), really good yogurt and then a granola that had an unusual amount of seeds. I really liked it (and it paired well with my iced coffee).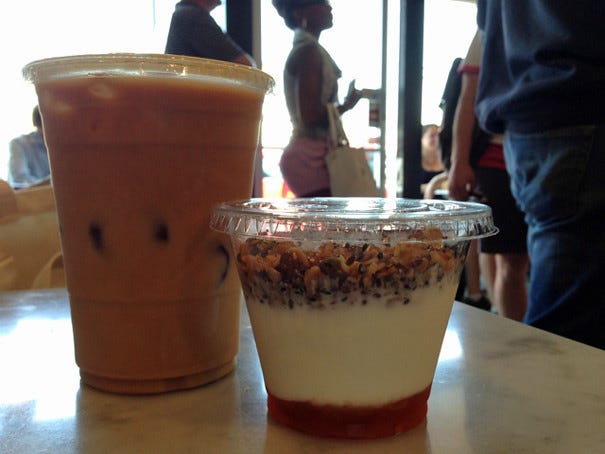 Finally, on Sunday night, our friends Doug & Brian had us over for dinner and they cooked up a veritable feast. For a long time Brian's been telling me he wanted to cook me his famous red beans and rice. Well this night he did--he started a few days earlier, marinating the pork in vinegar--and this was a celebration of pig that puts the movie "Babe" to shame. Here's Brian and Doug presenting the plate: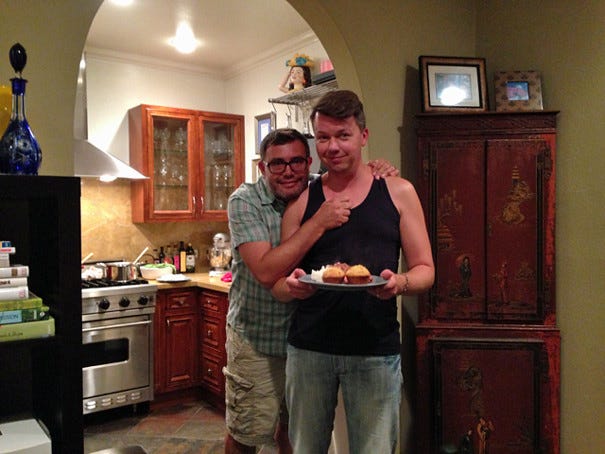 And here's that plate up close and personal: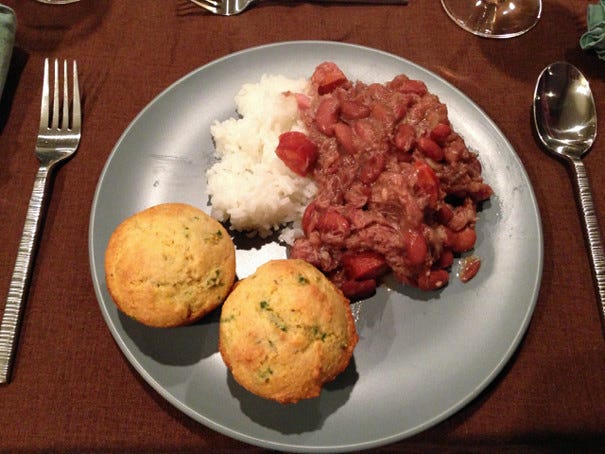 We slathered that cornbread with honey and butter, but the star of the show was absolutely that incredible pile of meat and beans. Really, it was something else...something out of this world. If you get invited to Doug and Brian's for red beans and rice, do as Liza Minnelli advises in Liza with a Z and "Say yes."

Oh and there was this for dessert, in case you need extra motivation (it came from an excellent bakery):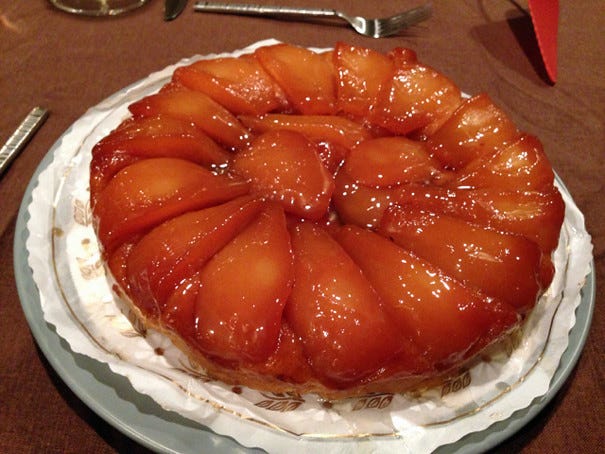 Plus, this adorable dog, Jimmy Chewbacca.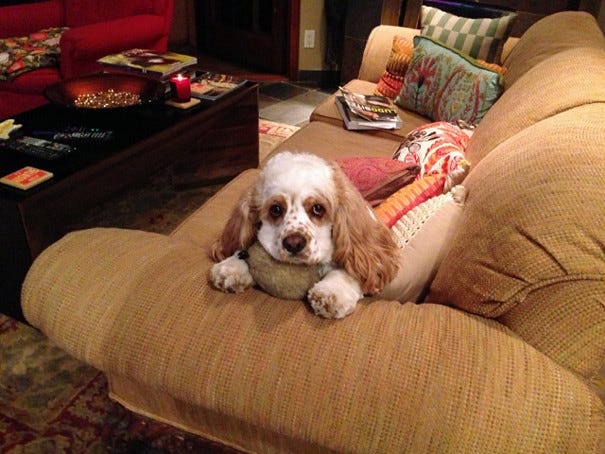 Oh and a bottle of Madonna wine. Apparently her dad owns a vineyard!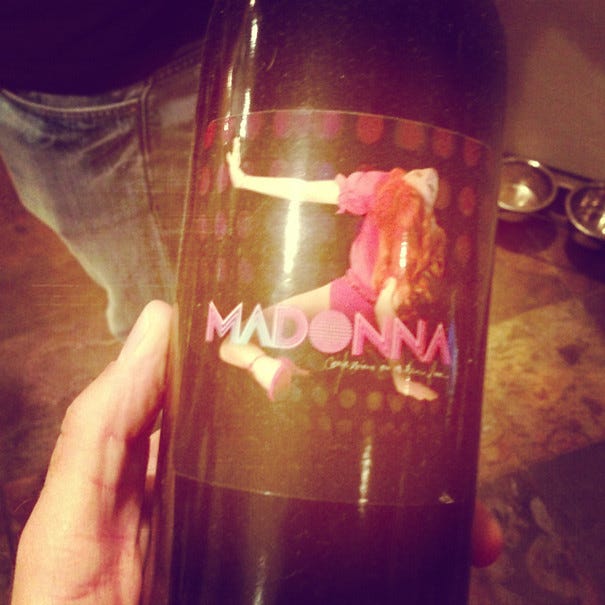 That's all for this week folks!

Make sure to check the blog tomorrow...I'm posting Episode #3 of The Clean Plate Club, this one starring the hilarious Drew Droege (who does those viral Chloe Sevigny videos on YouTube) and the brilliant Ganda Suthivarakom of Eat Drink One Woman (and formerly Saveur.com).

Until next time....

Your friend,
Adam (The Amateur Gourmet)


Reading this in a browser? Get next week's in your inbox by signing up here.

Follow Me!
On Twitter
On Facebook

Check Out My Cookbook!
Secrets of The Best Chefs

Recent Food Posts

Caketastrophe 2013 (A Disaster with an Edible Ending)

Stay Sharp

Spicy Chickpeas with Curry Leaves and Kale

Heavenly Hummus with Homemade Pita Chips

Omelet Issues

Avocado Soup

Cheese Enchiladas with Chile con Carne

The Clean Plate Club, Episode #2: Zach Brooks, Luke Matheny

Killer Homemade Nachos

Adana

The Ultimate Weeknight Dinner: Braised Chicken Thighs and Cauliflower with Olives and Capers

A Kitchen Table

My Top 10 Favorite Breakfast Recipes

How To Make A Summer Farmer's Market Feast

Do You Really Speak To The Manager?

Clamming For The First Time

BBQ vs. Cookout

The Night People Paid To Eat My Food (A Charity Dinner in Bellingham)

Fried Rice for Breakfast

The Most Disgusting, Inedible Dinner I've Ever Cooked

Explain Yourself, Minute Maid Lemonade

New Apartment? New Oven? Buy This.

Something Happened at Rustic Canyon

Almond Cake with Plums

The Clean Plate Club Logo Contest

The Clean Plate Club, Episode #1: Besha Rodell, Rachel Shukert

Breakfast Crepes with Eggs, Bacon and Cheese

The Kingston Negroni

The Top 5 Dishes I've Eaten In My Travels

Vegans Should Eat Oysters




*|LIST:DESCRIPTION|*

Unsubscribe *|EMAIL|* from this list.

Our mailing address is:
*|HTML:LIST_ADDRESS_HTML|*
Copyright (C) *|CURRENT_YEAR|* *|LIST:COMPANY|* All rights reserved.

Forward this email to a friend
Update your profile
*|IF:REWARDS|* *|HTML:REWARDS|* *|END:IF|*