A.G. Newsletter #132: Dan Tana's, Hummus for Lunch, Umami Beet Salad, Girly Girl Cupcakes & Links and Hops


Hey there everyone,

I have some huge news, I hope you're sitting down. It turns out that my cake stand...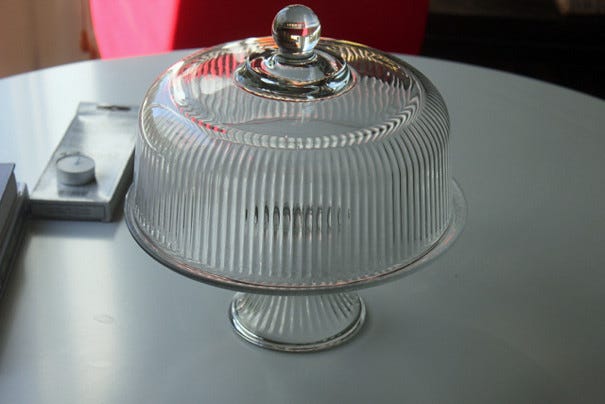 ...is also a PUNCHBOWL. Click here to see the magical transformation. My life will never be the same.

Also, I finally worked up the courage to grill over charcoal. Here's a sneak peak of some of the food I made: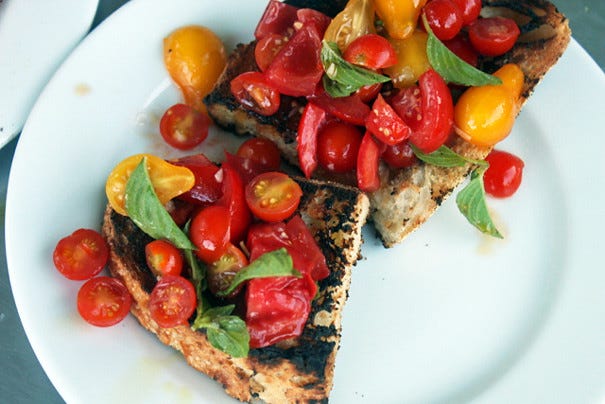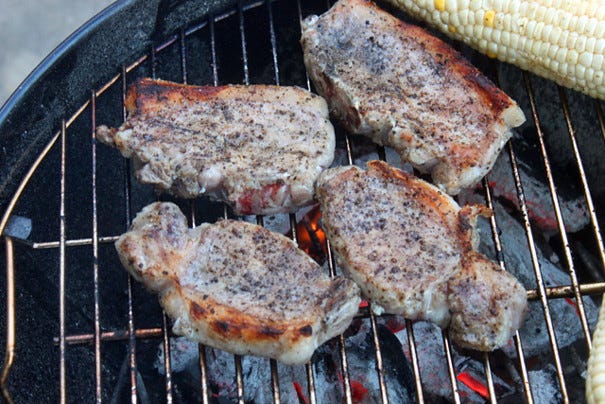 Click HERE to read all about it.

Also: I made PERFECT DEVILED EGGS. It's my new go-to recipe. The secret? These sweet and spicy pickled peppers.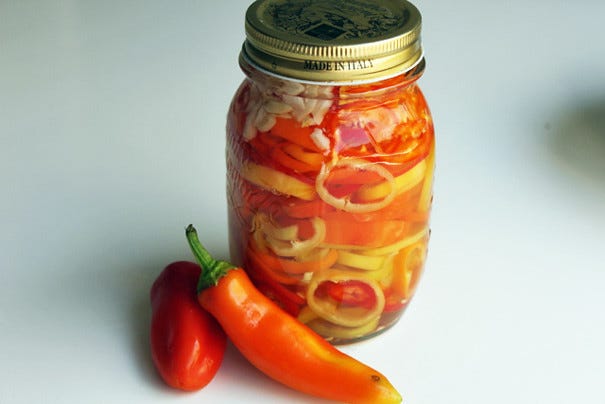 And remember how a bunch of you wanted the recipe for Brian's Red Beans and Rice from the last newsletter? Here you go.

Finally, The Clean Plate Club Episode #3 featuring Drew Droege and Ganda Suthivarakom has been downloaded almost 5,000 times. Click here to see what all the fuss is about; or download in iTunes and listen in your car! (And if you get a chance to review us in iTunes, please do.)

Now, on to newsletter business....

A few weeks ago at a party, we became friends with a woman named Christie who works with Craig's manager Emily. Christie told us that her favorite meal in L.A. is at Dan Tana's on Santa Monica and that we should all go one night. We said, "Sure" and made a date. That date happened last week.

Here's the outside: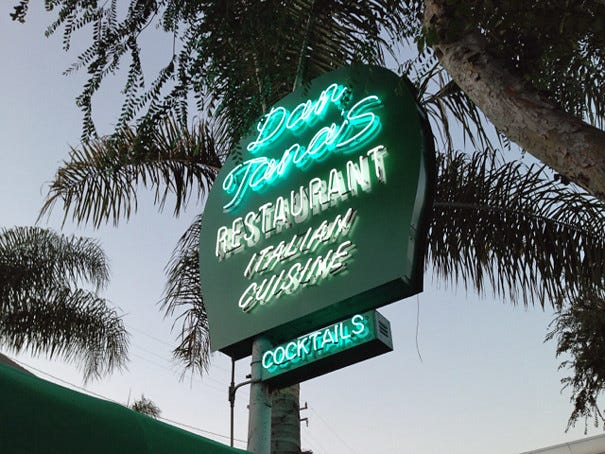 Inside, it's like a cool take on a joint in Little Italy, with red and white checkered tablecloths and uniformed waiters. The crowd, though, is way diverse--Hollywood movers and shakers, teenagers in t-shirts and pushing her way through the door with her dog? Jane Fonda. (I was starstruck.)

I started out with Christie's favorite, a chopped salad which I very much enjoyed: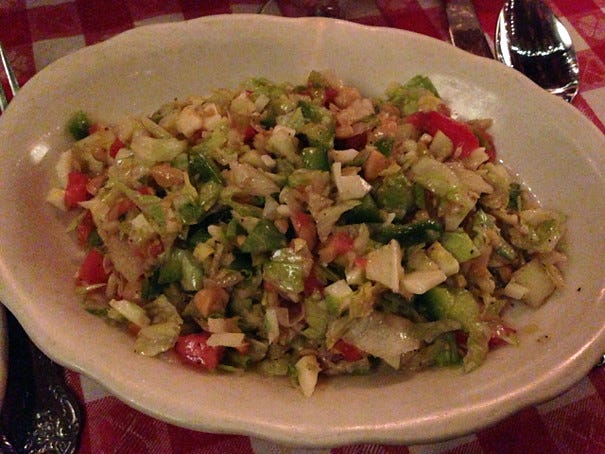 Craig's Caesar salad, though, was especially good: super oily, garlicky and lemony. The kind that makes you sit up and pay attention.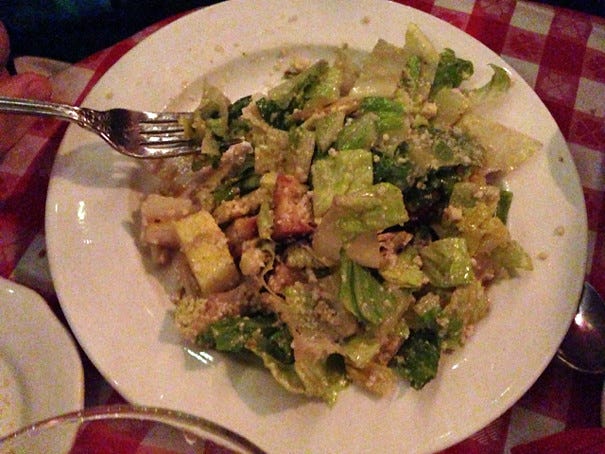 Here's Christie, Craig and Emily posing with their salads: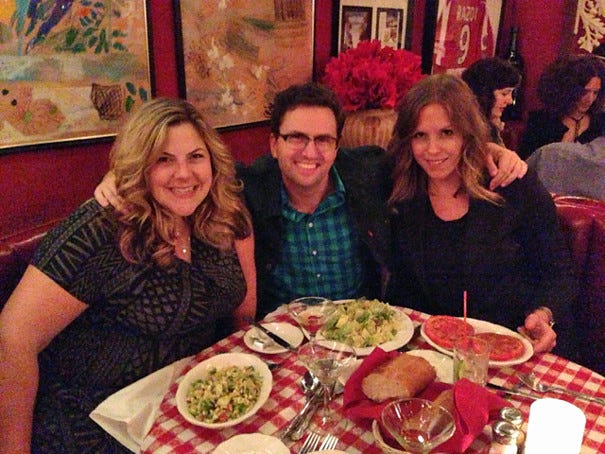 The main event was the entree. Christie raved about the Chicken Parmesan when we met her at that party and so compelled by her rave, we all ordered it (except for Craig who ordered lasagna but let's not focus on that). Christie's raves were totally founded. Check this out: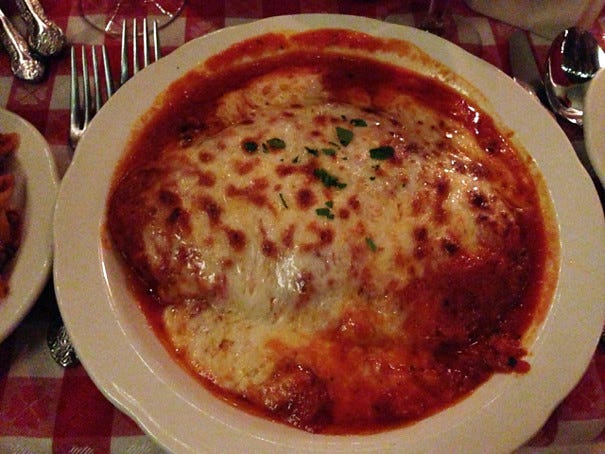 Nobody could possibly eat that whole thing except, well, I kind of did eat that whole thing which just tells you how good it was. It also came with a side of pasta that I (gulp) pretty much devoured.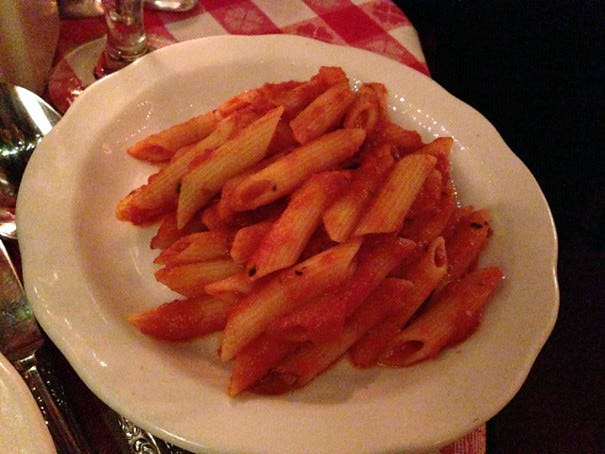 For dessert, we shared this chocolate gelato which was really good.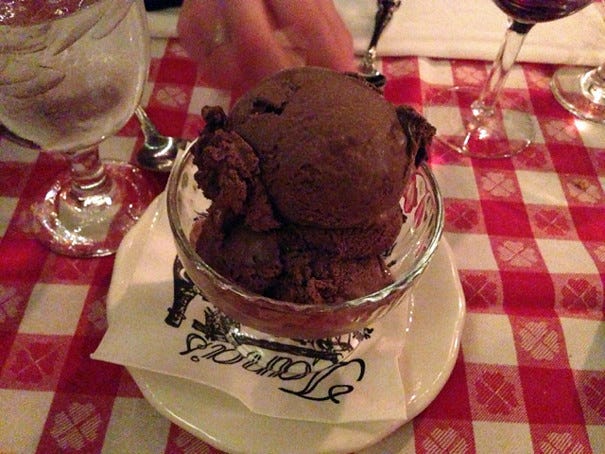 Only thing to know: Dan Tana's is pretty expensive for this kind of food, so it's not an everyday place. But if you're in Hollywood and want to see movie stars and eat comforting, familiar Italian-American dishes, this is the place to do it. I think my parents are going to love it.

The next day, I was feeling like I needed to be virtuous (after that enormous meal, how could I not?) so I ate some leftover hummus--from my Heavenly Hummus post--with pita bread and a cut up peach drizzled with olive oil and sprinkled with za'atar. It was a really nice summery lunch.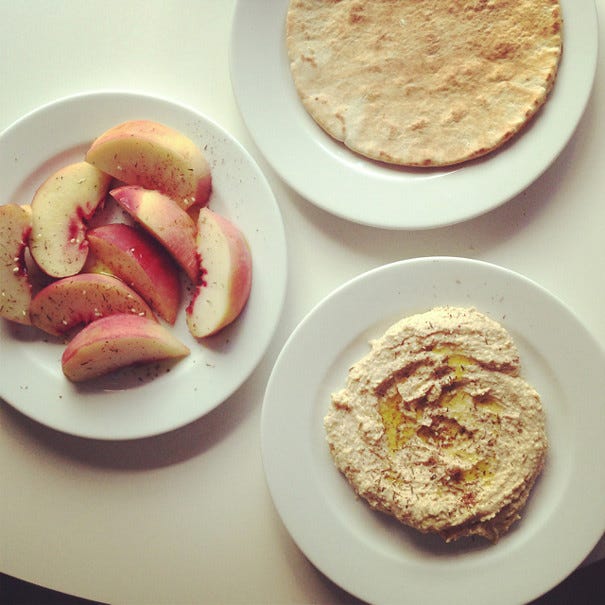 The next night, we met Mark and Diana for wine at Bar Covell (man, I love that place):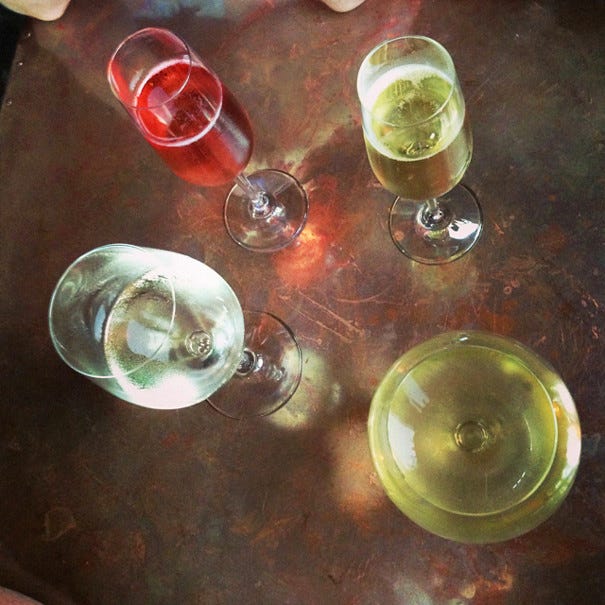 And then moseyed over to Umami Burger where I still tried to be virtuous by ordering a beet salad and a tuna burger. Only, I think the Umami beet salad is false advertising. Check this out: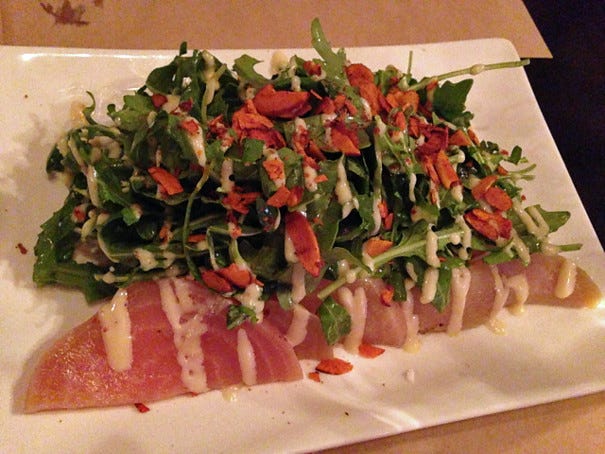 That's a giant mound of arugula with one measly cooked beet sliced thinly. That's not a beet salad, that's a beet with a salad next to it. I'm unimpressed.

On Saturday, our friend Michael celebrated his 30th birthday (happy birthday, Michael!) and his partner John asked me to pick up the cupcakes from the bakery where he ordered them to bring them to the party later at Bigfoot Lodge.

See, there was a camping theme so the cupcakes were S'more cupcakes. John ordered them from Girly Girl cupcakes which is owned by a winner of Food Network's Cupcake Wars. You can see that heavily advertised in the window: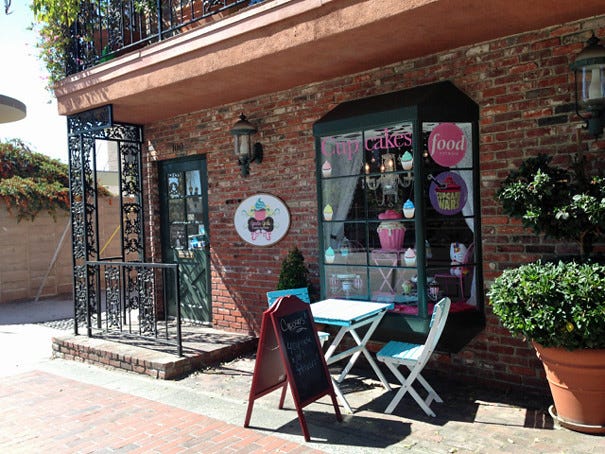 As for the cupcakes, they were super cute. Check 'em out, they even have glitter on 'em: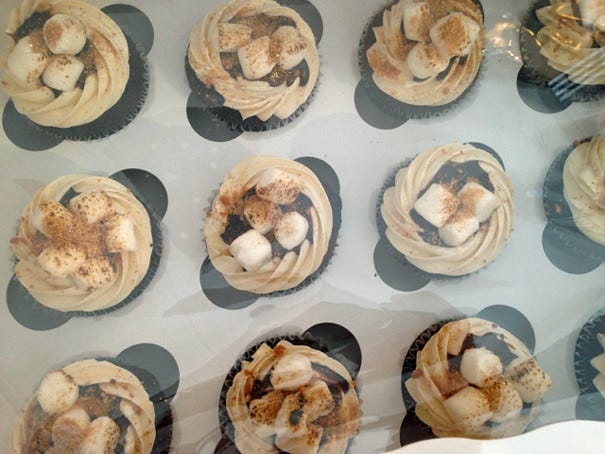 The night of Michael's party, Mark and Diana joined us for a quick dinner at Links and Hops here in Atwater Village. That would be a sausage and beer restaurant, in case you didn't get the links and hop reference.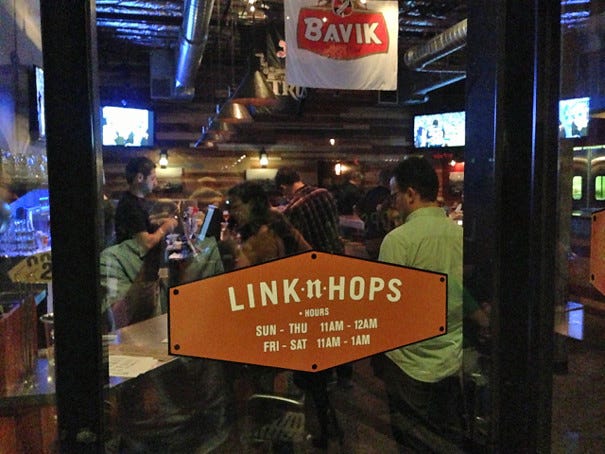 I ordered a beer that I really loved--a Port Anniversary IPA--with profoundly deep, bitter flavor. Craig got a Hefeweizen.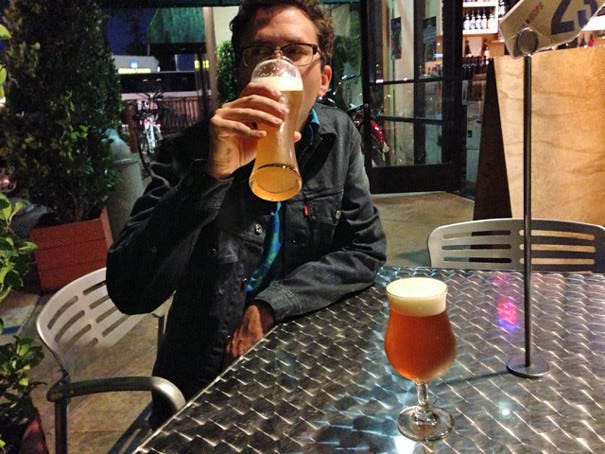 For my "link," I chose a duck sausage with bacon that came with two toppings of my choosing, grilled peppers and onions: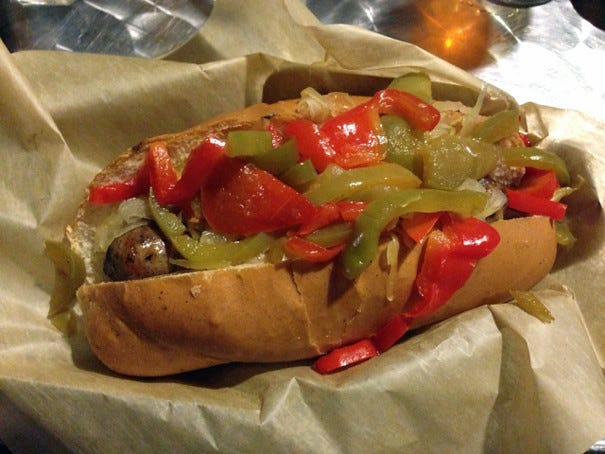 We all shared this pretzel, which was super good: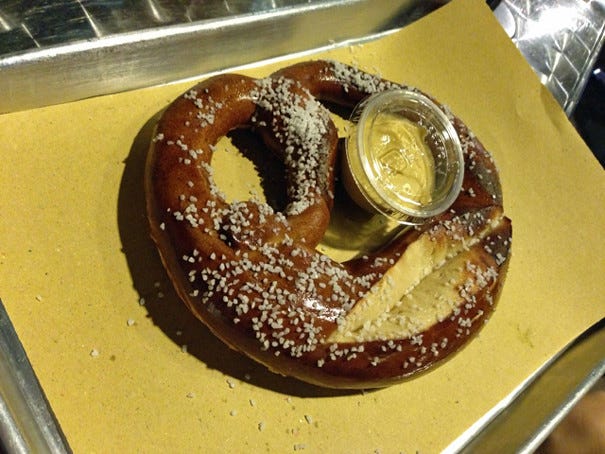 And an order of crazy fries that was a little too much crazy not enough fry: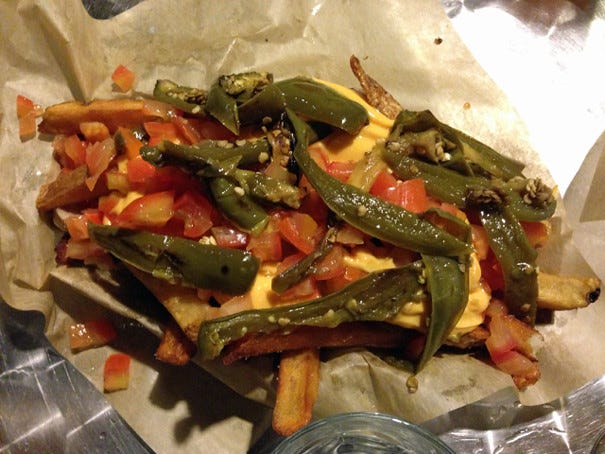 But this was a pretty awesome place to discover in our new neighborhood; I have a feeling we'll be going back.

That's all for this week, folks!

Check out the blog tomorrow: I'm posting the 4th episode of The Clean Plate Club, an exclusive one-hour interview with the notorious/infamous Ruth Bourdain.

Until next time....

Your friend,
Adam (The Amateur Gourmet)











Reading this in a browser? Get next week's in your inbox by signing up here.

Follow Me!
On Twitter
On Facebook

Check Out My Cookbook!
Secrets of The Best Chefs

Recent Food Posts

Brian's Red Beans and Rice

Look, I Don't Know How To Tell You This, But My Cake Stand is Also A Punchbowl

Perfect Deviled Eggs

How Do You Eat Corn?

A Beginner's Guide to Grilling

Sweet and Spicy Pickled Peppers

Baked Ziti

The Clean Plate Club, Episode #3: Drew Droege, Ganda Suthivarakom

Caketastrophe 2013 (A Disaster with an
Edible Ending)

Stay Sharp

Spicy Chickpeas with Curry Leaves and Kale

Heavenly Hummus with Homemade Pita Chips

Omelet Issues

Avocado Soup

Cheese Enchiladas with Chile con Carne

The Clean Plate Club, Episode #2: Zach Brooks, Luke Matheny

Killer Homemade Nachos

Adana

The Ultimate Weeknight Dinner: Braised Chicken Thighs and Cauliflower with Olives and Capers




*|LIST:DESCRIPTION|*

Unsubscribe *|EMAIL|* from this list.

Our mailing address is:
*|HTML:LIST_ADDRESS_HTML|*
Copyright (C) *|CURRENT_YEAR|* *|LIST:COMPANY|* All rights reserved.

Forward this email to a friend
Update your profile
*|IF:REWARDS|* *|HTML:REWARDS|* *|END:IF|*