A.G. Newsletter #133: Katie's Birthday Dinner, India Sweets & Spices, Connie & Ted's, Speranza & Giamela's


Hey there gang,

If I'm blushing right now, it's because this website called First We Feast just ranked the Best Food Bloggers of All Time and they put me in at #11. It's a strange list, mostly established food writers like Ruth Reichl and Mark Bittman rather than the food bloggers I'd include (like David Lebovitz and Molly Wizenberg) but I'll take whatever acclaim they're dishing out. Also, their description of me is pretty funny.

Did you catch my podcast interview with Ruth Bourdain? If you missed it, click here and find out all about Ruth's genesis from Twitter persona to James Beard award winning author.

A lot of people got a big kick out of the cookbooks I found at the used cookbook sale at the Hollywood farmer's market. Click that link to see lots of gems like this one: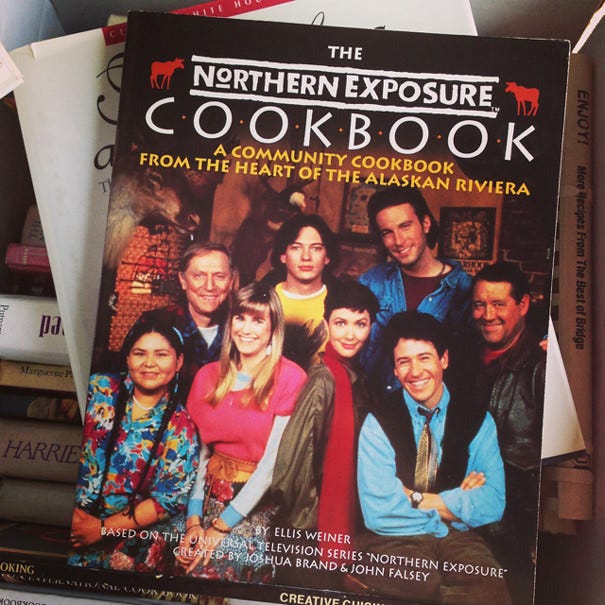 The best gelato I've ever had is the toasted almond gelato at Franny's in New York; so imagine how excited I was to make it myself from the Franny's cookbook. Click here to read all about the results, but here's a picture to get you excited.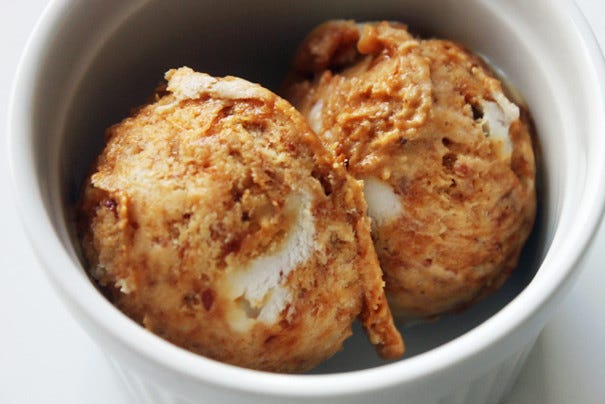 Last week, I ate at one of the best Chinese restaurants in the United States with Zach Brooks and Ganda Suthivarakom. It's Sea Harbour Seafood Restaurant in Rosemead (click that to read about it) and here's a picture that gives you a sense of what we experienced. I loved everything except the knees and the durian.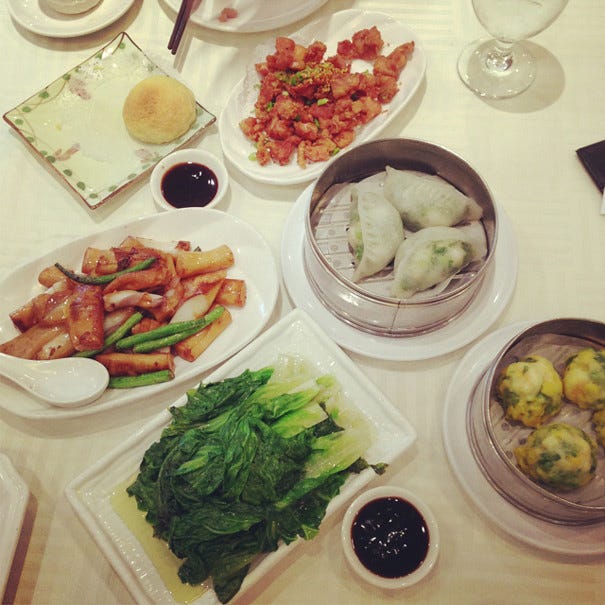 Now on to newsletter business!

Last Monday, we went up to Topanga Canyon to celebrate Craig's cousin Katie's 21st birthday. On the way up, though, we found out there was a fire in the canyon, so all roads up were closed. We met Craig's aunt Liz close by at a place called The Villa that was stunningly beautiful. Check it out: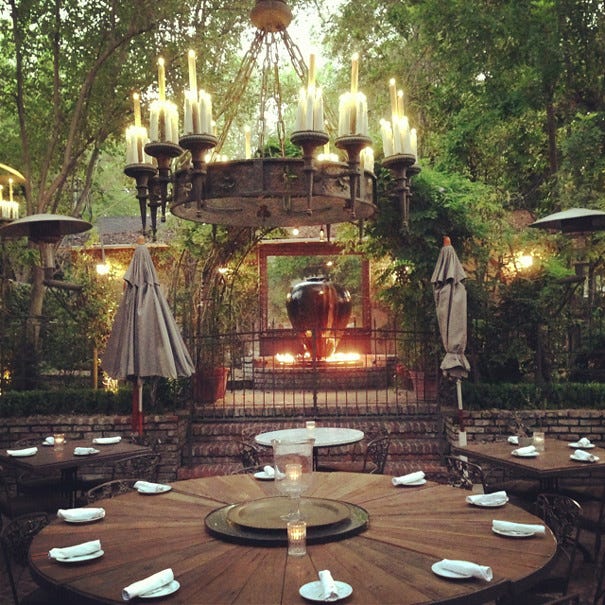 Here's Craig and his Aunt Liz waiting out the fire with cocktails: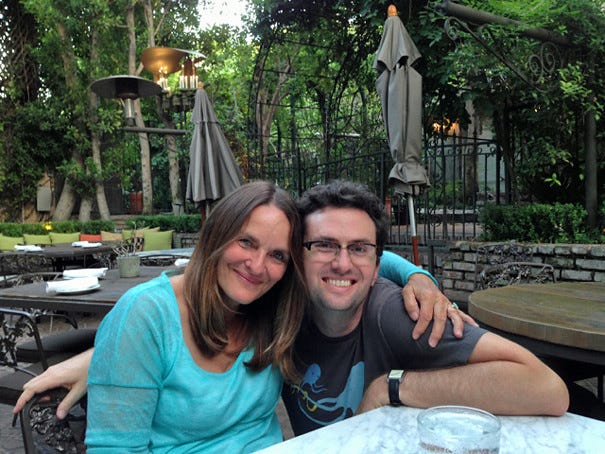 At last, we got word it was safe to go up and once there, we wished Katie a happy birthday and then ate the delicious meal her father, Craig's uncle Chris, made based on recipes Katie picked out. Here's everyone at the table: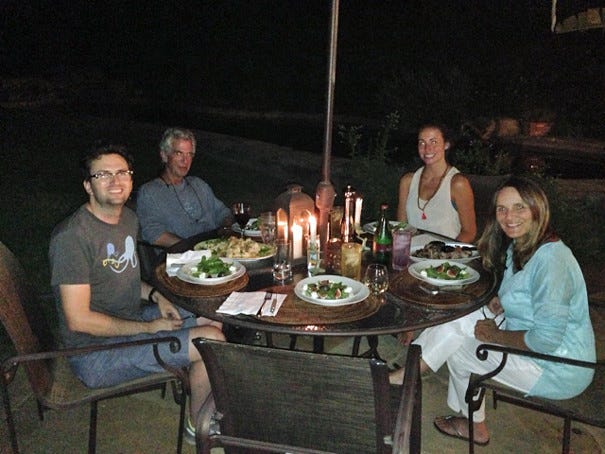 And here's the plate with delicious pork, plum chutney, and cauliflower with tahini sauce from Ottolenghi's Plenty. It was the bee's knees: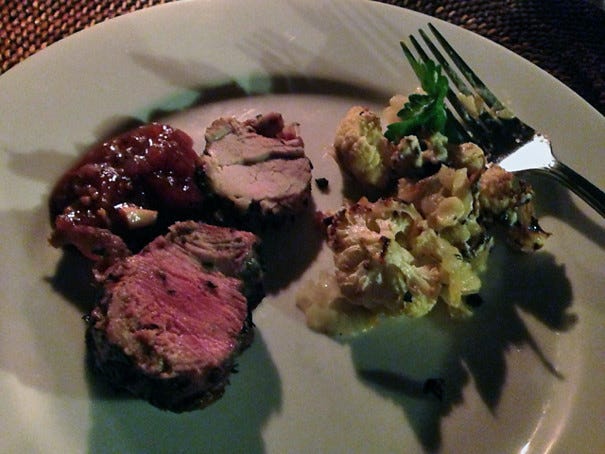 For dessert, Katie grilled up peaches and served them with yogurt. Here she is: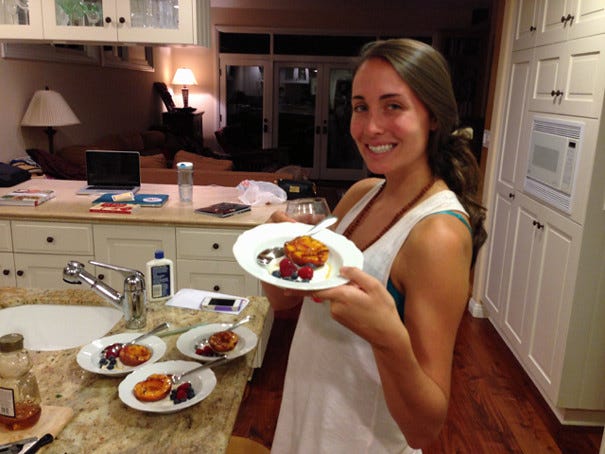 Happy birthday, Katie!

Last Thursday, I met Diana for lunch at India Sweets and Spices which is right near our new apartment.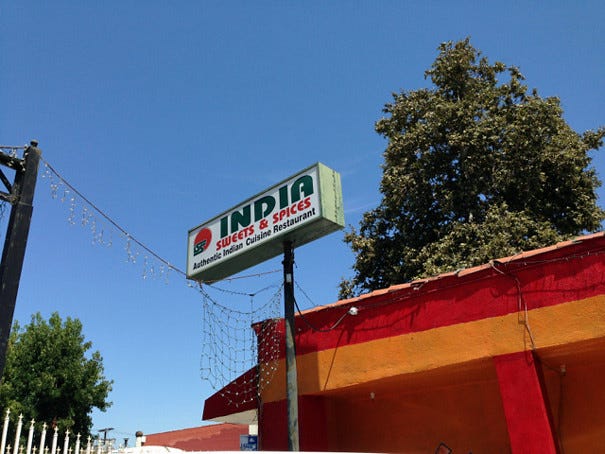 The lunch deal is pretty outrageous: I got all of this food--plus a mango lassi--for $7!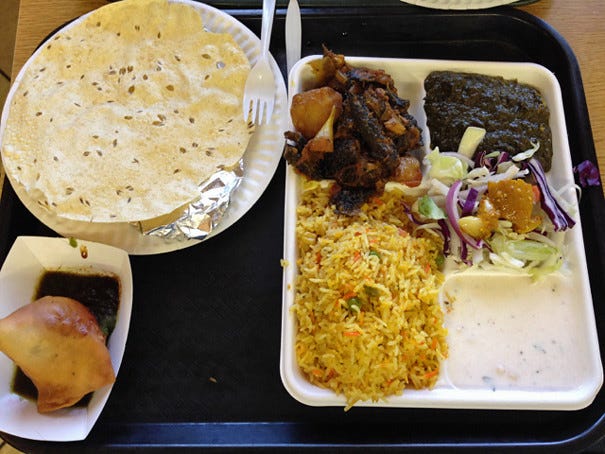 Don't ask me what it all is but my favorites were the sag paneer (on the upper right) and the dosa on the bottom left. The Kerala potatoes on the upper left, though, were pretty inedible as they were cooked with a bitter vegetable that may have been bitter melon? It was an acquired taste that I haven't yet acquired.

On Friday night, we had a hot reservation at Connie and Ted's in West Hollywood.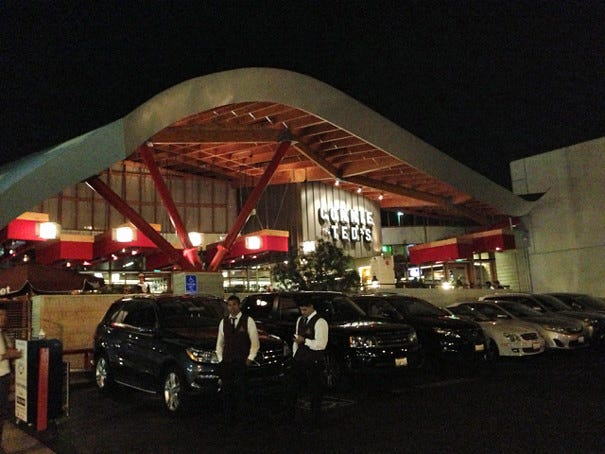 Providence is one of L.A.'s fanciest (and most acclaimed) restaurants and its chef opened this more casual seafood spot to showcase things like oysters and lobster rolls and clam chowder. I made the reservation over a month ago--it gets that booked up--and we invited our friends Jim and Jess to tag along.

Here's the scene inside: it was hopping!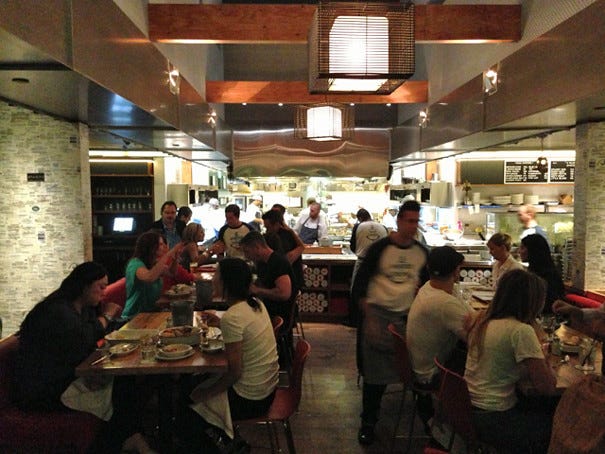 Here's Jim and Jess with their fancy cocktails.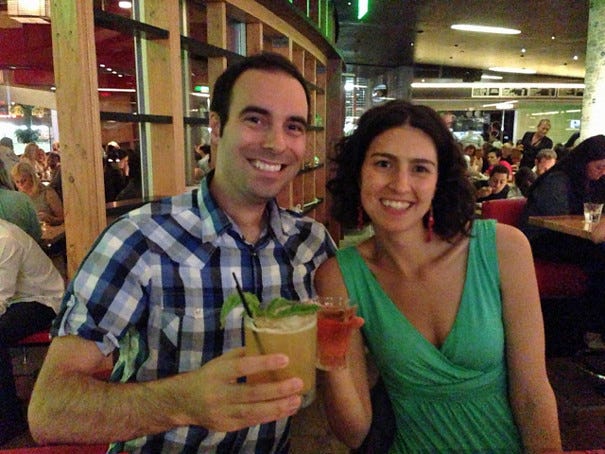 Craig and I shared these oysters to start, which were a real treat: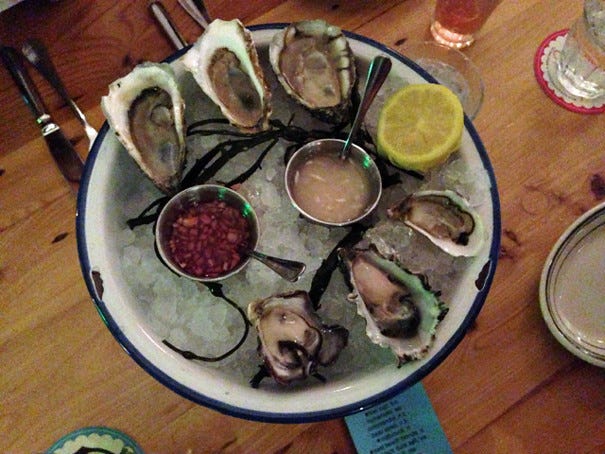 Then we kind of fell for a trick that wasn't really a trick, but it felt that way. The waiter said that they had a special that night, Santa Barbara Spot Prawns, that were "out of this world" good. Jess, Craig and I all like shrimp and as it turns out, an order comes with three shrimp. So we ordered it: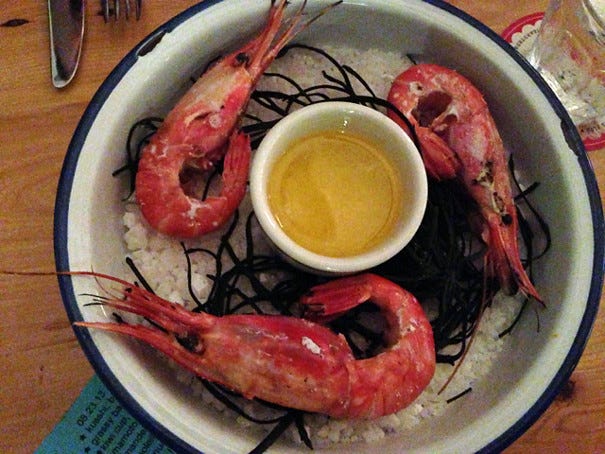 These were really magnificent: like shrimp by way of lobster. Each one offered substantial meat and then the head, which you're supposed to suck. I gave that a go and felt very gourmet.

Later, though, when the check came guess how much this was? $33. That's right. That's $11 a shrimp.

We can't really blame the waiter because we never asked "how much?" But that's also a social thing because out at dinner, you don't want to be the tacky one asking how much everything is. So we took his advice and enjoyed ourselves but went bankrupt in the process.

Still, everything at Connie & Ted's is pretty fantastic. I absolutely loved this New England clam chowder which wasn't drowning in cream; it really tasted just like clams and potatoes and bacon, as it should.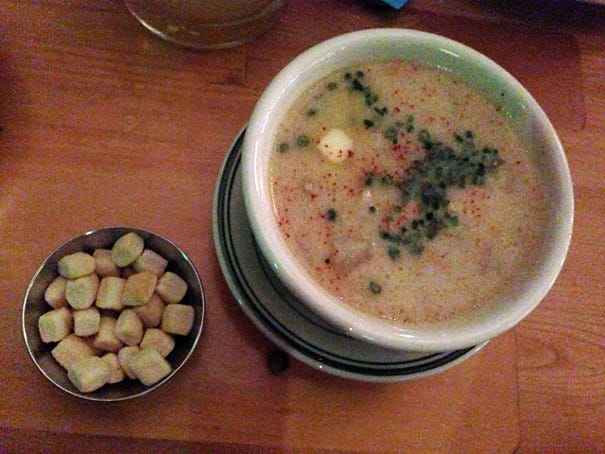 The lobster roll was a very straightforward affair. For $20 you get a roll, a bunch of warm lobster meat, butter on top and French fries.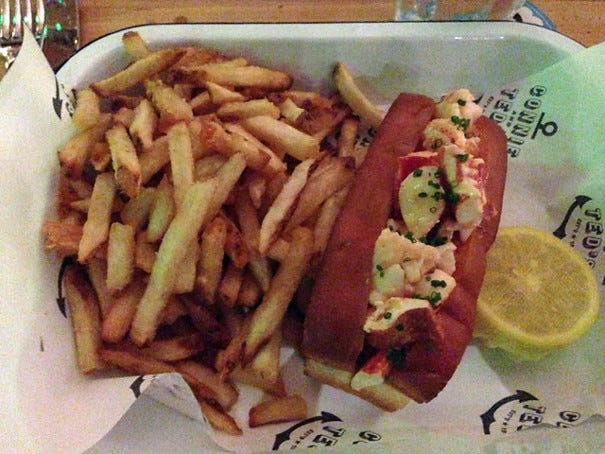 Normally, I like my lobster rolls decked out with mayo and celery and lemon juice, but this lobster was so beautifully cooked, it didn't need anything else. It's a master class in how to cook lobster well; not at all chewy, just perfect with every bite.

For dessert, we all shared an Indian pudding which I'm sure was good as far as Indian puddings go, but turns out none of us were crazy for Indian pudding: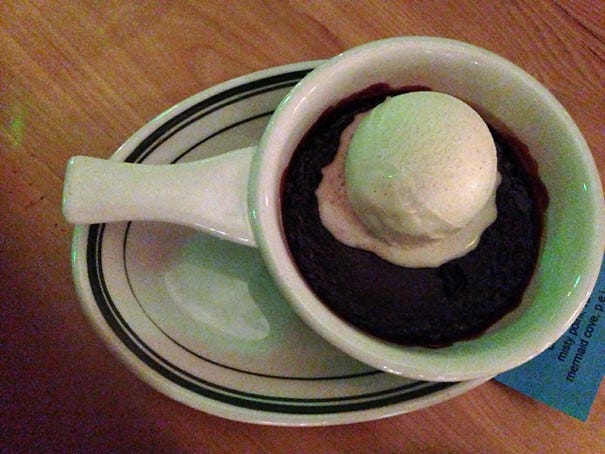 On Saturday night, Craig and I checked out Speranza in Silverlake which is really a hidden-away gem. I loved the environment and the people watching (I spotted Jenny Slate from SNL and Marcel the Shell) though this guy got in my way when I was trying to take a picture of the sign.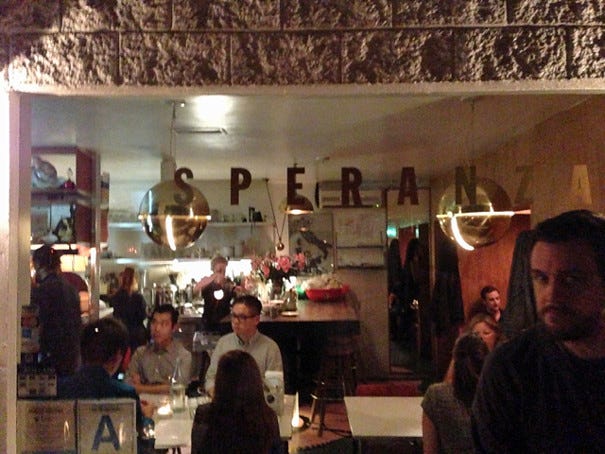 This salad of endive, walnuts and blue cheese was really spare and possibly underdressed, but it felt very authentic and Italian in that way.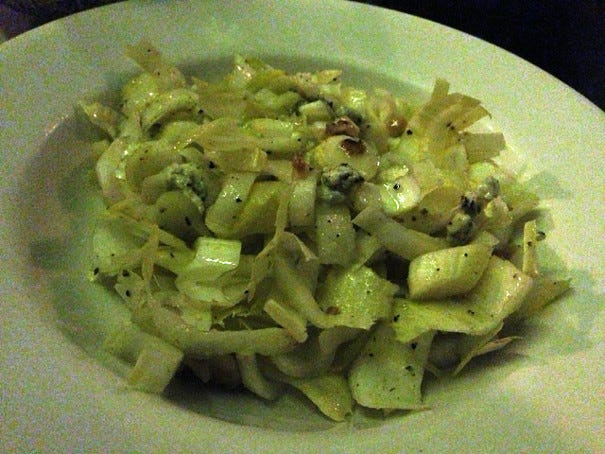 My linguine with bottarga and anchovies, was perfectly balanced and a delight to eat--especially because they make all the pasta in-house: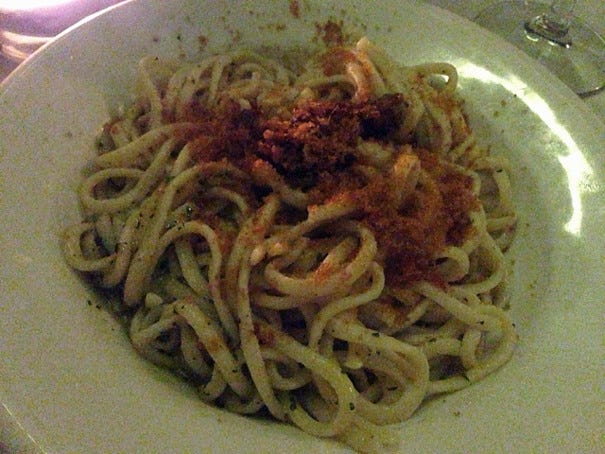 I have a feeling we're going to be regulars here.

On Sunday night, we were feeling low-energy so we ordered a pizza from a local place called Giamela's. It's not delivery, you have to go pick up, but it's really nice to have for those nights where cooking doesn't sound appealing: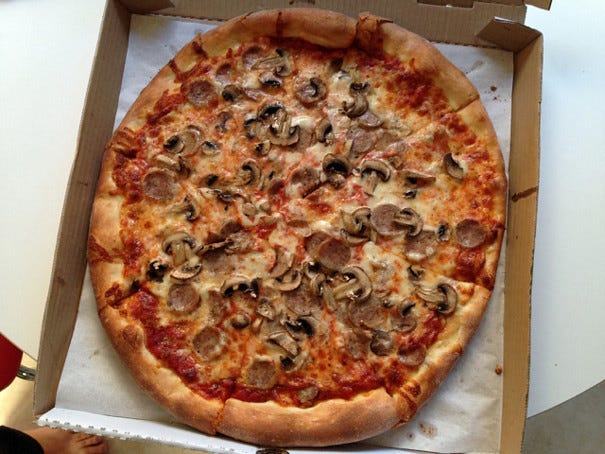 Was it the world's best pizza? Not by any means, but it totally hit the spot. And somebody else who lives here was a fan: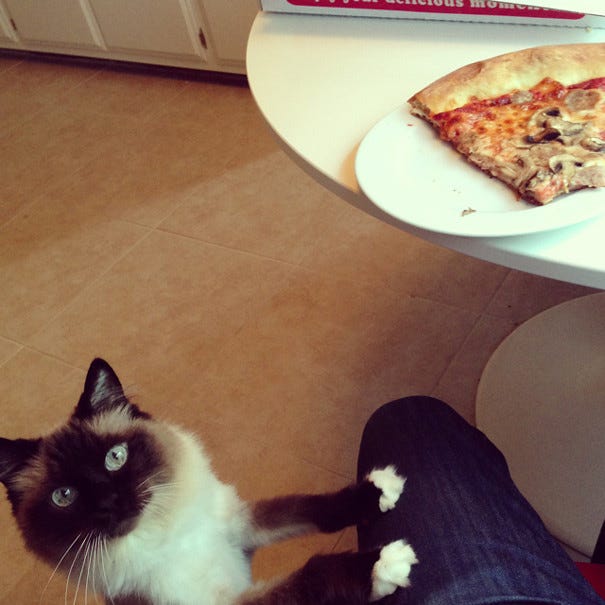 That's all for this week, folks!

Tune into the blog tomorrow for Episode #5 of The Clean Plate Club featuring Noah Galuten (of Bludso's BBQ) and Billy Scafuri (of the Harvard Sailing Team, a hilarious comedy troupe).

Until next time...

Your friend,
Adam (The Amateur Gourmet)


Reading this in a browser? Get next week's in your inbox by signing up here.

Follow Me!
On Twitter
On Facebook

Check Out My Cookbook!
Secrets of The Best Chefs

Recent Food Posts

Dim Sum at Sea Harbour Seafood Restaurant

The Best Food Bloggers of All Time

Rice Salad with Olives and Pine Nuts

Franny's Toasted Almond Gelato

The Used Cookbook Sale at the Hollywood Farmer's Market

Don't Wash Your Chicken

Who Drinks This Stuff?

The Clean Plate Club, Episode #4: Ruth Bourdain

Deviled Egg Salad

Brian's Red Beans and Rice

Look, I Don't Know How To Tell You This, But My Cake Stand is Also A Punchbowl

Perfect Deviled Eggs

How Do You Eat Corn?

A Beginner's Guide to Grilling




*|LIST:DESCRIPTION|*

Unsubscribe *|EMAIL|* from this list.

Our mailing address is:
*|HTML:LIST_ADDRESS_HTML|*
Copyright (C) *|CURRENT_YEAR|* *|LIST:COMPANY|* All rights reserved.

Forward this email to a friend
Update your profile
*|IF:REWARDS|* *|HTML:REWARDS|* *|END:IF|*