A.G. Newsletter #134: Little Beast, The Taste Festival, Bar Covell, Ruen Pair & Really Good Kettle Corn


Hey there nice people,

Are you fed up with the New York Times Magazine food section? Well, I am...so today I took to the blog and wrote AN OPEN LETTER LETTER TO THE NEW YORK TIMES MAGAZINE FOOD SECTION. Already, it's getting a big response (it's on Eater National), so I feel like I must be on to something. Check out the article and see if you agree.

If that doesn't strike your fancy, maybe you're more interested in grapes that taste like cotton candy: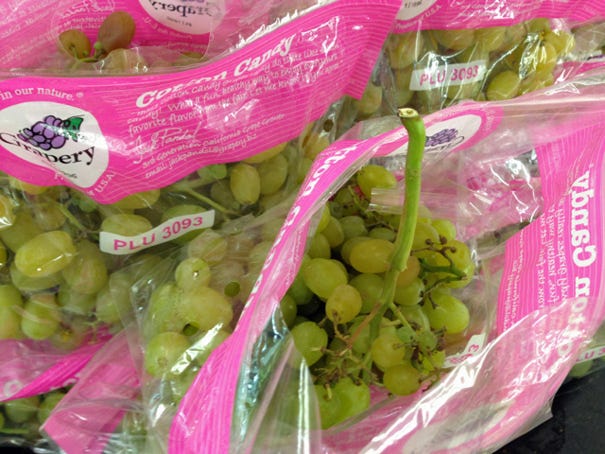 There are also grapes, in that post, that look like witch's fingers. You heard that right. Witch's fingers.

Finally, I made a gorgeous plate of food yesterday, if I do say so myself: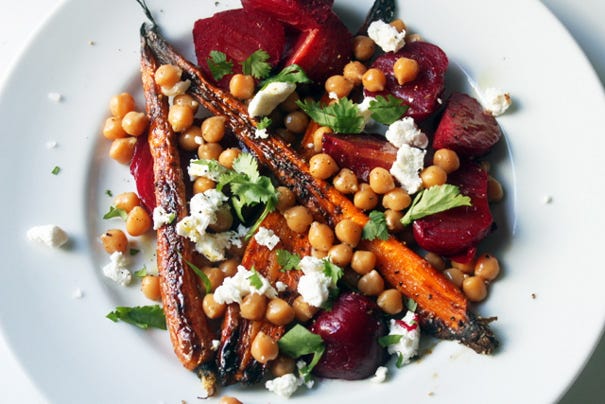 That's Roasted Beet and Carrot Salad with Chickpeas and Goat Cheese. Click the link to see how I brought it about.

Now on to newsletter stuff!

Last week, I joined my friend Travis for dinner at a new Eagle Rock restaurant called Little Beast.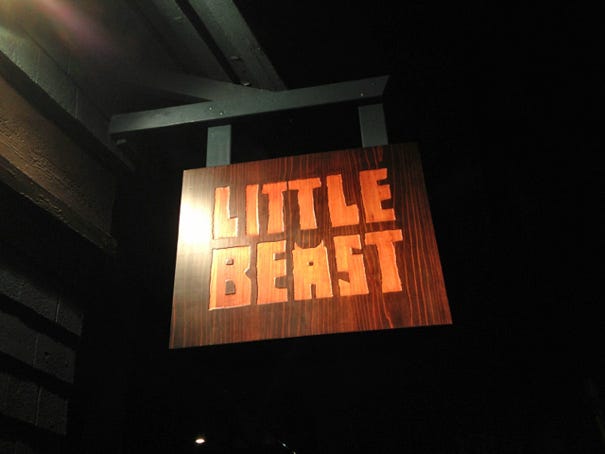 L.A. Weekly food critic (and Clean Plate Club guest) Besha Rodell gave the place a positive review a few weeks earlier, so I was interested to try it.

Right out of the gate, I loved it. The space is totally charming: Besha's right to celebrate it as a great date night spot. (Don't tell Craig.)

The olives were big and specific (not the generic kind you'd find at your grocery store), served in a little mason jar: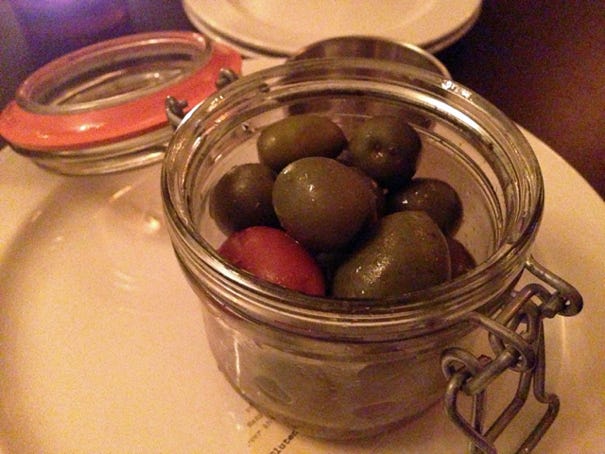 This grilled melon salad with pickled cucumber was underwhelming...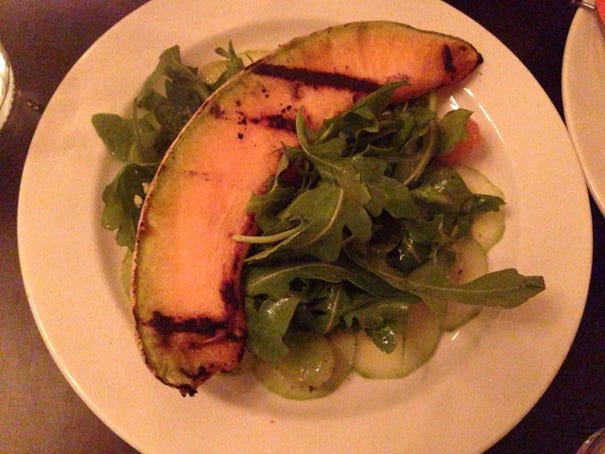 But I went absolutely nuts for the hummus with fried pita bites: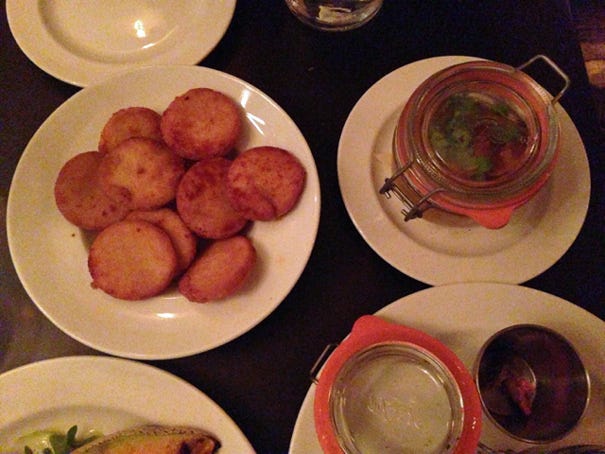 I say "fried pita bites" because I don't know how else to describe these wonderful morsels. I asked the waitress about them, and she said they're basically just rounds of pita dough that are deep-fried. They're incredible and the hummus--which was described as "Chipotle Hummus" (probably because it's whizzed up with a chile in Adobo sauce)--was pretty terrific too. And you know I'm a big hummus fan.

My corn risotto entree had a lot going for it; the risotto was expertly made and I loved how the corn flavor--so sweet and summery--infused every bite.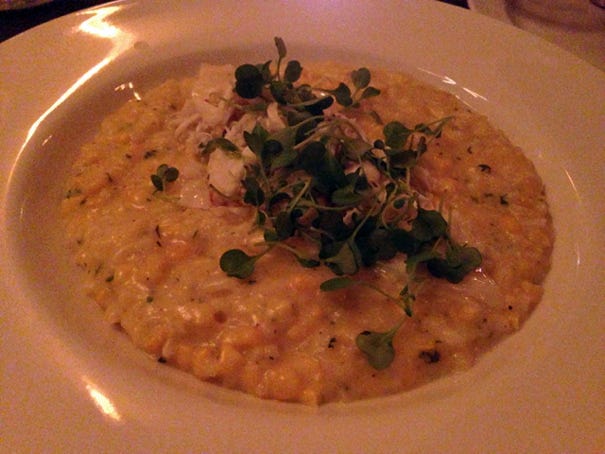 I wasn't crazy about the crab, though, which I paid extra for (you can see it piled up in the middle). Something about it tasted a little off; it had a real fishy-ness to it that I found rather, uh, fishy. So I skipped most of the crab and ate most of the risotto which, again, was pretty terrif.

Here's Travis with his fish entree, which he very much enjoyed: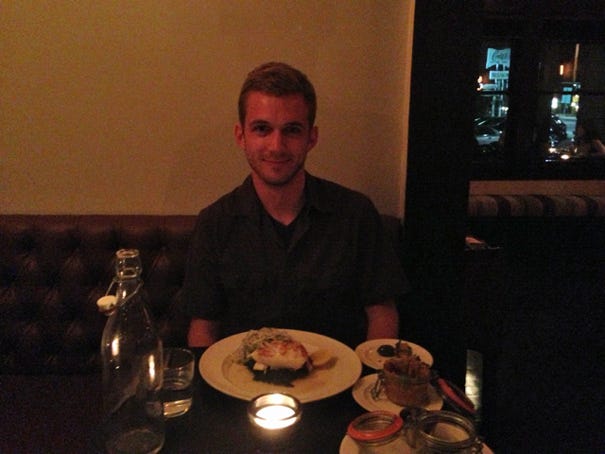 We shared this outrageous apple dessert which was like a cross between an apple pie and an apple cake. It was HUGGGE: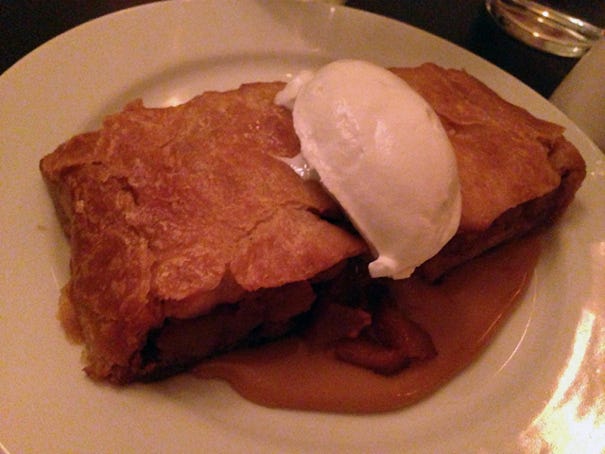 All in all, I loved Little Beast. I can't wait to go back.

On Friday, I was invited to attend the opening night event for The L.A. Times Taste Food & Wine Festival. It was held at Paramount Studios, which was an awesome environment for such an event: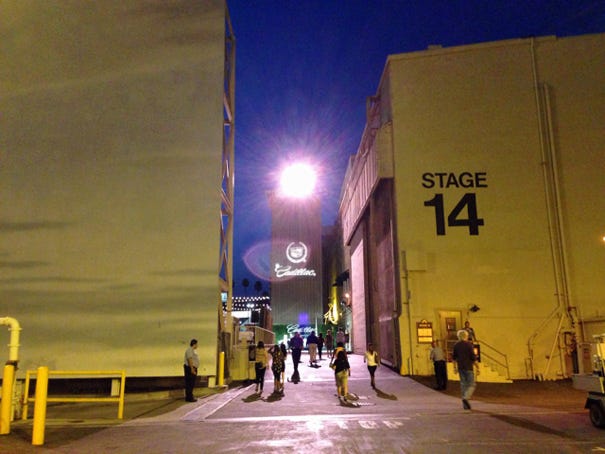 There was lots of food to eat. My favorite bite may have been this corn Agnolotti with white truffle on top: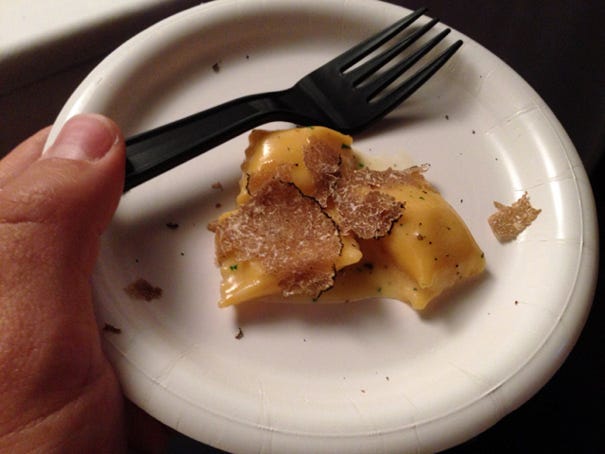 Angelini Osteria...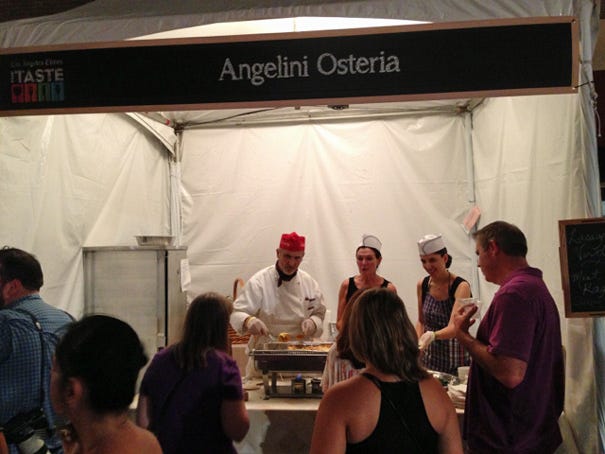 ...served up a profoundly authentic lasagna (which I guess I forgot to photograph, I was so busy eating it).

The best, of course, came from Nancy Silverton and Pizzeria Mozza. It's her butterscotch budino which should qualify for national landmark status.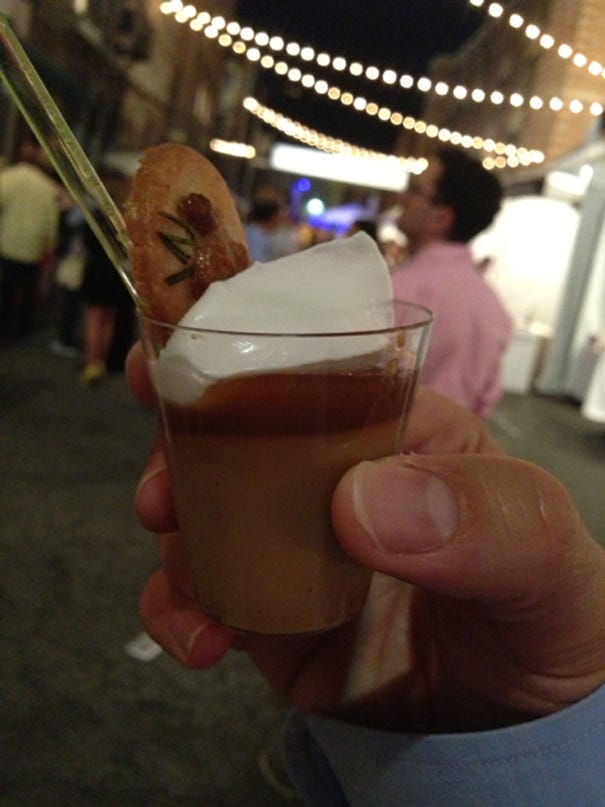 There was even a Beatles cover band: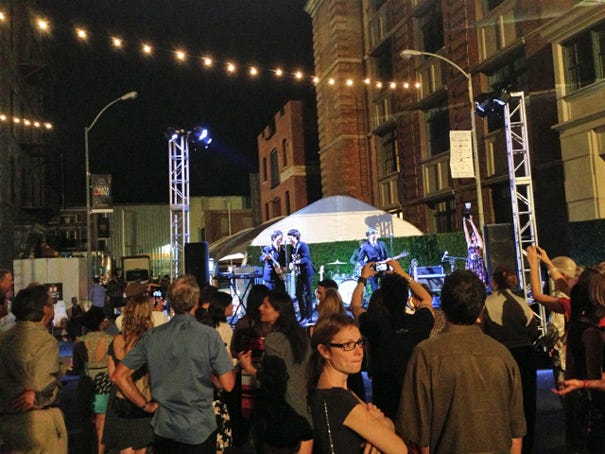 (That's a sign that the target audience is: BABY BOOMERS.)

The highlight for me had nothing to do with the Beatles or the budino, it was meeting some of my L.A. food heroes: Jonathan Gold (he's very sweet in person), Evan Kleiman (who told me that pie dough doesn't have to be cold when you roll it...what?!), and Russ Parsons--who I met last year on a panel, but it was nice to meet him again. It took 2 years, but I feel like I'm slowly synching up with the L.A. food writing community.

On Saturday night, we met up with some friends at Bar Covell which is easily my favorite wine bar, not just in L.A. but also maybe the country. I drank some funky white wine, see the bottle? I had the Heroine: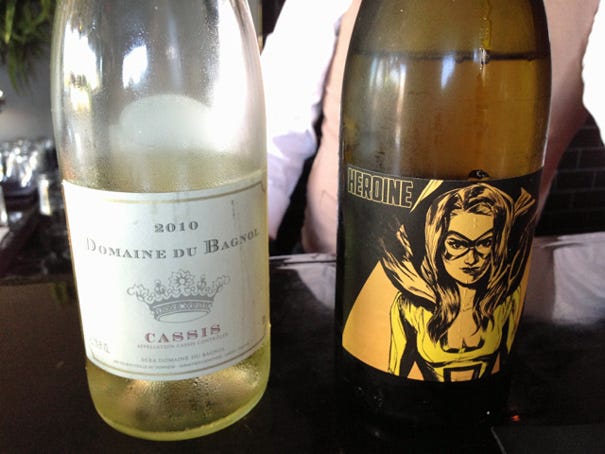 From there, we walked into Thai Town (about a mile walk which is pretty outrageous for any L.A. resident, but you can take the boy out of New York...) and ate dinner at Ruen Pair, my favorite every day Thai joint.

Here's our friends Antoine and Brent with their food: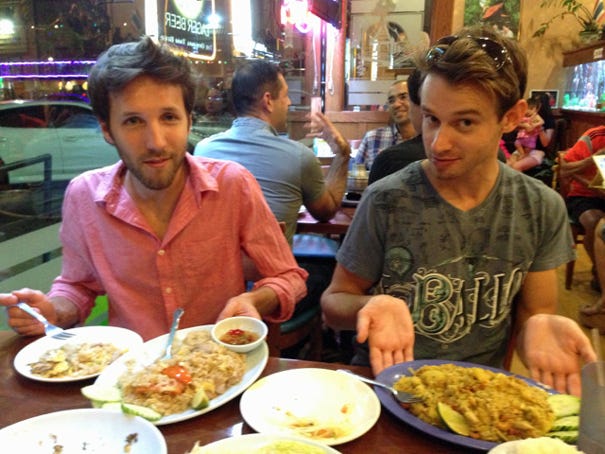 And here's the scallion pancake and papaya salad that we all shared: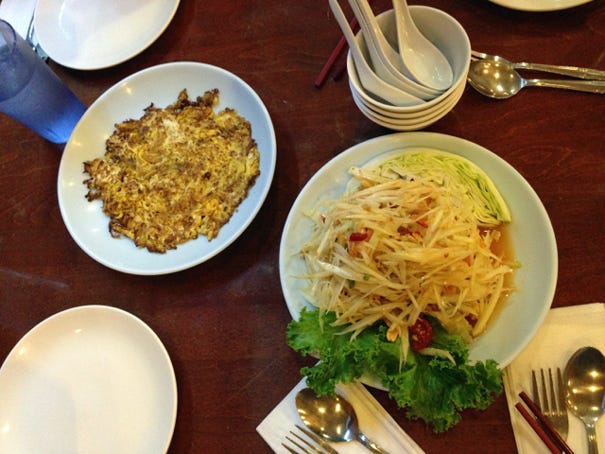 And here's the Prik King, my usual order, though on this particular night it wasn't as good (or as red) as it usually is: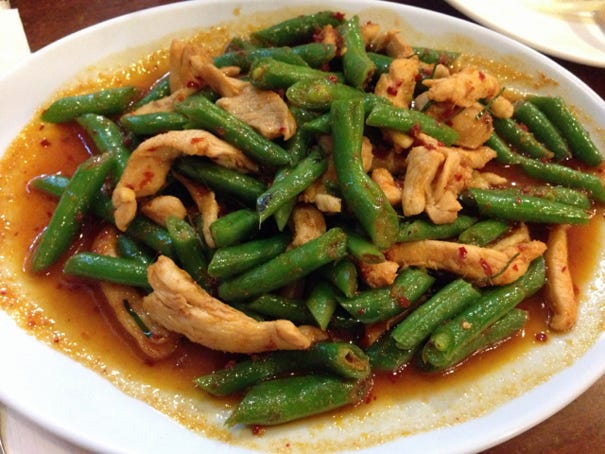 On Sunday, we went to a BBQ at our friend Luke's, and I brought along a bag of Kettle Corn that I bought at the Atwater Village Farmer's Market: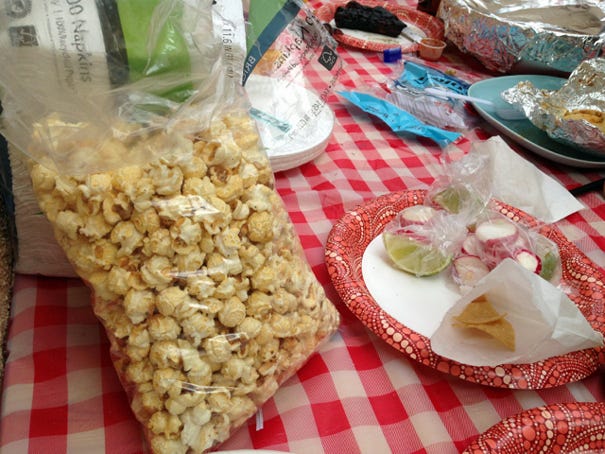 Man! That stuff is so good. Sweet and salty and just the perfect snack. If you're ever at the Atwater Village Farmer's Market, buy me a bag.

All right folks, that's it for this week.

Did you listen to my last episode of The Clean Plate Club? It featured Noah Galuten from Bludso's BBQ and Billy Scafuri from The Harvard Sailing Team! It's a lot of fun.

(And tune in tomorrow, because the newest episode features Kat Odell from Bravo's Eat, Drink, Love and Jim Cantiello from MTV and the X-Factor Pre-Show.)

Until next time....

Your friend,
Adam (The Amateur Gourmet)











Reading this in a browser? Get next week's in your inbox by signing up here.

Follow Me!
On Twitter
On Facebook

Check Out My Cookbook!
Secrets of The Best Chefs

Recent Food Posts

These Grapes Are Crazy! Some Taste Like Cotton Candy, Some Look Like FINGERS

An Open Letter To The New York Times Magazine Food Section

Roasted Beet and Carrot Salad with Chickpeas and Goat Cheese

I Ate My First Pupusa Two Weeks Ago and Didn't Tell You About It

The Lemon Juice Trick

No French Fries After 40 (A Birthday Trip to Belfast)

The Clean Plate Club, Episode #5: Noah Galuten, Billy Scafuri

Dim Sum at Sea Harbour Seafood Restaurant

The Best Food Bloggers of All Time

Rice Salad with Olives and Pine Nuts

Franny's Toasted Almond Gelato

The Used Cookbook Sale at the Hollywood Farmer's Market

Don't Wash Your Chicken

Who Drinks This Stuff?

The Clean Plate Club, Episode #4: Ruth Bourdain

Deviled Egg Salad

Brian's Red Beans and Rice

Look, I Don't Know How To Tell You This, But My Cake Stand is Also A Punchbowl

Perfect Deviled Eggs

How Do You Eat Corn?

A Beginner's Guide to Grilling




*|LIST:DESCRIPTION|*

Unsubscribe *|EMAIL|* from this list.

Our mailing address is:
*|HTML:LIST_ADDRESS_HTML|*
Copyright (C) *|CURRENT_YEAR|* *|LIST:COMPANY|* All rights reserved.

Forward this email to a friend
Update your profile
*|IF:REWARDS|* *|HTML:REWARDS|* *|END:IF|*