A.G. Newsletter #135: Uncle Jerry at Fromin's, Little Dom's, RuPaul, Oatmeal Cookies & The Mall

Good People,

Prepare to be wowed...

Not only did I make Easy Homemade Potato Chips this past weekend: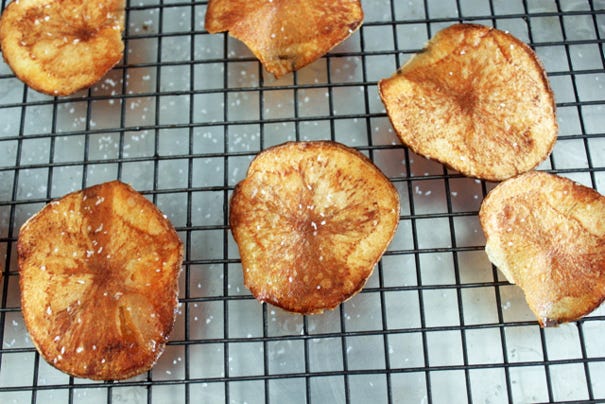 But I finally solved my L.A. bagel crisis by making my own Everything Bagels From Scratch. Yes, you heard me correctly. Check out the results of my labor: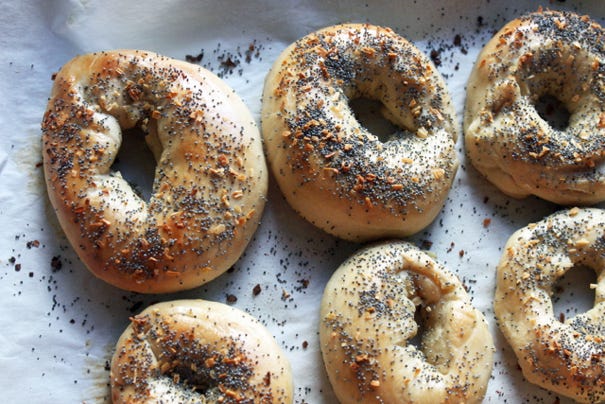 It's the best thing to happen to me since that time I found that Patti Lupone concert CD at Amoeba music and spent a summer driving around singing along to "Don't Cry For Me Argentina." If you live somewhere with bad bagels, click here and enjoy hot, homemade bagels for the rest of your days.

The weather's changing: time to get out your braising pan and make this Spiced Pork Stew with Polenta. It's worth giving up summer for: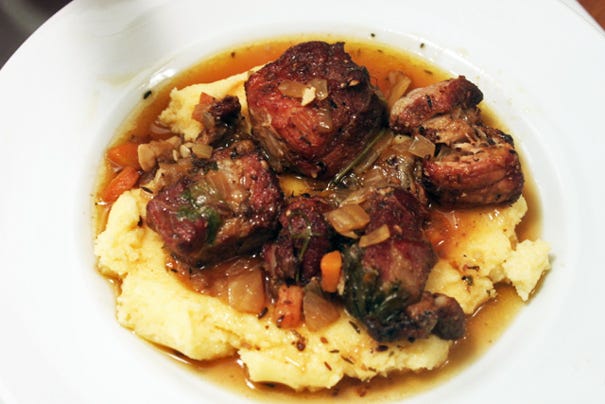 Finally, remember when Bon Appetit named its Best New Restaurants in America 2013 and the #1 best new restaurant was Alma, right here in L.A.? Well we ate there this weekend and here's my post all about it. The food was really stunning: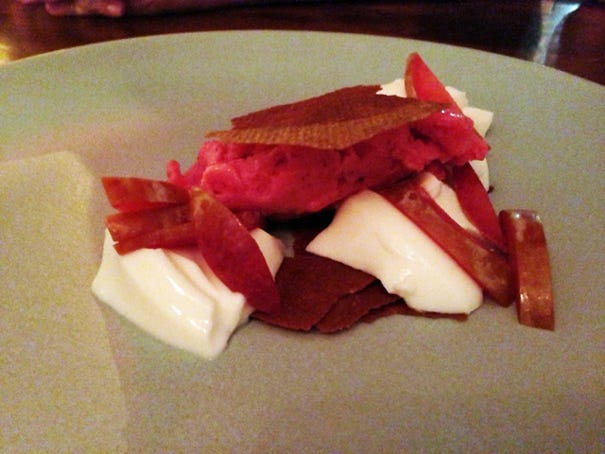 Now, on to newsletter stuff...

Last week, I drove west to meet my 92 year-old Uncle Jerry for lunch at his favorite deli, Fromin's. Usually my Uncle Jerry just has a cup of soup--the secret to his longevity?--but on this day, he followed my lead and ordered an egg salad sandwich.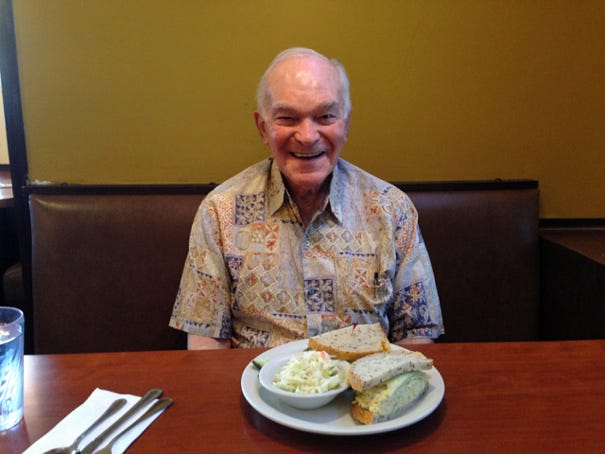 Here's mine, up close: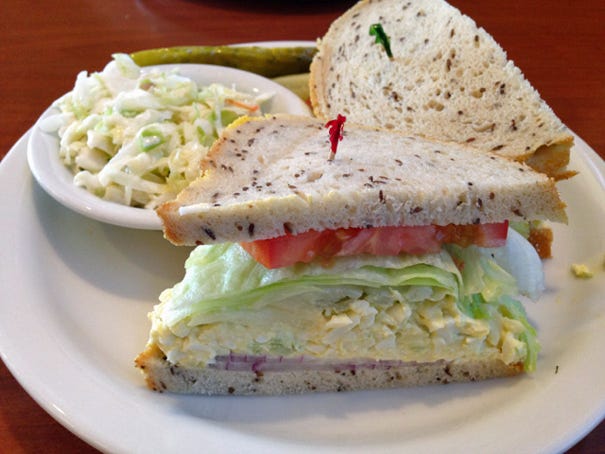 I like deli egg salad sandwiches; maybe because you don't have to do all the work of boiling and peeling the eggs? On rye bread, it really hits the spot.

If I usually meet Uncle Jerry at Fromin's, I usually meet my friend Diana for lunch at Little Dom's. This time around, we shook things up and shared this little gem salad with shaved egg on top: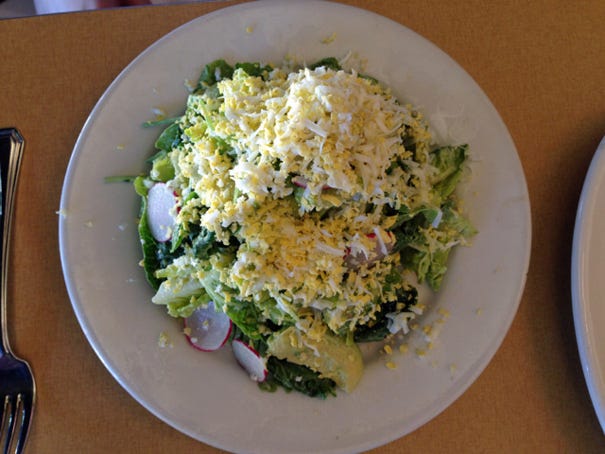 And a smoked salmon pizza that looked really good when it appeared: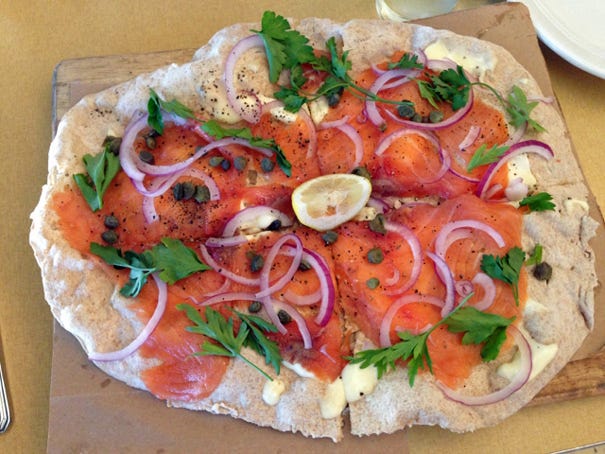 I liked everything about this except the cheese that they use isn't a cream cheese, it's Crecenza Cheese which is funkier, almost like a brie. Not sure I really dug that part of it, but everything else was top notch.

Now, I haven't told you the best part. When I went to the bathroom, towards the end of the meal, I saw someone lift his head up on my way back to the table. He was a black man with plastic glasses, a flowery shirt and yellow pants. He looked familiar.

When I got back to Diana, a bell went off in my head: "Hey Diana," I said. "See that guy over there? Do you think that's RuPaul?"

She leaned over and then said, "Yes...it's gotta be."

As we left the restaurant, I got one more look, and sure enough: it was. A real life RuPaul sighting. That made my day.

At some point, last week, I was craving oatmeal cookies. The kind you can pretend are healthy because of all the oats and raisins and walnuts. I found the recipe I was looking for on Smitten Kitchen's site. Here they are before they went into the oven: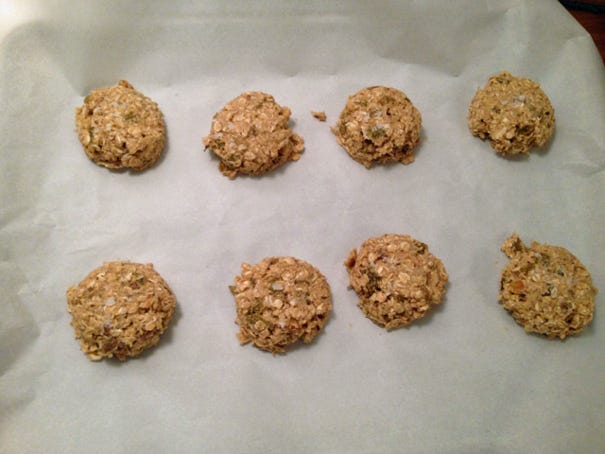 And here they are after baking: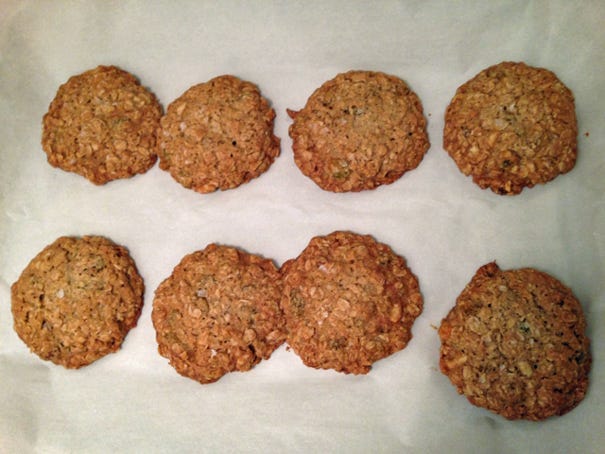 These were really perfect, just what I was looking for. I snacked on them at 3 o'clock, and ate them for dessert at the end of the night. They were just wholesome enough I didn't feel bad about that at all.

And speaking of Smitten Kitchen: I'm about to interview Deb for tomorrow's Clean Plate Club. If you haven't been listening to my podcast (or reviewing it on iTunes) you're really missing out...28,000 downloads so far!

Finally, on Sunday, Craig and I found ourselves at The Galleria in Glendale looking for patio furniture for our front deck (yes, we're getting old). We had fun, though, roaming around and seeing things like this: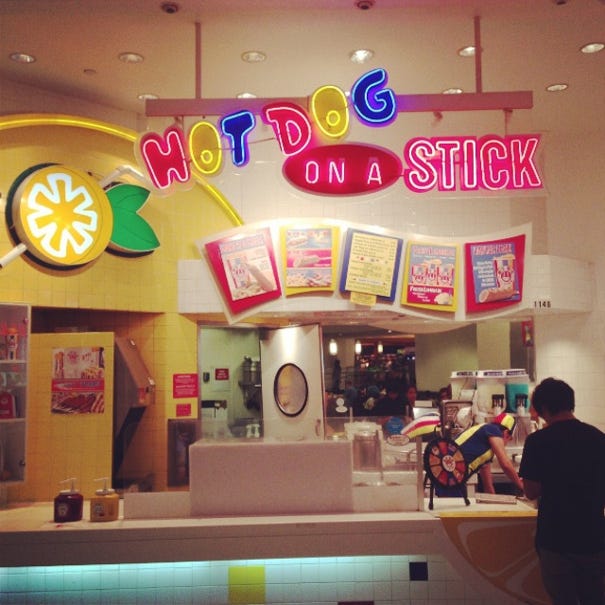 And: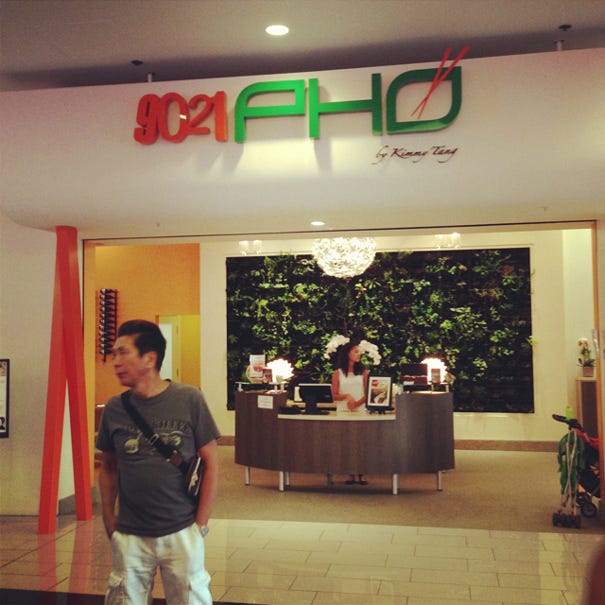 We may or may not have eaten a Cinnabon. If we did, maybe I'll blog about it tomorrow. Just maybe.

That's all for this week folks!

Until next time....

Your friend,
Adam (The Amateur Gourmet)



Reading this in a browser? Get next week's in your inbox by signing up here.

Follow Me!
On Twitter
On Facebook

Check Out My Cookbook!
Secrets of The Best Chefs

Recent Food Posts

Easy Homemade Potato Chips

Say Hello To Fall: Spiced Pork Stew with Polenta

Hey, So How Do You Open A Restaurant?

Rejoice! Everything Bagels from Scratch

Dinner at Alma, The Best New Restaurant in America

Cook A Pot of Chickpeas, Eat for a Week

I Answer Your Questions!

Emergency Frittata with Spanish Chickpea Salad

The Clean Plate Club, Episode #6: Jim Cantiello, Kat Odell

Let's Make Profiteroles

Two Years in L.A. (A Reflection)

Joan Nathan's Challah-Making Video

Cro-Not

These Grapes Are Crazy! Some Taste Like Cotton Candy, Some Look Like FINGERS

An Open Letter To The New York Times Magazine Food Section

Roasted Beet and Carrot Salad with Chickpeas and Goat Cheese

I Ate My First Pupusa Two Weeks Ago and Didn't Tell You About It

The Lemon Juice Trick

No French Fries After 40 (A Birthday Trip to Belfast)

The Clean Plate Club, Episode #5: Noah Galuten, Billy Scafuri

Dim Sum at Sea Harbour Seafood Restaurant

The Best Food Bloggers of All Time

Rice Salad with Olives and Pine Nuts

Franny's Toasted Almond Gelato

The Used Cookbook Sale at the Hollywood Farmer's Market





*|LIST:DESCRIPTION|*

Unsubscribe *|EMAIL|* from this list.

Our mailing address is:
*|HTML:LIST_ADDRESS_HTML|*
Copyright (C) *|CURRENT_YEAR|* *|LIST:COMPANY|* All rights reserved.

Forward this email to a friend
Update your profile
*|IF:REWARDS|* *|HTML:REWARDS|* *|END:IF|*