A.G. Newsletter #136: Sqrl, Proof's Prosciutto Fig Sandwich, Jimmy and Raef at Malo, Quenelle & Book Soup


Hey there newsletter readers,

Today's a bit of a wash; Craig's leaving tomorrow for New York (final edits for his movie) so there's a bit of sadness in the air, also excitement, and that feeling of: "I'd really rather not write a newsletter."

But don't be mad. I'm still going to do it. I'm also going to plug all of the posts I wrote this week so far. My favorite, though no one else really laughed as much as I did at the title, was: I'm Gonna Get You Socca. About making the famous chickpea pancake from Nice. See?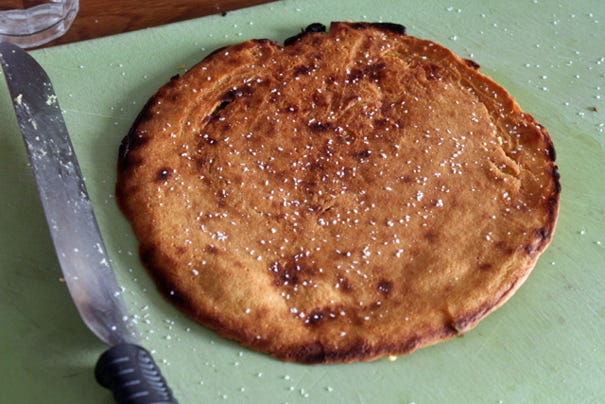 Then I wrote a post that was a little bit controversial: Why You Shouldn't Go On Top Chef (Unless You Should). Check it out and see what you think.

Oh and you know how summer's almost over? If I were you, I'd make my Summer's End Pasta with Tomatoes, Zucchini and Dill. I make it at the end of every summer and I always fall in love with it as it disappears from my plate.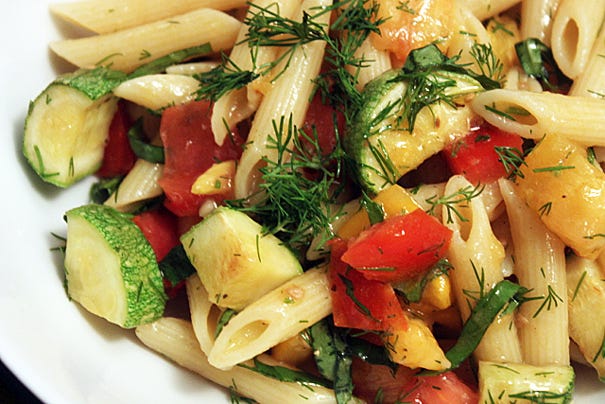 Oh also? I discovered Real Live Jujubes (Not From A Movie Theater).

And wrote an Alphabet Of Foods That Will Kill You.

Now on to newsletter stuff....

I joined Diana last week for lunch at SQRL which is the most hipsterish lunch place I've ever been (straight out of Portlandia) but the food is damn good. I absolutely went bonkers for this sandwich called "The Dream" which had Romesco, Ricotta, Prosciutto and Greens.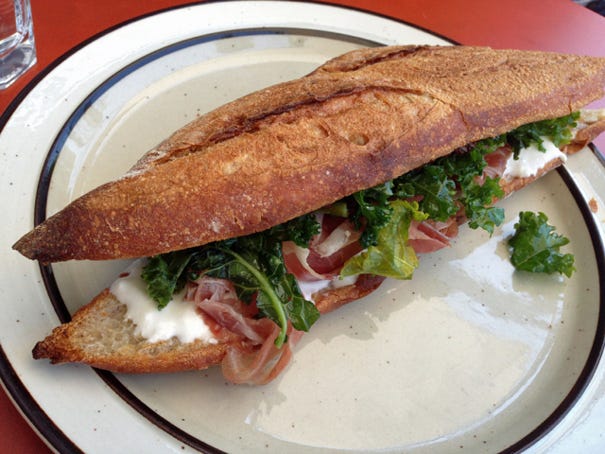 But the real star of lunch was the Ras El Hanout Lamb Sandwich with lettuce, tomato, and mayo on a baguette.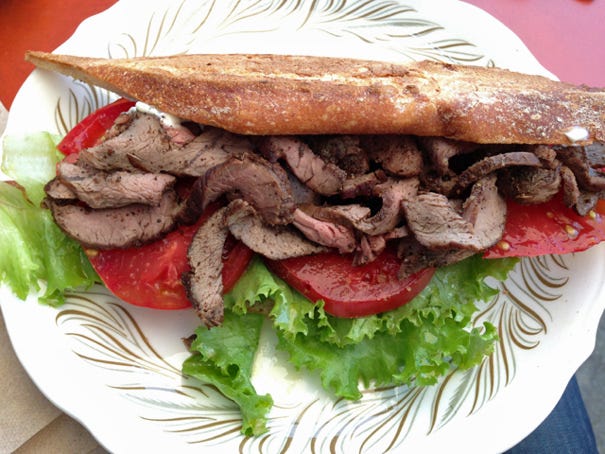 That lamb was so perfectly cooked, it was a marvel. And the balance of the other ingredients, plus the bread, made it a food highlight of the week.

Now I know you're all sick of me praising Proof Bakery, so I'll make this quick: their prosciutto and fig sandwich, which I had a few days later, was also pretty glorious. The key ingredient? Honey butter. And that bread which Craig says "tastes like a potato chip." It does.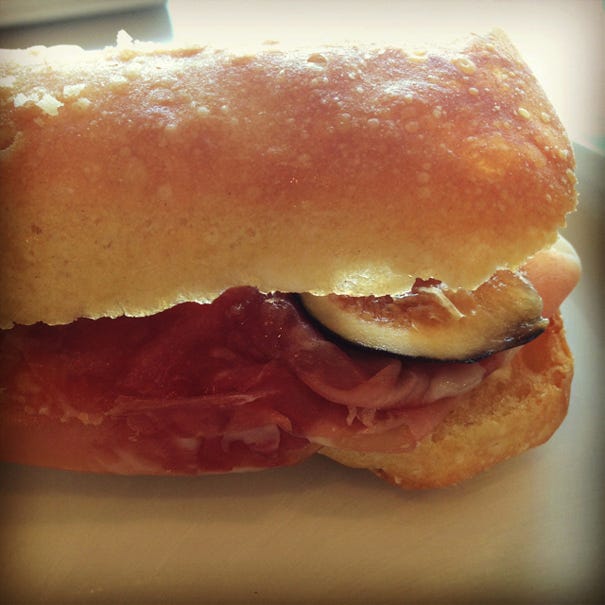 Hey guess what? Our good friends Jimmy and Raef just moved to L.A. and we're really excited about it. On Friday night, we joined them out for dinner at Malo...here they are with their Mexican food: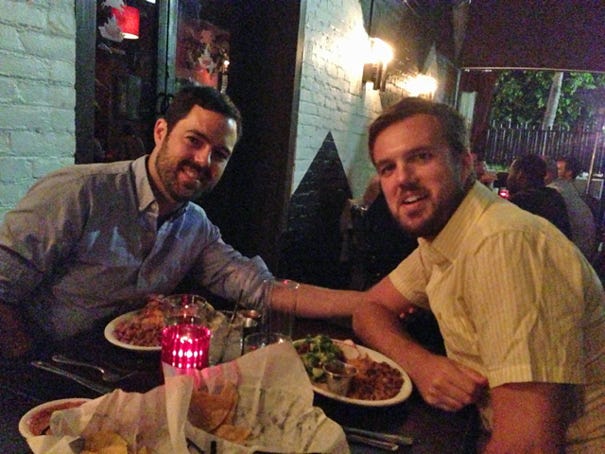 And here are my fish tacos with beans and rice: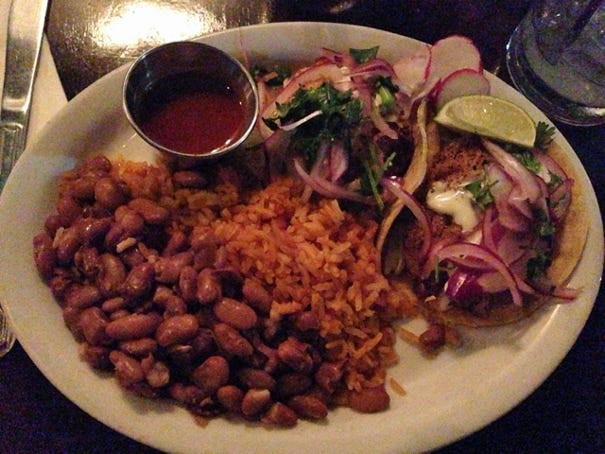 Not the best in L.A., but certainly tasty. And best of all, Malo's located right next door to our favorite L.A. gay bar, Akbar, which is where we all went after. A fun night indeed.

Over the weekend, while Craig was working, I decided to check out an ice cream shop that's getting a lot of buzz: Quenelle.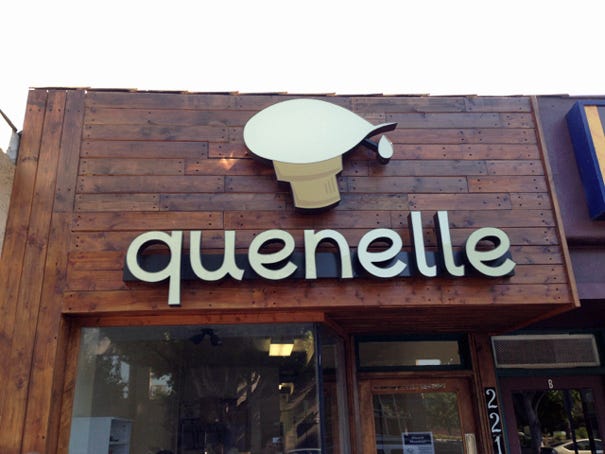 It's located in a very neighborhoody part of Burbank. The small space was pretty crowded when I walked in, but I had a nice amount of time to study the ice cream list: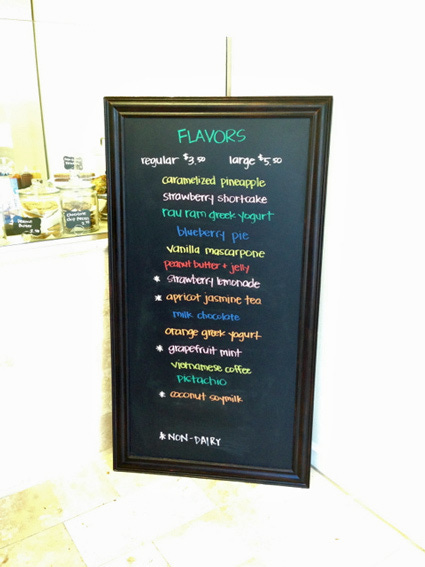 And also the toppings: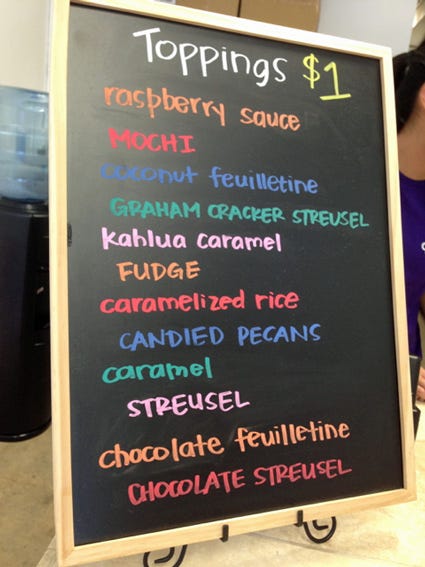 I decided to go with the caramelized pineapple with coconut feulletine on top. Behold: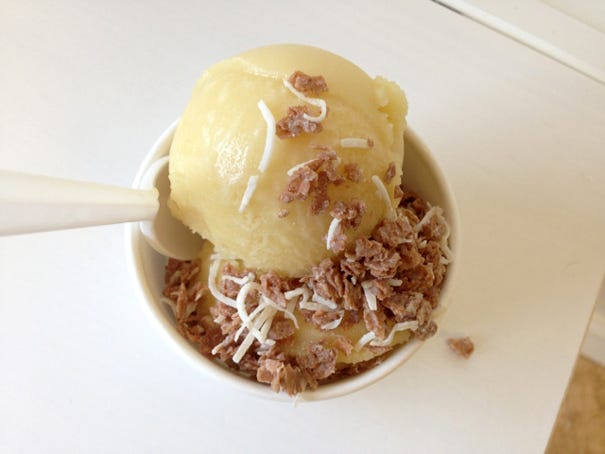 I'm pretty proud of myself for choosing this combination: it was sort of like a pina colada. The ice cream, which was probably more like sorbet (there wasn't a detectable dairy element), was incredibly clean-tasting and pure. I really admired it as I enjoyed it, which isn't always the case with fancy, artisinal foods (most of the time, I just admire them while secretly craving the naughtier version). The coconut was like a sweet, caramelized cookie that added great crunch. All in all: I'll definitely be going back.

Finally, I took a side trip to L.A.'s most famous book store after the ice cream...a journey down on to the Sunset Strip to visit Book Soup.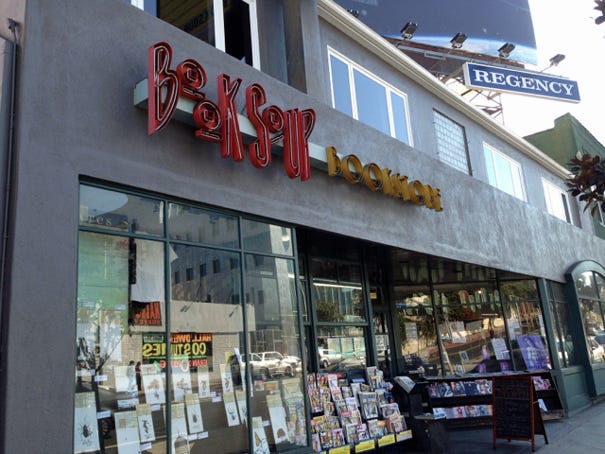 The place has tons of character, though parking is difficult. Inside, I enjoyed the staff recommendations and the funny little signs: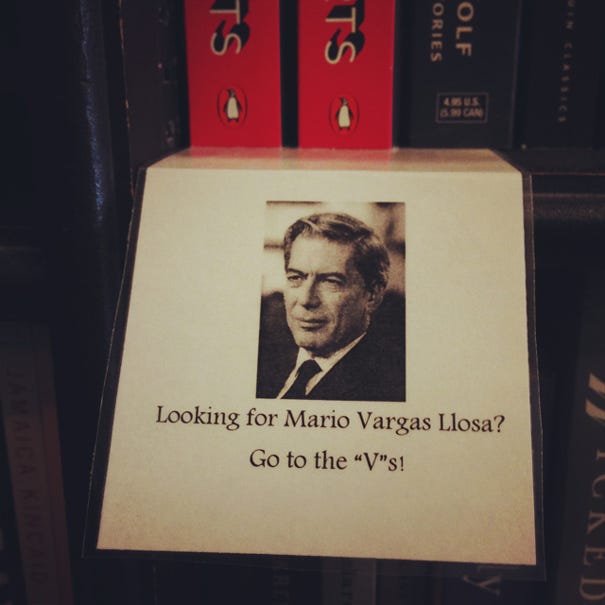 And Liberace up here: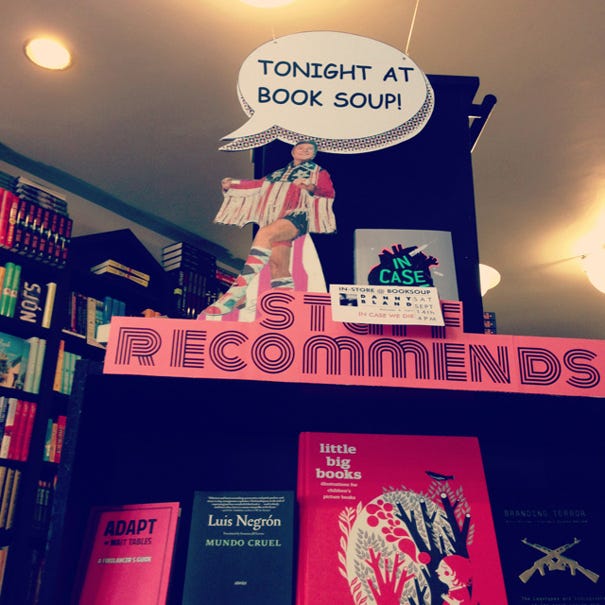 Mostly, though, I was happy to see an old familiar friend in the cookbook section: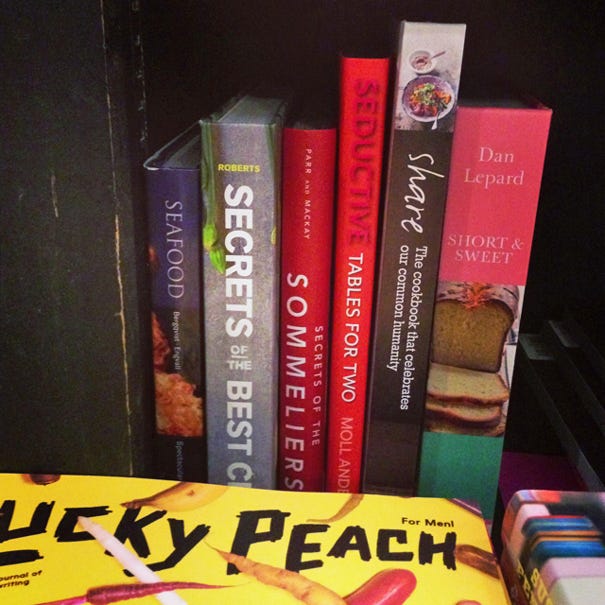 That's all for this week, folks!

Tune in next week for another exciting newsletter.

Until next time....

Your friend,
Adam (The Amateur Gourmet)

P.S. I forgot to mention: I had Deb Perelman of Smitten Kitchen on last week's podcast. Give it a listen here!
Reading this in a browser? Get next week's in your inbox by signing up here.

Follow Me!
On Twitter
On Facebook

Check Out My Cookbook!
Secrets of The Best Chefs

Recent Food Posts

Real Live Jujubes (Not From A Movie Theater)

Summer's End Pasta with Tomatoes, Zucchini and Dill

Journey To Nicaragua By Way of Pico Blvd.

Why You Shouldn't Go On Top Chef (Unless You Should)

I'm Gonna Get You Socca!

Alphabet of Foods That Will Kill You

Cinnabon Story

The Clean Plate Club, Episode #7: Deb Perelman (Smitten Kitchen)

Windows on the World

The Speed At Which You Eat

November Down Under

Easy Homemade Potato Chips

Say Hello To Fall: Spiced Pork Stew with Polenta

Hey, So How Do You Open A Restaurant?

Rejoice! Everything Bagels from Scratch

Dinner at Alma, The Best New Restaurant in America

Cook A Pot of Chickpeas, Eat for a Week

I Answer Your Questions!

Emergency Frittata with Spanish Chickpea Salad

The Clean Plate Club, Episode #6: Jim Cantiello, Kat Odell

Let's Make Profiteroles

Two Years in L.A. (A Reflection)

Joan Nathan's Challah-Making Video

Cro-Not

These Grapes Are Crazy! Some Taste Like Cotton Candy, Some Look Like FINGERS

An Open Letter To The New York Times Magazine Food Section

Roasted Beet and Carrot Salad with Chickpeas and Goat Cheese

I Ate My First Pupusa Two Weeks Ago and Didn't Tell You About It





*|LIST:DESCRIPTION|*

Unsubscribe *|EMAIL|* from this list.

Our mailing address is:
*|HTML:LIST_ADDRESS_HTML|*
Copyright (C) *|CURRENT_YEAR|* *|LIST:COMPANY|* All rights reserved.

Forward this email to a friend
Update your profile
*|IF:REWARDS|* *|HTML:REWARDS|* *|END:IF|*