A.G. Newsletter #138: Sushi Ike, Secret Kitchen Lights, Broome Street Scone, Roboto Jinya, Barbrix & Disneyland


Hey gang,

What am I doing writing you a newsletter on Monday? I thought we'd established that newsletters go out on TUESDAY?

Well: I did a post this morning that was really timely--the great Marcella Hazan died this weekend and, as a tribute, I made her famous tomato sauce with butter.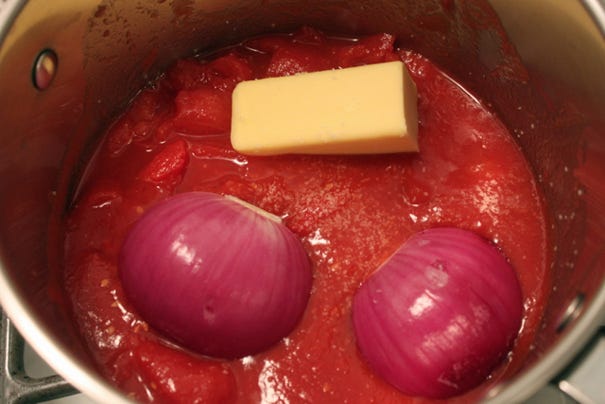 If you've never made it before, what you see above is the only work involved. You put a can of tomatoes, an onion cut in half, 5 tablespoons of butter and a pinch of salt in a pot, turn up the heat and 45 minutes later you have this luxurious sauce.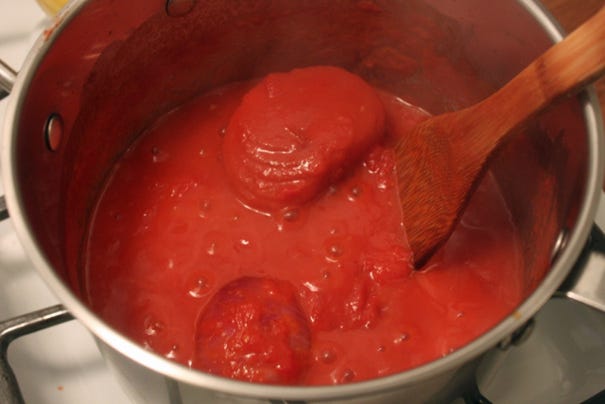 The marriage of butter and cooked tomatoes is so extraordinary, I beseech you--yes, I used the word "beseech"--to make it this week in honor of Marcella. Click here for the full recipe.

(And if you know someone who doesn't cook, send this post to them and see if they'll give it a try. If they do, let me know...I bet it'll convert a few newbies!)

Let's see, what else do I need to tell you about before we get to newsletter business?

Ignore the sell-by date on your carton of milk!! Why? Click to find out.

I had some of the best Chinese food of my life at Chengdu Taste in the San Gabriel Valley. The pictures will make you drool.

Oh and I stuffed lamb into an eggplant for the most recent episode of The Clean Plate Club featuring NY Magazine movies editor Kyle Buchanan and celebrated sommelier Whitney Adams.

Now, on to newsletter stuff....

When Craig is around, I don't usually get sushi at lunch because he often wants to get it for dinner. And because of weird mercury-fears, I try to only eat sushi once a week. (Mercury Fears sounds like the name of an album by Sting.) But since Craig was in New York last week, I grabbed lunch at Sushi Ike. Specifically: their sushi lunch ($19).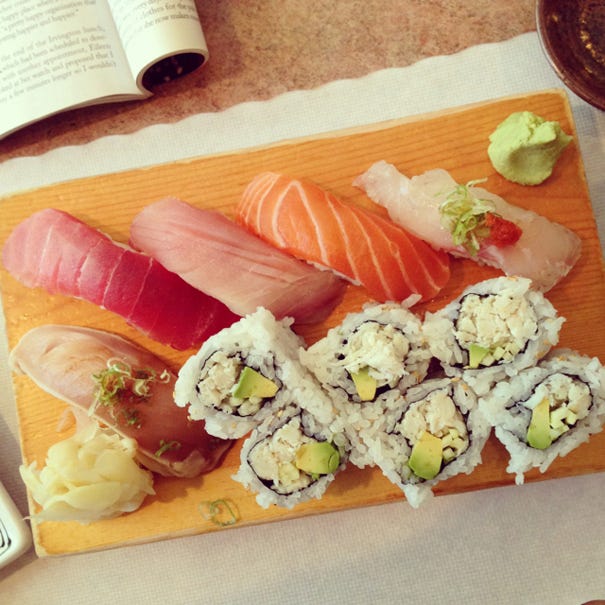 That's pretty gorgeous sushi for a lunchtime meal, though $19 is pretty steep. In New York I'd get a similar lunch at Taro Sushi for $12. Sometimes twice a week, but that was before I released Mercury Fears on Columbia Records.

Guess what?

I love love love my new kitchen here in Atwater Village but I've been unhappy with the lighting. I mean, on one side the lighting's great: a light fixture with a ceiling fan gives off a warm light right over the kitchen table. It's the other side that has this harsh, ugly fluorescent light that I hate and never use. So that side of the kitchen remains dark. Only, the other day I discovered these lights under the cabinetry: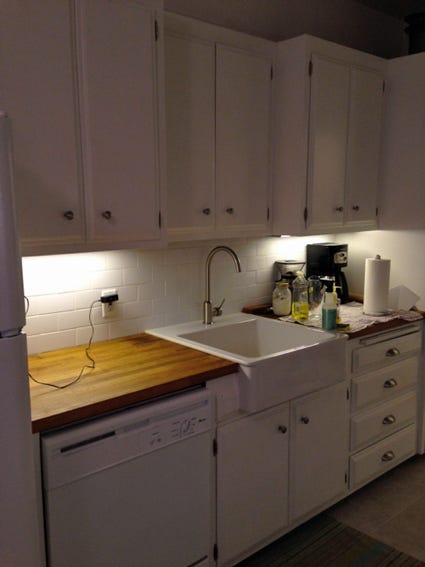 I'm so happy! These change everything! Now the kitchen is warm and illuminated all over. How funny that I didn't even know these lights were there until last week (the picture you see is a picture I texted Craig after the discovery).

Ok, so there's this place I'm totally in love with called the Broome Street General Store and it's this adorable, outdoor coffee shop on Rowena in Silverlake that has this fancy shmancy store inside with expensive colognes and shirts and dishes. They have a jacket I might buy if I come into a great fortune (anyone have a great fortune I can borrow? Walter White, are you reading?)

The coffee there is really excellent--some of the best in Los Angeles--but, even better, are their scones. Holy crap. I had a cream cheese scone of theirs a few weeks ago and vowed to only eat half and to bring the rest home for Craig. I think you know how this story ends: it's living on my hips right now.

The other morning, I had this Meyer lemon blueberry scone that was so good, I'm pretty convinced it's the bastard child of a doughnut: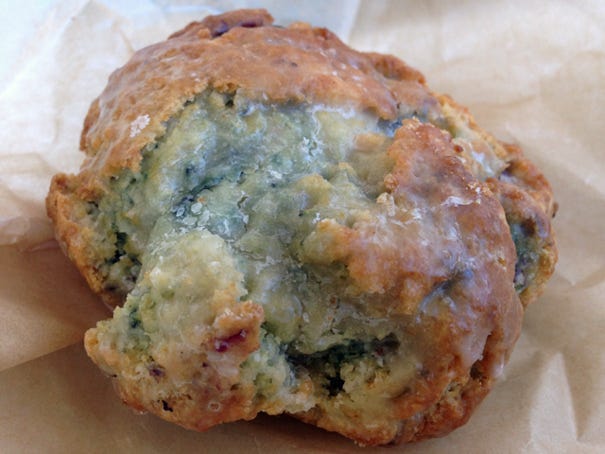 These are Dangerous Scones (which, funny enough, could also be another album. Not by Sting though. Maybe The B-52s?)

Last Thursday, I met my friend Raef--who recently moved here with our friend Jimmy--for lunch at Roboto Jinya down on 3rd Street. I had the black ramen which has garlic oil drizzled on top: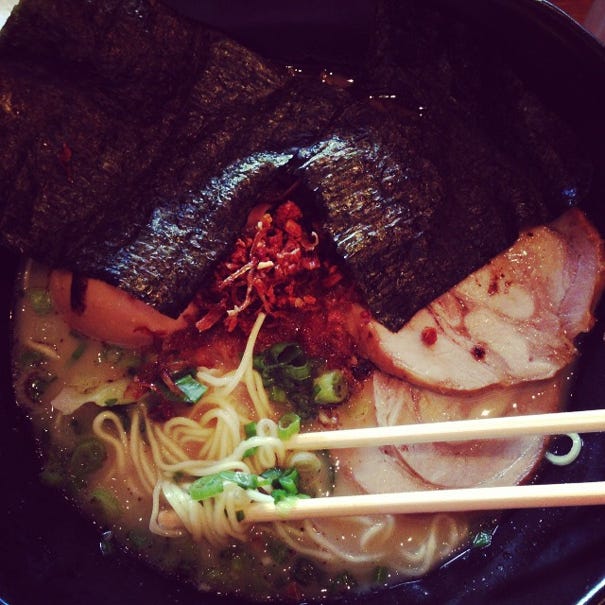 Raef had a lunch special ramen that came with dumplings. Dumplings!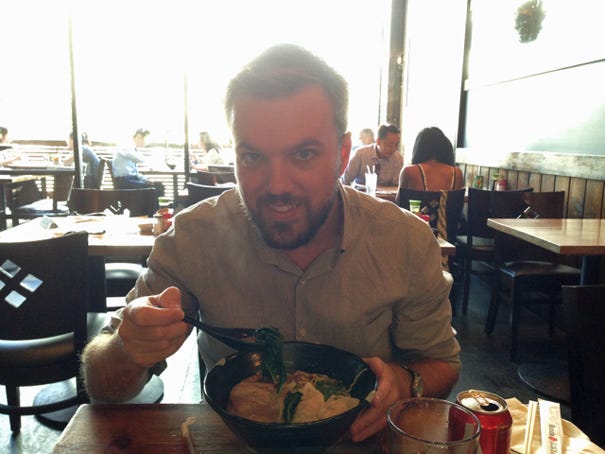 On Thursday night, I met up with my friends Brendan and Rebecca (Rebecca of Working Class Foodies fame) at Barbrix in Silverlake. Here they are at the table: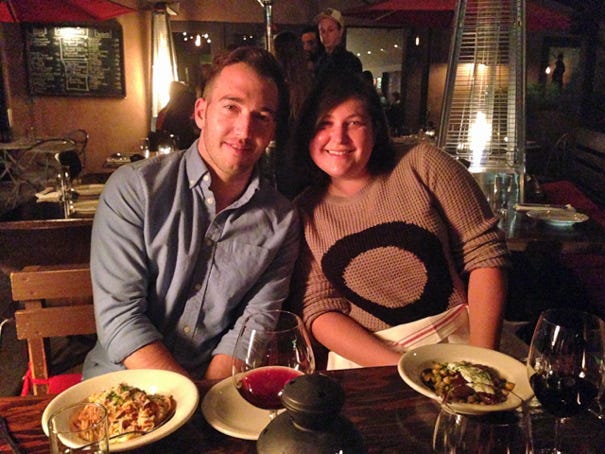 Here's the burger that I ate: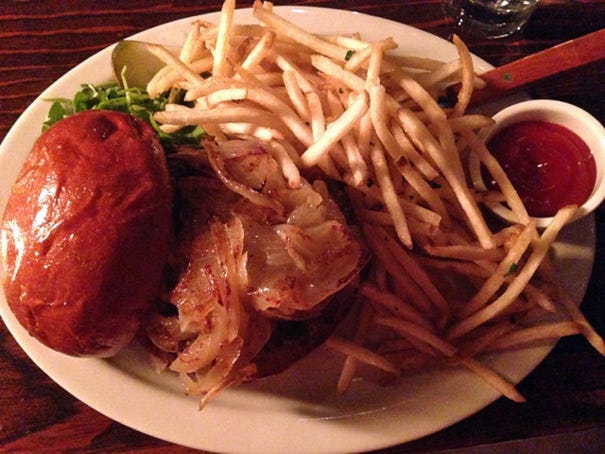 After sharing this cheese with Brendan: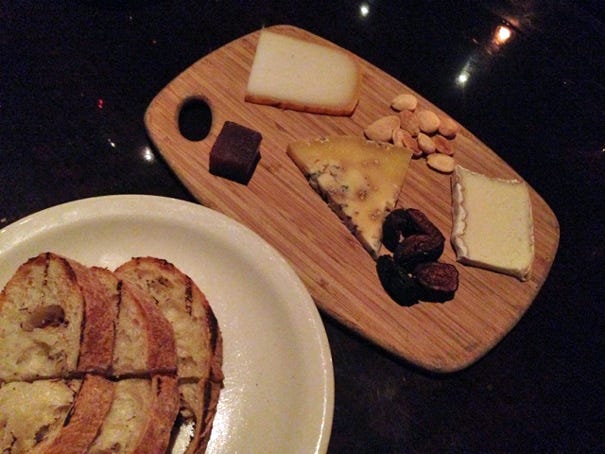 And this cauliflower that Rebecca ordered: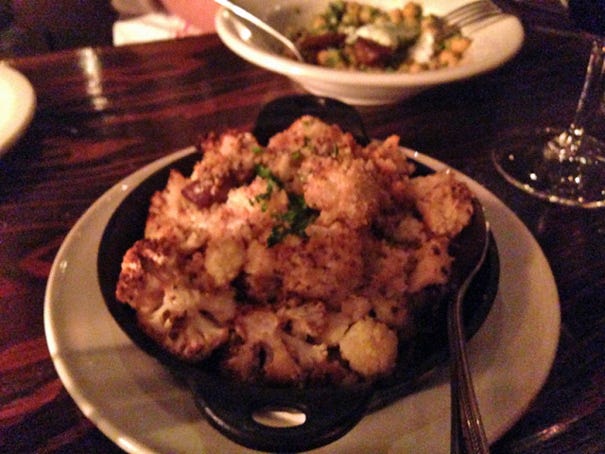 Just when I thought I was about to burst (oh, and we each had two glasses of wine; some of us three, I won't tell who) dessert was ordered. Doughnuts on ice cream. Oh God.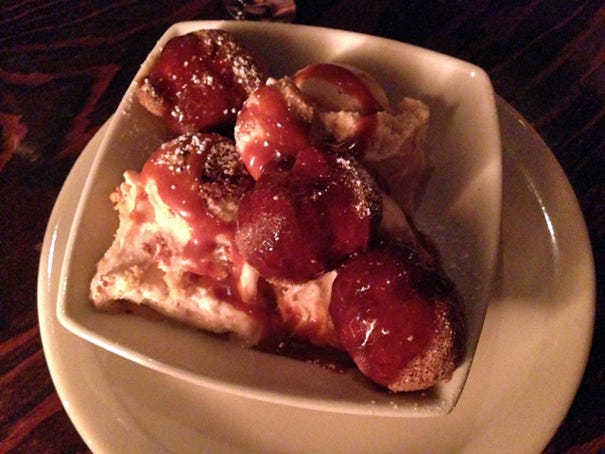 Finally, on Saturday, I joined my friends John and Diana for a trip to Disneyland. Here we all are outside the Haunted Mansion which was converted into a Nightmare Before Christmas version of itself: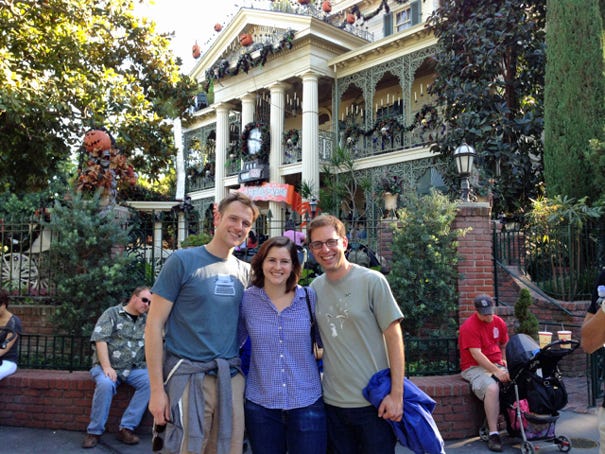 At some point in the day, I ate this Mickey Mouse ice cream pop covered with Mickey candies (I had to scrape them off or I would've had a sugar overload):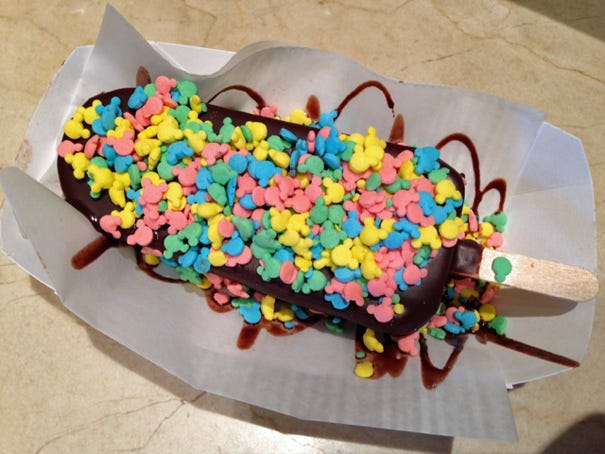 Diana got popcorn: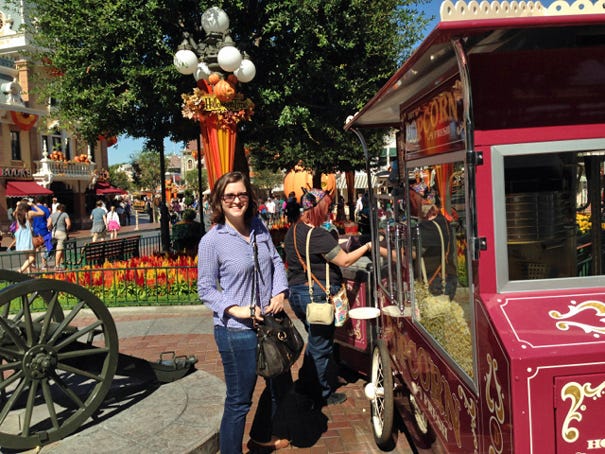 And John got this creepy Mickey pretzel with cheese sauce: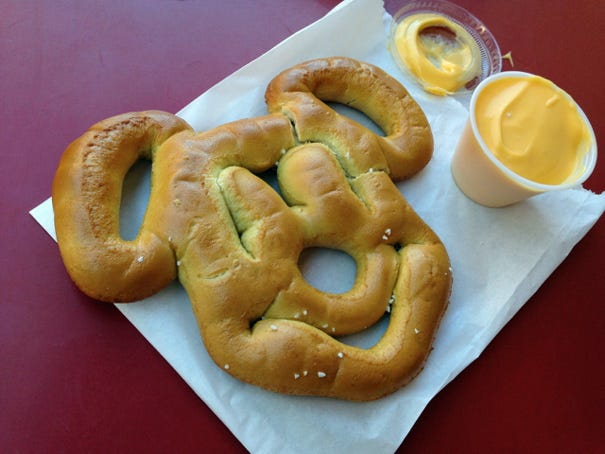 We spent the day at California Adventure, then moseyed over to Disneyland proper, then--a little burnt out by the sun--we monorailed over to Downtown Disney where we ate at a Mexican restaurant called Tortilla Joe's. We shared a giant plate of nachos and a pitcher of margaritas: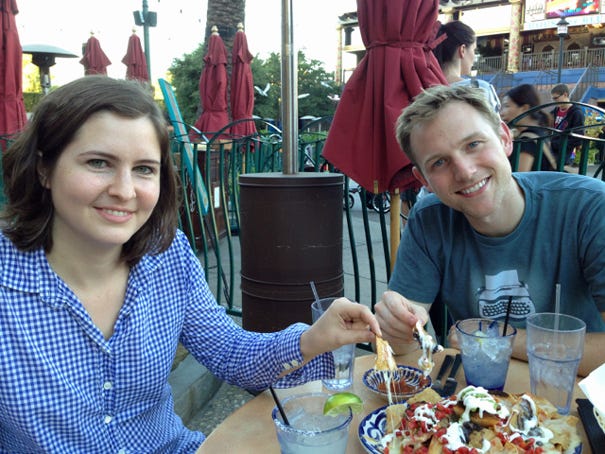 Oh and one order of fajitas shared three ways: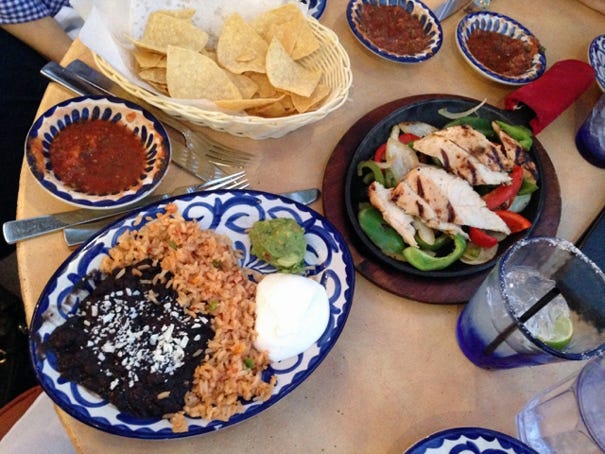 You know what's an interesting challenge to do to yourself? To eat a bunch of Mexican food, drink the equivalent of three margaritas and then to go on this: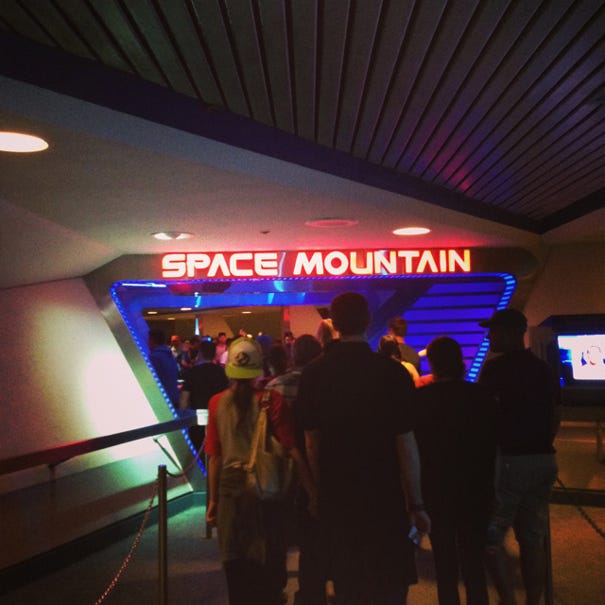 Don't worry, I didn't hurl. But I kept my eyes closed most of the time.

That's all for this week, folks!

Until next time....

Your friend,
Adam (The Amateur Gourmet)
Reading this in a browser? Get next week's in your inbox by signing up here.

Follow Me!
On Twitter
On Facebook

Check Out My Cookbook!
Secrets of The Best Chefs

Recent Food Posts

Marcella Hazan's Immortal Tomato Sauce Recipe

Reasons To Make A Crumb Cake This Weekend

Beating Jet Lag

Stuffed Eggplant with Lamb and Pine Nuts

The Clean Plate Club, Episode #9: Whitney Adams, Kyle Buchanan

Beet Dip

My Heart's Aflame for Chengdu Taste (My Mouth Too)

Miley Cyrus Tongue Cookies

Let's Talk Breaking Bad While Looking at Pictures of Food From The Oinkster

Pici (Or: Handmade Pasta for Idiots)

The Clean Plate Club, Episode #8: Mark Heyman, Ben Leventhal



*|LIST:DESCRIPTION|*

Unsubscribe *|EMAIL|* from this list.

Our mailing address is:
*|HTML:LIST_ADDRESS_HTML|*
Copyright (C) *|CURRENT_YEAR|* *|LIST:COMPANY|* All rights reserved.

Forward this email to a friend
Update your profile
*|IF:REWARDS|* *|HTML:REWARDS|* *|END:IF|*