A.G. Newsletter #139: The Market on Holly, Hugo's Tacos, Bar Stella, Lamb Two Ways and Dinner at Jimmy & Raef's


Hey gang,

Boy, this post I just posted about my ever-morphing L.A. restaurant to-do list took forever to write. It's based on a folder I keep in my browser where I put any/every article I see about a place here that I want to try. As you can imagine, the folder got kinda crazy so I organized it by writing this post. (If you don't live in L.A., you probably won't care much. That's fine!)

But you all should care about this amazing, mind-bogglingly delicious Ricotta Cheesecake that I made for a dinner party the other day. Check it out: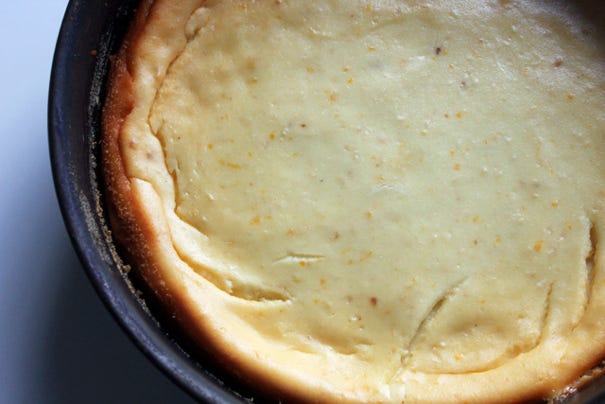 The recipe comes from the brilliant Gina DePalma and you can read all about it by clicking here.

Last week, I did a Cartoon Recap of the 1st episode of Season 11 of Top Chef. It came out pretty funny; let's see if I can keep it up this week! Here's a taste: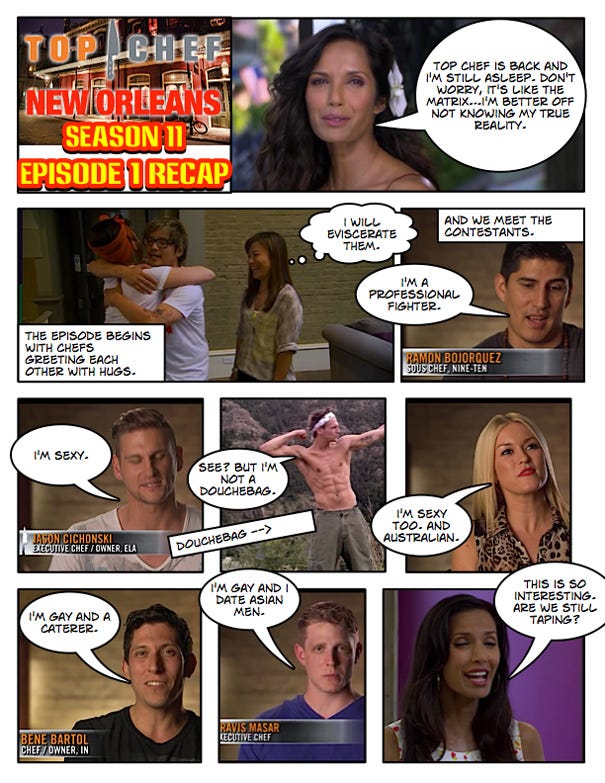 [To read the rest, click here.]

Finally, last week's Clean Plate Club guests were two big names: Barrett Foa, from Ave. Q and NCIS Los Angeles, and his favorite L.A. chef, Suzanne Tracht from Jar. Click here to give that a listen.

Now on to newsletter business!

Last week, I read this article in T Style Magazine about the emergence of Pasadena as a cool place to be. Funny enough, I spend a lot of time in Pasadena because I live pretty close here in Atwater Village and I really like the Intelligentsia there. One of the places featured in that article seemed good for lunch, so I gave it a go. That place is called The Market on Holly.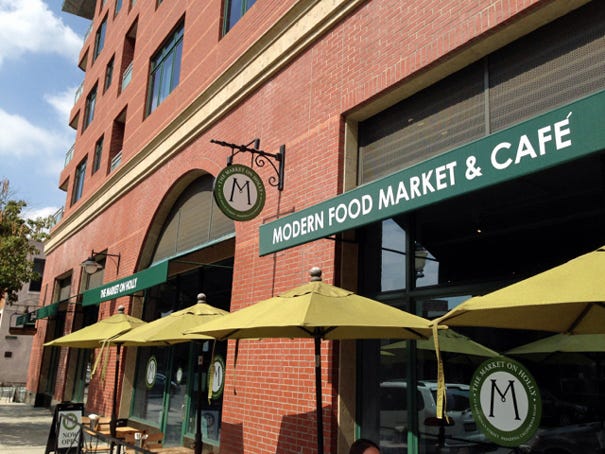 The exterior looks kind of generic--almost like a chain--but the inside has its own, unique charm.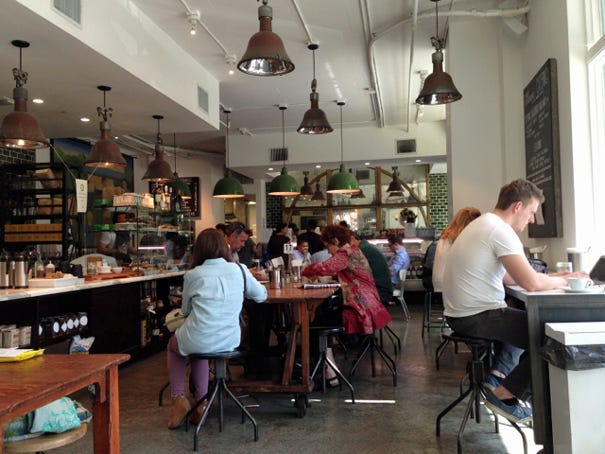 The food is very familiar, though slightly elevated lunch food. I had a turkey sandwich that came with a homemade aioli and cranberry sauce on it. The bread was high-quality and the best part was that the little plastic container, which normally might come with throwaway potato salad (I'm talking to you Moore's Delicatessen), came with a really tasty wheat berry salad. See?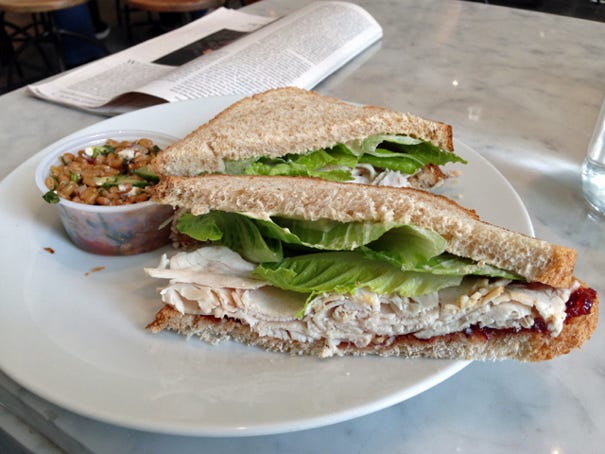 I liked this place and will definitely be going back, though I'll be avoiding the sushi joint next door.




On Tuesday or Wednesday night last week, I don't remember, Craig had plans and so I found myself alone in Atwater Village looking for dinner. I decided to treat myself to a burrito at Hugo's Tacos: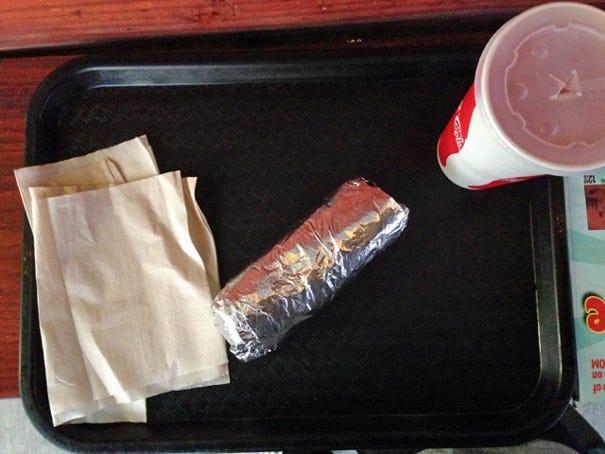 I thought a lot about a recent Pete Wells column that said tacos/burritos should be eaten outside, preferably in a parking lot. I felt like I did pretty well here: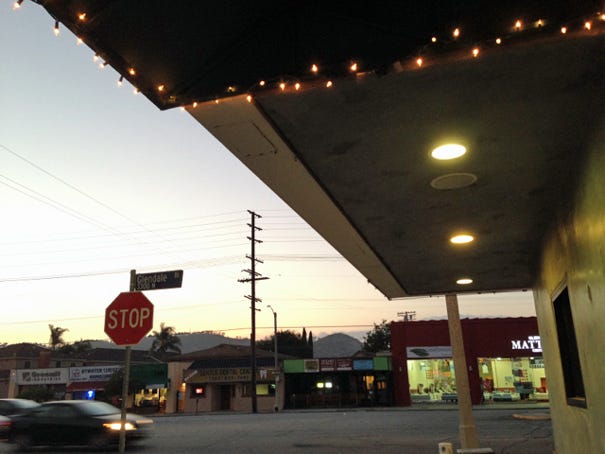 The burrito itself--chicken with tomatillo salsa--was pretty good. Here it is after a bite: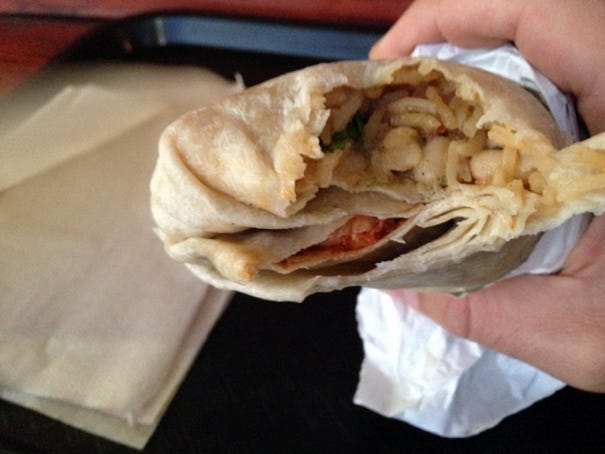 All in all, it was a good night.

On Friday, Craig was running on empty at 5 o'clock after a full day of screenplay writing and I suggested we get a drink at a relatively new bar called Bar Stella. I knew little about it, except that it's supposed to be cool. Turns out: it's an absolutely terrific place to go for a drink, especially in the happy hour hour. Check out the decor.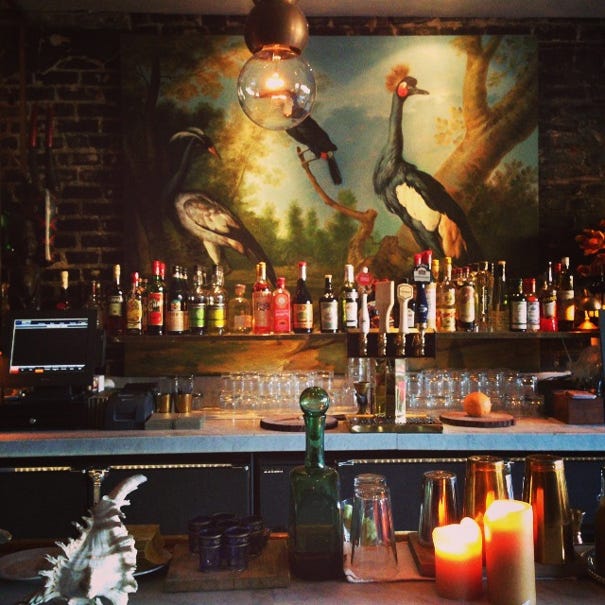 Cool right? Here's the outside view. Can you spot Craig?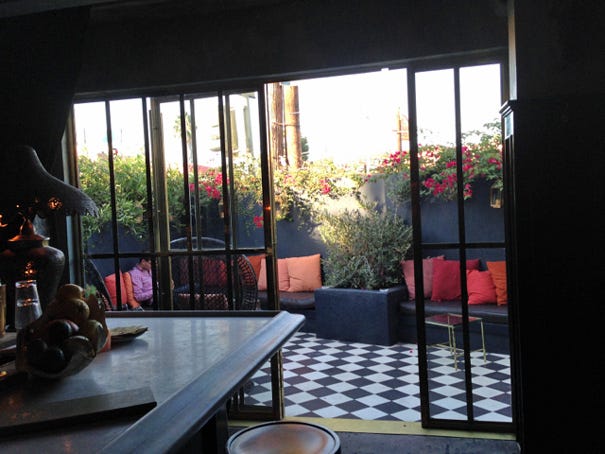 Here's what went into my $14 Mojito: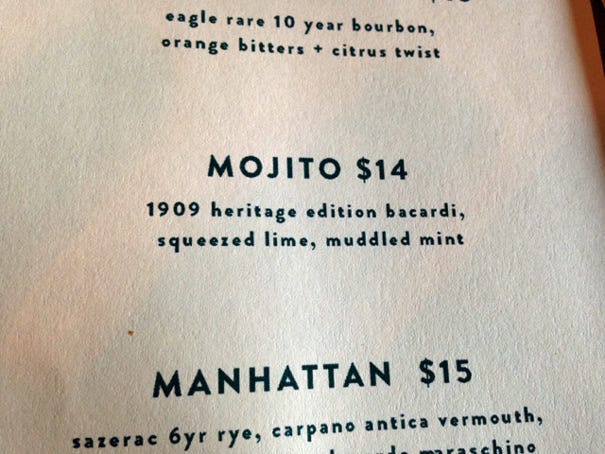 And here's the tray of goodies that was used to make it: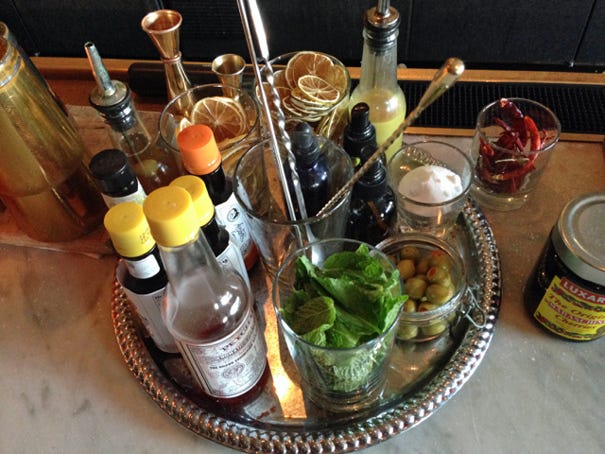 At last, our finished drinks (Craig had a Sazerac, on the right):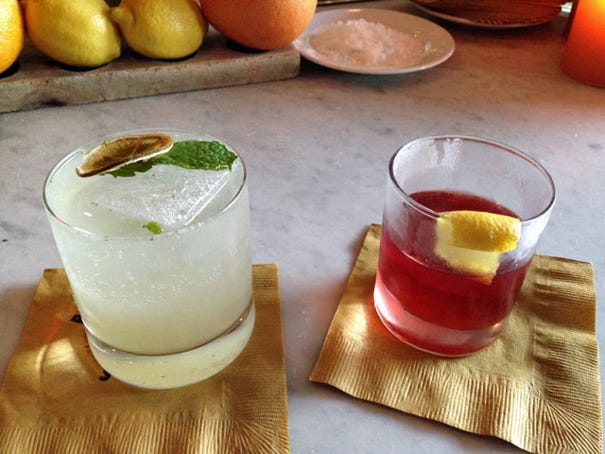 The drinks were great--amazing what high quality liquor can do--and the environment even better. So we'll be back at Bar Stella. I'll be Norm, Craig will be Cliff. You can be Carla.

On Saturday night, we went to a dinner at a friend's place and this friend requested that I not blog/newsletter the meal. Understood! All I'll say is that one of the courses was so unbelievably delicious, I had to take a picture to share with you. This is lamb two ways: the first way is Milanese style--flattened chops coated in panko and fried and serve on a salad. The second way is braised lamb--cooked in a pressure cooker--with the most incredible beans.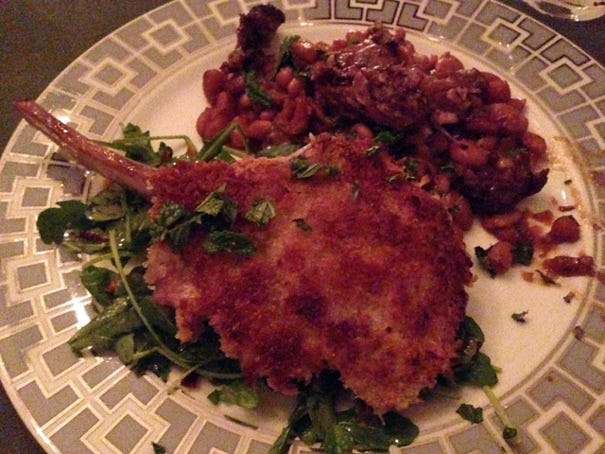 And that's all I'm going to say about that: please don't ask me any more questions!

Finally, our friends Raef and Jimmy recently moved to L.A. and on Sunday night they had us over to their new place. Isn't their new kitchen adorable?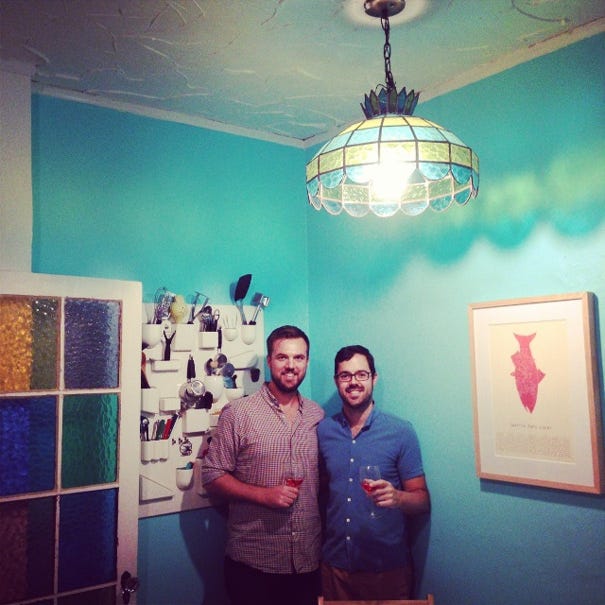 Jimmy cooked us up a stir-fry which was very tasty and a little bit spicy.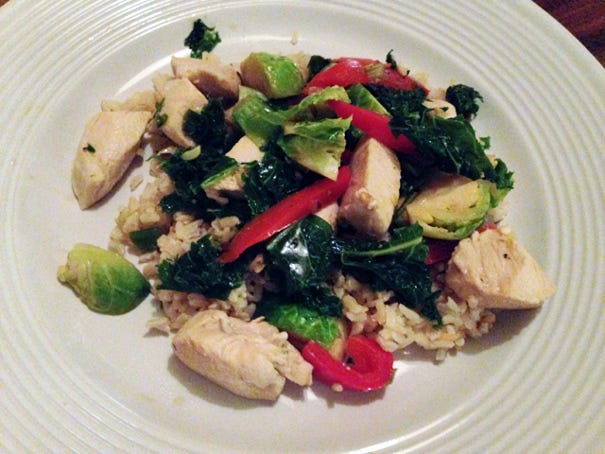 Their dog Ernie looked on approvingly: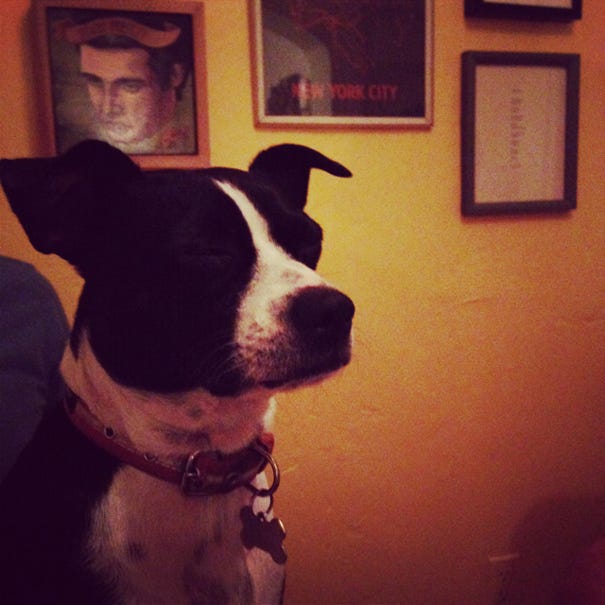 That's all for this week folks!

Sorry the newsletter's so late. I was all set to write it this afternoon and Flickr was having trouble. You're probably getting this in the wee hours and your phone chirped and it woke you up and you're so mad at me. Please forgive me, if you can.

Until next time....

Your friend,
Adam (The Amateur Gourmet)











Reading this in a browser? Get next week's in your inbox by signing up here.

Follow Me!
On Twitter
On Facebook

Check Out My Cookbook!
Secrets of The Best Chefs

Recent Food Posts

My Ever-Morphing L.A. Restaurant To-Do List

Shopping Is Cooking

Telekinetic Coffee Shop Surprise

Gina DePalma's Creamy, Dreamy Ricotta Cheesecake

Turkey Leg Confit (Fancy Dinner, Cheap Ingredient)

Top Chef New Orleans Cartoon Recap, Episode 1

Cooking For A Chef

The Clean Plate Club, Episode #10: Barrett Foa, Suzanne Tracht

Chocolate Malteds

Life with an Oven Window

Marcella Hazan's Immortal Tomato Sauce Recipe

Reasons To Make A Crumb Cake This Weekend

Beating Jet Lag

Stuffed Eggplant with Lamb and Pine Nuts





*|LIST:DESCRIPTION|*

Unsubscribe *|EMAIL|* from this list.

Our mailing address is:
*|HTML:LIST_ADDRESS_HTML|*
Copyright (C) *|CURRENT_YEAR|* *|LIST:COMPANY|* All rights reserved.

Forward this email to a friend
Update your profile
*|IF:REWARDS|* *|HTML:REWARDS|* *|END:IF|*