A.G. Newsletter #140: Bread Lounge, Huckleberry, Tacos Delta, Loteria, The Chinese Theater & Family Brunch


Hey newsletter fans,

What do you think of coffee shops that don't offer sugar? I just wrote a piece about it called No Sweetener For You (Do Coffee Shops Go Too Far?). Check it out!

On Monday, I posted a pretty amazing fall recipe: Kabocha Squash Risotto. Here's a pic: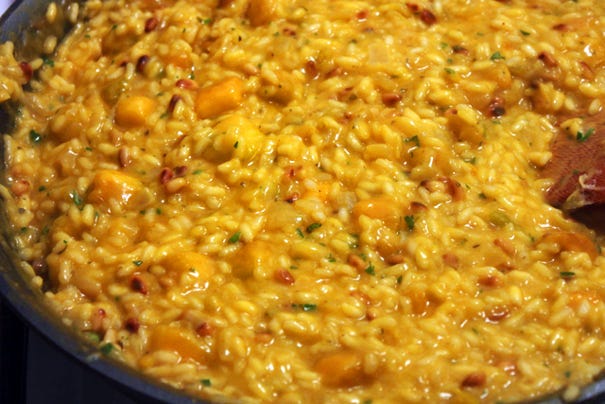 You're going to want to make that.

Also, yesterday, I wrote about cooking and eating whole artichokes for the first time. Is it worth all the effort? Click the link to find out.

Finally, if you missed my podcast interview with Clotilde Dusoulier of Chocolate & Zucchini, treat yourself by listening here.

Now, on to newsletter business....

Last week, I checked out the Arts District for the first time, wanting to patronize Handsome Coffee Roasters after reading about it being the best new coffee shop in L.A. (That's what inspired the coffee post, actually.) Before going there, though, I Googled lunch spots in the neighborhood and read about Bread Lounge. Sounded good to me, so I headed on over: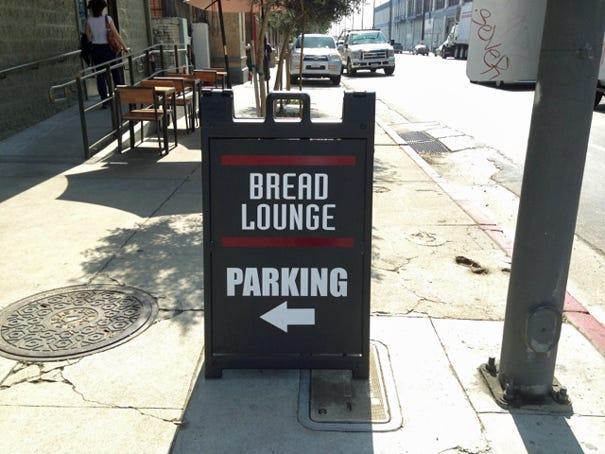 Outside there was an industrial dough mixer that they turned into a flower pot: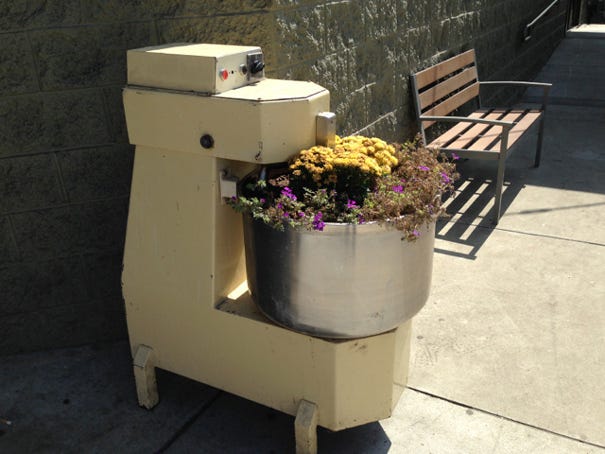 Inside, the place was bustling with trays of amazing-looking baked goods coming out of the oven. The menu was written on the wall: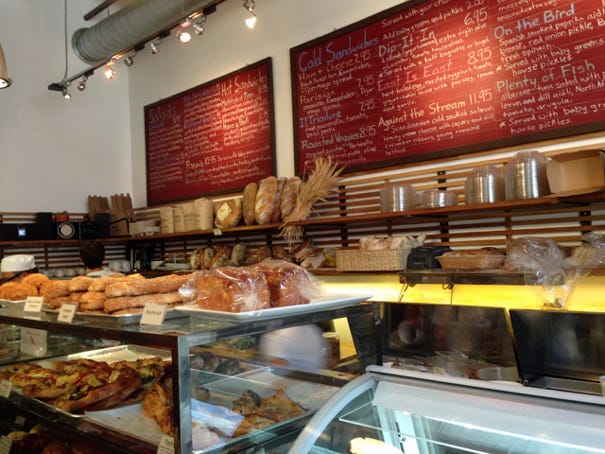 Everything on display was super enticing. Some things I'd never seen before, like these Jerusalem bagels: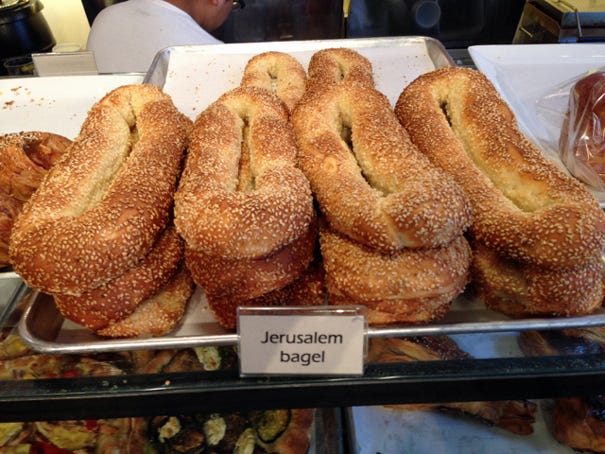 But what really caught my was the Kouign-Amann: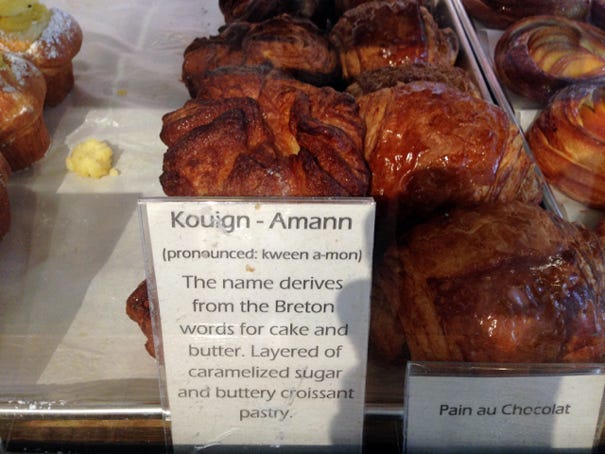 I bought one for later and ate it for dessert that night and it was like a cross between a roll, a croissant and a cake--with very pure butter flavor and just enough sugar. I really loved it.

As for lunch, I ordered a tuna melt and then, once I placed the order and started waiting for it, I began to regret my decision. I'm not a big cheese on tuna person. In fact, the idea kind of grosses me out (maybe because my dad grew up Kosher and that sort of spilled over into my childhood). But then the sandwich arrived: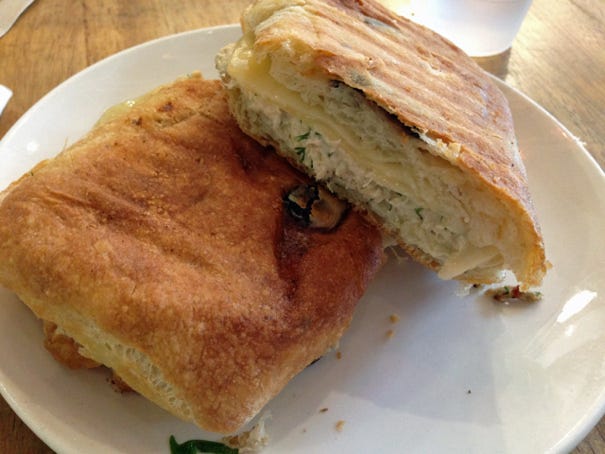 All my worries melted away when I took a bite. Wow, this was a stunning sandwich: the tuna was decadent and rich; the cheese (Emantelier) fused seamlessly and didn't overwhelm the fish. The bread was warm and crusty. This was definitely one of the best sandwiches I've had in a long time.

On Wednesday, I hit up the Santa Monica Farmer's Market to buy the kabocha squash that went into that risotto (if you click that post, you can see me injure myself cutting it open!) and after surviving a rainstorm, I decided I deserved a sandwich from Huckleberry. The place, even at 11:30 AM, was a madhouse: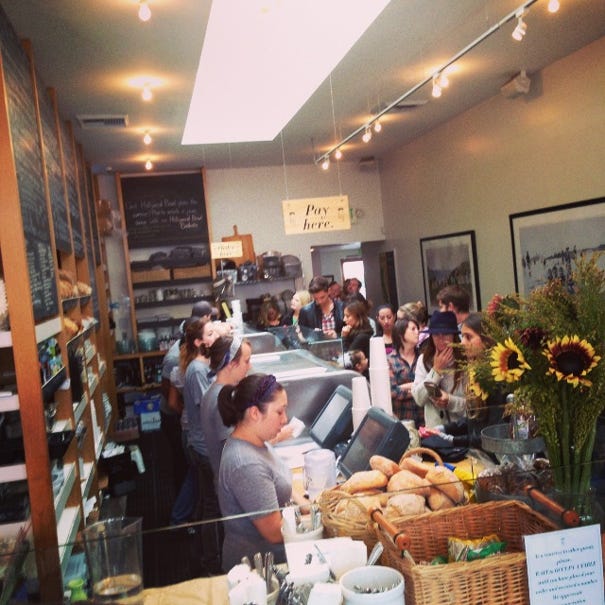 The hustle and bustle was worth it because this sandwich--smoked salmon with cream cheese on crusty bread--was positively swoon-worthy: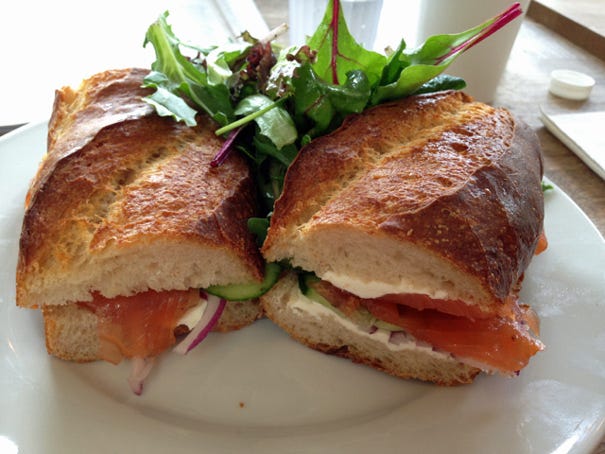 I've complained pretty aggressively about the lack of good bagels here in L.A., but this sandwich made me feel like I've been wasting my energy. Who needs a good bagel when you can eat cream cheese and smoked salmon on bread this good? The coffee there too was pretty excellent. I may make this Santa Monica farmer's market / Huckleberry thing a regular routine.

On Thursday, I hit up Silverlake and revisited Tacos Delta. After reading a taco rant in The New York Times that said tacos should be eaten outdoors, I have a new appreciation for this place. In fact, this plate of two tacos--one shrimp, one fish--may be my favorite taco plate in L.A.: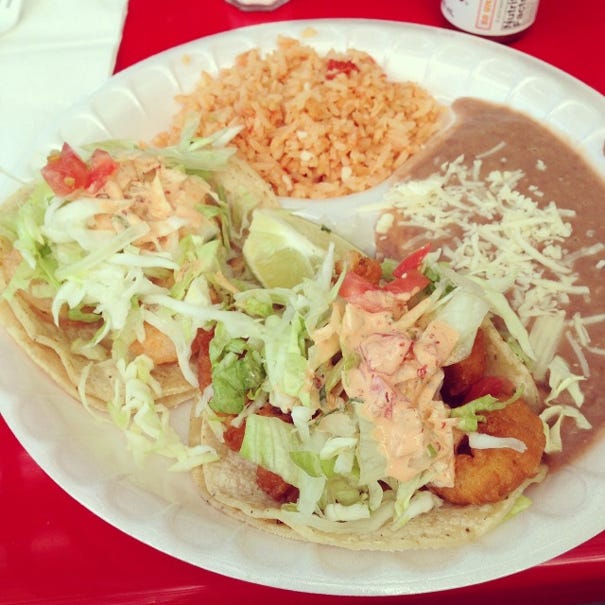 It's not dazzling or ground-breaking, but it's just super comforting and a delightful thing to eat sitting outside in Silverlake, breeze blowing, interesting people walking by. I'm a fan.

Oh: I didn't put this in my newsletter title, but guess what I got framed last week? My "In The Night Kitchen" poster which I just hung up in our bedroom: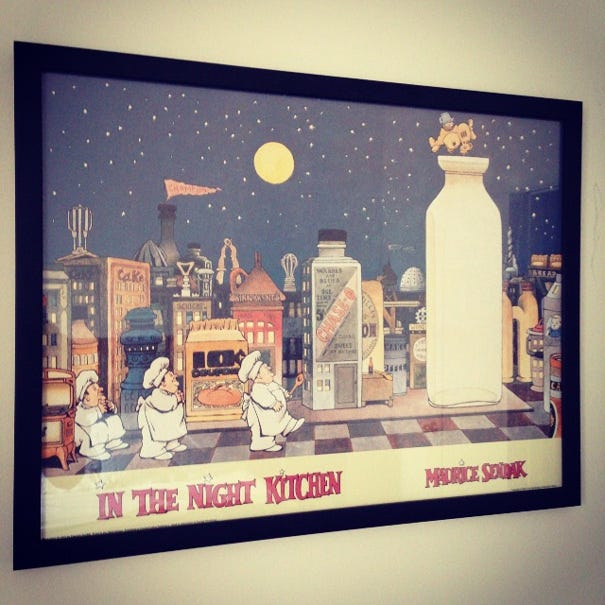 In case you want to know where I got the poster, it's from Books of Wonder online. I'm so happy to have this up on the wall to look at while I fall asleep.

On Saturday night, Craig said--quite firmly--that we were going to see Gravity at The Chinese Theater b/c it's a 3-D IMAX. Immediately, I said yes and began to plot our diner. The best closest thing? Loteria!

Craig agreed and we went there excited for high-quality Mexican food. We got that, yes, but we also got a boxing match. The place was jammed with people watching this on a big screen: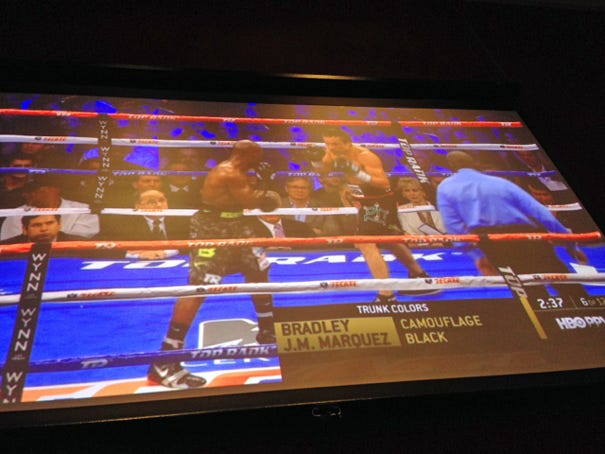 Here are some of the people watching from inside: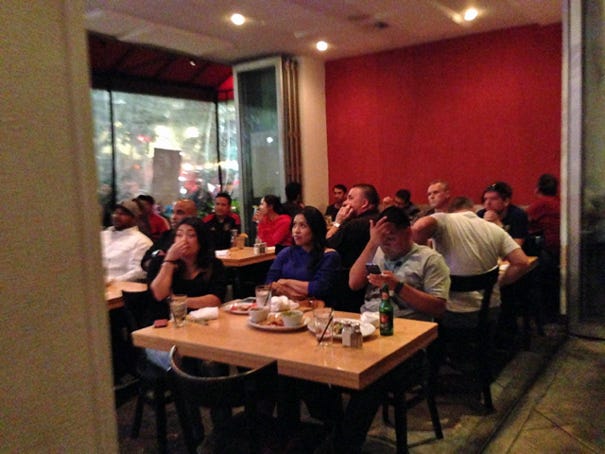 And people crowding around to watch from outside: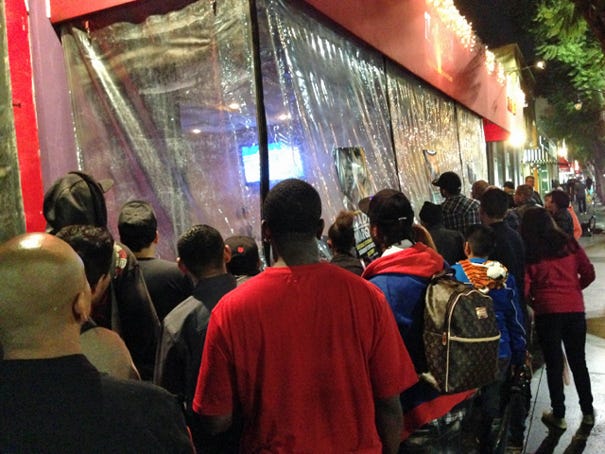 Me? I focused on my burrito which was really excellent.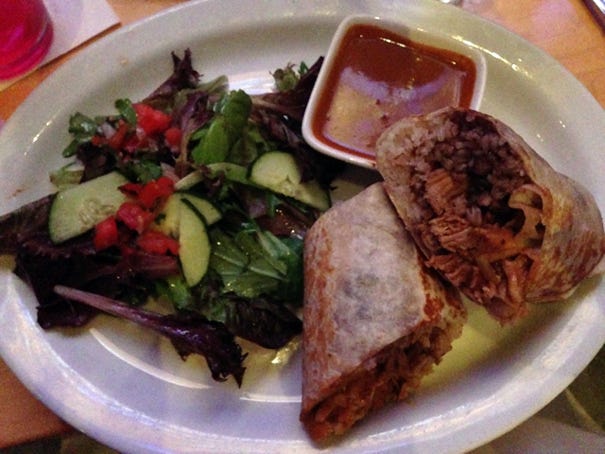 Seeing Gravity at the Chinese Theater was really cool. Here are some pics: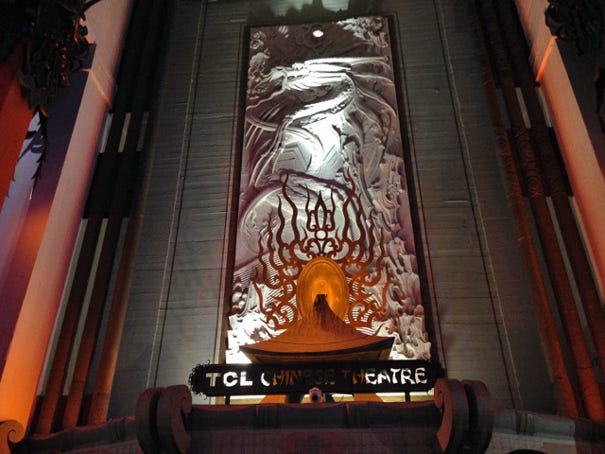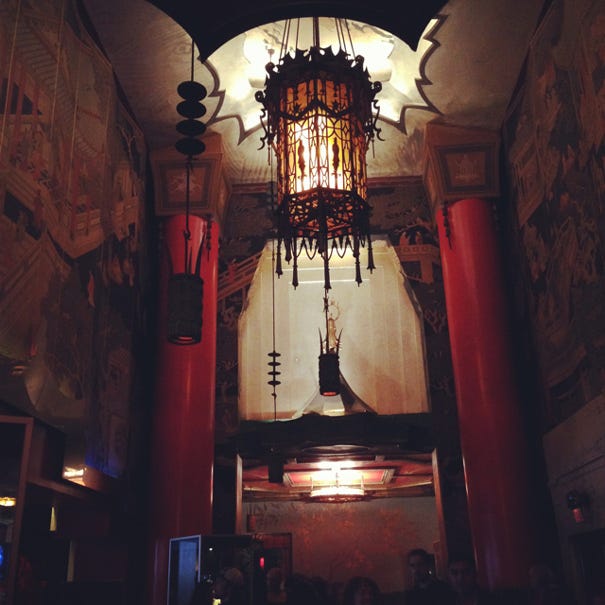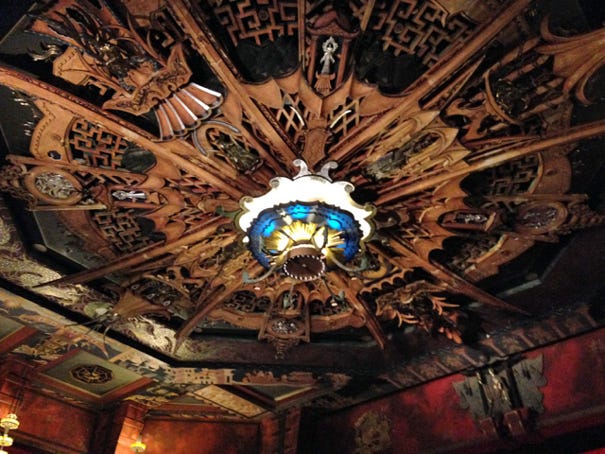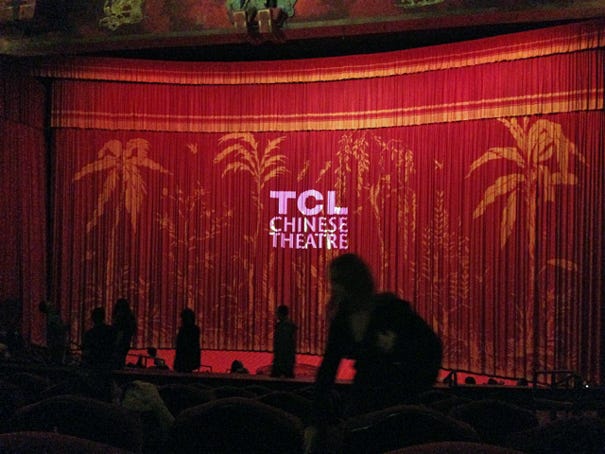 The movie itself was totally rad. A real thrill and so beautifully done. Go see it.

Finally, I cooked a big brunch on Sunday for Craig's Aunt Liz, Uncle Chris, cousin Matt and Matt's boyfriend Ryan. Here's everyone at the table: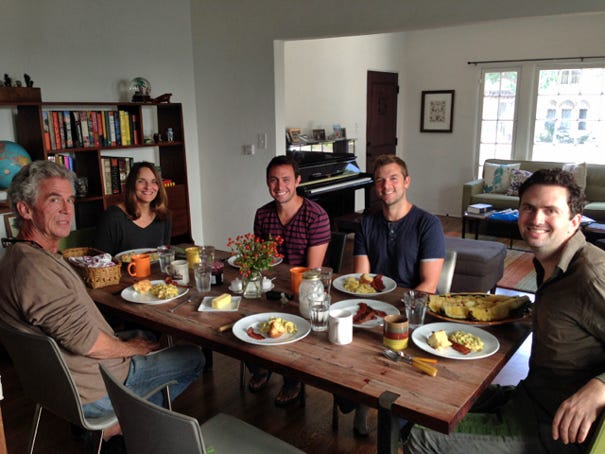 What did I make? Eggs Adam Roberts, of course: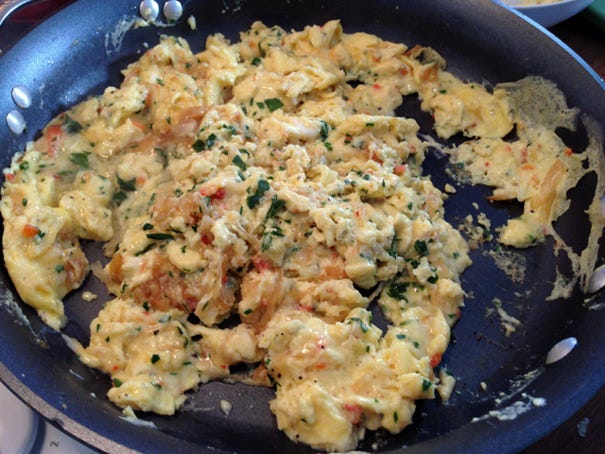 Also: Lynn's Paradise Biscuits.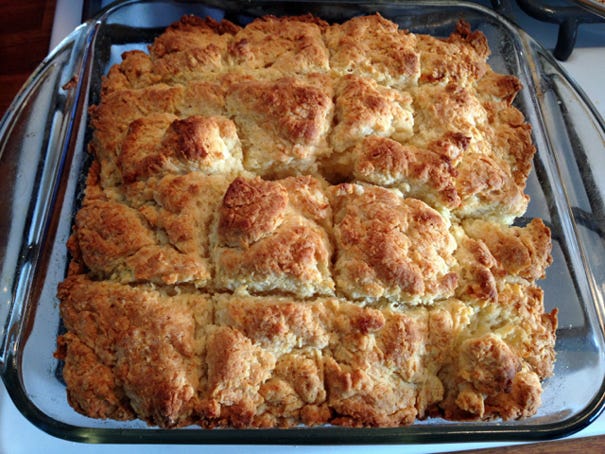 Also: bacon for a crowd. And this Peter Dale pineapple recipe from my cookbook.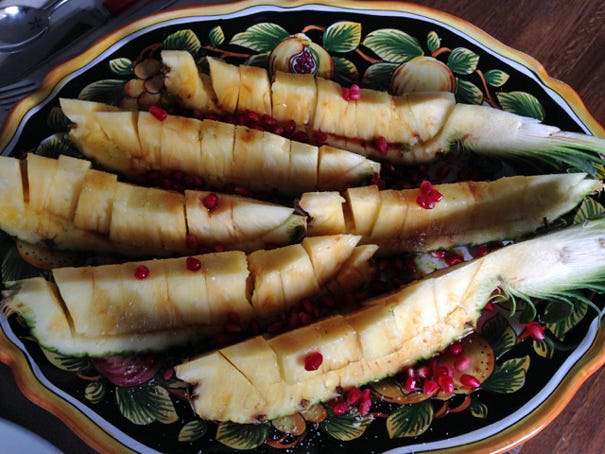 That's all for this week folks!

Until next time....

Your friend,
Adam (The Amateur Gourmet)

P.S. Forgot to mention my latest Top Chef Cartoon Recap. You'll dig it, even if you're not watching the show!
Reading this in a browser? Get next week's in your inbox by signing up here.

Follow Me!
On Twitter
On Facebook

Check Out My Cookbook!
Secrets of The Best Chefs

Recent Food Posts

No Sweetener For You (Do Coffee Shops Go Too Far?)

The Art of Eating Artichokes

Kabocha Squash Risotto

Top Chef New Orleans Cartoon Recap, Episode 2

The Clean Plate Club, Episode #11: Clotilde Dusoulier

My Ever-Morphing L.A. Restaurant To-Do List

Shopping Is Cooking

Telekinetic Coffee Shop Surprise

Gina DePalma's Creamy, Dreamy Ricotta Cheesecake

Turkey Leg Confit (Fancy Dinner, Cheap Ingredient)

Top Chef New Orleans Cartoon Recap, Episode 1

Cooking For A Chef

The Clean Plate Club, Episode #10: Barrett Foa, Suzanne Tracht

Chocolate Malteds

Life with an Oven Window





*|LIST:DESCRIPTION|*

Unsubscribe *|EMAIL|* from this list.

Our mailing address is:
*|HTML:LIST_ADDRESS_HTML|*
Copyright (C) *|CURRENT_YEAR|* *|LIST:COMPANY|* All rights reserved.

Forward this email to a friend
Update your profile
*|IF:REWARDS|* *|HTML:REWARDS|* *|END:IF|*