A.G. Newsletter #141: Green Goddess Chicken, Rocket Fizz, Sushi Ike, Diana Cooks, Pizza Night, Lobster Truck, Atwater & Craig's Family Dinner


Hey newsletter fans,

Talk about a David and Goliath moment: I just wrote a rebuttal to Martha Stewart's blogger dig from last week. I call the post WHATEVER, MARTHA and you should check it out if you like seeing me in combat mode.

Recipe-wise, I posted two good ones this week: a Soup of Cannellini Beans with Pasta and Rosemary (perfect fall-weather stuff, in my opinion); and a cake I like so much, I've already made it twice: Al Di La's Chocolate and Pear Cake. You're going to love it too.

Oh, I'm keeping up with my cartoon Top Chef recaps: here's the one I did for Episode 3.

Oh and if you missed last week's Clean Plate Club, our guests were filmmaker Kyle Patrick Alvarez--whose film C.O.G. is the first movie ever made from a David Sedaris story (with David's permission)--and Tien Nguyen, who writes for L.A. Weekly and co-authored the new Roy Choi cookbook. Listen here.

Now on to newsletter business....

After seeing Melissa Clark demo her Green Goddess Chicken on the New York Times website, I knew I had to make it. That link will give you the recipe, but essentially you make a green goddess dressing with lots of green stuff and buttermilk: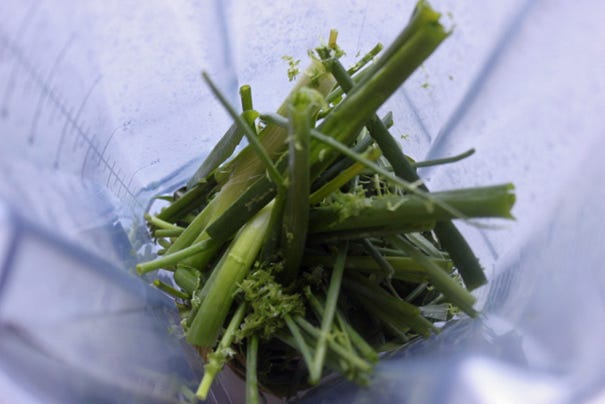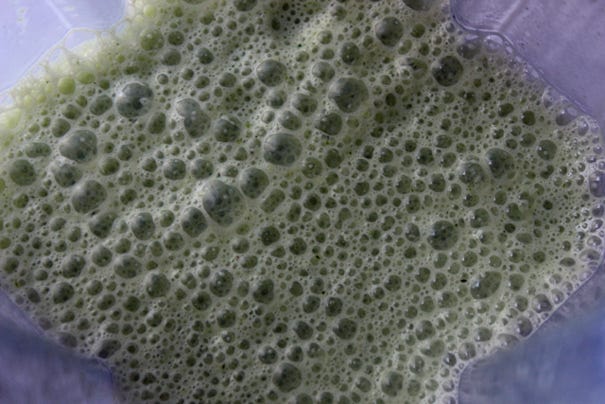 You marinate a chicken in that (a chicken that you cut in half after removing the backbone):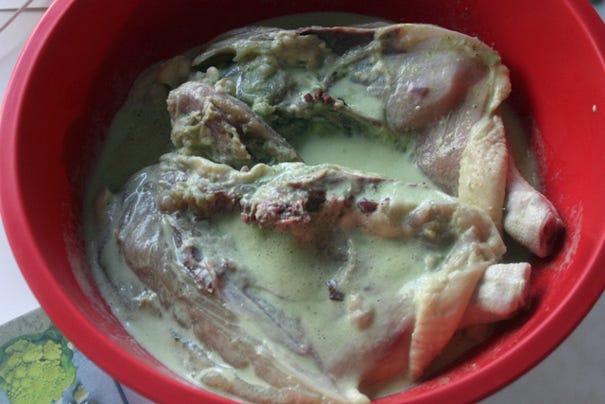 Marinate for as long as you can--I managed six hours--then wipe off all the green stuff and put on a cookie sheet; brush with olive oil. I took two large potatoes and cut them in quarters, tossed with olive oil, salt and pepper and put them on the sheet with the chicken because why not?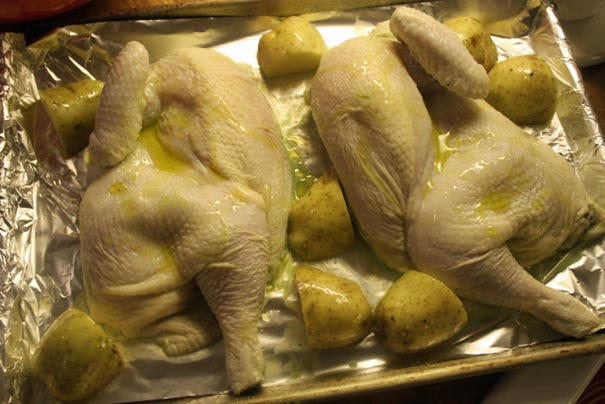 Into a 500 degree oven (yes, it's a really hot oven) this all goes and 40 minutes later it comes out looking like this: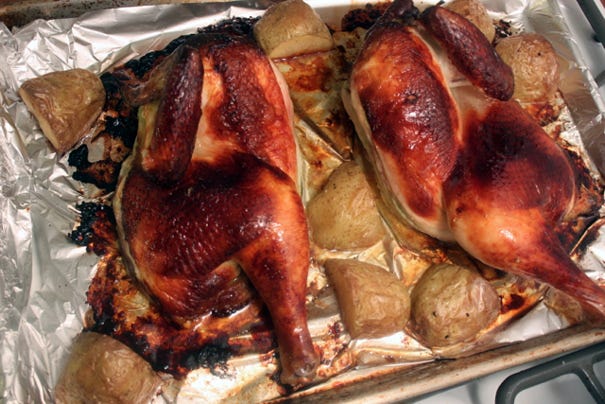 Pretty cool, right? And you serve it with the remaining green garlic dressing.

Why did I put this in the newsletter and not the blog? Because my pictures were pretty crummy and Martha Stewart would scoff. So you newsletter readers are the only ones who will see these. Lucky you!

Last week, I did another day trip to Pasadena (really just a 20 minute drive) and ate lunch at that place I wrote about last time--I forget the name, but it's a sandwichy place and I had a pretty unremarkable Chinese Chicken Salad that cost too much money for a big pile of cabbage: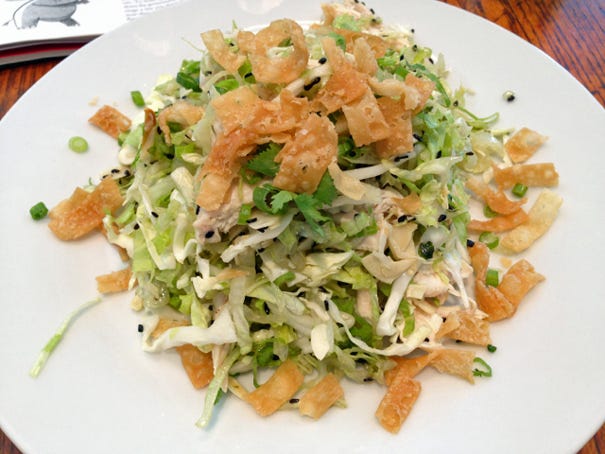 After that, I tried a new coffee shop called Copa Vida which I enjoyed but there were these models doing a photo shoot there and that got kind of annoying. Otherwise, I like how they present their liquid sweeteners (relevant after this post!):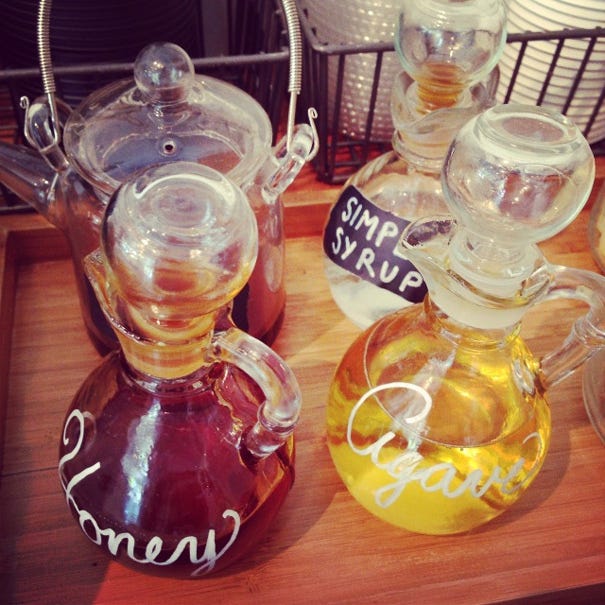 The best part is that down the street there's this awesome soda/candy store called Rocket Fizz that I discovered (actually, my friend Michael e-mailed me about it long ago and I totally forgot it existed). Here's what the store looks like: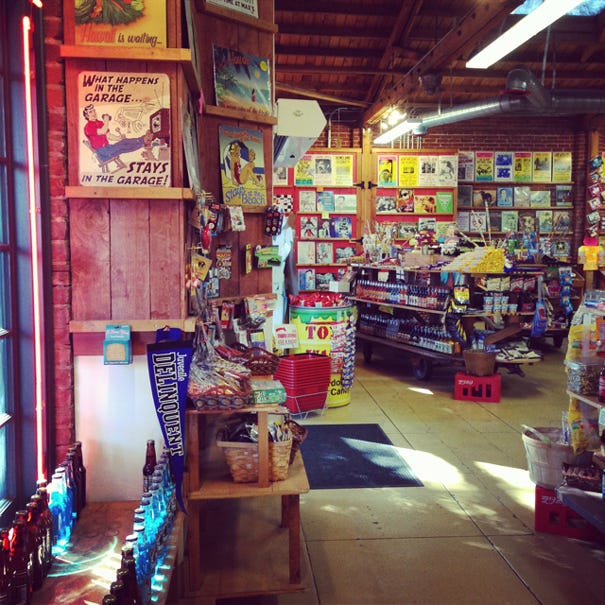 They have a huge assortment of specialty sodas and candies from around the world. Here's a shelf of soda: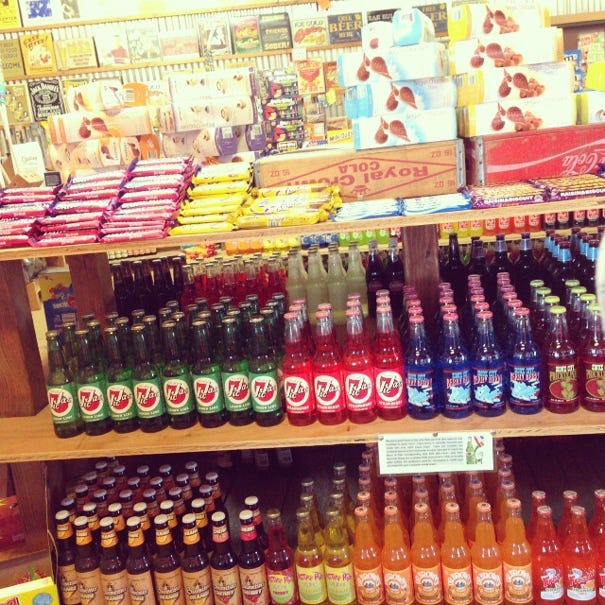 That shelf actually had candy from England so I bought these yummy chocolate caramel chip thingies that Craig and I snacked on throughout the weekend: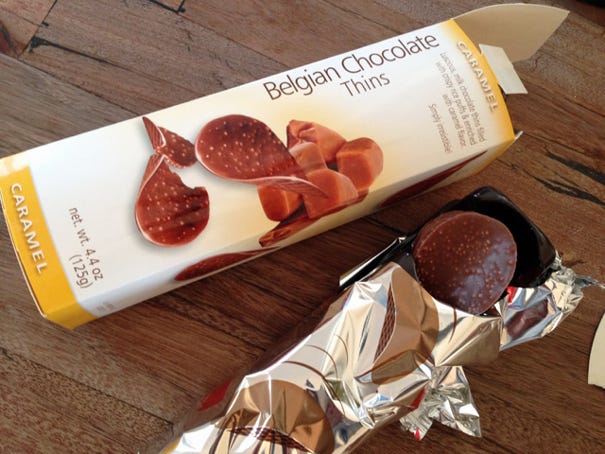 On Thursday, I had a healthy lunch at Sushi Ike while reading an article in The New Yorker about a Jewish/Japanese fusion restaurant in New York: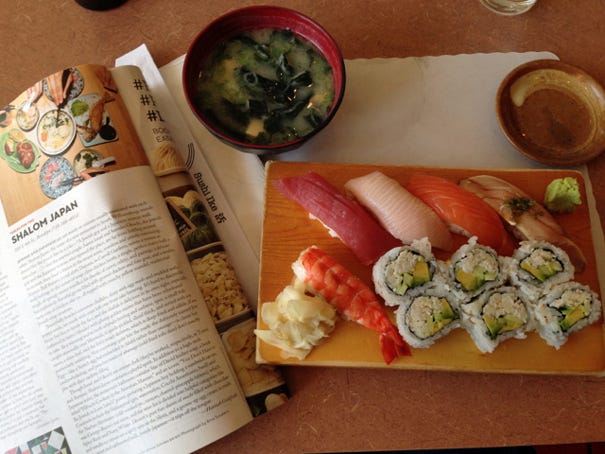 On Thursday night, our friend Diana cooked us up a real feast that was totally gorgeous as well as delicious. Check out how she presented her baba ganoush: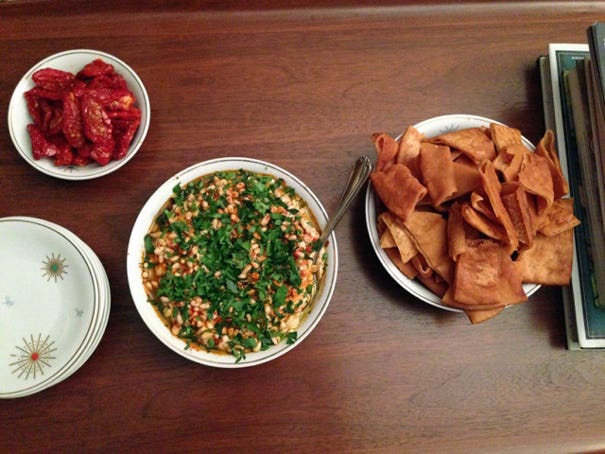 And these amazing David Tanis North African meatballs on couscous: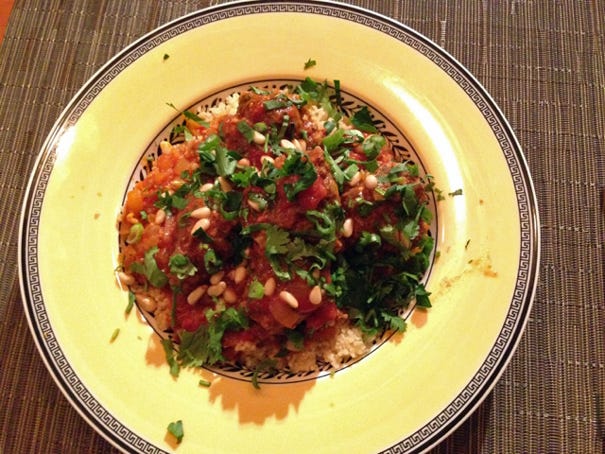 Here's everyone at the table: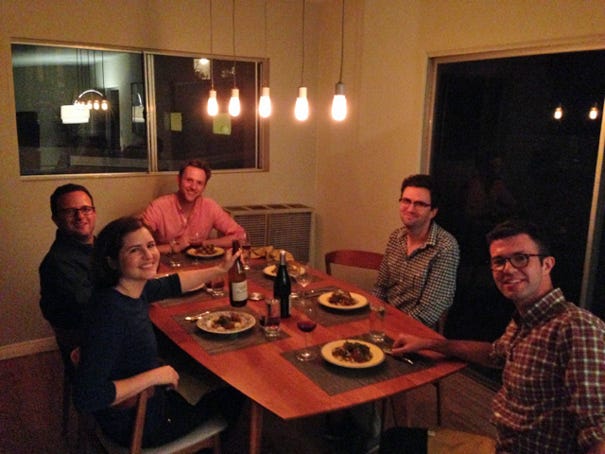 And here's the incredible raspberry cake she made for dessert from a Karen DeMasco cookbook: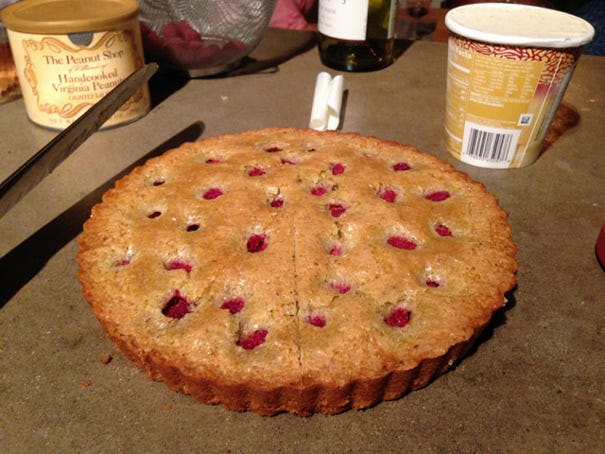 Bravo, Diana.

On Friday, I was burnt out and Craig and I decided to have a pizza night. Pizza night is always better with a bottle of red wine, so we opened one of those.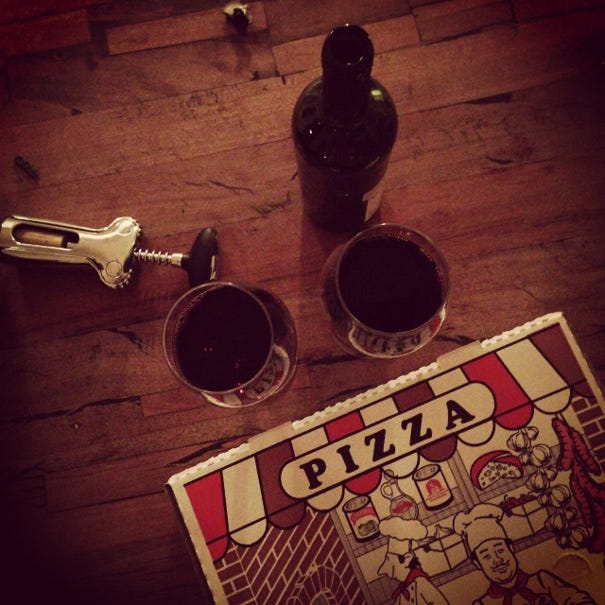 We watched Batman Returns on TV (we both agree it's the best Batman movie) and Craig pointed out that not only is Pee-Wee Herman the Penguin's father, but the Penguin's mother is played by the actress who plays Simone in Pee-Wee's Big Adventure. Mind blown.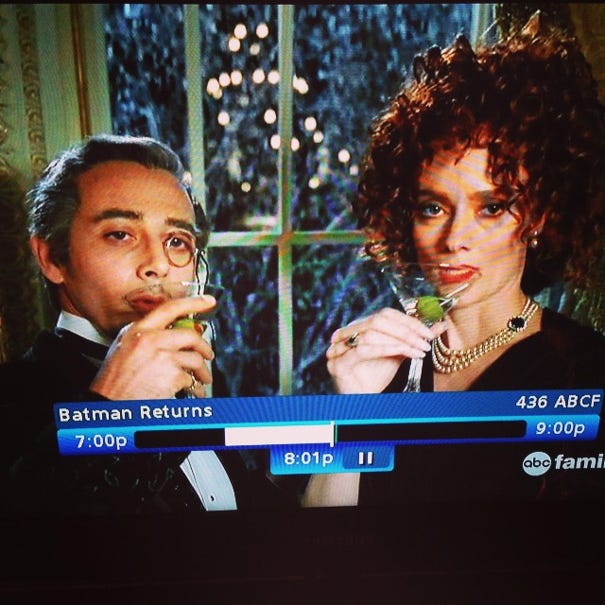 On Saturday night, we joined our friends John and Kristian in Pasadena for a screening of Ghostbusters (guess we were really into 80s/90s movies this past weekend!). It was cool, they projected the movie right in front of City Hall; you may recognize the exterior from Parks and Recreation.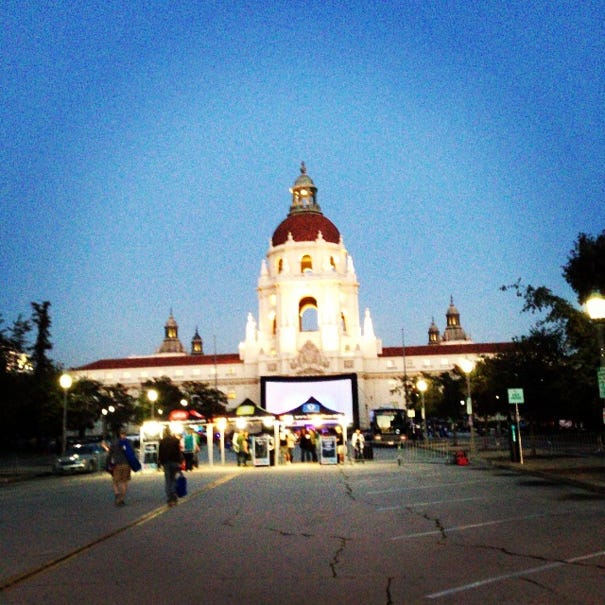 There were food trucks there so we grabbed dinner from the Lobster Truck: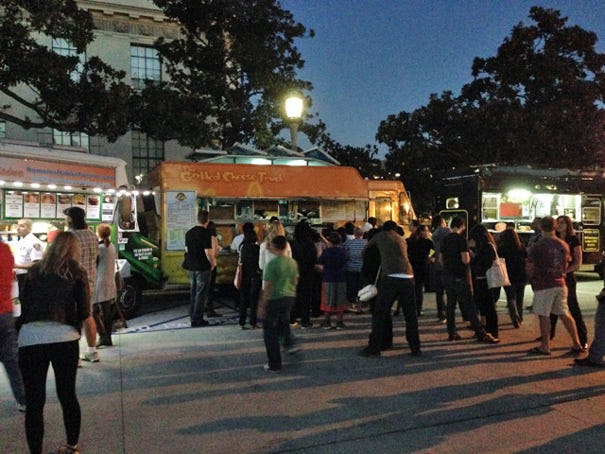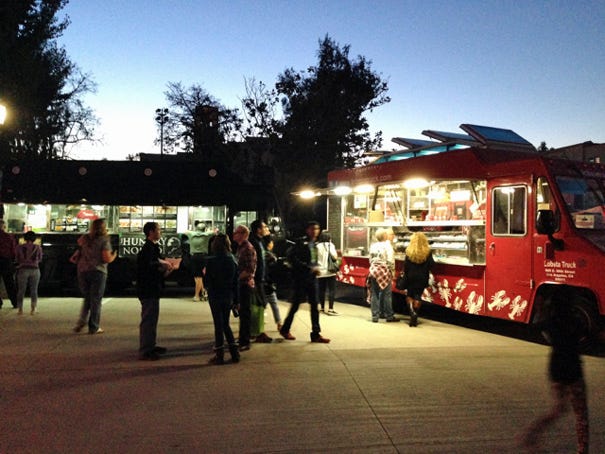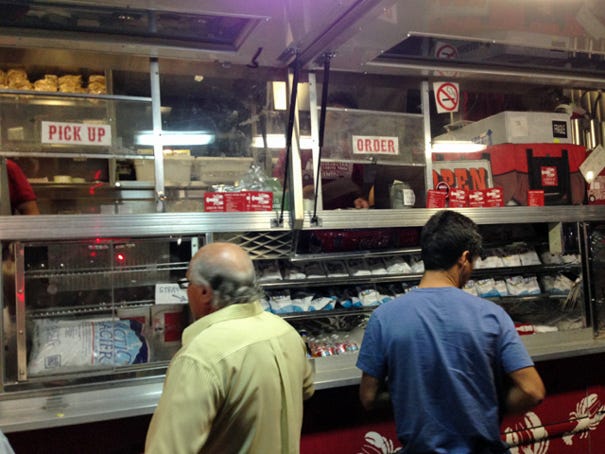 Here's my lobster roll, with mayo: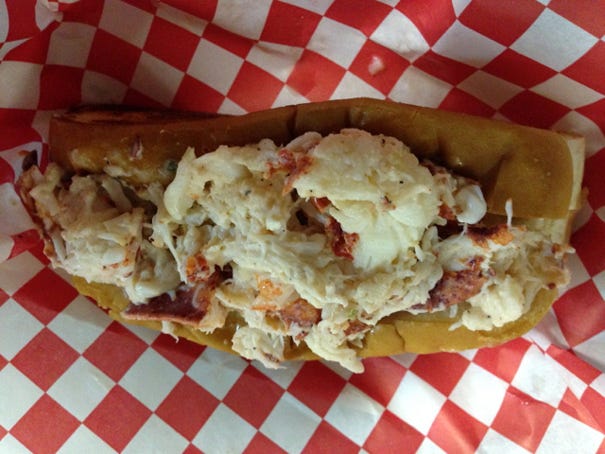 Pretty good! Even better with the Salt & Vinegar Potato Chips I bought and discreet sips of wine from a plastic cup.

On Sunday, I hit up the Atwater Village Farmer's Market to shop for a dinner I was cooking for Craig's family that night. There were some beautiful things to behold there, like this table of pomegranates and persimmons: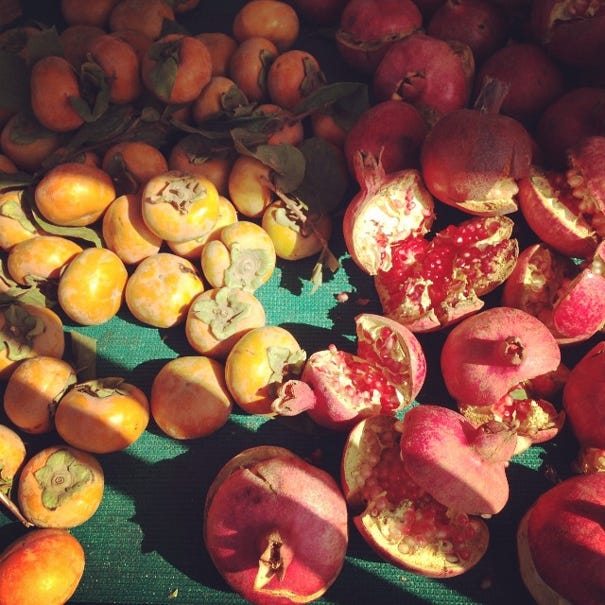 And the fish tacos which both Craig and Rebecca Lando (from Working Class Foodies; who's our podcast guest this week) think is the best in L.A. I see their point: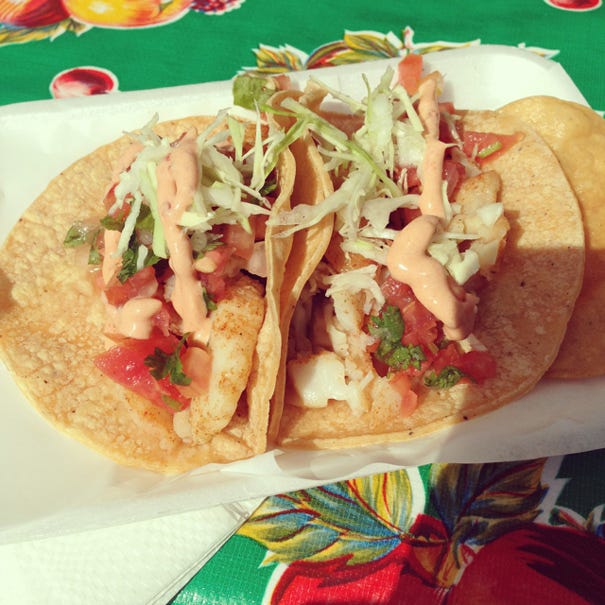 That night, I cooked a big feast for Craig's parents (who are visiting) and his Aunt Liz and Uncle Chris. Here's everyone at the table: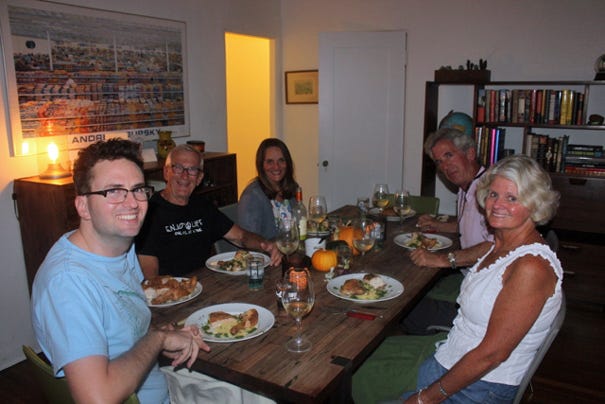 Julee, Craig's mom, specifically requested my famous Spatchcocked Chicken with Couscous and Salsa Verde (because it's what I cooked when a famous chef came over) so I delivered that and an apple cobbler for dessert. Here's Liz and Chris helping me plate in the kitchen: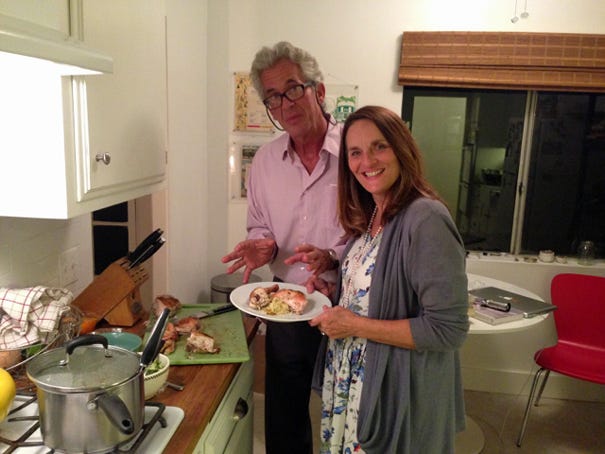 That's all for this week folks!

Until next time....

Your friend,
Adam (The Amateur Gourmet)
Reading this in a browser? Get next week's in your inbox by signing up here.

Follow Me!
On Twitter
On Facebook

Check Out My Cookbook!
Secrets of The Best Chefs

Recent Food Posts

Whatever, Martha

Al Di La's Chocolate and Pear Cake

Soup of Cannellini Beans with Pasta and Rosemary

Spaghetti with Sun Gold Tomato Sauce

Your Perth and Sydney Recs

Top Chef New Orleans Cartoon Recap, Episode 3

The Clean Plate Club, Episode #12: Kyle Patrick Alvarez, Tien Nguyen

No Sweetener For You (Do Coffee Shops Go Too Far?)

The Art of Eating Artichokes

Kabocha Squash Risotto

Top Chef New Orleans Cartoon Recap, Episode 2

The Clean Plate Club, Episode #11: Clotilde Dusoulier

My Ever-Morphing L.A. Restaurant To-Do List

Shopping Is Cooking

Telekinetic Coffee Shop Surprise

Gina DePalma's Creamy, Dreamy Ricotta Cheesecake

Turkey Leg Confit (Fancy Dinner, Cheap Ingredient)

Top Chef New Orleans Cartoon Recap, Episode 1

Cooking For A Chef

The Clean Plate Club, Episode #10: Barrett Foa, Suzanne Tracht

Chocolate Malteds

Life with an Oven Window





*|LIST:DESCRIPTION|*

Unsubscribe *|EMAIL|* from this list.

Our mailing address is:
*|HTML:LIST_ADDRESS_HTML|*
Copyright (C) *|CURRENT_YEAR|* *|LIST:COMPANY|* All rights reserved.

Forward this email to a friend
Update your profile
*|IF:REWARDS|* *|HTML:REWARDS|* *|END:IF|*