A.G. Newsletter #142: Dan Tana's, Laramie Project, Grilled Cheese, The Morrison, Pinkberry & Spago


Hey there everyone,

Well this is it: my last newsletter for a while. Why? Because on Saturday I'm leaving at midnight to go to AUSTRALIA. I'll be in Perth for a week and then Sydney for 3 days; my plan is to blog my entire experience as it happens, so be sure to check my blog throughout the next two weeks for updates. It's going to be a real adventure (and if you have any tips for me, leave them here!)

While I'm gone, you should seriously consider making this Five-Hour Meat Ragu. It's outrageously rich and decadent and wonderful, especially as it gets colder outside.

Oh, also, since Halloween is on Thursday, I have the perfect way for you to serve guacamole, courtesy of my friends John and Michael. Click here and have a laugh (and see my costume).

Now on to newsletter business....

Last week, Craig's parents were in town and on Thursday night my parents came to town. They'd all only met once before when I cooked that big dinner and blogged all about it; for meeting #2, I suggested we all go to Dan Tana's because (a) my parents like happening/sceney places and (b) Craig's dad has always wanted to eat at Rao's and I think Dan Tana's is L.A.'s answer to Rao's. Here's everyone at the table: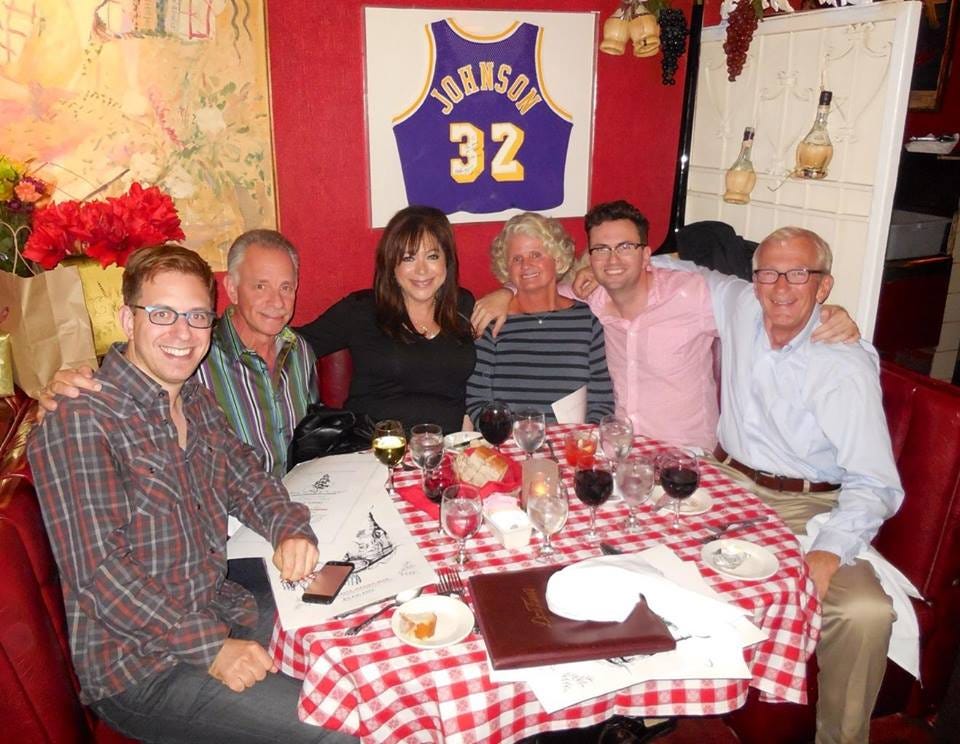 It took a long time to get to that table. The host is a really funny guy and there was only so much he could do with people not getting up; at some point, we were shoved towards the host stand and my dad started fielding questions from customers waiting for their table. Eventually, the host tapped my dad on the shoulder and said our table was ready: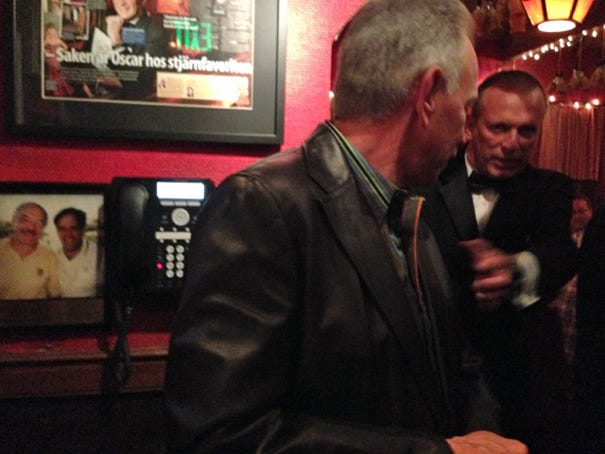 The Caesar there is really a marvel: garlicky and lemony and perfect.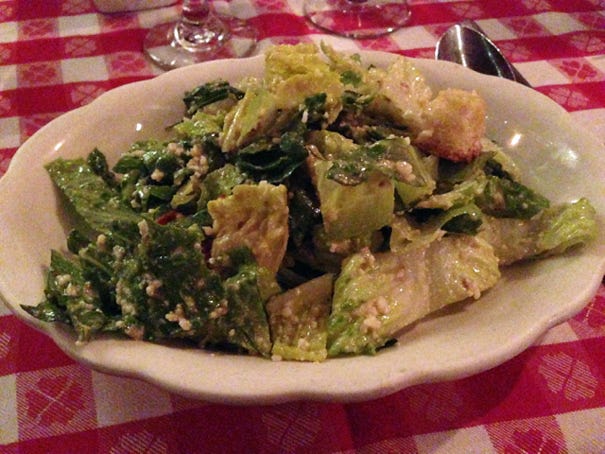 Oops, did I forget to take a picture of my Chicken Parmesan? Well it was just as good as last time. And the Tiramisu and Cappuccino ice cream made for excellent desserts.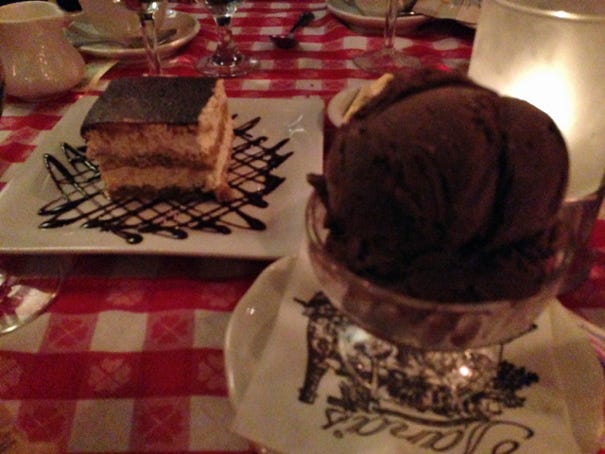 On Friday night, we went to go see Craig's Aunt Liz in a superb production of The Laramie Project: Ten Years Later at the Los Angeles Gay and Lesbian Center.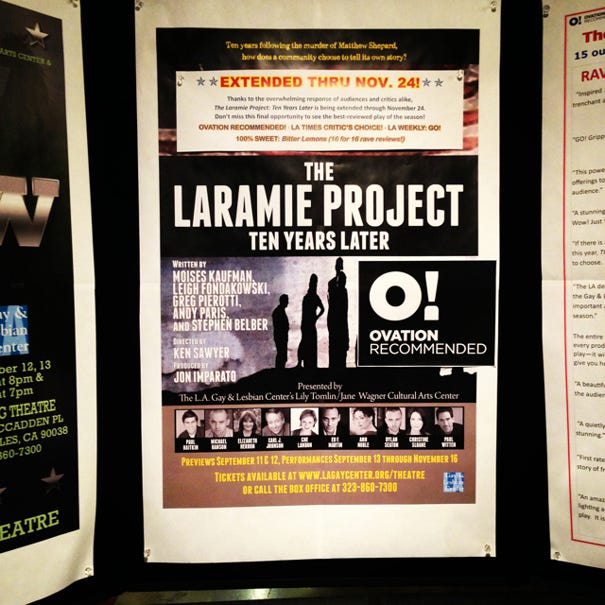 If you live in L.A. and you enjoy good theater, definitely go see this. There are lots of surprising revelations, especially in Act Two which features interviews with Matthew Shepard's killers. And Aunt Liz plays Matthew Shepard's mother really beautifully.

That night, Craig and I got home and hadn't had dinner, so I made a grilled cheese with one notable twist: I added pickled jalapeños.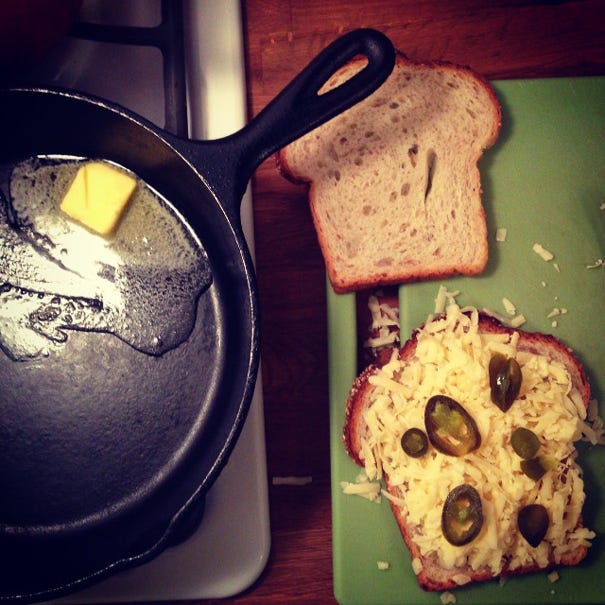 And that made all the difference.

On Saturday, my parents came to walk around Atwater Village, and feeling a bit peckish, they asked: "Where can we eat lunch?" I suggested The Morrison, a gastro-pubby place near our side of the tracks. My parents enjoyed the ghoulish atmosphere: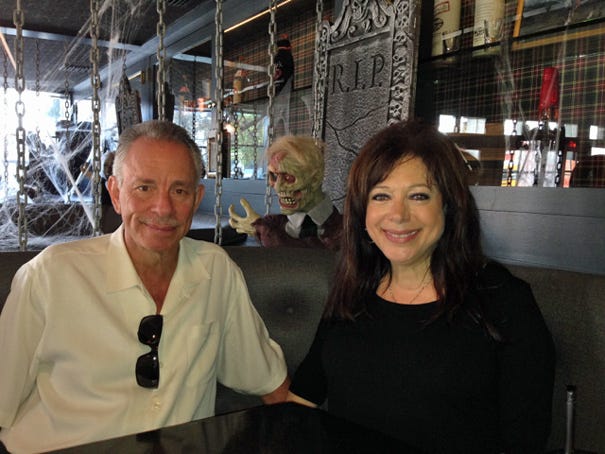 Mom got a veggie burger wrapped in lettuce: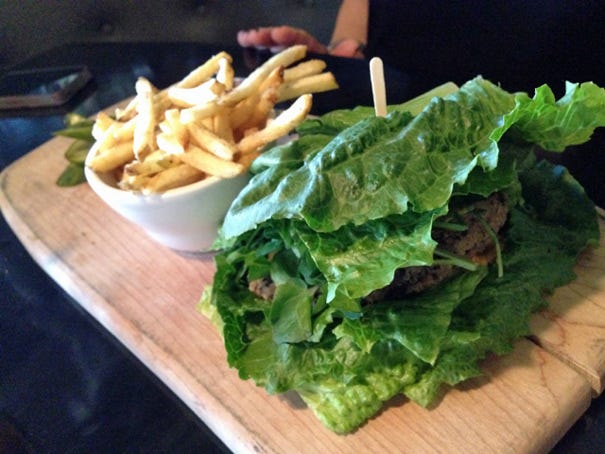 Dad got a burger burger which he'll model for you here: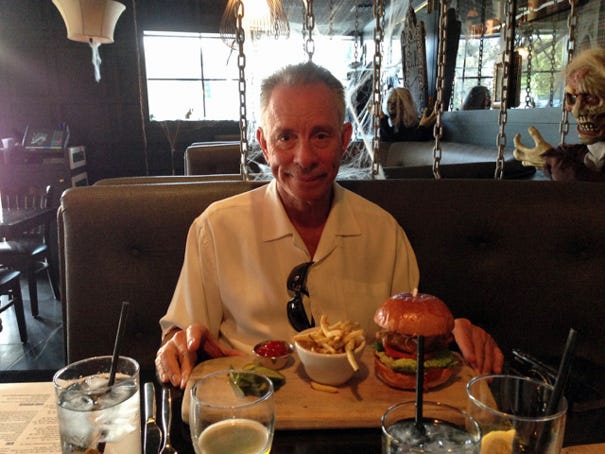 And I got the salmon benedict which was very good: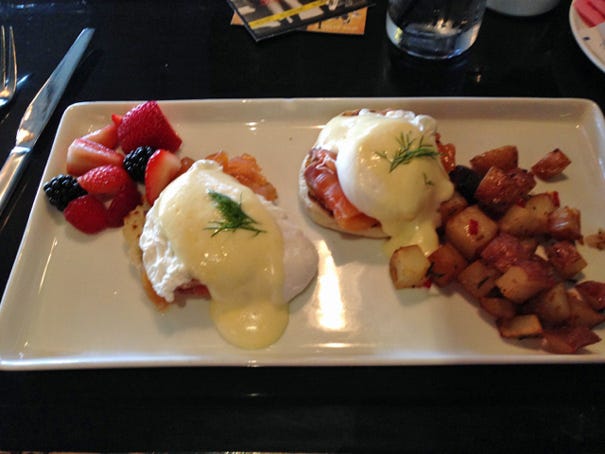 It was funny, though, when I asked the waitress if the salmon benedict came with anything, she said: "Just the peached eggs." PEACHED EGGS. That's what she said. I had to stifle a laugh.

That afternoon, we walked around the Americana mall, which my parents enjoyed, and then my mom suggested Pinkberry. I'd never had Pinkberry before so I got a plain one with lots of fruit.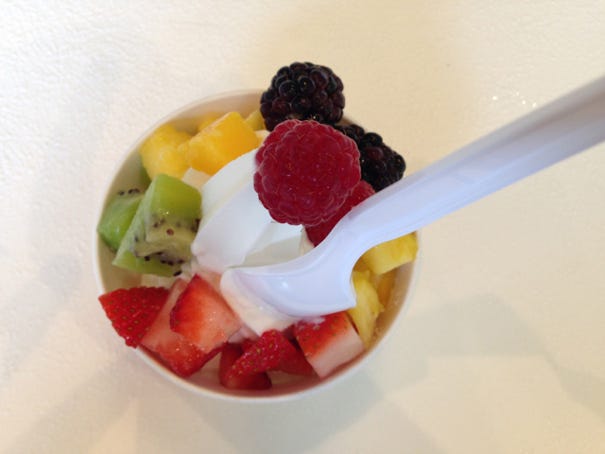 Not bad! No wonder this place is so popular. (Though not sure it's real yogurt...or is it?)

Finally, on Sunday night we joined my parents for dinner at Spago. Service was a bit spotty this time around. I really wanted a refill on my tap water and it took about three asks to get it. Also, food took a really long time to come out. But when it did come out, the food was really great. We shared a salmon pizza to start: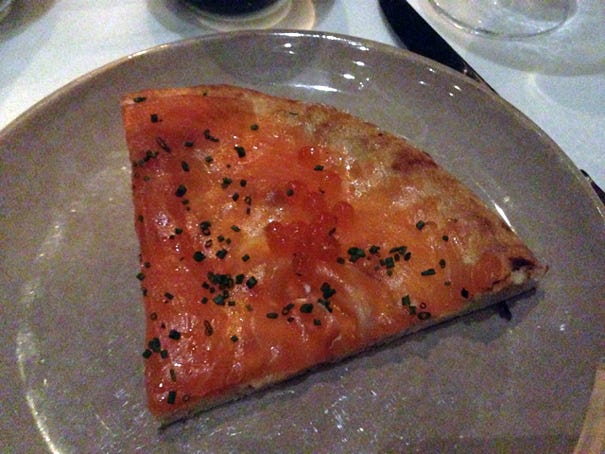 Then I had oysters: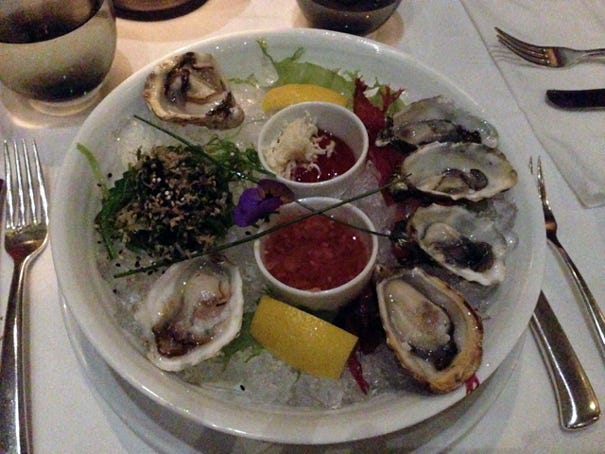 Lamb chops for my entree: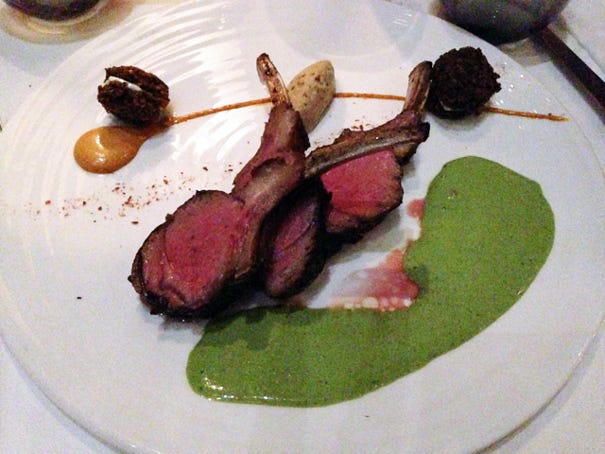 And an amazing dessert of yogurt panna cotta with lychee sorbet: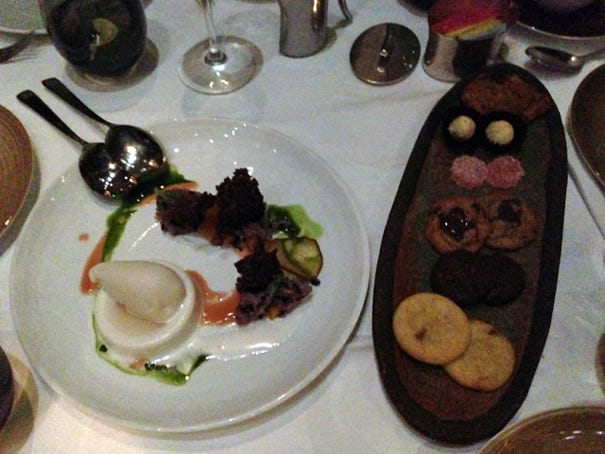 Design-wise, even though it was just redone, the atmosphere reminds me of the movie The Devil's Advocate, which isn't really a compliment. It feels corporate and slightly evil. But, as I said, the food's good!

Ok, folks, I have to go buy flip-flops and some books about Australia (specifically one by Bill Bryson). Wish me luck on my journey and make sure to follow all my adventures on the blog. See you back here in mid-November!!

Your friend,
Adam (The Amateur Gourmet)


Reading this in a browser? Get next week's in your inbox by signing up here.

Follow Me!
On Twitter
On Facebook

Check Out My Cookbook!
Secrets of The Best Chefs

Recent Food Posts

Arkansas Black Apple Cobbler

How To Serve Guacamole on Halloween

The Ultimate Five-Hour Meat Ragu

Olive Oil Omelet with Celery Caesar

Top Chef New Orleans Cartoon Recap, Episode 4

Clean Plate Club, Episode #13: Rebecca Lando, Jeffery Self

Whatever, Martha

Al Di La's Chocolate and Pear Cake

Soup of Cannellini Beans with Pasta and Rosemary

Spaghetti with Sun Gold Tomato Sauce

Your Perth and Sydney Recs

Top Chef New Orleans Cartoon Recap, Episode 3

The Clean Plate Club, Episode #12: Kyle Patrick Alvarez, Tien Nguyen

No Sweetener For You (Do Coffee Shops Go Too Far?)

The Art of Eating Artichokes

Kabocha Squash Risotto

Top Chef New Orleans Cartoon Recap, Episode 2

The Clean Plate Club, Episode #11: Clotilde Dusoulier

My Ever-Morphing L.A. Restaurant To-Do List

Shopping Is Cooking

Telekinetic Coffee Shop Surprise

Gina DePalma's Creamy, Dreamy Ricotta Cheesecake


*|LIST:DESCRIPTION|*

Unsubscribe *|EMAIL|* from this list.

Our mailing address is:
*|HTML:LIST_ADDRESS_HTML|*
Copyright (C) *|CURRENT_YEAR|* *|LIST:COMPANY|* All rights reserved.

Forward this email to a friend
Update your profile
*|IF:REWARDS|* *|HTML:REWARDS|* *|END:IF|*