A.G. Newsletter #144: Cafe Boulud Palm Beach, Thanksgiving, Persepolis, Cafe Sabarsky, Fun Home & Absolute Bagels


Hello there readers,

There's big news afoot. Huge news, in fact, that's all about Craig and his movie. That huge news will be announced momentarily so if I finish this newsletter and that news hasn't been announced yet, I'll have to wait to hit send... but if you are reading this, I hit send and that means the news has been announced and you can find out what it is by clicking here.

Otherwise, a few posts you may enjoy from this week:

* Sweet Potato Latkes and Regular Latkes Too (It's still Hanukkah, so go make these before it's too late!)

* When Good Restaurants Go Bad (A rant about a really terrible brunch at Untitled at The Whitney.)

* Scallop Chowder (A perfect thing to make when it's cold outside.)

Now on to newsletter business...

Last week, I was in Florida visiting my family for Thanksgiving. On Wednesday, I joined my mom for our annual lunch at Cafe Boulud in Palm Beach. Here we are together at the table: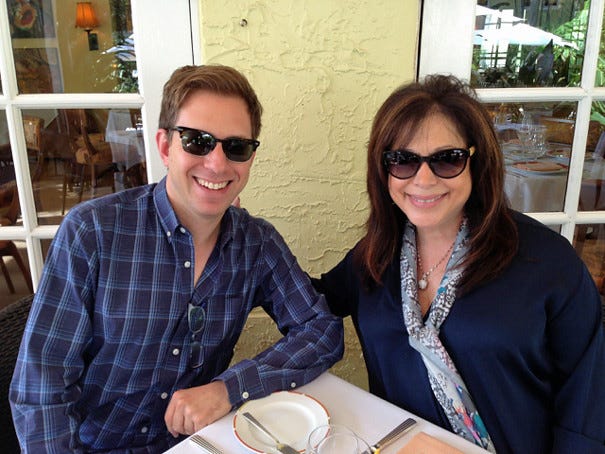 There's actually a pretty great deal there for lunch: $25 for three courses. A bargain, really, when you see the quality of the food. Check out this lobster bisque, which wasn't at all too heavy (I don't think any cream was used):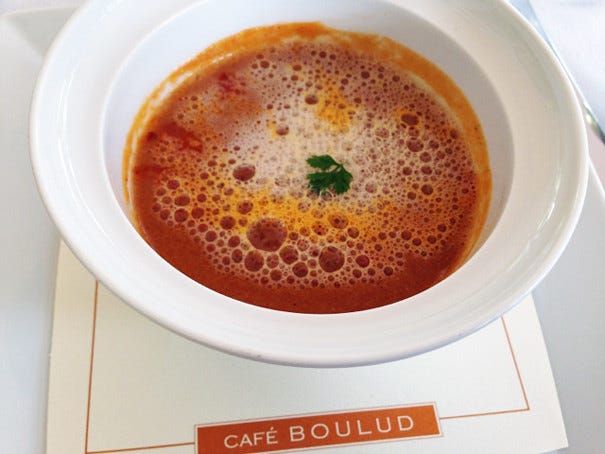 Mom had the fresh pasta with seafood: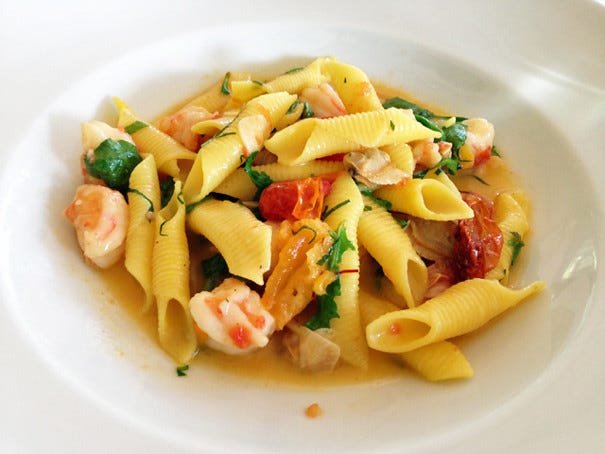 I had the fish--Cobia? (I forget, it had a strange name)--which came with a terrific stew of beans and cherry tomatoes.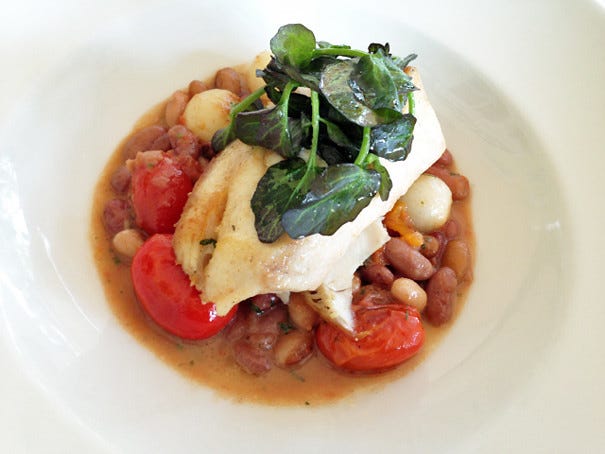 Dessert was almost too good: a poached pear sundae.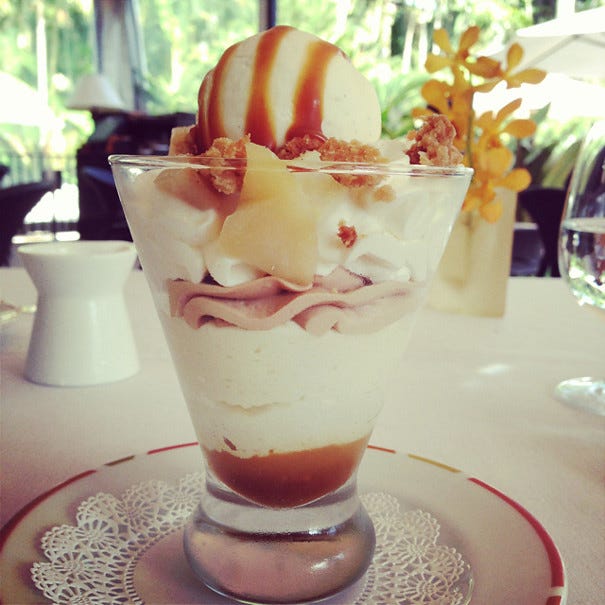 Folks on Instagram said it looked like slices of ham in there... I see what they mean but I can assure you those aren't slices of ham. (Though somehow I think ham would actually work in there.)

Next up: Thanksgiving! We spent it at a golf club which was fine by me. Everyone could take what they wanted off a buffet, and the buffet, I should mention, had ice sculptures of pilgrims and piles of shrimp: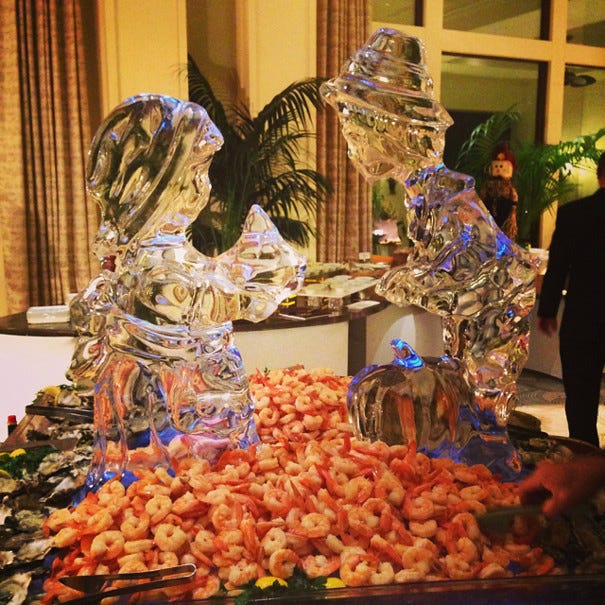 Here's some of my family at the table: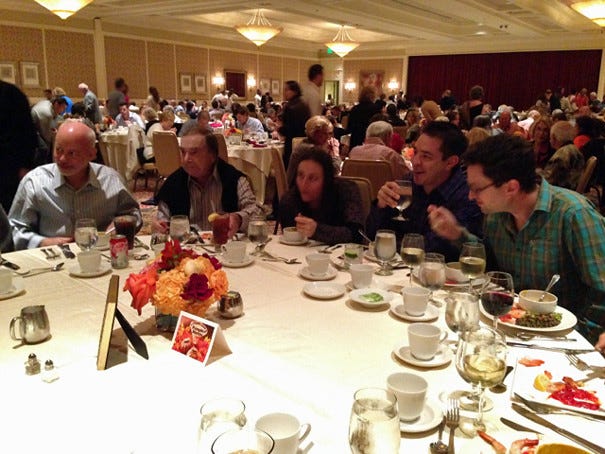 And here's my Thanksgiving plate: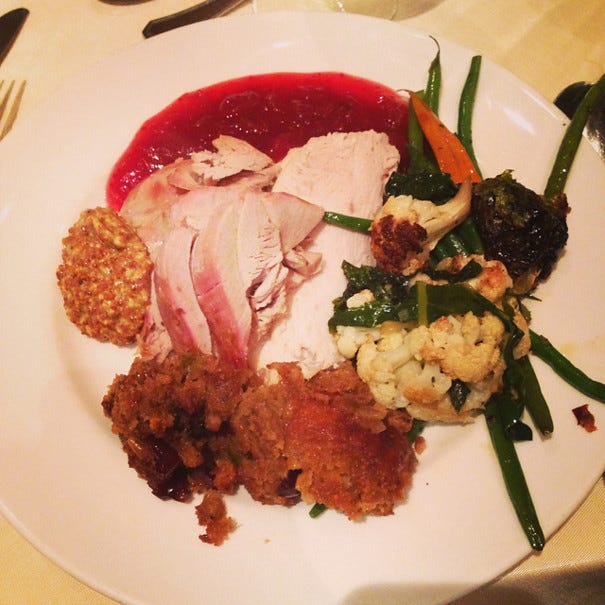 Notice, I went heavy on the turkey (with lots of cranberry sauce and grainy mustard which go surprisingly well together), some stuffing, some vegetables and that's pretty much it. I'm proud to say I didn't overdo it this Thanksgiving (but I do overdo it pretty much every other day of the year.)

Next morning, it was up at 4:45 AM (yup, early flight!) and by 9:30 we were in New York where Craig is putting the finishing touches on his movie. Our first meal, of course, had to be the 2nd Avenue Deli: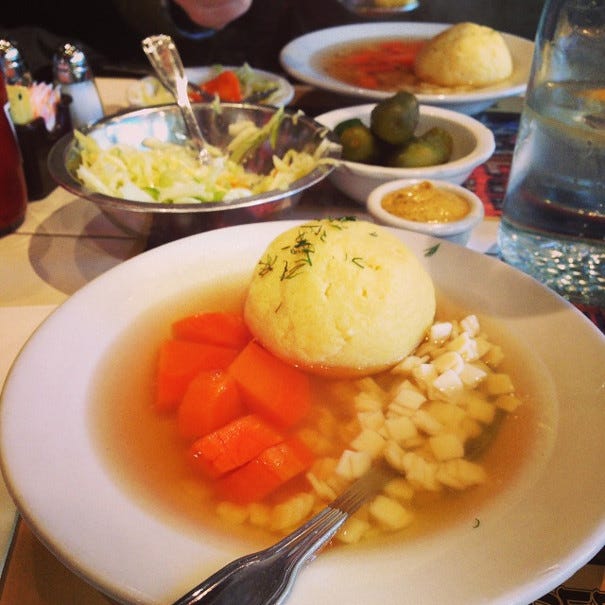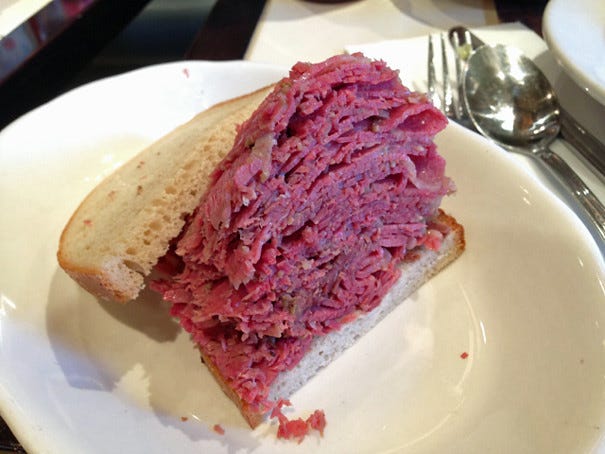 Then I hopped on a train down to the West Village where I carried out one of my favorite rituals: going to the Three Lives Bookstore to have Carol (one of the nice, helpful women there) help me pick out a book...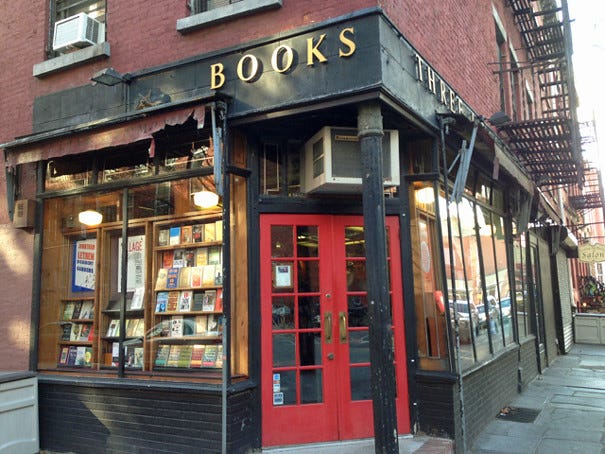 ...which I then take over to Joe to start reading. This time around, Carol recommended The Family Fang which I'm already loving. Here it is with a cappuccino.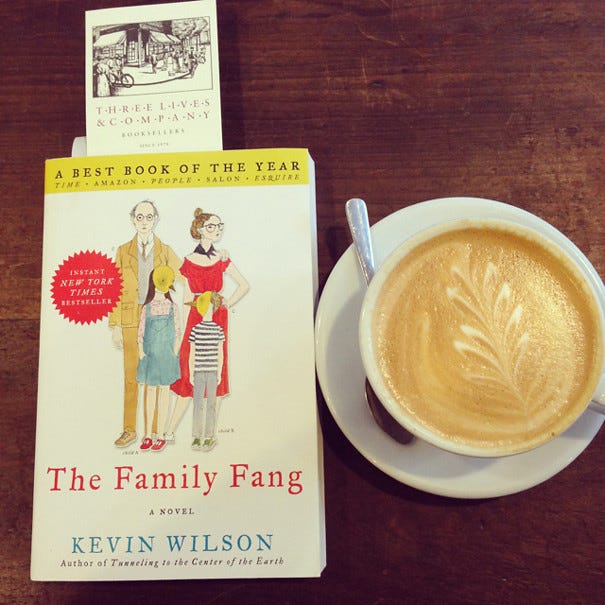 That night, we were on the Upper East Side and needed a place for dinner, so I did some research and stumbled upon Persepolis--right near where we're staying.

We both loved the food that we had there. I had a chicken stew made with pomegranate and mint and served over a fava bean rice: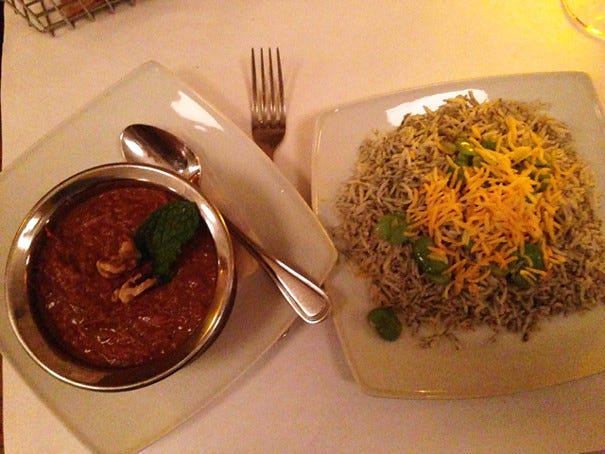 Craig had the cornish hen on a skewer with sour cherry rice which was also wonderful. Here he is modeling it: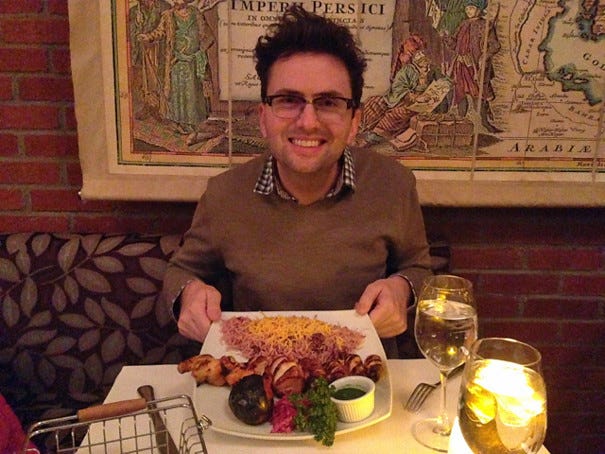 The next day, we had the mediocre brunch at Untitled (Craig didn't hate it as much as I did), then saw the wonderful Christopher Wool exhibit at the Guggenheim which was curated by our friend Kath. Get the audio guide (which is free) and you can hear her voice!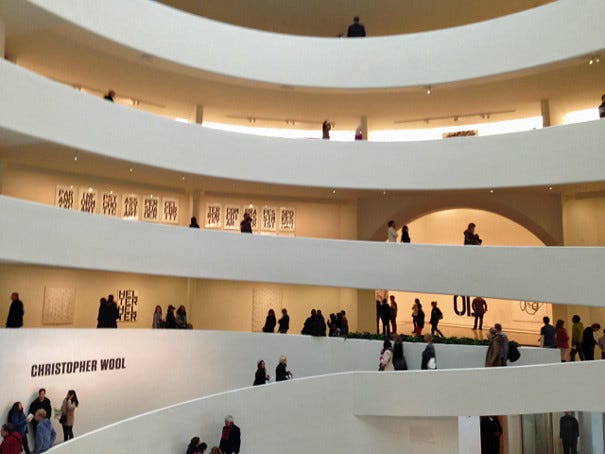 Then we went to another one of my favorite New York spots, Cafe Sabarsky, where we shared this apple strudel: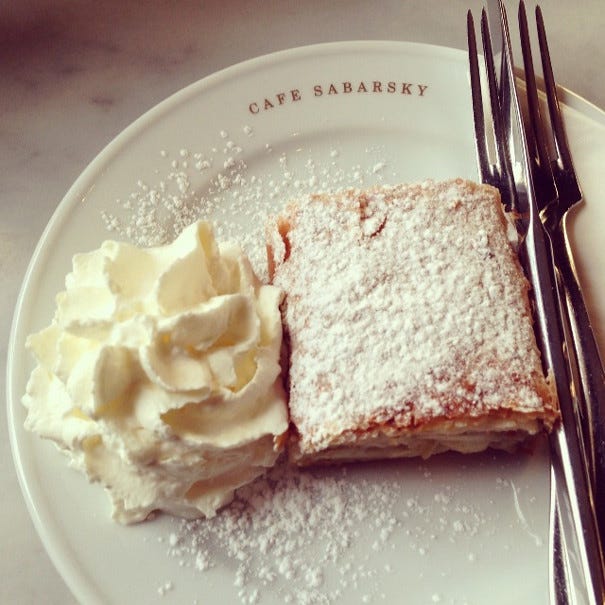 That night, we had dinner at Grand Sichuan: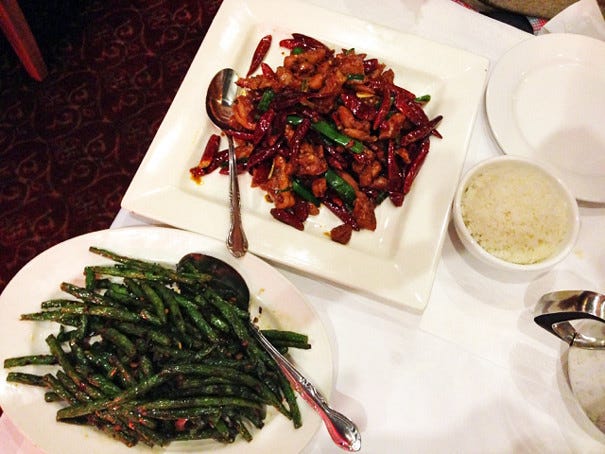 And then saw the most beautiful musical based on a terrific graphic novel, Fun Home by Alison Bechdel.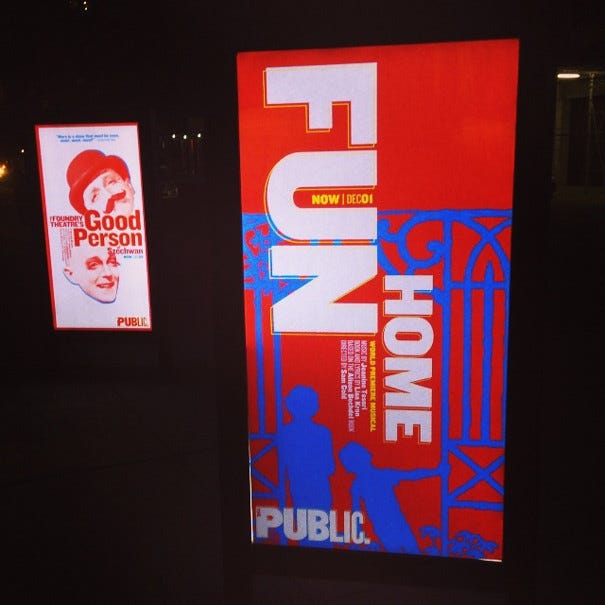 If you don't live in New York, you really should check out the book; and if you do live in New York, try to see this. The book is smart and moving (written by playwright Lisa Kron) and the score is pretty and haunting (by Jeanine Tesori, who wrote the score to another one of my favorite musicals, Caroline or Change.)

Finally, on Sunday morning, I made Craig hop in a cab to 108th street and Broadway to experience what I called last year "The Best Bagel of My Life (So Far)" at Absolute Bagels: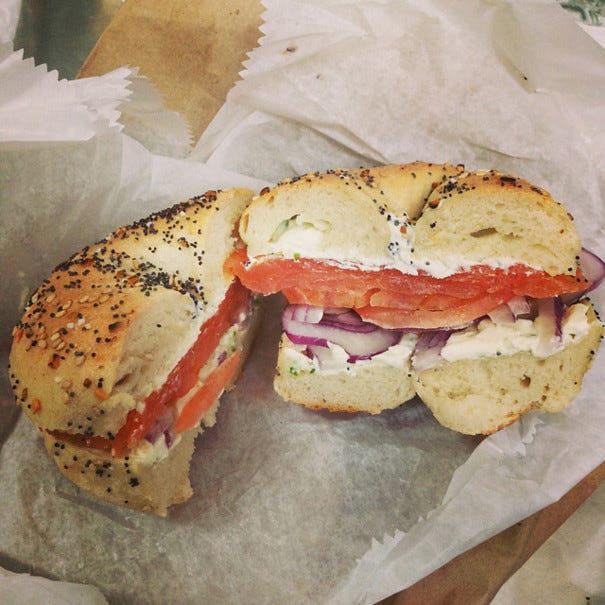 Craig asked if it really was better than the bagel we get right near where we stay on the Upper East Side. I almost ended the relationship right there. "Of course it is!" I explained, furiously, and I tried to point out the texture of the crust vs. the inside. He ultimately agreed that it was a very good bagel.

We then walked about 10 blocks north to Columbia University where we bought a Sunday Times and read it at the Joe there which is very charming and sunny, though busy.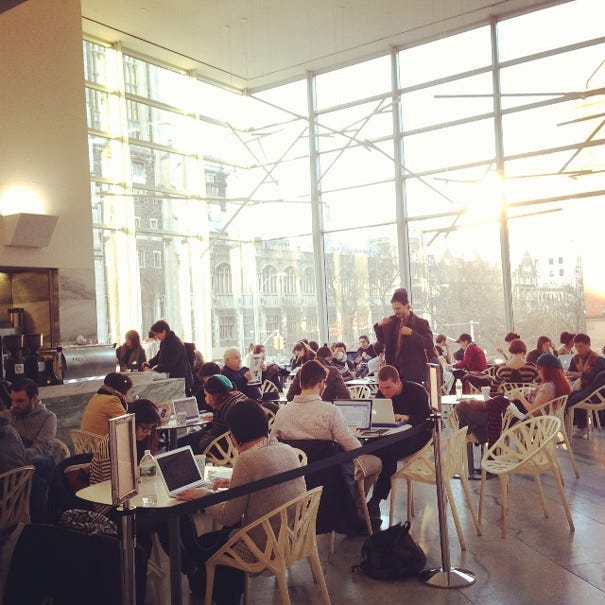 And that's all for this week folks!

Wow, isn't it incredible how much you can do in New York City over just a few days? And to think, I'll be here until next Sunday.

Until next time....

Your friend,
Adam (The Amateur Gourmet)



Reading this in a browser? Get next week's in your inbox by signing up here.

Follow Me!
On Twitter
On Facebook

Check Out My Cookbook!
Secrets of The Best Chefs

Recent Food Posts

R.I.P. Judy Rodgers

Scallop Chowder

When Good Restaurants Go Bad

Sweet Potato Latkes and Regular Latkes Too

Cranberry Sauce 101

Chocolate Pumpkin Cheesecake

Skip The White Meat, Braise The Dark Meat and Your Turkey Will Never Be Dry

48 Hours in Sydney

Eat Pie, Say Hi

Sponsored Post: Amarula Rice Pudding with Toasted Almonds

I Ate Bugs at Billy Kwong

How To Shuck an Oyster

Farewell to Perth: Hawker Markets, Eat Drink Blog, A Food Truck Party, Aisuru Sushi, Flipside Burgers & Taiwanese Dessert

The Clean Plate Club, Episode #16: J.J. Goode

Let's Go To An Australian Supermarket

Sayer's Food, Jerry's Oysters, Print Hall, An Indigenous Tour, Fremantle Markets & Little Creatures

Heli to Rotto, Biking The Island, Quokkas, The Rottnest Express, A Beach Lunch and A Columbian Dinner

The Clean Plate Club, Episode #15: Alex Witchel


*|LIST:DESCRIPTION|*

Unsubscribe *|EMAIL|* from this list.

Our mailing address is:
*|HTML:LIST_ADDRESS_HTML|*
Copyright (C) *|CURRENT_YEAR|* *|LIST:COMPANY|* All rights reserved.

Forward this email to a friend
Update your profile
*|IF:REWARDS|* *|HTML:REWARDS|* *|END:IF|*