A.G. Newsletter #145: Eataly, Ivan Ramen, Pearl, Bosie, Murray's Cheese Bar, Sondheim & Fondue
A.G. Newsletter #145: Eataly, Ivan Ramen, Pearl, Bosie, Murray's Cheese Bar, Sondheim & Fondue

Hey there,

Would you like to win one of five signed copies of my cookbook SECRETS OF THE BEST CHEFS? Head over to Twitter right now and give me a follow. Instructions will arrive shortly.

It makes a terrific holiday gift, by the way, but just in case you're like "Ya, ya, we know, you're trying to sell us a cookbook," here's my 2013 Holiday Gift-Buying Guide featuring all of the cookbooks I didn't write that I most want to see under the tree this year.

Also, on Monday I posted two recipes worthy of your attention: Spicy Chicken Meatballs with Fusilli and Nancy Silverton's Chocolate Chip Cookies.

Ok, now on to newsletter business!

Last week, Craig was doing some sound editing near Madison Square Park and I suggested we meet for dinner at Eataly because I'd never actually had dinner there. It's divided up between several restaurants--a vegetable restaurant, a fish restaurant, an expensive meat restaurant, and, the most popular, a pasta and pizza restaurant. We chose that last one and waited about 40 minutes; but it's nice, they take your number so you can mill around and they text you when your table's ready.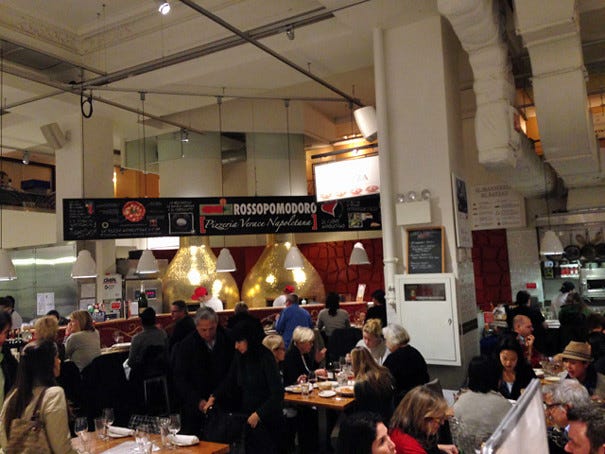 That's what the restaurant looks like, with its gold brick pizza ovens. Once at the table, I felt a little like I was in EPCOT. Everything is a little theme-parky. The food though is good. The salad was delicately dressed: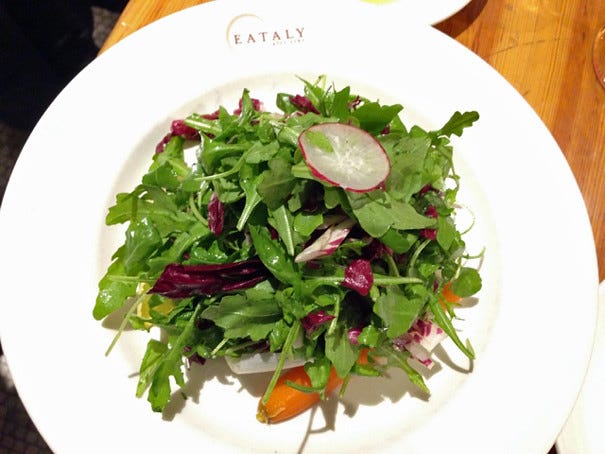 And the pizza had a nice char to it: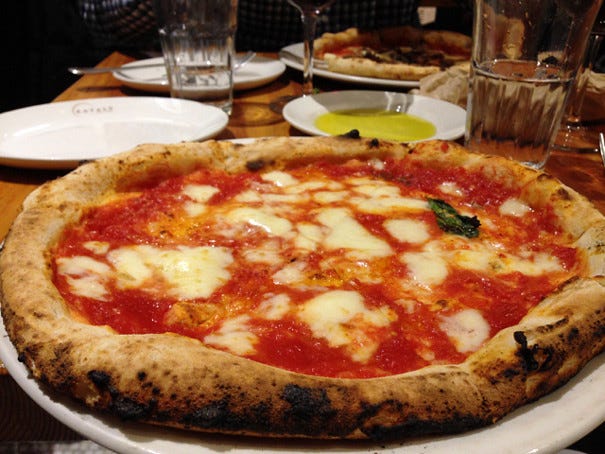 It really reminded me of the pizza that I ate in Italy a long time ago when I went to Italy. I suppose that's a very high compliment.

The next night, we had a party to go to all the way on 11th Avenue in the 40s and, doing my research, I discovered that a new food court recently opened right around there featuring a direct import from Japan: Ivan Ramen.

As a fan of The Mind of a Chef on PBS, I know about Ivan Ramen from that show; this Jewish guy moved to Japan and started serving ramen, which is a pretty ballsy thing to do. But people there loved it and now he's back in the states serving the ramen that won him such acclaim. Here's a bowl of it: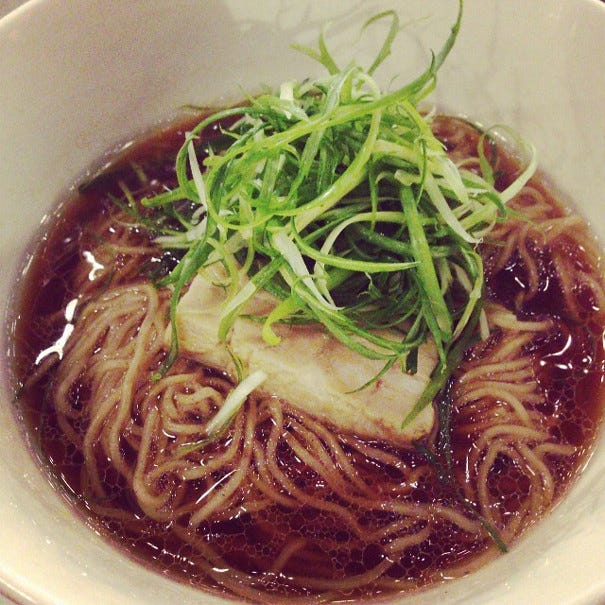 I ordered the classic Shoyu which came with pork belly and noodles made with rye flour (a hat-tip to the rye bread we Jews like to eat our pastrami on, I suppose). It was a tasty bowl of ramen though the food-court like atmosphere detracted from the authenticity. Jenny (Craig's movie editor) and Craig really dug it: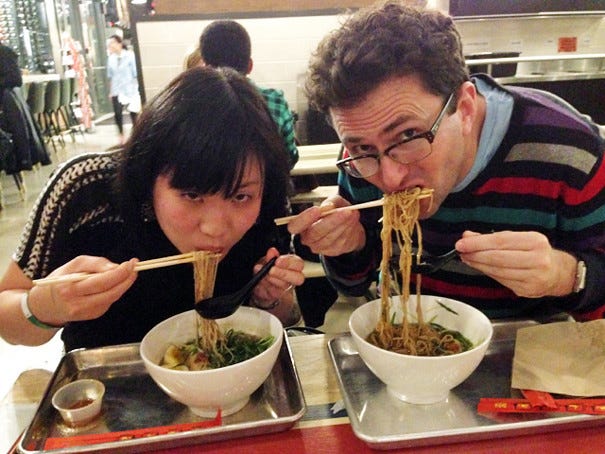 The next day, I had to go visit one of my favorite places in New York, Pearl Oyster Bar. When the weather's cold, I always get the same thing: a big bowl of their creamy clam chowder...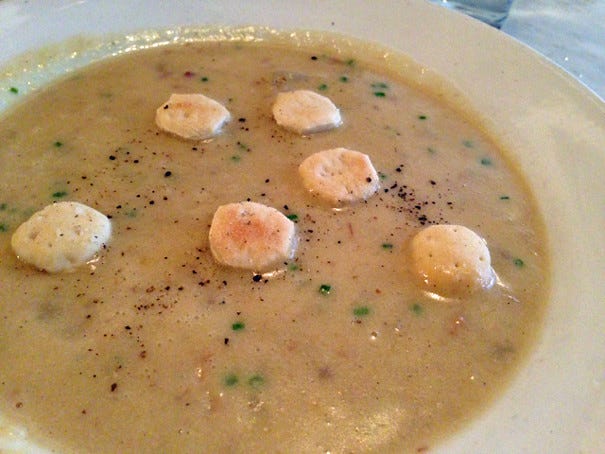 And their super garlicky Caesar salad: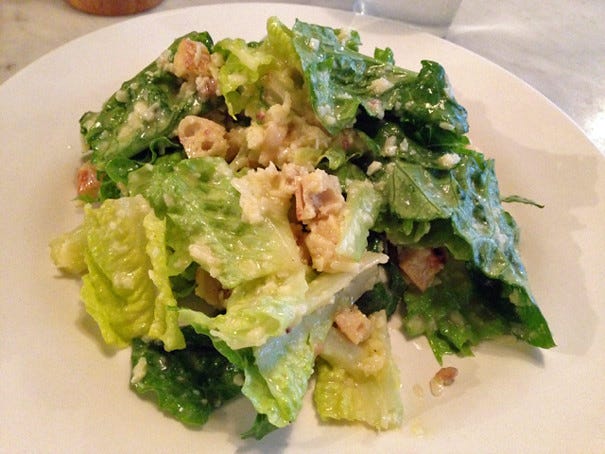 It's a meal that always hits the spot.

On Friday, I met up with my friend Charlotte Druckman at Bosie Tea Parlor in the West Village. I'd heard much buzz about their matcha latte and thought I'd give that a whirl. Little did I know, it'd be GIGANTIC: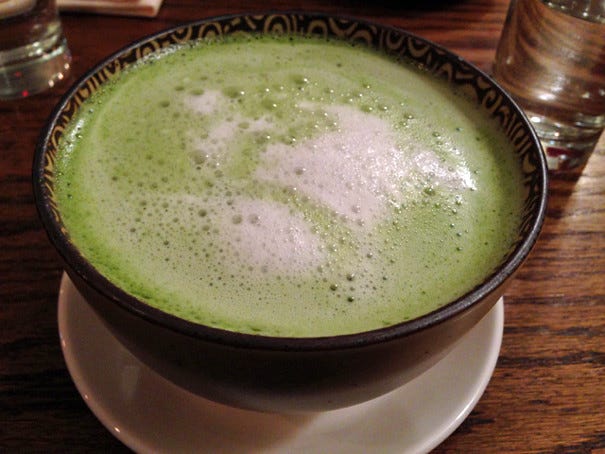 But very good! It's a subtle sort of thing: almond milk is used and an Indian sweetener that I want to say is called GRRRRRRRRR but I could be wrong about that.

I also ate a scone that Charlotte described as biscuit-like because it's not too sweet. She's right. And the cream and jam made me feel like a happy British princess: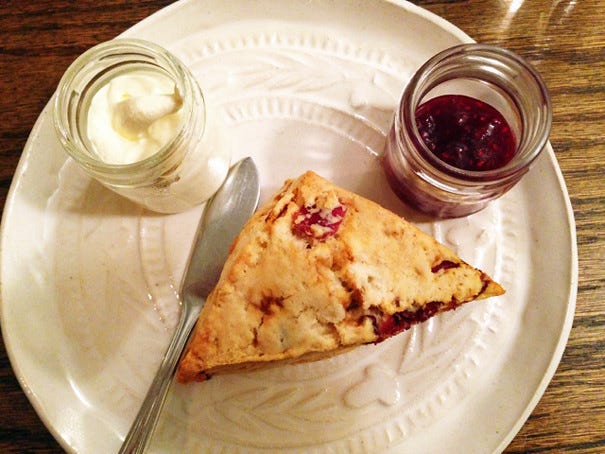 That night, we met up with our friend Rob for dinner at Murray's Cheese Bar, the new restaurant next to Murray's Cheese.

We started off with a Seasonal Flight of cheeses; you can see what we had on the menu here: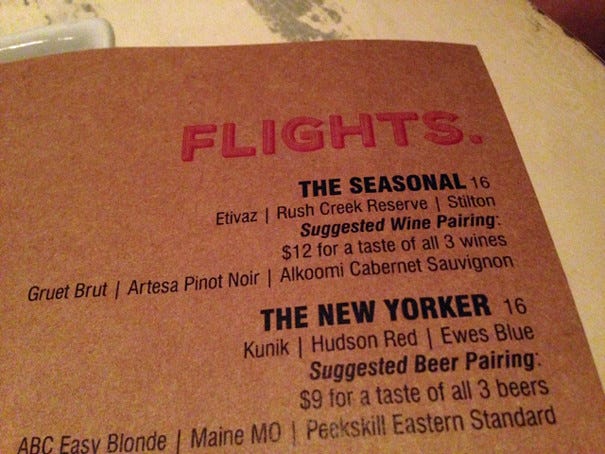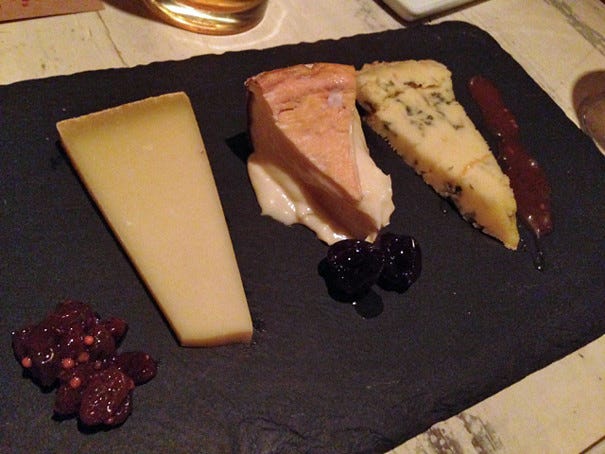 Then Rob had a burger that he absolutely loved, topped with a beer-infused cheese sauced: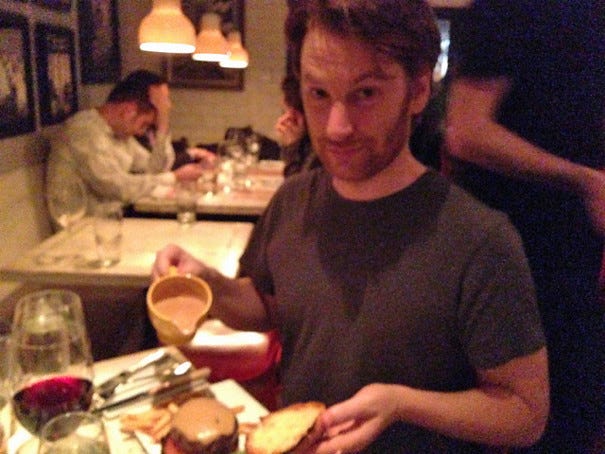 Craig and I both had Mac & Cheese, mine had blue cheese, Craig's had cheddar. They both looked like this: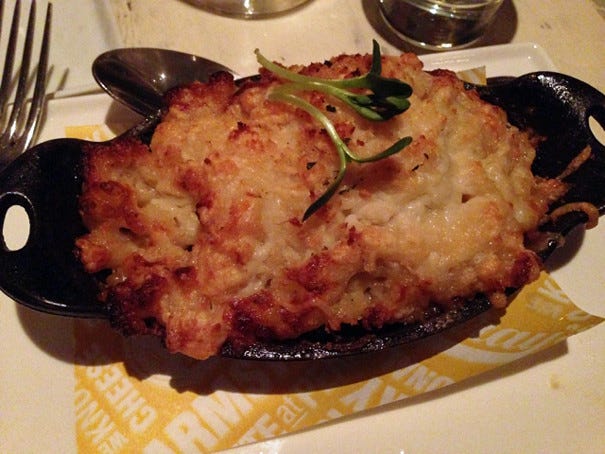 On Monday, this week, we headed over to the home of our friends Amy and Lauren to watch the brilliant HBO doc about Stephen Sondheim (if you missed it, find out when they're airing it again and WATCH IT). Dinner was cheese fondue and a comforting bowl of chili, a surprising combination that worked really well. Here's Lauren and Amy dipping their fondue: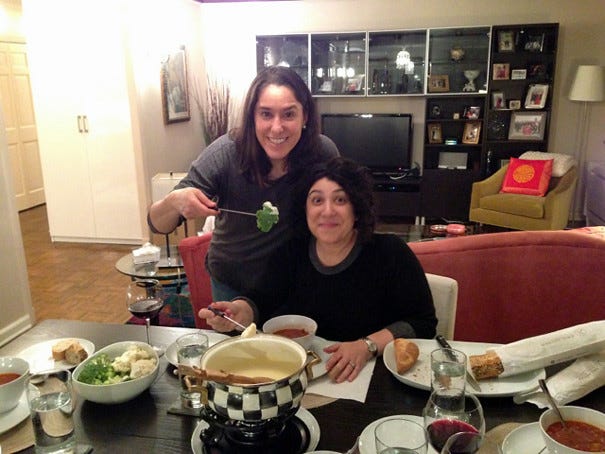 And here's God on the TV: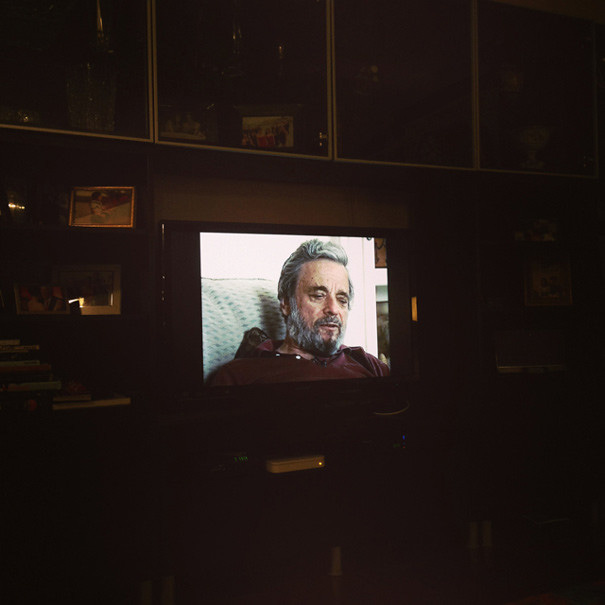 That's all for this week folks!

Next time you hear from me, I'll be back in L.A. Then it's off to Seattle for Christmas, then back to L.A., then off to Utah for Sundance. Phew! I'm a traveling machine.

Until next time....

Your friend,
Adam (The Amateur Gourmet)
Reading this in a browser? Get next week's in your inbox by signing up here.

Follow Me!
On Twitter
On Facebook

Check Out My Cookbook!
Secrets of The Best Chefs

Recent Food Posts

Cookbook Giveaway

My 2013 Holiday Gift Buying Guide

Nancy Silverton's Chocolate Chip Cookies

Spicy Chicken Meatballs with Fusilli

Sundance Here We Come!

R.I.P. Judy Rodgers

Scallop Chowder

When Good Restaurants Go Bad

Sweet Potato Latkes and Regular Latkes Too

Cranberry Sauce 101

Chocolate Pumpkin Cheesecake

Skip The White Meat, Braise The Dark Meat and Your Turkey Will Never Be Dry

48 Hours in Sydney

Eat Pie, Say Hi

Sponsored Post: Amarula Rice Pudding with Toasted Almonds

I Ate Bugs at Billy Kwong

How To Shuck an Oyster

Farewell to Perth: Hawker Markets, Eat Drink Blog, A Food Truck Party, Aisuru Sushi, Flipside Burgers & Taiwanese Dessert

The Clean Plate Club, Episode #16: J.J. Goode

Let's Go To An Australian Supermarket

Sayer's Food, Jerry's Oysters, Print Hall, An Indigenous Tour, Fremantle Markets & Little Creatures

Heli to Rotto, Biking The Island, Quokkas, The Rottnest Express, A Beach Lunch and A Columbian Dinner

The Clean Plate Club, Episode #15: Alex Witchel


*|LIST:DESCRIPTION|*

Unsubscribe *|EMAIL|* from this list.

Our mailing address is:
*|HTML:LIST_ADDRESS_HTML|*
Copyright (C) *|CURRENT_YEAR|* *|LIST:COMPANY|* All rights reserved.

Forward this email to a friend
Update your profile
*|IF:REWARDS|* *|HTML:REWARDS|* *|END:IF|*