A.G. Newsletter #146: Glass Menagerie, Joseph Leonard, John's, Taim, Cooking with New Friends & A Return to Ivan Ramen


Hey gang,

If you're the kind of person who loves lists, you're going to love the list that I posted on Monday: The Top 10 Dishes That I Cooked in 2013. What's at #1? I don't want to spoil it but, ok, I'll just tell you: Eggplant Dirty Rice. Check it out.

If you're the kind of person who loves rhymes, you're going to love yesterday's post: Dinner with Cara and Dara at La Vara. Yes, that really happened.

Finally, if you're the kind of person who loves videos, check out the one I just posted----Last Night's Dinner: Saucy Chickpeas Over Rice. You can admire my new haircut!

Now on to newsletter business....

Craig commented yesterday that when we were in New York, we did wayyyyy too much. Well, I hadn't been there in a really long time, so of course there was a lot I had to do. My biggest priority, which may come as a surprise to those of you who think of me mostly as a food person, was to see great theater. (I'm actually more of a theater person who writes about food than a food person who writes about theater.) We saw FUN HOME the first week we were there, and that remains my favorite thing we saw this trip; then we saw MATILDA, which I really enjoyed (though Craig didn't like it as much) and, finally, THE GLASS MENAGERIE.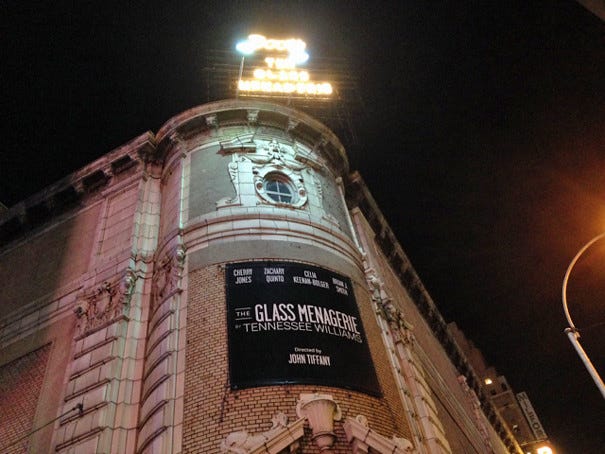 If you read The New York Times review of this, you'll know that Ben Brantley went nuts for it. It's a pretty unsurpassable production: Cherry Jones rules the stage, and if you've never seen her live, this is the show in which to experience her full majesty. Zachary Quinto gives a pitch-perfect performance, as does the rest of the cast. Did I like it more than MATILDA? Well that's like saying "Do you like lentil soup more or candy?" Sure, I had more fun eating candy, but the lentil soup was better for me.

The next day, I met my old friend James Felder for lunch at Joseph Leonard. That's one of those places that I love for its atmosphere as much as I do the food. Here's James with his fried chicken sandwich and French fries: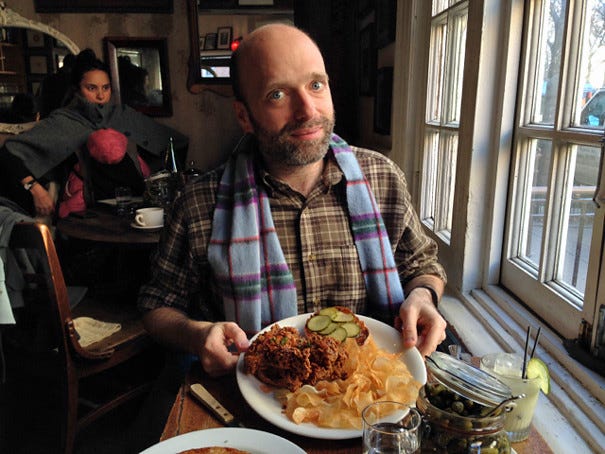 I felt very L.A. eating this salad (which, truth be told, was merely OK):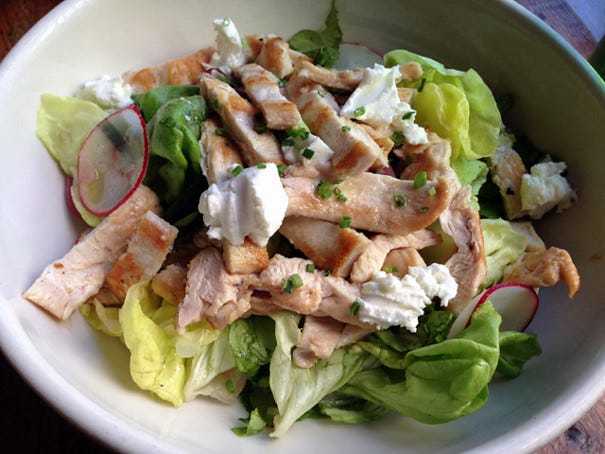 But we did share this giant plate of hash-browns, so the story has a happy ending.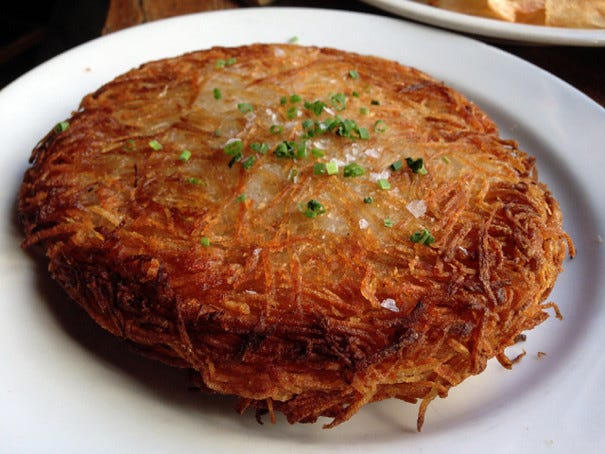 That night, I was still in the West Village, so I connected with Craig who suggested we do pizza at John's. That's hard to say "no" to. Here's our pizza with sausage and mushrooms (Craig usually picks the toppings; I'm more of a mushrooms and onions guy.)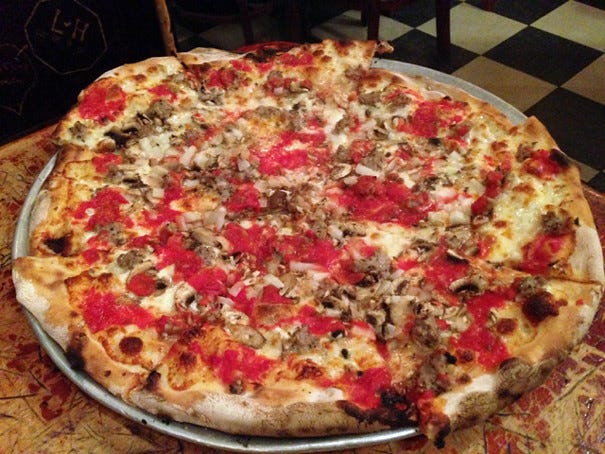 And Craig with his slice next to a picture of Louie Anderson.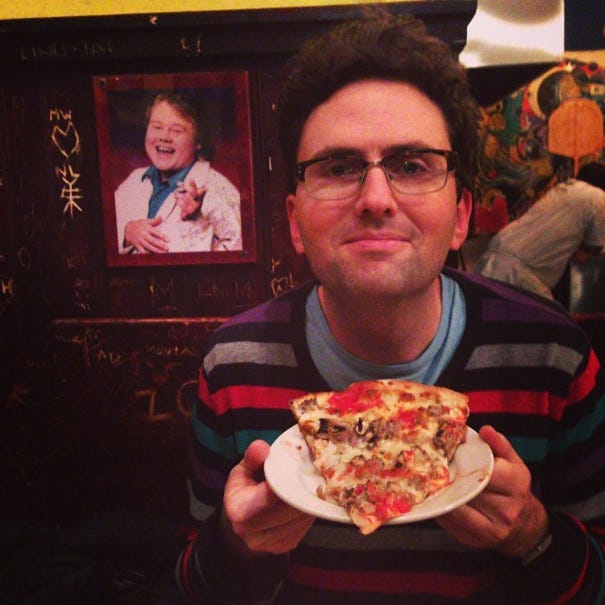 The next day, I made a quick visit to Soho and thought I would grab a falafel sandwich from Taim. It was a funny experience because when I first walked in, the place was totally empty; but within seconds, it filled up with the lunchtime crowd and pandemonium ensued. I can see why it's so popular, though, because this sandwich is really killer.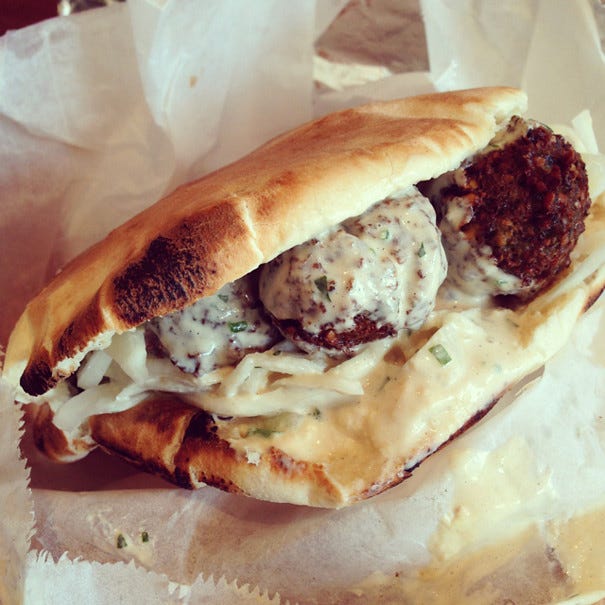 Even if I was jostled as I ate it.

On Friday night, I showed up at the home of a new friend, filmmaker Ry Russo-Young who'd invited me over along with another new friend, Kitao Sakurai, so that we could all make dinner together. We'd be feeding 10 people so I decided to make two big pots of the lentil soup from Secrets of the Best Chefs.

To make it special, though, I bought the sausage from Faicco's, which has some of the best sausage in the city.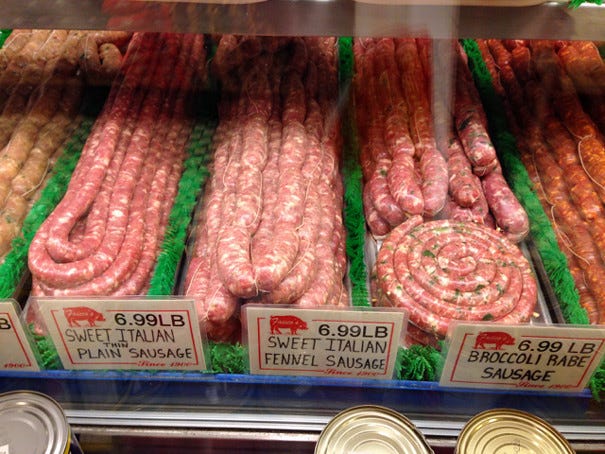 Here's my finished soup on the stovetop (sorry for the mess, Ry):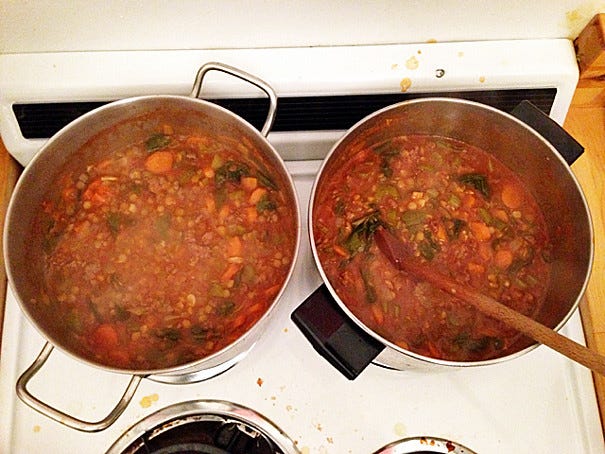 Meanwhile, Kitao made this incredible grilled cheese/French toast hybrid which he learned from his friend who runs Wolvesmouth here in L.A. Essentially, you soak brioche in a French toast batter, then use that soaked bread to make grilled cheese. Here he is dishing it up: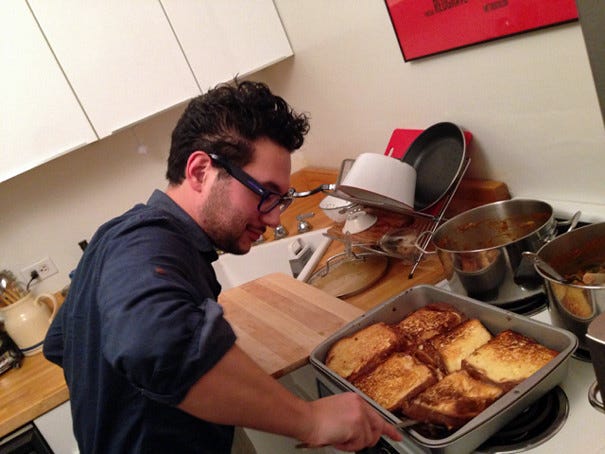 And here is serving it up with Ry: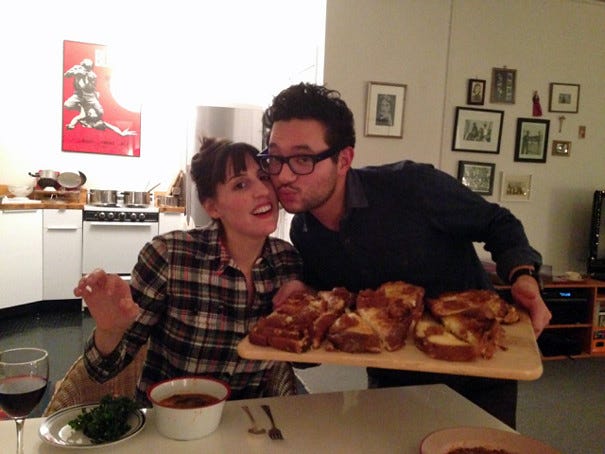 Here's his sandwich next to the kale salad Ry made: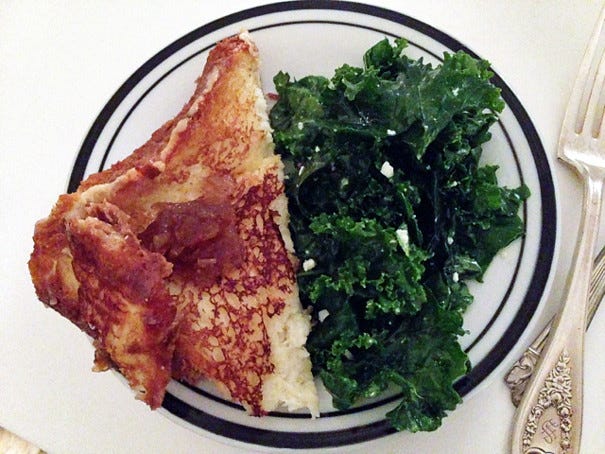 And my soup in the bowl: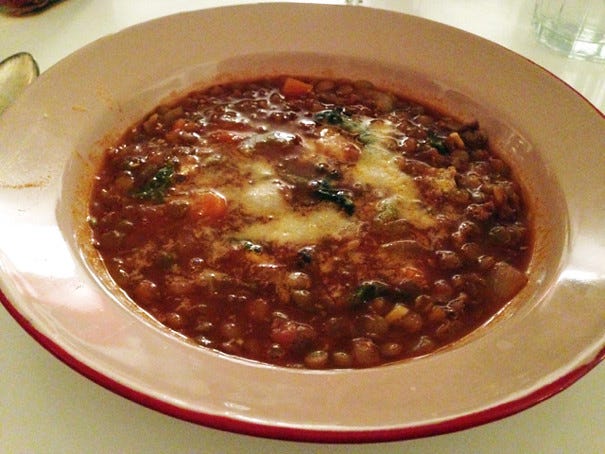 Our happy crowd of eaters: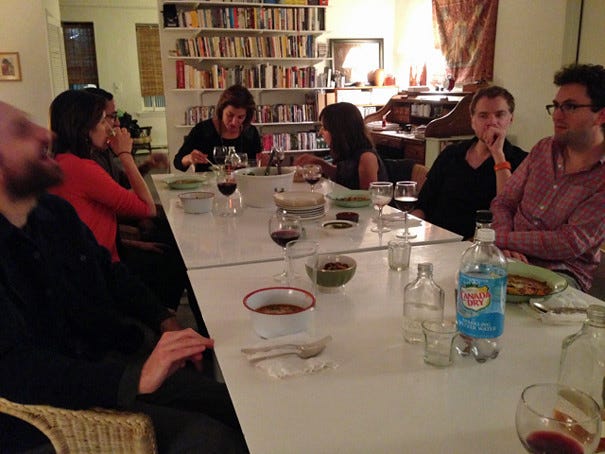 Meanwhile, Ry's boyfriend Colin runs a distillery in New York called Kings County Distillery. Here's a bottle of his moonshine: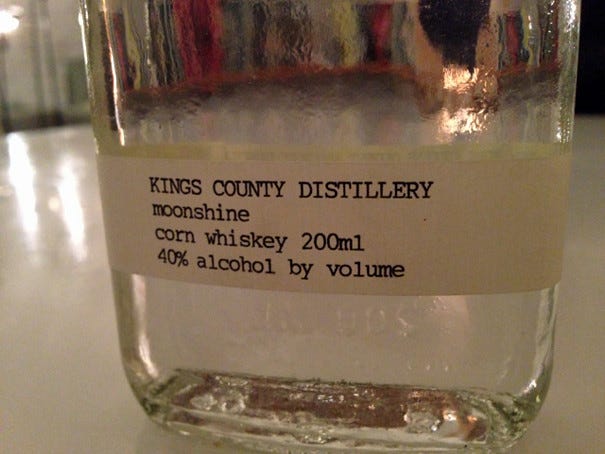 And here he is pouring me a sip: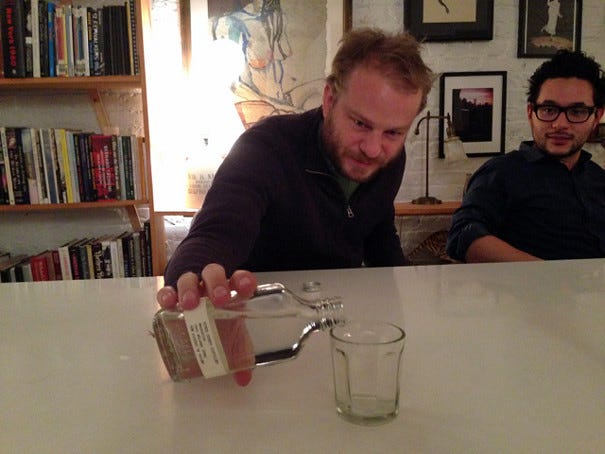 Let's just say it put some hair on my chest.

Finally, on Saturday night, I surprised Craig with tickets to see The John Waters Christmas Show. Unfortunately, the show was happening on 11th Avenue and there was a snowstorm, so by the time we arrived there from the subway, we looked like this: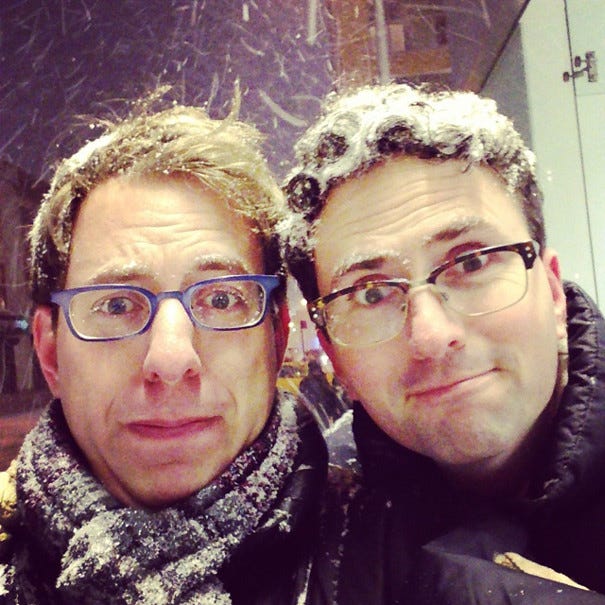 Which is why we went back to Ivan Ramen (which, conveniently, is on 11th Avenue) to warm up with a big bowl of this: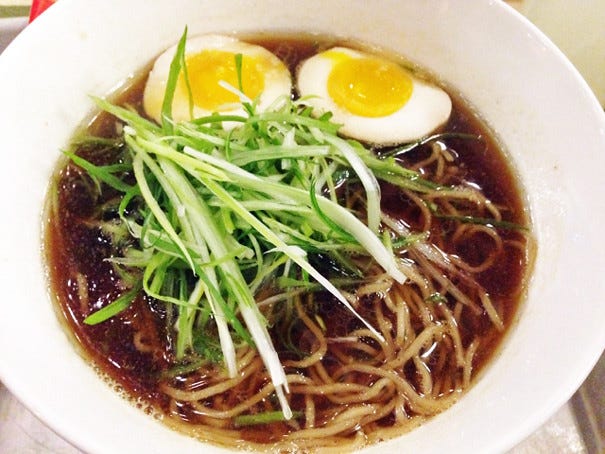 As for the John Waters Christmas show, it was just as scandalous as you'd want it to be.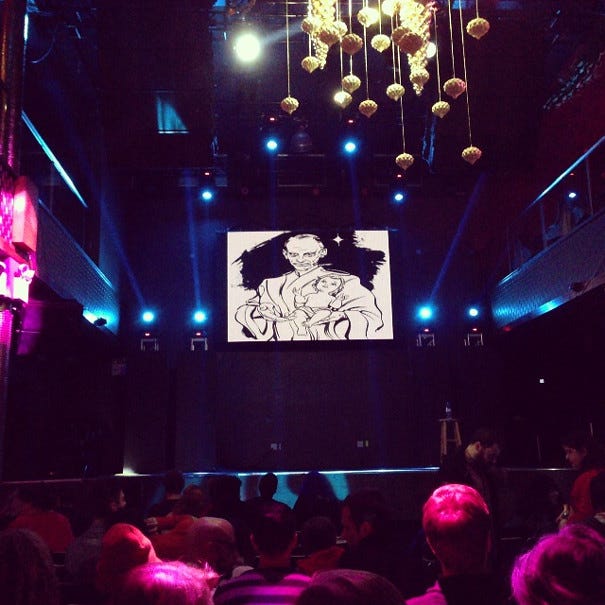 You might find it amusing to know that if you're going to his place for dinner, and you ask, at the last minute, if you can bring another guest, he not only says "no," he un-invites you as well. And that was the least shocking thing he said.

That's all for this week folks!

I'm off to Santa Monica to meet my Uncle Jerry for lunch; then, on Sunday, it's off to Bellingham for Christmas. Hope all your Christmas planning is going well... if you don't hear from me next week, I'm probably bogged down with Christmas festivities. Hope you all have happy holidays!

Until next time....

Your friend,
Adam (The Amateur Gourmet)
Reading this in a browser? Get next week's in your inbox by signing up here.

Follow Me!
On Twitter
On Facebook

Check Out My Cookbook!
Secrets of The Best Chefs

Recent Food Posts

Last Night's Dinner: Saucy Chickpeas Over Rice

Dinner with Cara and Dara at La Vara

The Top 10 Dishes That I Cooked in 2013

Sweet Potato and Brussels Sprout Hash

Cookbook Giveaway

My 2013 Holiday Gift Buying Guide

Nancy Silverton's Chocolate Chip Cookies

Spicy Chicken Meatballs with Fusilli

Sundance Here We Come!

R.I.P. Judy Rodgers

Scallop Chowder

When Good Restaurants Go Bad

Sweet Potato Latkes and Regular Latkes Too

Cranberry Sauce 101

Chocolate Pumpkin Cheesecake

Skip The White Meat, Braise The Dark Meat and Your Turkey Will Never Be Dry

48 Hours in Sydney

Eat Pie, Say Hi

Sponsored Post: Amarula Rice Pudding with Toasted Almonds

I Ate Bugs at Billy Kwong

How To Shuck an Oyster

Farewell to Perth: Hawker Markets, Eat Drink Blog, A Food Truck Party, Aisuru Sushi, Flipside Burgers & Taiwanese Dessert


*|LIST:DESCRIPTION|*

Unsubscribe *|EMAIL|* from this list.

Our mailing address is:
*|HTML:LIST_ADDRESS_HTML|*
Copyright (C) *|CURRENT_YEAR|* *|LIST:COMPANY|* All rights reserved.

Forward this email to a friend
Update your profile
*|IF:REWARDS|* *|HTML:REWARDS|* *|END:IF|*