A.G. Newsletter #147: Christmas in Bellingham, Atwater Mug, Bachelor Dining, Brownie Sundaes & Fish Tacos


Hey everyone,

Happy New Year!

Boy, it's been a busy couple of weeks. Last I left you, I'd been in New York after visiting my family in Florida; then it was back here, to L.A., for a spell, before hopping on a plane (well, two planes) to Bellingham, Washington (where Craig's family lives) for Christmas. Before I tell you all about that, a few posts you might've missed:

* The Top 10 Dishes That I Ate in 2013. My friend Brian questioned my choice of wallaby tails for #1, but I stand by my decision.

* The Rest of the Best of 2013. It's a post that features lots of other things--Best Cake, Best Use of Chickpeas--as well as Craig's picks and my picks for best movies, TV shows, books and plays of the year.

* The Salty Turnip Omelette of Your Dreams. True, you probably don't dream about salty turnip omelets, but you will after reading this post.

* Mac and Cheese with Chorizo, Cotija and Aged English Cheddar. The title speaks for itself.

* Lamb Burgers and Greek Salad. A great weeknight dinner that lets you avoid ground beef.

Ok, now on to newsletter business....

So yes, Christmas in Bellingham. Craig's family sure knows how to make it festive. Here's Craig's sister Kristin, her friend Amy (an Amateur Gourmet blog reader!) and Craig's mom, Julee, toasting their French 75s at Christmas: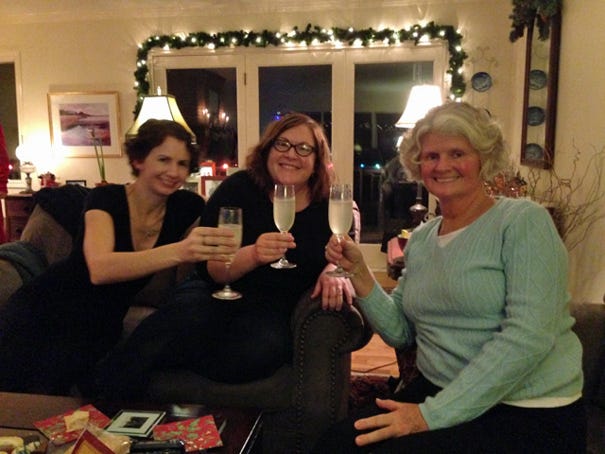 For the full experience, check out this video I made of Christmas dinner. I'm pretty happy with it!

Other highlights:

* The buttermilk doughnut at Rocket Donuts: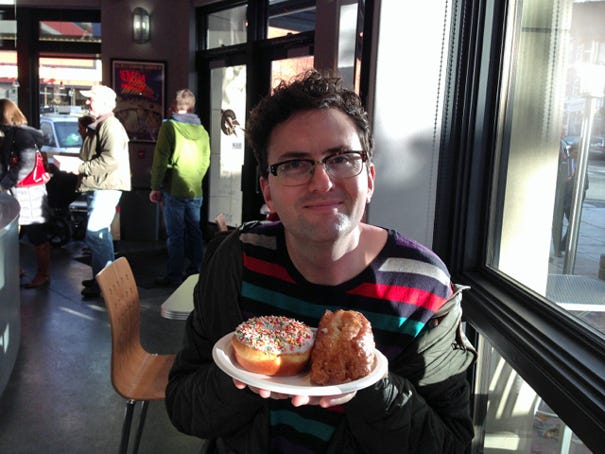 * Cheese from Quel Fromage near Fairhaven: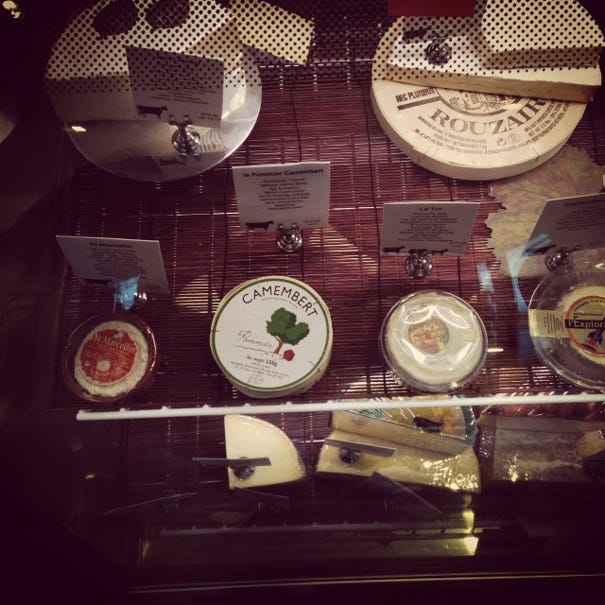 * Craig's dad Steve's famous apple pie (recipe here):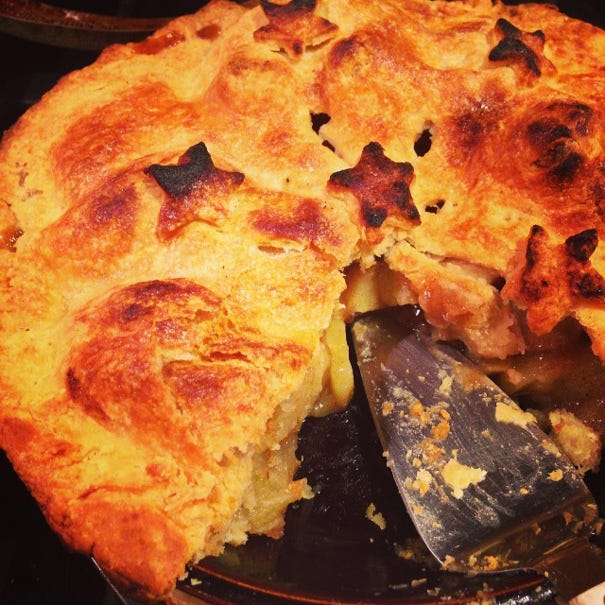 And, of course, the most important part of Christmas: gifts! I put skeleton twins in Craig's stocking because his movie, The Skeleton Twins, debuts at Sundance next week.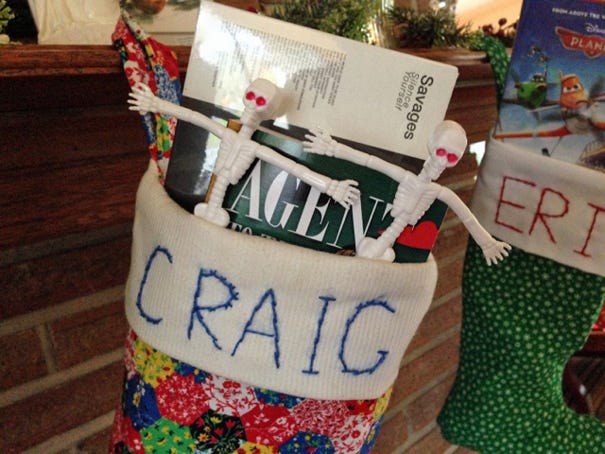 Here's some knickknacks Craig and his family put in my stocking (including fennel salt from Voltera in Seattle...yum!):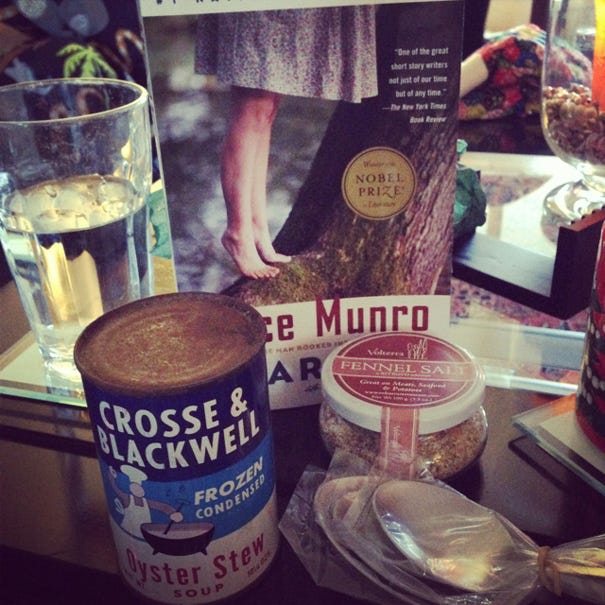 Those are Michael Ruhlman tasting spoons which I've been using quite a bit along with the wooden paddles Craig's mom bought from his website. That can of oyster stew is to decorate our cookbook shelf.

Many books were exchanged: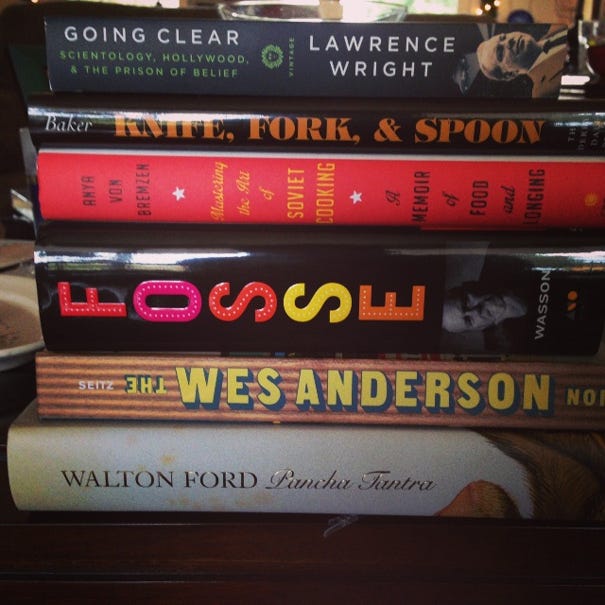 That Walton Ford book on the bottom was my main gift to Craig: he's a huge fan of the artist, so I got him the most gigantic coffee table book of his work. Meanwhile, I've already started reading Mastering The Art of Soviet Cooking and I'm really enjoying it.

Not pictured: Craig's parents got me a wooden salad bowl and I can't wait to start using it! Oh and Craig got me a watch which I really love, especially because I really needed a watch.

On my last day there, we went to a "Gourmet Group Gathering" (Craig's parents have been part of a Gourmet Group for several decades) and everyone wore these sunglasses for a picture: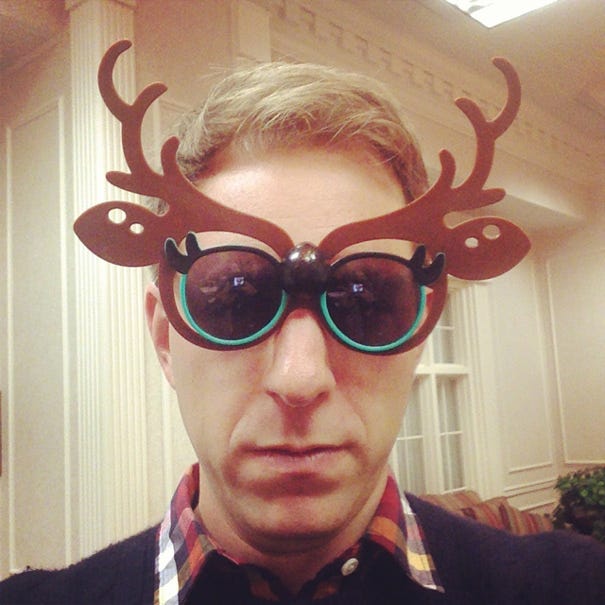 A nice way to end my time in Bellingham. I told you it was festive!

Back in L.A., I was flying solo for a few days before Craig came back. So on Saturday, I found myself at the Atwater Village Farm where I bought this awesome Atwater Village mug (I drank my coffee from it the next morning):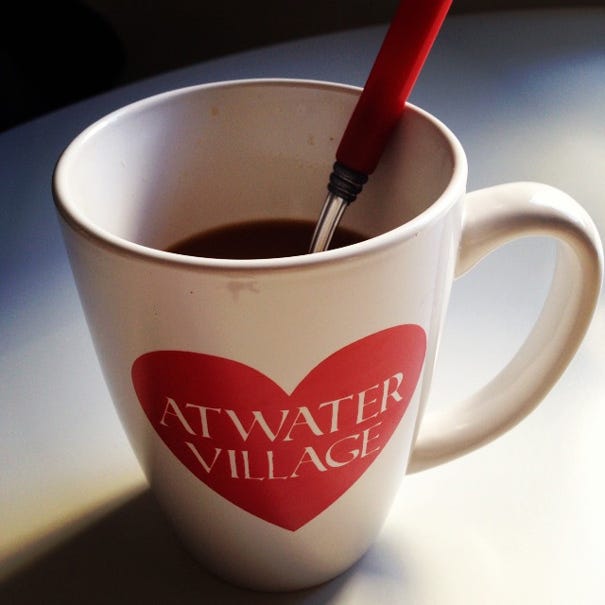 As for my bachelor dining, at the Atwater Village Farm I bought a bag of chicory lettuces, a few apples, walnuts, a loaf of sliced sourdough bread, and some goat cheese. That turned into this dinner---salad with apples and walnuts, and toasted sourdough with goat cheese and honey: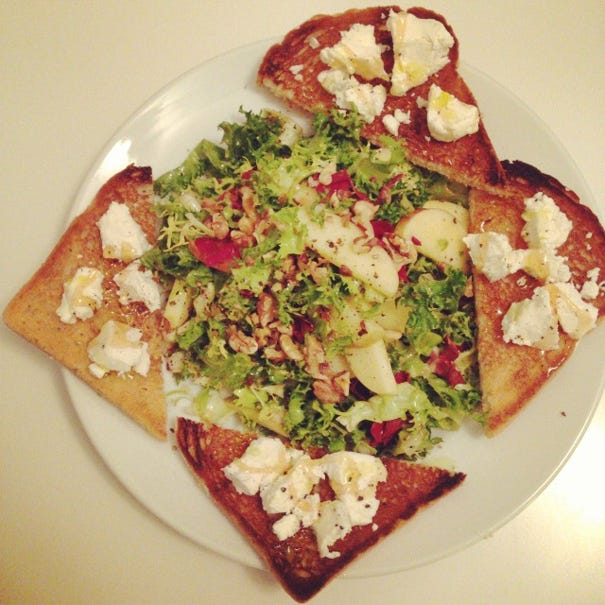 For dessert, I used an old Amanda Hesser recipe and toasted bread with a little chocolate on it, a splash of olive oil, and sea salt in the oven. Yum: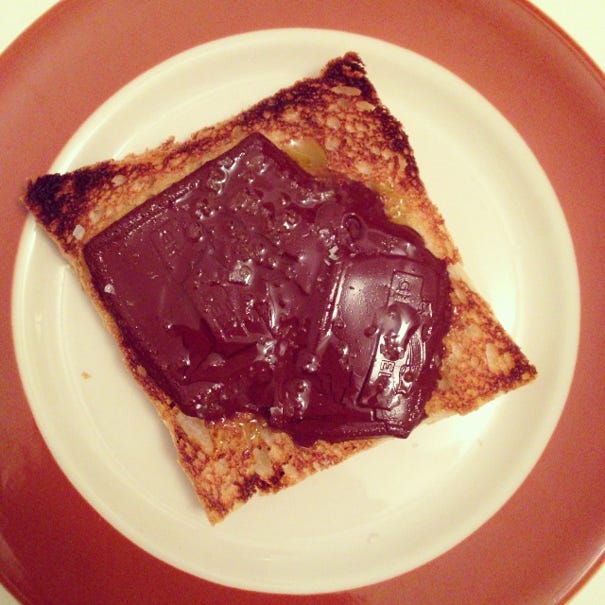 Once Craig was back, life resumed in a pretty predictable way--lots of roast chicken and pasta and those lamb burgers for dinner. Then, on Sunday, when I had some friends over for that Mac and Cheese, I served brownie sundaes for dessert: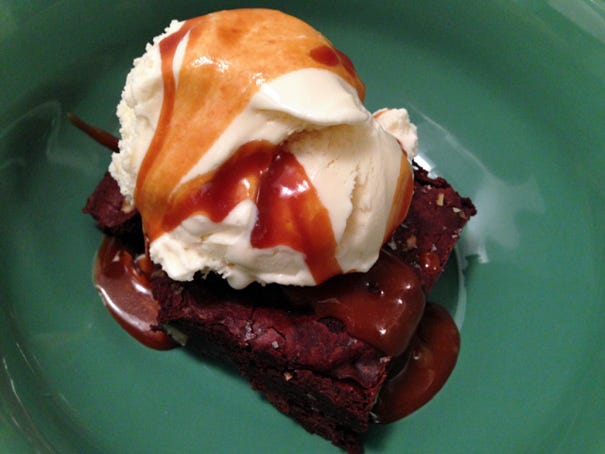 I'm a big believer in brownie sundaes (see this old post about it); maybe it's retro or cliche or uninspired, but everybody loves to see this placed before them at a dinner party. Especially when you make The Best Brownies of Your Life and put a salted caramel sauce on top.

Finally, on Sunday we went back to the Atwater Village Farmer's Market and had their fish tacos again: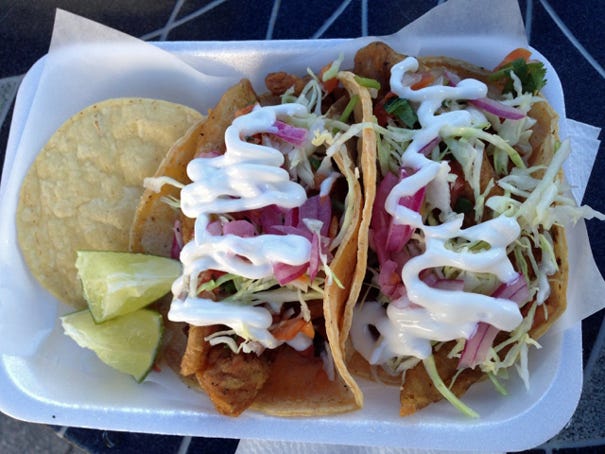 I just had to show you that picture because, I mean, come on... we're really spoiled here in L.A. Especially because it was warm out and the rest of the country is freezing! Sorry if that was a humblebrag.

That's all for this week folks!

Until next time,
Adam (The Amateur Gourmet)










Reading this in a browser? Get next week's in your inbox by signing up here.

Follow Me!
On Twitter
On Facebook

Check Out My Cookbook!
Secrets of The Best Chefs

Recent Food Posts

Lamb Burgers and Greek Salad

Mac and Cheese with Chorizo, Cotija and Aged English Cheddar

The Salty Turnip Omelette of Your Dreams

The Rest of the Best of 2013

Last Night's Dinner: A Christmas Feast

The Top 10 Dishes That I Ate in 2013

Let's Brunch at Lafayette

Last Night's Dinner: Saucy Chickpeas Over Rice

Dinner with Cara and Dara at La Vara

The Top 10 Dishes That I Cooked in 2013

Sweet Potato and Brussels Sprout Hash

Cookbook Giveaway

My 2013 Holiday Gift Buying Guide

Nancy Silverton's Chocolate Chip Cookies

Spicy Chicken Meatballs with Fusilli

Sundance Here We Come!

R.I.P. Judy Rodgers

Scallop Chowder

When Good Restaurants Go Bad



*|LIST:DESCRIPTION|*

Unsubscribe *|EMAIL|* from this list.

Our mailing address is:
*|HTML:LIST_ADDRESS_HTML|*
Copyright (C) *|CURRENT_YEAR|* *|LIST:COMPANY|* All rights reserved.

Forward this email to a friend
Update your profile
*|IF:REWARDS|* *|HTML:REWARDS|* *|END:IF|*