A.G. Newsletter #149: Republique, Wine and Cheese Party, Planked Salmon, Sorbet Pairings and $9 Juice


Hello my long lost friends!

Oh my...you've been e-mailing, wondering what's going on. "Are you still writing your newsletter?" you're asking. "Are you alive?" "Why have you forsaken me?"

My apologies! My last newsletter was in January right before we left for Sundance. If you haven't been following my blog, you missed that whole adventure: it really was incredible. Craig's movie sold to Lionsgate / Sony / Roadside Attractions and Craig's mom became a celebrity with her Variety review of Nymphomaniac. Read all about our experience here.

Then what? Well, I went to South Carolina. There was a Sauce Week. I made Craig the best soup ever on his birthday and he took me to Bestia for mine.

And that's pretty much it.

So why the radio silence? Well, this is kind of hush hush, but I've been working on a play. "A play?!" Yes, a play. It shouldn't be that shocking because I went to grad school for playwriting... that's where I met Craig and why I lived in New York and what my plan was before the whole food thing took off. Now I'm back into it. My goal is to have some kind of production of this play in 2014. Where? How? I'm not sure. If your name is Harold Prince, please give me a call.

So my focus, these days, is writing the play first, food blog second, and, clearly, newsletter third. But I'm not ending the newsletter or the food blog; just repositioning them in my priority list (for the time being). Today's my first effort to reintegrate the newsletter into my playwriting lifestyle, so let's see how that goes....

A long, long time ago I went to dinner at the very hip new L.A. restaurant Republique with food blogger Zach Brooks and his wife Sarah.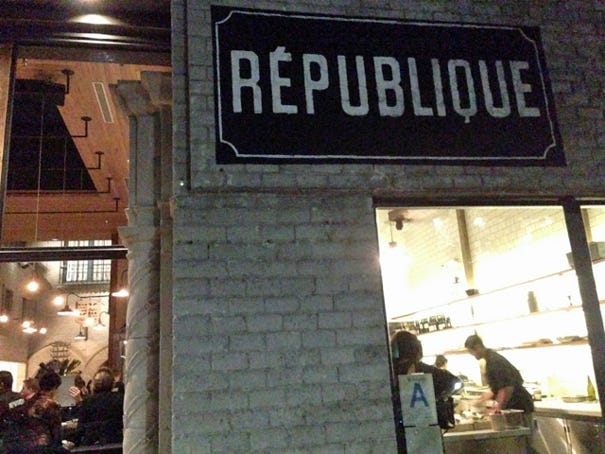 It's housed in the old Campanile space which, before being a legendary L.A. restaurant, was Charlie Chaplin's studio. Look how cool: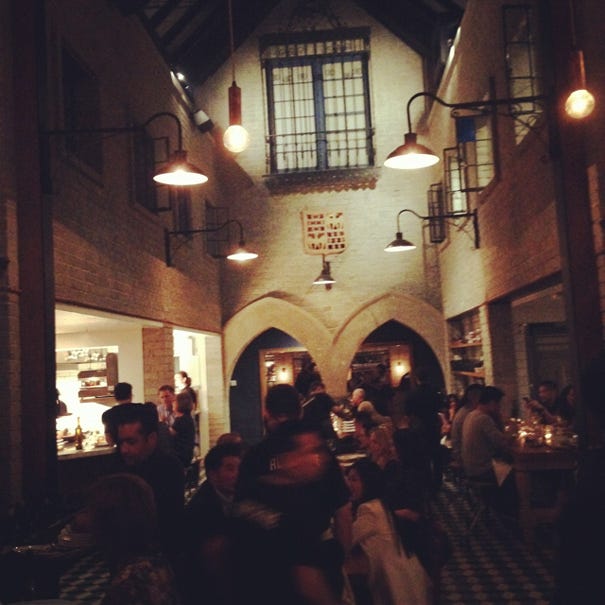 Here's Zach and Sara at the table: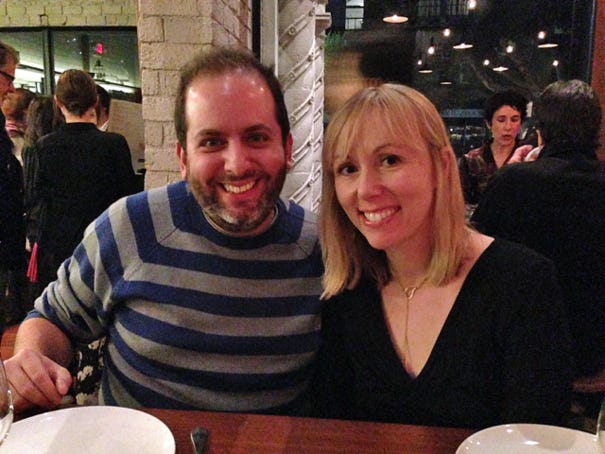 So this place was an absolute zoo when we went on a Saturday night. My biggest beef with the place was the table situation: we had a real, legitimate reservation for 4 but when they sat us, they sat us right in the front on these high-top bar tables with stools that felt like where you'd go for drinks, not a very expensive dinner.

When we asked the hostess about another table, she said: "Well we could put you at the end of a communal table, but it won't be very comfortable."

Um, ok.

The table thing actually kind of pissed me off... to the point where, if I were ever to go back, I'd want to really clarify a table on the phone before showing up. I didn't see it, but apparently there's a back room with normal tables? That's where I'd like to sit.

The food, though, was very good. I enjoyed the warm bread (big mistake: we didn't get the pan drippings that Besha Rodell wrote about in her review; next time!):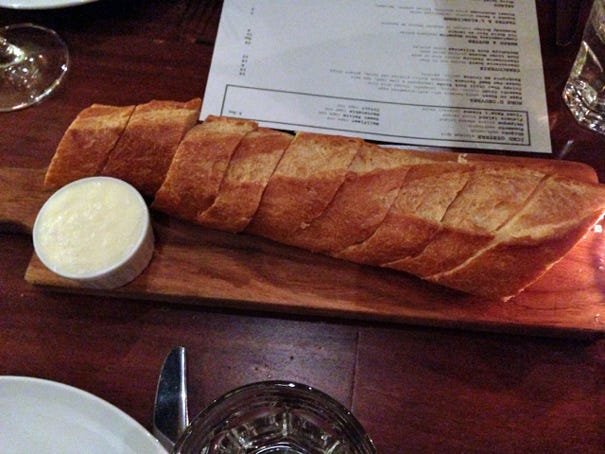 Eggs on toast featured uni: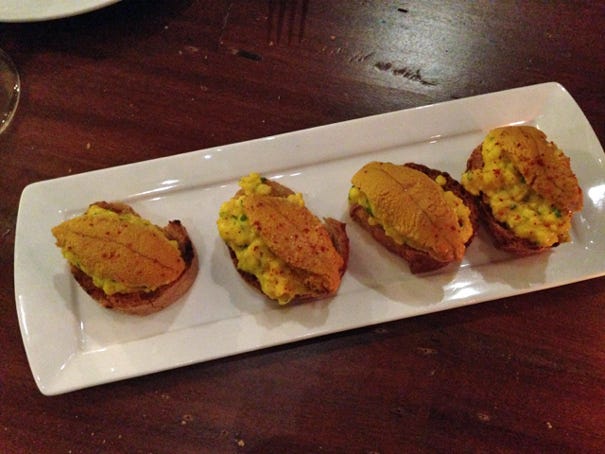 This salad had an egg on it: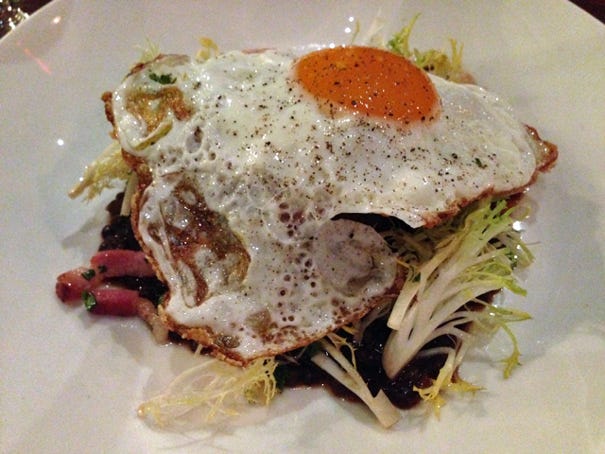 The Brussels sprouts had an egg IN it: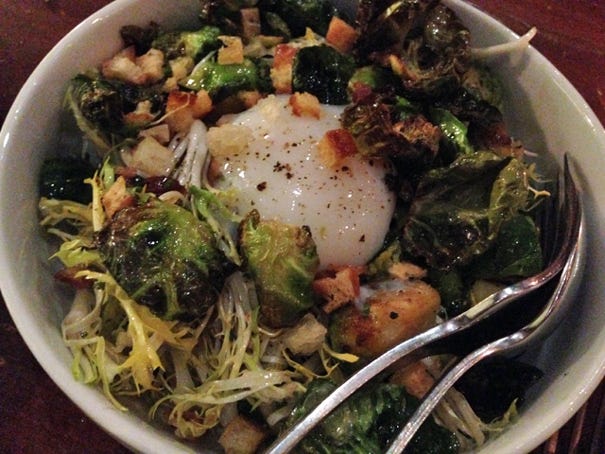 Little gem salad, no egg: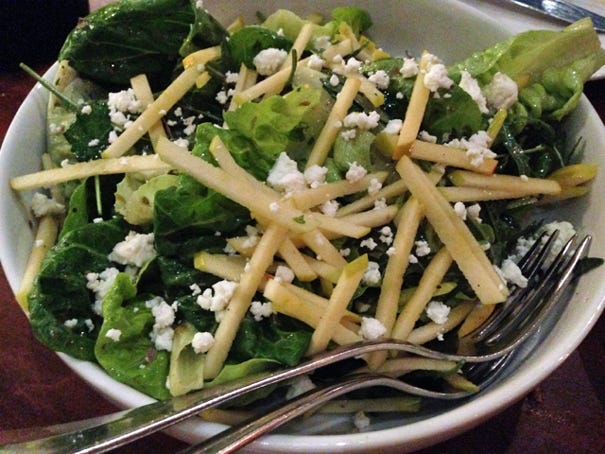 My favorite dish of the night (and perhaps the most famous one there): escargot with a puff pastry top.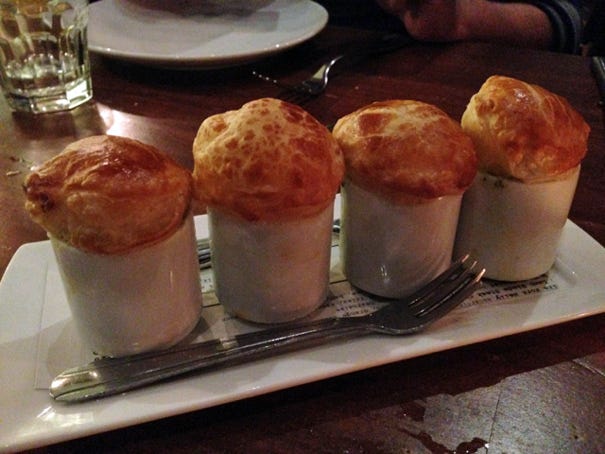 This, if I remember correctly, was a squid ink paella: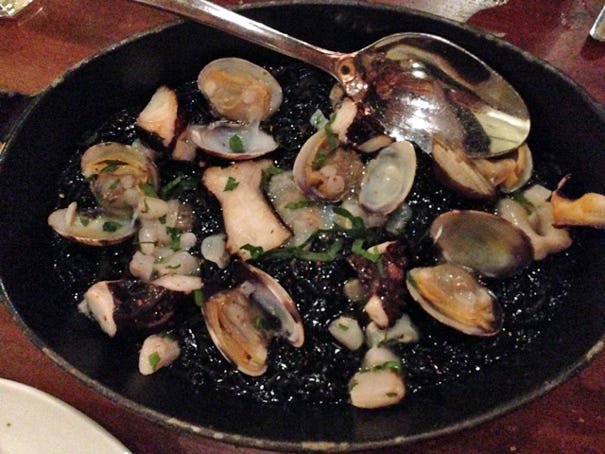 Spaghetti with crab: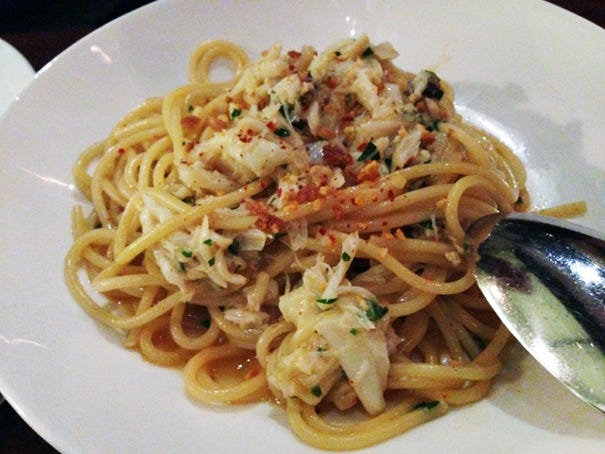 I'm having a really hard time remembering what this was--a short rib?--keep in mind, we ate all this almost two months ago: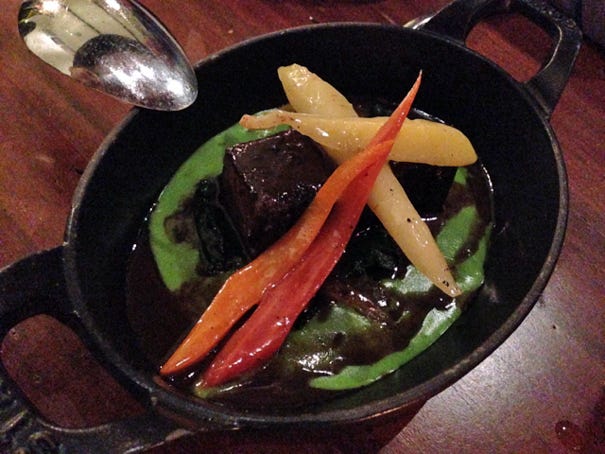 This was the only bad dish of the night: the lamb blade chop. Impossibly chewy. Don't get it.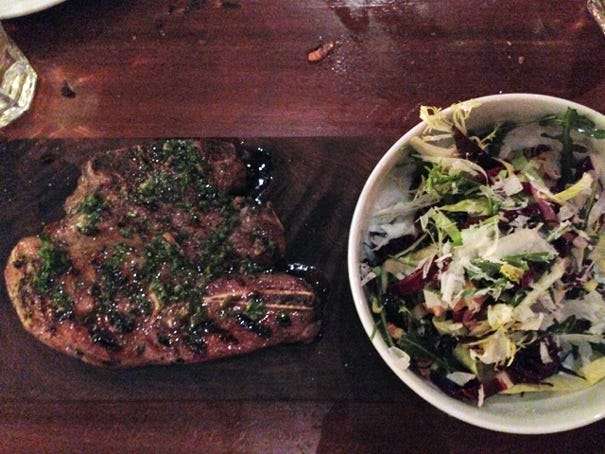 Dessert was pretty wonderful. The chocolate cake came with a glass of calvados-spiked milk, a terrific touch: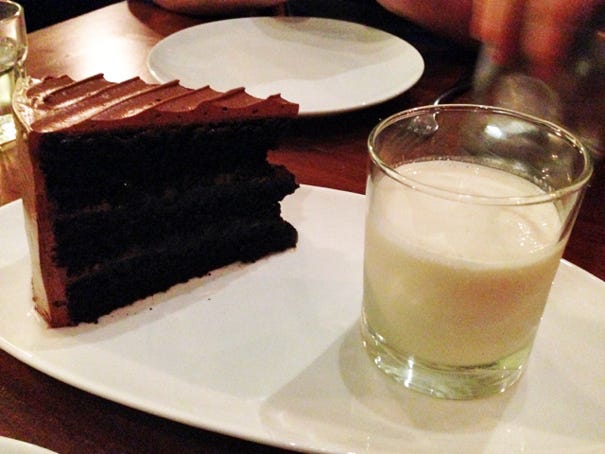 And the lemon tart was a thing of beauty: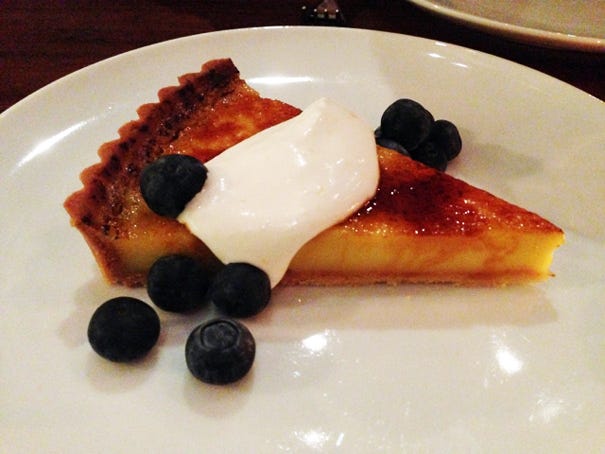 So, again, the food at Republique was terrif but the atmosphere was just a bit too buzzy for me. I'd only go back under two circumstances: (1) during the day for coffee and pastries (apparently people use it like a coffee shop); or (2) for dinner if someone else is paying. I'm serious! If I'm spending my own money, I want a place a little less sceney. (I had a better time, and spent less money, at Little Beast in Eagle Rock.)

Now fast forward a month and check out the damage we did for my wine and cheese birthday party. I bought a bunch of cheese and asked friends to bring the wine. Ahem: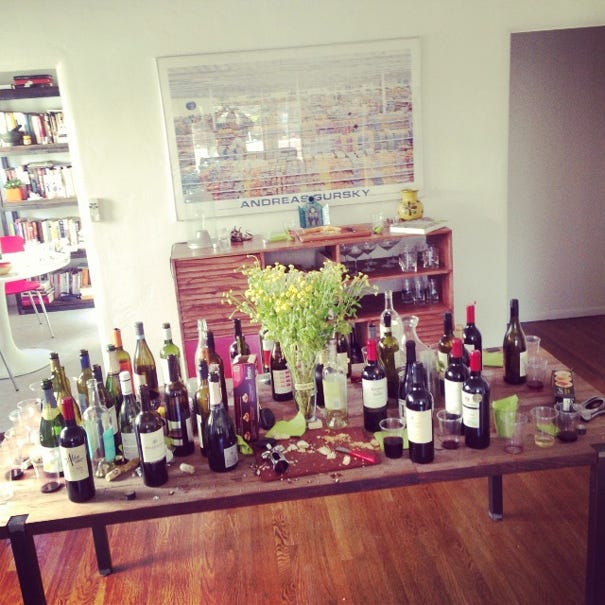 That's a sign of a successful party, methinks.

Around that time, the health and fitness bug hit me (maybe it was my wine/cheese hangover) and I rejoined my old gym and started watching what I was eating the first half of every week. So on a Monday night, after going to the gym, I joined friends for dinner at Little Dom's and resisted pasta. I don't know how I did it but I got cedar-planked salmon instead: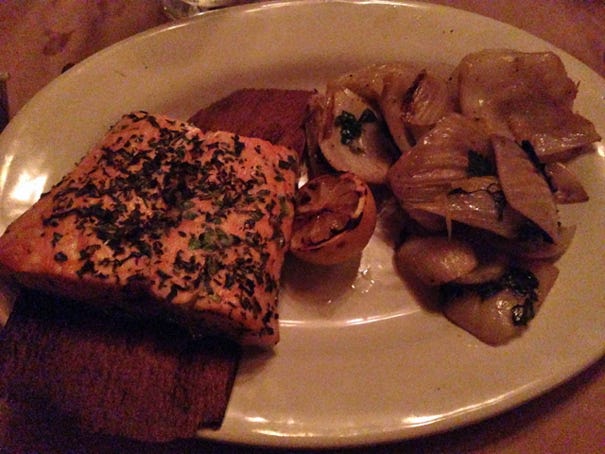 Amazing how much restaurants can charge when they cedar plank a salmon. At Little Dom's, it's pretty much the most expensive thing on the menu. But it is very good and I especially enjoyed the roasted fennel side.

So, this isn't a big deal or anything, but I made a pretty genius move with sorbet the other night: I paired blood orange with mango. Look how pretty: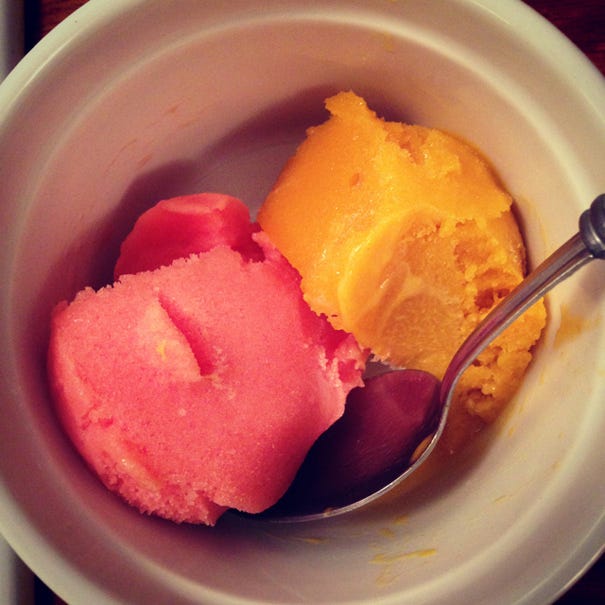 Finally, I got hit with the cold of the century last week. I mean seriously, it came down like a ton of bricks. Coughing, sneezing, the works.

I followed my usual soup regiment, with a curried lentil soup thrown in to shake things up. Then, in the middle of the nightmare, I asked Craig to get me a cold-killing juice from our local juicer. He came back with a juice that cost $9: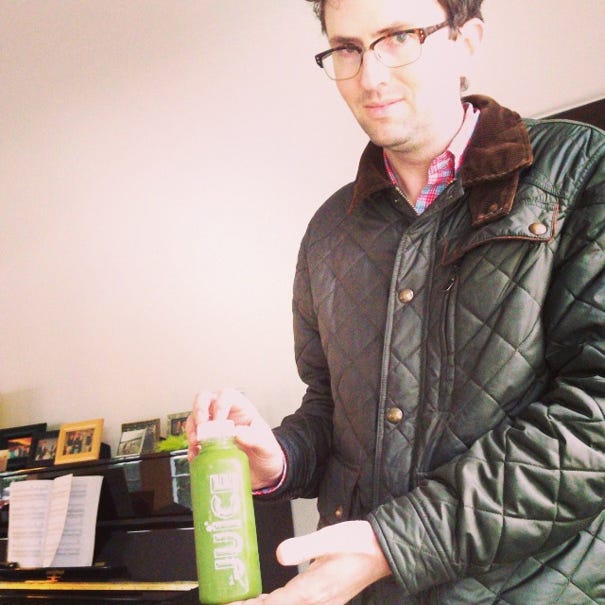 But I have to say: it was worth every penny! The key ingredients were kale, apple and--this is the important one--ginger. Oh and cayenne. So the heat from the ginger and the cayenne made my whole respiratory system open up in a wonderful way... and I felt so much better after I drank this.

And now I'm pretty much cured! And reviving my newsletter. Isn't this nice? I'm sorry if you felt abandoned.

I'm off to Florida tomorrow for my parents' 40th Wedding Anniversary and I hope to tell you all about it next week.

Until then....

Your long lost friend,
Adam (The Amateur Gourmet)
Reading this in a browser? Get next week's in your inbox by signing up here.

Follow Me!
On Twitter
On Facebook

Check Out My Cookbook!
Secrets of The Best Chefs

Recent Food Posts

Breakfast Risotto

Birthday at Bestia, Dinners at Chez Emily, The Hart and the Hunter & The Coconut Club

A Healthy Farmer's Market Buffet

Sauce Week Recap

Soup Dumplings at Din Tai Fung

A French Feast for Craig's Birthday (And The Best Soup I've Ever Made)

Lemon Greens on Garlicky Beans

Gone to Greenville: Pomegranate, Swamp Rabbit Cafe, Makin' Moonshine, Fried Green Tomatoes, Henry's Smokehouse, Brewery 85 and High Cotton

Skipping Across South Carolina: Hominy Grill, Terra, City Roots and Southern Belly BBQ

Chowing Down in Charleston, South Carolina: FIG, The Lowcountry Oyster Festival, Butcher & Bee and Husk

The Ultimate Food & Musicals Quiz

Our Skeleton Twins Sundance Adventure

Cold-Killing Chicken Soup with Ginger, Chili Paste and Soy Sauce

Ten Years a Food Blogger

East Coast Porchetta vs. West Coast Porchetta

Scrambled Eggs with Lamb, Onions and Feta

Lamb Burgers and Greek Salad

Mac and Cheese with Chorizo, Cotija and Aged English Cheddar

The Salty Turnip Omelette of Your Dreams

The Rest of the Best of 2013

Last Night's Dinner: A Christmas Feast

The Top 10 Dishes That I Ate in 2013

Let's Brunch at Lafayette

Last Night's Dinner: Saucy Chickpeas Over Rice



*|LIST:DESCRIPTION|*

Unsubscribe *|EMAIL|* from this list.

Our mailing address is:
*|HTML:LIST_ADDRESS_HTML|*
Copyright (C) *|CURRENT_YEAR|* *|LIST:COMPANY|* All rights reserved.

Forward this email to a friend
Update your profile
*|IF:REWARDS|* *|HTML:REWARDS|* *|END:IF|*