A.G. Newsletter #150: Racion, Lulu, Bistro Chez Jean-Pierre, Michael's Genuine & Mom and Dad's 40th Anniversary


Hey there newsletter fans,

See, I'm a man of my word. I told you I'd be back next week and here I am. Have we rebuilt our trust? Or are you still aching from my six week absence? Look, I'm trying really hard here...maybe if you made a little more effort in this relationship I wouldn't have to go away so often. Sorry, I know that was hurtful, but I'm just being honest.

Did you hear about my new cutting board? You didn't? Oh my God, it's wonderful. It's a Boos Walnut board and you'll have to click here to see it and feel it and experience it in your soul the way that I do.

Then check out the first thing I made with it: a Salad Nicoise that defies every rule David Lebovitz laid out in his blog post about it. Still, it was a pretty wonderful dinner. Click here to see how to make it.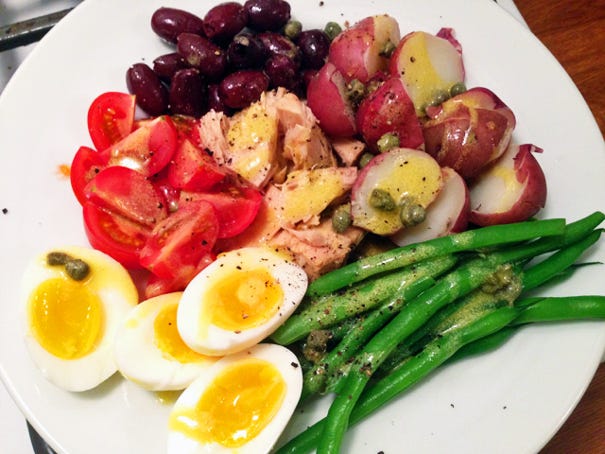 Now on to newsletter business....

Last week, I took a little detour over to Pasadena which is pretty close to where I live in Atwater Village. Did you know that Julia Child grew up there? I find that comforting, in a weird way (though she couldn't wait to get out). There's this Basque restaurant everyone raves about called Racion and I decided to check it out for lunch.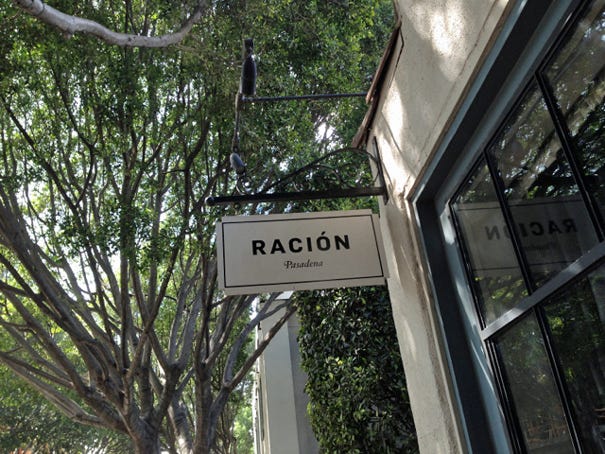 It's located on a sunny street right near a shop that sells vintage candy and soda from around the world (I think I've newslettered about that place before) and a Design Within Reach. The restaurant itself was pretty empty when I went for lunch; I had this whole pretty area to myself: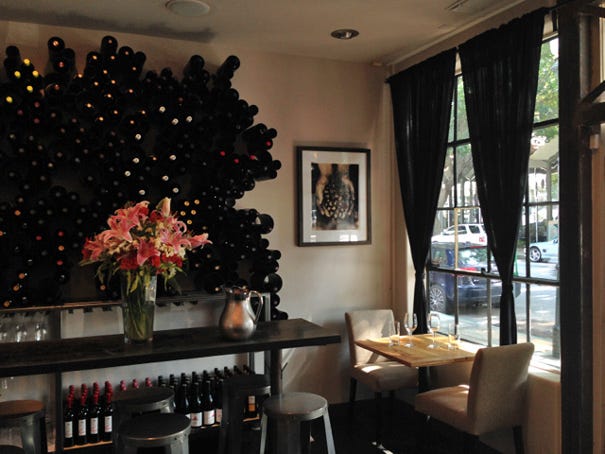 Though the menu seems designed for sharing, I was able to find two things to order that made sense for one person at lunch: the first was a Pintxo (sort of an open-faced sandwich) with calamari and a lemon aioli.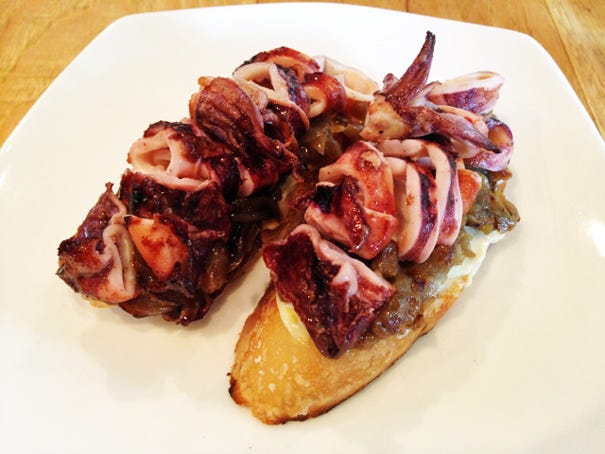 It was hard to keep the calamari balanced on the bread but the flavors were spot-on: the key was a pile of caramelized onions that leant a sweetness and depth of flavor that took everything over the top.

My other choice was a braised tongue pintxo: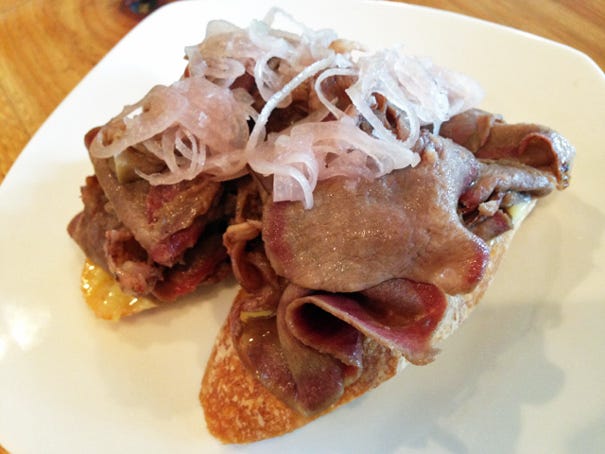 It came topped with pickled shallots, which leant a nice acidity, and the meat itself was super tender and just a little gamey (but in a good tasty way). I gobbled these up like it was my job which, I suppose, it is.

These small tastes of Racion made me very eager to go back, next time for dinner.

Ok, so on Thursday I hopped on a plane and flew to Boca Raton, Florida (well, to Ft. Lauderdale where my parents picked me up) to help celebrate my parents' 40th Anniversary.

High up on the agenda, though, was meeting Lulu. Who's Lulu? She's the dog that my brother Michael and his wife Tali brought home the day after Thanksgiving. Look how cute: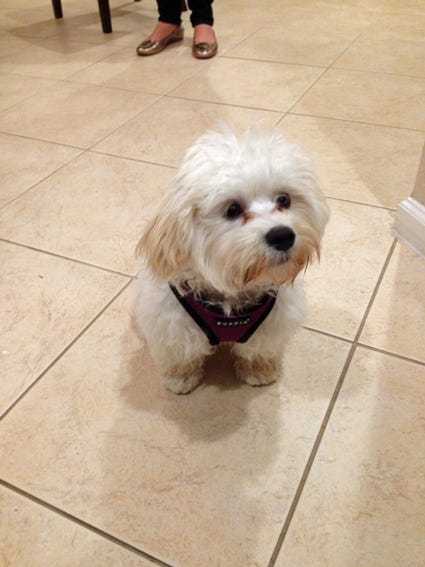 Here's the happy family: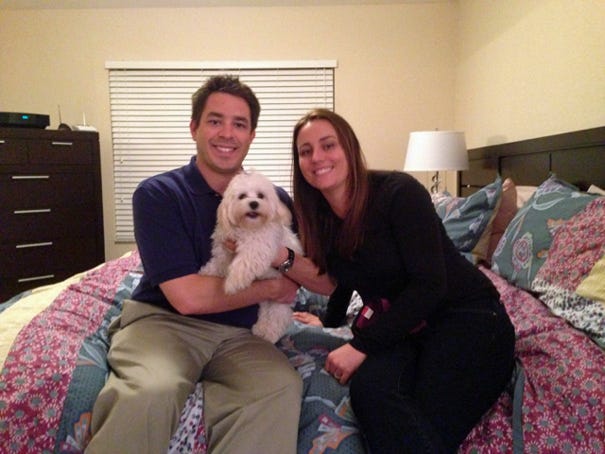 The next day we went to lunch with Lulu in Delray and then, that night, Lulu stayed at home as we all journeyed to Palm Beach to try a French restaurant my mom had heard things about: Bistro Chez Jean-Pierre.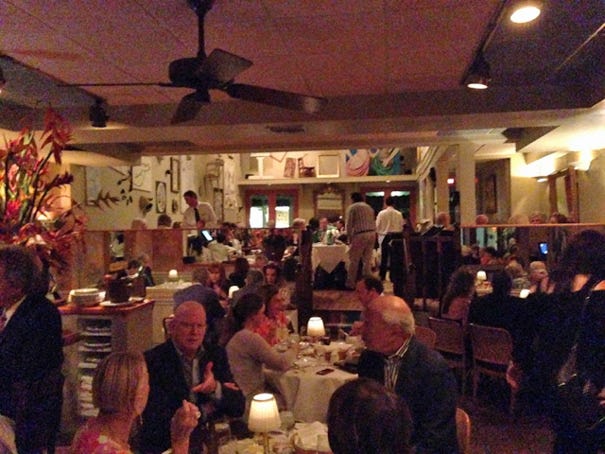 As you can see, it was quite a scene inside. We were ushered to a table in a back room (something that would normally irk my parents, but on this night we appreciated the quiet) and quickly studied the menu. There were some nice things on it!

For my appetizer, I had escargot in a puff pastry: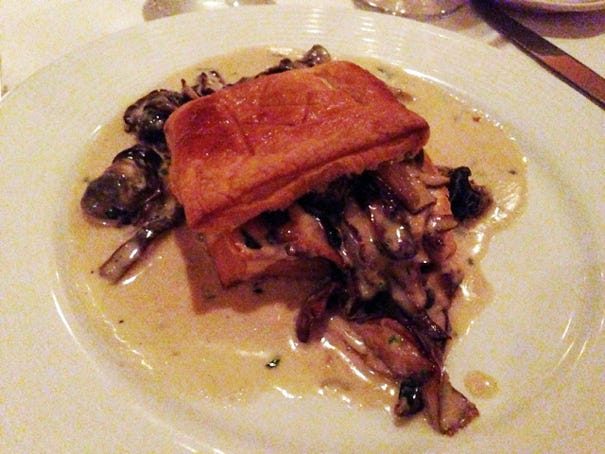 I loved how French this was--butter with more butter and more butter--though it could've used a little more salt and, more importantly, some acidity (maybe from lemon juice). Still, I ate every last snail so I must've enjoyed it.

My entree was short ribs in a Bordeaux sauce: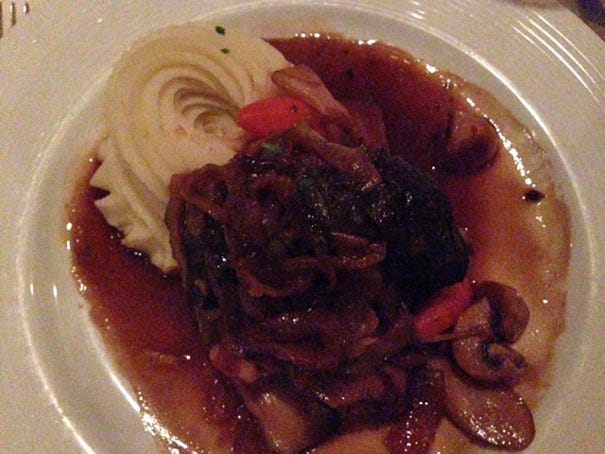 A classic meat and potatoes dinner with European flair. I enjoyed it, especially with the red wine the waiter suggested (a Cabernet? I forget).

For dessert, the highlight was this frozen hazelnut soufflé: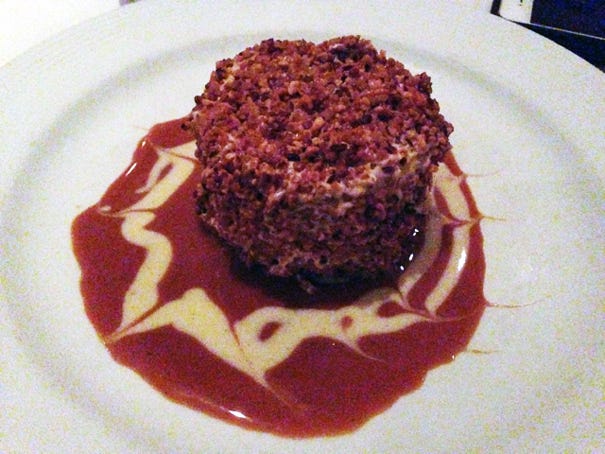 All in all, though, the restaurant felt a little outdated, like a room preserved in formaldehyde. Still, old timey places have their charms and this one certainly did. I got a kick out of it.

More my speed, though, was where we lunched the next day: Michael's Genuine Food and Drink in Miami. Michael's is definitely my favorite Florida restaurant; it hits all the marks of a modern food mecca--seasonal ingredients, novel flavor combinations--without being pretentious.

To start, we had to have their chips and onion dip, but to balance that out we had the heirloom tomato salad with burrata: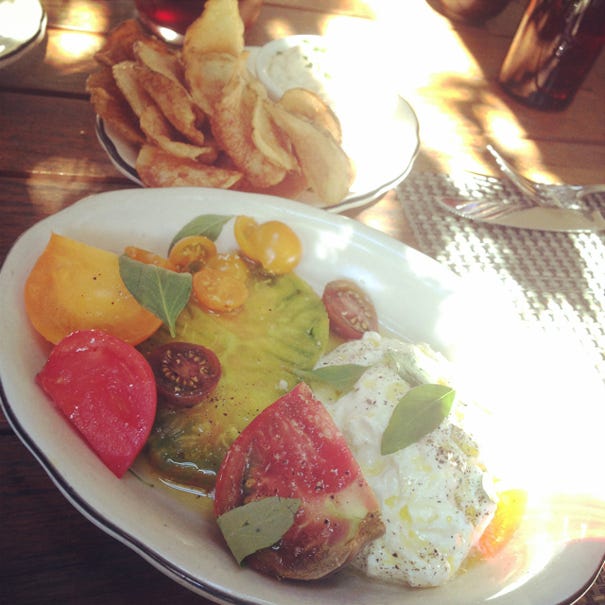 For my entree, I had this incredible pulled pork sandwich with a sort of candied tangerine condiment. I know, weird right? But it was amazing: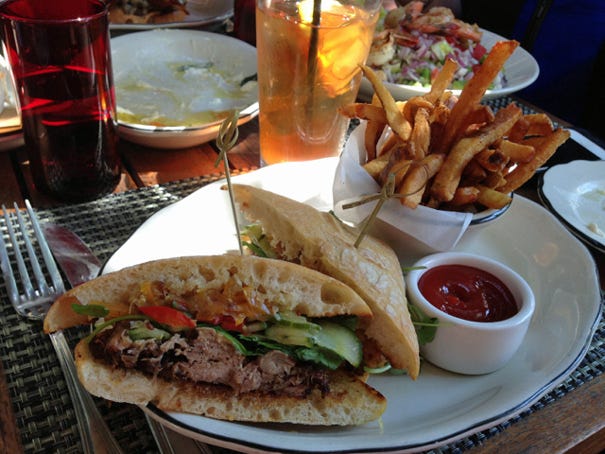 My dad, weirded out by the menu, ordered the bacon cheeseburger special which he enjoyed, though he did point out that it was well done when he ordered it medium. Here he is with mom and his burger: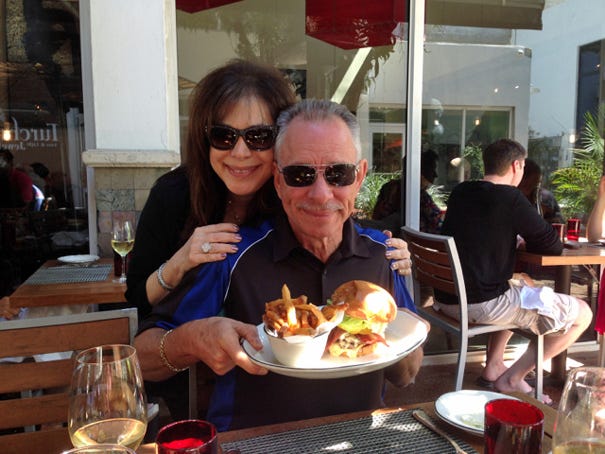 You can't go to Michael's and not have desserts by the brilliant Hedy Goldsmith. I insisted on ordering two: the milk-chocolate candy bar and, more intriguing to me, the grapefruit tart.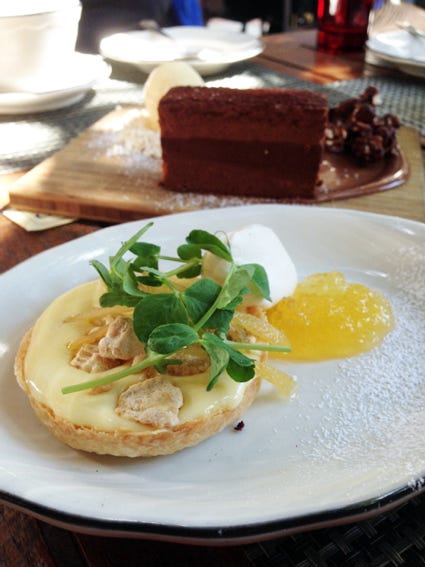 I think that picture does them both justice. They were fab.

Finally, on Saturday night, we celebrated my parents' 40th anniversary with a big family gathering at Chop's Steakhouse. Here's the happy couple all gussied up: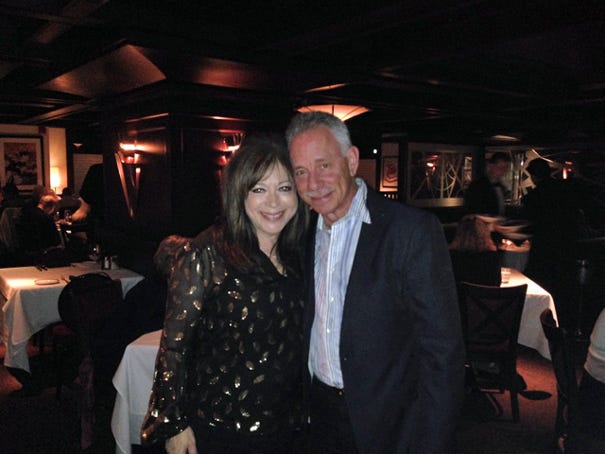 And here's the horseradish-crusted grouper that I ate in grapefruit sauce: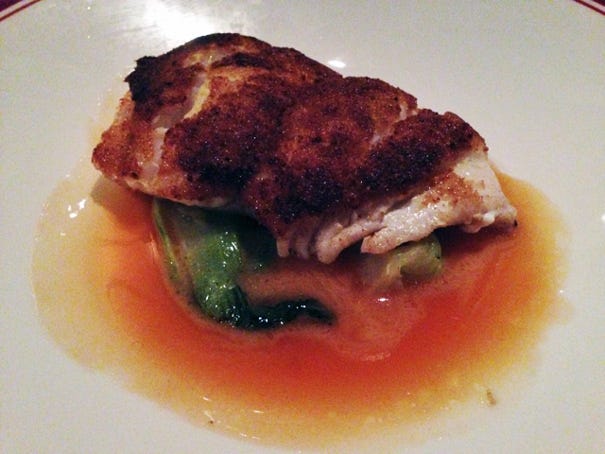 A nice dish that I would gladly get again.

Grandma enjoyed her dinner too. Here we are together so you can look for any resemblance: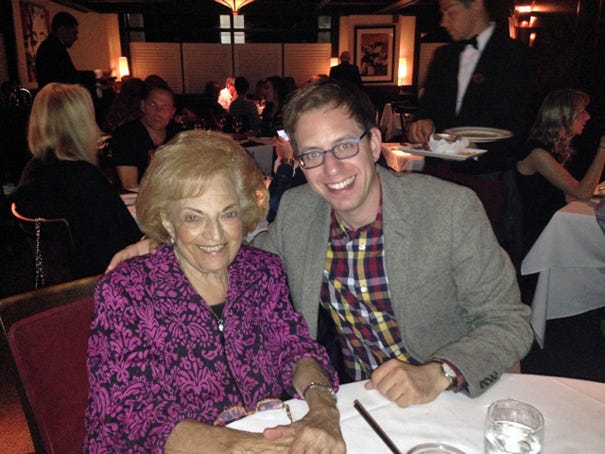 And that's all for this week folks!

Until next time....

Your friend,
Adam (The Amateur Gourmet)







Reading this in a browser? Get next week's in your inbox by signing up here.

Follow Me!
On Twitter
On Facebook

Check Out My Cookbook!
Secrets of The Best Chefs

Recent Food Posts

Salad Nicoise

Cutting Board Graduation

Lou (A Story of Wine and Sardines)

Easy Weeknight String Beans

Curried Lentil Soup

Breakfast Risotto

Birthday at Bestia, Dinners at Chez Emily, The Hart and the Hunter & The Coconut Club

A Healthy Farmer's Market Buffet

Sauce Week Recap

Soup Dumplings at Din Tai Fung

A French Feast for Craig's Birthday (And The Best Soup I've Ever Made)

Lemon Greens on Garlicky Beans

Gone to Greenville: Pomegranate, Swamp Rabbit Cafe, Makin' Moonshine, Fried Green Tomatoes, Henry's Smokehouse, Brewery 85 and High Cotton

Skipping Across South Carolina: Hominy Grill, Terra, City Roots and Southern Belly BBQ

Chowing Down in Charleston, South Carolina: FIG, The Lowcountry Oyster Festival, Butcher & Bee and Husk

The Ultimate Food & Musicals Quiz

Our Skeleton Twins Sundance Adventure

Cold-Killing Chicken Soup with Ginger, Chili Paste and Soy Sauce

Ten Years a Food Blogger

East Coast Porchetta vs. West Coast Porchetta

Scrambled Eggs with Lamb, Onions and Feta

Lamb Burgers and Greek Salad

Mac and Cheese with Chorizo, Cotija and Aged English Cheddar

The Salty Turnip Omelette of Your Dreams

The Rest of the Best of 2013

Last Night's Dinner: A Christmas Feast

The Top 10 Dishes That I Ate in 2013

Let's Brunch at Lafayette

Last Night's Dinner: Saucy Chickpeas Over Rice



*|LIST:DESCRIPTION|*

Unsubscribe *|EMAIL|* from this list.

Our mailing address is:
*|HTML:LIST_ADDRESS_HTML|*
Copyright (C) *|CURRENT_YEAR|* *|LIST:COMPANY|* All rights reserved.

Forward this email to a friend
Update your profile
*|IF:REWARDS|* *|HTML:REWARDS|* *|END:IF|*