Hey there strangers,

Look, let's not get into a whole "why haven't you newslettered in three weeks?" conversation. I was busy, OK? But now we're here and I have some meals to tell you about. You're going to enjoy it very much.

But first? I came up with an easy, healthy weeknight dinner that over 612 people have Pinterested so far. It's Chicken Sausage, White Beans and Kale... click those words to see the recipe. See how good it looks? You're going to love it.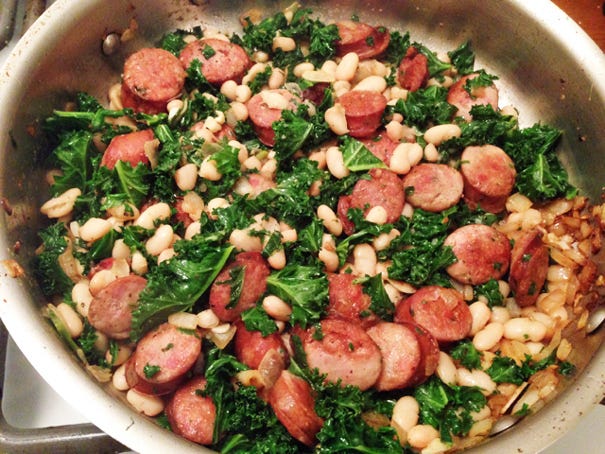 Also? On April 1st, I did a post about making your own civet coffee. That's where you feed coffee beans to a civet and let it poop them out. Click the link to read all about it.

Recently, I joined a CSA and this weekend my first box arrived. Click here to find out what was in it.

Ok, ok, I'll tell you one thing that was in it: PURPLE CAULIFLOWER. See?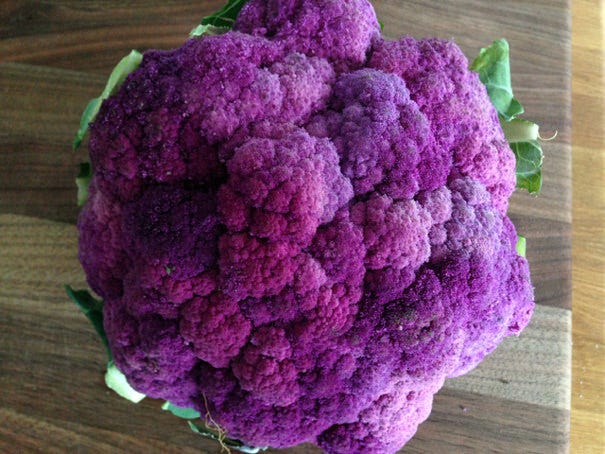 And here's what I made with it: Spaghetti with Purple Cauliflower Sauce. Yup. And guess what? It was amazingly delicious. Click and see.

Now on to newsletter business....

A week or two ago, I joined my friends Zach and Ganda (you know them from their blogs) for lunch at Pa Ord #3 which, incidentally, used to be called Ganda. Here it is from the outside: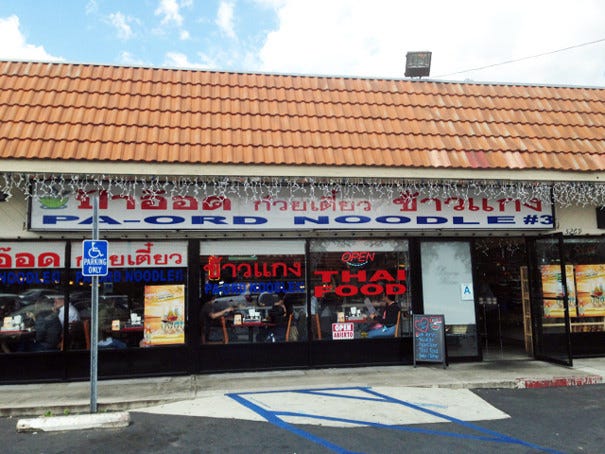 It felt strange to go to this Pa Ord because it was in the same shopping center as my favorite L.A. Thai restaurant, Ruen Pair, and I felt guilty betraying a restaurant I've been so loyal to for so long. But betray it, I did, and we were happily rewarded.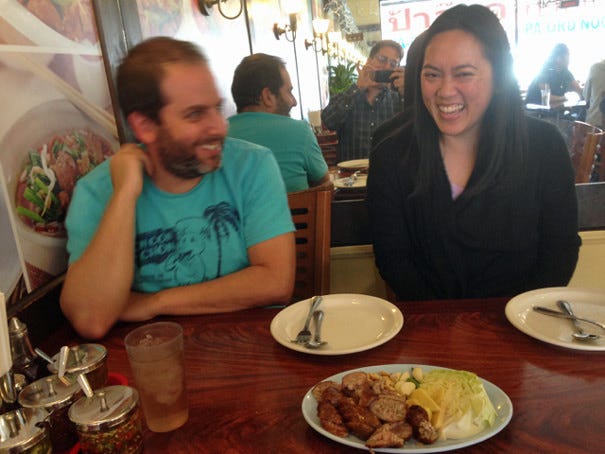 Ganda, who speaks Thai, was able to order a bunch of food for us. Look at all this stuff we ate: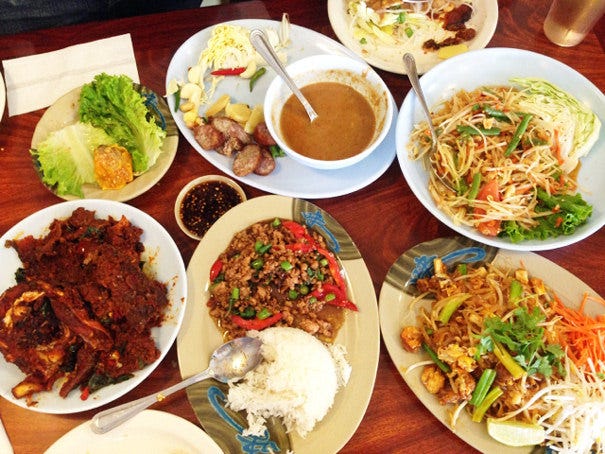 At the top (12 o'clock) there are noodles with some kind of fishy dipping sauce; at 1 o'clock, a papaya salad so spicy, my eyes were tearing with just one forkful; at 4 o'clock, Pad Thai (because why not); at 6 o'clock, some kind of cashew chicken dish. But the best thing we ate is at 8 o'clock... let's look closer.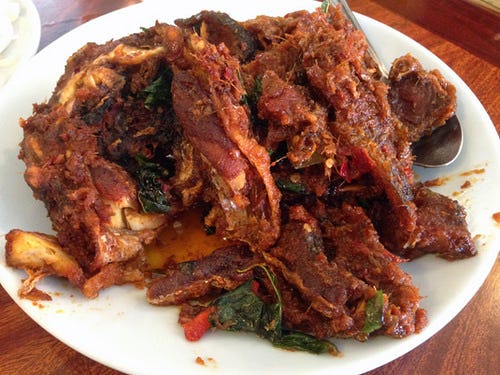 That's a crispy catfish dish that James Oseland of Saveur Magazine (Ganda's old boss) loves more than life itself. For good reason: it's basically dried fish that's deep fried and coated in a fiery red sauce. You crunch through it, bones and all, and with all the textures and flavors it's pretty much a spicy Thai party in your mouth. If you live in L.A. and you love food, you should really give this a go.

Now recently, I've issued some new directives at home. Namely, that Craig sometimes needs to take care of dinner. (Whoah.) Not cook it, because he doesn't like doing that, but some nights, I said, it would be great if he could pick something up on his way home. (Especially because I've been working on a play and my schedule, these days, is pretty tight.) Good to his word, last week Craig picked up a tasty dinner from Zankou Chicken: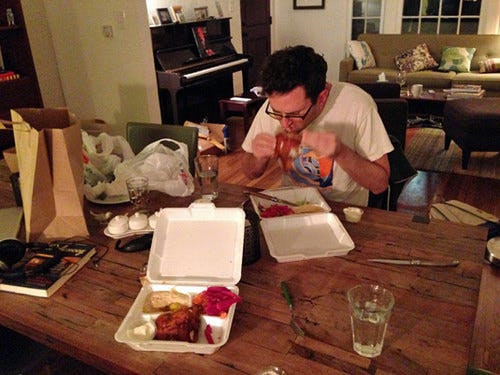 There he is chowing down. Let's see what's in that styrofoam container: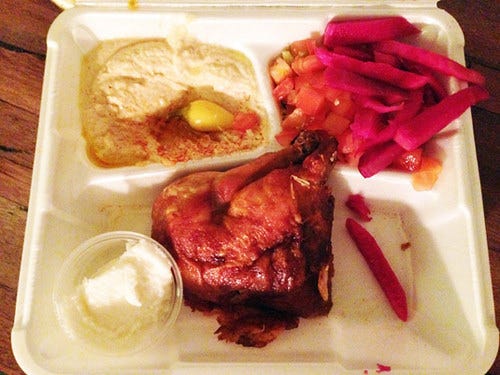 That's dark meat chicken, some hummus, salad, pickled beets, but the best part is in that little container: a white garlic sauce that's a wallop of raw garlic goodness. It has the same texture as the stuff I put in my hair each morning, but tastes WAY better.

Now a sandwich that Craig sometimes eats that I don't often eat (because it sounds rather heavy) is the Muffuletta at Little Dom's Deli near us in Los Feliz. Last week, I decided to give it a go: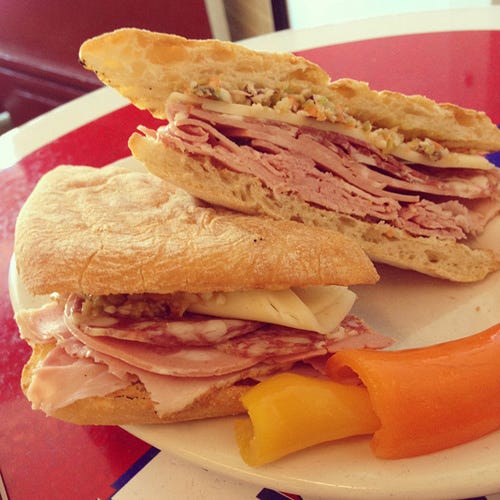 I'm glad I did: what a sandwich. That's soppressata, ham, and a few other meats piled on with provolone and an olive spread. Sounds super intense, right, but somehow, here, it's made with a light touch. The pickled peppers on the side really help things along. It's a sandwich I'd gladly eat again.

Last Thursday, I went with my friend Kyle to El Condor which used to be El Conquistador and one of Kyle's favorite restaurants. He was eager to try the new spot, which has been made over by the same team that does L&E Oyster Bar which I really like.

The good news: the place has a great vibe. Check it out: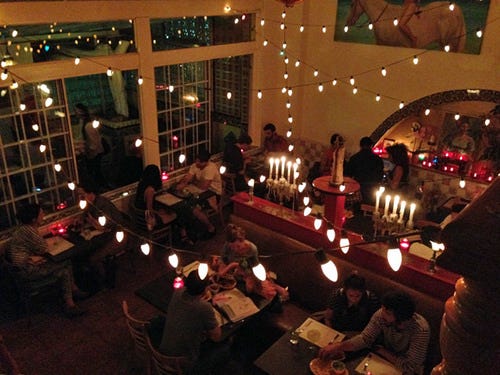 That's it for the good news. The food was really so-so and too expensive for what it was. Like these chips and salsa, which they charge you for, were pretty depressing. Look how watery that salsa is: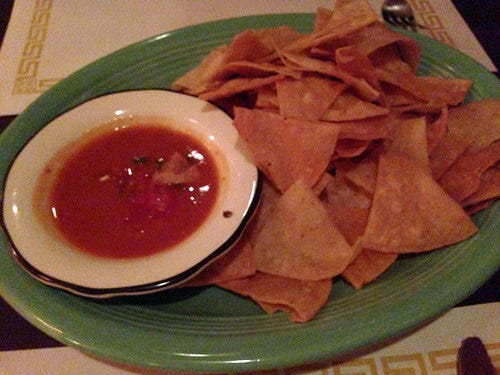 When the waitress asked how we liked it, we told the truth, and she offered to bring us a tomatillo salsa instead. A few minutes later, a waiter showed up with a little plate of tomatoes. "Ummm, we didn't order these?" More confusion. Thankfully, we ordered some guacamole too which turned out to be the best thing we ate all night.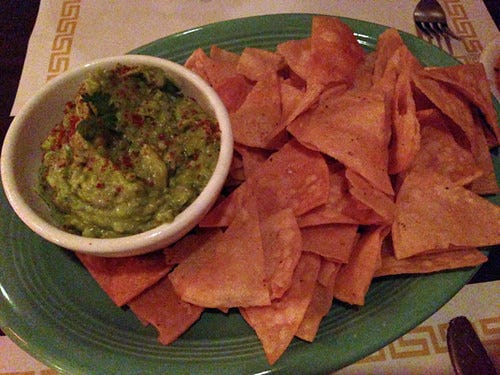 My carne asada tacos were chewy and not particularly pleasant to eat: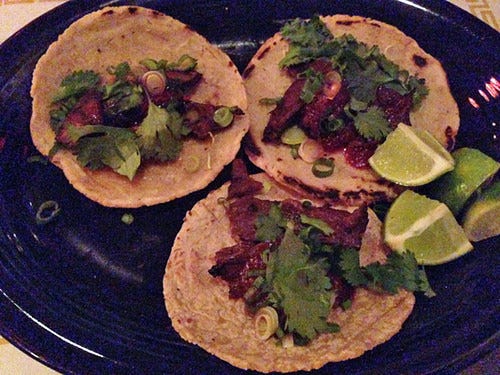 And Kyle said his quesadilla only had stuff in the middle part, so that the outsides were all just pieces of dry tortilla. His quesadilla scraps prove the point.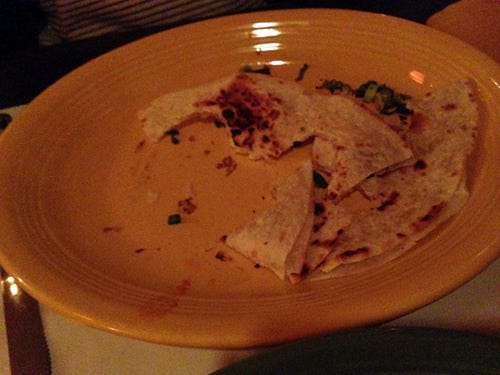 Still, this place is so new (at least in terms of the people behind it) it's too soon to judge. Let's go back in a few months and reevaluate. You in, Kyle?

A happy local spot, though, remains Din Tai Fung where Craig and I had soup dumplings for lunch the other day.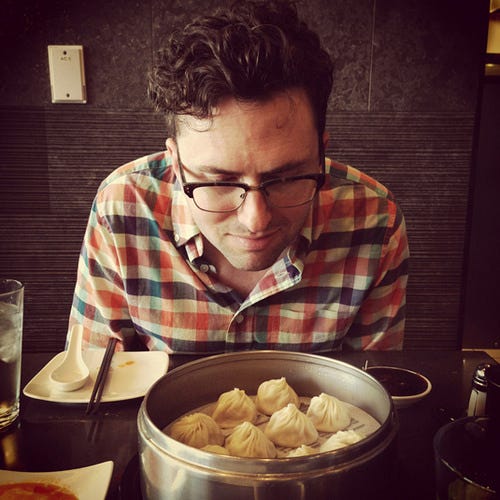 Those remain the best I've ever had. We also tried their shrimp and pork shu mai dumplings which had a cool shape and a shrimp on top: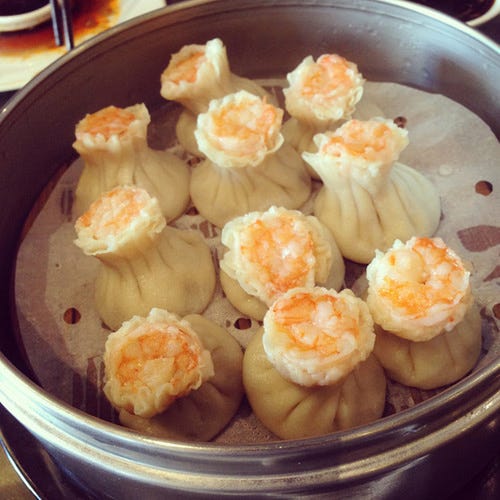 Finally, I joined my friend Hunter for dinner at Salt's Cure on Friday. We shared a warm pretzel with pickles and house-made mustard that was all pretty fab: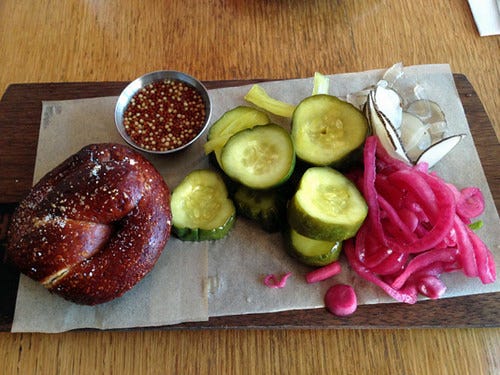 Here's Hunter with his pork chop and apple sauce: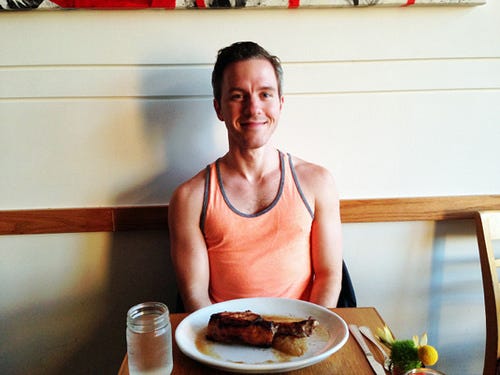 And here's my steak frites which was super tasty: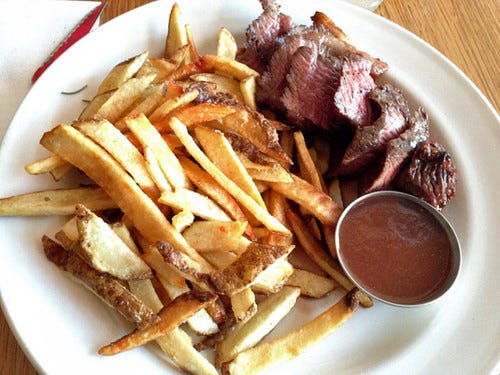 All right, that's all for this week folks. Now it's off to the gym to burn this all off!

Until next time....

Your friend,
Adam (The Amateur Gourmet)






Reading this in a browser? Get next week's in your inbox by signing up here.

Follow Me!
On Twitter
On Facebook

Check Out My Cookbook!
Secrets of The Best Chefs

Recent Food Posts

Spaghetti with Purple Cauliflower Sauce

My First CSA

Cheese and Chocolate Are BFFs

Eggs in Tomato Sauce with Sausage and Basil

PB&J French Toast

Make Your Own Civet Coffee

Chicken Milanese

Scrambled Eggs with Smoked Trout, Pickled Onions, and Kale

Chicken Sausage, White Beans, and Kale

Fun Times With Farro

Caramelized Cauliflower Frittata

The Ultimate Weeknight Chicken and Broccoli Dinner

One Hour Chicken Soup

That Time I Made Savory Oatmeal and It Was Kind of Weird But I Ate It Anyway

Stick A Fork In It (Or: When Food Blogs Stopped Being Food Blogs)

Salad Nicoise

Cutting Board Graduation

Lou (A Story of Wine and Sardines)

Easy Weeknight String Beans

Curried Lentil Soup

Breakfast Risotto

Birthday at Bestia, Dinners at Chez Emily, The Hart and the Hunter & The Coconut Club

A Healthy Farmer's Market Buffet

Sauce Week Recap

Soup Dumplings at Din Tai Fung

A French Feast for Craig's Birthday (And The Best Soup I've Ever Made)

Lemon Greens on Garlicky Beans

Gone to Greenville: Pomegranate, Swamp Rabbit Cafe, Makin' Moonshine, Fried Green Tomatoes, Henry's Smokehouse, Brewery 85 and High Cotton

Skipping Across South Carolina: Hominy Grill, Terra, City Roots and Southern Belly BBQ

Chowing Down in Charleston, South Carolina: FIG, The Lowcountry Oyster Festival, Butcher & Bee and Husk

The Ultimate Food & Musicals Quiz

Our Skeleton Twins Sundance Adventure

Cold-Killing Chicken Soup with Ginger, Chili Paste and Soy Sauce


*|LIST:DESCRIPTION|*

Unsubscribe *|EMAIL|* from this list.

Our mailing address is:
*|HTML:LIST_ADDRESS_HTML|*
Copyright (C) *|CURRENT_YEAR|* *|LIST:COMPANY|* All rights reserved.

Forward this email to a friend
Update your profile
*|IF:REWARDS|* *|HTML:REWARDS|* *|END:IF|*