A.G. Newsletter #152: Sqrl Matzo Brei, The Hungry Cat, CSA Pesto, Shiitake Ricotta Omelette & Easter Brunch


Hey there everyone,

Are you sitting down? Something historic happened last week and I just wrote about it on my blog. After eight years together and more meals consumed than I could ever imagine counting, the unthinkable has occurred: CRAIG MADE DINNER. That's right, he cooked dinner and I ate it. Click that link to get the whole story... it's just like Rocky with a little more kale.

In other exciting news, the owner of the Village Bakery here in Atwater Village was kind enough to share the recipe for her most popular treat: Berry Ricotta Cake. I mean just take a look, you know you'll want to click that link. It's a terrific springtime/summertime dessert recipe.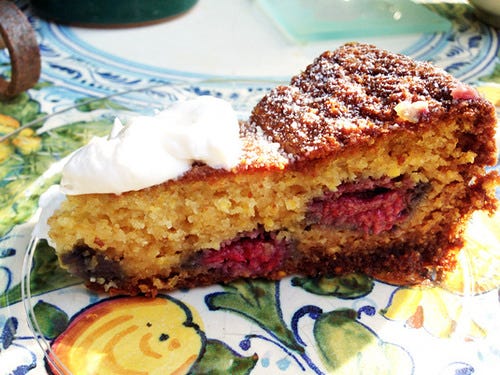 Finally, in case you missed it after my newsletter last week, I wrote a whole account about emceeing the L.A. Times Book Festival cookbook tent, sharing the stage with the likes of Scott Conant, Carla Hall, Jackie Collins (!!!) and my person cooking hero, Suzanne Goin. Click here to read all about it.

Now on to newsletter business....

Last week, I went with Craig to Sqrl, the beloved hipster lunch joint down on Virgl (ha, I accidentally wrote Virgil that way but you can see why) next to my favorite L.A. wine shop, Lou. Because it was Passover, the menu featured a special: matzo brei with raspberry jam. As a Jewish person, you may find this hard to believe, but I've never actually had matzo brei so I was really excited to try it.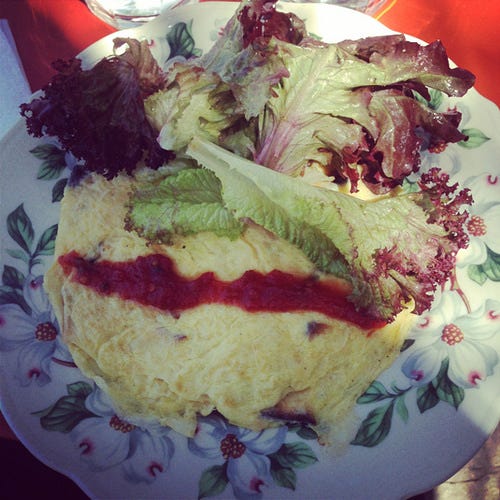 Frankly, I was a little disappointed with what arrived on the plate. I was excepting something caramelized and full of scorched matzo pieces (that's at least what matzo brei is in my head); instead, I got a nicely made omelet with some matzo in it and jam on top. It tasted good, I just would never order it again.

On Thursday night, I joined my friend Japhy for dinner at The Hungry Cat near the Arclight in Hollywood. The restaurant is owned by Suzanne Goin and her husband, so you know the food is going to be good there.

I loved my cocktail, which featured blood orange juice: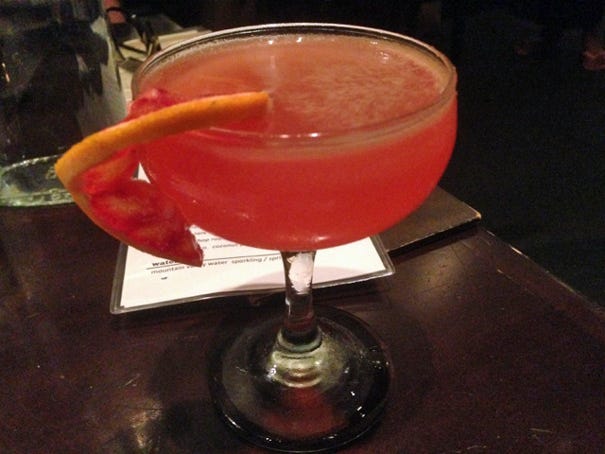 Though Japhy's was the real winner (no picture); it had some magical, mystical combination of Fernet Branca and vanilla and other stuff and it's what I would get if I ever go back.

We shared these oysters and deviled eggs to start: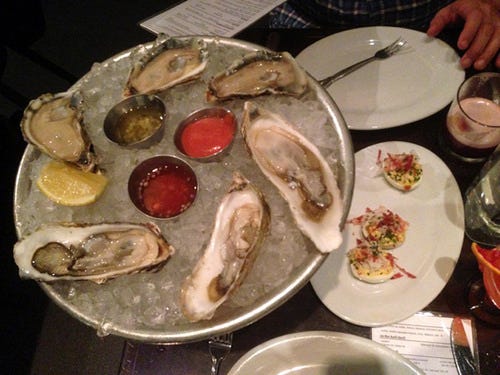 Then Japhy had shrimp and grits with head-on shrimp, which he'll model for you here: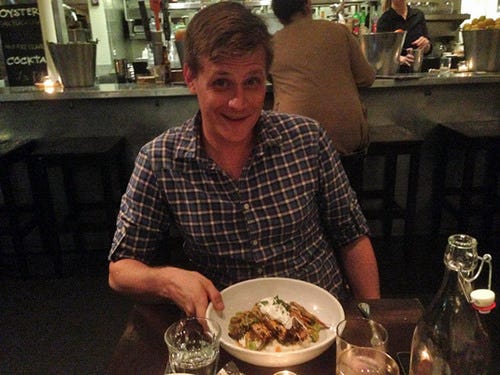 And I had the sea bass which came with a green curry sauce, black rice, and all kinds of good stuff. Every bite was different and flavorful and exciting.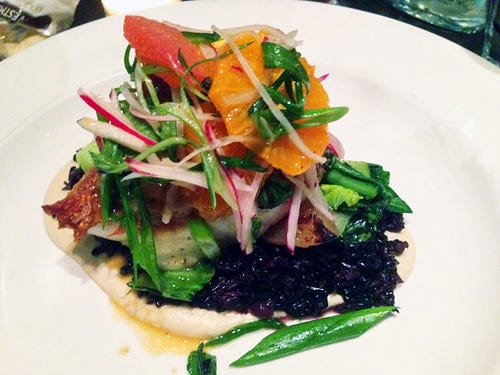 For dessert, we shared these ricotta beignets which were pretty irrefutably excellent. While eating them, I tore up my gym membership.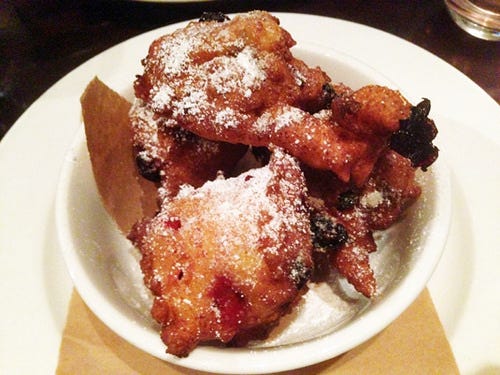 Remember last week how I told you we joined a CSA called Summerland? Well, we had some greens leftover from it on Saturday--specifically, mizuna and mint--so I put them in a blender with some toasted walnuts, whole garlic cloves, lemon juice, turned the blender on and then added oil until it emulsified. Then I stirred in lots of grated Parmesan and tossed the whole thing with spaghetti and more Parmesan.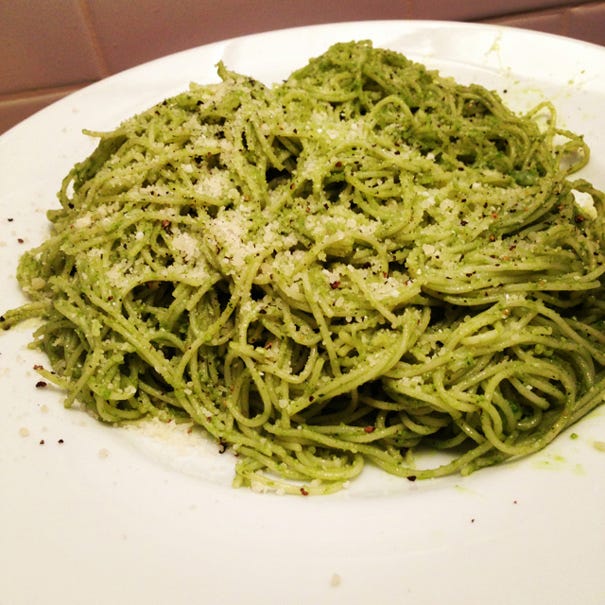 That's my kind of dinner, especially when paired with this chilled Roman wine from Lou: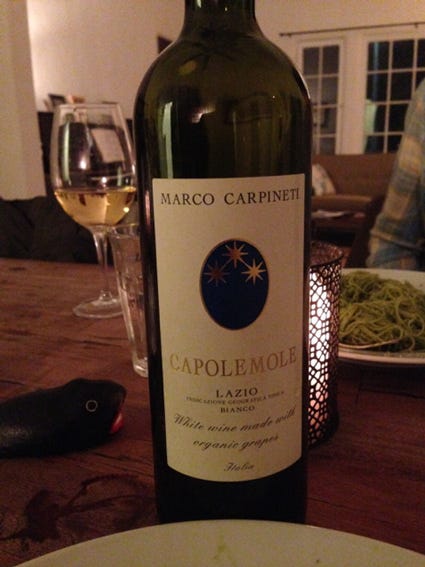 The next CSA delivery came on Sunday: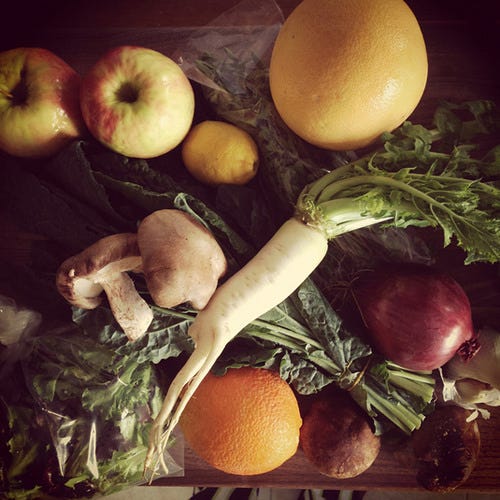 Apples, Daikon radish, grapefruit, orange, shiitakes, market lettuces... the works.

I decided to use some of that to make breakfast, so I sautéed the shiitakes in some butter: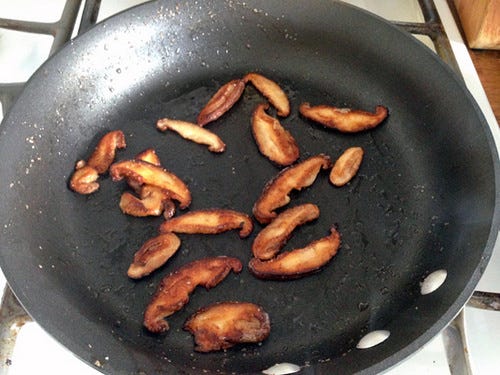 Added 3 beaten eggs and some shredded kale: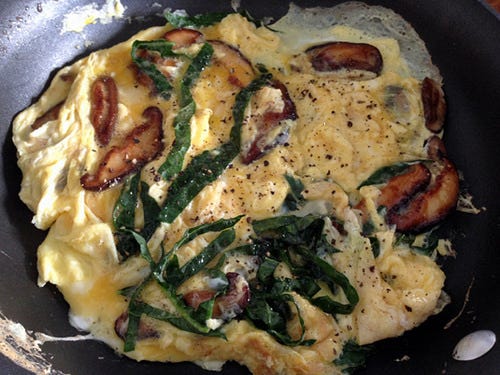 And just as the eggs began to set, a scoop of ricotta: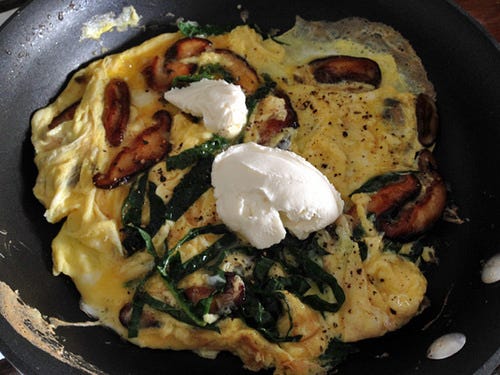 Behold: an omelette fit for a king. (Ok, it got a little brown on the outside, but who's judging?)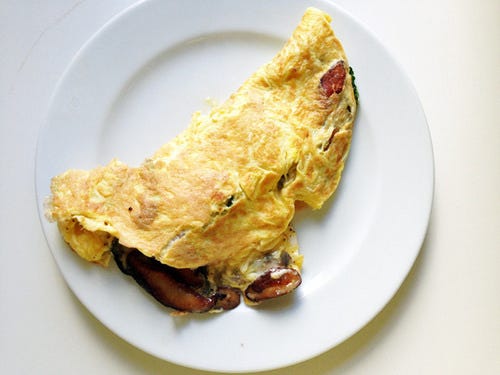 On Sunday afternoon, we went to an Easter brunch at Craig's aunt and uncle's in Topanga Canyon and it was positively beautiful. Here's Craig's Aunt Liz setting the table: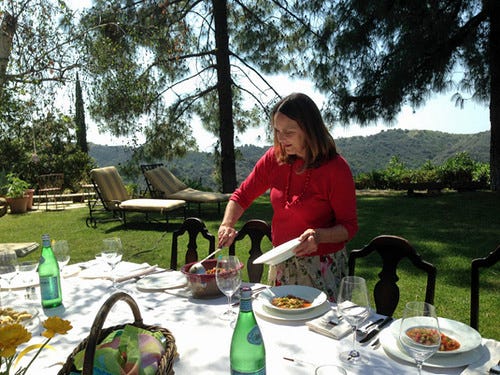 And here's the plate of food I made: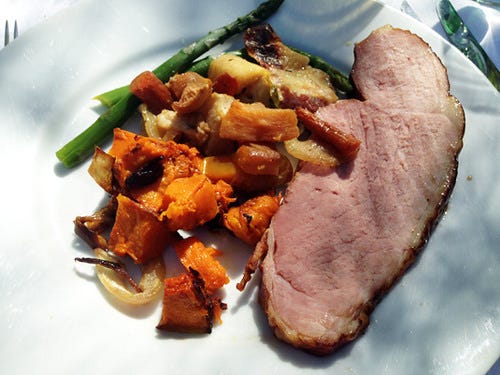 That's all for this week, folks!

Until next time....

Your friend,
Adam (The Amateur Gourmet)









Reading this in a browser? Get next week's in your inbox by signing up here.

Follow Me!
On Twitter
On Facebook

Check Out My Cookbook!
Secrets of The Best Chefs

Recent Food Posts

The Night That Craig Cooked Dinner

The Village Bakery's Berry Ricotta Cake

Watching Suzanne Goin Cook

Spaghetti with Purple Cauliflower Sauce

My First CSA

Cheese and Chocolate Are BFFs

Eggs in Tomato Sauce with Sausage and Basil

PB&J French Toast

Make Your Own Civet Coffee

Chicken Milanese

Scrambled Eggs with Smoked Trout, Pickled Onions, and Kale

Chicken Sausage, White Beans, and Kale

Fun Times With Farro

Caramelized Cauliflower Frittata

The Ultimate Weeknight Chicken and Broccoli Dinner

One Hour Chicken Soup

That Time I Made Savory Oatmeal and It Was Kind of Weird But I Ate It Anyway

Stick A Fork In It (Or: When Food Blogs Stopped Being Food Blogs)

Salad Nicoise

Cutting Board Graduation

Lou (A Story of Wine and Sardines)

Easy Weeknight String Beans

Curried Lentil Soup

Breakfast Risotto

Birthday at Bestia, Dinners at Chez Emily, The Hart and the Hunter & The Coconut Club

A Healthy Farmer's Market Buffet

Sauce Week Recap

Soup Dumplings at Din Tai Fung

A French Feast for Craig's Birthday (And The Best Soup I've Ever Made)


*|LIST:DESCRIPTION|*

Unsubscribe *|EMAIL|* from this list.

Our mailing address is:
*|HTML:LIST_ADDRESS_HTML|*
Copyright (C) *|CURRENT_YEAR|* *|LIST:COMPANY|* All rights reserved.

Forward this email to a friend
Update your profile
*|IF:REWARDS|* *|HTML:REWARDS|* *|END:IF|*