A.G. Newsletter #153: Pineapple Smoothie, Ramekin, Pine and Crane & an Edible Burnt Breakfast
A.G. Newsletter #153: Pineapple Smoothie, Ramekin, Pine and Crane & An Edible Burnt Breakfast

Hello newsletter fans!

If you haven't been keeping up with my blog, you've been missing out on lots of exciting stuff. For example:

- A trip to San Francisco with visits to The Mill for $4 toast, Pixar (yes: Pixar!), Foreign Cinema, Omnivore Books, Wise Sons, Knead, SPQR, State Bird Provisions, Bar Tartine, Zuni, Boulibar, Humphry Slocombe, Tosca and Sightglass Coffee.

- A recipe for shrimp and grits.

- A cake with four whole oranges in it that looks like this: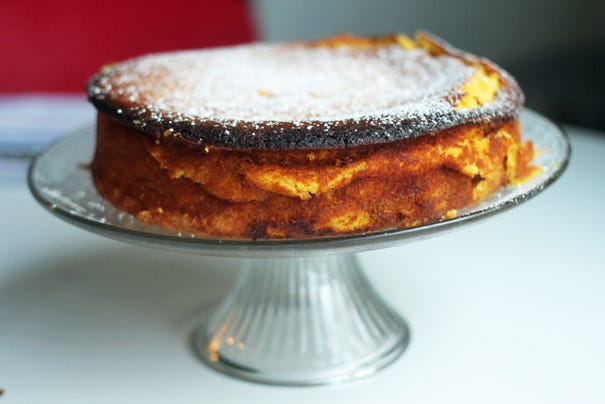 - David Lebovitz's Caramel Pork Ribs and Garlicky Slaw which I just wrote about this morning and already has 363 likes on Facebook and has been Pinterested 142 times. They're some damn good ribs.

And now for newsletter stuff....

A few weeks ago, I saw a recipe on The New York Times site for a pineapple smoothie with basil. I didn't have any basil, but I did have a pineapple so I cut it up (1/4 of it) and added it to a blender.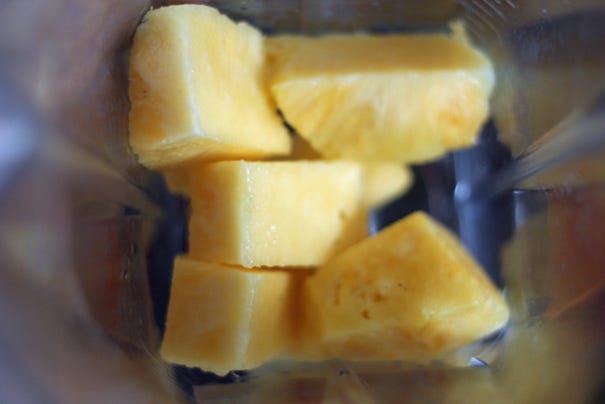 Then I added yogurt, vanilla, honey and some ice: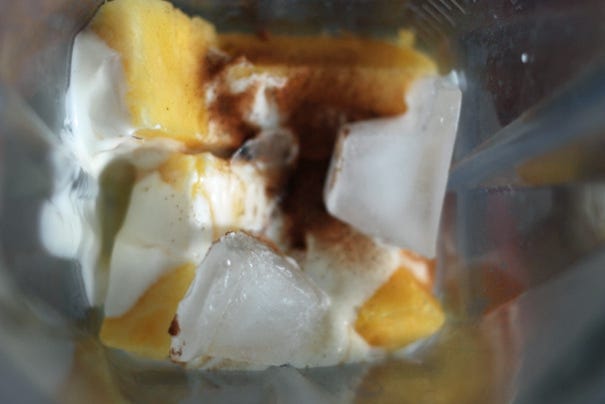 Blender on and behold, a pineapple smoothie.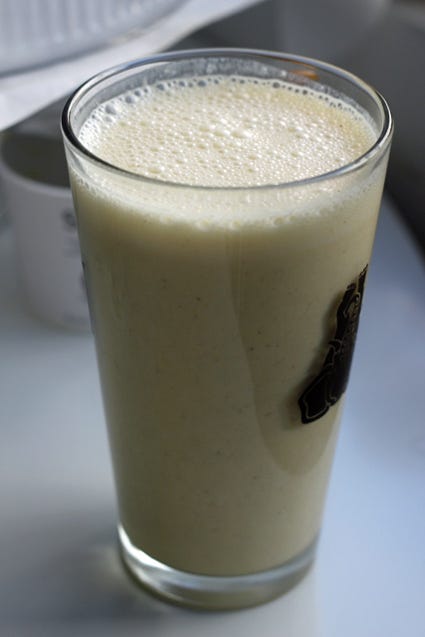 That was a solid smoothie, I'd definitely make it again. (Though maybe next time I'd throw in a banana?)

A few nights later, when I wasn't in such a healthy mood, I suggested Umami Burger to Craig and after our burgers and a trip to Skylight Books, we stumbled upon this dessert spot, Ramekin.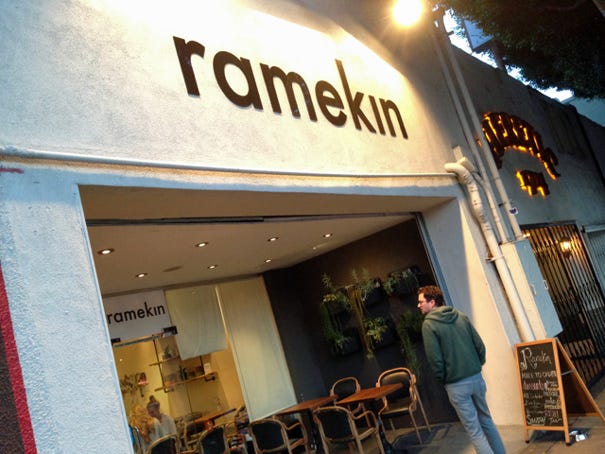 There were all kinds of desserts to whet the appetite, but what caught our eye the most was the ice cream. Craig chose a spiced yogurt that reminded him, in the best possible way, of the spiced apple yogurt he used to eat after school; I had the vanilla bean: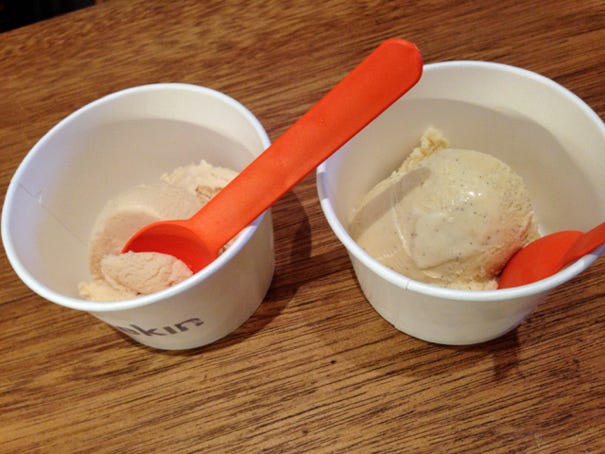 These definitely hit the spot. And I loved that you could see the little specks of vanilla bean seeds in my scoop. Very pure tasting.

On Friday night, we joined our friends Brendan and Ian for dinner at a new Silverlake spot called Pine and Crane.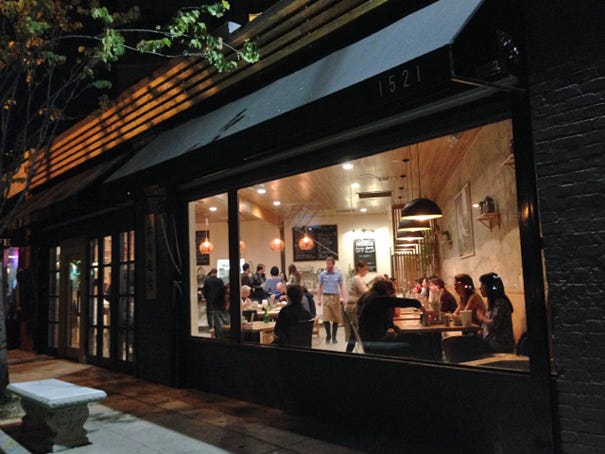 It was totally hopping (we ran into a few people that we knew). The set-up was kind of silly; you had to wait in a big line to order and THEN find a table, though the tables were all packed so if you didn't have a table by the time you placed your order, they'd wait to make your food; but you couldn't get a table without having a number so it was a strange system. I hope they change it.

But the food was great. Here's Brendan and Ian getting ready to chow down: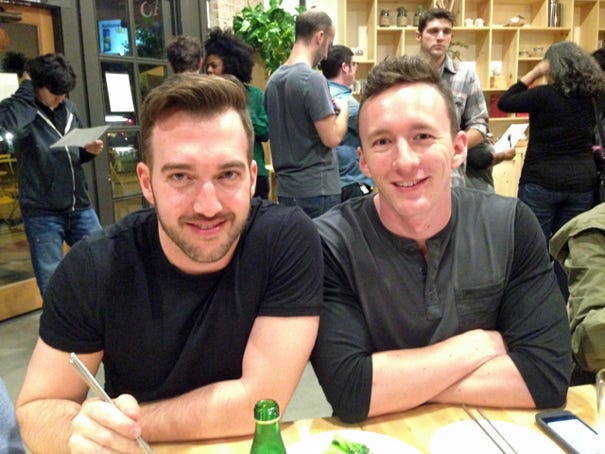 Here's some of what we ate. A scallion pancake: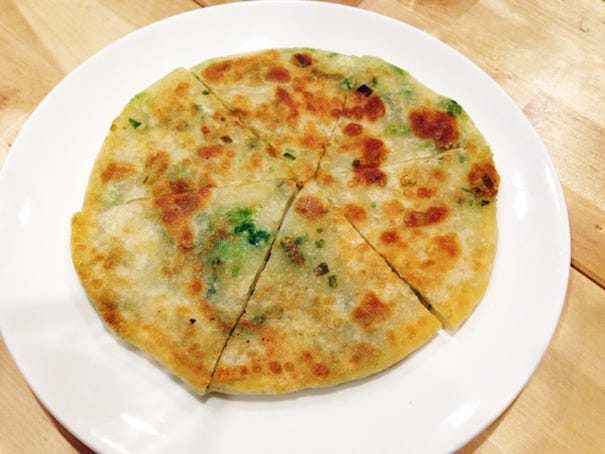 House-made sausage: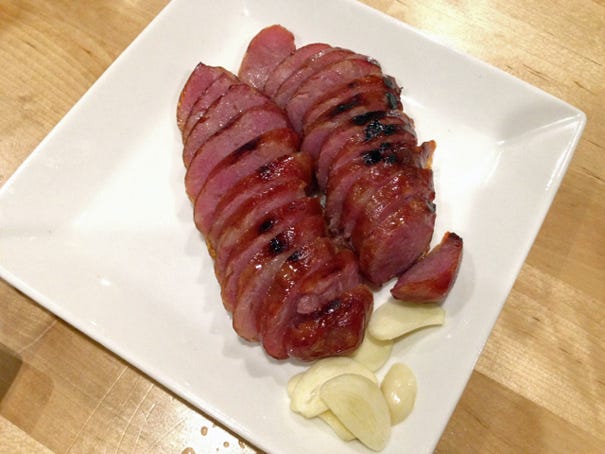 Potstickers: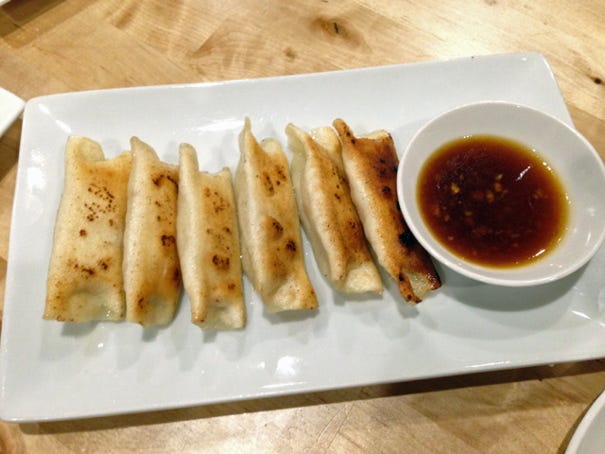 House-made noodles with ground pork and all kinds of good stuff: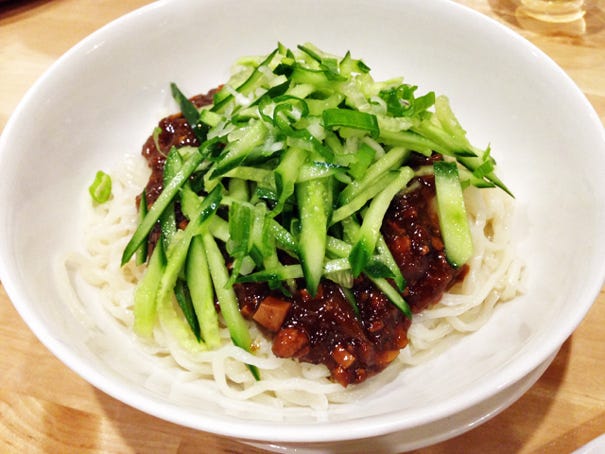 (That may have been my favorite dish.)

Pea shoots: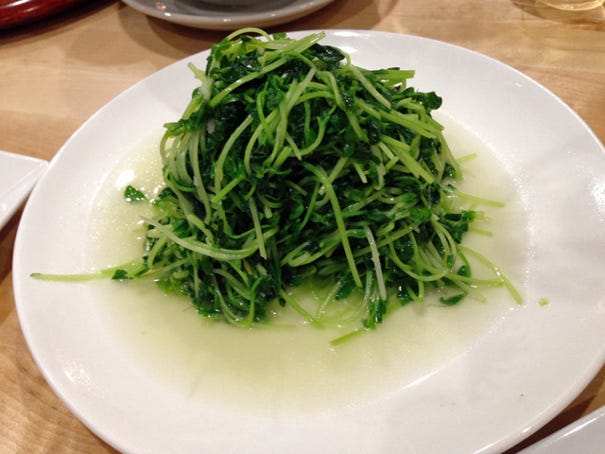 (Editing this picture inspired my Tweet: "Pea shoots, pea scores." I thought you should know that.)

Here's our whole table of food: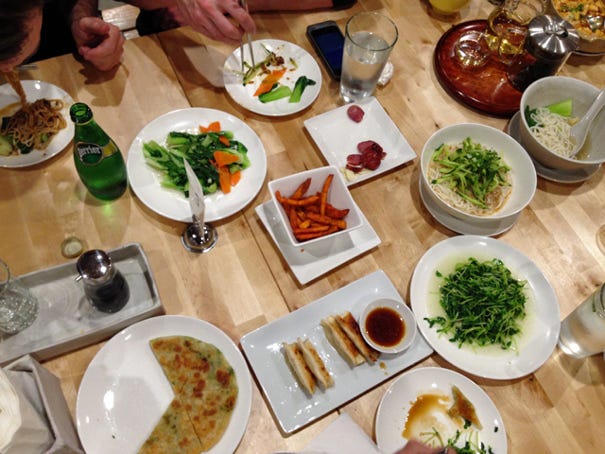 We also had the ma-po tofu which was too hard to eat with chopsticks and the other best dish of the night, Jidori chicken cooked in a little pot: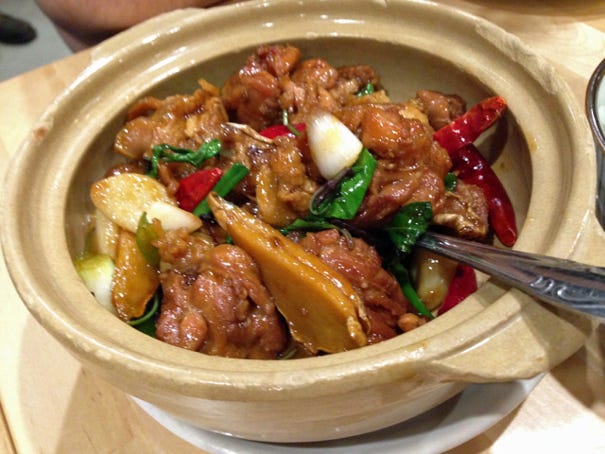 Next time it's that and the noodles and we're good.

Finally, on Saturday morning, I was riffing on this breakfast--One-Pan Eggs, Greens and Bacon--only I was doing it for two and left the greens cooking on the high-heat too long while the eggs were going and though this looks pretty, the bottom was almost entirely burnt: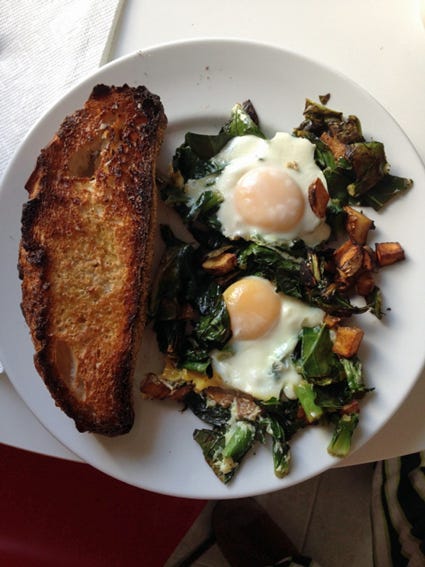 Still, the top part was good. And now you know that even professional amateurs screw up sometimes too.

That's all for this week folks!

Until next time....

Your friend,
Adam (The Amateur Gourmet)



Reading this in a browser? Get next week's in your inbox by signing up here.

Follow Me!
On Twitter
On Facebook

Check Out My Cookbook!
Secrets of The Best Chefs

Recent Food Posts

David Lebovitz's Caramel Pork Ribs and Garlicky Slaw

Four Orange Cake

I Burst My Belt In San Francisco: Pixar, Foreign Cinema, SPQR...

The Story of the Time That I Ate $4 Toast

Shrimp and Grits

One-Pan Eggs, Greens and Bacon

The Night That Craig Cooked Dinner

The Village Bakery's Berry Ricotta Cake

Watching Suzanne Goin Cook

Spaghetti with Purple Cauliflower Sauce

My First CSA

Cheese and Chocolate Are BFFs

Eggs in Tomato Sauce with Sausage and Basil

PB&J French Toast

Make Your Own Civet Coffee

Chicken Milanese

Scrambled Eggs with Smoked Trout, Pickled Onions, and Kale

Chicken Sausage, White Beans, and Kale

Fun Times With Farro

Caramelized Cauliflower Frittata

The Ultimate Weeknight Chicken and Broccoli Dinner

One Hour Chicken Soup

That Time I Made Savory Oatmeal and It Was Kind of Weird But I Ate It Anyway

Stick A Fork In It (Or: When Food Blogs Stopped Being Food Blogs)

Salad Nicoise

Cutting Board Graduation

Lou (A Story of Wine and Sardines)

Easy Weeknight String Beans

Curried Lentil Soup

Breakfast Risotto

Birthday at Bestia, Dinners at Chez Emily, The Hart and the Hunter & The Coconut Club

A Healthy Farmer's Market Buffet

Sauce Week Recap

Soup Dumplings at Din Tai Fung

A French Feast for Craig's Birthday (And The Best Soup I've Ever Made)


*|LIST:DESCRIPTION|*

Unsubscribe *|EMAIL|* from this list.

Our mailing address is:
*|HTML:LIST_ADDRESS_HTML|*
Copyright (C) *|CURRENT_YEAR|* *|LIST:COMPANY|* All rights reserved.

Forward this email to a friend
Update your profile
*|IF:REWARDS|* *|HTML:REWARDS|* *|END:IF|*