A.G. Newsletter #154: Pot, Beachwood Cafe, The Hart and the Hunter & Minted Lemonade


Hey Gang,

I'm laid up on the couch with a stomach bug (yuck) but that won't stop me from writing you another newsletter. This week takes us to one of L.A.'s most talked-about new restaurants--Roy Choi's POT--but before we head on down to the Line Hotel, a few things from my blog:

- My review of Molly Wizenberg's new book Delancey: A Memoir.

- My new SOUND OF MUSIC plate should inspire envy in all of you.

- A novel steak-cooking technique from Julia Moskin in the Times that requires no fat, just salt. Look how good my steak turned out: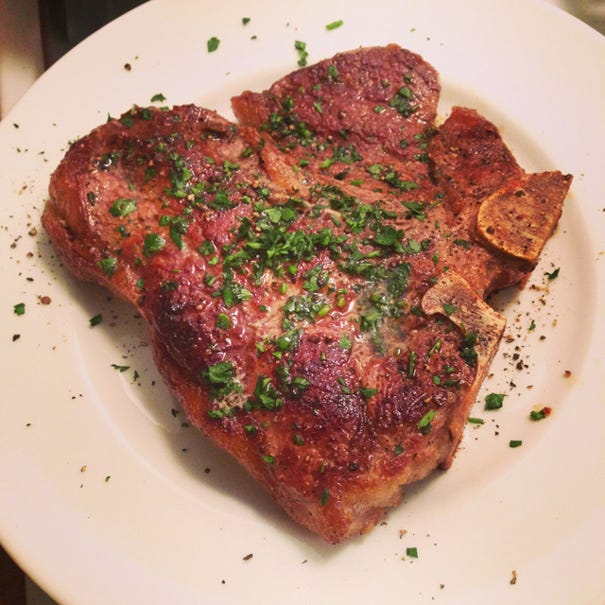 You know you want to make that. So click my link and do it!

Now on to newsletter business...

So yes, Roy Choi's Pot. Our friend Rob was in town and we all planned to go to Pot which is located at the Line Hotel in Koreatown. You walk through the hotel lobby and see this neon sign at the end of it: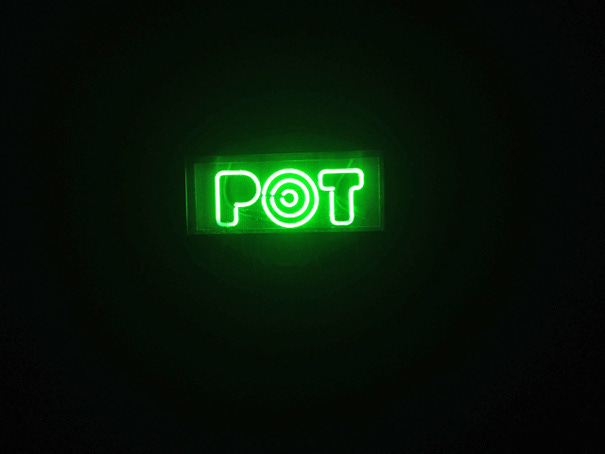 (Sort of like the neon burger sign you see at The Burger Joint in the Parker Meridian in New York.)

When you walk in, you see lots of tables with heating elements in the middle: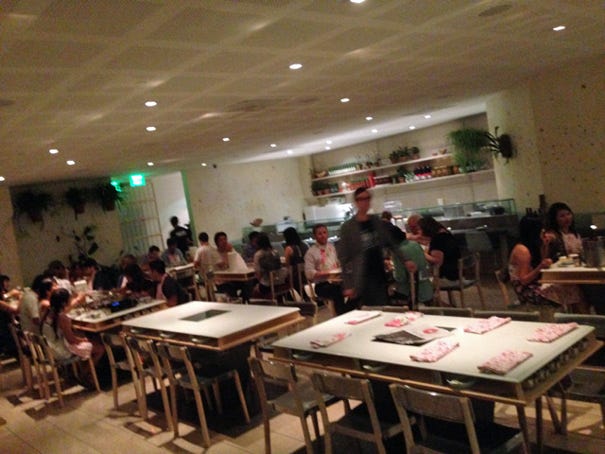 When you sit down, you'll notice your utensils and bowl are inside the table in front of you, like a desk: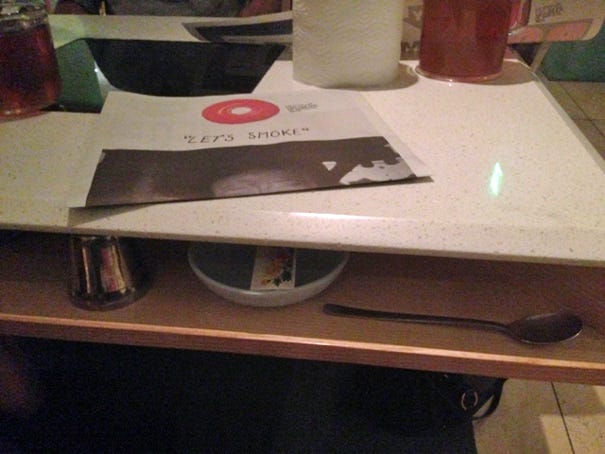 We were there with a big group that we split into two tables; our table had Jordan who'd been to Pot before, so we let him do the ordering. He did an awesome job (I love when I don't have to order).

We started with these spicy dumplings which were positively packed with flavor: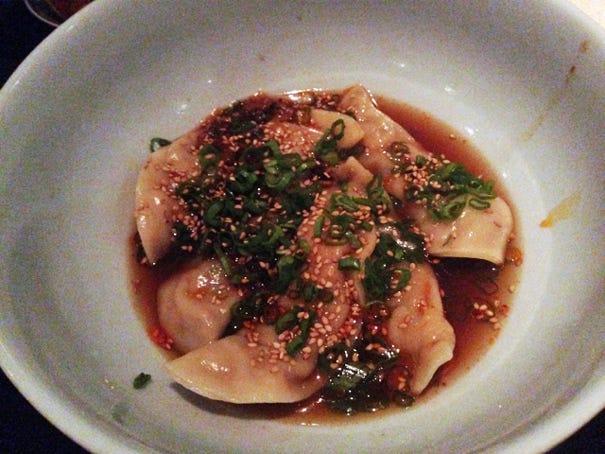 The BBQ pork was finger-licking good: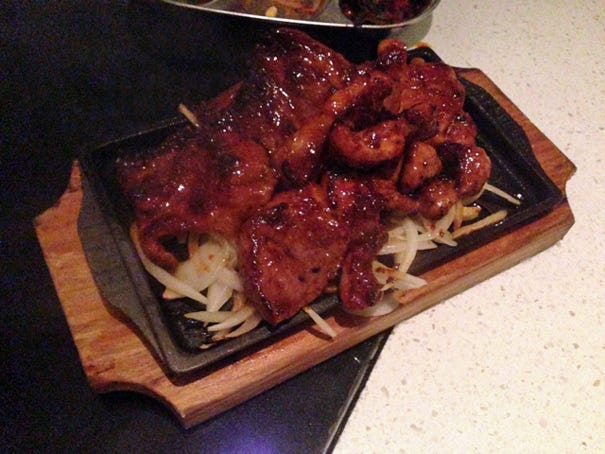 This noodle bowl came packed with goodies: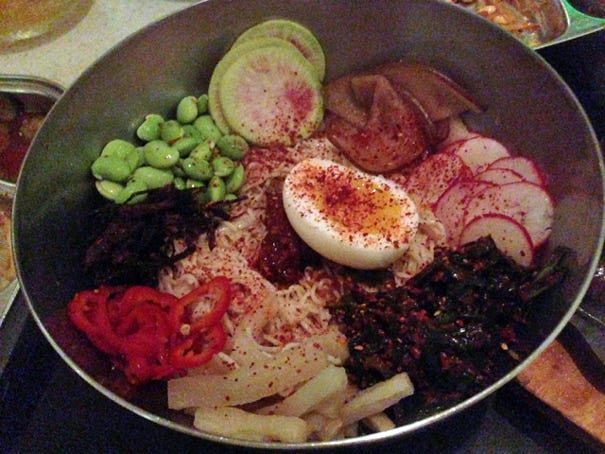 And the kimchi fried rice was a lot better than my own: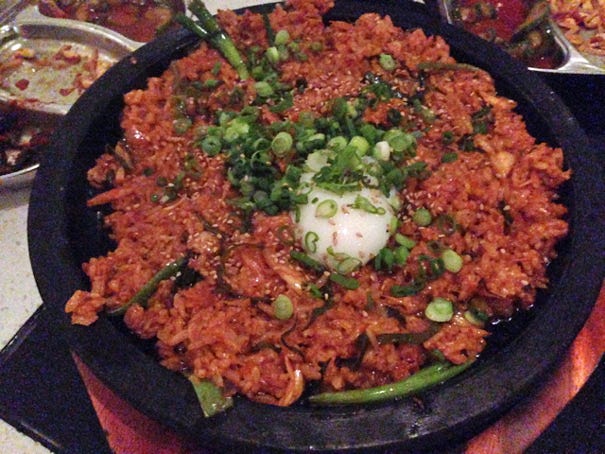 But the star of the show was the dish that gives pot its name: a BIG POT... Ours was the Old School (marinated ribeye bulgogi, noodles, kimchi, scallion sesame). But wilder pots are available (one with blood, intestines and herbs; another with spam, sausage, and fish cakes).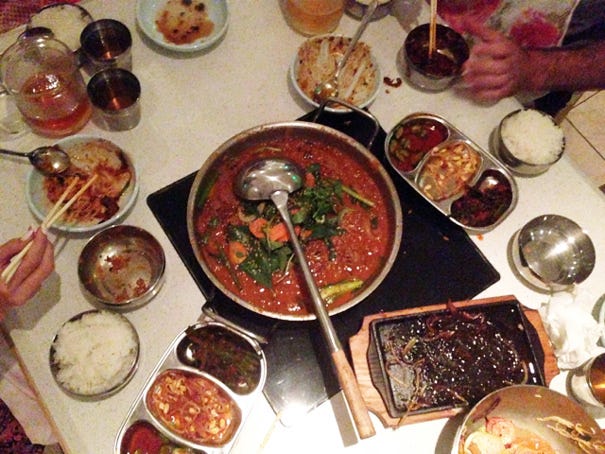 Spooned over rice, this was really magnificent; spicy and heavily spiced, and so, so filling. A little goes a long way. (We ordered the smallest size for five people and had no regrets).

The weird thing about POT is there is no dessert menu; for dessert, you go out into the lobby and order it at the Pot Cafe. Here's some of the stuff in the case: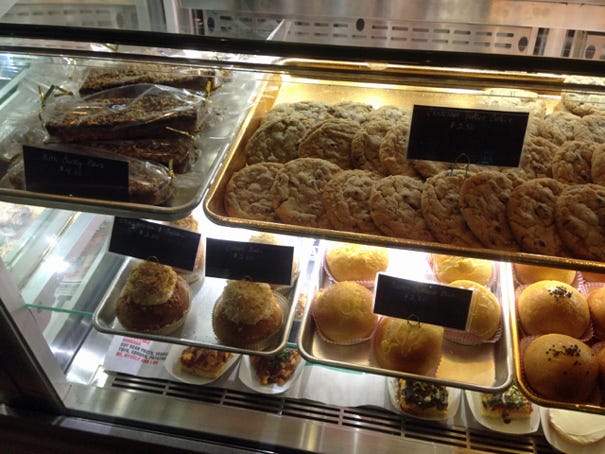 A few of us dessert fiends ordered some stuff. The strawberry bun came lovingly assembled by this pastry chef: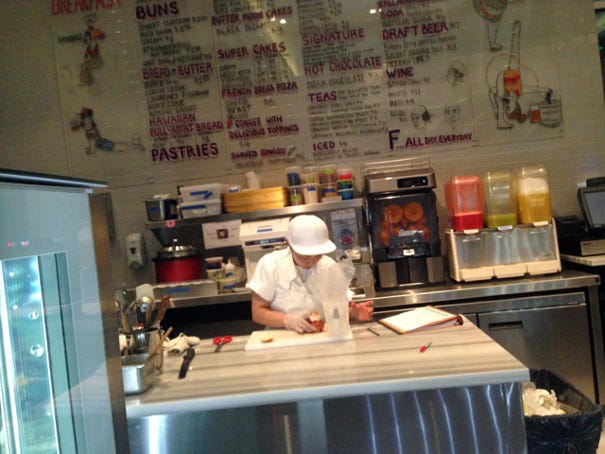 Here's the finished work: like an Asian-influenced strawberry shortcake.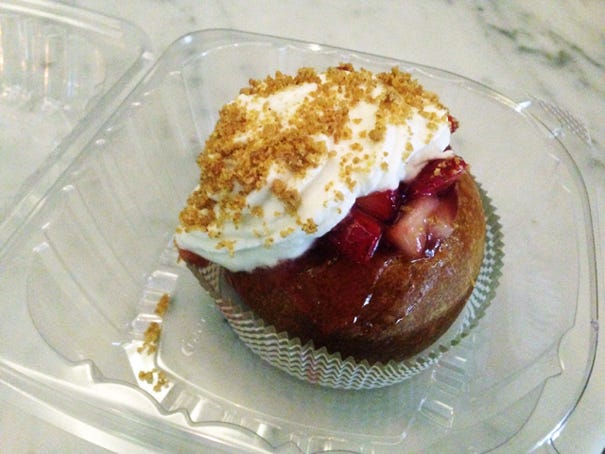 The toffee cookie was also very good as was the cheesecake.

Now! On Thursday night, I joined my friend J.P. for dinner at The Hart and The Hunter. I blogged about dinner there a few months ago (see here) and we ordered similar stuff then. But just to reiterate, this place is an excellent place to enjoy modern Southern food in California. Here's J.P. at the table: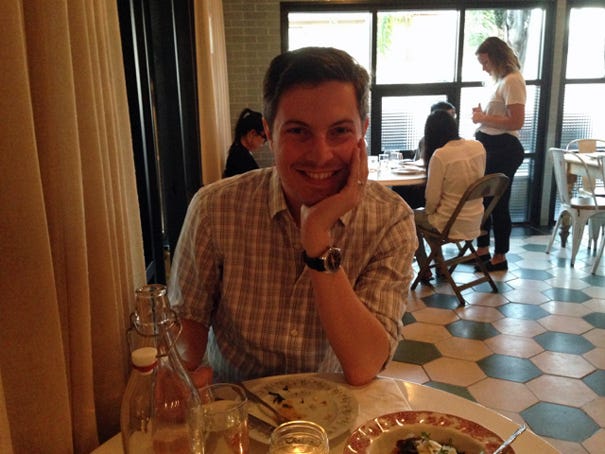 And here's some of what we ate. Terrific, unforgettable broiled oysters: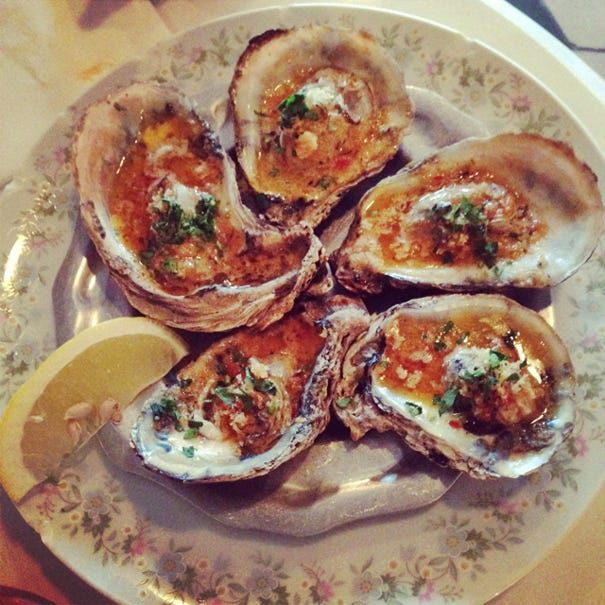 A kale salad with peach that was delightfully summery and fresh-tasting: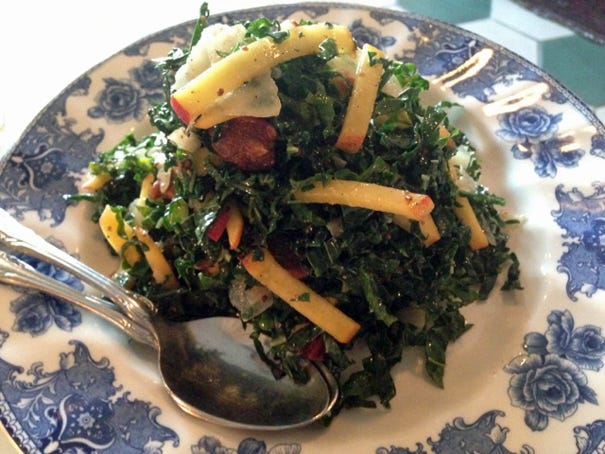 The famous Hart & Hunter biscuits, worthy of their acclaim.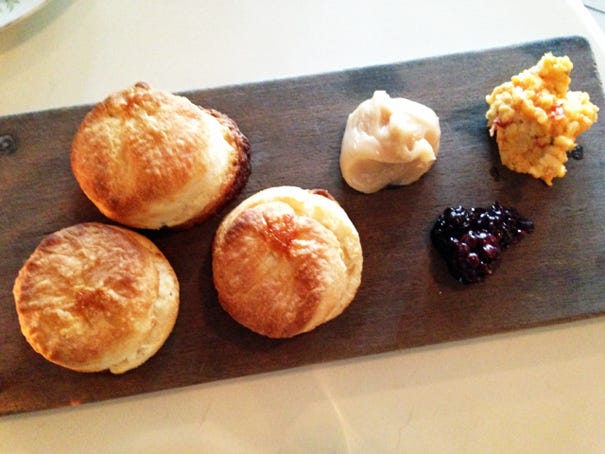 At this point, we were pretty full so we ordered a less-involved entree: mushrooms over polenta, a perfect dish that I'd love to recreate at home.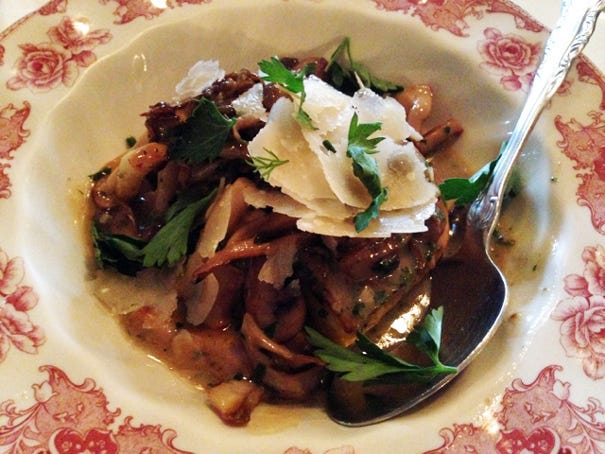 For dessert, it was the lemon icebox cake. Yum.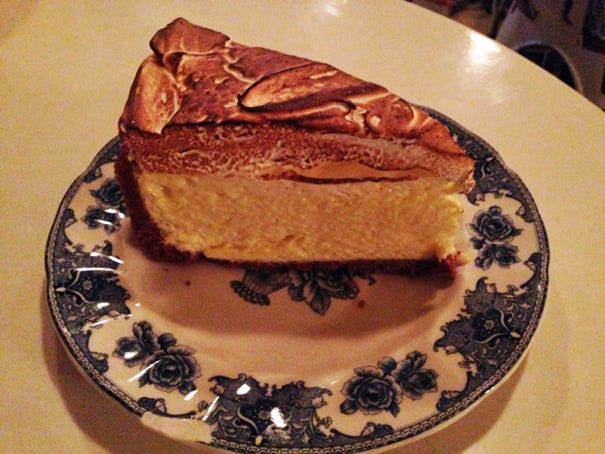 If you read the subject of this newsletter, you'll see I skipped a place in between Pot and The Hart and the Hunter--the Beachwood Cafe. Perhaps that was a Freudian moment because the lunch I had there with my friend Diana was pretty forgettable.

It was a Banh Mi on too-bready bread with a weirdly cooked kale salad in a peanut dressing.




The room, though, was rather charming. If I go back, it'll be for that.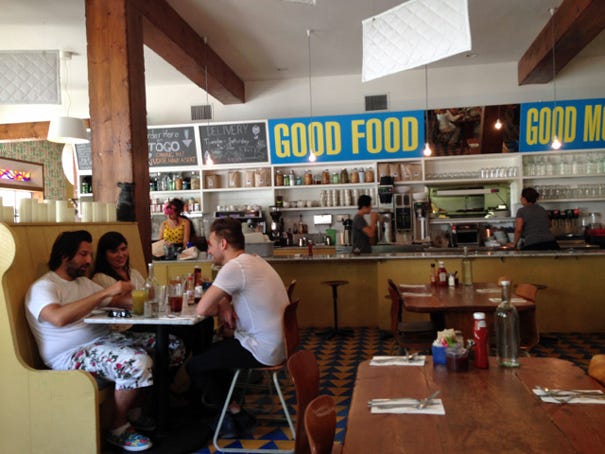 Finally, this weekend I made a really good lemonade using a trick I learned from Ruth Reichl. Step one? Peel the lemon and put the peel in a pot with 1 cup sugar and 1 cup water. Turn up the heat and when it's at a simmer and the sugar's dissolved, take it off the heat. At this point, I added some torn up mint.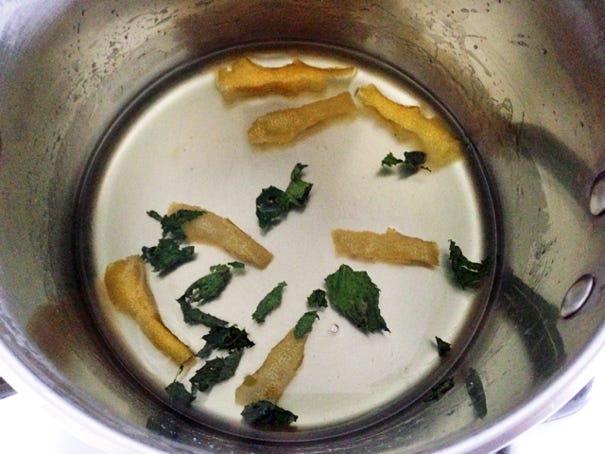 What you've made there is a flavored simple syrup that'll take your lemonade to the next level. What I did then was juice a lemon (if I had 2 lemons, I would've juiced them both), poured that into a shaker with some of the simple syrup and lots of ice and shook like crazy. Then I poured that into a Mason jar (hipster alert) and garnished with more mint. Voila.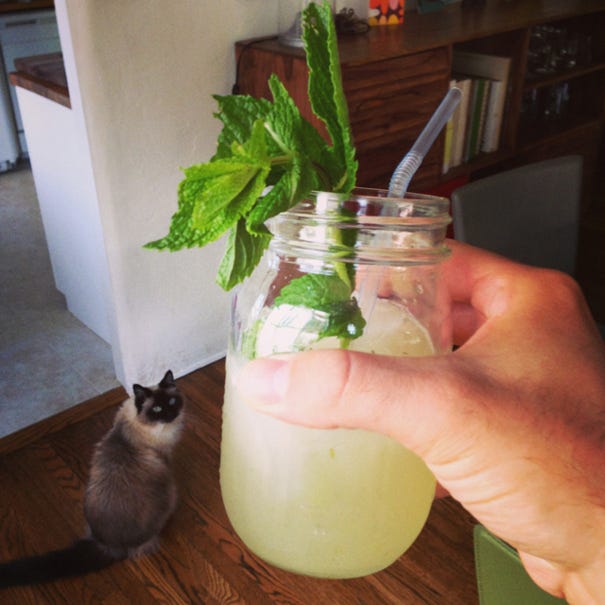 The best part is I have plenty of leftover syrup to make more lemonade for the next week or two. It's the perfect summer drink (and I can totally imagine adding vodka).

That's all for this week, folks!

Until next time....

Your friend,
Adam (The Amateur Gourmet)
Reading this in a browser? Get next week's in your inbox by signing up here.

Follow Me!
On Twitter
On Facebook

Check Out My Cookbook!
Secrets of The Best Chefs

Recent Food Posts

Julia Moskin's Steak with Sam Sifton's Potatoes

Bow Down Before My Sound of Music Plate

Delancey: A Memoir

David Lebovitz's Caramel Pork Ribs and Garlicky Slaw

Four Orange Cake

I Burst My Belt In San Francisco: Pixar, Foreign Cinema, SPQR...

The Story of the Time That I Ate $4 Toast

Shrimp and Grits

One-Pan Eggs, Greens and Bacon

The Night That Craig Cooked Dinner

The Village Bakery's Berry Ricotta Cake

Watching Suzanne Goin Cook

Spaghetti with Purple Cauliflower Sauce

My First CSA

Cheese and Chocolate Are BFFs

Eggs in Tomato Sauce with Sausage and Basil

PB&J French Toast

Make Your Own Civet Coffee

Chicken Milanese

Scrambled Eggs with Smoked Trout, Pickled Onions, and Kale

Chicken Sausage, White Beans, and Kale

Fun Times With Farro

Caramelized Cauliflower Frittata

The Ultimate Weeknight Chicken and Broccoli Dinner

One Hour Chicken Soup

That Time I Made Savory Oatmeal and It Was Kind of Weird But I Ate It Anyway

Stick A Fork In It (Or: When Food Blogs Stopped Being Food Blogs)

Salad Nicoise

Cutting Board Graduation

Lou (A Story of Wine and Sardines)

Easy Weeknight String Beans

Curried Lentil Soup

Breakfast Risotto

Birthday at Bestia, Dinners at Chez Emily, The Hart and the Hunter & The Coconut Club

A Healthy Farmer's Market Buffet

Sauce Week Recap

Soup Dumplings at Din Tai Fung

A French Feast for Craig's Birthday (And The Best Soup I've Ever Made)


*|LIST:DESCRIPTION|*

Unsubscribe *|EMAIL|* from this list.

Our mailing address is:
*|HTML:LIST_ADDRESS_HTML|*
Copyright (C) *|CURRENT_YEAR|* *|LIST:COMPANY|* All rights reserved.

Forward this email to a friend
Update your profile
*|IF:REWARDS|* *|HTML:REWARDS|* *|END:IF|*