A.G. Newsletter #155: Craig's, Links and Hops, Scarpetta, Coni'Seafood & AOC


Hey Newsletter Fans,

This Memorial Day weekend stuff has me thrown off. What day is today, anyway? Tuesday? Wednesday? Who even knows!

I do know this: I am OBSESSED with transferware plates. Specficially, funky old ones I've been finding on E-Bay. Click here to read my post all about it and to see which plates I actually bought to add to my collection.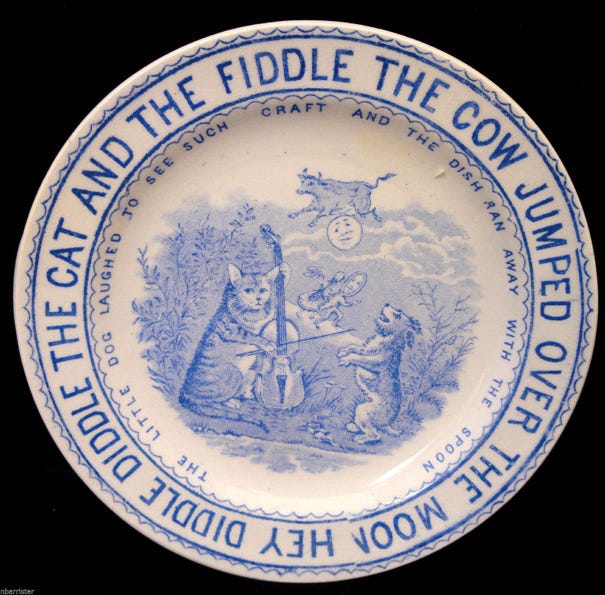 Also, I have a new favorite summer dessert: Shaved Ice and Ice Cream and Fruit from Mr. Boba in Koreatown. Click that link to see what all the fuss is about.

Now on to newsletter business....

My parents were in town for Memorial Day and we joined them for dinner at Craig's, a restaurant that was opened by the maitre'd of Dantana's, a fun--and historic--restaurant I first went to last year. Craig's has a similar inside-Hollywood vibe. Behind my dad, in this picture, you can just make out the outline of legendary film producer (and subject of the documentary "The Kid Stays in the Picture") Robert Evans.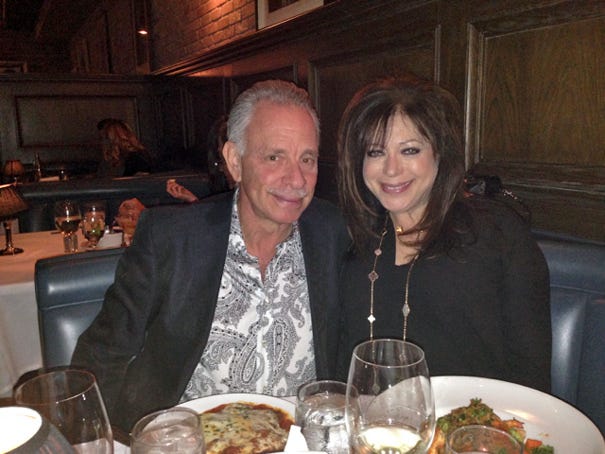 The food at Craig's is Italian comfort food, with some steak thrown in for good measure. I enjoyed my green goddess salad, even if it wasn't the most inspired composition.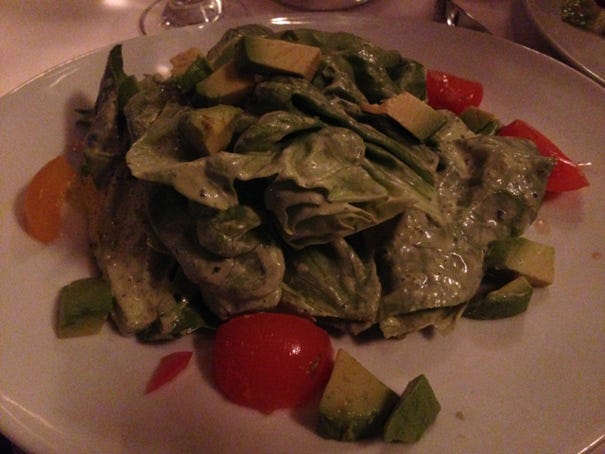 And the chicken parmesan with a side of spaghetti is just as good as it is at Dantana's (and that's high praise).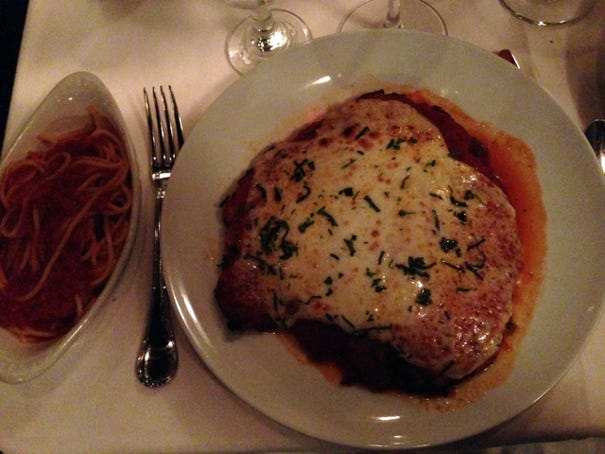 The waiter was pretty insistent that we get the dessert pizza, and here it is topped with cookie crumbs and chocolate and ice cream: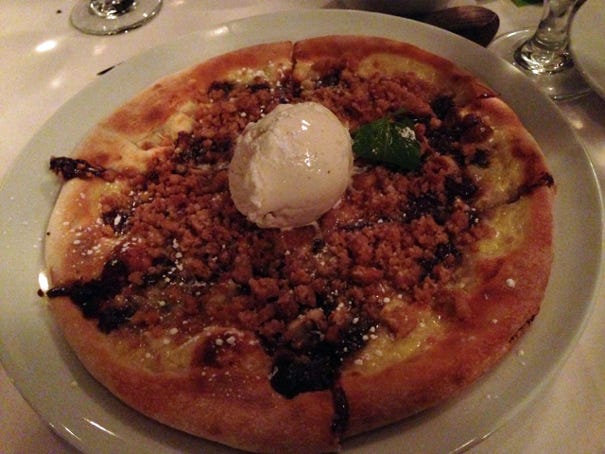 Hard to say anything bad about that: basically pizza dough with sweet stuff on it. Though, if I'm going to carb up at dessert, I think I'd prefer cake or pie.

On Friday night, I joined my friend John for dinner here in Atwater Village at Links and Hops. Here he is with a pretzel: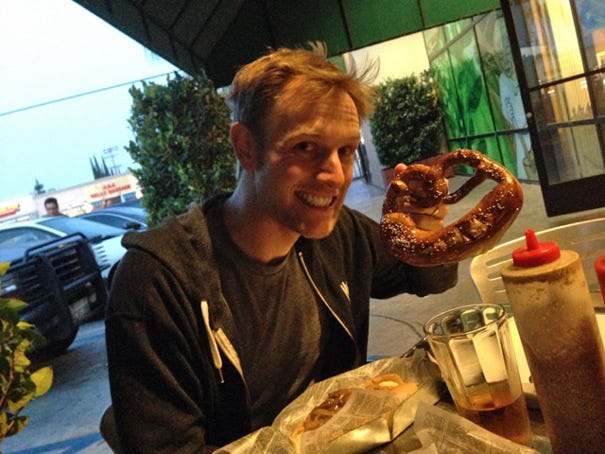 Here's my link---bratwurst with French fries: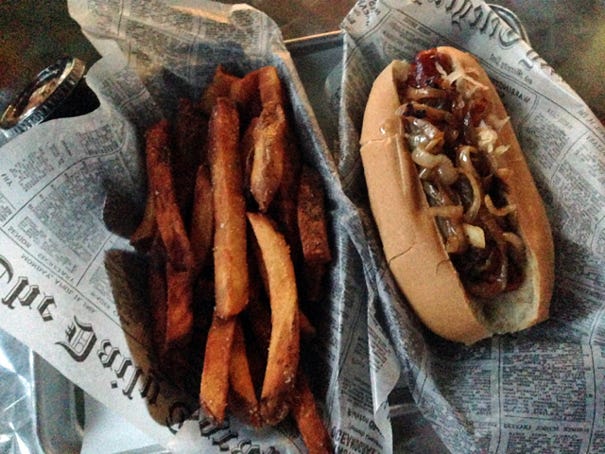 And here's our hops; mine was a, ummm, I have no idea. John had a cider.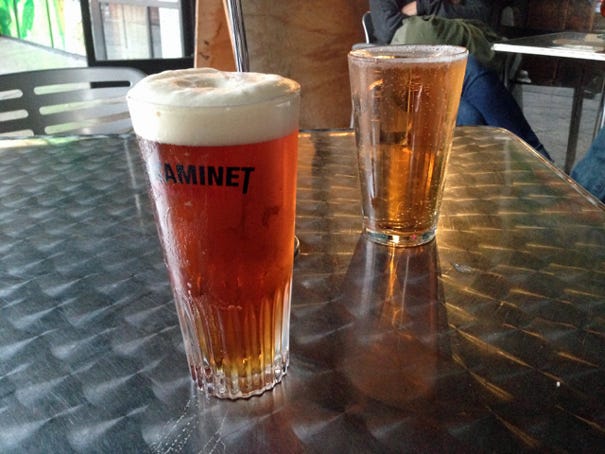 On Saturday night, Craig and I joined my parents for dinner at Scarpetta. Here's the thing: I had two reasons for going there. One, I did a cooking demo with Scott Conant at the L.A. Festival of Books and afterwards his P.R. person told me I needed to come check out the restaurant (don't worry, we paid, so it's not like we went for free or anything). Second, my favorite podcaster of all time, Marc Maron, often cites Scarpetta as his favorite restaurant.

So who should we see when we sat down to have cocktails? Marc Maron! I totally freaked out while sipping this delicious pineapple black pepper concoction: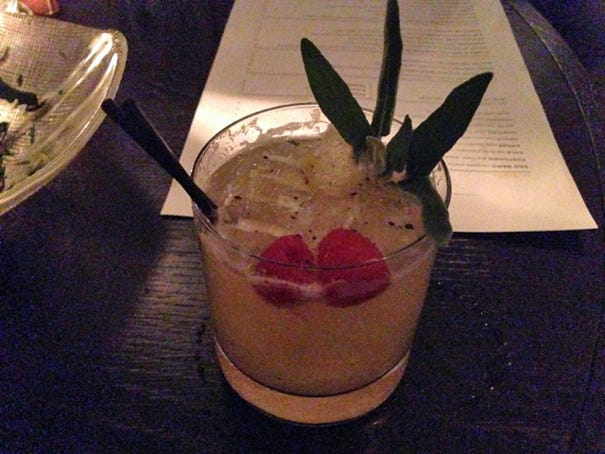 That was in the hotel bar--Scarpetta's inside a hotel--so I figured, "Well that was nice seeing him; we don't need to talk to him."

But then, when the hostess showed us to our table, our table was right next to his. So Craig, who also listens to Marc Maron, went right over and introduced himself. I immediately joined in and said, "He's not a real fan, I'm the real fan here." That got a chuckle.

The craziest part is that a few times during dinner, he leaned over and talked to us. He told us to order the spaghetti. He humored my mom when she suggested he have Barbara Walters as a guest. He also humored me when I suggested Roseanne. It was a hoot.

As for the food, it started on a great note with this bread basket, full of good stuff...and served with mascarpone butter: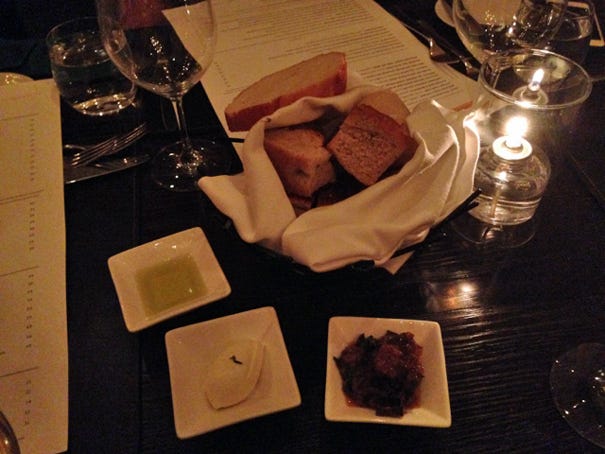 Some of the bread was stuffed with broccoli rabe, which was pretty cool: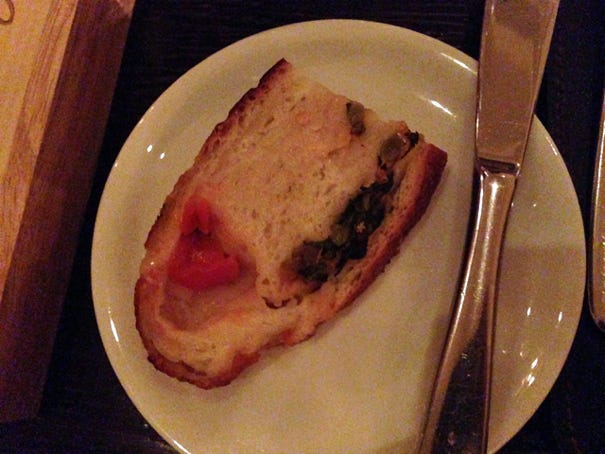 I loved my salad of spring vegetables which was genuinely beautiful (and served with a grapefruit dressing):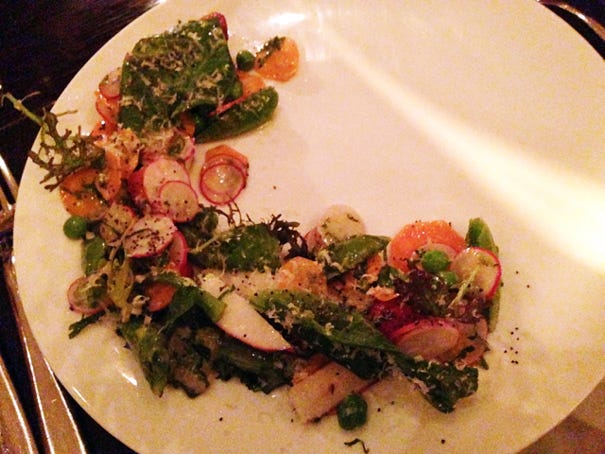 That famous spaghetti--notoriously expensive at $24 (this is a half-portion, they split it for us)--lived up to the hype. It's damn good (and I know the secret from listening to Scott Conant talk about it on Marc Maron's show; it's basically tricked out with garlic-infused olive oil. A lot of it.):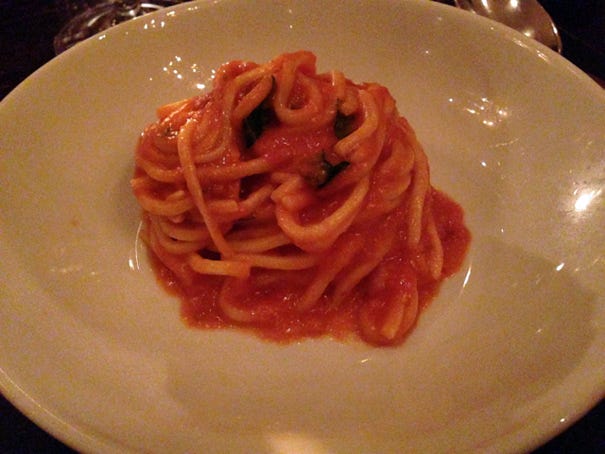 The veal chop was pretty magnificent--a great, crusty exterior--though the inside was a little bit chewy: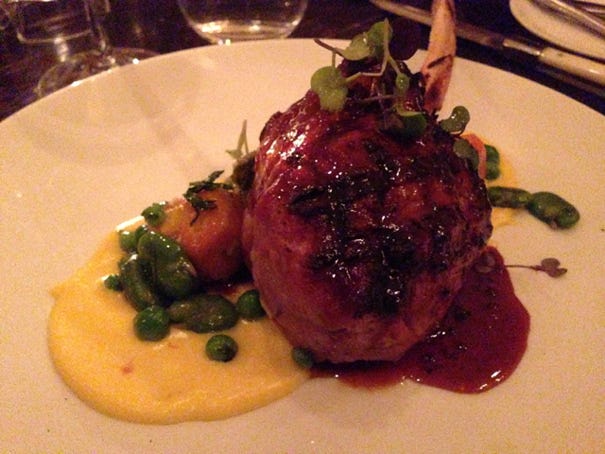 Dessert was the only place where they gave us some special treatment; instead of just the chocolate thing we ordered, they brought out a few more: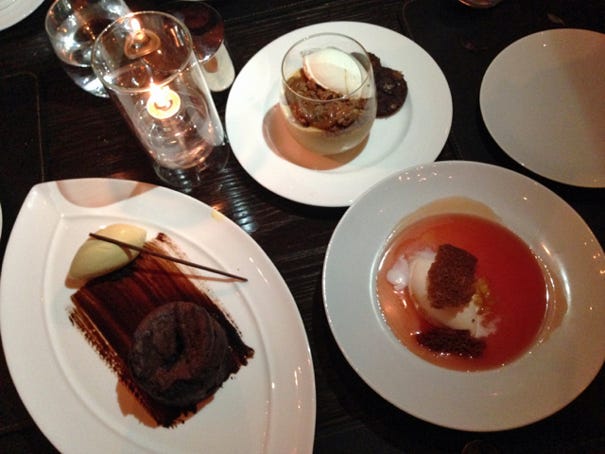 The best was in that jar; a vanilla budino with a crushed up cookie. OMG.

On Sunday, we had a going away party near the airport, and when we were done I said to Craig that we should go to Coni'Seafood. He was craving sushi but I told him that it would be just like sushi but Mexican.

It's a place Jonathan Gold often raves about; it's on his most recent 101 Best Restaurants in Los Angeles. Here's the outside: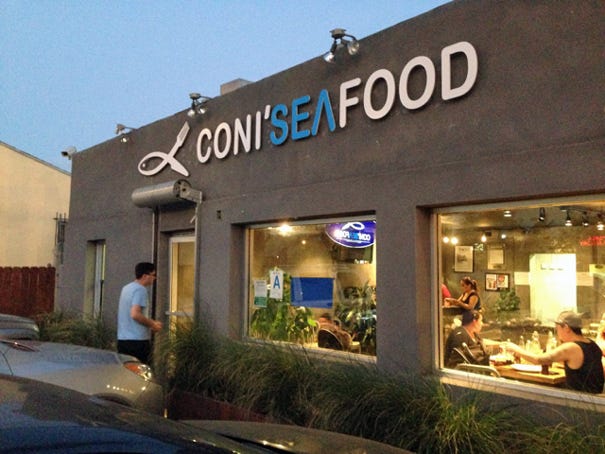 We showed up at 8:05 and the guy told us that they were just closing. I was way disappointed and he could tell so he told us if we ordered quickly, we could stay. So we asked his advice, ordered a few things, and sat down.

Chips and salsa came out right away and Craig's face lit up in alarm as he took his first bite---that salsa was like a jalapeño lime jolt to the chest. Spicy and tart all at once: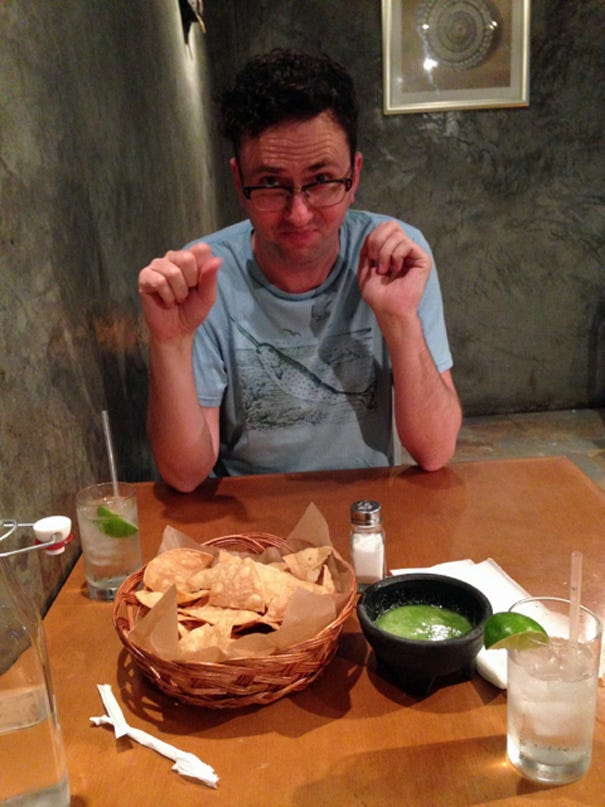 The smoked marlin tacos were absolutely terrific; sort of like Jewish tacos, in a way... I only say that because they reminded me of smoked whitefish. But instead of a bagel, it came in a taco with avocado and cheese: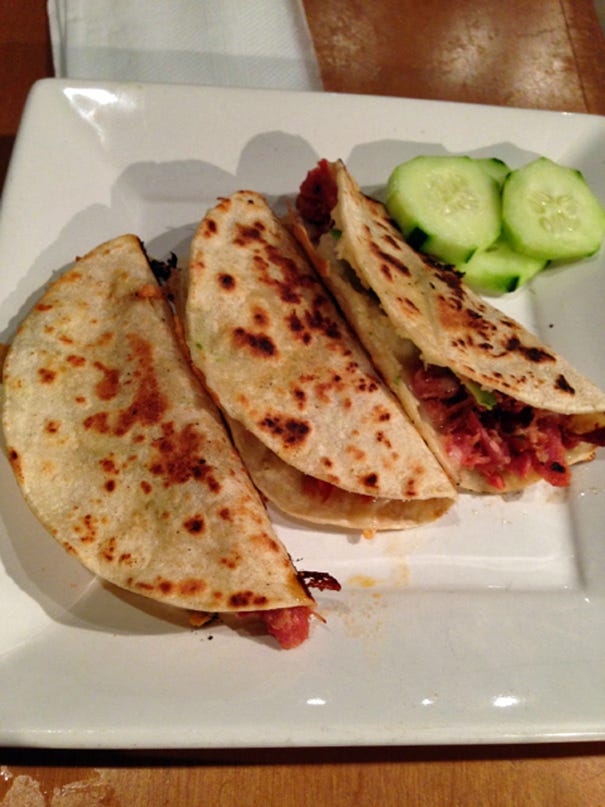 This dish, which was called Sushiceviche or Cevichesushi or something like that, was a wonderful pile of seafood marinated in lots of lime juice: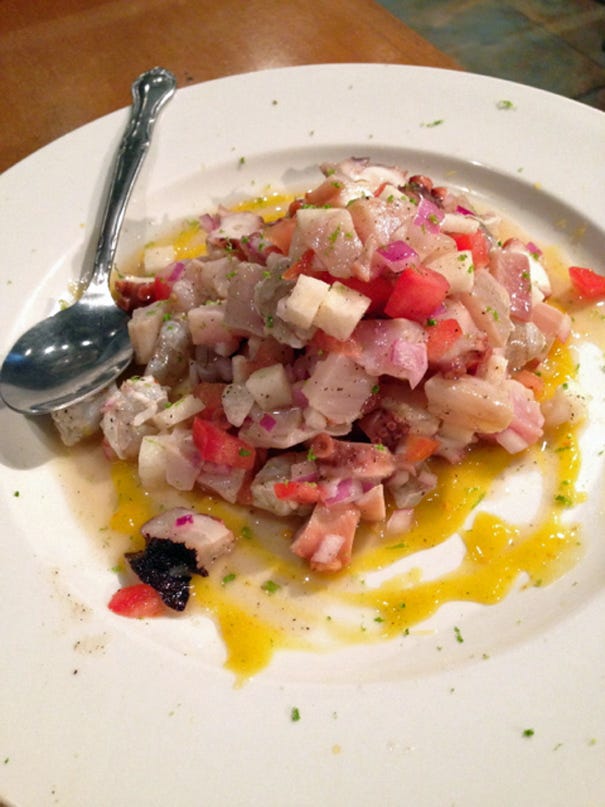 Finally, we shared these shrimp (camarones) in a spicy garlic sauce with rice.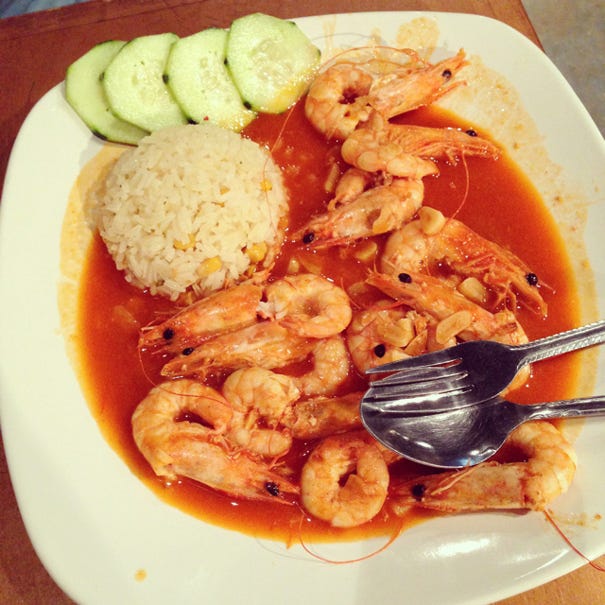 They came with heads attached which was really nice because you could suck all the juices out of them (one of the great gourmet treats of the sea).

I absolutely loved this place; the next time I land in L.A. after a long trip away, I know where I'm heading straight from the airport.

Finally, I can at last say I've been to every Suzanne Goin restaurant in L.A. because on Monday night I went with my folks to A.O.C.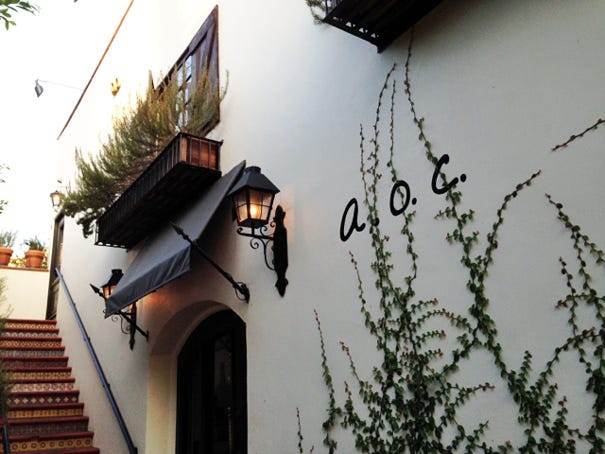 This may be my favorite of them all because the food is just as good as it is at Lucques and Tavern, only the environment is absolutely beautiful--the restaurant flows seamlessly from indoors to outdoors--and the food is casual enough that it doesn't break the bank.

Here's the cocktail that I enjoyed, made with Horchata: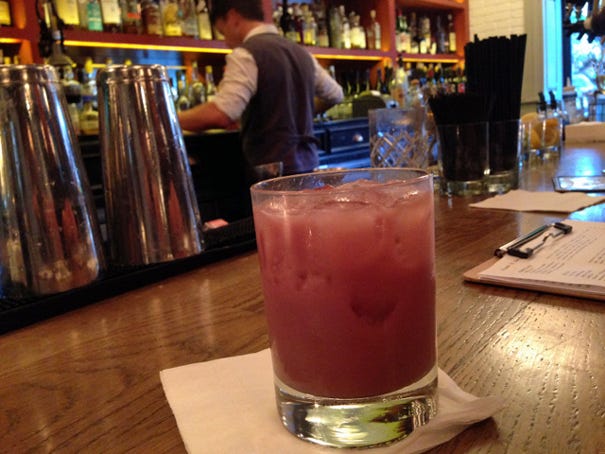 And we had to get the bacon-wrapped dates stuffed with Parmesan (pretty hard to beat):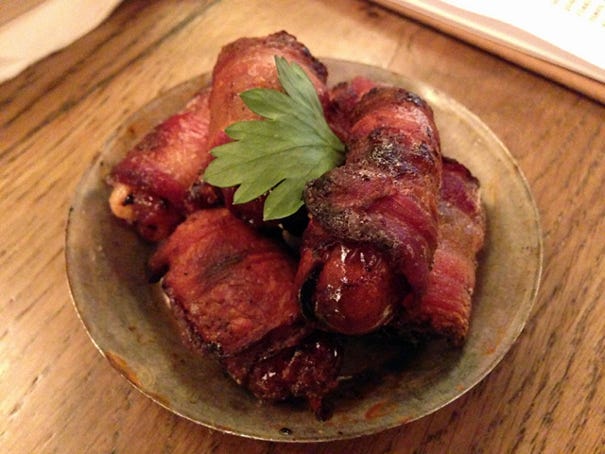 The scene outside: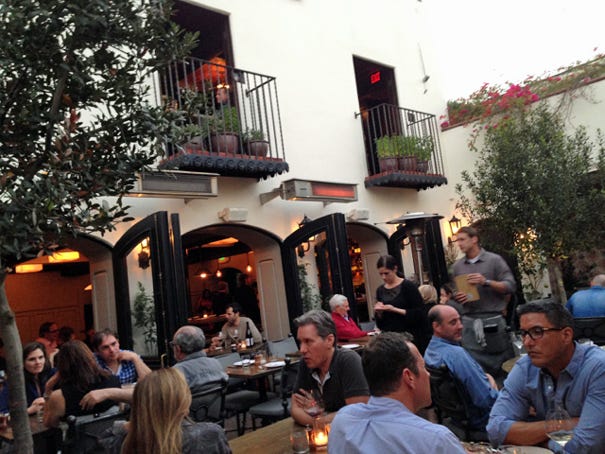 A wonderful bowl of clams flavored with green garlic: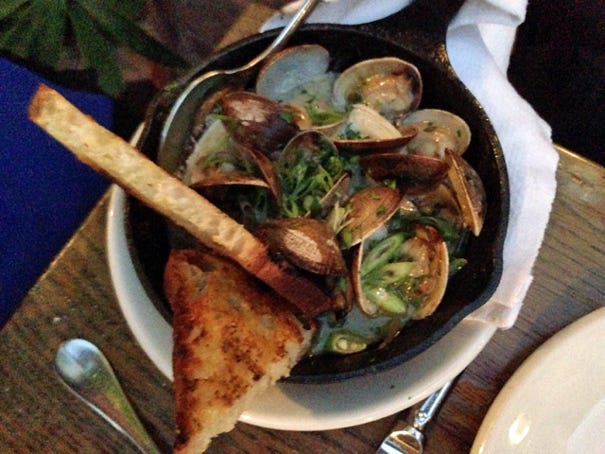 A little gem salad with green goddess dressing (this one definitely beats Craig's):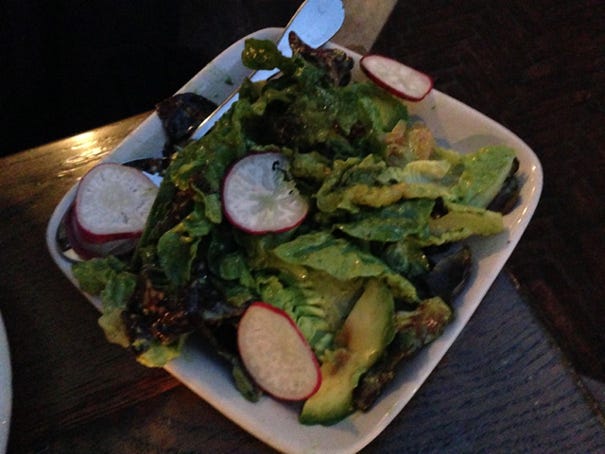 Lamb chops with all kinds of good things on top: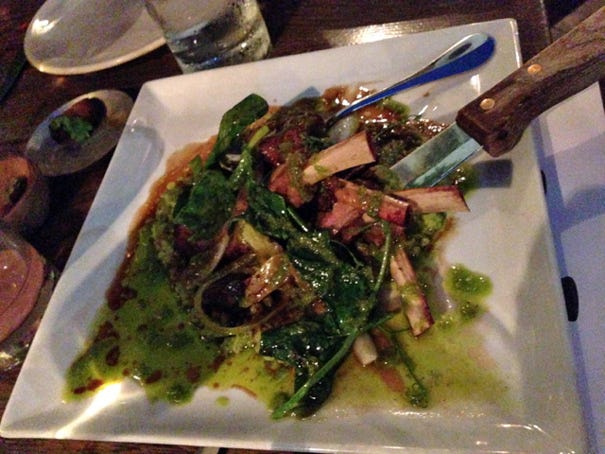 Roasted cauliflower with curry: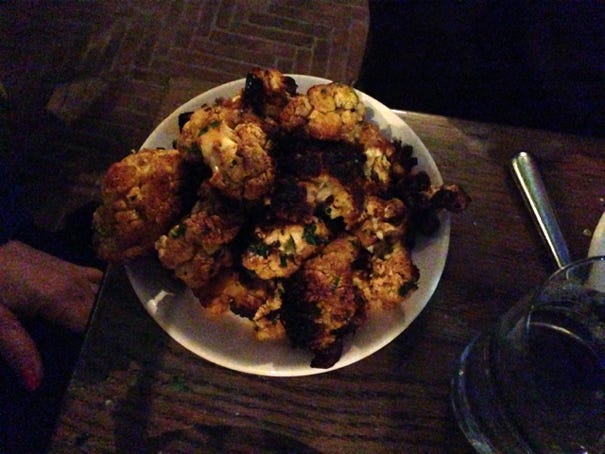 Roasted broccoli rabe with garlic: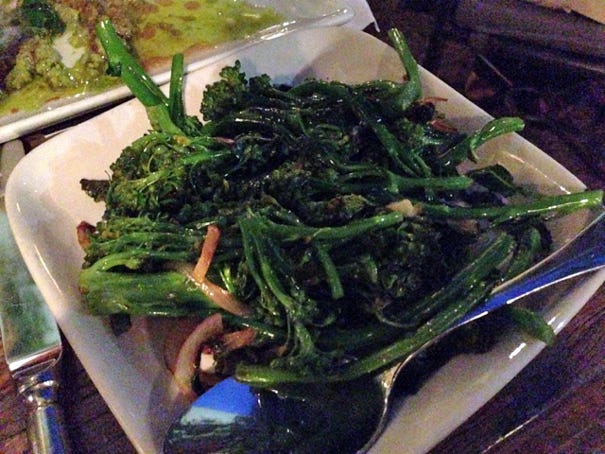 Garlicky shrimp: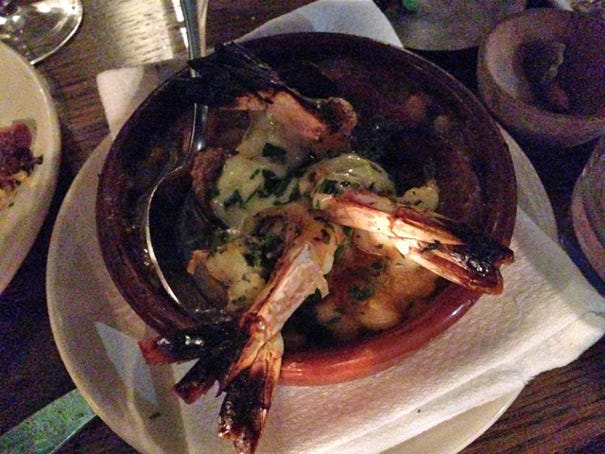 And a chicken inspired by the famous Zuni chicken (that I was lucky enough to eat a few weeks ago):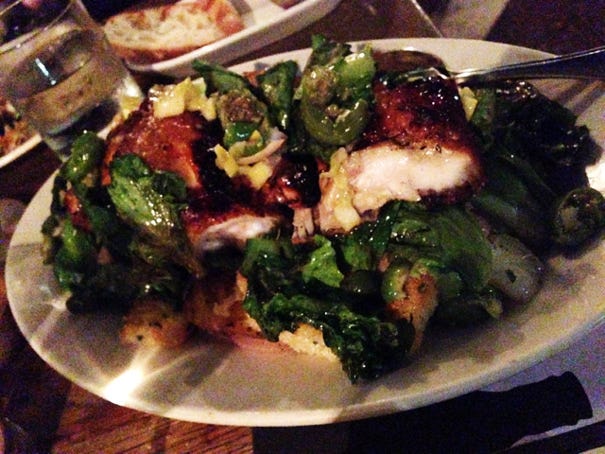 This was a lovely tribute and just as good as the original.

For dessert, we shared a platter of chocolate treats (s'mores, pudding, cake):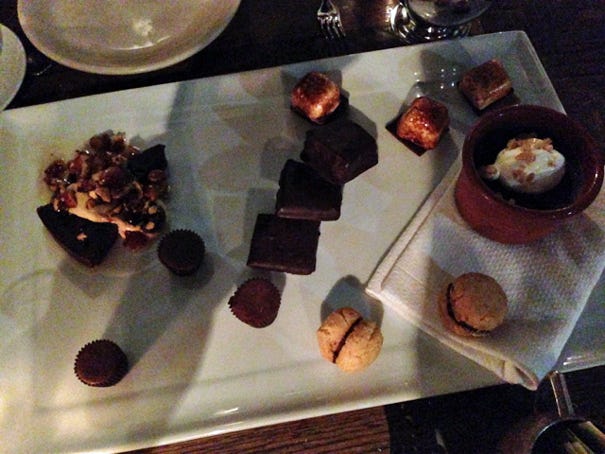 L.A. didn't turn me into a Scientologist, but I'm now officially a SuzanneGoinologist. I'll go wherever she's cooking. We're so lucky to have her.

That's all for this week folks!

Until next time....

Your friend,
Adam (The Amateur Gourmet)
Reading this in a browser? Get next week's in your inbox by signing up here.

Follow Me!
On Twitter
On Facebook

Check Out My Cookbook!
Secrets of The Best Chefs

Recent Food Posts

Julia Moskin's Steak with Sam Sifton's Potatoes

Bow Down Before My Sound of Music Plate

Delancey: A Memoir

David Lebovitz's Caramel Pork Ribs and Garlicky Slaw

Four Orange Cake

I Burst My Belt In San Francisco: Pixar, Foreign Cinema, SPQR...

The Story of the Time That I Ate $4 Toast

Shrimp and Grits

One-Pan Eggs, Greens and Bacon

The Night That Craig Cooked Dinner

The Village Bakery's Berry Ricotta Cake

Watching Suzanne Goin Cook

Spaghetti with Purple Cauliflower Sauce

My First CSA

Cheese and Chocolate Are BFFs

Eggs in Tomato Sauce with Sausage and Basil

PB&J French Toast

Make Your Own Civet Coffee

Chicken Milanese

Scrambled Eggs with Smoked Trout, Pickled Onions, and Kale

Chicken Sausage, White Beans, and Kale

Fun Times With Farro

Caramelized Cauliflower Frittata

The Ultimate Weeknight Chicken and Broccoli Dinner

One Hour Chicken Soup

That Time I Made Savory Oatmeal and It Was Kind of Weird But I Ate It Anyway

Stick A Fork In It (Or: When Food Blogs Stopped Being Food Blogs)

Salad Nicoise

Cutting Board Graduation

Lou (A Story of Wine and Sardines)

Easy Weeknight String Beans

Curried Lentil Soup

Breakfast Risotto

Birthday at Bestia, Dinners at Chez Emily, The Hart and the Hunter & The Coconut Club

A Healthy Farmer's Market Buffet

Sauce Week Recap

Soup Dumplings at Din Tai Fung

A French Feast for Craig's Birthday (And The Best Soup I've Ever Made)


*|LIST:DESCRIPTION|*

Unsubscribe *|EMAIL|* from this list.

Our mailing address is:
*|HTML:LIST_ADDRESS_HTML|*
Copyright (C) *|CURRENT_YEAR|* *|LIST:COMPANY|* All rights reserved.

Forward this email to a friend
Update your profile
*|IF:REWARDS|* *|HTML:REWARDS|* *|END:IF|*