A.G. Newsletter #156: Little Dom's, Blue Plate Oysterette, Fiestaware, Harlowe, Outfest & CousCous Salad for Grease


Hey Newsletter Friends,

We're back from our epic European adventure! In case you haven't been following along, we ate haggis and danced a Céilidh in Edinburgh, Scotland: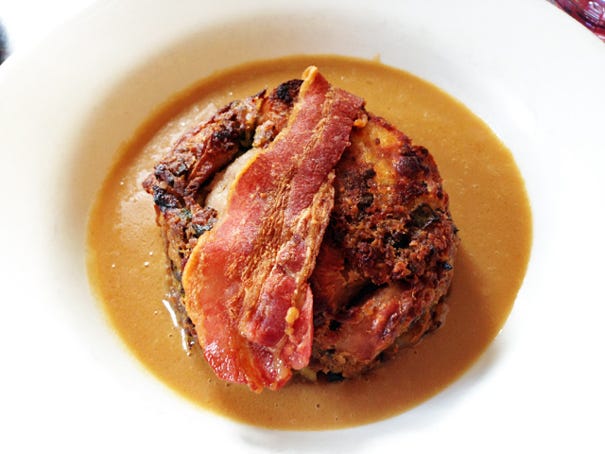 I ate the best Indian food of my life, and chowed down at St. John and The River Cafe in London: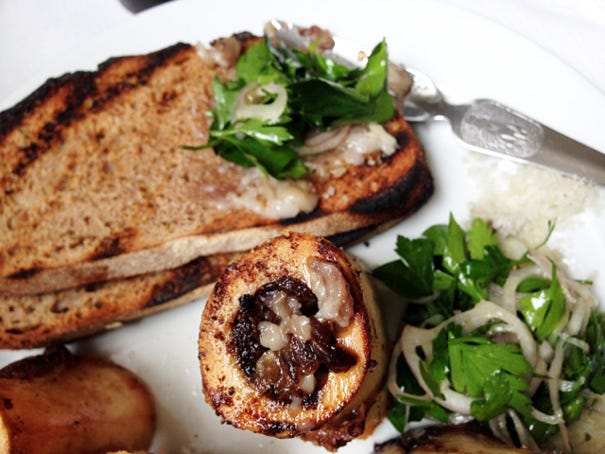 Met up with my friends Mark and Diana in Paris and had none other than David Lebovitz tour us around: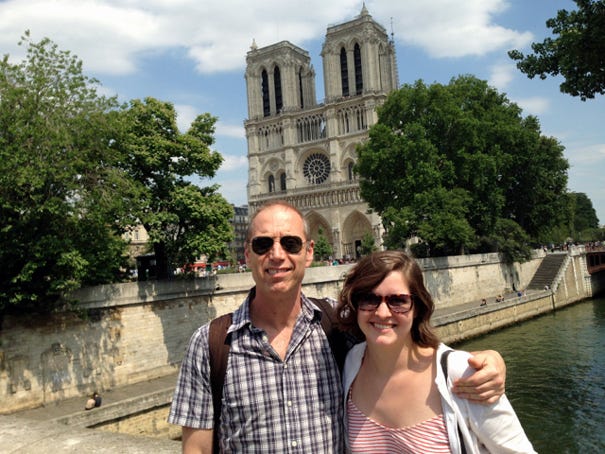 I spent a night in Strasbourg on the way to Germany, where I sampled my first Choucrute Garni and treated myself to a multi-course dinner at a Michelin-starred restaurant: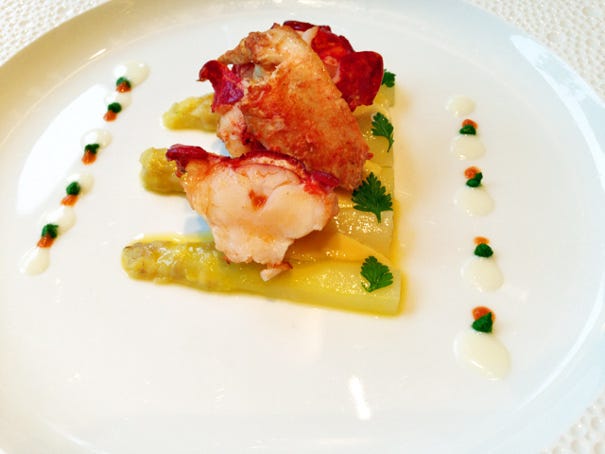 Met up with Craig in Munich, where we ate pretzels and beer and lots of sausage, and then continued on to Berlin. My post about it is all about my conflicted feelings about Germany and ultimately how it won me over: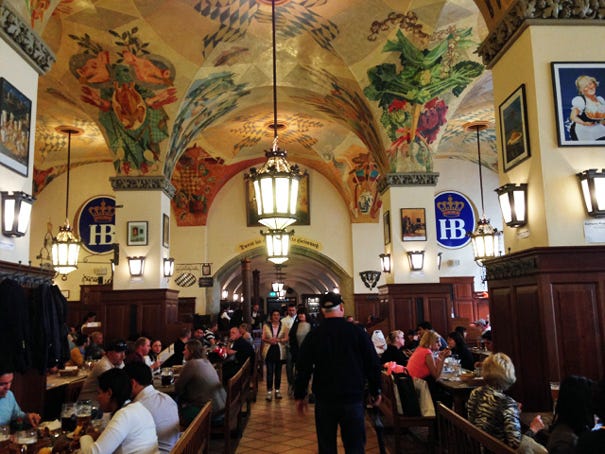 Once back, I did a post about British and German supermarkets.

And a post that's gone a bit viral: Ten Lessons American Restaurants Can Learn From European Restaurants (And Vice-Versa).

I've been a busy fella!

Now that I'm back, though, I'm ready to newsletter for you again. So let's get to it.

Even though I'd seen Mark and Diana in Paris, Craig hadn't seen them for almost a month so we all met up at Little Dom's in Los Feliz upon our return to talk all about our trips. We drank Negronis and shared Little Gem salads, which were very good: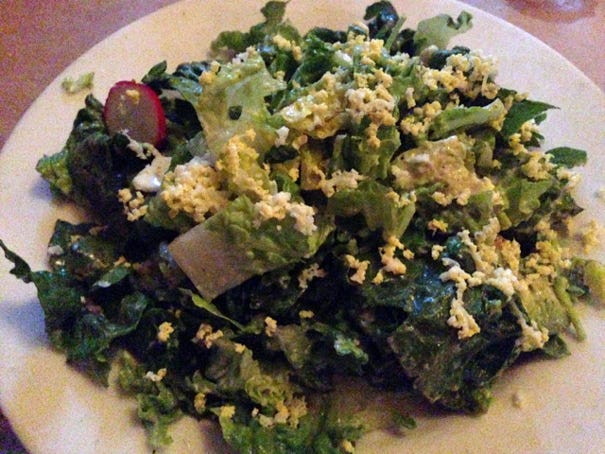 But my entree--baked ziti with ricotta and sausage--was really disappointing.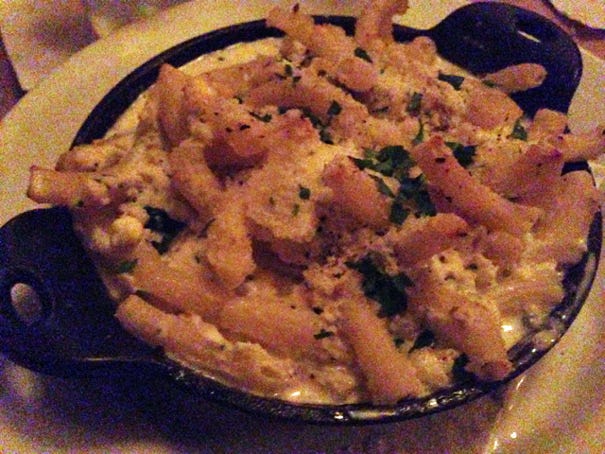 It's a replacement for a very different dish that I used to love there: rigatoni, also with ricotta and sausage. The difference is that this is easier for them to do; they can pre-make a bunch and bake them off as necessary, but the problem is that the finished dish tasted like dried out pasta sitting in a pool of cream. Not enough salt, all of the elements were poorly integrated. I was not a fan.

Luckily, this chocolate caramel tart redeemed things at the end: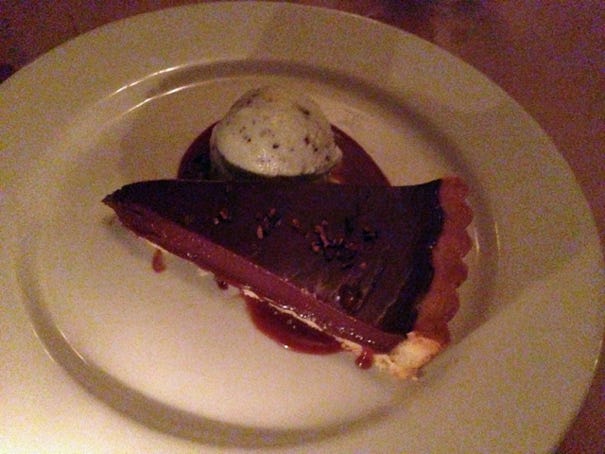 On Friday of last week, we met up with our friend (and Craig's manager) Emily for dinner at the newly opened Blue Plate Oysterette in West Hollywood: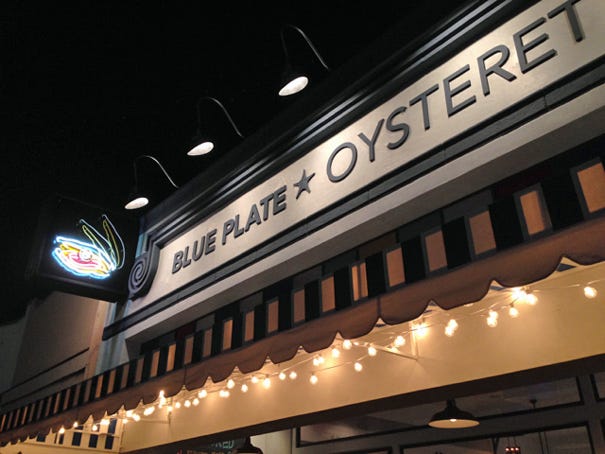 The place was positively bustling, it was quite a scene: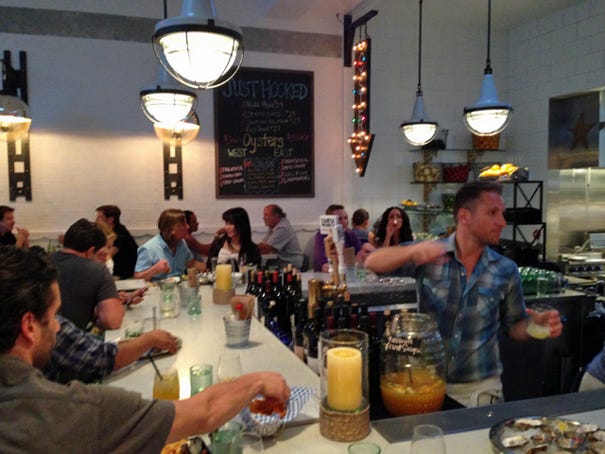 Things started appropriately enough with a big plate of oysters, all of them excellent (and served with four little sauces: two types of mignonette, cocktail sauce, and horseradish):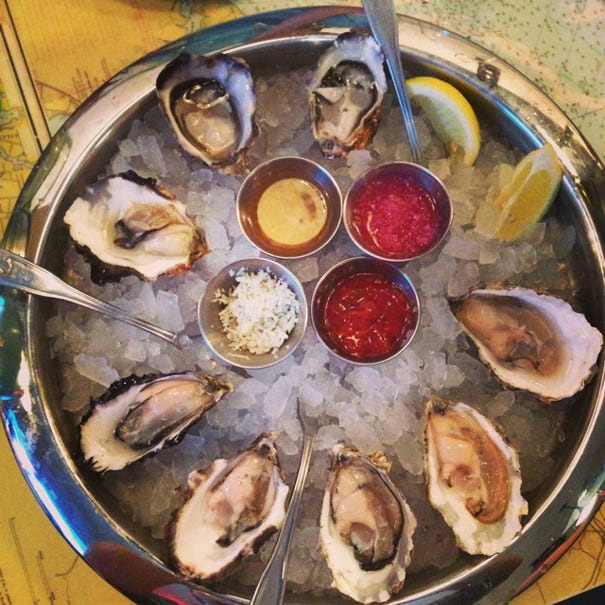 Entrees were all pretty good: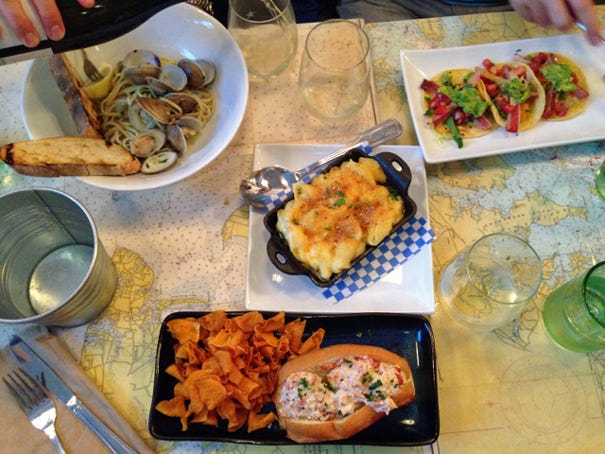 My lobster roll tasted good, though the sweet potato chips were a little "meh." The lobster mac and cheese was gooey and good (maybe my favorite of the entrees); Emily liked her linguine with clams and Craig was satisfied with his ahi tuna tacos.

But the thing that dazzled all of us, almost knocked us out of our chairs it was so incredible, was the dessert: the must-order Key Lime Pie.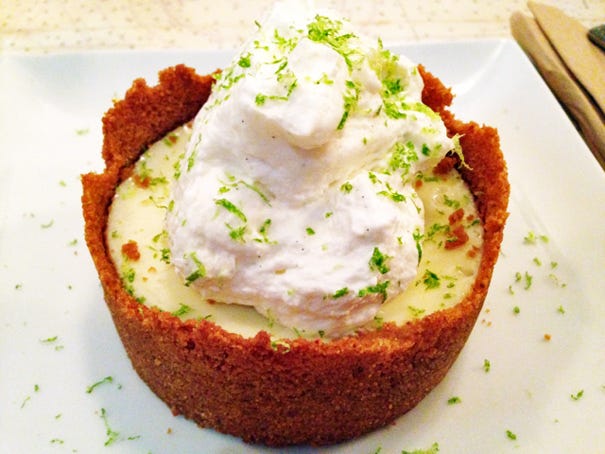 Do I even need to say anything? Look at that picture. It's everything you want it to be and more. My advice? Go to Blue Plate Oysterette for oysters and wine, skip dinner, and order the Key Lime Pie. You won't regret it.

After dinner, we went to a party at our friend Jim's and he had the coolest collection of Fiestaware. Don't you agree?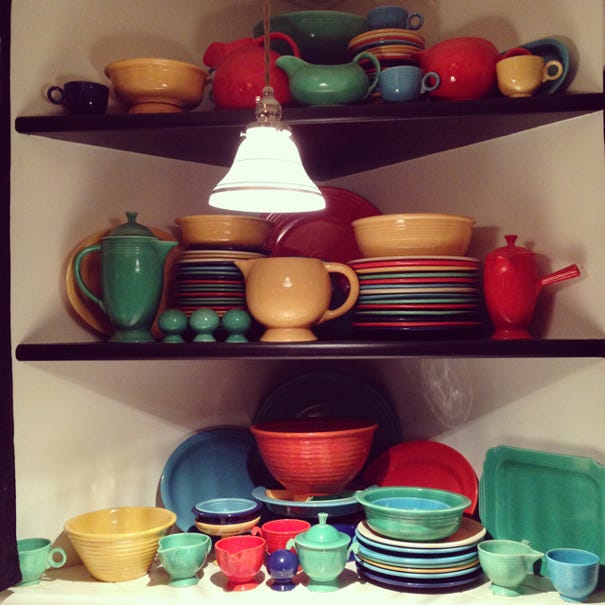 Now I have a new thing to obsess about when I'm finished with transferware.

On Saturday, Craig's movie played at OUTFEST, the Gay and Lesbian Film Festival here in L.A. By the way, did you know The Skeleton Twins trailer is out? You can watch it here: it's been seen almost 1.5 million times!

Before the screening, Craig was a little nervous and wanted to get a drink. So we went to a new bar in West Hollywood called Harlowe that had a great vibe: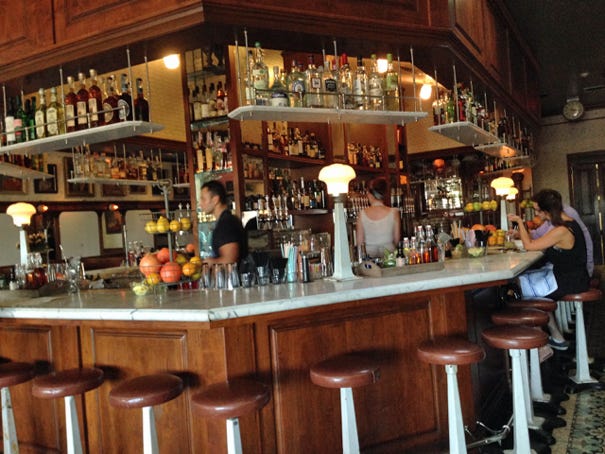 I love any place with lots of light streaming through the windows. I had the "Our Man in Rio" with La Blon cachaca, Beneditine, jalapeno-infused Green Chartreuse, agave nectar, and lime. Craig had a smoked Negroni which was only $7 at Happy Hour (mine was $14 because I wanted to try something more unique).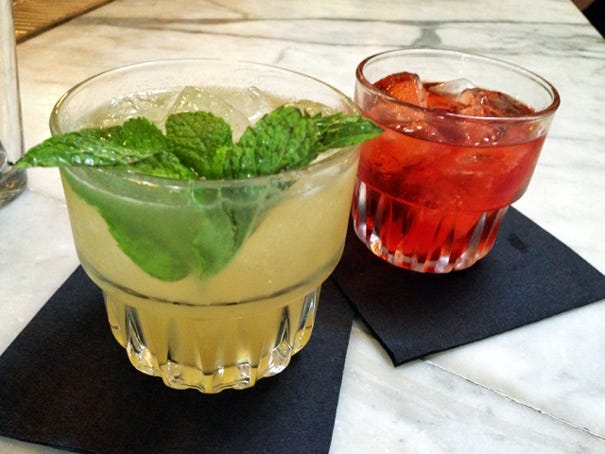 These were good! I don't have huge reactions to newfangled cocktails, really; either I like them or I don't. These I liked. Plus, Craig's Negroni gave him the courage he needed...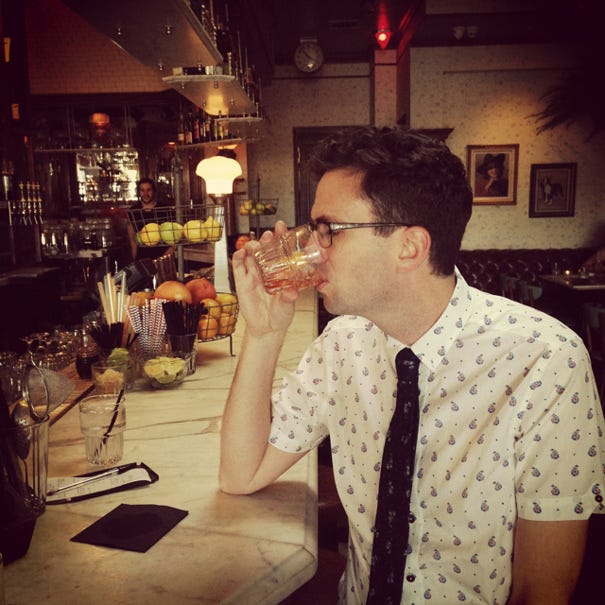 ...to face the 350 people gathered to see his movie.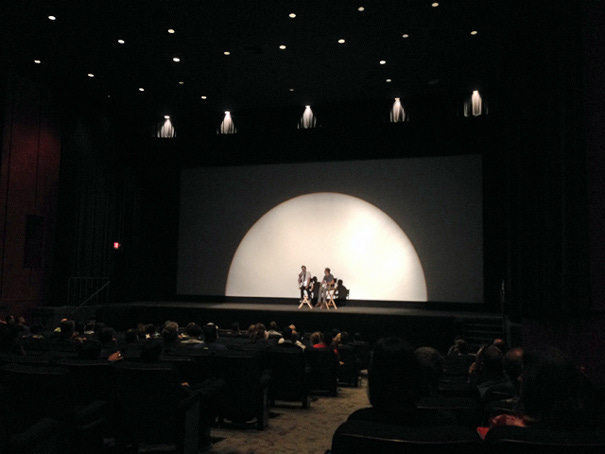 People loved it and you're going to love it too when it comes out on September 19th. Woohoo! That's so soon.

Finally, on Sunday we joined our friends Jimmy and Raef for a GREASE singalong at the Hollywood Bowl. At the last minute, I decided to whip up a couscous salad: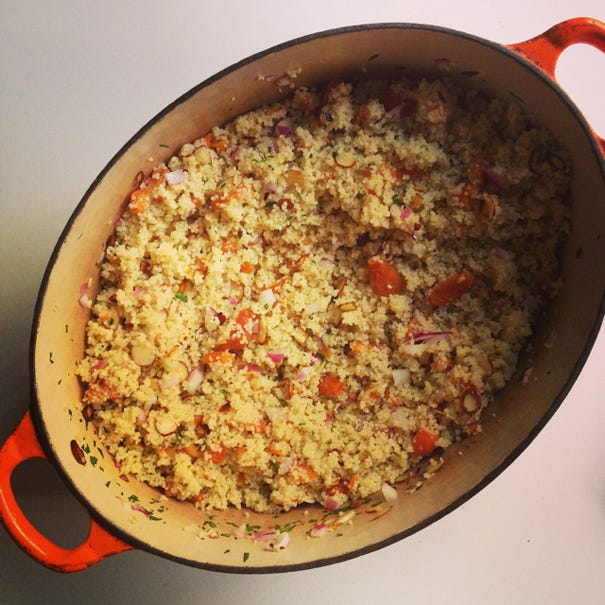 My technique: make two boxes of plain couscous and after pouring them into the boiling water, and before putting the lid on, put it some dried fruit to reconstitute--golden raisins, regular raisins, or chopped dried apricots (what I used here). Then, once the water's absorbed, add oil, vinegar, lemon juice, chopped onion, chopped scallions, chopped parsley, and toasted almond slivers to taste. Play around. Add more of whatever you like the most. Add other things. When you're happy with it, that's when you know it's done.

As for the GREASE singalong, had me a blast: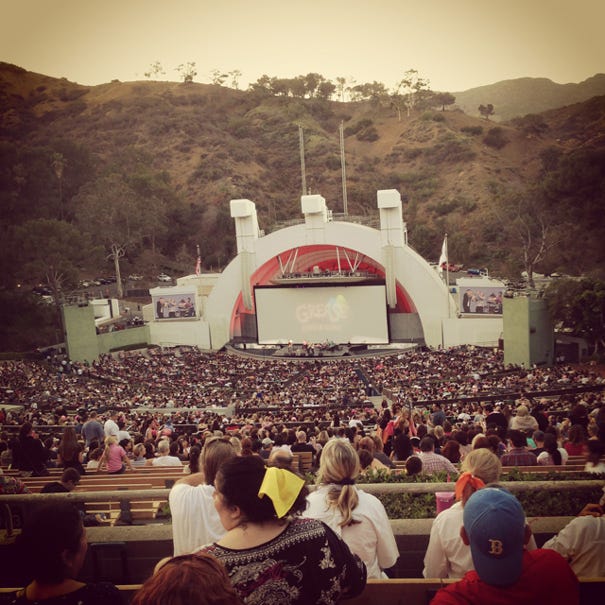 That's all for this week folks!

Until next time....

Your friend,
Adam (The Amateur Gourmet)
Reading this in a browser? Get next week's in your inbox by signing up here.

Follow Me!
On Twitter
On Facebook

Check Out My Cookbook!
Secrets of The Best Chefs

Recent Food Posts

Ten Lessons American Restaurants Can Learn From European Restaurants (And Vice-Versa)

Let's Go To A British Supermarket! Then Let's Go To A German Supermarket!

Reflections on a Week in Germany (Munich and Berlin)

One Night In Strasbourg (Lunch at Chez Yvonne--Featuring Coucroute Garnie--and An Epic Michelin-Starred Meal at Buerehiesel)

We'll Always Have Paris: With Meals at Restaurant Miroir, Jacques Genin, Le 6 Paul Bert, Little Breizh, and Chez L'Ami Jean

A Jolly Jaunt Through London with Stops at The Maltby Street Market, Tayyabs, St. John, Ottolenghi, The River Cafe, and Quo Vadis

Haggis, Kedgeree, and a Ceilidh: A Trip to Edinburgh

Lamb Merguez with Eggplant Jam and Green Olives

Diana's Birthday Lunch at Bouchon

FOMIM: Fear of Missing Important Meals

How To Host An Indoor Clambake

Tangerine Sour Cream Pound Cake

Bruschetta with Homemade Ricotta, Roasted Yellow Peppers, and Green Garlic

Ricotta Worth Making At Home

My New Favorite Summer Dessert: Shaved Ice and Ice Cream and Fruit at Mr. Boba

Entranced By Transferware!

A Golden Salad

Lunches at Good Girl Dinette & Son of a Gun

Julia Moskin's Steak with Sam Sifton's Potatoes

Bow Down Before My Sound of Music Plate

Delancey: A Memoir

David Lebovitz's Caramel Pork Ribs and Garlicky Slaw

Four Orange Cake

I Burst My Belt In San Francisco: Pixar, Foreign Cinema, SPQR...

The Story of the Time That I Ate $4 Toast

Shrimp and Grits

One-Pan Eggs, Greens and Bacon

The Night That Craig Cooked Dinner

The Village Bakery's Berry Ricotta Cake

Watching Suzanne Goin Cook

Spaghetti with Purple Cauliflower Sauce

My First CSA

Cheese and Chocolate Are BFFs

Eggs in Tomato Sauce with Sausage and Basil

PB&J French Toast

Make Your Own Civet Coffee

Chicken Milanese

Scrambled Eggs with Smoked Trout, Pickled Onions, and Kale

Chicken Sausage, White Beans, and Kale

Fun Times With Farro

Caramelized Cauliflower Frittata


*|LIST:DESCRIPTION|*

Unsubscribe *|EMAIL|* from this list.

Our mailing address is:
*|HTML:LIST_ADDRESS_HTML|*
Copyright (C) *|CURRENT_YEAR|* *|LIST:COMPANY|* All rights reserved.

Forward this email to a friend
Update your profile
*|IF:REWARDS|* *|HTML:REWARDS|* *|END:IF|*