A.G. Newsletter #157: Rainbow Cookie Cake, Sqirl, Lou, Southpaw, Forage, Bar Covell, & Ramekin


Hey Gang,

Many of you know that my favorite cookie of all time is the RAINBOW COOKIE; you know it, it's the one with red, yellow, and green layers on the inside, separated by jam, and covered in chocolate. But did you know that you can turn this great cookie into a cake? Well I did that very thing recently for a dinner party this past Saturday and behold the results: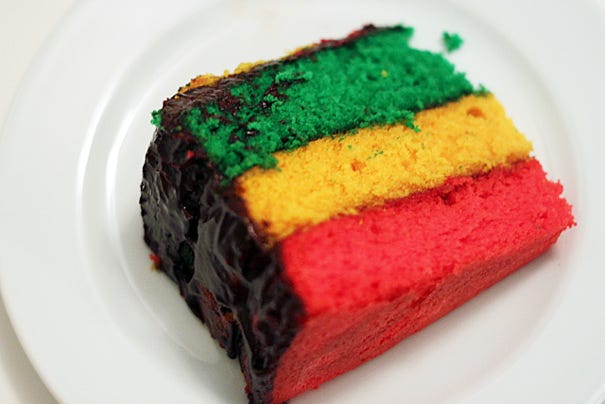 Incredible, right? Don't you want to make it yourself? Well I have step-by-step instructions right here: so go make a rainbow cookie cake of your own and save me a slice.

Also? I made an amazing pasta with fresh summer corn and squash. Click here to see that. You'll want to lick your screen.

Now on to newsletter business....

I joined my friend Diana for lunch at Sqirl last week and ordered the most peculiar thing on the menu (their menu changes daily); a chicken roulade with a whole chicken deboned and rolled and wrapped in fig leaves. Oh and with Japanese potato on the inside? And on some kind of apple sauce? It was weird but good!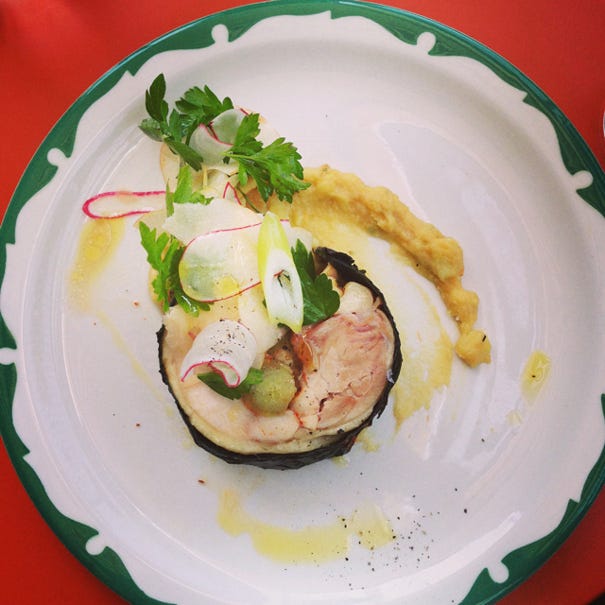 Diana had the shakshuka which she enjoyed, though she thought they could've reduced the tomato sauce further: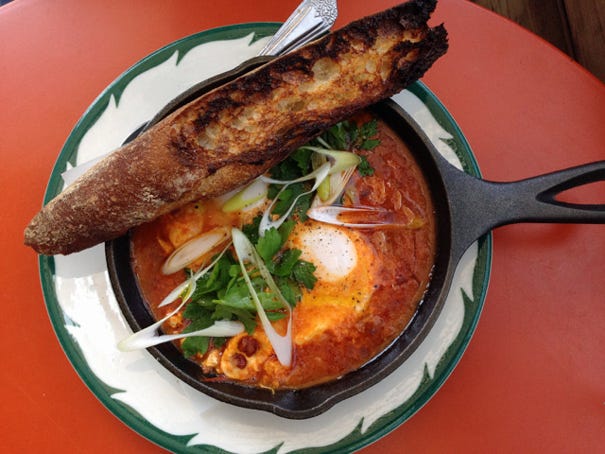 Next door, of course, is Lou (I've blogged about it before) my favorite wine shop in L.A.; favorite because the man at the helm, Lou, is always there to chat and talk about wines. Also he's very opinionated and very funny. For example, see this card that he posted describing one of the wines: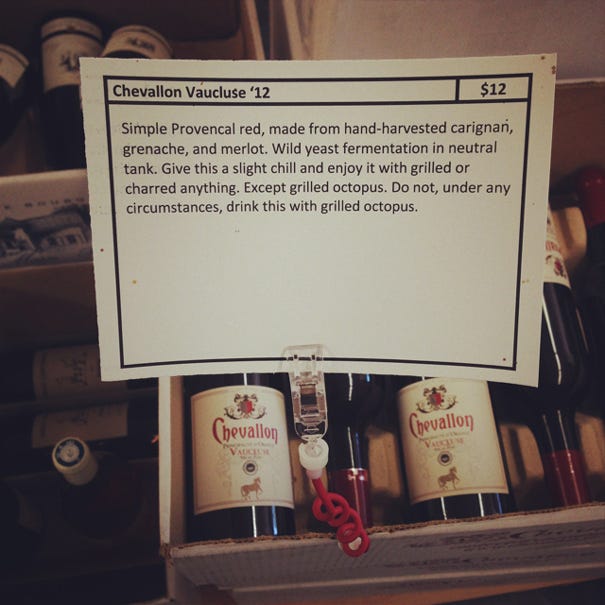 I bought a few bottles, all reasonably priced (around $15 to $20) and got to work drinking them throughout the week. My favorite was this Muscadet--one of Lou's favorite whites of all time--which I served with chicken and salad: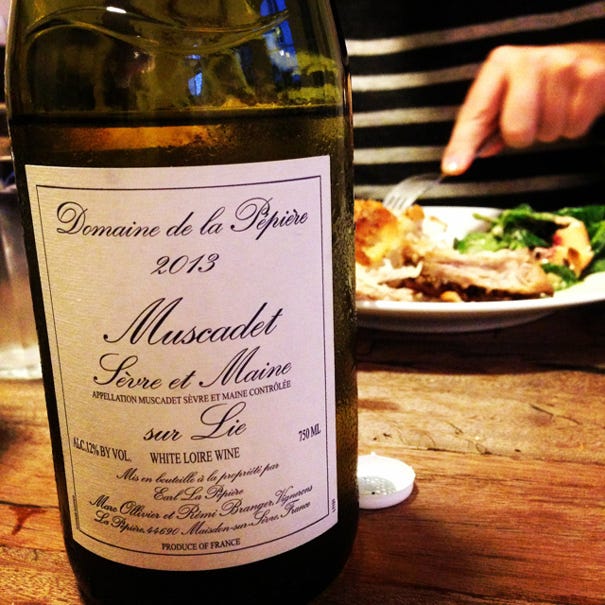 On Friday, I had an appointment at a new establishment near us in Silverlake called Southpaw. But Southpaw isn't a restaurant, it's a brand new hair cuttery for men: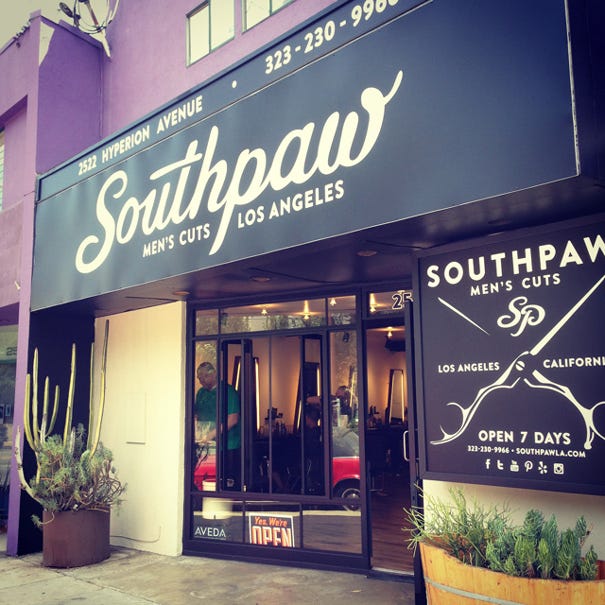 The reason we're excited about it is that it's the new home of Jim Palmer, who gives us the best haircuts ever. If you're a guy in L.A. you should go visit him and tell him we sent you. For example, look what he did with the thinning strands on top of my head: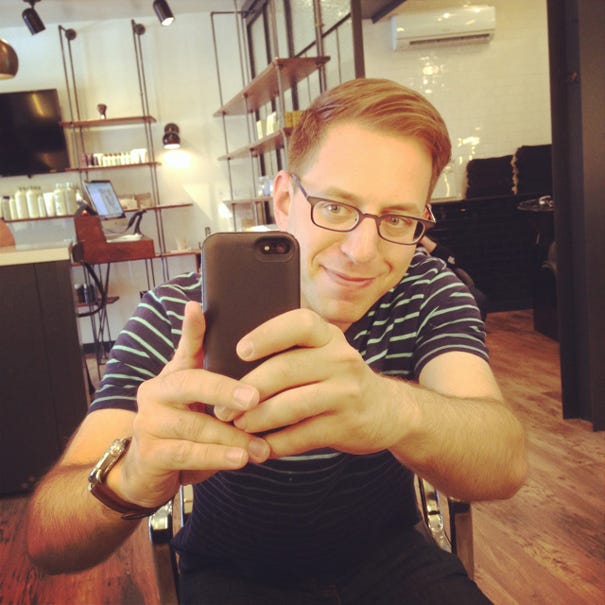 Plus, afterwards, you can drive a little further down Hyperion, cut a left, and have lunch at Forage, one of my favorite places to eat in L.A. because it's so healthy but tastes so good. When not ordering their decadent avocado sandwich, I almost always order a salad plate with three salads: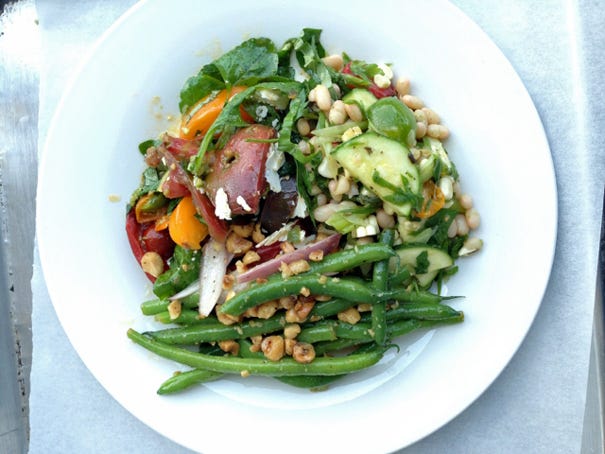 On this day, I had an heirloom tomato salad, succotash (it wasn't sufferin'), and green beans with walnuts. Yum.

That night, Craig and I treated ourselves to a cheese platter at Bar Covell (one of our favorite spots to hang out in the early evening on the weekend; they let you sample lots of wine before you buy your glass...so you know you're going to like what you get):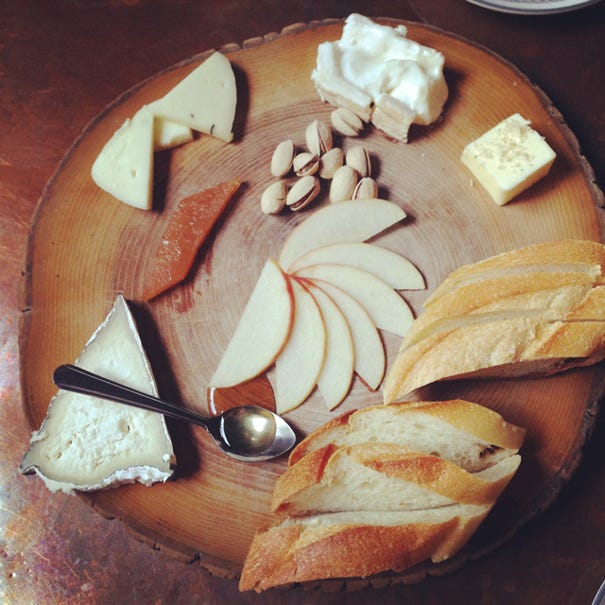 It's a pretty killer cheese platter.

After that, we weren't really that hungry, but we needed to have some kind of dinner, so we wandered into Ramekin--which is mostly known for their desserts--and shared a really excellent ham sandwich on nicely made, warm bread: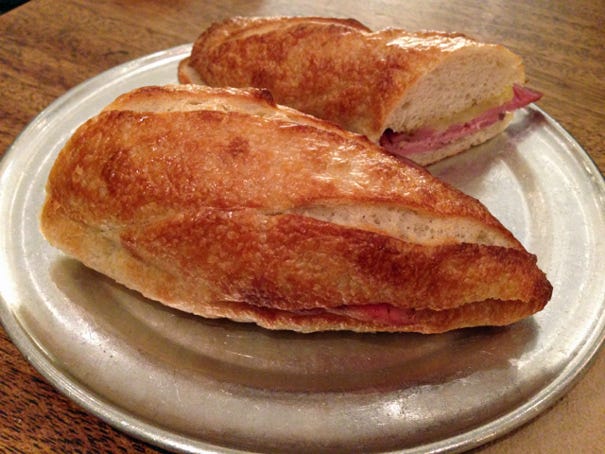 Afterwards, we couldn't say no to Ramekin's homemade ice creams and sorbets: Craig had the creme fraiche ice cream and I had the lychee sorbet which I loved.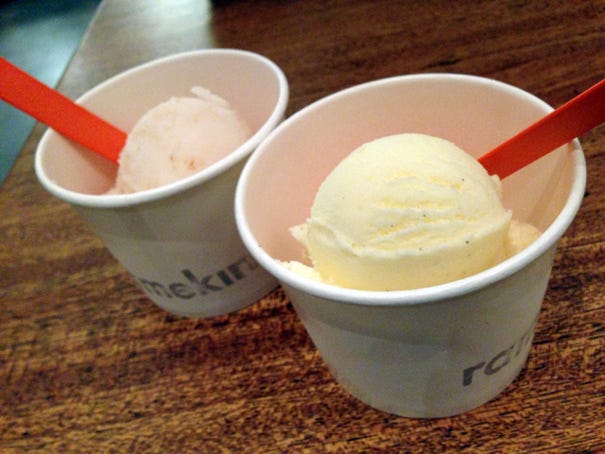 That's all for this week folks! I'm off to make some eggplant curry with the eggplant that came in our CSA.

Until next time....

Your friend,
Adam (The Amateur Gourmet)


Reading this in a browser? Get next week's in your inbox by signing up here.

Follow Me!
On Twitter
On Facebook

Check Out My Cookbook!
Secrets of The Best Chefs

Recent Food Posts

Summertime Pasta with Squash and Corn

Rainbow Cookie Cake

Clams with White Wine, Sweet Corn, and Basil

Quick-Brined Pork Chops with Pan-Fried Cauliflower

Ten Lessons American Restaurants Can Learn From European Restaurants (And Vice-Versa)

Let's Go To A British Supermarket! Then Let's Go To A German Supermarket!

Reflections on a Week in Germany (Munich and Berlin)

One Night In Strasbourg (Lunch at Chez Yvonne--Featuring Coucroute Garnie--and An Epic Michelin-Starred Meal at Buerehiesel)

We'll Always Have Paris: With Meals at Restaurant Miroir, Jacques Genin, Le 6 Paul Bert, Little Breizh, and Chez L'Ami Jean

A Jolly Jaunt Through London with Stops at The Maltby Street Market, Tayyabs, St. John, Ottolenghi, The River Cafe, and Quo Vadis

Haggis, Kedgeree, and a Ceilidh: A Trip to Edinburgh

Lamb Merguez with Eggplant Jam and Green Olives

Diana's Birthday Lunch at Bouchon

FOMIM: Fear of Missing Important Meals

How To Host An Indoor Clambake

Tangerine Sour Cream Pound Cake

Bruschetta with Homemade Ricotta, Roasted Yellow Peppers, and Green Garlic

Ricotta Worth Making At Home

My New Favorite Summer Dessert: Shaved Ice and Ice Cream and Fruit at Mr. Boba

Entranced By Transferware!

A Golden Salad

Lunches at Good Girl Dinette & Son of a Gun

Julia Moskin's Steak with Sam Sifton's Potatoes

Bow Down Before My Sound of Music Plate

Delancey: A Memoir

David Lebovitz's Caramel Pork Ribs and Garlicky Slaw

Four Orange Cake

I Burst My Belt In San Francisco: Pixar, Foreign Cinema, SPQR...

The Story of the Time That I Ate $4 Toast

Shrimp and Grits

One-Pan Eggs, Greens and Bacon

The Night That Craig Cooked Dinner

The Village Bakery's Berry Ricotta Cake

Watching Suzanne Goin Cook

Spaghetti with Purple Cauliflower Sauce

My First CSA

Cheese and Chocolate Are BFFs

Eggs in Tomato Sauce with Sausage and Basil

PB&J French Toast

Make Your Own Civet Coffee

Chicken Milanese

Scrambled Eggs with Smoked Trout, Pickled Onions, and Kale

Chicken Sausage, White Beans, and Kale

Fun Times With Farro

Caramelized Cauliflower Frittata


*|LIST:DESCRIPTION|*

Unsubscribe *|EMAIL|* from this list.

Our mailing address is:
*|HTML:LIST_ADDRESS_HTML|*
Copyright (C) *|CURRENT_YEAR|* *|LIST:COMPANY|* All rights reserved.

Forward this email to a friend
Update your profile
*|IF:REWARDS|* *|HTML:REWARDS|* *|END:IF|*