A.G. Newsletter #158: Republique, Diana's Dinner, Brian's Corn Souffle, Jar, Uncle Jerry at Fromin's, Our Porch & Yasmine's Flowers


Hey Everyone,

What horrible news yesterday about Robin Williams. Normally, I hate finding out about a celebrity death on social media--it sometimes feel like a race as to who can Tweet/Facebook about it first--but yesterday, the responses were more thoughtful and forged something of a community that I found comforting. I Tweeted the following, which pretty much sums up my feelings on the subject: "The smartest, most creative people in the world often suffer the most because they take in all the darkness and try to help us cope. R.I.P. Robin."

There's no proper segue from there, but since this is a food newsletter, I suppose we should get to the cooking. A few things since our last newsletter:

* I wrote a post called TEN THINGS YOU SHOULD NEVER SERVE AT A DINNER PARTY that was a little bit awkward for me after I published it because I went to two dinner parties subsequently (that I'll write about in this newsletter) and everyone had read what I'd written and I was all sheepish and meek and said, "Oh, I was only being provocative." Awkward!!

* I discovered that The Big Bang Theory star Jim Parsons made my Rainbow Cookie Cake for his partner Todd and Jesse Tyler Ferguson from Modern Family plus Jesse's partner Justin. He even gave me a shoutout on Instagram!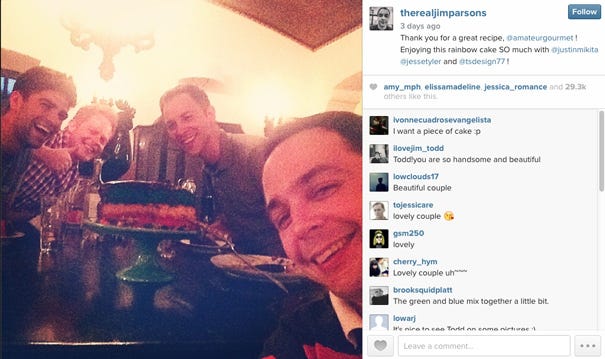 * My post about turning leftovers into frittatas hid a little secret vis-a-vis something that's happening for me and Craig next May;

* I made a killer summer dinner: chicken with plums, zucchini with almonds.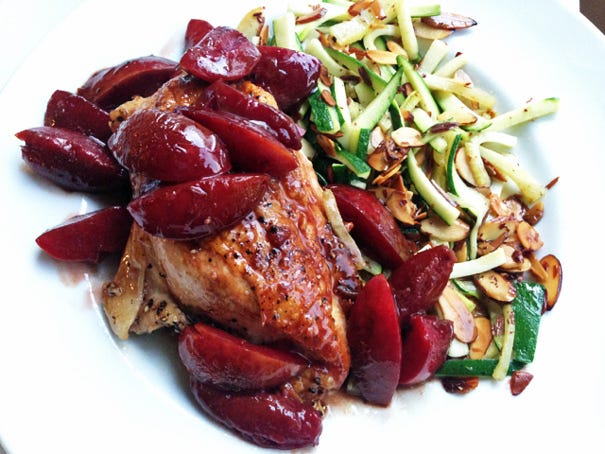 Ok, now on to newsletter business.

My parents were in town two weeks ago and after some careful negotiations, I convinced them to try a place that wasn't one of their usual L.A. haunts; a restaurant I'd gone to once before with Craig and some friends called Republique. Our last trip there was less than positive; we'd loved the food, but our table was an elevated table all the way in the front and we had to sit on bar stools while eating a wildly expensive meal. This time, I told my parents to ask for a table in the back.

That made all the difference. Here they are studying their menus with their reading glasses: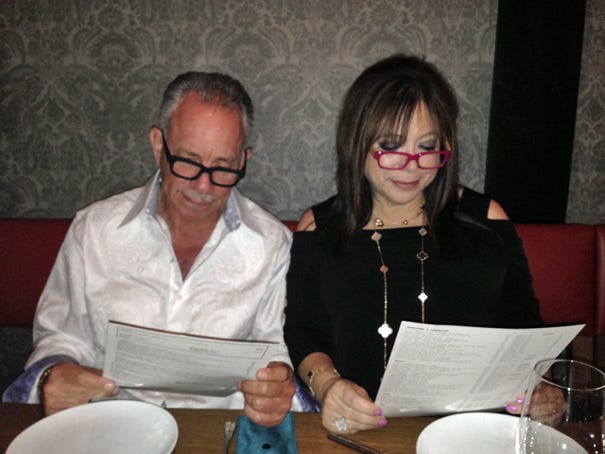 I did most of the ordering, though, and mostly I did a good job with one exception.

Everyone loved the warm house-made baguette with Normandy butter (some of the best bread in L.A., in my opinion):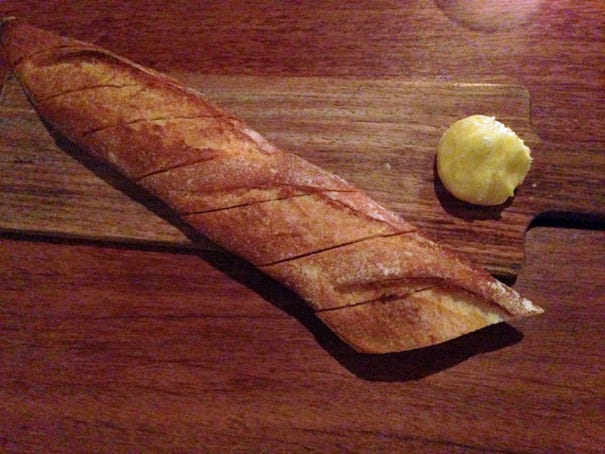 My one mistake was ordering the "chips and dip" which I really loved--the dip had raw fish in it--but the chips were pork rinds and my parents weren't so into that. (I thought they were pretty killer.)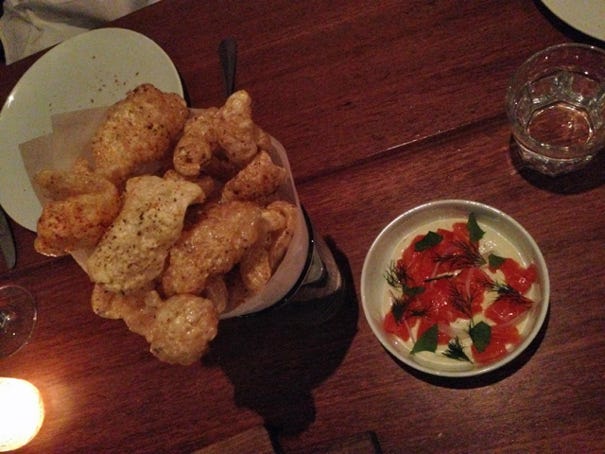 I was back in good favor, though, with this crostini of burrata, prosciutto, and peach--a perfect summer bite: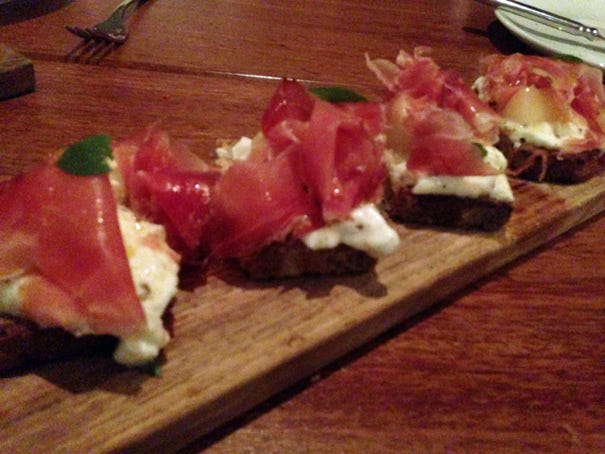 My family loves garlic, so the escargot swimming in a sea of garlic and parsley and topped with puff pastry was a big winner: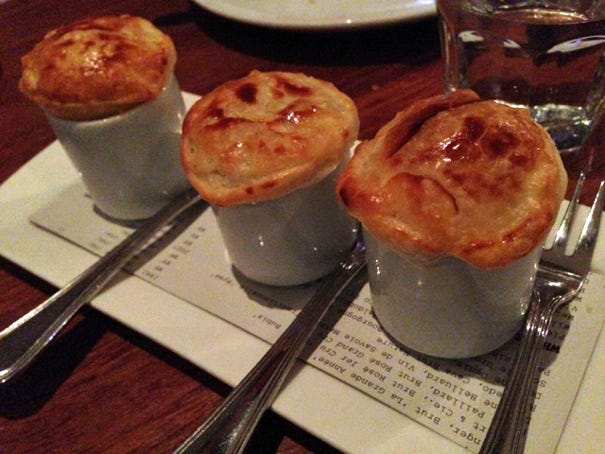 We were all drinking wine by the glass, and when I asked the waiter (also named Adam) for a white recommendation, he eagerly recommended this Riesling which is only sold at limited restaurants including The French Laundry and Per Se and Alinea. After one sip, I could see why; it was really complex and a great pairing for food: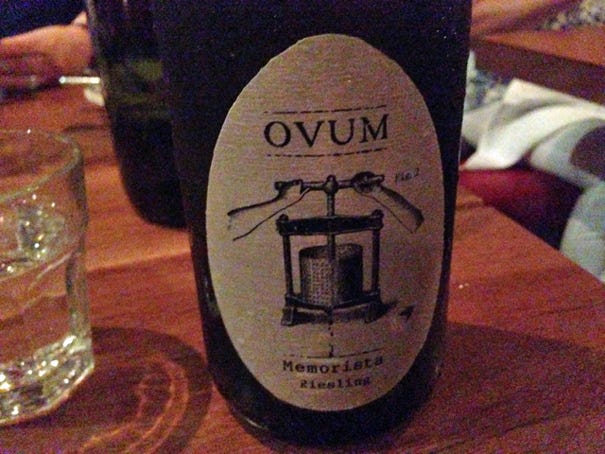 Including this salad of Little Gem lettuce and nectarines and other good stuff: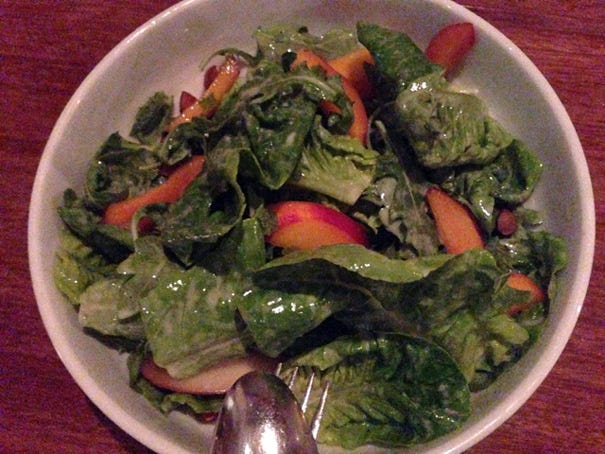 Summer corn pasta so good, I may request this as my last meal on earth if I ever have a choice: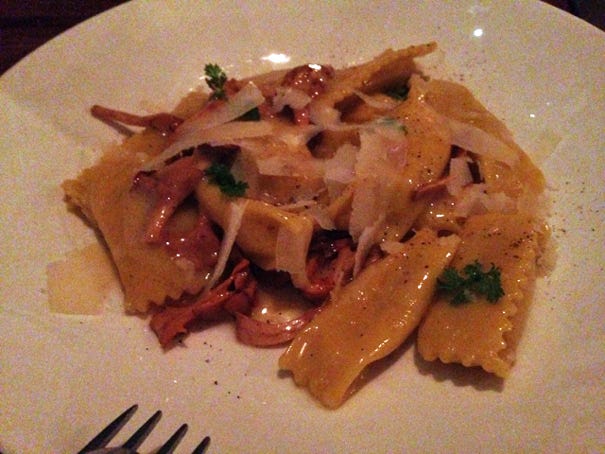 And a huge pork chop that we all shared; which was plenty of food for three people, believe me: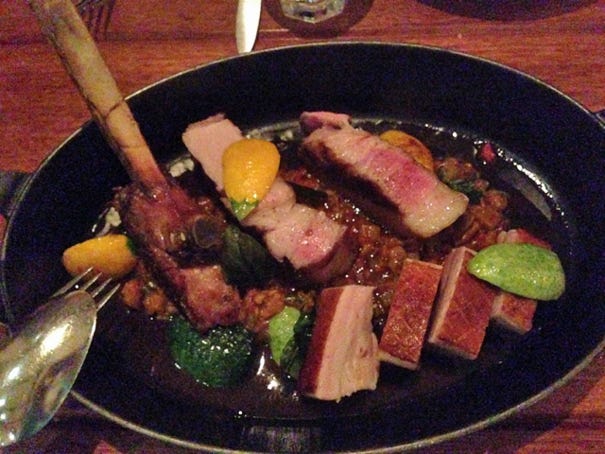 The only disappointment was that they ran out of their famous salted caramel chocolate cake before we had a chance to try it. So we had the warm chocolate cake instead, which was very good, though nobody likes to be told that they missed something better.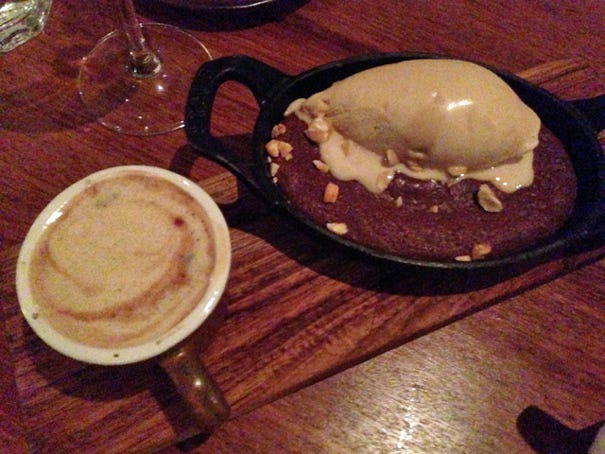 If my dad sees a celebrity at a restaurant, you know we're going back; which is why I was relieved, upon leaving, to spot Bill Maher among the crowds at the communal tables (you can't see him here, but you can get a feel for the place, which was Charlie Chaplin's old studio and also the old Campanile space):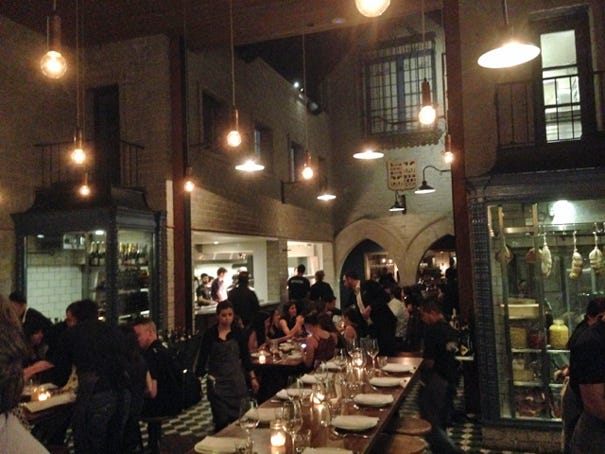 I'm not really going out on a limb here; Republique is probably one of the best places to eat in L.A. right now. Just make sure to sit in the back and you'll be set.

Now, as for those dinner parties: the first was at Mark and Diana's, with our friends John and Michael in attendance. Here's everyone at the table: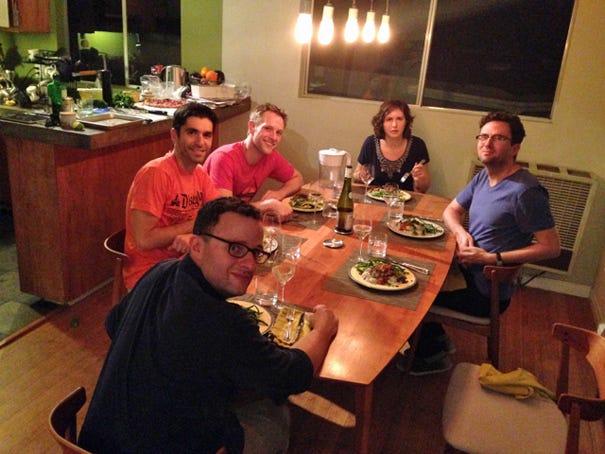 (Diana's not smiling because she just read my "What Not To Serve At A Dinner Party" post.)

Not to worry, Diana! You always knock it out of the park. And this night was no exception. Here's our dinner of rice with fish (Barramundi from the farmer's market), a piquant red sauce (I forget what kind) and beautiful beans: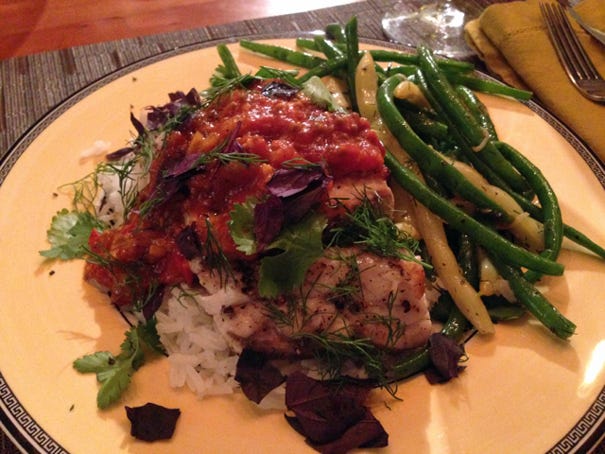 Wow, she puts all of us to shame. And her dessert, a raspberry and rhubarb crostata, put everything over the top: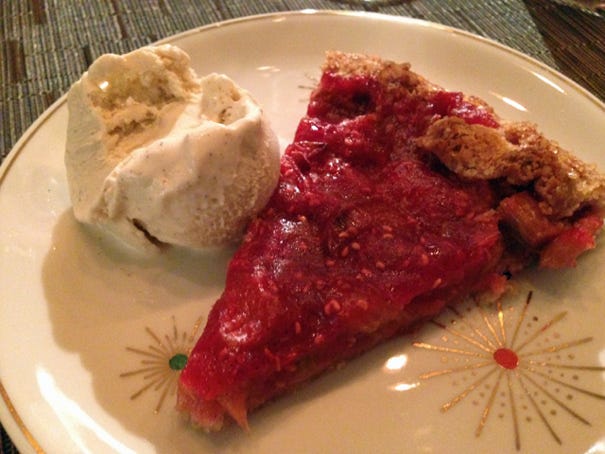 A few days later, I was at another dinner party--I'm very popular!--at my friend Brian's. He served up a delicious dinner of buttermilk marinated chicken from Smitten Kitchen, a salad, and a terrific corn soufflé: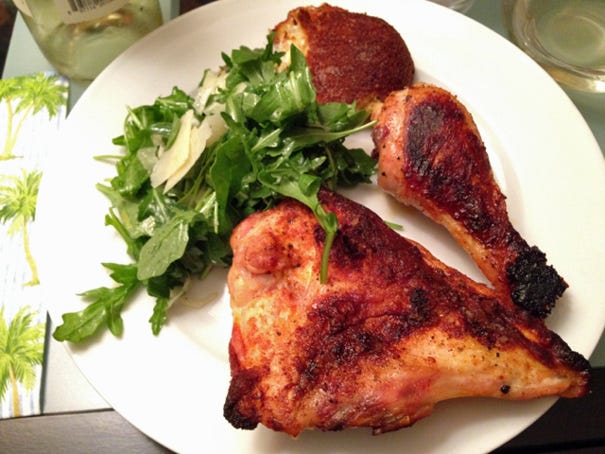 Let's see that corn soufflé close up: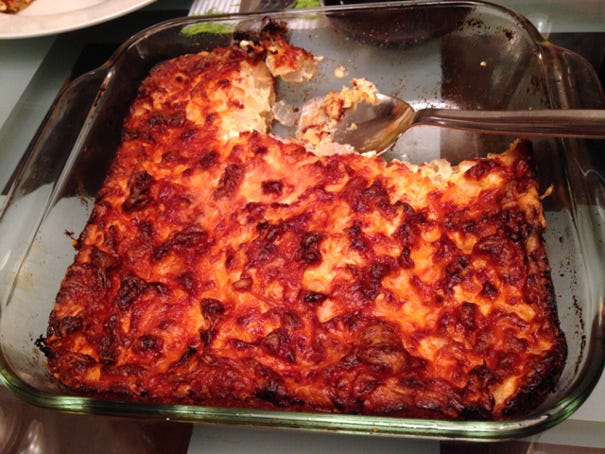 Think: bread pudding made with cornbread and topped with lots of cheese. The recipe comes from Brian's mom and he got the recipe for us; I'll include it at the end of the newsletter!

On Friday night, we joined our friends Barrett and Chad for dinner at Jar, one of L.A.'s most beloved restaurants.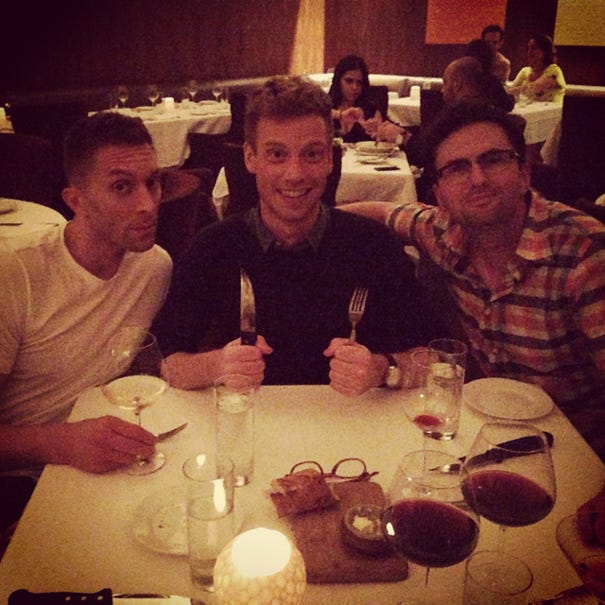 Remember when Barrett was on my podcast with Jar chef Suzanne Tracht? That feels like forever ago. But it was fun to have a Jar reunion of sorts, even though Chef Tracht wasn't there by the time we got there.

We enjoyed deviled eggs so good, I forgot to take a picture. Then I had a butter lettuce salad that was perfectly dressed: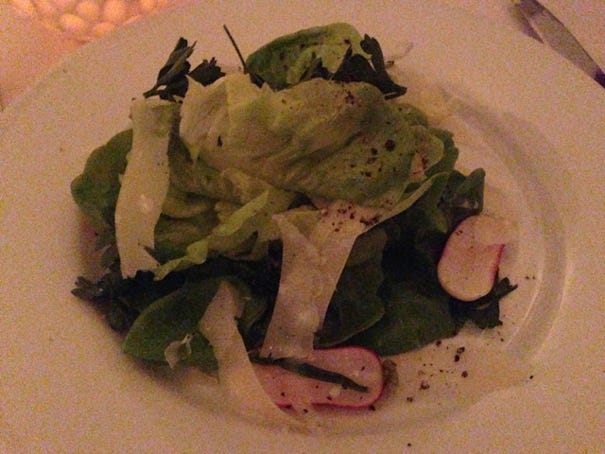 The highlight for me, though, was the rib-eye steak. I was really craving steak and the ribeye did not disappoint (are you mad that I hyphenated rib-eye in the first sentence and didn't in the second sentence?):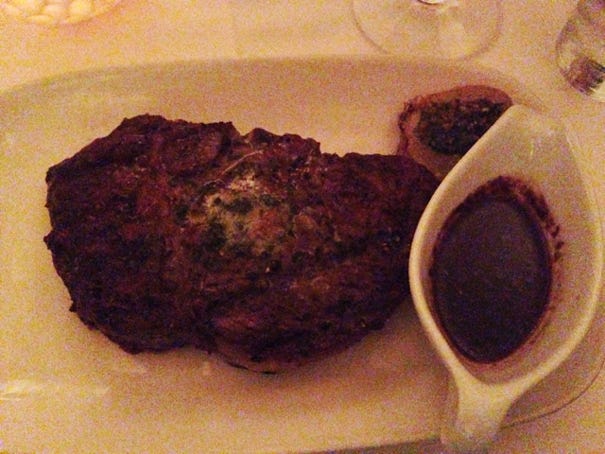 There were sides, including the famous purple yam that Suzanne told us about in the podcast: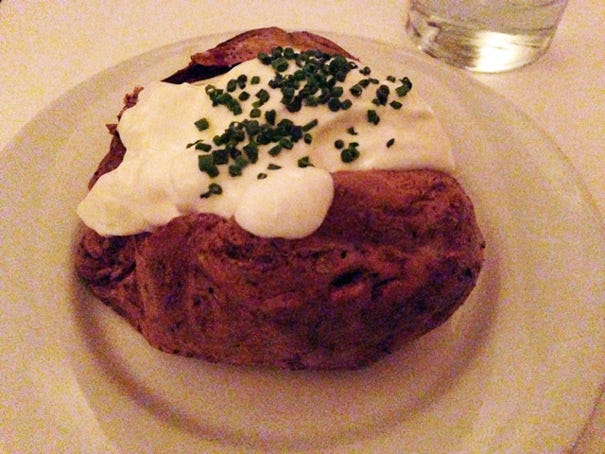 And for dessert, the famous salted butterscotch pudding PLUS something chocolate: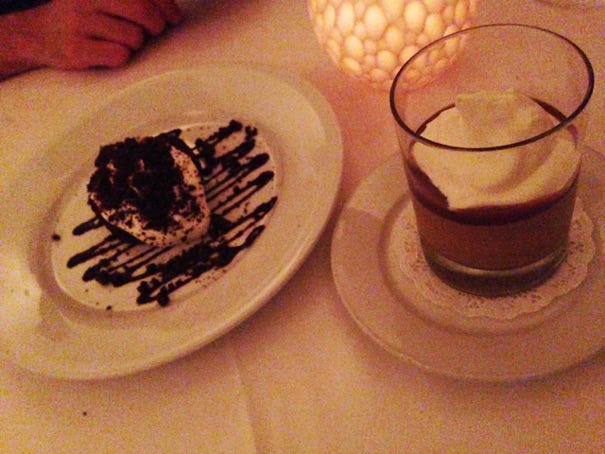 On Saturday, Craig had a meeting in Santa Monica so we made time to meet my 92 year-old Uncle Jerry for lunch at his favorite spot, Fromin's: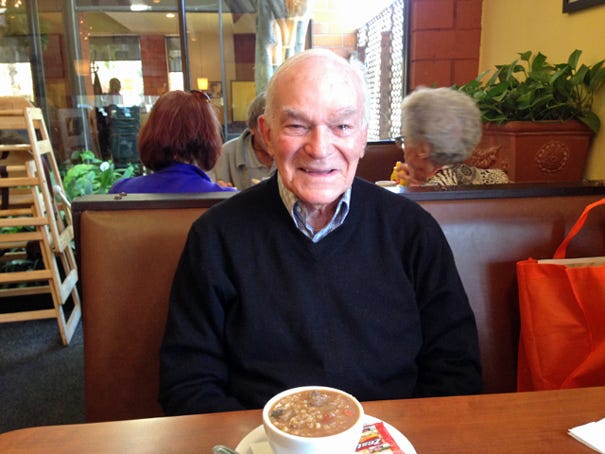 His secret? A bowl of soup for lunch, a salad for dinner. Meanwhile, Craig ate a gigantic Reuben with French fries: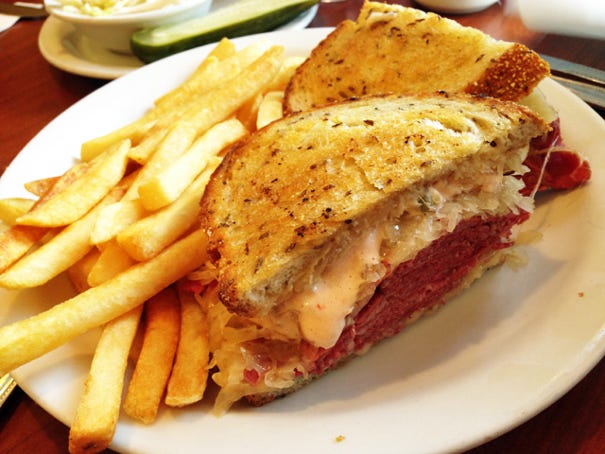 And I had lox, eggs, and onions with potatoes and rye toast: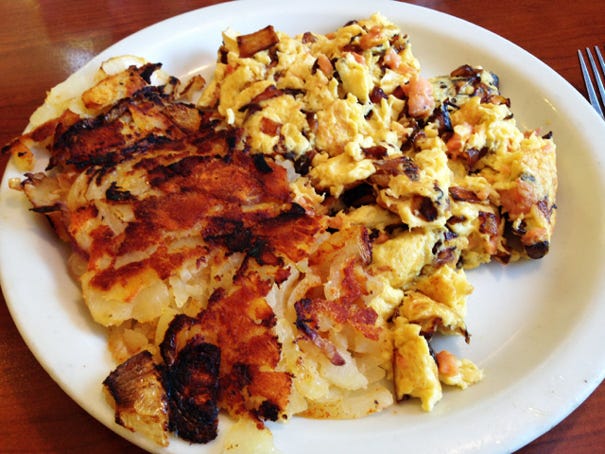 (The waitress asked if I wanted the onions "raw or well done?" I said "well done" and I don't regret it.)

That afternoon, we came home and remembered that we had a porch. We also had French gin that I received as a gift. So I told Craig that we should have gin and tonics on our porch. That ended up being a really good idea: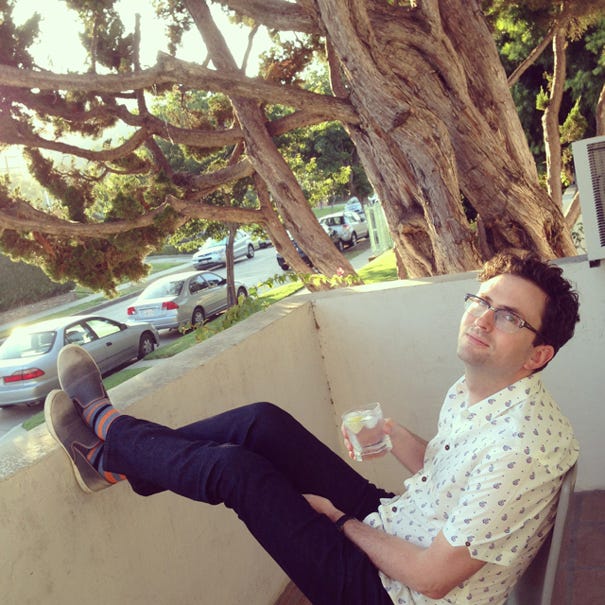 Finally, on Sunday, I was on the other side of Atwater Village when I found a lovely flower pop-up at a store called Individual Medley.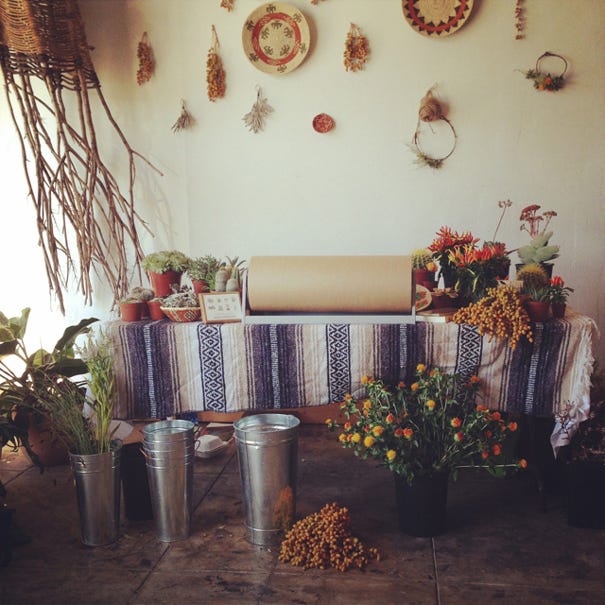 The woman who runs it, Yasmine, is actually an Instagramlebrity: check her out on there. 31,000 followers! And for good reason. Look at the lovely bouquet she made me for $20: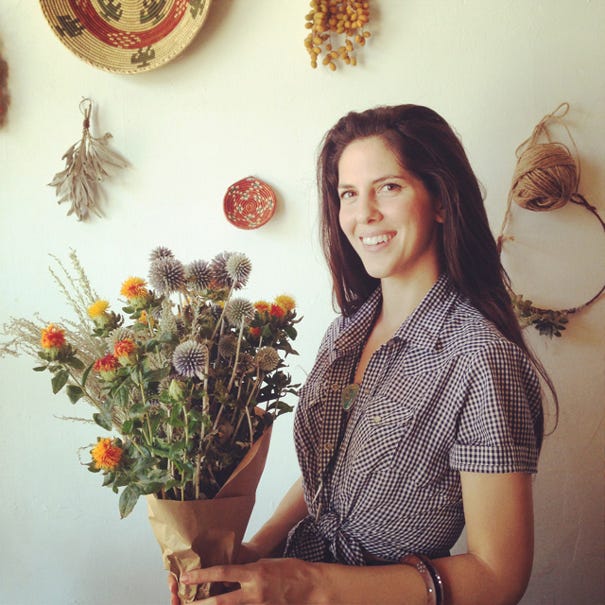 Plus, she gave me a gift of a chile plant that I had to get home by putting it in the cup holder of my car: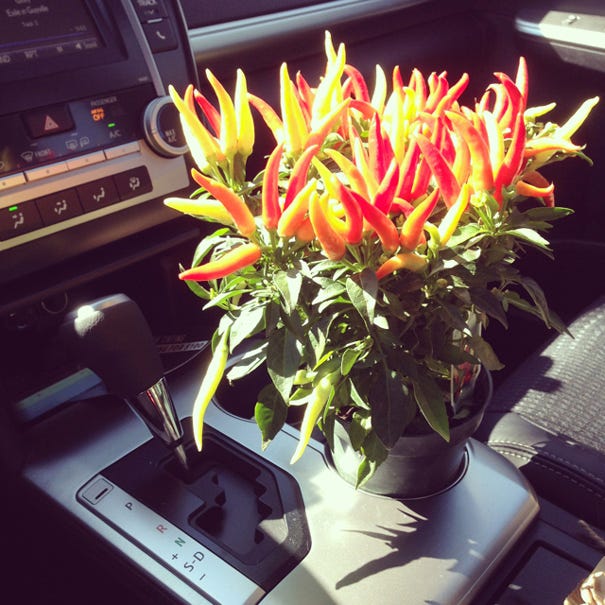 That's all for this week folks!

Until next time....

Your friend,
Adam (The Amateur Gourmet)


BRIAN'S MOM'S CORN SOUFFLE RECIPE
Natalie's Corn Souffle 1 large sweet onion (like Vidalia) 1 box of Jiffy corn bread mix 1/3 cup milk 1 cup sour cream 1 cup grated sharp cheddar cheese 1/4 cup butter (or combo of butter and olive oil) 1 egg beaten 1 cup creamed style corn 1/4 tsp. salt 1/4 tsp. dried dill Slice and chop onion and saute slowly in melted butter for a long time until very sweet Mix corn muffin mix, egg, milk, creamed corn and pour this mix into an 8 inch square glass pan that has been sprayed with PAM Mix sour cream, dill, salt and 1/2 of the cheese with the sauteed onions. Drop by flattened spoonful on top of batter and try to spread it gently on top to cover . Sprinkle remaining cheese over the top and bake in preheated 425 degree oven for 30 to 40 minutes or longer until it is golden on top. ( I usually double this recipe and bake in large glass pyrex pan-if doubling you will need 2 cans of corn but will not use it all)














Reading this in a browser? Get next week's in your inbox by signing up here.

Follow Me!
On Twitter
On Facebook

Check Out My Cookbook!
Secrets of The Best Chefs

Recent Food Posts

Sweet Summer Corn with Bacon and Balsamic Onions

The Best Way To Cook Farro

Scrambled Eggs with Sausage, Tomatoes, and Pecorino

Casual Crostata

Chicken with Plums, Zucchini with Almonds

The Right Way To Eat A Muffin

How To Turn Leftovers Into Frittatas

Look Who Made My Rainbow Cookie Cake

Chicken and Multi-Colored Carrots in Tangerine Sauce

Ten Things You Should Never Serve At A Dinner Party

Summertime Pasta with Squash and Corn

Rainbow Cookie Cake

Clams with White Wine, Sweet Corn, and Basil

Quick-Brined Pork Chops with Pan-Fried Cauliflower

Ten Lessons American Restaurants Can Learn From European Restaurants (And Vice-Versa)

Let's Go To A British Supermarket! Then Let's Go To A German Supermarket!

Reflections on a Week in Germany (Munich and Berlin)

One Night In Strasbourg (Lunch at Chez Yvonne--Featuring Coucroute Garnie--and An Epic Michelin-Starred Meal at Buerehiesel)

We'll Always Have Paris: With Meals at Restaurant Miroir, Jacques Genin, Le 6 Paul Bert, Little Breizh, and Chez L'Ami Jean

A Jolly Jaunt Through London with Stops at The Maltby Street Market, Tayyabs, St. John, Ottolenghi, The River Cafe, and Quo Vadis

Haggis, Kedgeree, and a Ceilidh: A Trip to Edinburgh

Lamb Merguez with Eggplant Jam and Green Olives

Diana's Birthday Lunch at Bouchon

FOMIM: Fear of Missing Important Meals

How To Host An Indoor Clambake

Tangerine Sour Cream Pound Cake

Bruschetta with Homemade Ricotta, Roasted Yellow Peppers, and Green Garlic

Ricotta Worth Making At Home

My New Favorite Summer Dessert: Shaved Ice and Ice Cream and Fruit at Mr. Boba

Entranced By Transferware!

A Golden Salad

Lunches at Good Girl Dinette & Son of a Gun

Julia Moskin's Steak with Sam Sifton's Potatoes

Bow Down Before My Sound of Music Plate

Delancey: A Memoir

David Lebovitz's Caramel Pork Ribs and Garlicky Slaw

Four Orange Cake

I Burst My Belt In San Francisco: Pixar, Foreign Cinema, SPQR...

The Story of the Time That I Ate $4 Toast

Shrimp and Grits

One-Pan Eggs, Greens and Bacon

The Night That Craig Cooked Dinner

The Village Bakery's Berry Ricotta Cake

Watching Suzanne Goin Cook

Spaghetti with Purple Cauliflower Sauce

My First CSA

Cheese and Chocolate Are BFFs

Eggs in Tomato Sauce with Sausage and Basil

PB&J French Toast

Make Your Own Civet Coffee

Chicken Milanese

Scrambled Eggs with Smoked Trout, Pickled Onions, and Kale

Chicken Sausage, White Beans, and Kale

Fun Times With Farro

Caramelized Cauliflower Frittata


*|LIST:DESCRIPTION|*

Unsubscribe *|EMAIL|* from this list.

Our mailing address is:
*|HTML:LIST_ADDRESS_HTML|*
Copyright (C) *|CURRENT_YEAR|* *|LIST:COMPANY|* All rights reserved.

Forward this email to a friend
Update your profile
*|IF:REWARDS|* *|HTML:REWARDS|* *|END:IF|*