The Ten Best Things That I Cooked in 2018
Reading in a browser? Click to get this in your inbox every week!

Hey everyone,

I have to confess: I love a good year-end list. Back in my blogging days (remember those?), I'd really look forward to going through my old pictures and figuring out the best things that I cooked and ate in a given year. Well, now that I'm an official newsletter-er, there's no reason that I can't still do that! So this week you'll find my Top Ten Things That I Cooked in 2018; next week I'll do my Top Ten Restaurant Meals of 2018.

What did I learn going through this year's pictures? Well: I've shifted away from making pasta four days a week. I've gotten better at preparing meat and seafood (I used to be nervous to buy big hunks of meat and expensive seafood in case I screwed it up; but, in many ways, if you buy good meat and seafood, it kind of does the work for you). I got braver about pie dough. I had a torrid love affair and a messy break-up with my Instant Pot (more on that in a bit). And I was really good about using up leftovers (see: rice balls).

OK, enough introspection. On with the show!

THE TEN BEST THINGS THAT I COOKED IN 2018:

1. Alison Roman's Slow-Roasted Pork Shoulder with Garlic, Citrus, and Cilantro.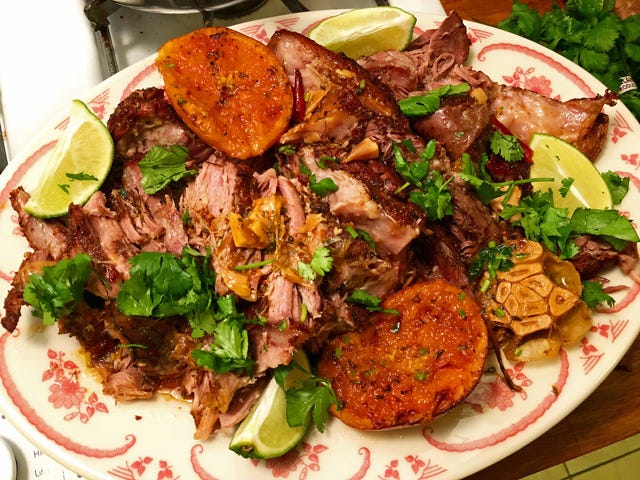 You know that you've made something good when the people that you made it for still talk about it months later.

Such is the case with Alison Roman's slow-roasted pork shoulder from her viral cookbook sensation, Dining In. Our friends Harry and Cris came over for dinner and Cris, who's French, grew up in Bordeaux, and knows a thing or two about good eating, couldn't contain his excitement over what we were eating. Neither could Harry. "This is amazing." "Oh my God." "What's in here?" "How did you make this?" "Can we have the recipe?"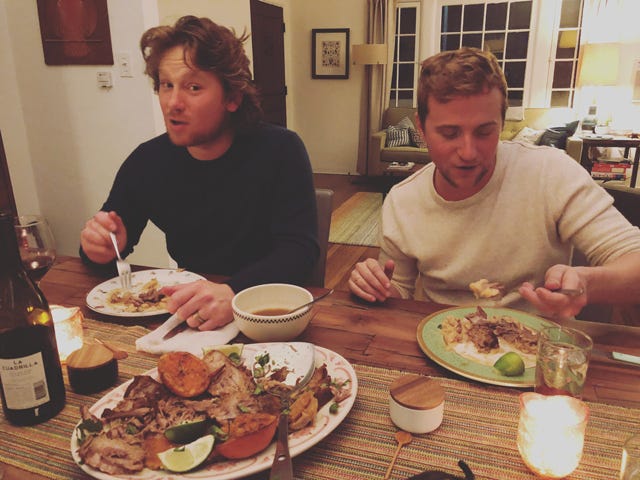 It's really a slam-dunk of a dinner and it has everything to do with the bold aromatics Roman uses: two heads of garlic, a whole orange halved, fresh thyme, bay leaves, chiles de arbol, coriander seeds, cilantro stems.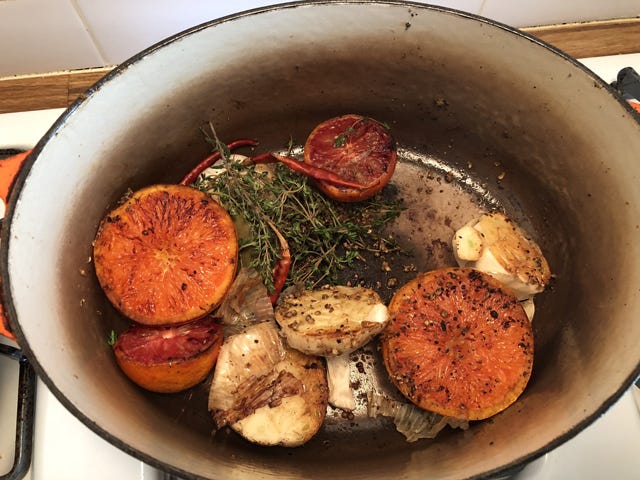 It's a big, exciting dish and definitely the most memorable thing that I made this year. Top prize goes to the shoulder.

2. Lidia Bastianich's Lagane e Ceci.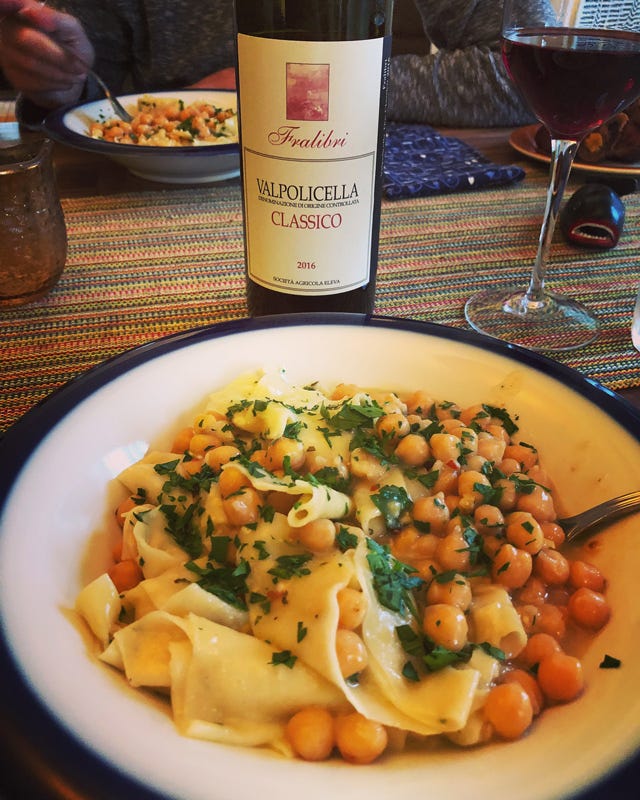 I seriously think that the best cooking school around is PBS. The line-up of shows on there--from Sara Moulton's to Steve Raichlen's--are endlessly educational and no one has taught me more about cooking, via her TV show, than Lidia Bastianich. She seamlessly weaves together history and technique in every episode; but she also makes food that you just want to grab through the screen and no dish enticed me more, this year, than her lagane e ceci which I watched her make on Lidia's Italy one Sunday afternoon and immediately decided to make myself when the episode was over.

What is it? Big square noodles (like little lasagne squares) that you make from scratch and then cook in a broth featuring dried chickpeas that you cook down with all kinds of aromatics (including pancetta). I felt like a real live Italian grandmother rolling these out: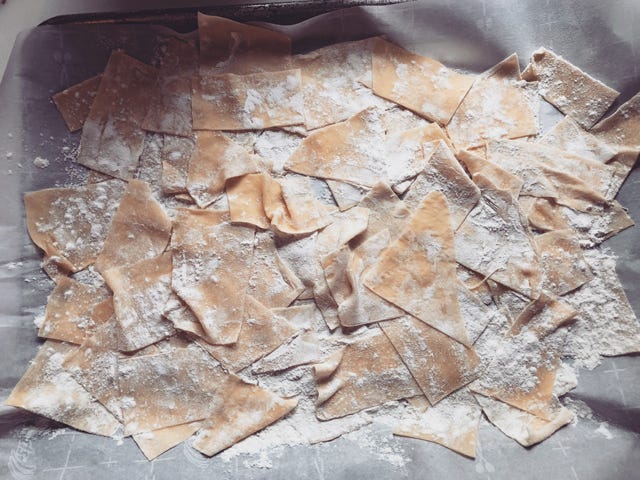 The marriage of those fresh noodles and the naturally creamy, chickpea broth was utterly transcendent. I loved the afternoon that I spent making this; it took a lot of time and I had to clean a lot of dishes, but I didn't mind.

Now you're going to ask for the recipe and I just did a Google search for it, with no luck. Apparently it's featured in her book Celebrate Like An Italian so that's your best bet.

3. Summer Peach Pie.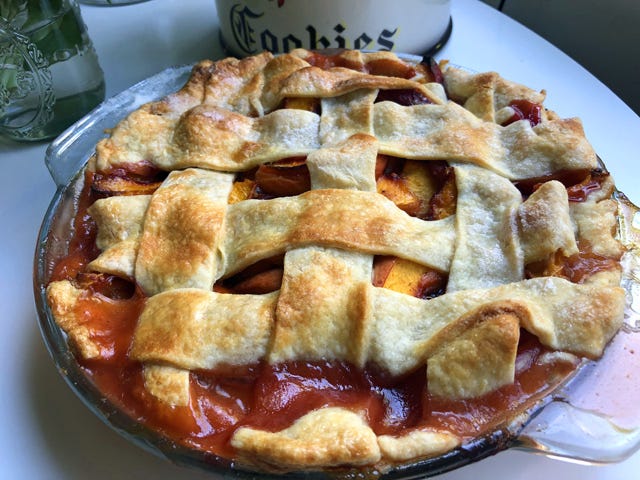 The story of my life is a story of failing at pie. Over the years, I've struggled to figure out how to bring the dough together, how to roll it out, how to transfer it to the pie dish, how to seal it up in a pretty way.

This year, though, all of that agita went out the window when I figured out a central truth that changed my pie-making skills forever: it's just about keeping it cold. I know many of you knew that already, but for me I was always so stressed about adding too much water, or rolling it out poorly; but everything happens easily if you keep the butter and the water that you add ice cold. And then refrigerate the dough itself. My two step guide for pie success is: 1. Really bring the dough together when you flatten it into a disk (to ensure it'll roll out evenly); and 2. KEEP IT COLD.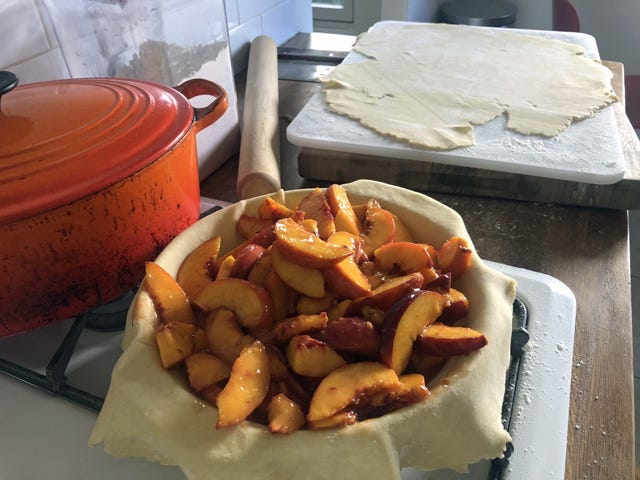 So this was a peach pie that I made this summer with very little fanfare. There wasn't anything special in it; just peaches and sugar. But the ease with which I made it ("Oh, we have some extra peaches? Why, I'll make a peach pie!") made it a year highlight for me. And I went on to make other pies and rustic tarts this year and didn't stress about it; so this peach pie changed things forever.

4. Stuffed Tomato Arancini.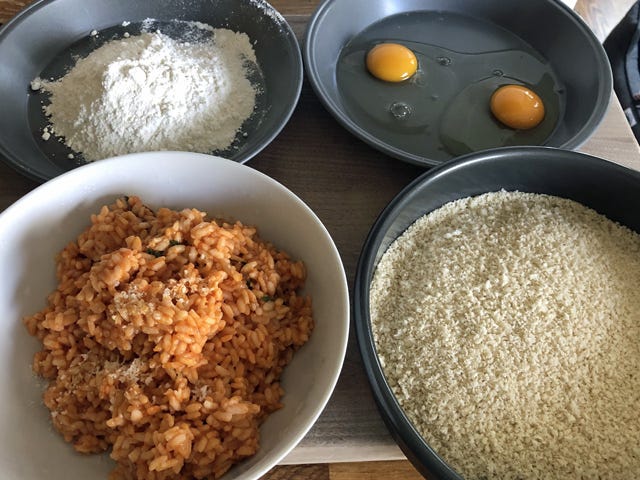 As far as I'm concerned, one of the greatest things that you can accomplish in the kitchen is to repurpose old food to make something even better. On a Saturday, this year, I had made stuffed tomatoes filled with tomato rice made with the tomato pulp (which, in and of itself, was a year highlight).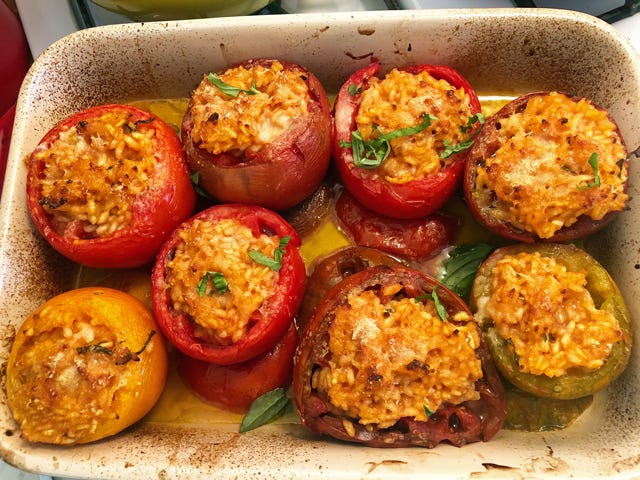 As it was, I'd made too much filling, so the next day, I took that filling and made Arancini. It was as simple as this: I rolled the leftover rice into balls, stuffed them with goat cheese (mozzarella is ideal, but I didn't have any), coated them in flour, egg, then breadcrumbs, and deep-fried them.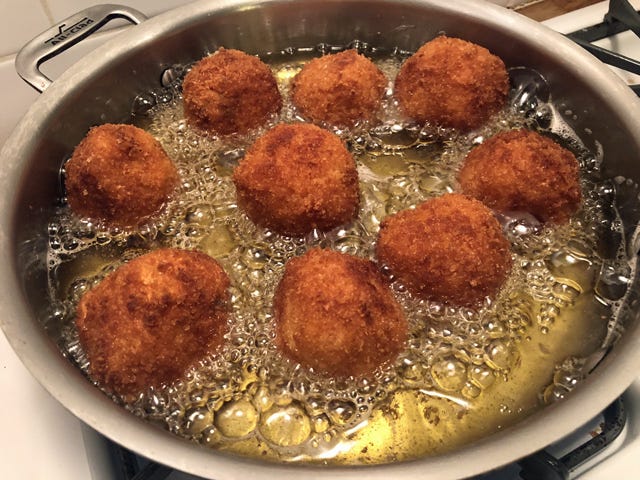 Actually, looks like I shallow fried them. All of this may look super complex and messy, but I can't emphasize to you how easy this was and how impressive the results were. Hot, fried, cheese-stuffed rice balls for my dinner guests using leftovers and it took thirty minutes total. Now that's a kitchen triumph if there ever was one.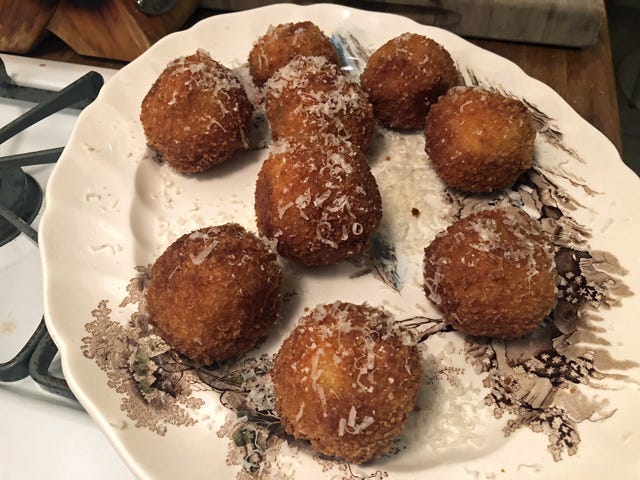 5. Thomas Keller's Mac and Cheese.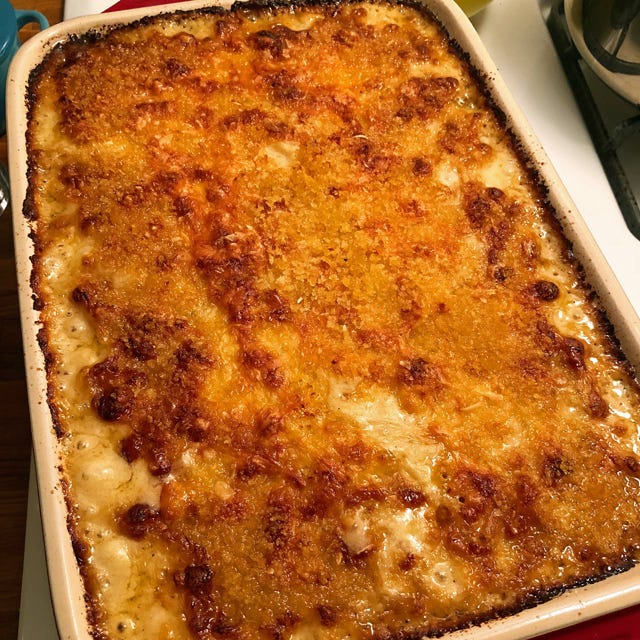 I'd never made a truly great mac and cheese before this year, and then I happened on Thomas Keller's. We had a group of friends coming over for dinner, one of whom was a vegetarian, so I wanted to make something that everyone could eat but that would also knock everyone's socks off. This did the trick.

What made it so good? How about a pound of cave-aged Gruyère, Comté, and Fontina, a roux made with lots of butter, and Panko on top. Also, I seasoned it really well; that's the mistake I'd made in the past, under-seasoning the mac and cheese, and that made all the difference. See? Look at these happy customers.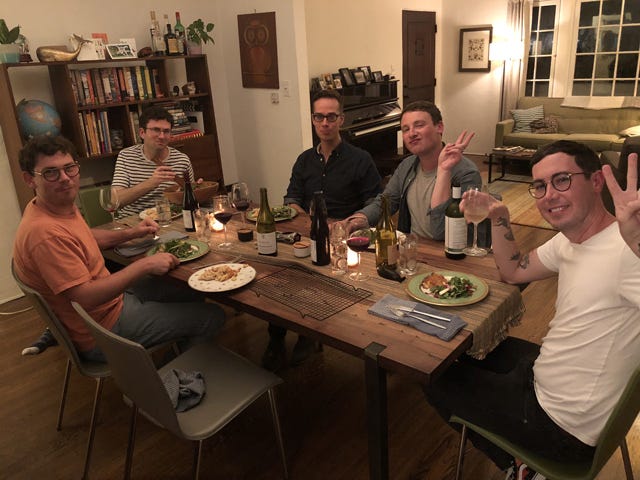 6. Bravetart's Devil's Food Cake.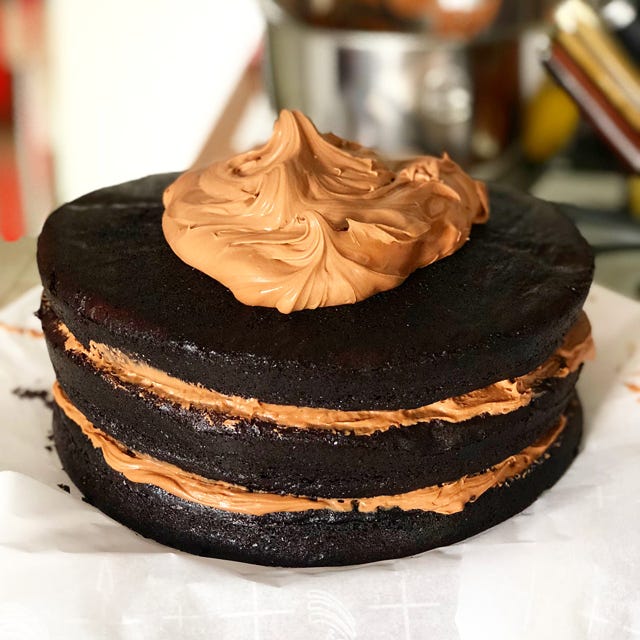 In July, my family came to visit for my brother's birthday and I cooked him a birthday dinner on what turned out to be the hottest day of the year (at some point, I believe it was 110 degrees outside). Man, was that rough.

Michael requested chicken Parmesan, which I pulled off pretty well; including a side of pasta made with the same tomato sauce.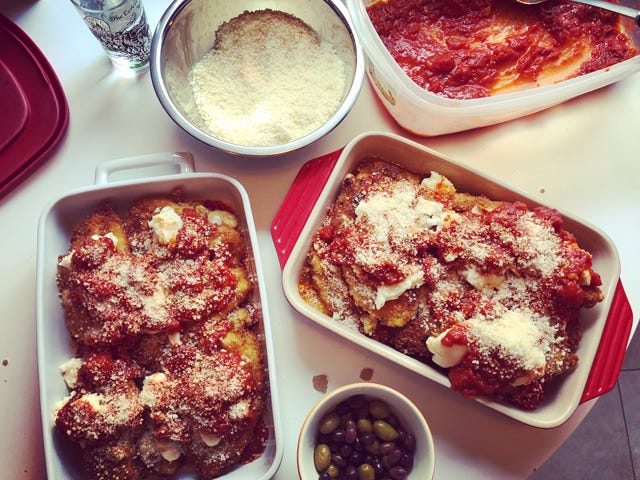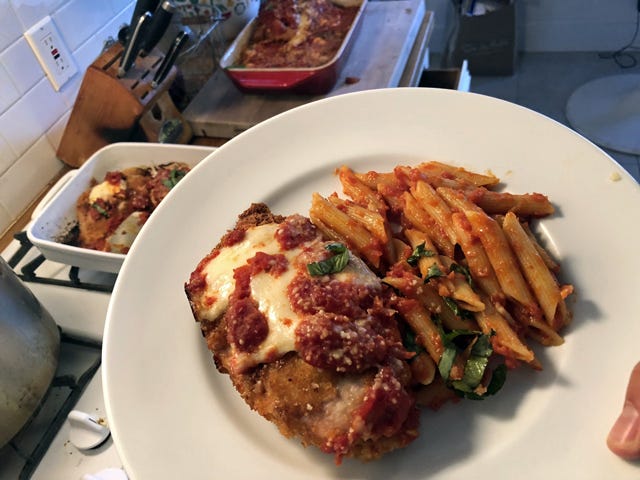 There was also a Caesar salad, which my family gobbled up.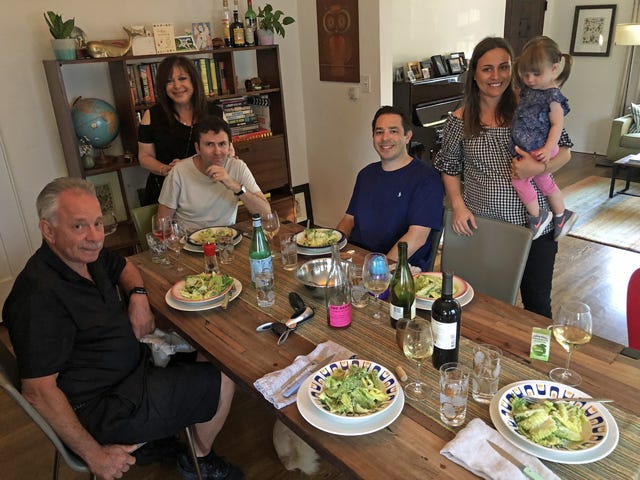 But the Pièce de résistance was definitely the dessert which came from Stella Parks' Bravetart Cookbook. The cake had a lot of butter (three sticks, which horrified my mom when she watched me make it on Instagram stories), black coffee, chopped dark chocolate, and a frosting made with milk chocolate.

It was an epic endeavor, especially on such a hot day, but I'm glad I did it and my family was glad too.

7. Instant Pot Ribs.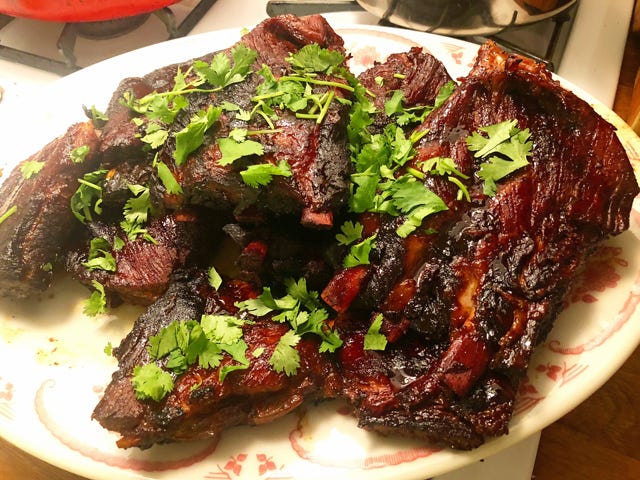 Oh Instant Pot, what happened to us?

When I first got my Instant Pot, this summer, I fell madly in love with it. I used it to cook beans, I used it to cook oatmeal, and, most impressively, I used it to cook meat. Meat was the main thing that impressed me with the Instant Pot; tough cuts of meat, like pork shoulder or lamb shanks, could be made tender and succulent in under an hour. And nothing impressed me more than the ribs I made in there.

I made ribs for our friend Luis using Mark Bittman's recipe with Hoison; then I made them again for our visiting friends Patty and Lauren, and our friends Mark and Diana, using a BBQ sauce and served them up with coleslaw and homemade corn bread.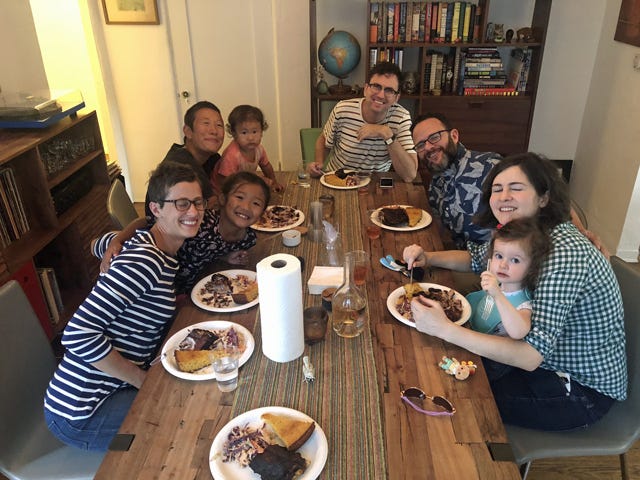 So where did things go south for us, Instant Pot?

Well, for starters, it was an eyesore in my kitchen. It looked like having a robot in there among my beloved pots and pans and Dutch oven.

More importantly, though, I didn't enjoy cooking with it. My favorite thing to do when cooking is to tinker; to taste, to season, to adjust. You can't really do that with an Instant Pot. And though meat came out great in there, it wasn't necessarily better than meat that I'd make carefully in the oven or on the stove (see my #1 dish of the year, a braise, made in the oven).

Ultimately, I concluded, that Instant Pot is great if time is your biggest issue in the kitchen. If you need to get dinner on the table fast, the Instant Pot is for you. Otherwise, you don't really need it.

8. Summer Ragu.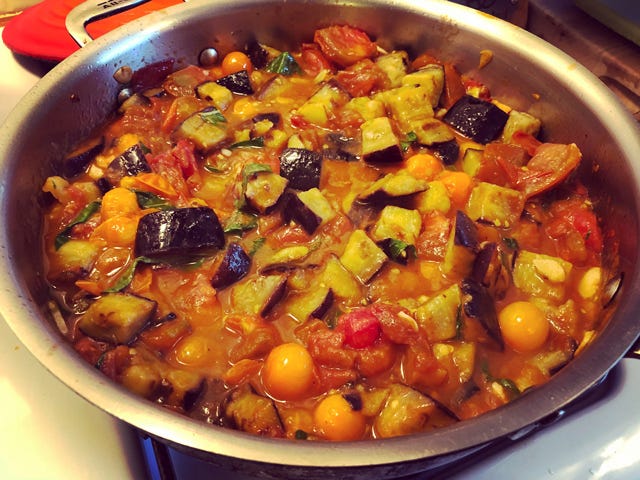 At the peak of summer, when tomatoes were at their best, and basil was perfuming the air at the farmer's market, I made the ragu that you see above without a recipe.

I cubed eggplant, and cooked it slowly in olive oil until it was brown all over; then I removed it, added garlic to the pan, and again, slowly coaxed flavor out of it, along with some chile flakes, and then I added a bunch of perfect summer tomatoes. When those broken down, I added the eggplant back and let everything cook together, slowly, until I had the most fragrant summer ragu, which I made even more fragrant with lots of shredded basil. I served it with pasta, but this probably would've been good by itself with a big hunk of bread.

Not gonna lie: this was pretty amazing. Can't wait to make it again next summer.

9. The Violet Bakery's Rye Chocolate Brownies.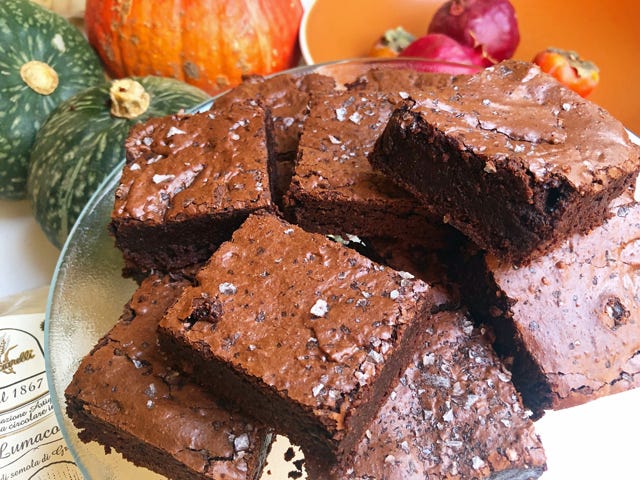 There are all sorts of novelties in recipes these days--"You won't believe how chickpea flour transforms your pancakes!"--but sometimes those novelties aren't just novelties, they're strokes of genius.

That's how I feel about using rye flour in your brownies; an idea that's featured in The Violet Bakery Cookbook (here's the recipe). When I think of rye flour, I think of rye bread, which makes me think of pastrami sandwiches and not brownies. But rather than impart a huge Jewish deli flavor to your brownies, the rye flour mostly changes the texture, making them a bit more coarse and fluffy. Or something like that. All I know is that these were really good brownies and our dinner guests couldn't get enough of them.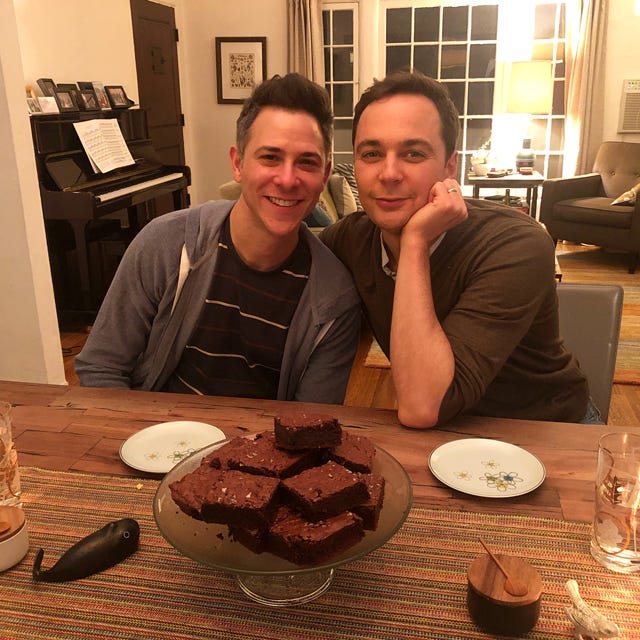 10. Seafood Stew.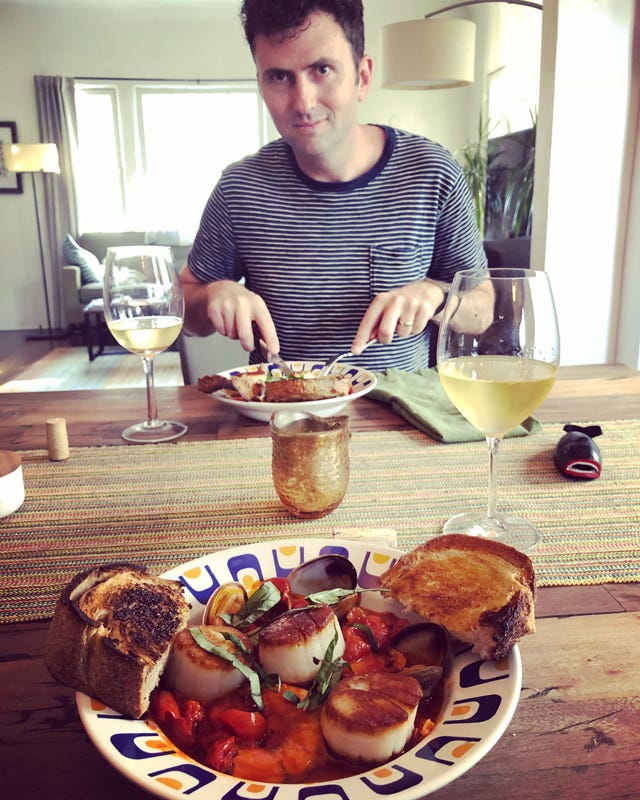 Craig loves seafood, specifically scallops, so one night this summer I decided to improvise a seafood stew and then to put some seared scallops on top. The seafood stew is a lot like the summer stew you saw above; only, instead of eggplant, I cooked onions and garlic in olive oil, then added a ton of summer tomatoes, basil, and when it was nice and thick I added shrimp and clams. The scallops I cooked in a separate skillet on high heat until they were golden brown on one side, then I flipped them, and when they were done I piled them on.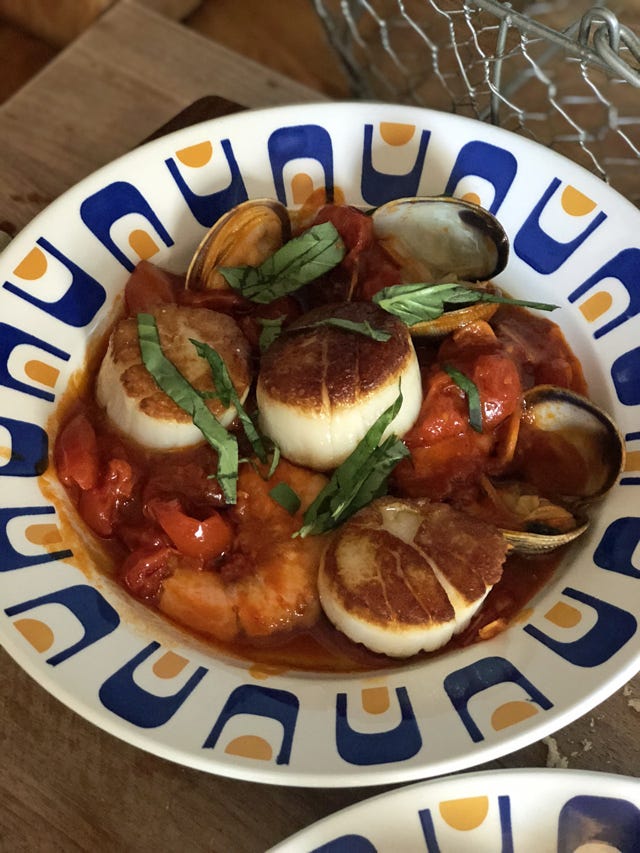 With some grilled bread on the side, this is a home-run dinner; and we scarfed it down before seeing Paul Simon at the Hollywood Bowl on his farewell tour, so it was pretty much a perfect night.

And there you are... the top ten things that I cooked this year! Hope you enjoyed reading about them as much as I enjoyed cooking/eating them.

Links & Things: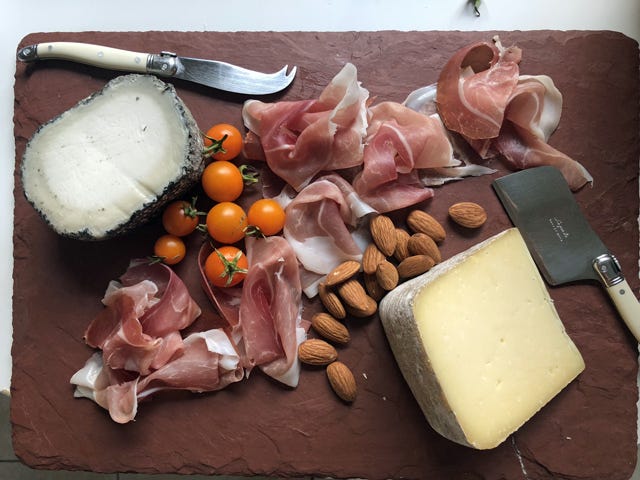 (Almost put this picnic dinner on the list, but it didn't involve cooking.)

* Washing the Dishes May Help Relieve Stress According to Science (I totally believe this), The Kitchn
* LA's Most Iconic Restaurant Dishes (Winter 2018), Eater LA
* Festive Cookies That Won't Leave You Frazzled (Alison Roman), New York Times
* 101 Restaurants That We Love, LA Times
* A Refreshingly Likable Cast Gets Cooking on Top Chef Kentucky (not sure if I'll watch this season, but who knows?), Eater
* Three Recipes That Give Celery The Star Status It Deserves (hmmmm), The Washington Post
* Bad News Men: Something In Your Kitchen May Have Made Your Penis Smaller (this is why I use cast-iron!), IFL Science
* 2018 is an Investment Year for Cookbooks, The Washington Post

Culture-wise, I finished reading Tana French's The Witch Elm, which was so engrossing and so good, I flew through the final 270 pages in two days. If you're looking for a page turner, I can't recommend it enough; not only does it have a satisfying ending, it actually has something to say (which isn't always true of potboilers). On Saturday, I finally watched Alexander Payne's Downsizing, which somehow I'd missed along the way. Can't say that I loved it as much as his other films (Election is one of my favorite movies of all time), but I definitely enjoyed it, even when it started moving in a weird direction. (I actually think the ad campaign for the movie did it a disservice; it's not a movie about what happens when people shrink themselves down to live a more environmentally-conscious life, it's what happens when--SPOILER!--you shrink yourself down and, at the last second, your spouse changes her mind).

Ok, folks, that's all for this week! Tune in next week for My Top Ten Restaurant Meals of the Year.

Until next time....

Your friend,
Adam