Reading in a browser? Click to get this in your inbox every week!

Hey everyone,

We had a gaggle of gays over on Sunday to watch the Golden Globes and I felt an obligation to make something festive. It occurred to me that we have a Meyer lemon tree on our property (well, it's not our property, we rent) that our landlord planted that's full of lemons right now, so on Sunday afternoon I went out with a tote bag (very butch of me) and pulled Meyer lemons from the tree.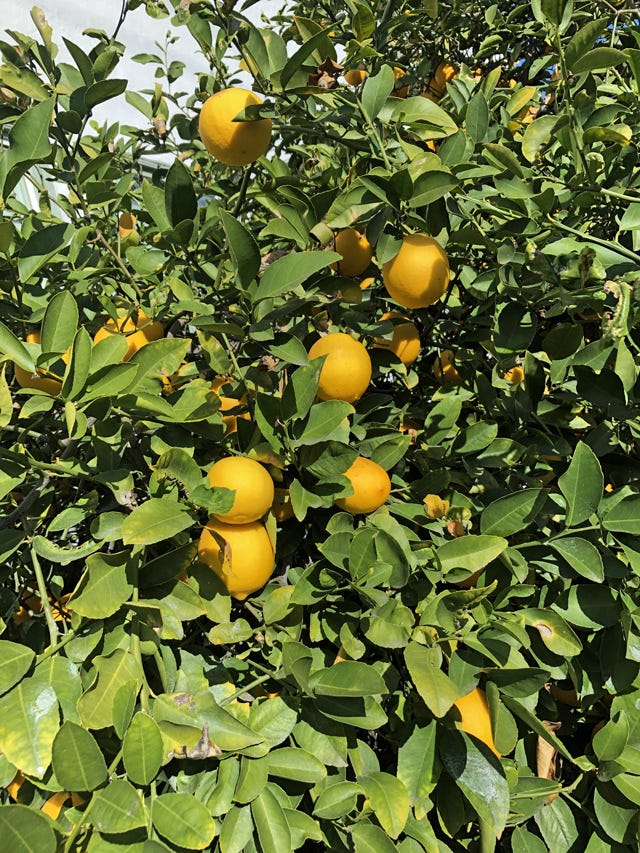 I remember reading Kim Severson's memoir Spoon Fed when I lived in New York and how much she raved about Meyer lemons: "Of all the flavors of Northern California that I sampled during my quest to learn what I like, the Meyer lemon is at the heart. I still ask friends and family for regular shipments of Meyer lemons. I buy them when I see them here in New York, which isn't often. They are ridiculously expensive here."

True that! I remember spending a fortune at Gourmet Garage in the West Village to make her riff on Meyer lemon pie (which, to be fair, was truly stellar; Meyer lemons have a unique, floral, sweetness that's totally intoxicating.) So I'm very spoiled to have a Meyer lemon tree right in our own backyard and I figured they would make most excellent lemon bars. Turns out I was right.

Lemons Behind Bars.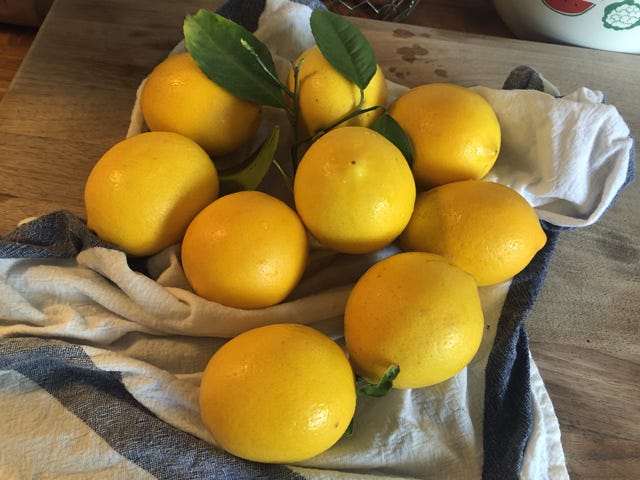 Surprise, surprise: I used Ina's recipe. I'm not going to apologize anymore for deferring to Ina; not only are her recipes some of the best-tested out there, I just love her flavors. For example, her lemon bar recipe (you can read it here) calls for two TABLESPOONS of lemon zest from four to six lemons. That's a ton of zest and it makes such a difference (though her call for extra-large eggs is super annoying; who has extra large eggs lying around?)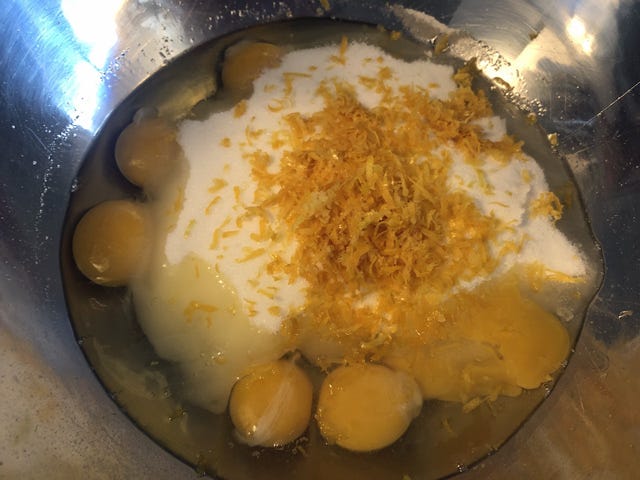 The recipe is pretty easy to put together. You make a buttery base that's basically like pie dough and you just press it into a 9X13-inch pan; no need to roll it out.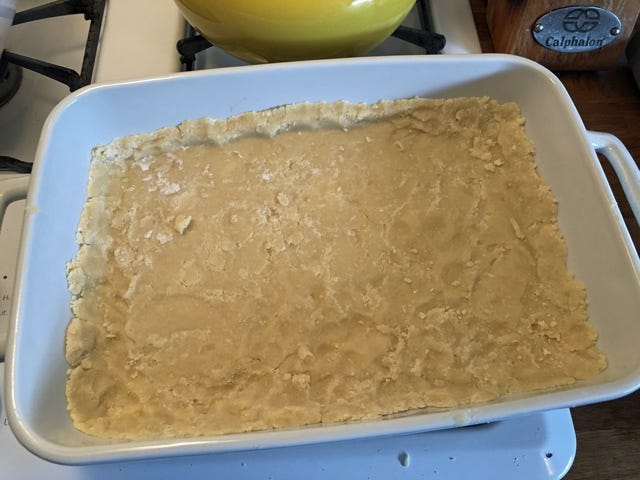 You blind bake that for fifteen minutes or so and then you pour the lemon filling on top. That bakes until the filling is set (I wish I'd baked mine a little longer; the lemon bars in the middle were a little too runny). Here are the gays awaiting their lemon bars and rooting for Glenn Close.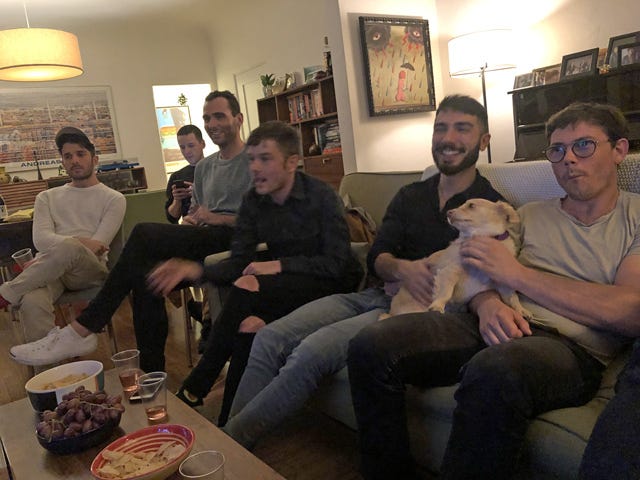 Since time was of the essence, I cut into the bars earlier than I probably should have; they were a little messier than Martha Stewart's might have been.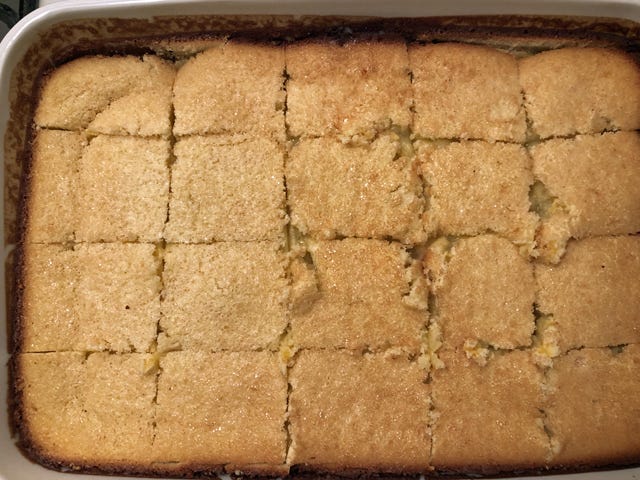 But oh were they good! So good. All of that zest, and the fact that I used Meyer lemons, made them pretty extraordinary. In fact, our friend Ethan Tobman, who was the production designer on Craig's movie Wilson (not to mention Beautiful Boy, Room, and Beyonce's Lemonade) brought his friend Rachel Morrison, the cinematographer of Black Panther (!!!) and she had a lemon bar and said, unprompted: "You know I love lemon bars and this is the best lemon bar that I've ever had in my life."

So if you have access to Meyer lemons, and have an hour or two to spare, you know what to make next weekend.

Don't Be Scared of Cabbage Soup.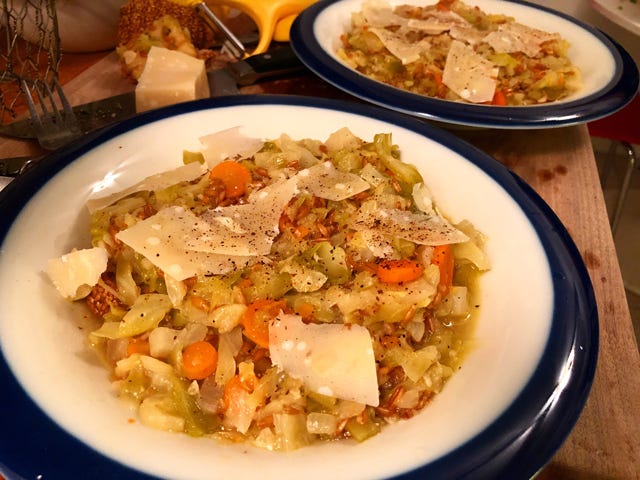 So last week, Deb of Smitten Kitchen posted a recipe for Cozy Cabbage Soup that somehow stuck around in my craw even though the idea of cabbage soup didn't sound particularly sexy (in fact, it sounded farty).

But Deb's enthusiasm got to me; plus the fact that the recipe is from SIX SEASONS, one of my favorite cookbooks from last year. So yesterday, I set about to make it; I went in my own direction, though, because in my refrigerator I had some old (but still good) carrots, celery, and fennel. So here's what I did; I sweated down onions and fennel in olive oil with some salt; then I added the carrots and celery; then a ton of sliced garlic (about six cloves, more than Deb); then a ton of sliced cabbage.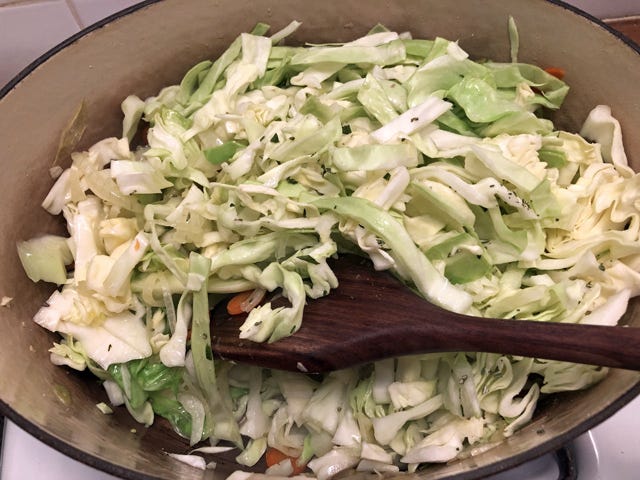 It almost looked like coleslaw. But here's where the magic happens: you stir that around, put the lid on, and let that cabbage cook down. Eventually it looks like this.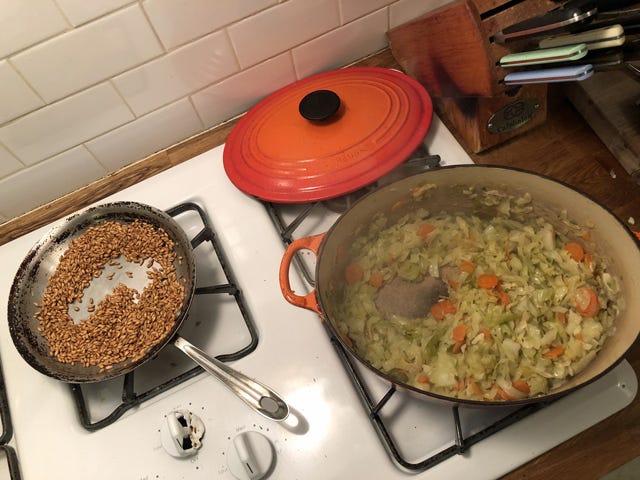 On the left, you'll see the farro that gets toasted for the soup.

But first: you do the most incredible thing to the cabbage. You add vinegar. I know that doesn't sound like a big deal, but it changes everything. Then you add the farro to the vegetables, heated-up chicken stock (I bought mine from Cookbook in Echo Park) and if there's not enough liquid in there, water. You cook it at a rapid simmer for 30 minutes or so; I threw a Parmesan rind in there for extra flavor.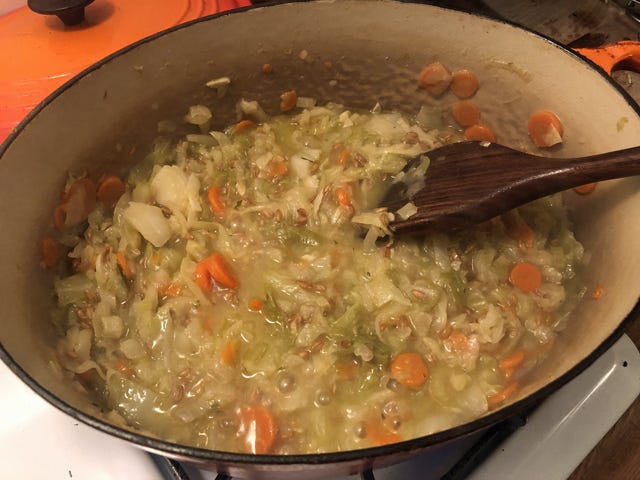 Here's the thing. I know that soup doesn't look like much; you're probably wary of this whole ordeal. But. It. Tastes. So. Good.

Seriously. It's the epitome of what you'd want from a winter soup; comforting, hearty, full of flavor. I had some stale bread from last week, so I put that at the bottom of two bowls and ladled the soup on top. There wasn't a lot of liquid left, so it was more like a vegetarian stew. But whatever it was, we gobbled it all up: especially when drizzled with more good olive oil, lemon juice, and topped with shavings of good Parmesan.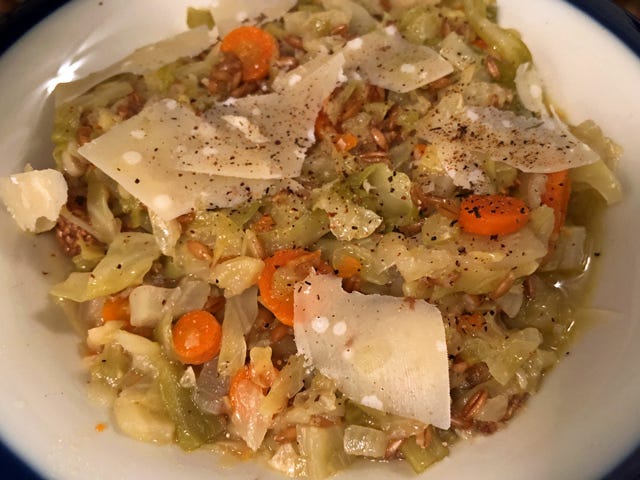 Trust me: I'll be making this again and again for a long time to come.

One Killer Sandwich.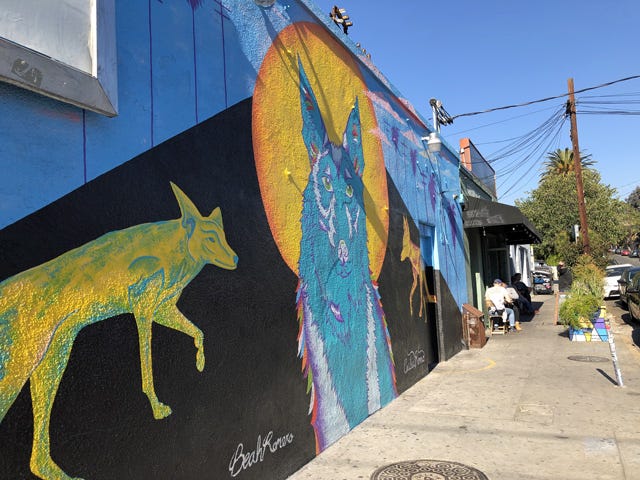 There was a big line at Konbi the other day in Echo Park, and I wanted to go back to try their non-egg salad sandwiches (I wasn't that impressed the first time!) but since Craig was hungry, I suggested we check out Trencher next door.

Well I'm glad that we did: I was feeling a bit hungover (I had drinks with my friend Marcos the night before and those gin and tonics hit me hard), so I ordered a fried chicken banh mi, which seemed a bit decadent for a Friday afternoon, but also medicinal for my purposes. And look what a smart decision that was.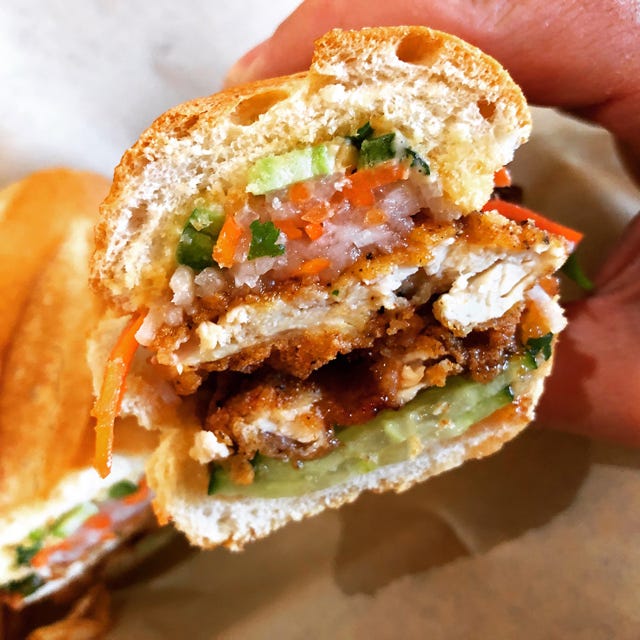 The fried chicken was perfectly crispy and well-seasoned and all of the other ingredients were lovingly prepared; and the whole thing was SPICY, but I didn't mind. I had sweat trickling down my forehead as I ate it, but I couldn't stop. It hurt so good.

Craig had a fish sandwich and he too raved.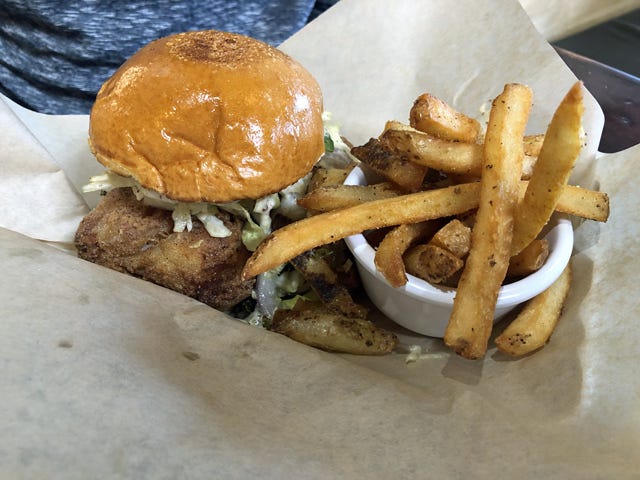 I suppose I could've called this section TWO KILLER SANDWICHES but I didn't taste his, so that would've been dishonest.

Links & Things.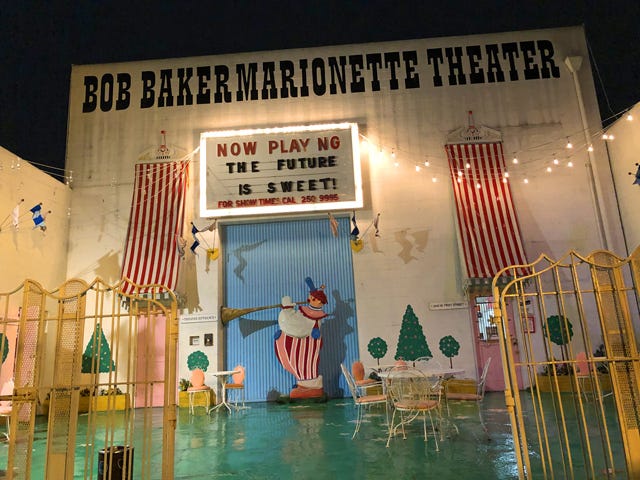 [The Bob Baker Marionette Theater; more on that in a bit.]

* How To Upgrade Your Kitchen and Save Money at a Restaurant Supply Store, Serious Eats
* L.A.'s Dining Authorities Discuss Their Best Meals of 2018, Eater LA
* A Purposeful Grain Bowl, Full of Delights (Melissa Clark), New York Times
* Ranking Vegetables By How Healthy They Are, Mel Magazine (via Kottke.org)
* Slow, as it goes... (David vs. His Slow Cooker), David Lebovitz
* The Best Chef's Knives According to Line Cooks, Eater
* The Instant Pot Short Ribs I Could Make in My Sleep, Food52

So on Saturday night, our friend Braden invited us to one of the final performances at the Bob Baker Marionette Theater. As much as I'd seen glimpses of it before in other people's Instagram feeds, I didn't really know what I was in for when we showed up. It was a cold, rainy night, and then the lights dimmed, and out came a bunch of marionettes and their operators, and they did the most charming routines to songs from classic musicals ("City Lights," "Send in the Clowns.")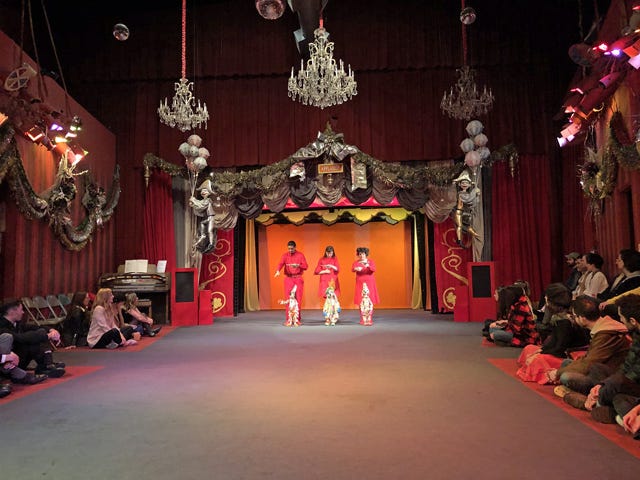 The whole thing was so enchanting, so lovable, that we kicked ourselves for having waited so long to see it in real life. Luckily, even though the theater will be gone soon, the company's carrying on in a new location (TBD). If you get a chance to see them, please do. It's a ton of fun. And as enthusiastic as I was about what we saw, Craig was ten times even more effusive. He loved every second.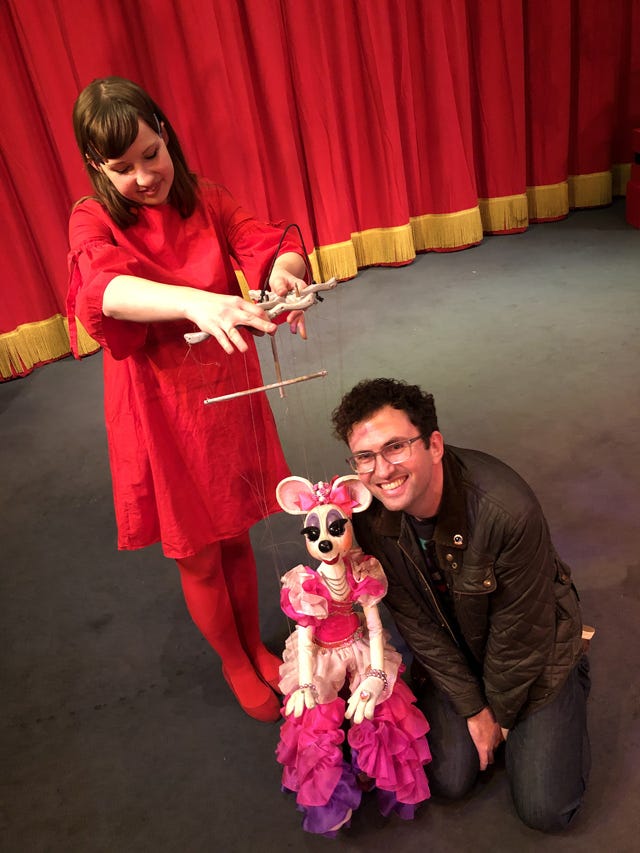 Otherwise, I just started listening to Marcus Samuelsson's memoir Yes, Chef on Audiobook and it's so good and compelling. The first chapter alone, about his mother dying of Tuberculosis in Ethiopia and he and his sister (they'd also contracted the disease but overcame it) getting adopted by a couple in Sweden, is one of the most gripping first chapters in a food book that I've ever read (or heard). Can't wait to hear the rest.

OK, that's all for this week, folks!

Until next time....

Your friend,
Adam

P.S. I mistakenly cited last week's recipe for David Lebovitz's rum cake as being from his book Room For Dessert; turns out, it was from the updated version of that book, Ready For Dessert. For anyone who bought the wrong book, my apologies! But now you can become an official David Lebovitz cookbook archivist. :)