Ricotta Spoonable
Reading in a browser? Click to get this in your inbox every week!

Hey friends,

It's funny: knowing that I'm doing this newsletter every week, I try to steer myself towards new cookbooks, new recipes, new places, so that it's not the same old thing over and over again. But as I get older, I'm drawn to the cookbooks, recipes, and places that I know I can trust; which is why, this Sunday, I returned to Dorie Greenspan's latest, Everyday Dorie, when I needed a quick appetizer to make for a dinner party.

Enter Ricotta Spoonable. Dorie says in her recipe intro: "I started making it years ago and I've probably never made it the same way twice. It's a mix of ricotta, lots of chopped herbs, freshly grated lemon zest, olive oil and plenty of salt and pepper. It's simple but special."

Indeed! This recipe was such a hit, both in real life and online (619 likes on Instagram) it's destined to reappear at another dinner party again soon. Let me tell you how to make it.

Ricotta Spoonable.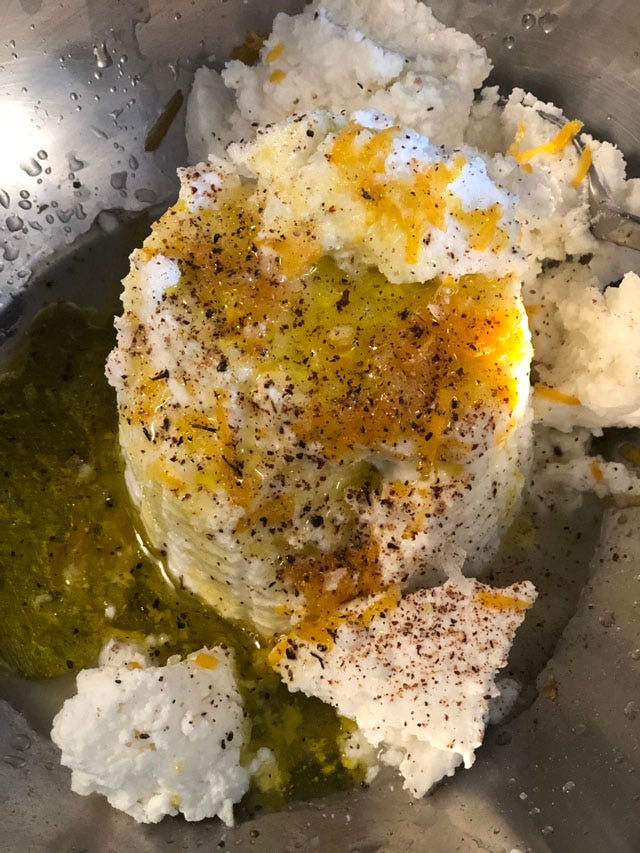 There's really not much to it. Take two cups of whole-milk ricotta and, if it's very wet, set up a cheese cloth over a strainer, pour the ricotta in there, and leave it in your fridge until it gives up a lot of its liquid (about an hour or so). Lucky for me, the ricotta that I bought at Gelson's (di Stefano) came in its own straining basket which came in handy, later, when it was time to shape it. (And if you're going to write me to tell me to make my own ricotta, I know! I know! I promise I will next time.)

To your ricotta, stir in the zest of one lemon and its juice (I used a Meyer lemon). Add 3 tablespoons of minced shallots, 2 thinly sliced scallions, 1 tablespoon of extra-virgin olive oil, 1/2 teaspoon fleur de sel, freshly ground pepper, and 1/3rd a cup of minced fresh herbs (you can use dill, parsley, tarragon, thyme, cilantro, and/or basil; I used tarragon and dill.)

Those are Dorie's proportions. My advice, though, is to keep adding lemon juice, salt, herbs, etc. until you LOVE the way it tastes. Then pack it back into the straining basket.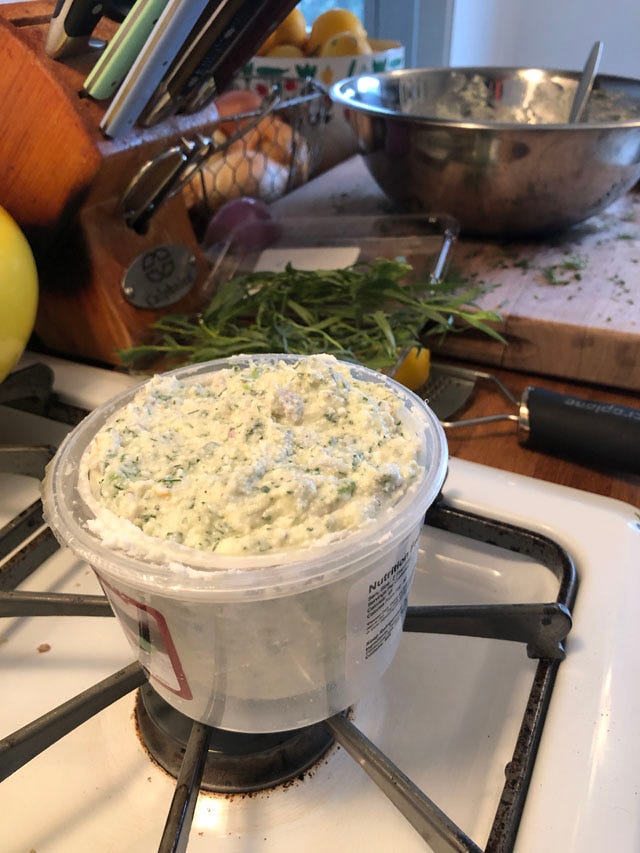 Cover, put in the fridge, and when your guests arrive, flip it out on to a platter, drizzle with good extra virgin olive oil, and serve with toasted baguette slices. It's a perfect appetizer: light, zingy, pretty, memorable. Everyone loved it.

Thanks again, Dorie, for another priceless recipe. No wonder I keep going back to your book again and again and again.


A Monday Night Stir-Fry.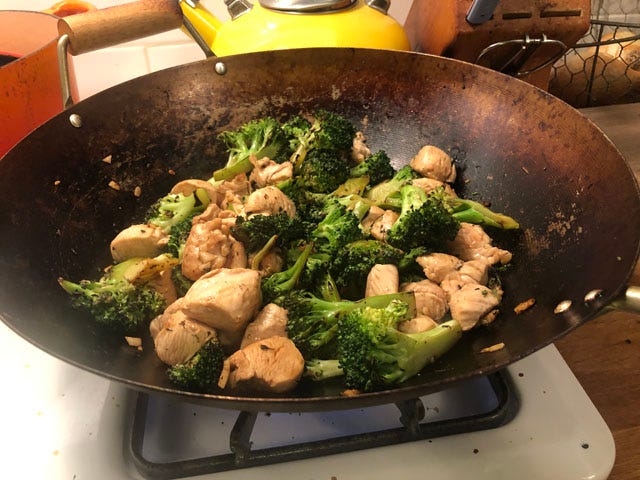 A few people asked about the stir-fry that I made in my Instagram stories on Monday night.

Honestly, it's nothing that I would serve to guests--it's just boneless skinless chicken breasts, broccoli, a little garlic, and some flavorful liquids to make a sauce--but it's good for a healthy dinner when you want to start the week out right.

Here's what I do: heat your wok (or you could use a large skillet, though I wouldn't use non-stick; you want the brown bits on the bottom), add a splash of neutral oil (canola, vegetable, grapeseed is my favorite), and then add your chicken cut into big chunks. Let it brown all over, then remove to a plate. Add another splash of oil, then a head of broccoli cut into florets. Let them brown all over. (A follower suggested that next time I add a splash of water and cover the broccoli for a bit to let it steam; I might try that night time, the broccoli was a little tough.)

When the broccoli is cooked to your liking, remove it to the same plate as the chicken. At this point your wok will be very hot so work fast! Add another splash of oil, and a few garlic cloves chopped up. If you have fresh ginger, chop that up and add that too (about a tablespoon; I didn't have any). Don't let any of that burn; add the chicken and broccoli back and then add about 1/3 cup soy sauce, 1/3 cup rice wine vinegar, a few quirts of Sriracha, and a tablespoon of honey. Stir all around until the chicken and broccoli soak up the sauce. Cut into the chicken to make sure it's cooked all the way through.

Hopefully, you cooked some rice in your rice cooker (forgot to tell you that at the beginning!); spoon all of this on top, sprinkle with sesame seeds, and voila: a Monday night stir-fry.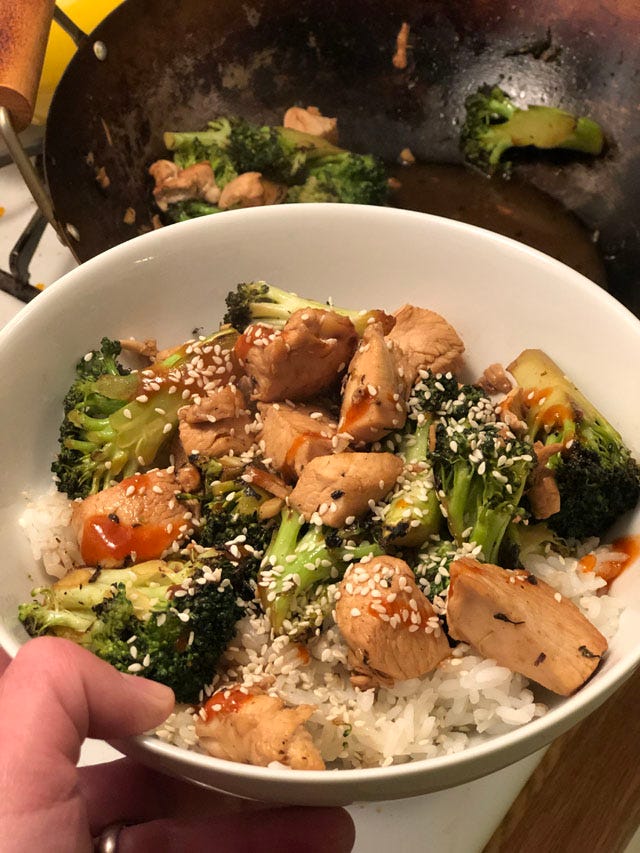 A Treasure of a Treasury.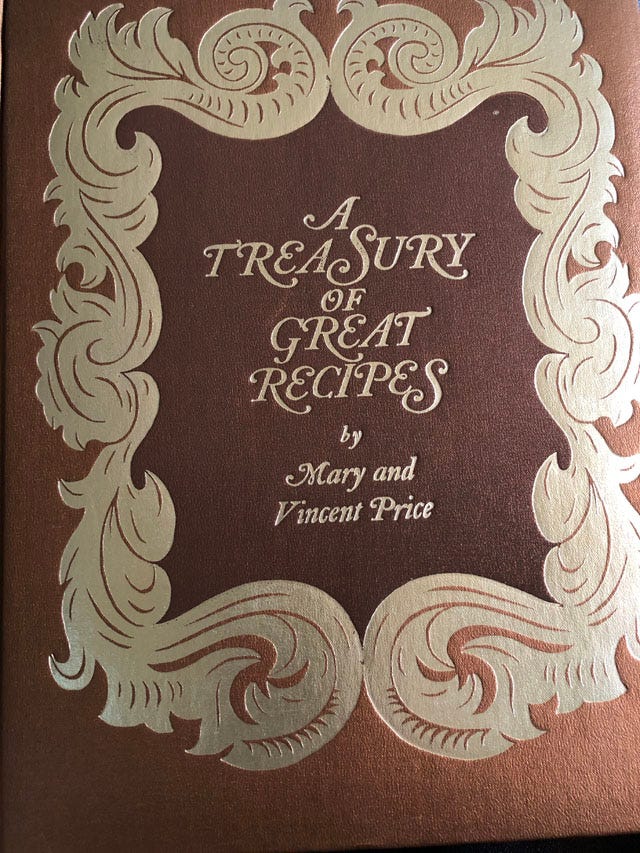 No one ever talks about the preponderance of excellent used book stores in L.A. In my neighborhood, we have Atlas books, and when I take Winston on a long walk, I always wander in there to check out their cookbook collection. I've gotten some real treasures there for a fraction of the original price: a few Diana Henrys, a Craig Claiborne or two, but the other day I went in and hit the mother lode.

There on the shelf was a copy of the legendary cookbook that Vincent Price wrote with his wife Mary, A Treasury of Great Recipes, for only $35. To put that in context, I'd sought this cookbook out online and it's usually priced in the hundreds. In fact, when I wrote about my find on Twitter, Amanda Hesser responded that she paid over $100 for hers. So I was in cookbook heaven.

But even if I'd paid in the triple digits, this book would've been worth every penny. The premise is simple: Vincent and Mary Price lived the ultimate gourmet existence. They traveled the world, collecting menus and recipes and artifacts, and then they shared their findings in this book. Look how gorgeous.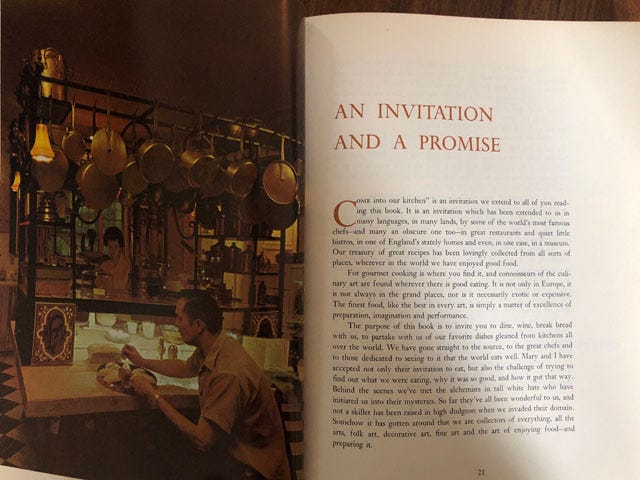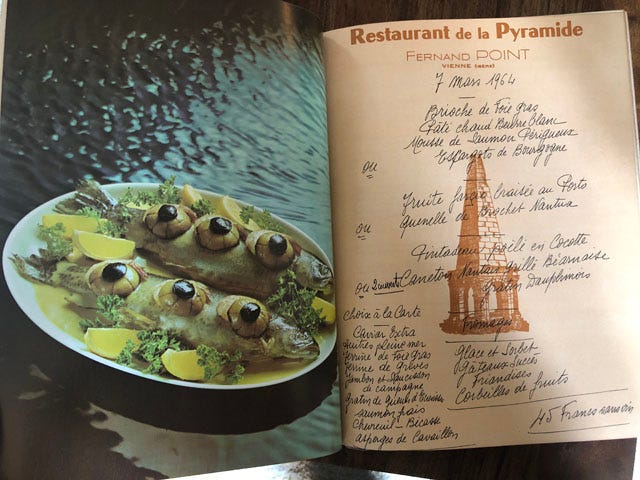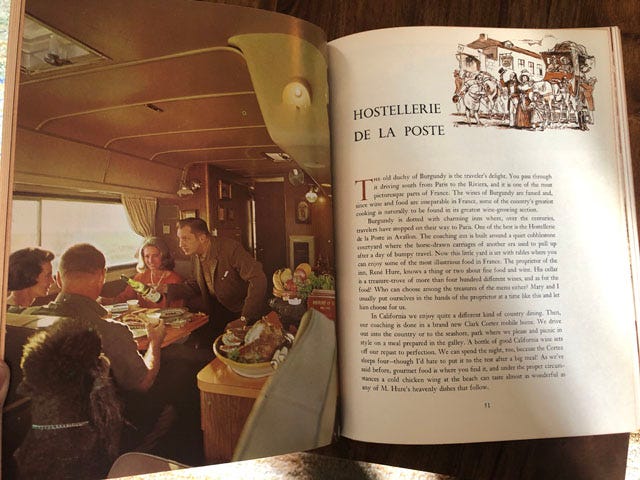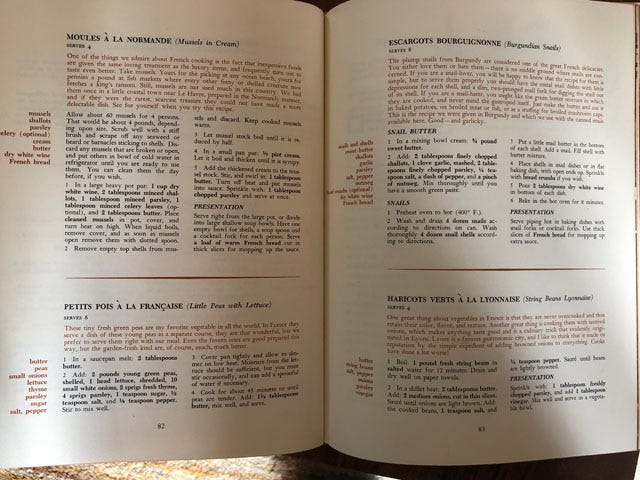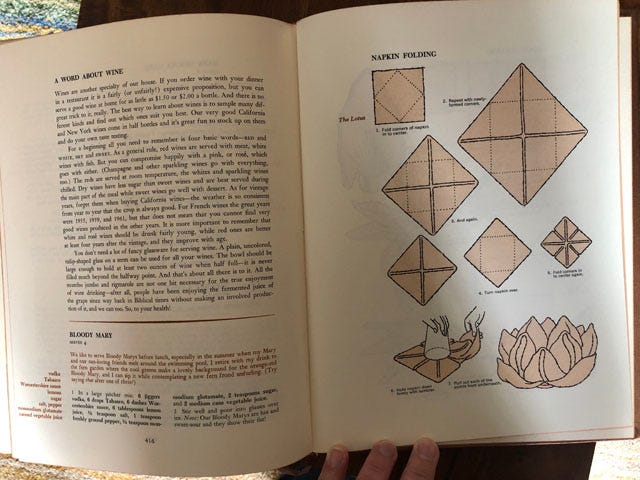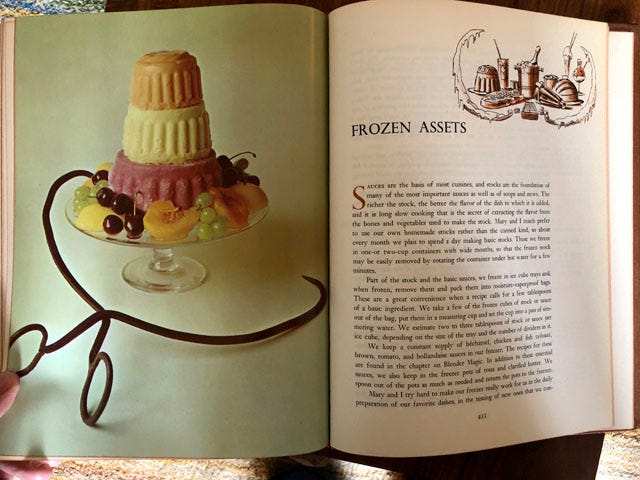 The writing is warm and not at all pretentious; the recipes are complex, in parts, and welcomingly simple in others. (I'm curious to try the recipe for bread. It has ground ginger in it.) But mostly this is just one of those cookbook possessions that'll spark joy for years to come. I'm so glad that I found it.

Ground Control to Majordomo.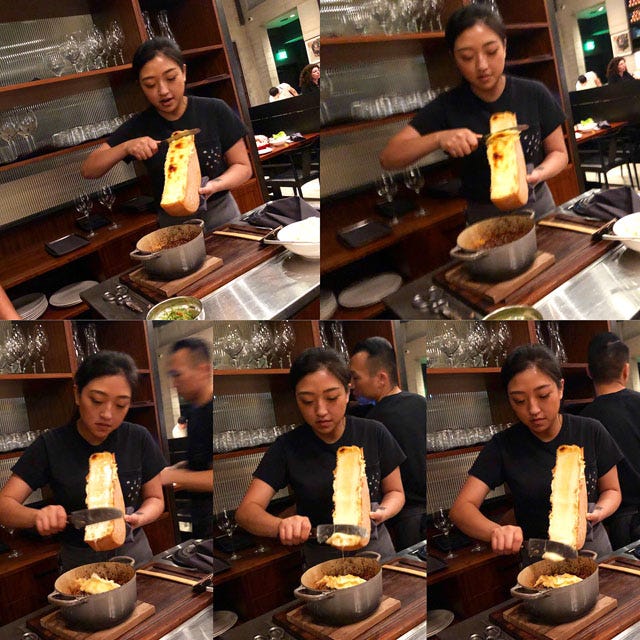 For Christmas this year, Craig's parents got us a gift certificate to Majordomo and so I was super excited to use it when we got back to L.A.

We had been there once before (it made my Best Restaurant Meals of 2018, as you may recall) but I wanted to go back and explore other parts of the menu; namely, the short rib stew with shaved raclette on top.

That's $85 and I was scared Craig would say that was too much (for the record: it IS too much). Luckily, my friend Ryan, on the right below, was there to be my dinner enabler, so we ordered it and it was a lot of fun. (Jonathan, on the left, is also a dinner enabler but, alas, a vegetarian.)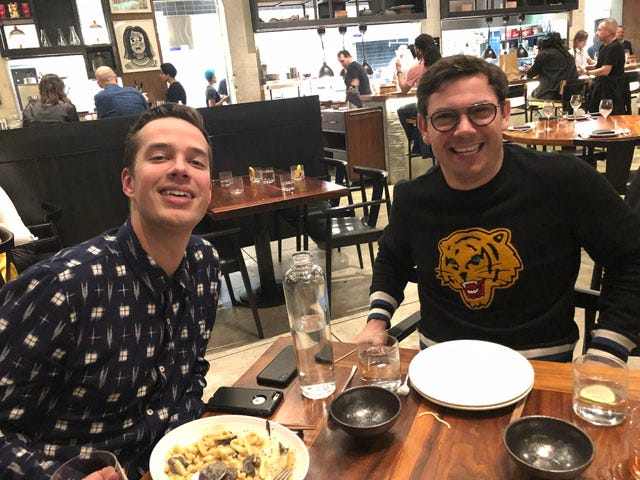 As you can see from the lead picture they bring a cart to your table and then shave the cheese from a blow-torched half-wheel on top.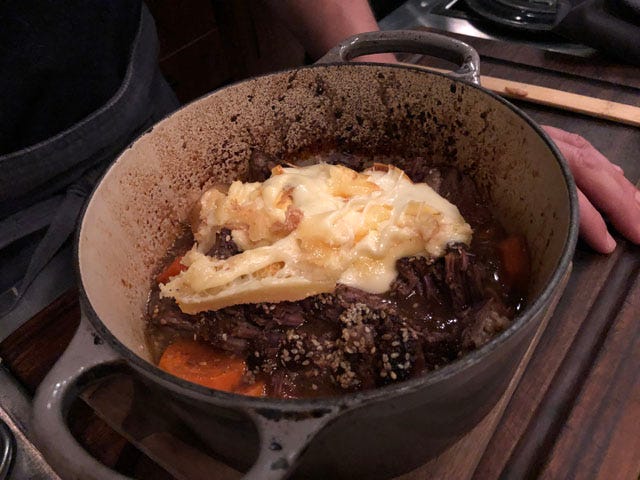 That gets stirred in and you eat it and it's funky and creamy and zippy and not like anything you've ever eaten before.

Other highlights for me: my cocktail, a Boulevardier made with Japanese Whiskey, Banana, Miso, Italian Bittersweet, and Sweet Vermouth.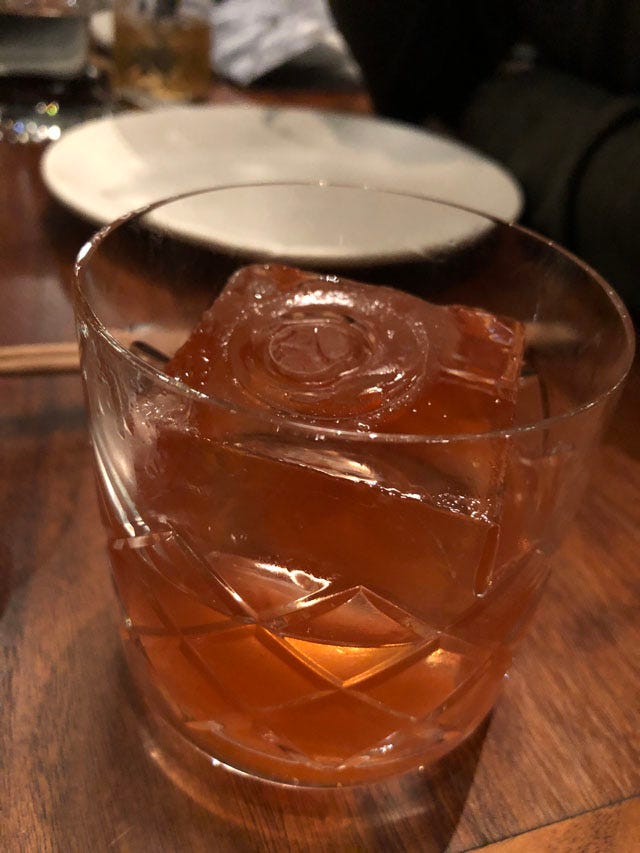 The tapioca lo mein: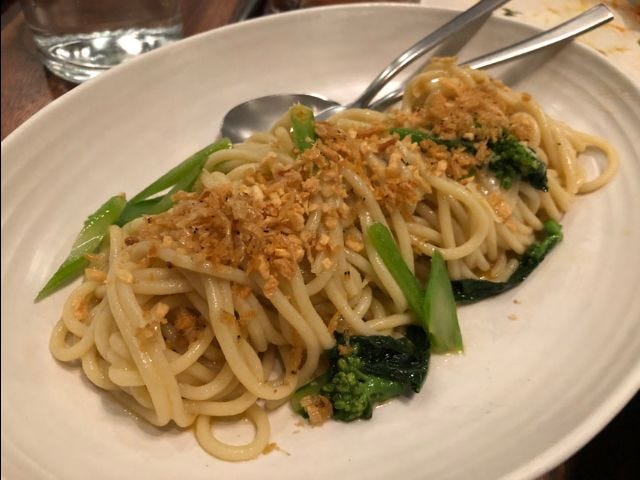 The bing with pork neck and pineapple.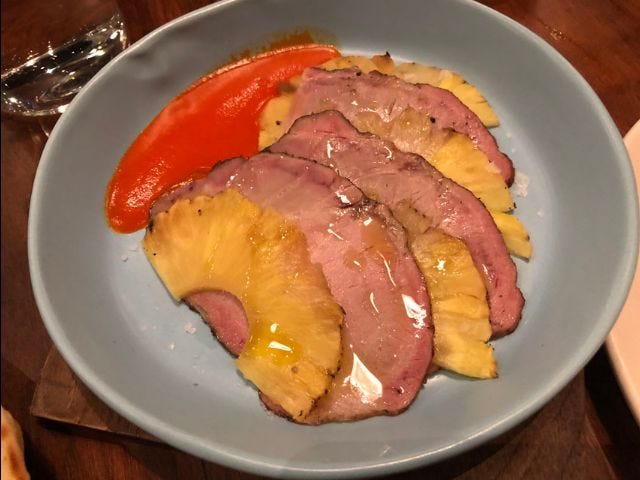 And the dessert: shaved ice with passionfruit and broiled meringue on top.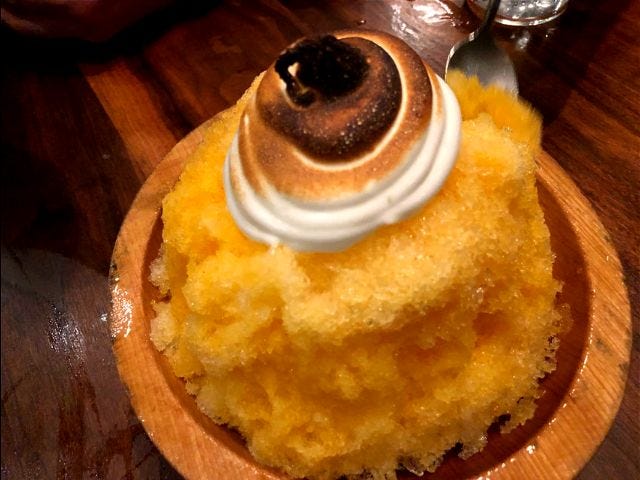 Thanks, Steve and Julee, for the generous gift. We savored every bite.

OK, that's all for this week folks!

(Sorry I don't have any links for you. I didn't have enough good ones this time around.)

Until next time....

Your friend,
Adam