Reading in a browser? Click to get this in your inbox every week!

Hey friends,

Samin made me do it. Well, not personally, but watching Salt, Fat, Acid, Heat led me to the conclusion that I should no longer use Morton's Kosher salt (my main, go-to salt for the past fifteen years) and that I should convert, sans rabbi, to Diamond Crystal.

I can imagine the angry Morton-users out there shouting out a collective: "WHY?"

Well, food people prefer it. In my Instagram post about making the switch, Melissa Clark (one of my favorite recipe writers) chimed in: "It's a big deal!" Chef Marco Canora wrote: "And because Morton's has a hard time dissolving." Reading articles online, it's pretty much a universally acknowledged thing that chefs and food writers prefer Diamond Crystal. Chef Michael Romano, in one article, called Morton's "acrid."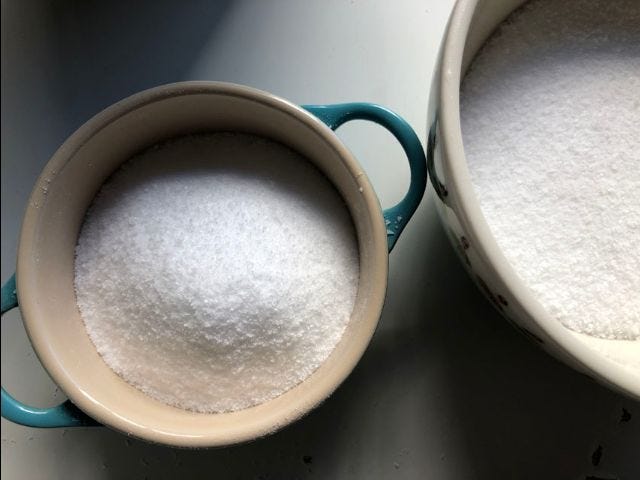 (That's Diamond Crystal on the left, Morton's on the right.)

What everyone points out is that Diamond Crystal is far less salty than Morton's. So if you make the same cookies with the two salts, the one that you make with Morton's will taste twice as salty. Switching to Diamond Crystal allows for more control with your cooking: you can achieve more nuance if the salt you're using isn't immediately a salt bomb. To me, it's the difference between coloring with fat magic markers vs. a box of Crayons. You can color a much more complex picture with the Crayons.

That said, I'm used to Morton's and the first thing that I made with the Diamond Crystal (the cauliflower pasta below) took a lot of adjusting and, to my mind, a lot more salt than I'd used in the past. Did it taste better than it would have with Morton's? Probably not; but this dish took a lot of salt. I think where the Diamond Crystal will show its superiority will be in things like soups, where nuance is more welcome.

On Twitter, I likened the switch from Morton's to Diamond Crystal to Sex & The City and Alison Roman chimed in: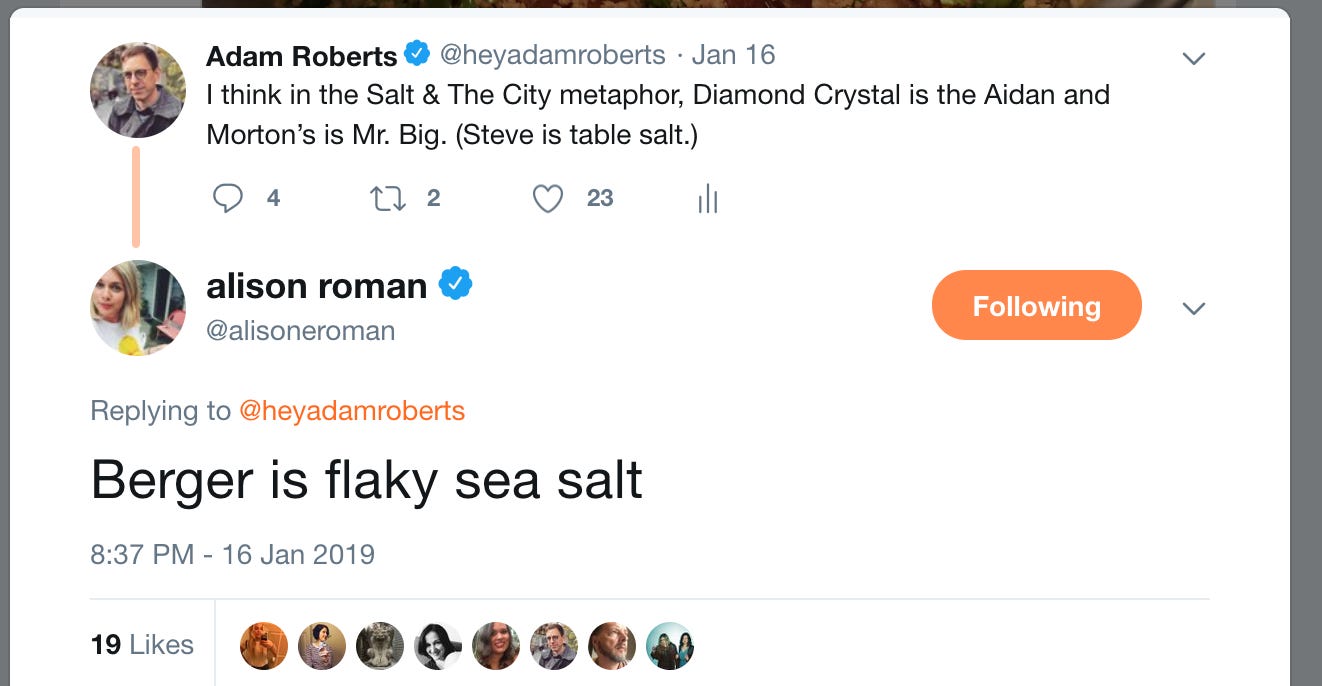 Someone asked what Himalayan pink salt was and I said Stanford Blatch.


Whole Cauliflower Ragu.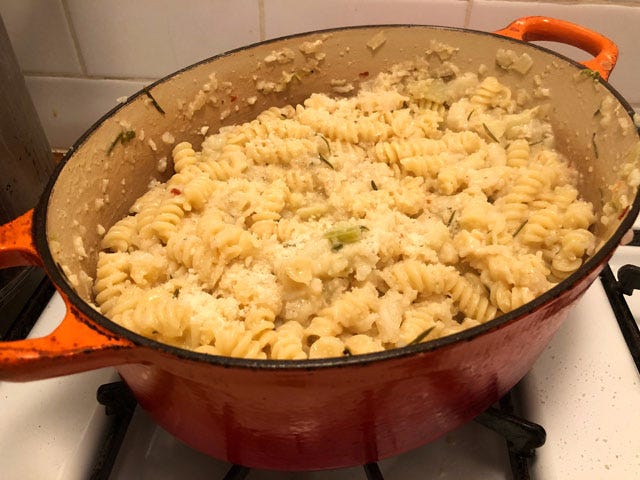 The other day, I studied my Six Seasons cookbook before heading to the farmer's market. This is a great way to use a book like this (the Chez Panisse cookbooks also lend themselves to it); study guides so that when you're at the market, you know what to look for.

In the winter section, there was a recipe for cauliflower ragu that caught my eye. So at the market, I bought a few small, white cauliflower that I brought back and chopped into bits (leaves and stems and everything). You heat olive oil in a Dutch Oven, add a few whole cloves of garlic, some chile flakes, and when they're sizzling, 2/3rds of the cauliflower. You add a glug of white wine, some water, a bunch of salt, a rosemary stem, cover it, and let that go for 25 minutes.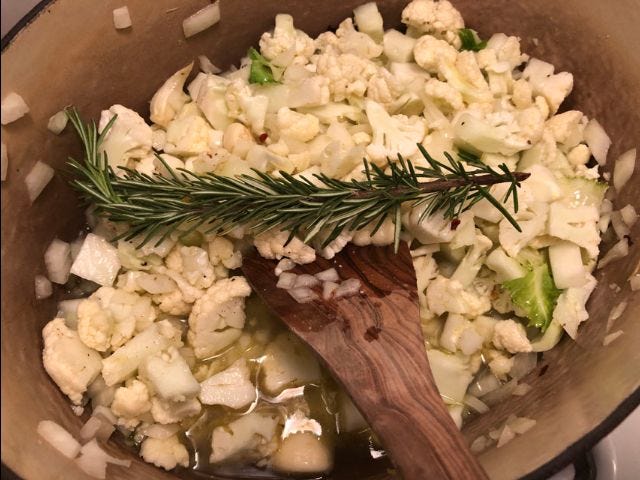 When you lift the lid, you'll have something that looks like ragu. Then you add the remaining cauliflower bits (this creates a more dynamic texture).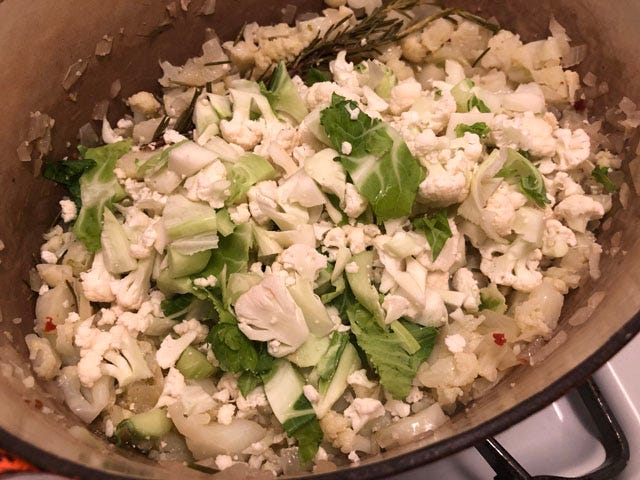 Cover again, cook another twenty minutes, and behold: cauliflower ragu.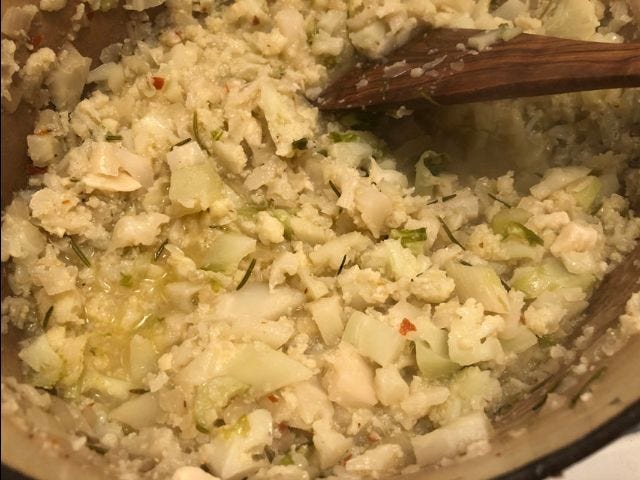 OK, it doesn't look like much at this stage. But here's where you doctor it: cook your fusili til it's al dente, lift it into the pot of cauliflower, and then add a LOT of butter (I did five tablespoons, even though the recipe calls for four; but I'd also used more cauliflower and pasta than the recipe called for, so that's my justification), a TON of Parmesan (at least a cup), a generous squeeze of lemon juice and then you stir, stir, stir (if it's tight, add some pasta water), and taste taste taste until it's amazing. That's the secret of any pasta dish like this: you can make anything taste amazing if you keep adding butter, Parmesan, and lemon juice.

After some adjusting, this one was definitely a winner.


Ottolenghi Knows Couscous.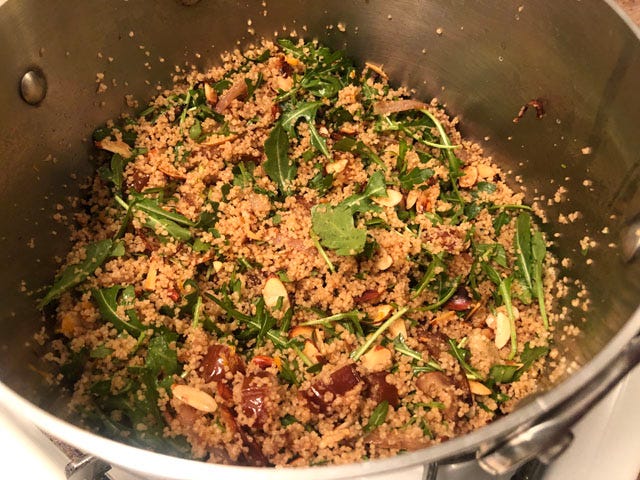 The other day, I bought some salmon and needed a side dish to serve with it. I found a box of couscous in the pantry, but that sounded boring, so I went to the ultimate couscous resource: an Ottolenghi cookbook.

This one comes from Ottolenghi's first cookbook, which a friend bought me years ago before Ottolenghi was a thing (a cookbook store owner steered her in the right direction) and this first Ottolenghi book is a real treasure; I should consult it more often.

To make plain couscous special, do as Ottolenghi does (actually, this recipe was for couscous with dried apricots and butternut squash, and I had neither; so I just used his flavoring advice): fry one sliced yellow onion in olive oil with a pinch of salt until it's golden brown all over. Cook the couscous according to package directions. When it's done, lift the lid and add some chopped dates (this was my apricot substitute) and grated lemon zest. Oh, and toast some almond slices (that's my own touch too).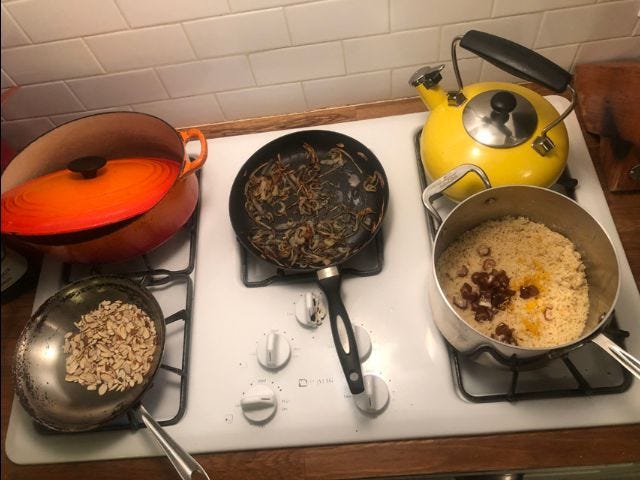 Add the onion to the couscous, along with the almonds, lots of chopped herbs (I didn't have any, so I added arugula), and 1 1/2 teaspoons ground cinnamon (you're probably wondering for how much couscous: 250 grams).

The cinnamon really added a great, surprising touch. Here's the finished plate with the salmon and some Best Broccoli of Your Life. A grand dinner indeed.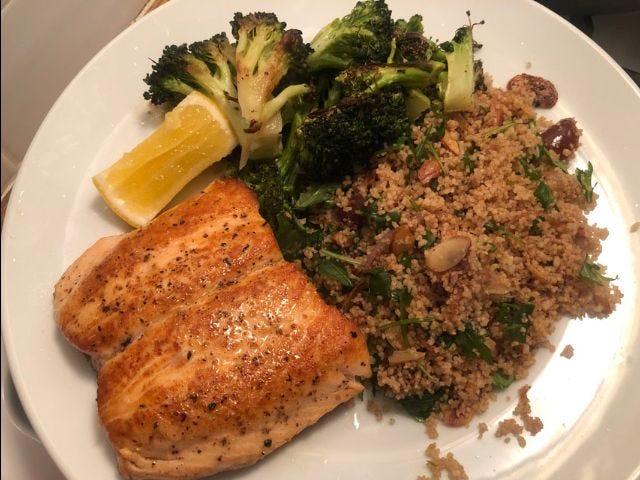 Do You Know The Donut Man?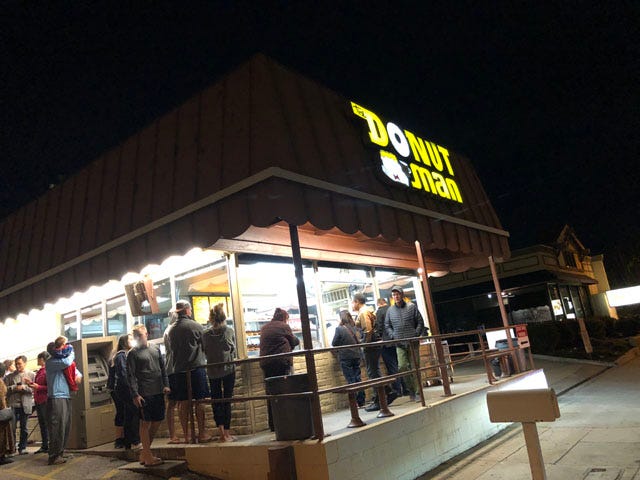 Our friend Henry recently moved to Azusa and on Saturday a few of us went to go visit him there. We had dinner at an Italian restaurant, Luca Bella, and then I led a committee to go visit a Glendora institution: The Donut Man.

The late, great Jonathan Gold loved The Donut Man: "There's not a lot to do in Glendora, unless you are visiting the headquarters of the National Hot Rod Association or stopping by on the way to the Ontario Airport. But the doughnuts — they're magnificent, French crullers that melt away in your mouth, glazed doughnuts as light as froth, fresh peach doughnuts in season that capture the soft light of California summer accurately as Beach Boys songs. Springtime, though, is for strawberries."

Alas, it's winter, so the fruit donuts available weren't as sprightly looking as the famed strawberry and peach donuts.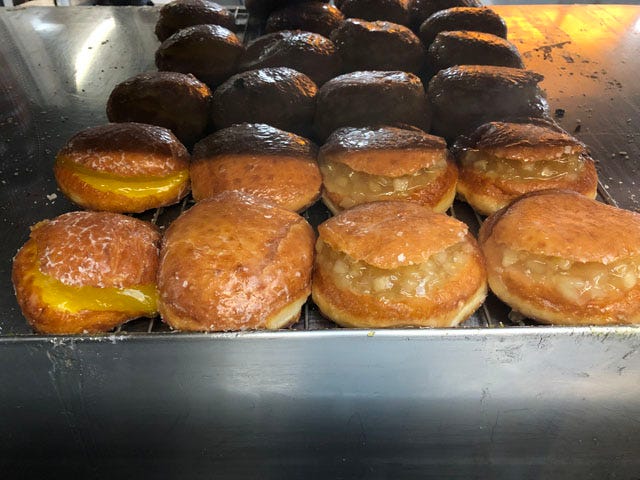 But all of the donuts looked alluring; even in the dead of winter (OK, it was 57 degrees), there was still a big line. Lots of salivating mouths gazing upon these.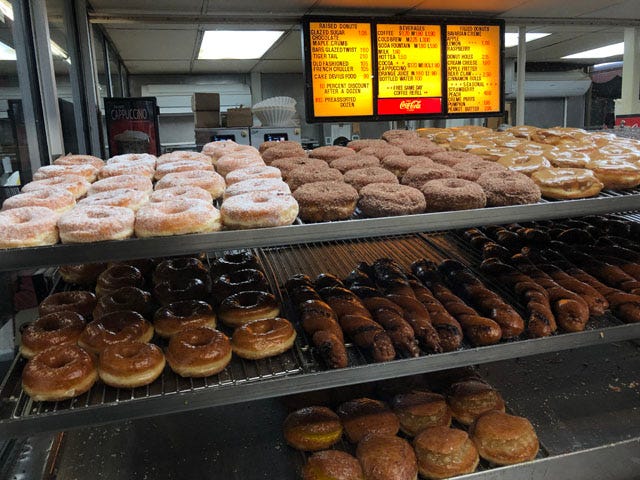 Here's our group's order: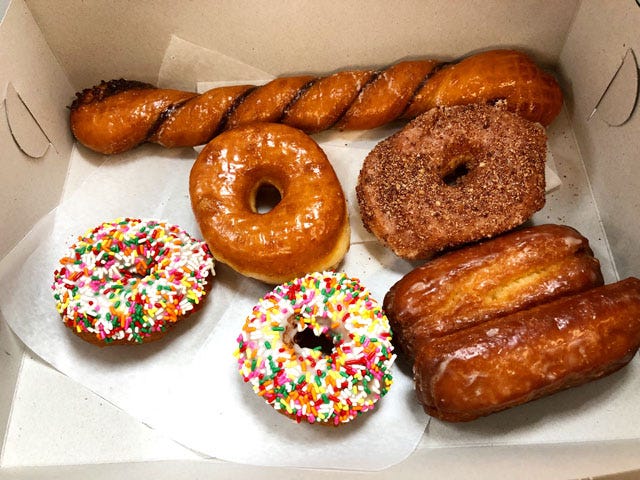 Craig got the tiger tail at the top, I chose a cinnamon crumb donut on the upper right, our friend Ryan had a buttermilk bar, Jonathan got a plain glazed, and Henry opted for a cake donut with sprinkles.

The verdict? We all swooned over our doughnuts. They were really expertly made; light, just the right amount of sweet. If you find yourself in Glendora (hey, it might happen), you owe it to yourself to visit The Donut Man. He's a legend for a reason.


A Raunchy Cookbook.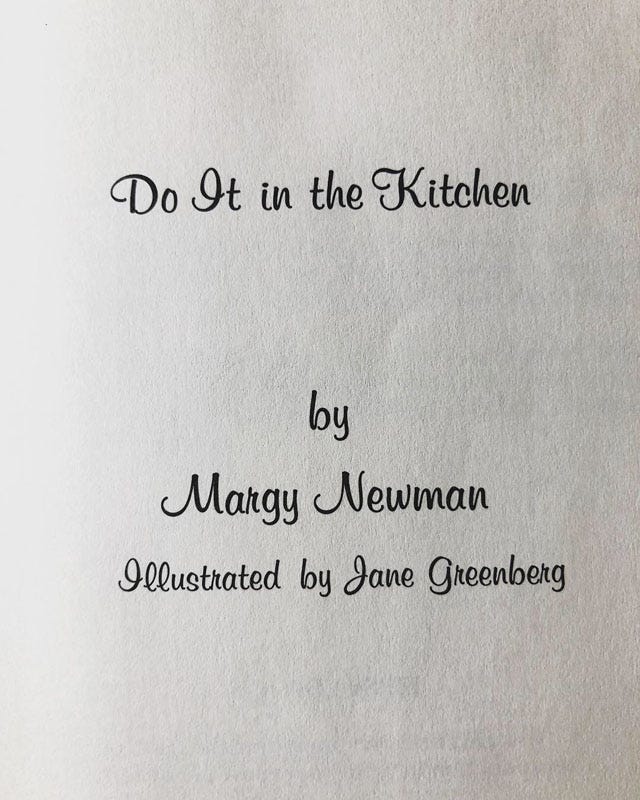 The other day, we met our friends Brendan and Ian for brunch, and they gifted me with an early birthday present (don't worry: it's not til February 18th): a vintage cookbook from Brendan's uncle's collection, Do It In The Kitchen.

This book was published in 1979, the year that I was born, and it's a hoot.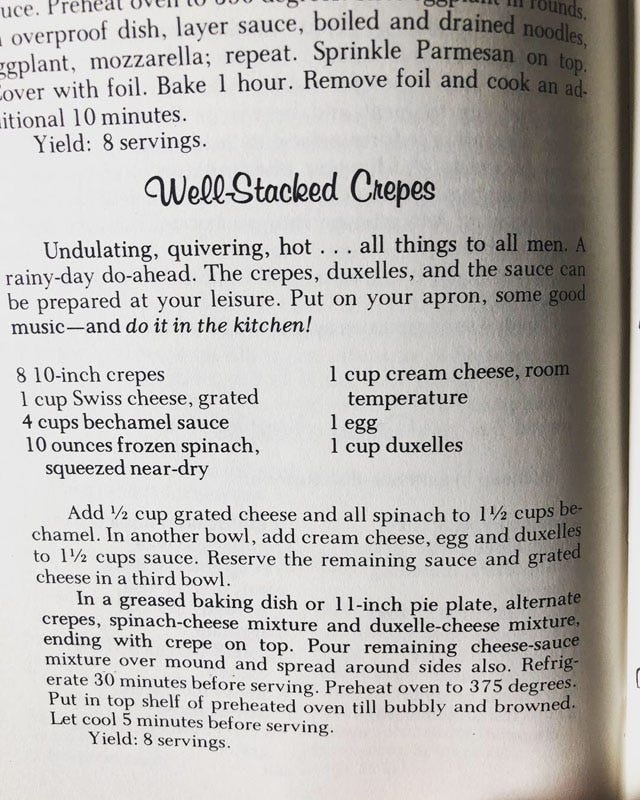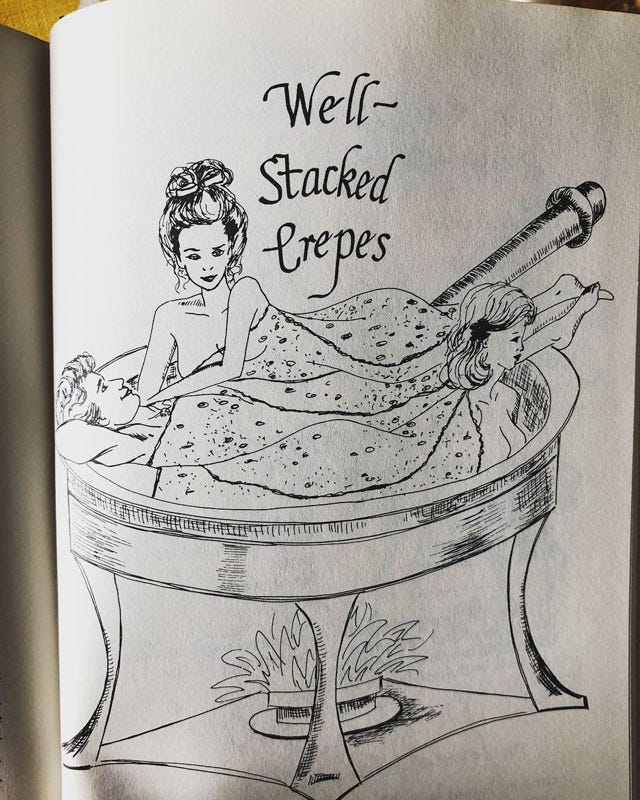 The recipes are laugh-out-loud funny, as are the illustrations.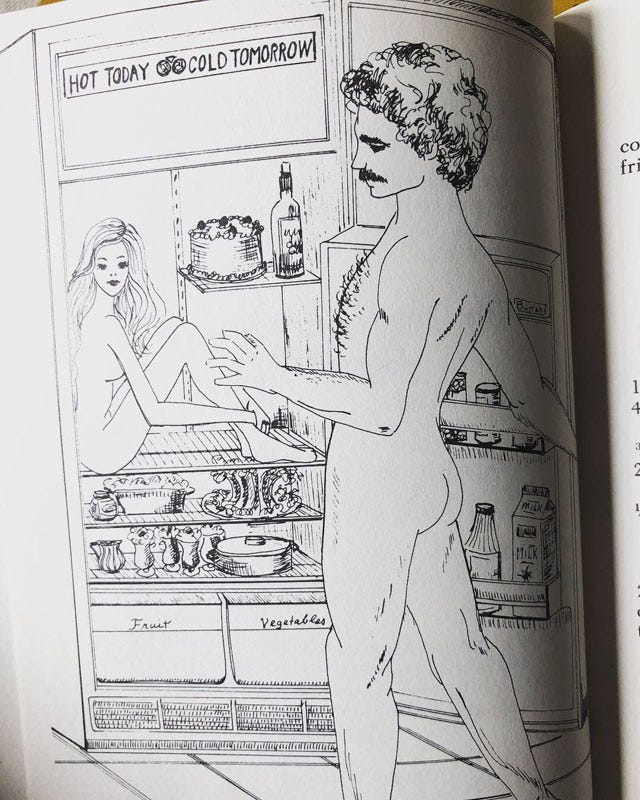 The best surprise of all, though, came when I read the author's bio. Turns out Margy Newman is the mother of Laraine Newman, a member of SNL's original cast.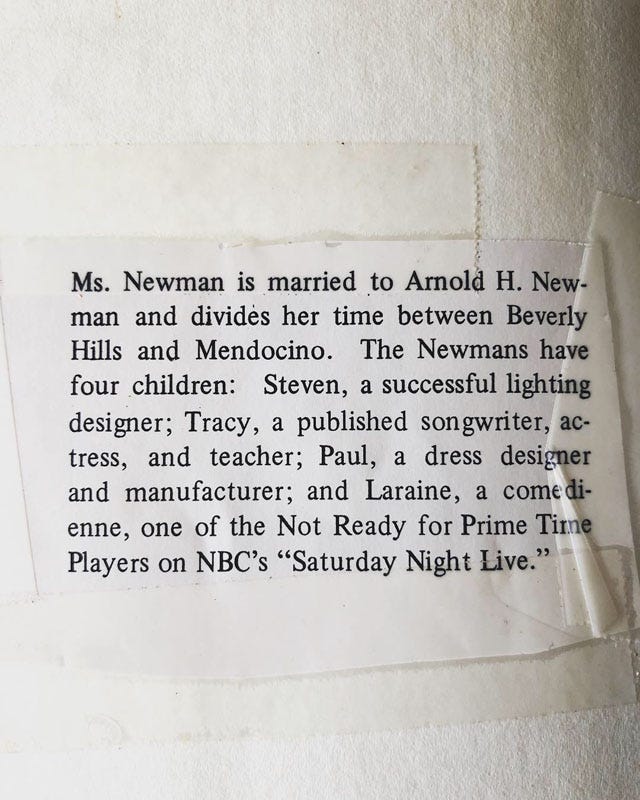 I guess the apple doesn't fall too far from the well-hung crepe.


Links & Things.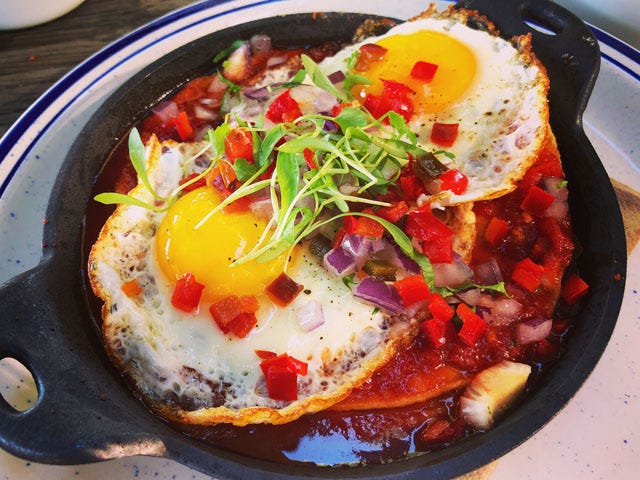 (Those were the huevos rancheros at Salazar, where we met Brendan and Ian for brunch.)

* What To Do With All The Spices That Have Piled Up in Your Kitchen, The New York Times
* Escarole Soup with Beans and Meatballs, David Lebovitz
* Taking Comfort in Couscous (Melissa Clark), The New York Times
* Bill Addison's review of Ma'am Sir (one of my favorite new L.A. restaurants), LA Times
* Anna Jones' Porridge Recipes (cherries and cashew butter? Sign me up), The Guardian
* April Bloomfield Closes Her Los Angeles Restaurant Hearth & Hound, The New York Times
* The Recipe Top Chefs Can't Live Without, The Guardian

Culture-wise, I'm into the second season of Bojack Horseman and loving it so much that Craig, who resisted at first, is trying to catch up to me so that we can watch it together. We also just started Killing Eve and we're loving it so far. Last night, I saw Bernadette Peters in concert and she was spectacular; she's 70 years old, looks incredible, and sounds even better. I'm still reading Life After Life by Kate Atkinson, which I was loving at the beginning, but now I'm in the middle and getting bored? But I'm going to push through.

Until next time....

Your friend,
Adam