Baby Got Bundt

Reading in a browser? Click to get this in your inbox every week!

Hey friends,

For some reason, I felt compelled to buy a bundt pan. I think it was because I was flipping through Christina Tosi's new cake book at Skylight Books the other day and she had a recipe for a pistachio bundt that seemed pretty incredible. If I'm being completely honest, I took a picture of the pistachio bundt recipe (with plans to buy the cookbook at a later date!) and thought I'd make it for a dinner party, but then the ingredients seemed tricky; particularly: instant pistachio pudding mix. So I put the whole idea on the back burner, but I still bought a bundt pan when I saw one at Sur La Table.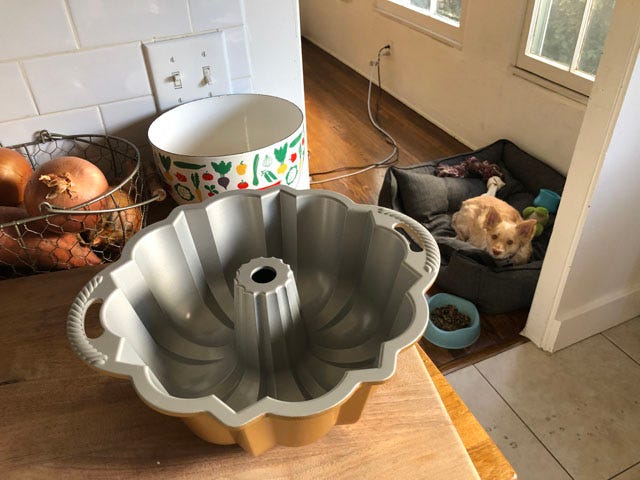 My friend Nicole Rucker (who's a celebrated pastry chef and the co-owner of Fiona) messaged me on Instagram that I should be sure to coat the pan with lots of solid fat (softened butter, ideally) to make sure the cake would come out. It was just a question of which cake? And that's when I turned to my Back in the Day Bakery cookbook (source of my go-to chocolate chip cookie recipe) and settled on their Brown Sugar Bundt Cake with Butterscotch Glaze.

Baby Got Bundt.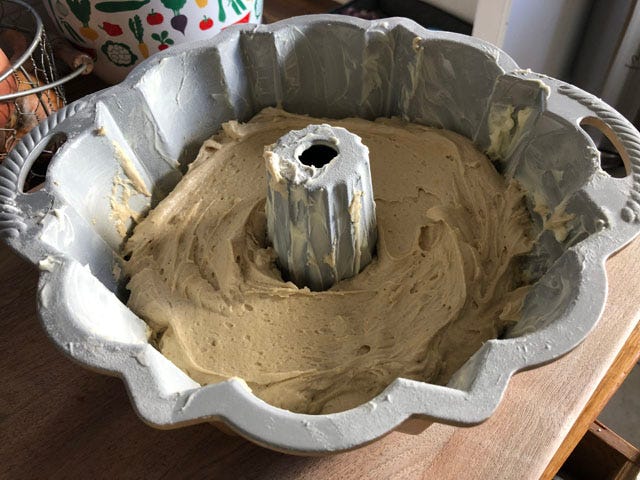 The batter was fairly easy: you just cream lots of butter and brown sugar, then add vanilla and lemon zest, and finally the dry ingredients and a cup of sour cream. I firmly believe that any cake recipe with sour cream in it will be good (see my favorite cake recipe of all time). This one was no exception.

The only scary part was getting it out of the pan (you could've watched me do it live if you followed me on Instagram; sorry for guilting you, I'm Jewish.) Because of Nicole's advice, it came out easy peasy (I also dusted the pan with flour, in case you want to use her bundt advice yourself). Look at my big, beautiful, bundt.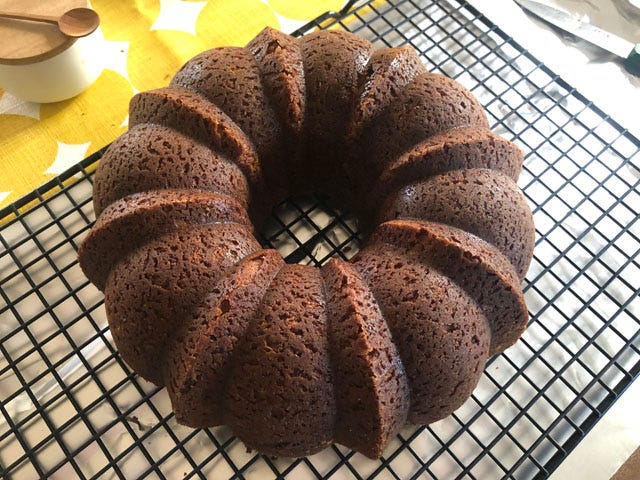 As for the glaze, it was a simple combination of butter, brown sugar, and cream that you boil until thick and then pour all over the cake. I did it on a cake stand with parchment pieces underneath to yank away for prettiness; if I had to do it again, I might've done it on a wire rack (so the glaze could drain off more easily) and then lifted the cake, once the glaze had set, with two spatulas on to the cake stand.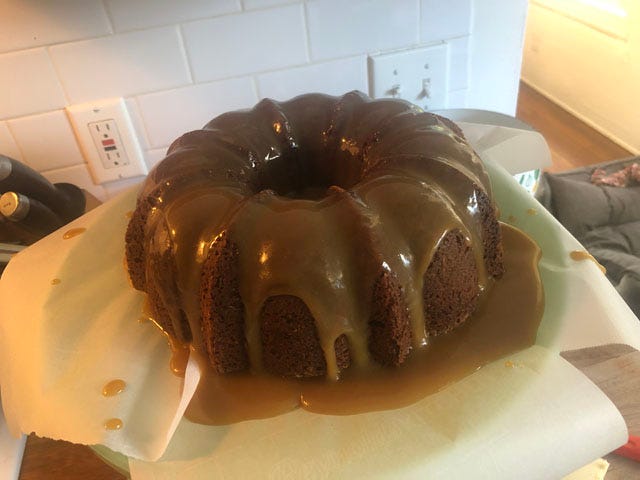 All in all, this first bundt experience was an A+ journey; next time, I'll get some pistachio pudding mix (I bet it's on Amazon, isn't it) and take my bundt game to the next level.


The Best Chili of Your Life (Redux).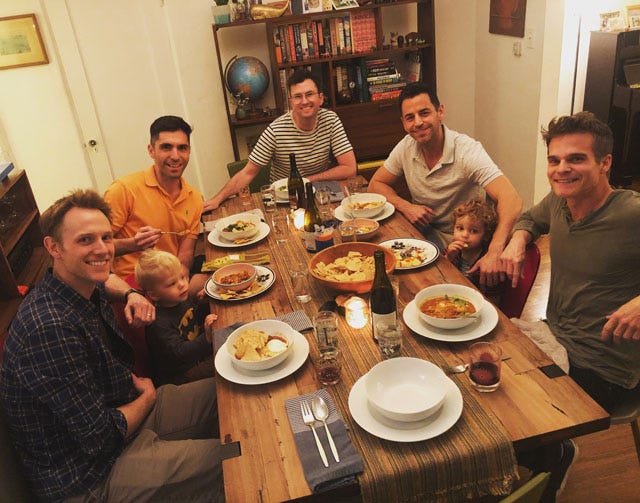 On Sunday night, we hosted our favorite dad couples: John and Michael and their adorable son Miles, and Rob and Greg and their adorable son Monty. In fact, there was so much adorableness going around, I could've served frozen pizza and everyone would've been happy.

Instead, I served The Best Chili of Your Life. Those who followed my food blog will remember that phase I went through where I named everything that I loved "the best ___ of your life." It all started because I named Ina Garten's broccoli The Best Broccoli of Your Life and the post went viral. (I was the #1 result for "broccoli recipe," back in the day. I'm the Norma Desmond of broccoli.) Anyway, this chili recipe comes from Michael Symon and it really is the best chili I've ever had or made.

I started the night before and cut 5 pounds of pork shoulder into large cubes, then seasoned them with toasted and ground coriander seeds, cumin seeds, and smoked paprika. Plus lots of salt.

Then, on Sunday afternoon, I took my time searing the cubes in small batches.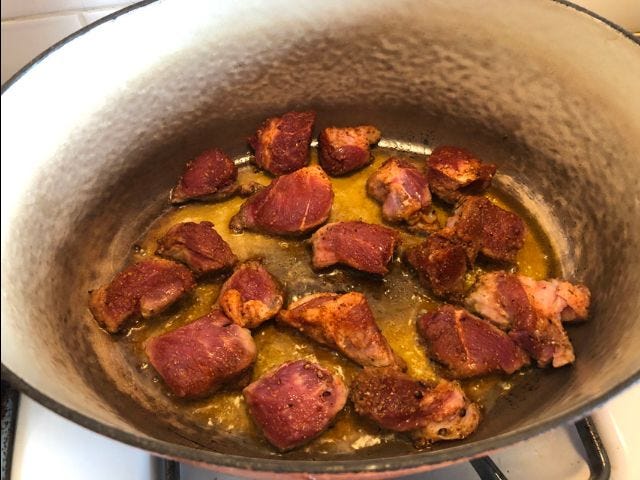 Notice how spaced apart they are? That's the only way to really get them golden brown; otherwise, you'll crowd the pan and they'll steam. Just play some music you like (perhaps an original cast recording of a Broadway musical?) and enjoy taking your time.

After that, you add a ton of bacon; when that renders, you add chopped onions, peppers, jalapeños, and garlic.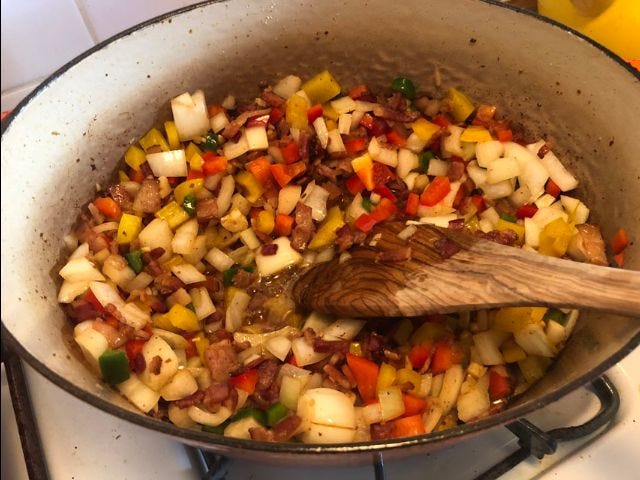 When that's all soft, a bottle of beer, tomatoes, chilis in adobo, chicken stock, and a pound of black-eyed peas.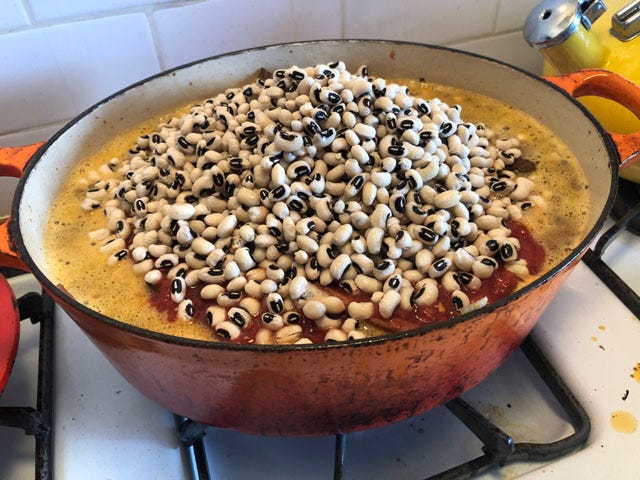 Add all of the pork back...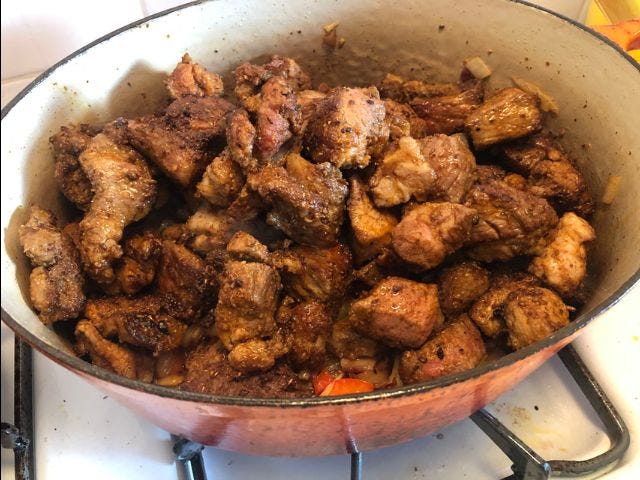 You then realize there's no way this is all going to cook in there without bubbling over and transfer everything to a stock pot.

It cooks for 2 1/2 hours. Towards the end, set up your fixings: sour cream, shredded cheese (I did smoked Gouda), chopped scallions, cilantro, and lime wedges. Oh and pickled jalapeños.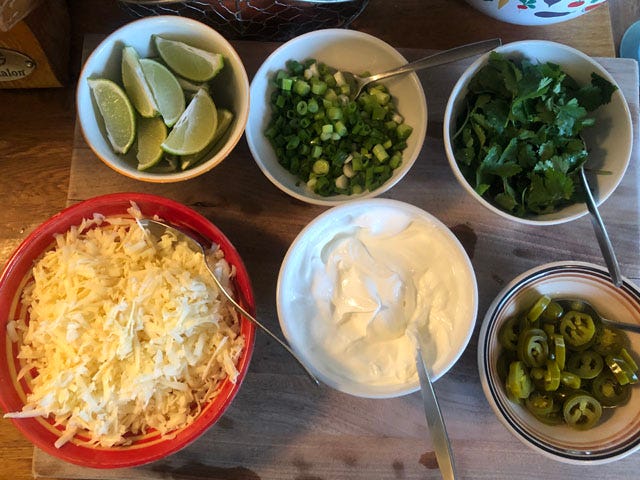 The finished chili has so much flavor. Plus, it's great for entertaining: people visit you in the kitchen with their bowls, you ladle in some chili, and they can fix it any way they like. (Be sure to put lots of tortilla chips on the table too). Here's my finished bowl: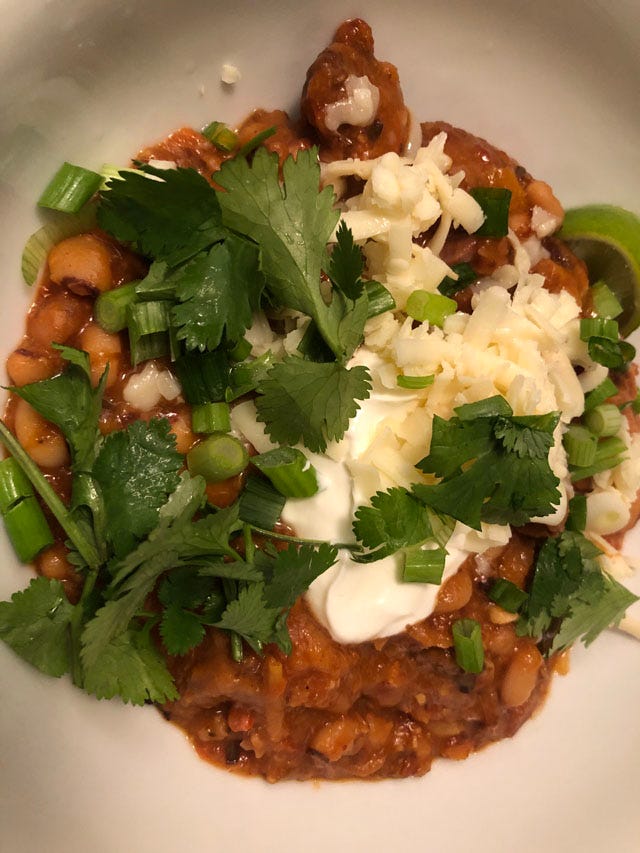 It really is some stupendous chili. It even had some of our dinner guests singing The Alphabet Song.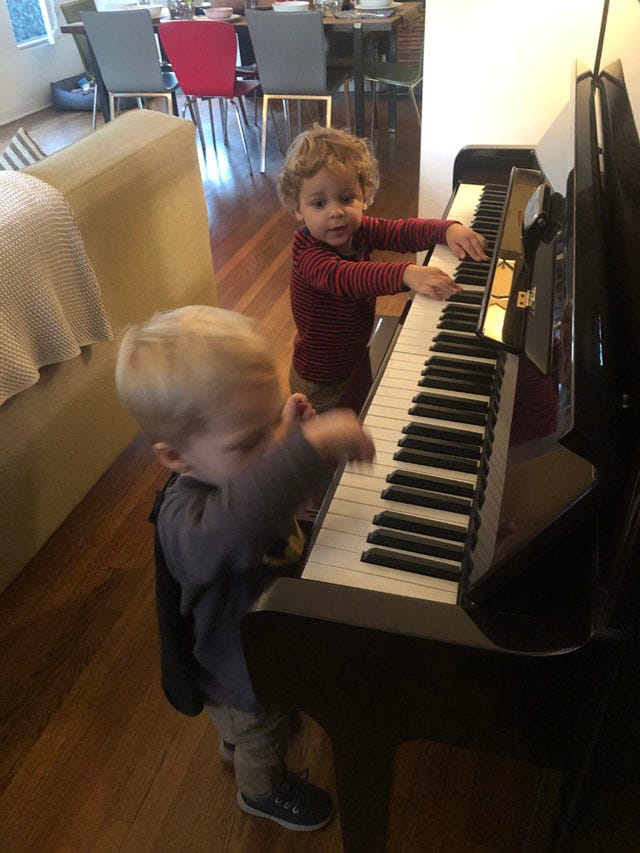 Leftover Chips, Leftover Rice? Make 'Em Nice!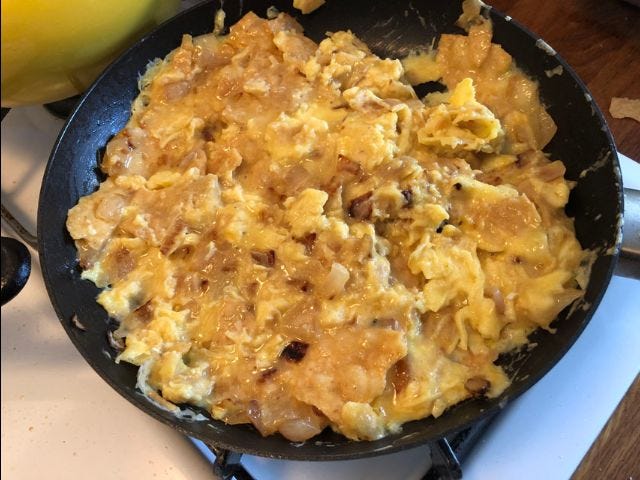 OK, that might look like a big gloppy mess, but that's actually me being resourceful! We went to HomeState on Thursday and had leftover chips, so on Saturday morning I turned them into migas. That's basically scrambled eggs with tortilla chips and lots of cheese.

All I did was cook an onion in some vegetable oil until golden brown all over, then I added 6 eggs beaten with salt and pepper, a bunch of crunched up tortilla chips, and cooked over medium/low heat. When it was pretty set, I added a lot of grated cheddar cheese. Served it up with some breakfast sausage from McCall's and some Rancho Gordo chipotle chili hot sauce drizzled on top.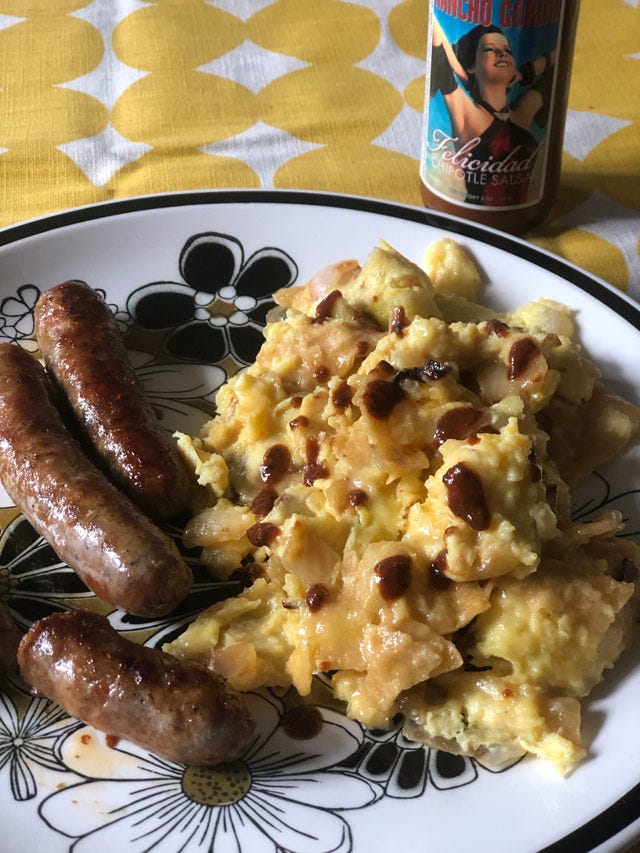 Then, last night, we ordered in Pine and Crane and had some leftover white rice. We were watching the Alexander McQueen documentary (very good) and I suddenly had the urge to make rice pudding.

Here's how easy: in a small skillet, dump your leftover white rice (you need about a cup of cooked rice; it's worth it to order extra rice just to make this). Cover it with milk and cream (depending on how decadent you want it); add a few spoonfuls of sugar (maybe 2 to 3 tablespoons); add a splash of vanilla, orange zest, dried currants (if you have them), and a pinch of salt, and then just cook on medium heat, stirring the whole time, until all of the milk is absorbed.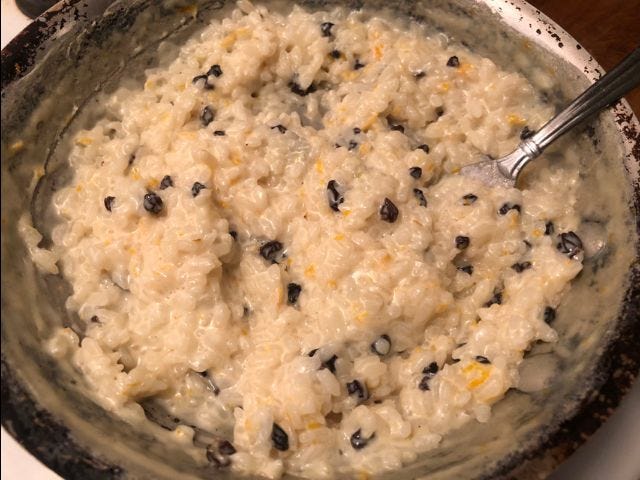 Craig, who doesn't even like rice pudding, gobbled his up. So there!

Marcella's Porcini Chicken.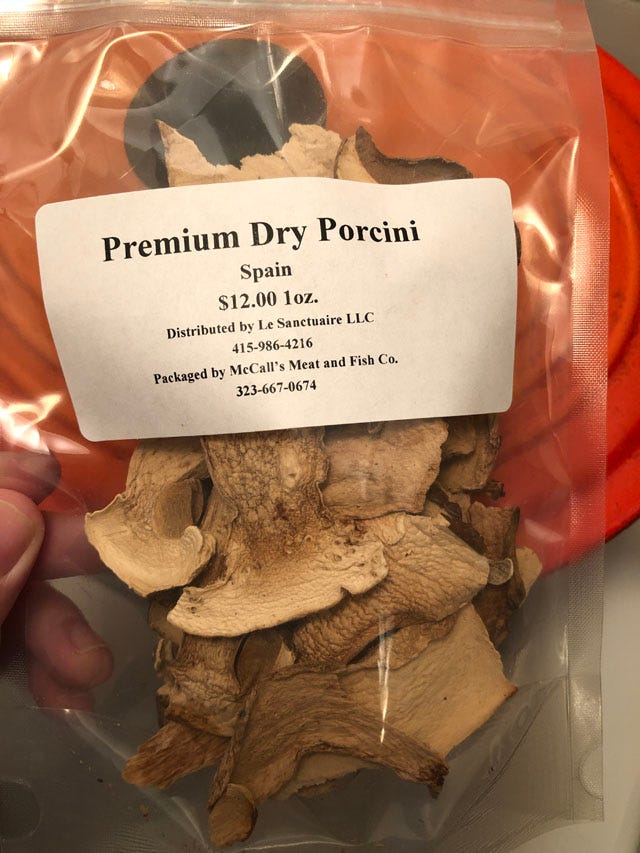 Recently The Guardian asked food writers for the recipe they couldn't live without and one of my favorite cookbook authors, Diana Henry, said it was Marcella Hazan's chicken fricassee with porcini mushrooms, white wine, and tomatoes. I made a mental note of it and then, at McCalls, I saw they were selling dried porcini mushrooms; so I bought a bag and decided to make Marcella's chicken for dinner.

It's a super easy recipe: the hardest part is stopping yourself from adding anything like garlic or rosemary. It's really as simple as browning chicken pieces (I used thighs and legs), adding white wine, tomatoes, and then porcinis soaked in warm water and then the liquid strained through a cheese cloth. You cook the chicken in there until it's done...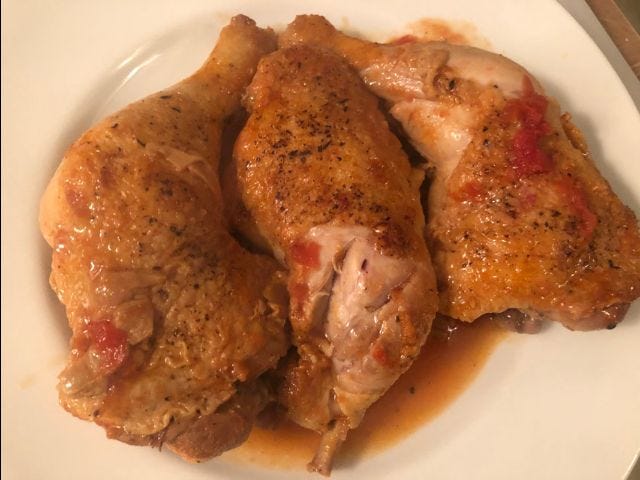 Then reduce the sauce (with a little butter) until it's thick.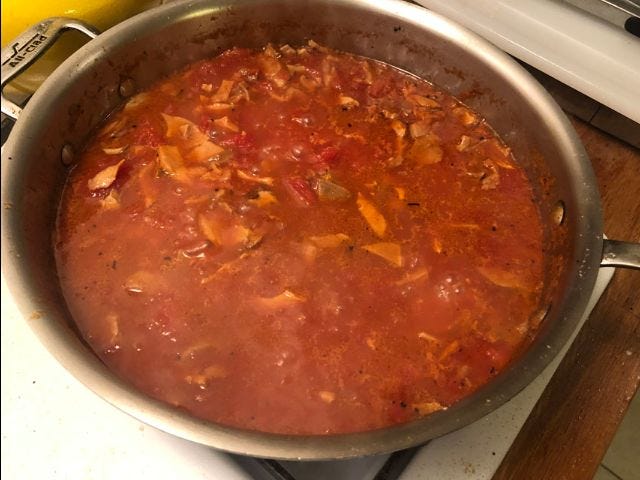 I served it over polenta doctored with Parmesan and a little more butter and it was such a perfect January meal (even in L.A.): mellow, soothing, earthy. It's great stuff.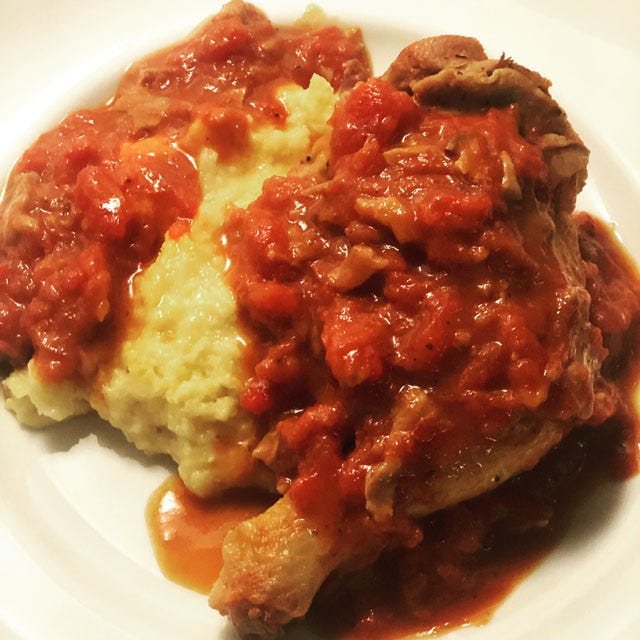 Links & Things.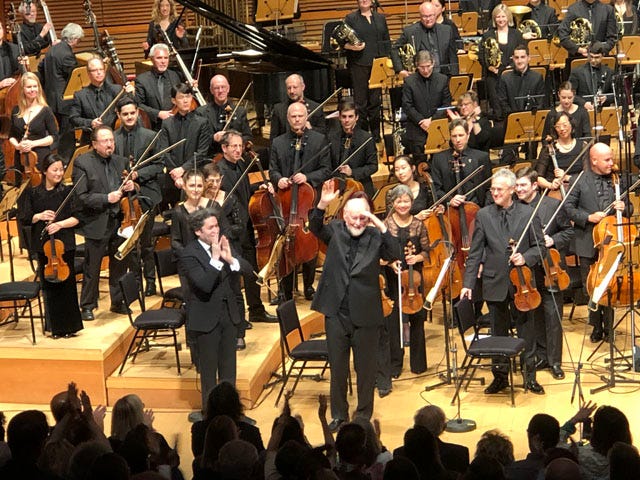 [Gustavo Dudamel and John Williams at Disney Concert Hall on Saturday. More on that after the links.]

* Make Union Square Cafe's Seasonal Cider, The New York Times
* Nigel Slater's Winter Soup Recipes, The Guardian
* At Mokonuts in Paris, A Dinner Reservation is Impossible to Get, The New York Times
* Leslie Jones's Upper East Side Rap (from SNL), Eater
* Baked Buffalo Wings, Smitten Kitchen

So on Saturday night, we went to go see Gustavo Dudamel conduct the music of John Williams at Disney Concert Hall and he did all the classics: Jaws, E.T. (Craig's favorite), Close Encounters, Indiana Jones, Star Wars. Then, at the end, Dudamel surprised the audience and brought Williams up on stage. But that wasn't all! Apparently it was Dudamel's birthday and so Williams had him take a seat in the audience and then conducted the orchestra in a John Williams-ized version of "Happy Birthday" that was truly remarkable. It was a great night in L.A. Otherwise, we finished Killing Eve (got a little bonkers at the end), I'm rewatching the BoJack episodes with Craig that I've already seen so that we can watch together (it's my favorite comedy on TV), and I'm still making my way through Life After Life (the book).

Until next time!

Your friend,
Adam