Craig's Sideways Birthday Adventure
Reading in a browser? Click to get this in your inbox every week!

Hey friends,

For Craig's birthday this year, we decided to head up to Los Olivos on the recommendation of our friends Rob and Greg who absolutely love it there. The plan was for us to stay two nights at The Fess Parker (Friday and Saturday) and to be joined by our friends Ryan and Jonathan on Saturday, who were taking a train up from L.A.

To back up the story a bit: Craig and I got into an argument a few days before the trip because he looked at the weather and said, "It's supposed to be cold and rainy there" and I said, "I did all of this planning for your birthday! How can you say that!? How!?" so he backed off and away we went. (I'm normally very rational in arguments.)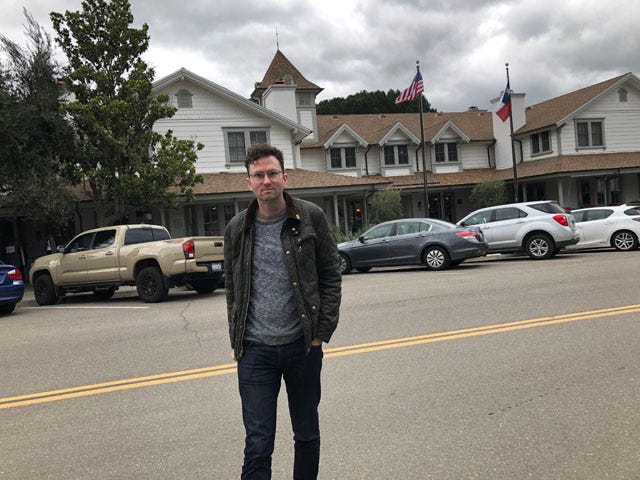 The drive up was very pretty (you go through Los Padres National Forest on windy roads) and once there, we headed straight to the Los Olivos Wine Merchant Cafe for lunch.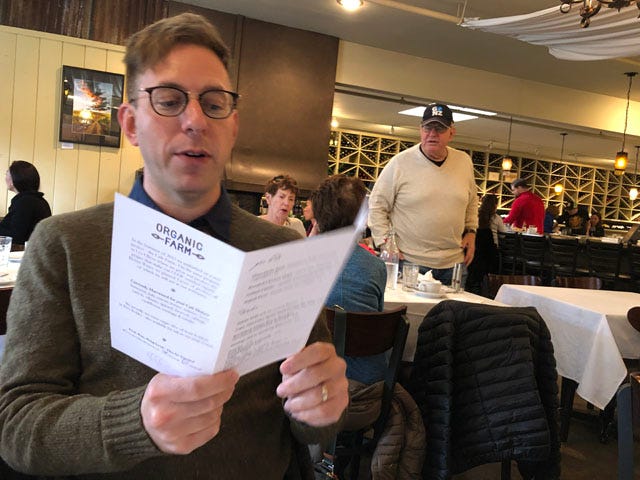 (That's what I look like reading a menu as a man with a baseball cap creeps up behind me.)

Getting into the spirit of things, we each ordered a glass of wine (this was wine country after all; wait, is Los Olivos wine country? I don't know) and a baked brie with a cinnamon puff pastry.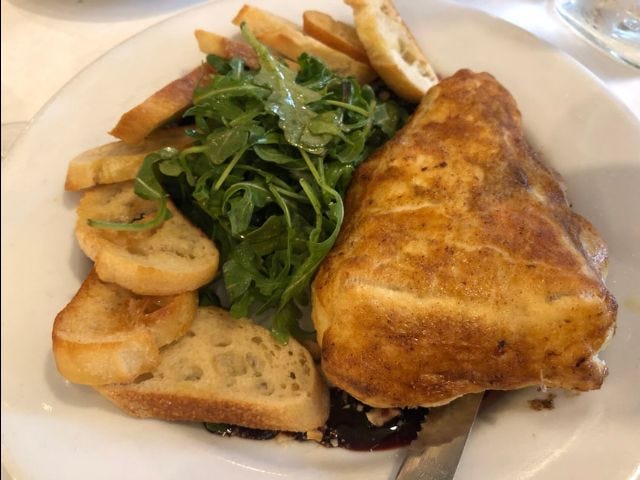 That baked brie was pretty outrageously delicious. I did penance with a salad afterwards that was just ok.

After lunch, we decided to get into the spirit of things and go wine tasting. Our first stop was Zinke Wine Co.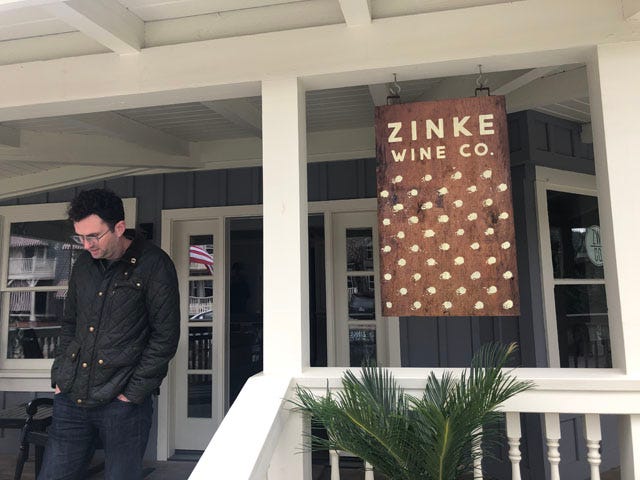 (I must've taken that picture as we were leaving, but just pretend we're going in.)

Wine tastings are a little awkward; you're standing there chit-chatting with a person who's trying to sell you bottles and/or cases of wine. That said, the woman at Zinke was really friendly and we enjoyed our $15 tasting of whites and reds.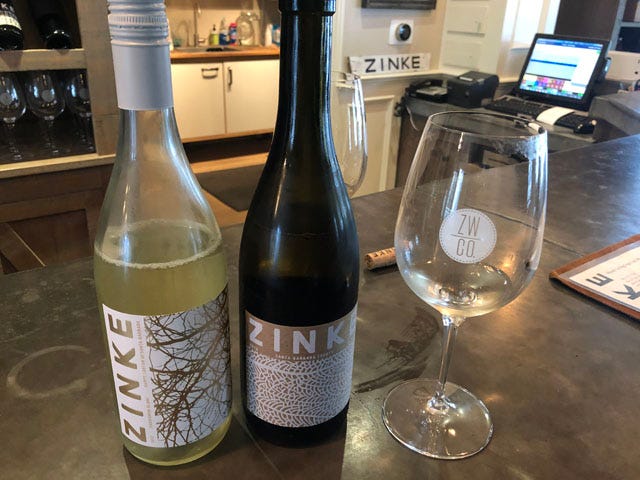 The Syrah was our favorite so we bought a few bottles to bring back. Que syrah syrah.

Eventually, we checked into the Fess Parker and our room was very charming.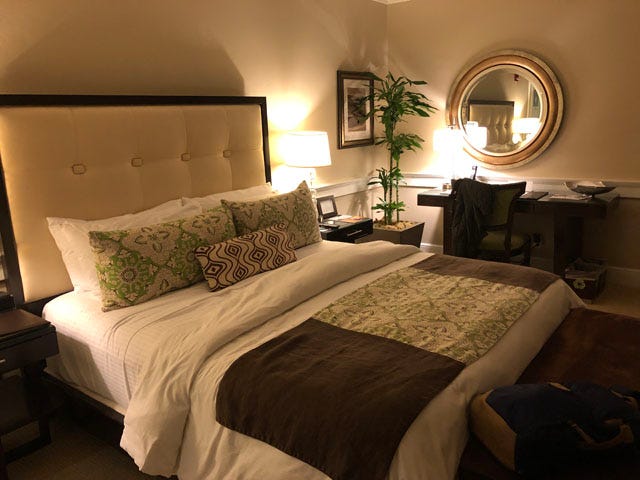 That night, we decided to visit The Hitching Post: the legendary steakhouse featured in one of Craig's favorite movies, Sideways. (It's where Paul Giamatti meets Virginia Madsen.)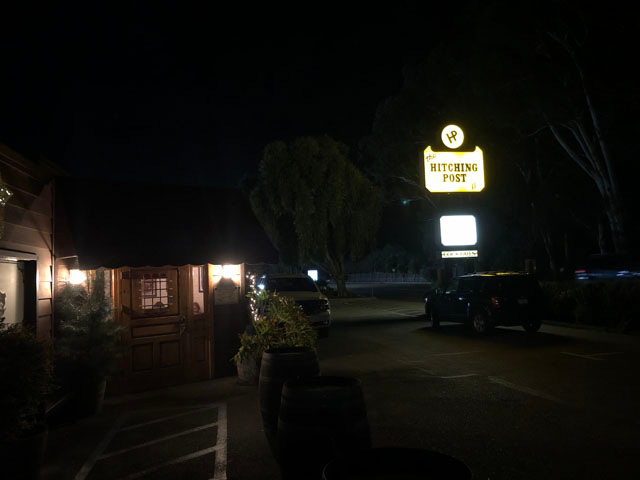 The rain was really starting to pick up as we made our way there, but we didn't think much of it.

The restaurant itself was charming in a quaint, unpretentious way. We were seated at a table in the corner and posed for this very adorable picture: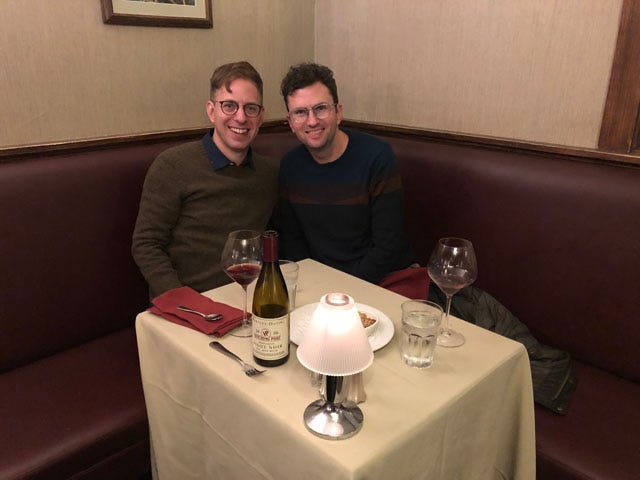 The wine on the table was a Pinot Noir from 2006 that we ordered because that was the year that we met. (Awwww....)

(We made a joke about ordering Merlot and apparently that's the joke everyone makes and also Sideways killed the Merlot industry, so be careful what you joke about.)

There were some quirky flourishes to the meal, like this plate of vegetables they set out when you sit down.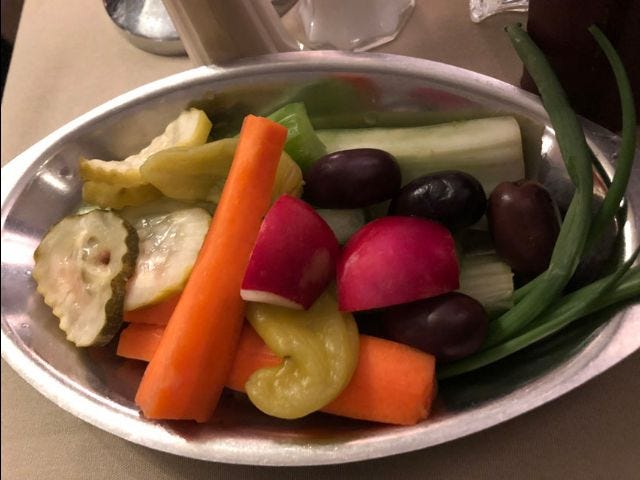 But the steak was truly top notch. I had a five ounce petit filet that was maybe the best steak I've had in a very long time.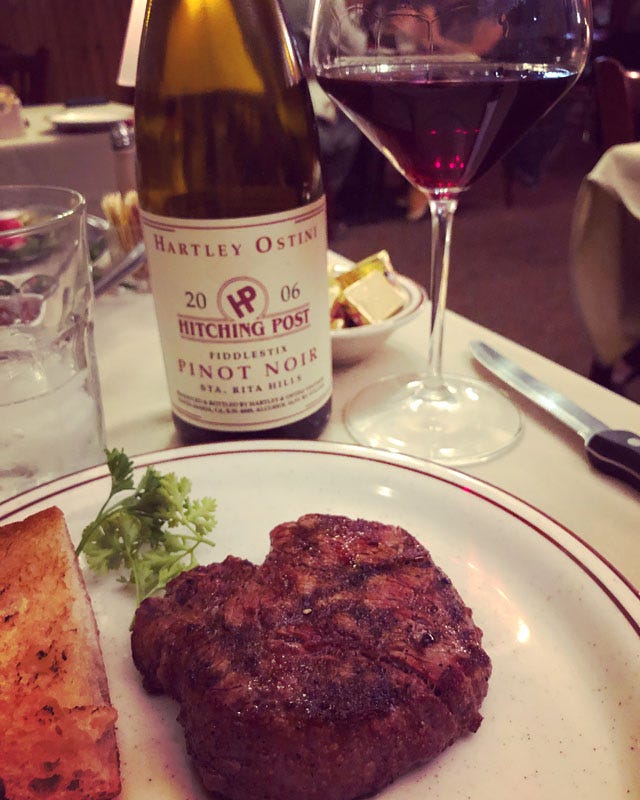 It was like butter, cutting into it, and it was perfectly seasoned.

I also really liked my baked potato that I doctored with sour cream and chives.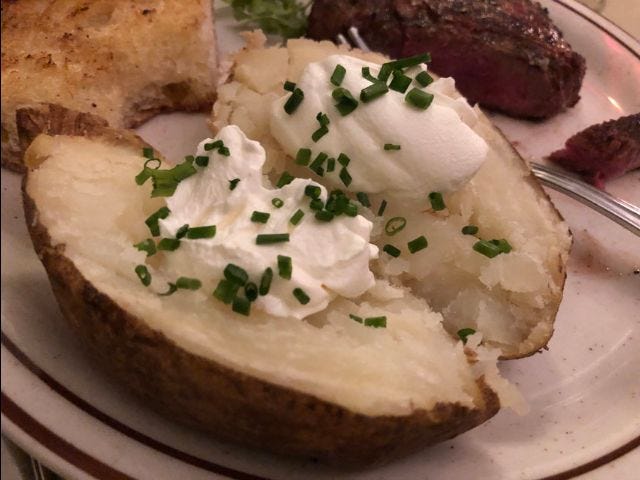 We had an apple crisp for dessert, but I forgot to take a picture.

OK: now for the drama!

We got back to the Fess and made the mistake of turning on the gas fireplace which made the room way too hot. Then, as we tried to fall asleep, a storm started up: wind howled through the streets, it sounded like huge dumpsters were slamming down the alleys.

At about five AM, the electricity went out.

The next morning, when we woke up, we found out that not only was the electricity out in our hotel, it was out in all of Los Olivos, Solvang, and other neighboring towns.

As a testament to what a great hotel the Fess Parker is, they somehow managed to make breakfast for the guests using a small generator to boil water. Here's Craig on his birthday morning with emergency coffee and an emergency mimosa.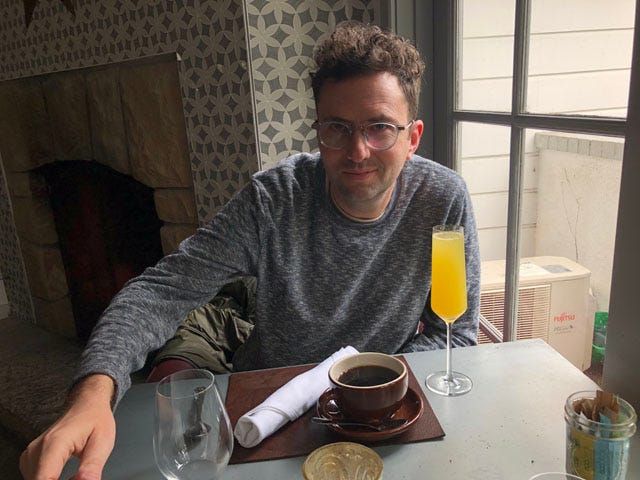 And the oatmeal they made for us.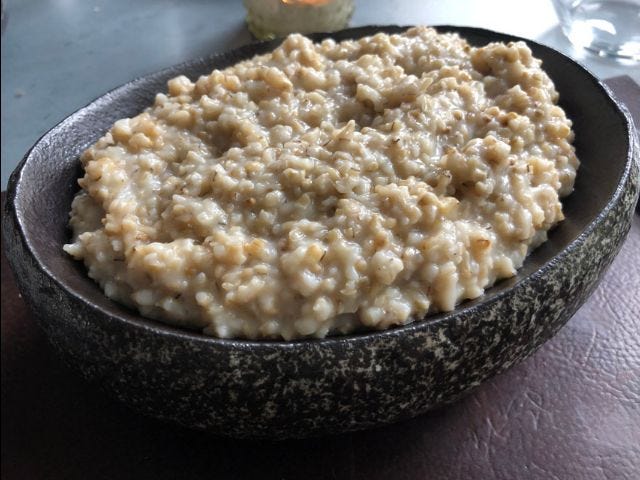 Here's where the saga took a turn: Ryan and Jonathan were on the train up to meet us but, because of flooding, they were stuck in Oxnard.

The hotel didn't know when the electricity might come back on or if it would come back on at all.

So Craig and I made an executive decision: we would check out of the Fess early and swoop down to Santa Barbara where Ryan and Jonathan could meet us more easily. The Fess was very understanding and didn't give us a hard time about canceling our Saturday night reservation.

We drove down to Santa Barbara, texting with Ryan and Jonathan all the while; their train was still stuck on the tracks. By the time we got to Santa Barbara, their train still hadn't moved. We came up with a new plan: we'd go down to Oxnard and pick them up. Only, when we tried to get on to the 101, it was closed!

There was no way to get to them and there was no way for them to get to us. Which is when they made the executive decision to go back to L.A. and we made the executive decision to spend the night in Santa Barbara.

I'd never been to Santa Barbara so I was kind of excited (though sad that Ryan and Jonathan couldn't join us); Ryan had mentioned a chic hotel called the Belmond El Encanto, so that's where we headed

Oh my goodness, this hotel. It was like staying in the Garden of Eden, or someone's idea of a utopia, on top of a hill overlooking all of Santa Barbara and the Pacific Ocean.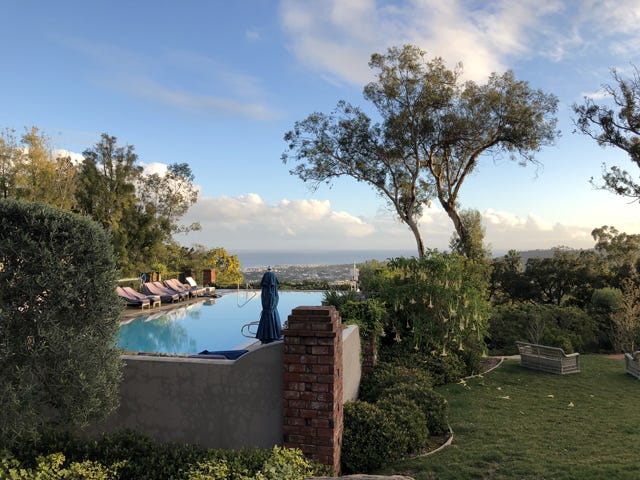 We checked in and sat down to a lovely lunch with a gorgeous view. Craig had a pea soup that tasted surprisingly fresh, even though peas aren't really in season right now (I think it was made with sugar snaps).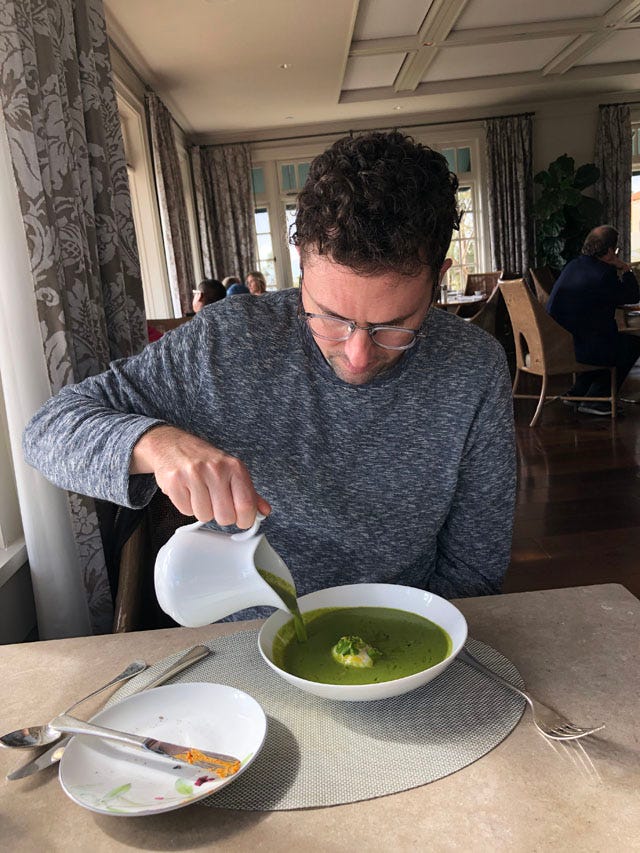 I had a salad that's not worth posting; but my entree was a beautiful piece of cod covered in lots of green stuff and citrus.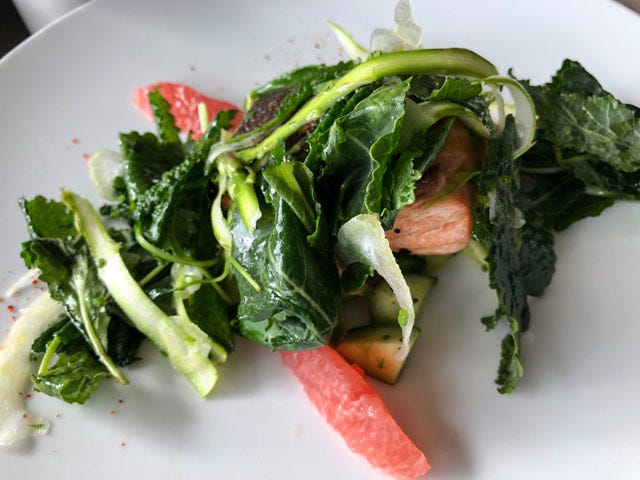 And Craig had a King Crab leg because (a) he'd never had one before and (b) it was his birthday.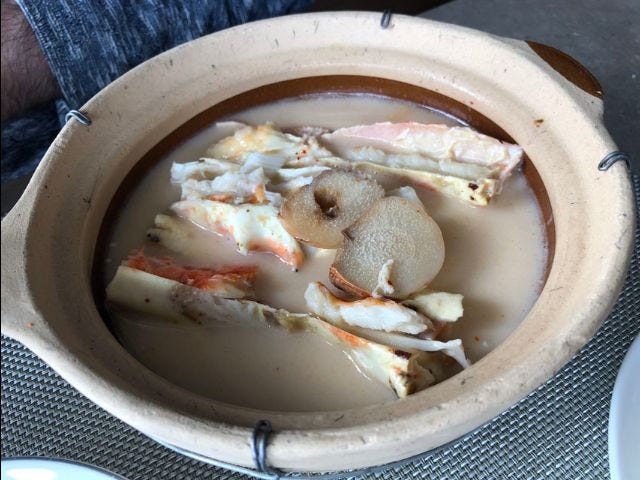 After lunch, we walked around the hotel grounds, which included a turtle pond.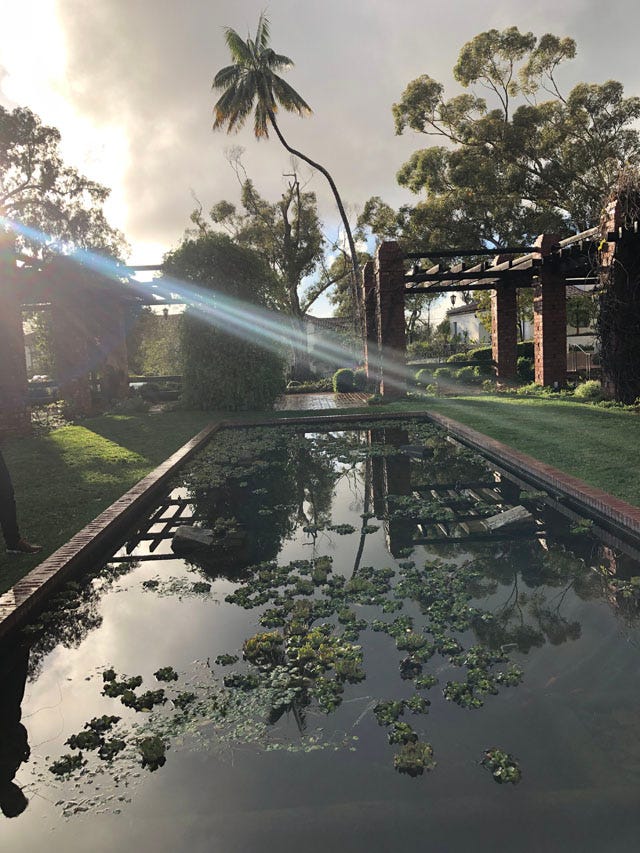 And a wishing well.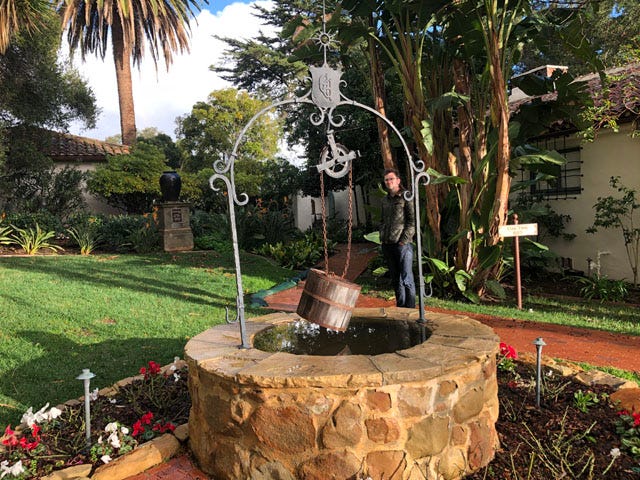 Eventually, we took a nap after our harrowing day (haha, just kidding), showered, then went to get drinks in the hotel bar.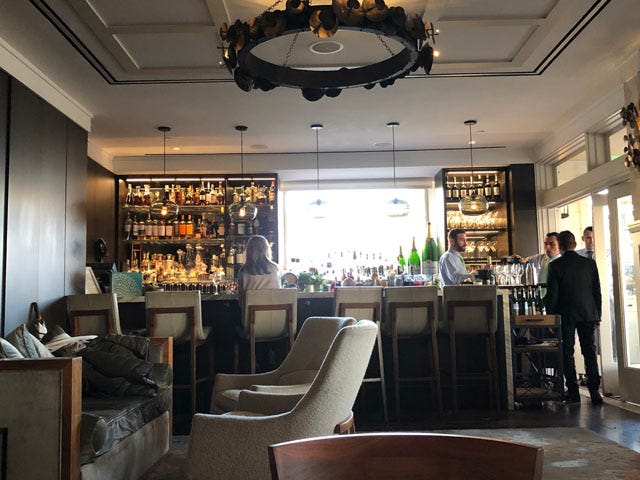 Sadly, we were seated next to these AWFUL women who were speaking in confidential tones and saying things along the lines of, "I suggested we have a White Pride Day, and they bit my head off!" And: "I hear she's married to a Jew." (Craig had to restrain himself from saying anything to them; I'm glad he didn't.)

Anyhoo: we had dinner at a restaurant that seemed to be on every best-of list, The Lark.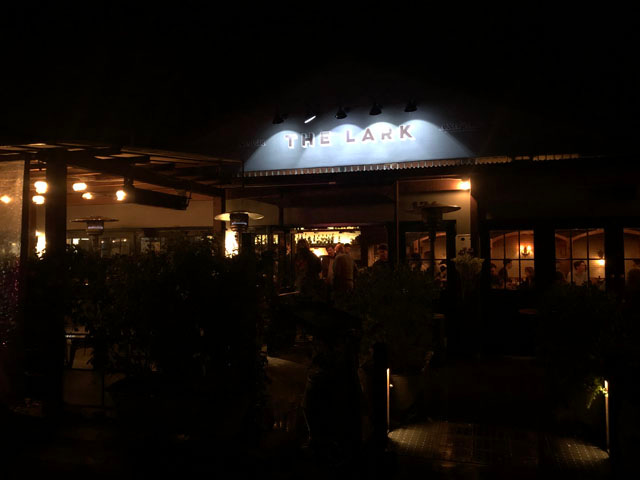 The place was buzzing--always a good sign--and we got seated right away near the front.

Our waiter was enthusiastic and earned our trust by telling us that we were ordering too much food (you know you can trust a waiter when they tell you that). So we pared down our order to three courses, the first of which was our favorite: a Southern picnic appetizer with pimento cheese, fennel salami, pickled vegetables, red onion jam, and grilled bread.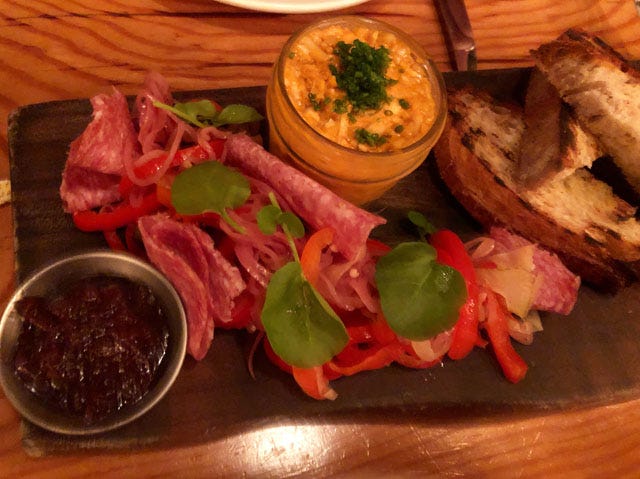 As for the entrees, Craig thought his scallops were a little too spicy (though the plating was certainly beautiful).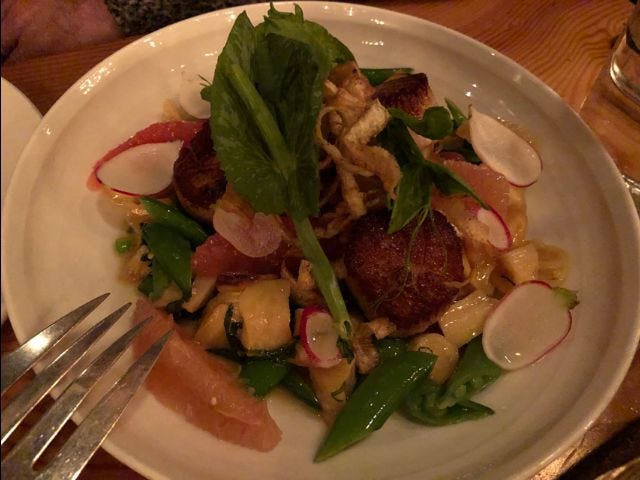 And I enjoyed my artichoke risotto; it had lots of little pops of flavor.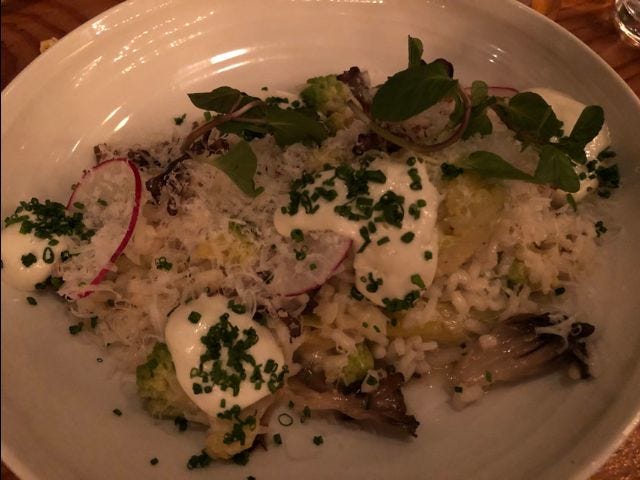 The dessert was the most fascinating; an avocado sorbet with candied coriander seeds.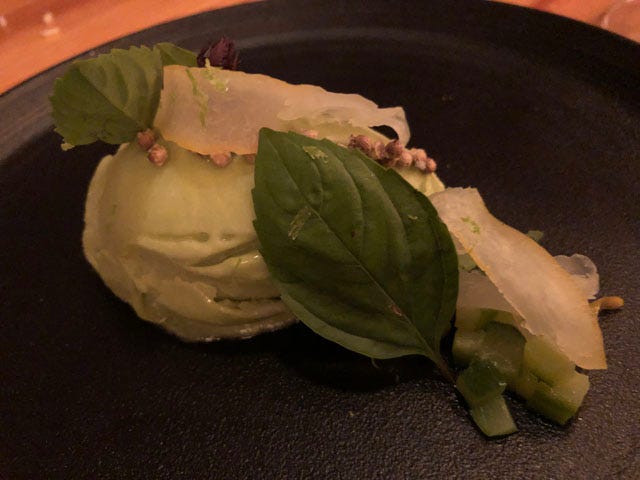 Sadly, they forgot to put a candle in it even though I told them it was Craig's birthday (and the table next to us got candles in their desserts!). But Craig took it very well; he only sobbed for half an hour.

The next morning, we ate a hotel breakfast as we read the complimentary Sunday New York Times.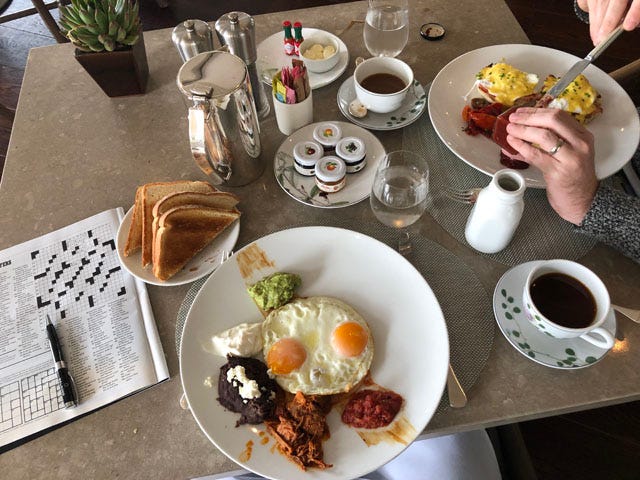 Then we hit the road and headed back to L.A.!

Having a dog makes coming home the best thing in the world. Winston was very happy to see us (though our dog-sitter, Matt, always does a fantastic job).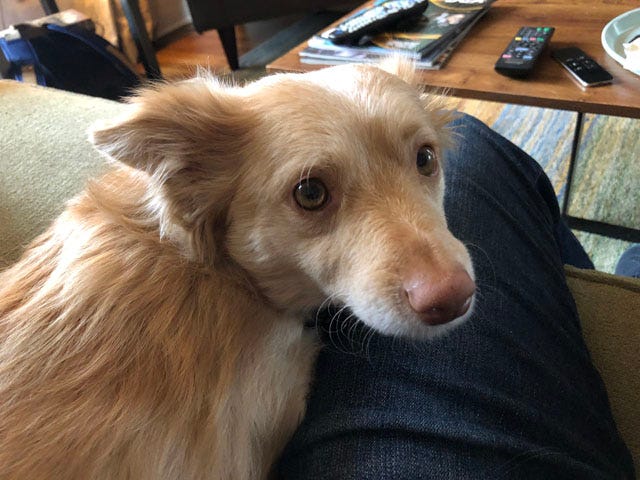 Once settled, I set about making a birthday dinner for Craig and Ryan and Jonathan, who deserved some home-cooked food after their train ordeal.

I made deviled eggs using this recipe from my blog.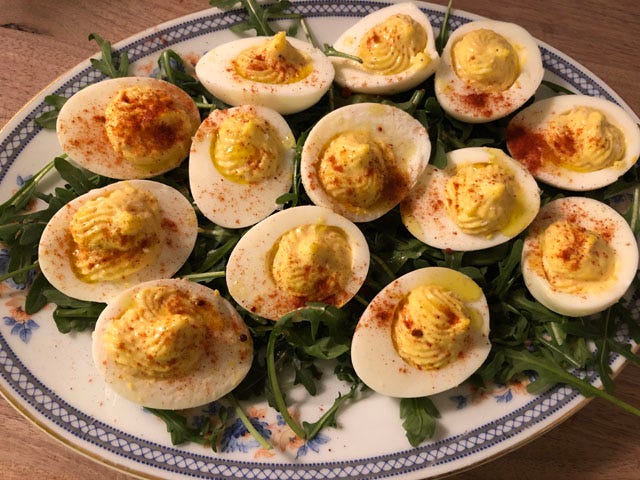 Ryan and Jonathan enjoyed gobbling them up and Winston enjoyed watching.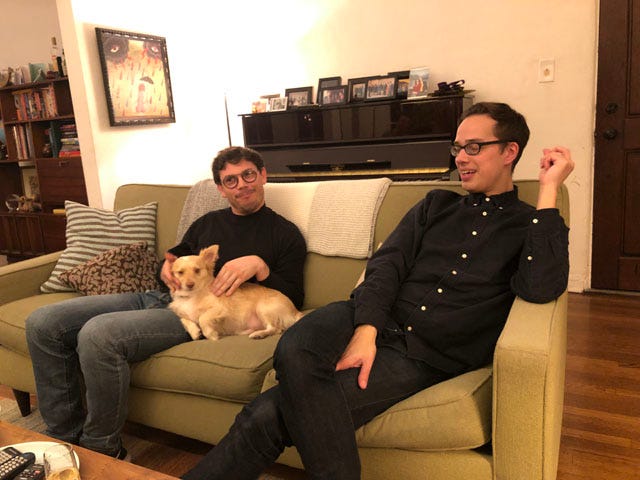 (Sidebar: Ryan's new Netflix show, Special, was just announced on Deadline. We're excited!)

For the entree, I made Craig's favorite thing that I make: Cavatappi with Sun-Dried Tomatoes and Cannellini Beans.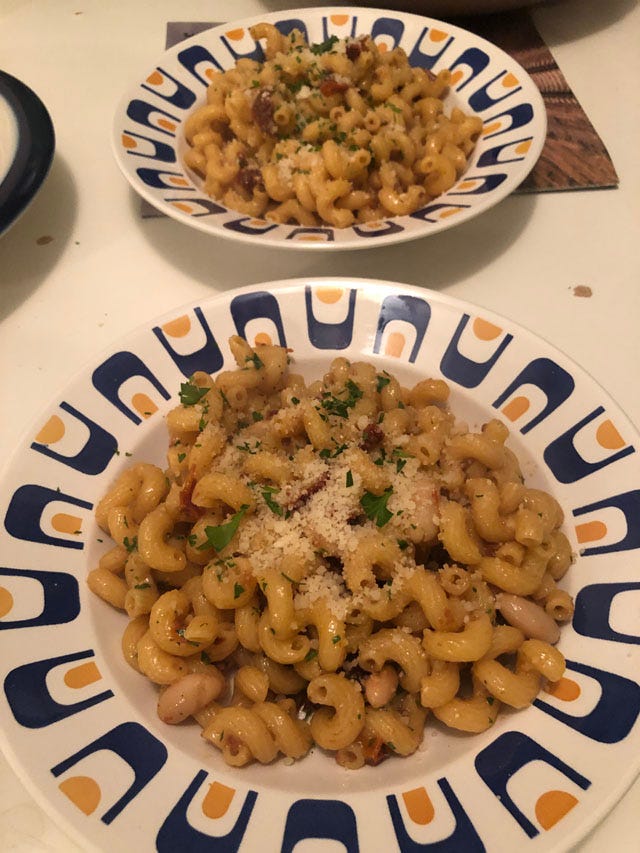 And for dessert, I baked off some White Chocolate Cherry Oatmeal Cookies from Joy The Baker that I actually made for Matt as a "thank you" for dog-sitting, but these were the ones I froze raw which are perfect for moments where you want a hot, impressive dessert and don't have time to do anything except heat up your oven.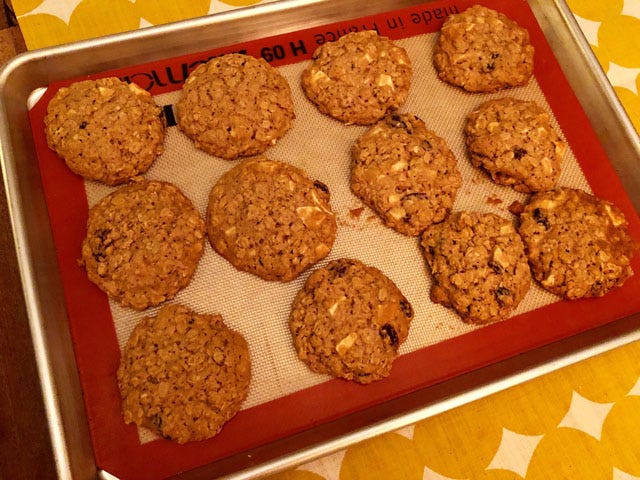 And, of course, I had to put a candle in something, so I chose an orange.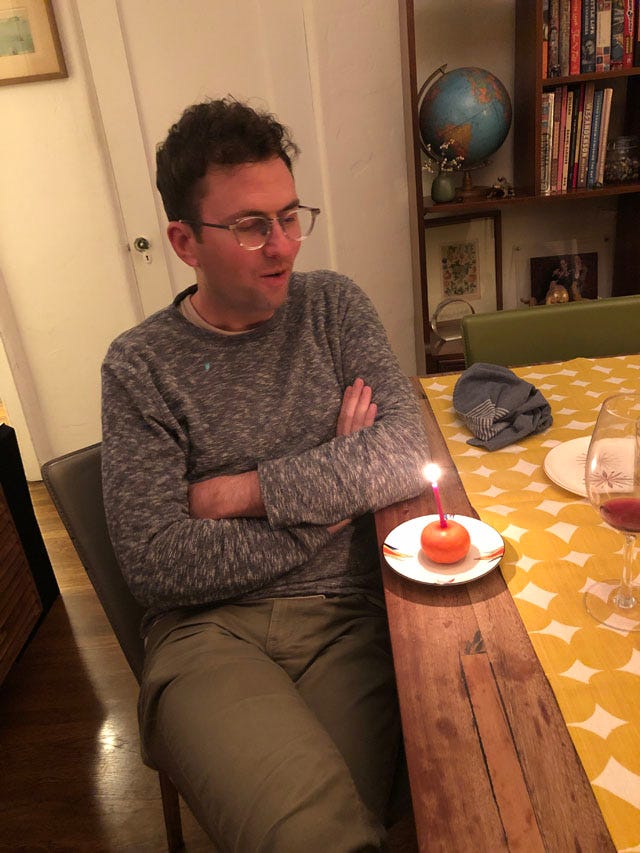 And thus concludes Craig's Sideways Birthday Adventure.

Thanks for coming along!

Until next time,
Adam