Pistachio Bundt FTW

Reading in a browser? Click to get this in your inbox every week!

Hey everyone,

Remember a few weeks ago, I was flipping through Christina Tosi's new Cake book and a recipe for a pistachio bundt caught my eye and how I maybe took a picture of that recipe and then went out and bought a bundt pan but then made a brown sugar bundt instead because I didn't think I'd be able to find one of the ingredients (pistachio pudding mix)? Well a few kind readers wrote me that pistachio pudding mix is super easy to find and sure enough, the next time that I was at Gelson's, I picked up two packages.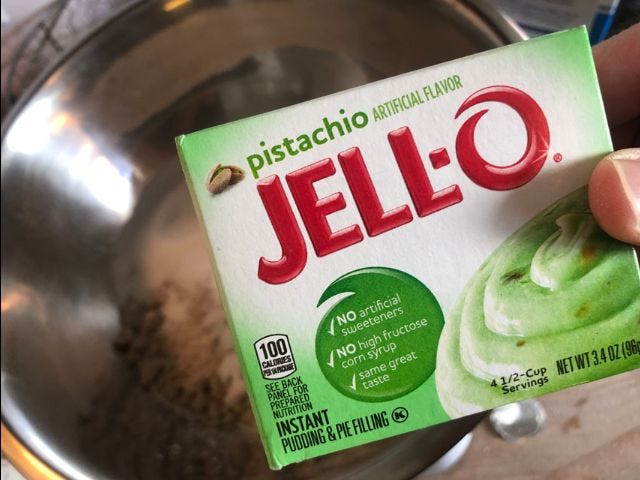 Then all I needed were pistachios; so on Friday, I trekked to Cookbook in Echo Park and stocked up on shelled, green pistachios which, admittedly, are hella expensive. (Do people still say hella?)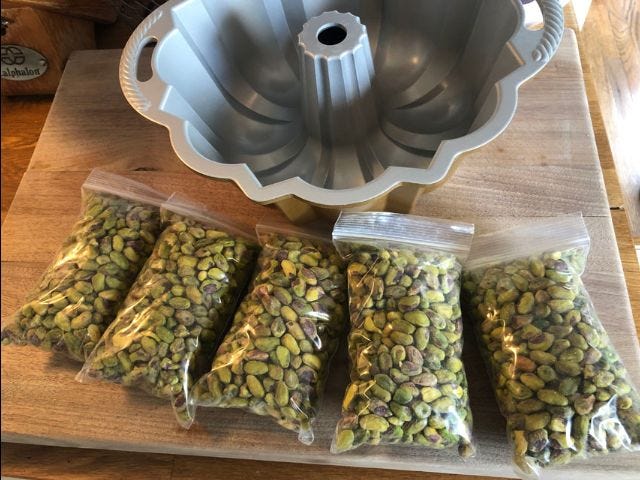 (Note: I bought way too many but I plan to use the extra pistachios for future pistachio desserts.)

On Saturday, I set about making the pistachio bundt.

It's an odd recipe. You have to separate twelve eggs, only using the whites.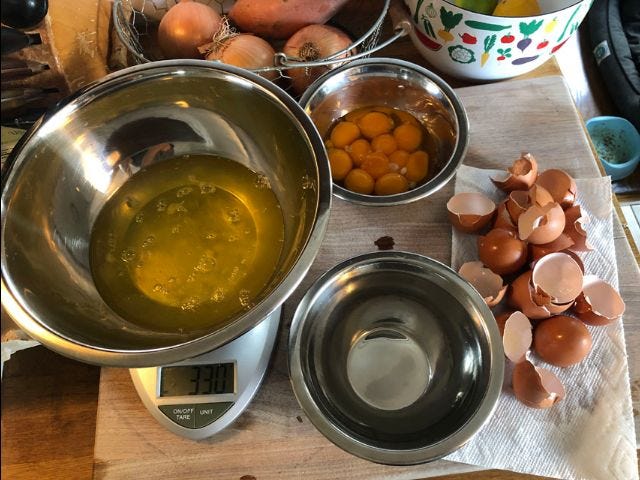 (I used a scale for all the steps because: 1. it's way more accurate; and 2. it's actually easier than not using a scale.)

You have to microwave the pistachios, which was tricky because we don't own a microwave. So I heated them up in a pan.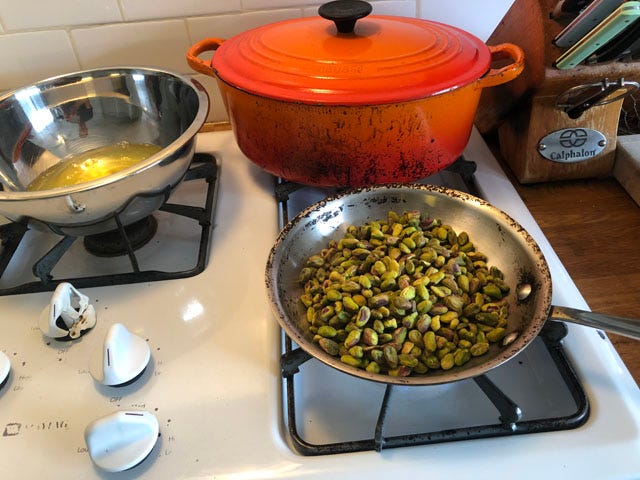 That helps it form a paste in the food processor with grapeseed oil.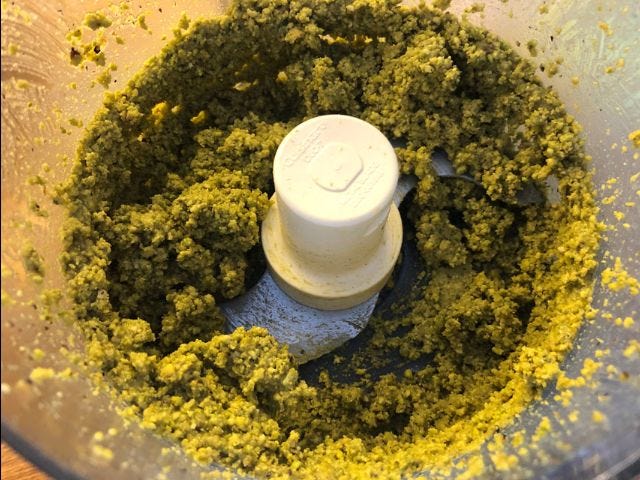 You basically mix that with more oil, heavy cream, corn syrup, and the egg whites. Then you add confectioners' sugar, AP flour, almond flour, sugar, the pudding mix, baking powder, and salt.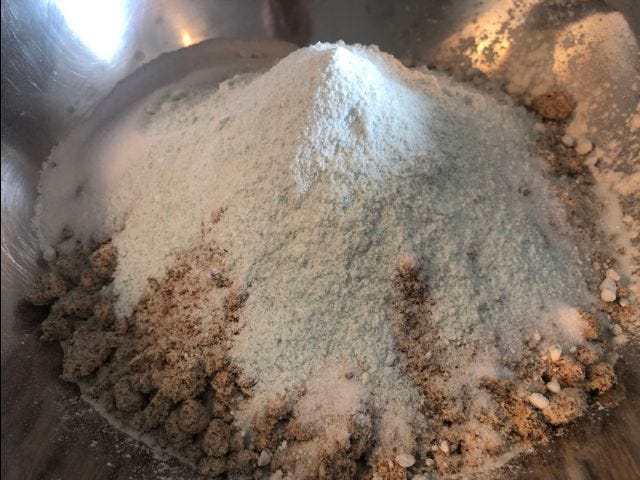 I loved the addition of the pudding mix because that synthetic pistachio flavor tastes more like the pistachio flavor we know and love, rather than the real pistachios.

Once all worked together, you put into a greased pan (I used the Nicole Rucker solid fat technique: rubbed with softened butter, floured) and bake for 60 to 70 minutes. Here it is fresh out of the oven.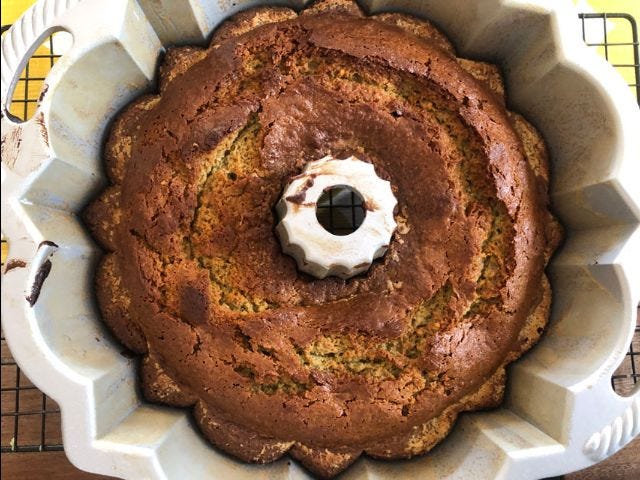 It didn't get as green as it might have; I think maybe because of the almond flour that I used (made from whole almonds).

Once that cooled for 45 minutes, I flipped it out (and it came right out: thanks, Nicole, for a great technique!).

The glaze was made from a different pistachio paste made with different proportions of toasted pistachios and grapeseed oil, confectioner's sugar, a little milk, and salt. You pour it all over the cake and let it run down the sides.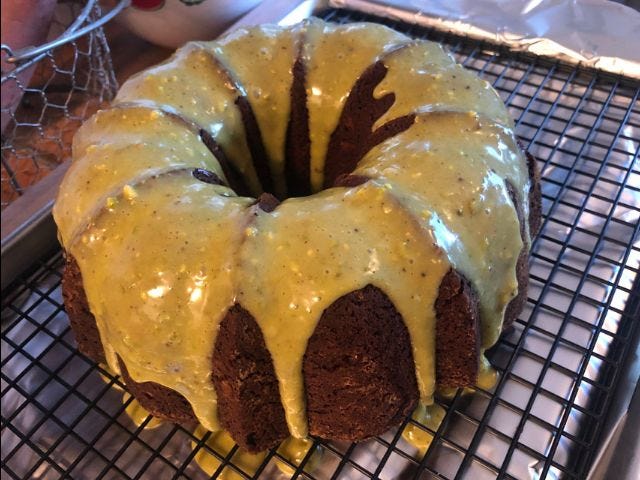 Then you decorate with more toasted, chopped pistachios (see lead picture!).

So how was it? Very good. Slightly dry, in parts, but the flavor was stupendous. Our dinner guests, who came for lasagna, almost all got seconds. Here are the dinner guests with the lasagna: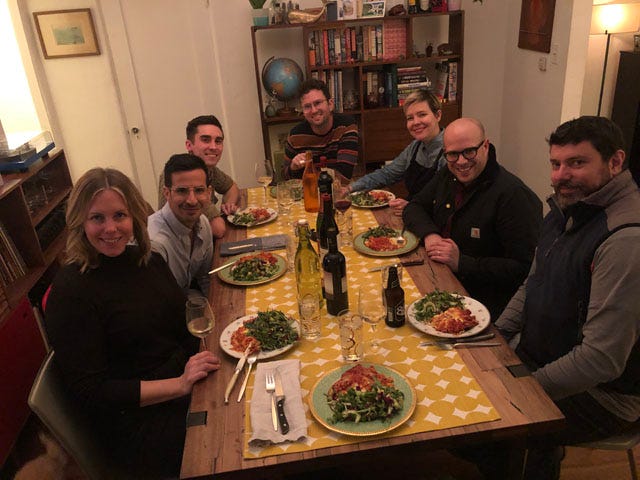 And here's the piece I had for breakfast: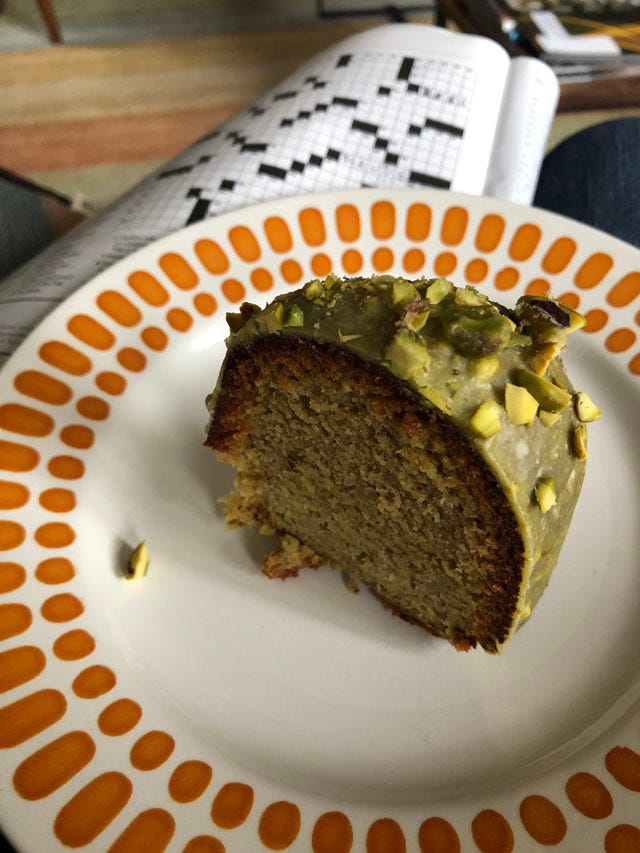 Would I make it again? Well, I wouldn't NOT make it again. But it was a lot of labor for basically a nutty cake with a glaze on it. (Between you and me, I like Amanda Hesser's almond cake better.)

* * * * *

On Sunday night, my Uncle Mark and Aunt Ellen came into town and we went to a Sunday supper at Lucques. You do know what I'm talking about, right? Sunday suppers at Lucques? It's only one of my favorite cookbooks. But it's also a real thing: every Sunday, Suzanne Goin, the James Beard award-winning chef at Lucques in L.A. makes a set Sunday dinner, so you don't have to pick anything except which entree you want.

This past Sunday it was Chinese Lunar New Year themed, and the menu had a citrus salad with Sichuan peppercorns, fish cooked in a banana leaf or a five-spice pork belly (we got two of each and shared), and a coconut bar for dessert.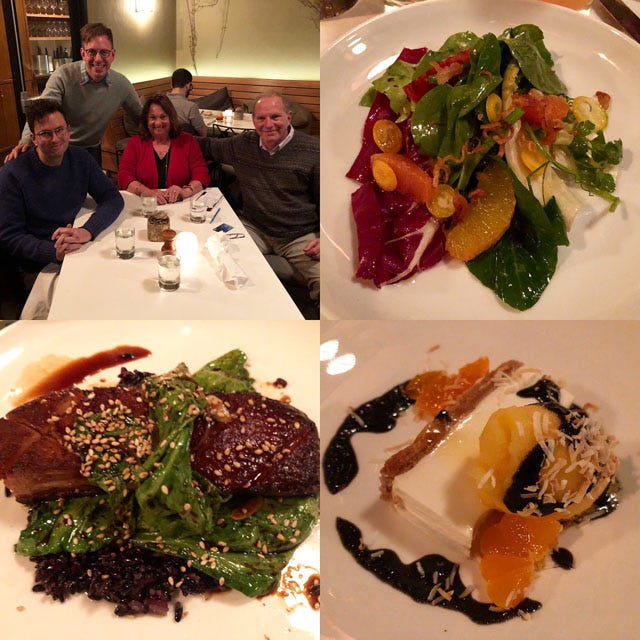 It was such a great meal; I plan to Sunday supper at Lucques more often.

* * * * *

Finally, our new friend Isaac Oliver came over for dinner the other night (have you read his book Intimacy Idiot? It's hilarious) and I made him a roast chicken with root vegetables (not pictured) and a chocolate pudding for dessert.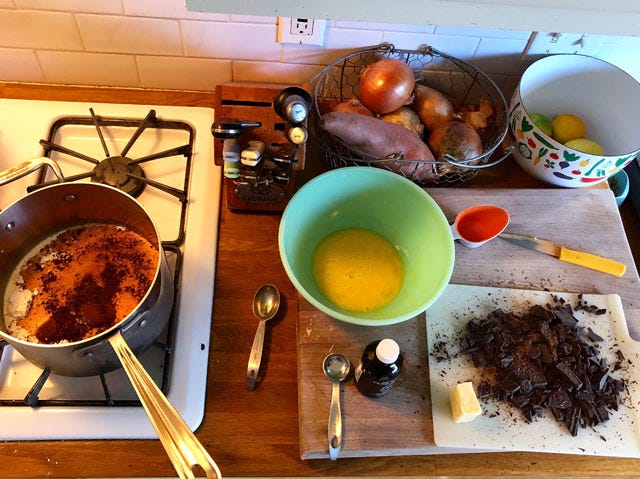 Though I'm normally partial to the chocolate pudding on Simply Recipes, this time I decided to give Melissa Clark's food processor chocolate pudding a crack. Only: I didn't use a food processor. I basically used the Simply Recipes technique on Melissa's recipe. So whisk the dry ingredients in with the milk and cream, cook it til thick, temper into the egg mixture, add it back, conjure just one bubble, turn off the heat, and instead of adding it to the food processor, I just furiously whisked in the chopped up chocolate and the butter. Worked like a charm. Look at this happy customer!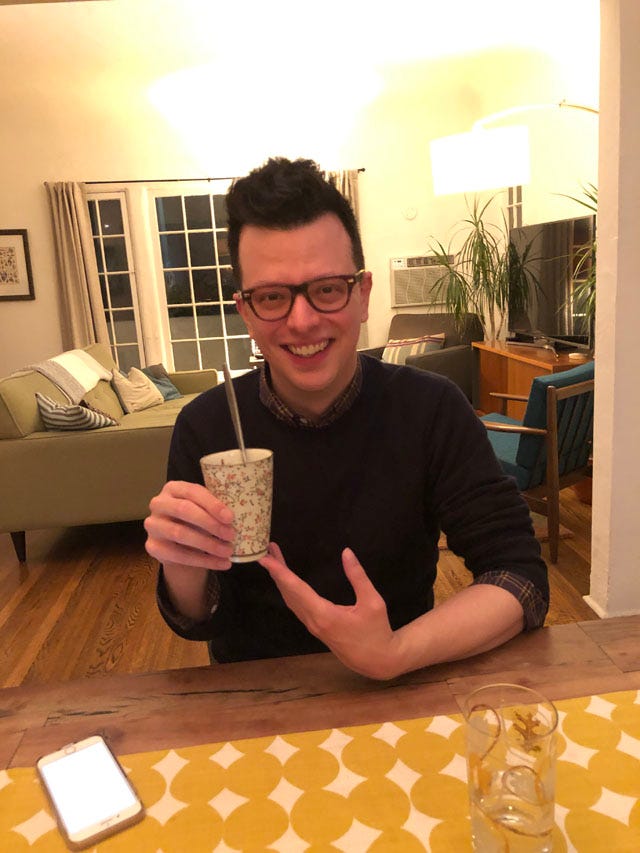 * * * * *

Links & Things: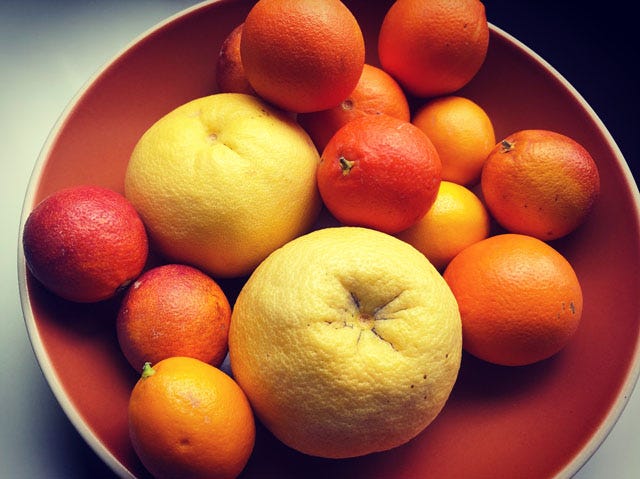 (Citrus from the Atwater Village Farmer's Market, purchased right before it rained.)

* Felicity Cloake's recipe for Toad in the Hole (that's what we called an egg in a piece of toast growing up, so it's nice to see the real thing), The Guardian
* Cookies at a Gas Station in Cheviot Hills, L.A. Times
* He Swallowed A Toothpick. It Could Have Killed Him., The New York Times
* Dan Barber's New Seed Company Seems So Cool, Row7Seeds
* Bodega Egg and Cheese, Smitten Kitchen
* David Goes to Vietnam and Eats a Lot of Fruit (this is a great travelogue, I'm jealous!), David Lebovitz

Culture-wise, we just started Russian Doll (loving it) and also Pen15 (cringe loving it). I'm almost done with both Marcus Samuelsson's Yes, Chef on audiobook (it's wonderful, made me choke up in parts) and Kate Atkinson's Life After Life in print (struggled in parts, but now liking it again). We watched Green Book, which was certainly clunky in places, and tone deaf in others, but I was genuinely surprised by one of the plot points (it happens towards the end) and thought the performances were moving, especially Mahershala Ali's.

OK, that's all for this week!

Until next time....

Your friend,
Adam