My Week in Boca
Hey there,

Thank you all for your nice messages after last week's newsletter! In case you missed it, I was in Florida for some major life events: my grandmother's funeral, my mom's birthday, and my nephew's Bris.

But before we get to all that, I'm so excited to share with you this week's episode of LUNCH THERAPY: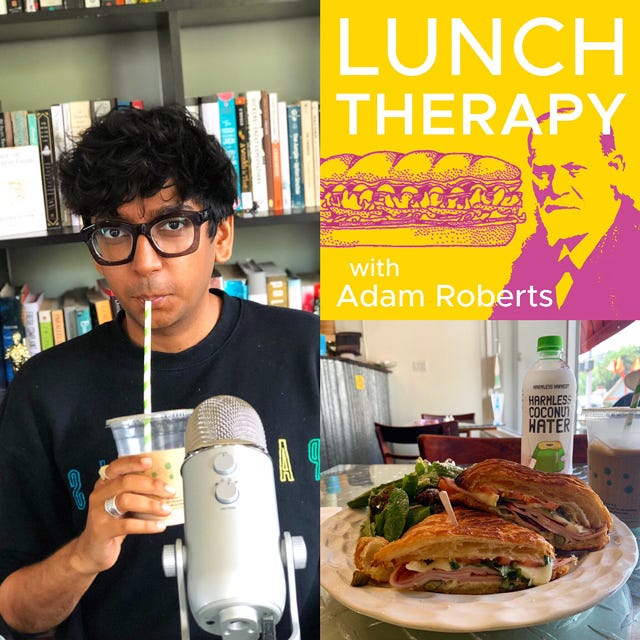 You may know Nik Dodani from Netflix's Atypical, the reboot of Murphy Brown, or Craig's movie Alex Strangelove. He's also done stand-up on Stephen Colbert and he's only 25! On today's episode, Nik talks all about his mom's Indian cooking ("the best Indian food in the world"), why he gave it up for Lunchables, and his own efforts to recreate it at home.

Click HERE to listen and please SUBSCRIBE and, if you like, please REVIEW! Your reviews last week were so nice.

Oh: I'm also posting my daily lunches on my @lunchtherapy Instagram. Give that a follow and you can see things like this watermelon salad that I ate on my mom's birthday.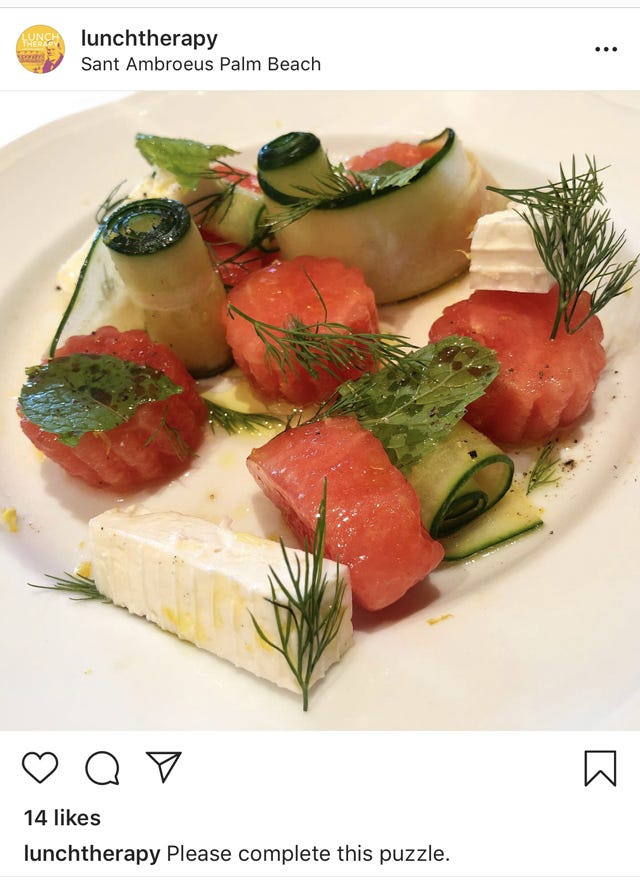 I'm also using that account to diagnose YOUR lunches, so be sure to follow and join the fun.

Ok! So my week in Boca.

Well, yes, the week started out very sad, and then on Wednesday it was my mom's birthday. So I treated her to lunch at Saint Ambroeus in Palm Beach (her pick!).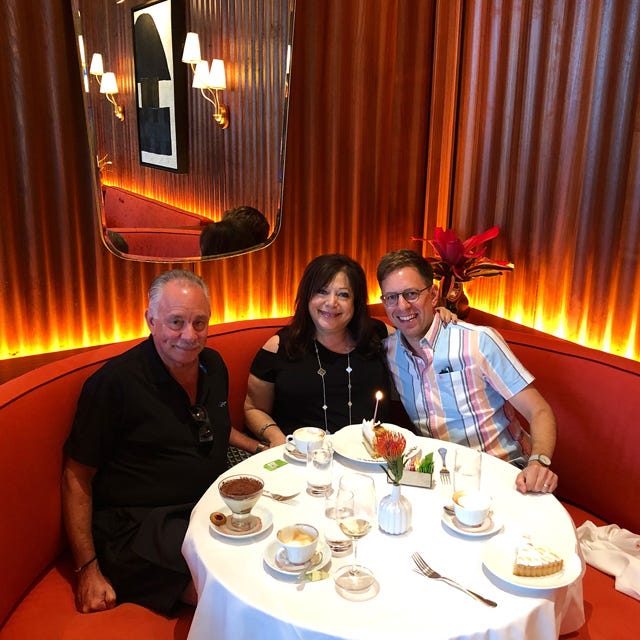 The food there was really, really good (see: watermelon salad) and the room very stylish, indeed.

The next day was my new nephew Jordan's Bris. Here's my mom holding her new grandson: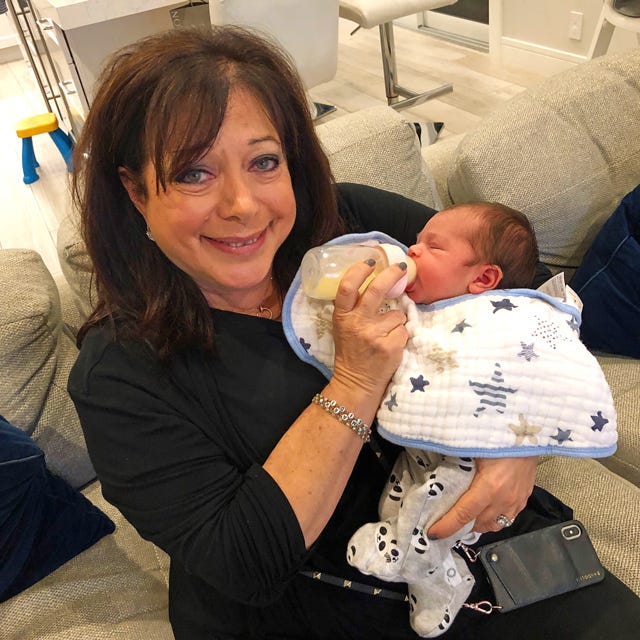 The Bris itself was very humane: my sister-in-law found a mohel who was also a pediatrician and who provides anesthesia (thank goodness!) so the cringe-factor was definitely mitigated.

The lunch afterwards did, however, feature this hilarious dish (I think it's probably the funniest/most horrifying thing you can serve at a Bris):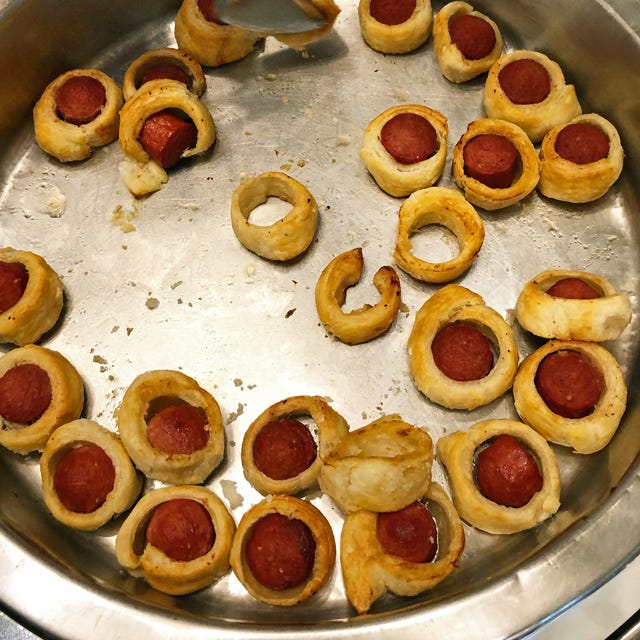 As for my own culinary odyssey, I couldn't visit Boca without eating a gigantic, over-the-top bagel stuffed to the gills with lox spread and piled high with tomatoes and red onions. I got my fill at Way Beyond Bagels, where the bagels are as good as any I've had in New York or elsewhere. And the orange juice is fresh squeezed and pairs perfectly.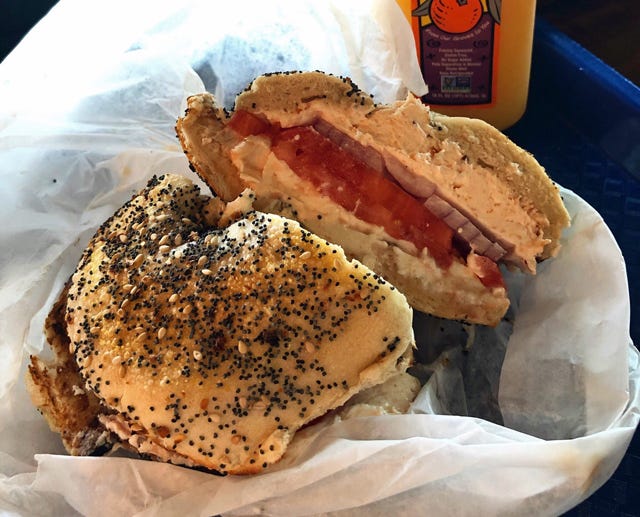 That seriously may be one of my favorite things I've eaten all year.

Of course I had to chase it with a rainbow cookie because it's the best cookie in the world; I don't want to hear any argument.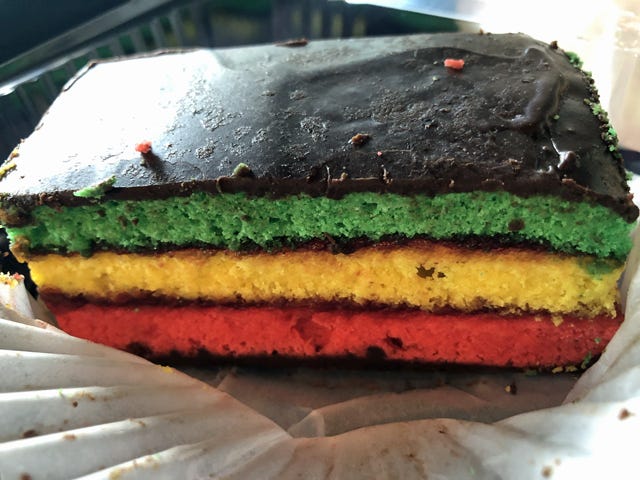 Ok, folks... that's all for this week.

Until next time!

Your friend,
Adam