Hey gang,

Today's Lunch Therapy is one of my favorites so far.

My guest is an ICON in the film world, Christine Vachon, who produced a few movies you may have heard of: Far From Heaven, Carol, Happiness, Kids, Boys Don't Cry, I Shot Andy Warhol, Hedwig and the Angry Inch, to name a few.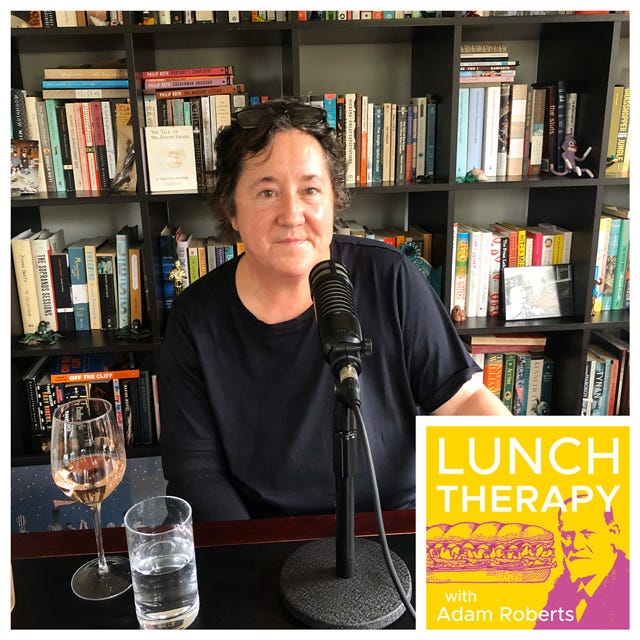 Our conversation is both fascinating and hilarious. Learn all about the airport lounges Christine has visited (including one in Transylvania!), why she loathes a chicken Caesar, what she cooks for her girlfriend and daughter, her favorite food film (it's not what you think), and why dinner at Blue Hill Stone Barns was one of the worst nights of her life.

CLICK HERE to listen and, as always, if you're feeling generous, please write a review in iTunes. I won't beg. OK, I'M BEGGING, PLEASE WRITE A REVIEW IT REALLY MAKES A DIFFERENCE!!!

Now for my trip to New York.

I went to go visit Craig who's directing two episodes of a new HBO Max show starring Anna Kendrick called Love Life. He was working when I arrived, so I met my friend Thom at Prune where I had a Negroni that tasted so, so good after a full day of travel. (Sometimes context makes things taste even better.)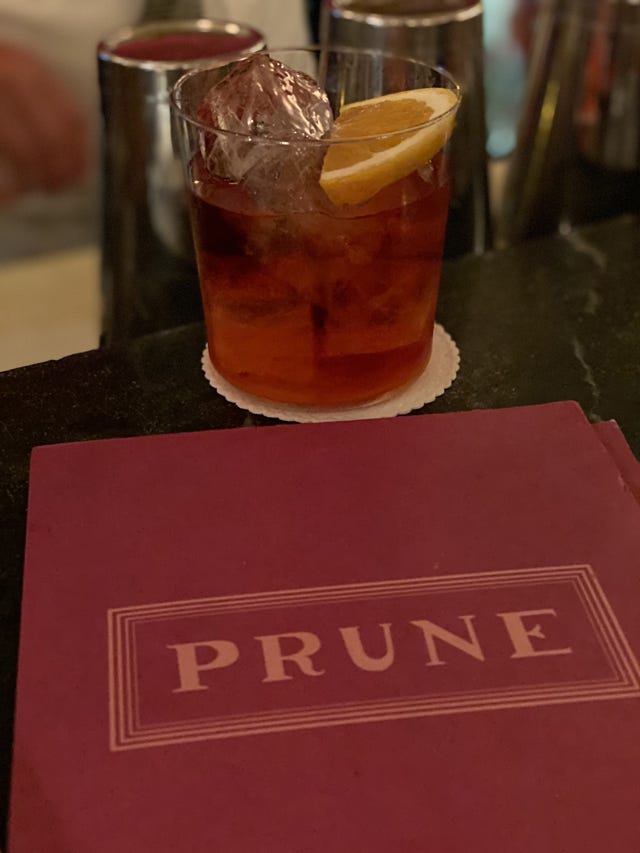 The food at Prune is still so spot-on which is amazing considering it opened in 1999. (If you haven't read Gabrielle Hamilton's memoir, Blood, Bones, and Butter, it's really one of the best food memoirs ever written. Anthony Bourdain literally said that, it's on the cover.)

We shared lots of things, but the highlights were this salmon caviar sandwich on pumpernickel: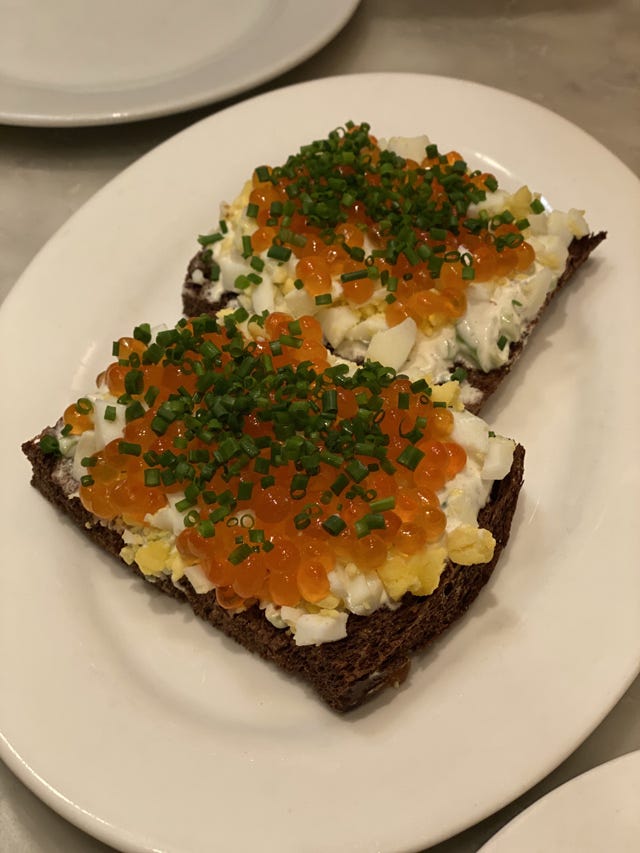 And the chanterelle mushrooms on toast: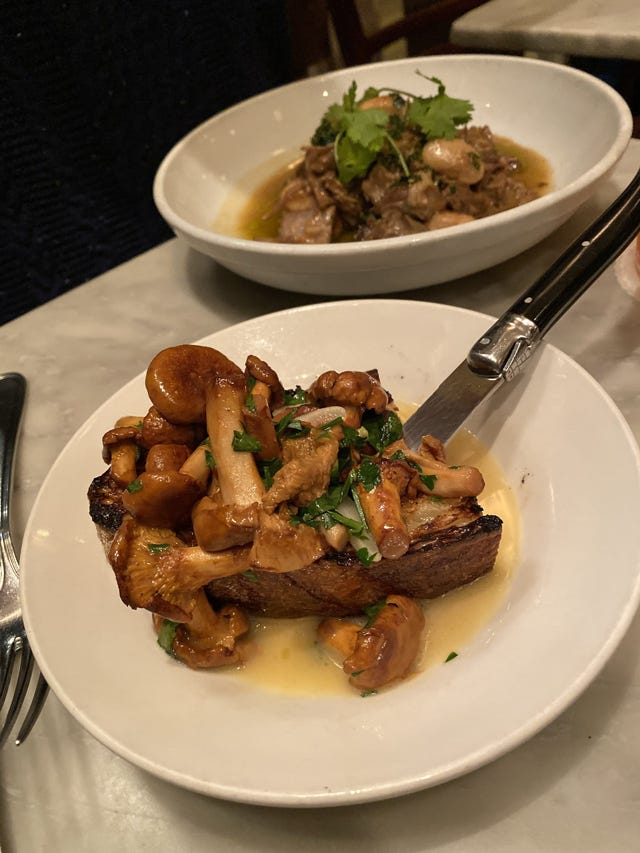 But, truly, everything was delicious. Prune is still a delightful New York dining experience (the room feels so New York to me too, which is important).

The next morning, Craig was finally free and we went to Daily Provisions where we experienced THE CRULLER: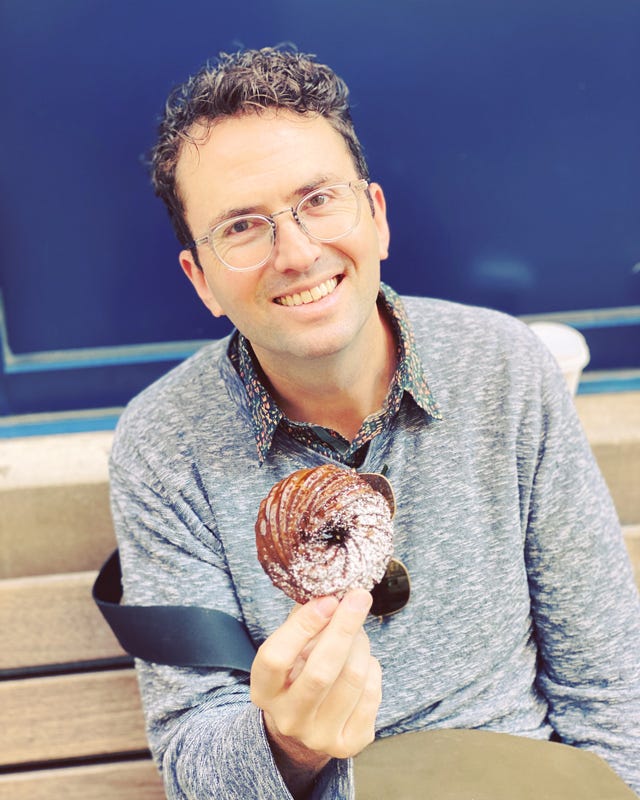 This is a doughnut that's worth a trip to New York. Ours was coffee-flavored and it was crispy and rich and sweet but also a little bitter. I said it on Instagram and I'll say it here: it may have been the best doughnut of my life.

That day, I recorded some podcasts with some people that you LOVE and ADMIRE, so get ready for those in the next few weeks.

That night, Craig and I saw SLAVE PLAY, which was totally thrilling and worth seeing, and then sat down for an 11 o'clock dinner (the only reservation we could get, but also it worked perfectly because the play ended at 10) at Rezdora, one of the most celebrated pasta restaurants in the city.

Craig loved the atmosphere, which kind of had a secret lair-like vibe with white bricks and lots of nooks and crannies. We ate burrata, which was very good, but the pastas were truly sublime: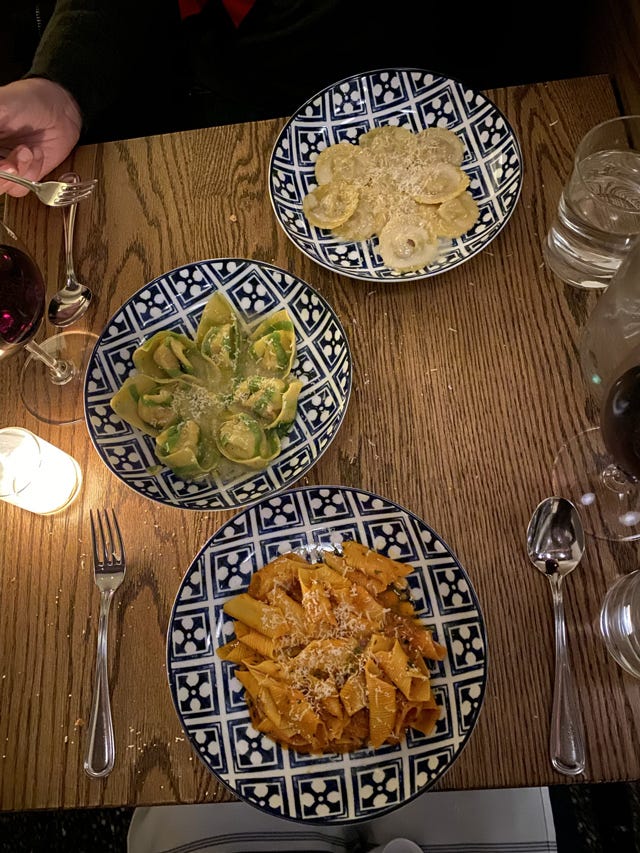 That one in the middle -- doppio tortelli filled with prosciutto and parmigiano -- was awe-inspiring and I may try to recreate it someday soon.

The next day, we met our friend Max for brunch at The Red Rooster (Max just started grad school at Columbia).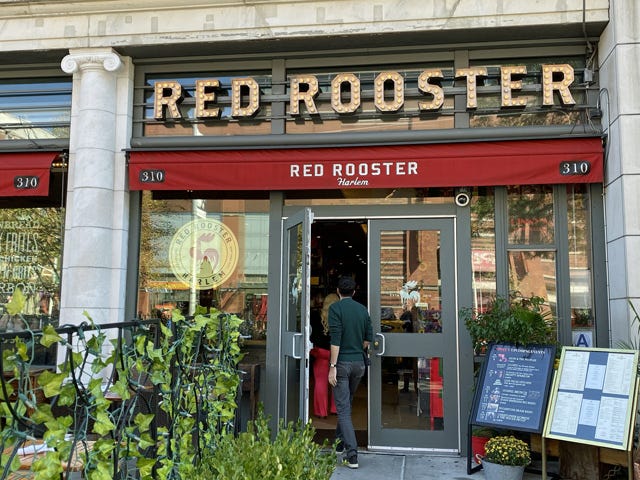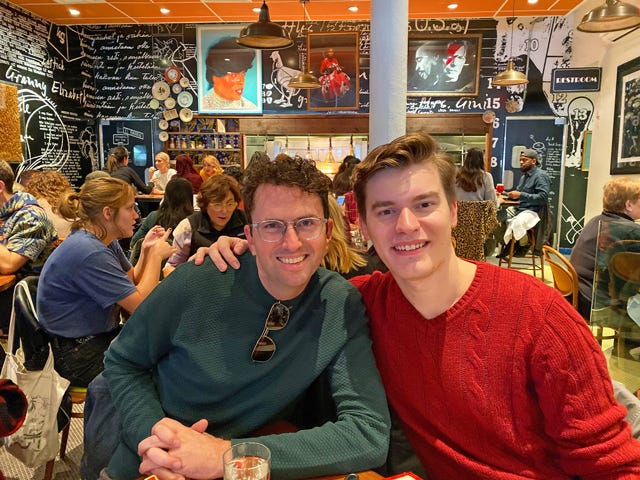 I went to the Red Rooster for brunch right when it opened, years ago, and it was still finding its footing. But this visit was really wonderful, especially since I recently read Marcus Samuelsson's memoir Yes, Chef (another great chef book, highly recommend) which put the restaurant in context for me. Plus, the food this time really hit it out of the park: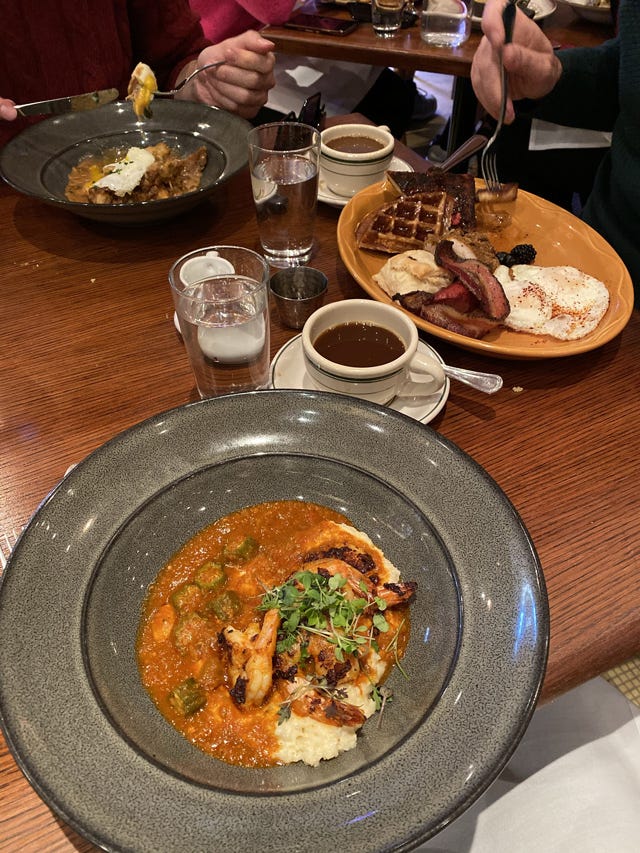 It was really great to spend some time in Harlem. We walked through Columbia's campus (which, for me, will be forever associated with Barbra Streisand's The Mirror Has Two Faces) and got drinks at a pop-up bar in Riverside Park. It was a great day.

That night, Craig and I saw Moulin Rouge on Broadway which cost a fortune, but there were two understudies and I found the whole thing a little underwhelming. Save your money and see Hadestown instead. (I think it's important to support original, new work anyway.)

(Oh, before the show that night we grabbed dinner at the new Momofuku in the Time Warner Center, which is a great tip if you're looking for good pre-theater food.)

The next day, we met our friend Isaac Oliver for brunch at Maialino in the Gramercy Park Hotel.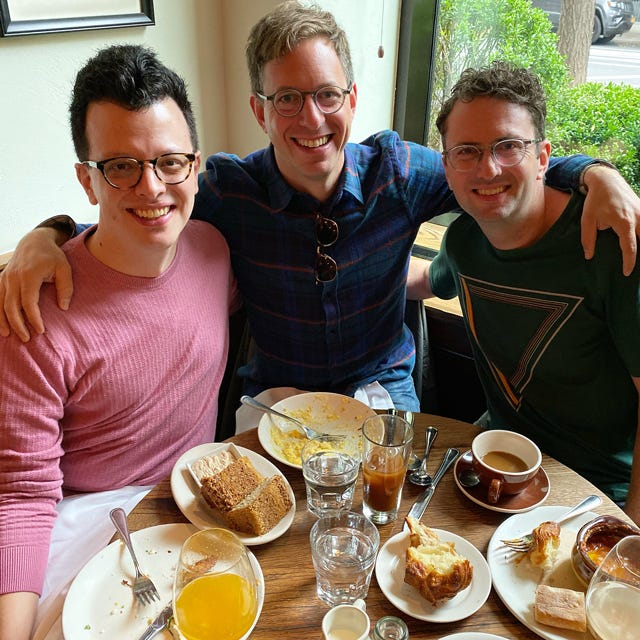 Going there was an odd experience. There were three people working the maitre'd stand and yet, somehow, despite having a reservation, it took them forever to seat us. There was an empty table right in front of us so at some point I said: "Can't we just sit there?" and the hostess shrugged and said: "Sure."

The food, though, was pretty good. And it was nice to have a brunch reservation.

We had fun afterwards going to Fish's Eddy (one of my favorite stores in the city) and picking out new dinner napkins.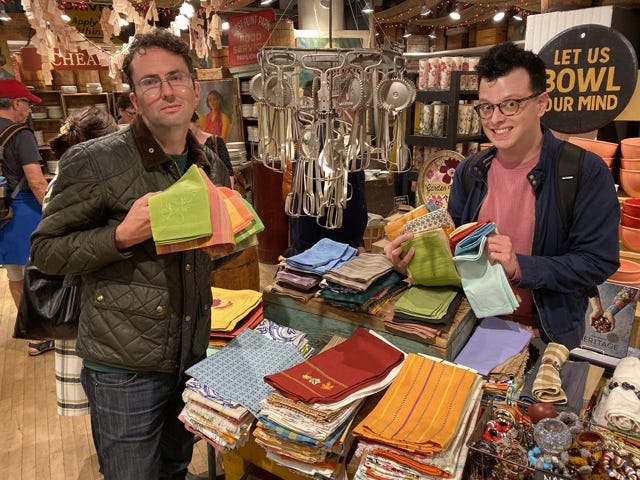 That night, Craig and I had dinner at WildAir, which came highly recommended.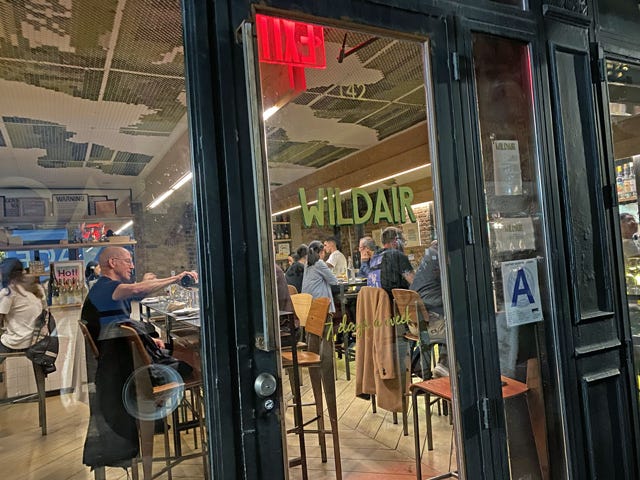 Craig didn't love the atmosphere (it's sort of an industrial-feeling wine bar with elevated seats and communal tables) but the food was undeniably great. The highlight being this pork Milanese: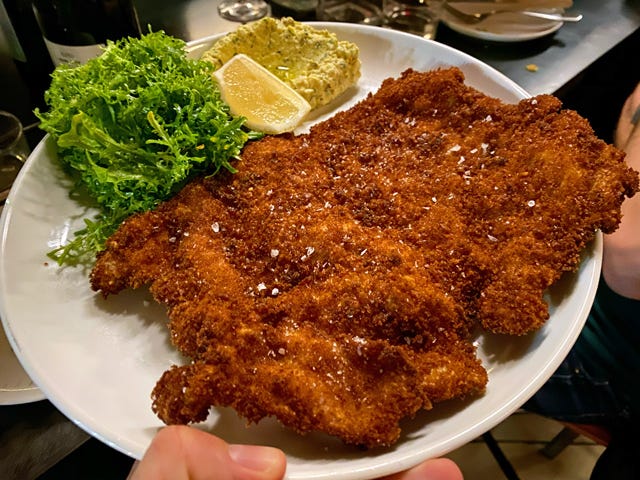 The next day, I recorded more podcasts -- FOUR IN ALL -- and that night, we had our last dinner together at one of my favorite New York restaurants, The Gramercy Tavern.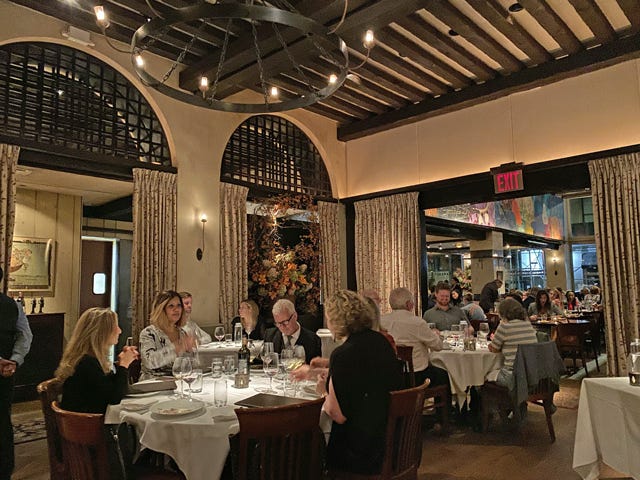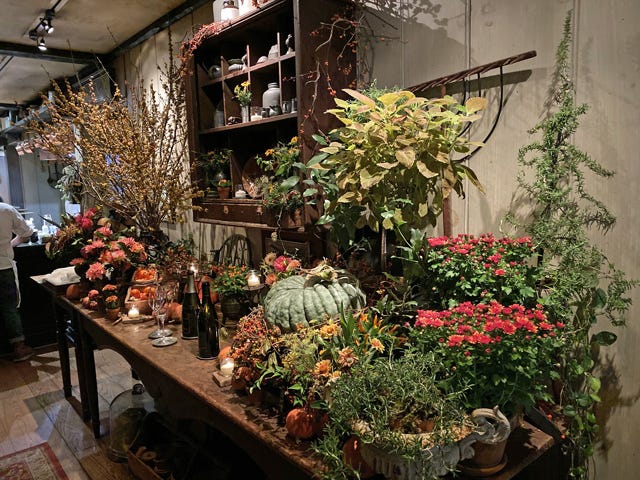 Whenever people ask me where to eat in New York, I always mention it because it feels SOOO New York to me. It kind of feels like you're in a farmhouse upstate and with the decor and the flowers and all of the local ingredients, it really does feel like a celebration of what makes New York great.

And as if to prove my point, that night one of my favorite chefs -- who definitely makes New York great -- Marco Canora was doing an event and came over to say hello: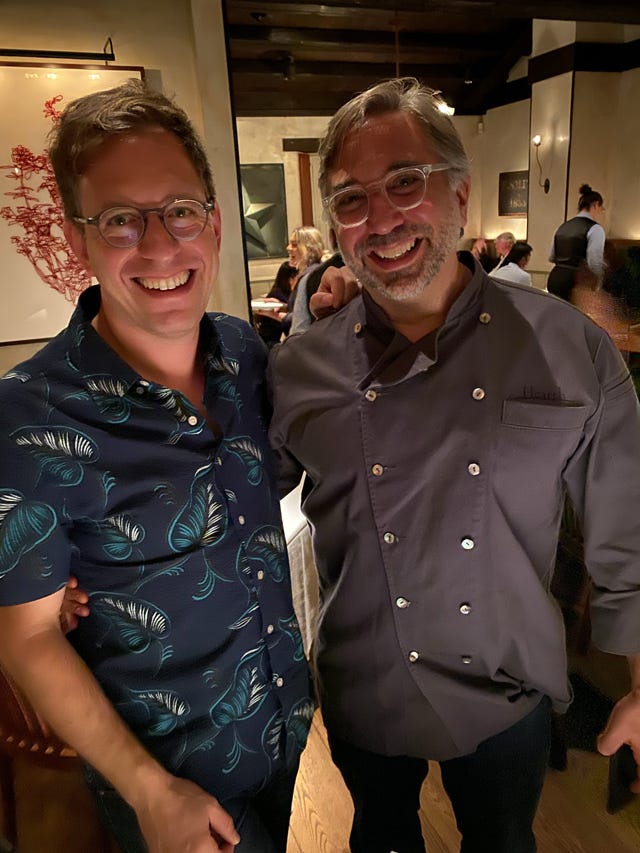 If you don't follow Marco on Instagram, you really should: his food is amazing and so is his Brodo.

As for our meal, there were many highlights. This raw fish in raw pepper sauce (it had a fancier name) was so surprising and had a dramatic presentation: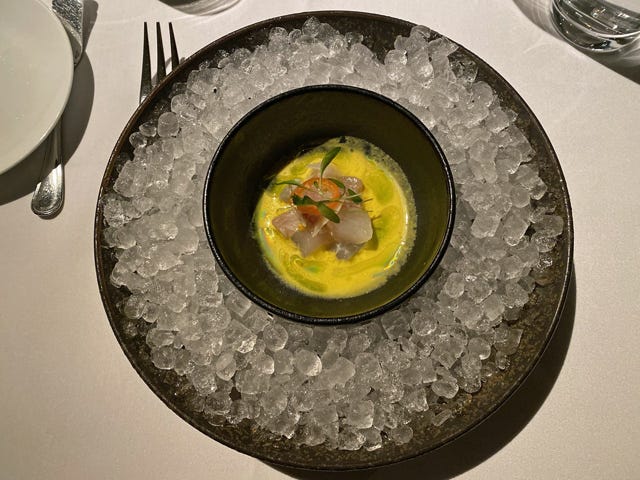 And of course I loved the pasta with clams and sausage and fresh tomatoes: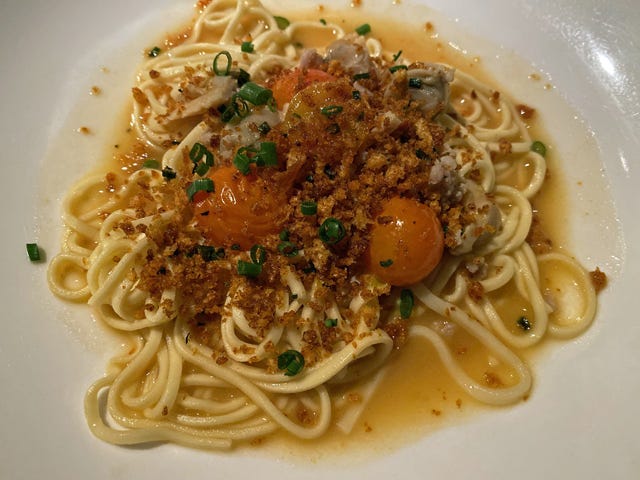 All-in-all it was a dreamy few days in New York City, especially being with my husssbannnd (cue the AWWWW):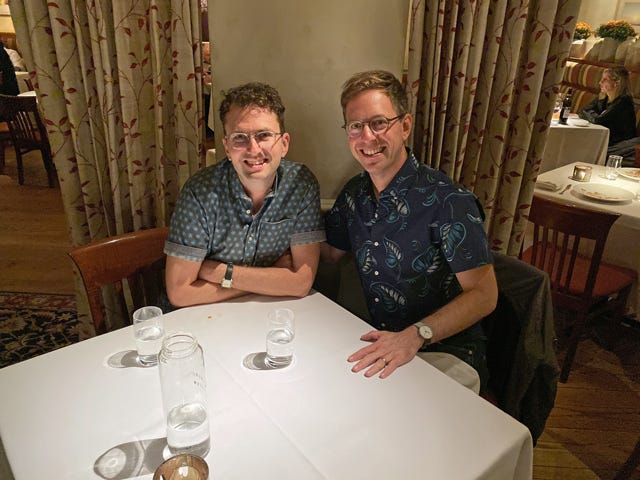 Now go listen to my podcast and write a review!!! I made this newsletter nice for you!!!

XOXOXO,
Adam