Melissa Clark's Apple of Truth
Hey everyone,

You're in for a treat. My Lunch Therapy patient today is none other than New York Times columnist and author of 43 cookbooks (!), Melissa Clark.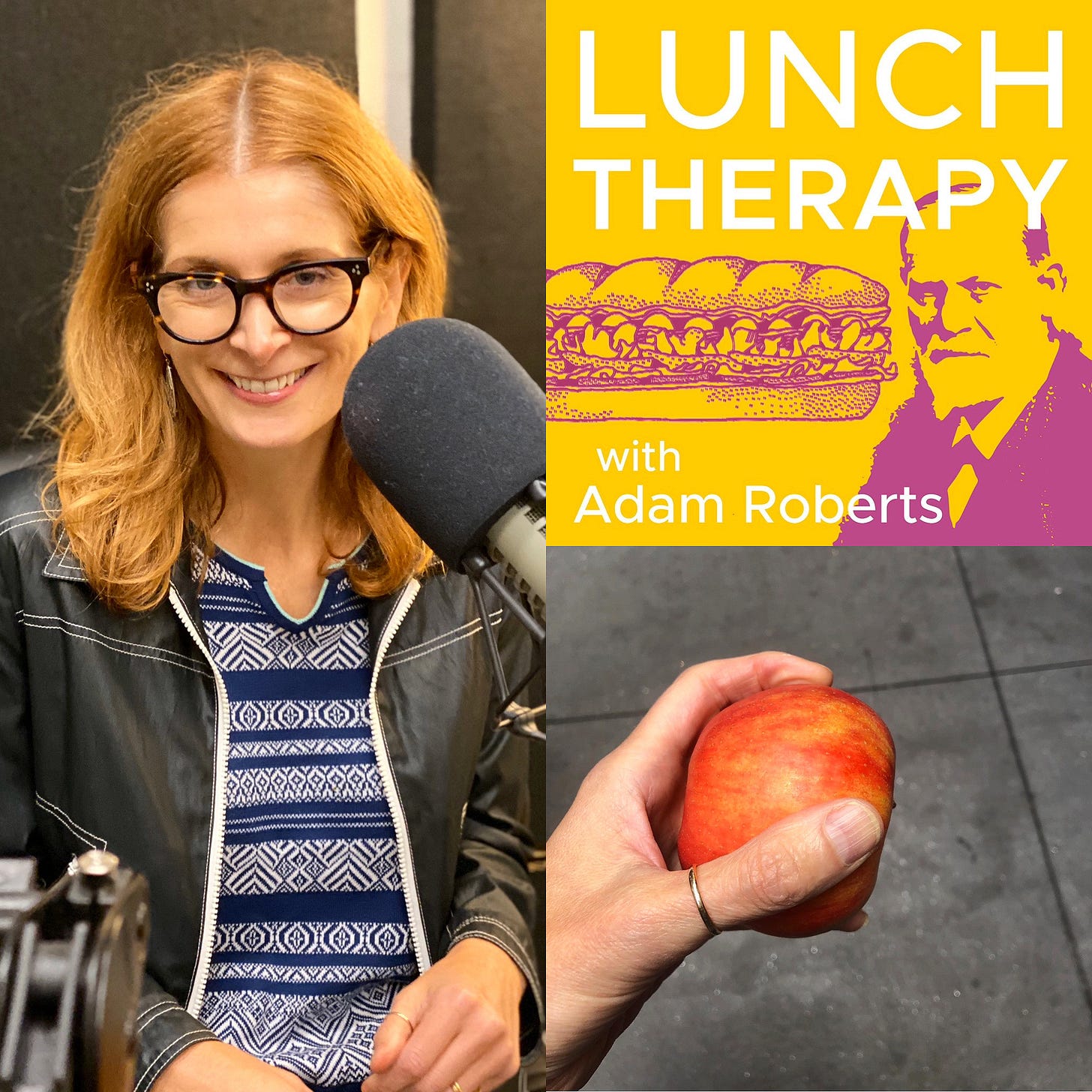 Melissa turns out to be the perfect Lunch Therapy guest; not only because she's an illustrious food writer, but because she's the daughter of two psychiatrists.

We talk about everything from how she develops recipes, how she honed her voice as a food writer, how she deals with criticism (in particular: the famous pea-guacamole scandal, where two presidents denounced the recipe! Though, to be fair, the recipe wasn't hers.) We also talk Proust, 9/11, and whether or not baking brownies made her popular in high school.

CLICK HERE to listen in iTunes! And, as always, if you can find it in your heart to leave a review, I'll be so grateful, I'll write you a song and fly to your home to sing it for you. I'll even bring this apple pie: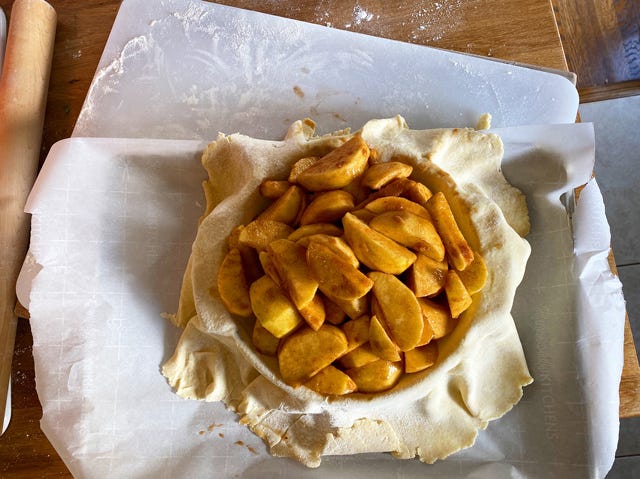 Actually, I can't bring it, because most of it's gone (Craig just ate from the pie plate directly for breakfast!) but it was a really good pie, even if it didn't look so good out of the oven (I screwed up the top crust). I used Arkansas Black Apples...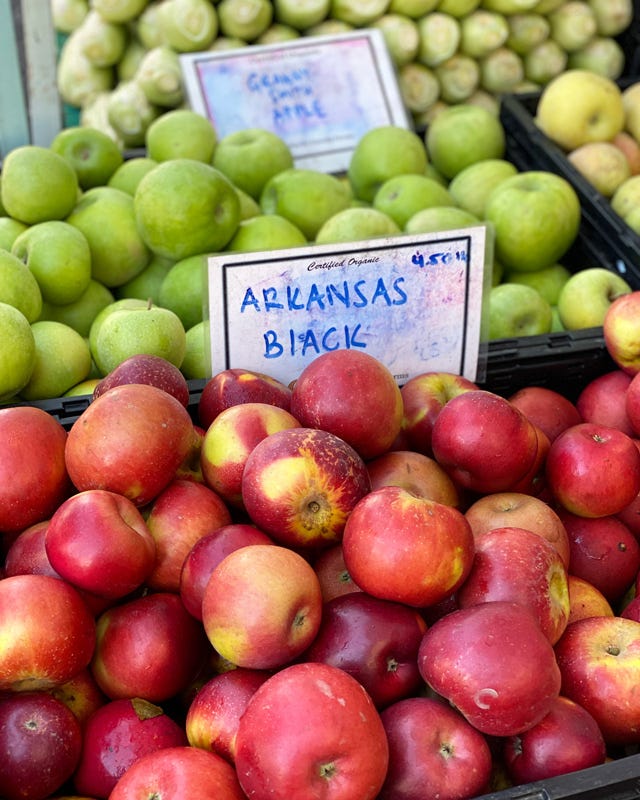 ...which I found at the farmer's market. They're a wonderful pie apple because they soften just enough, but still stay a little firm, and they have so much flavor.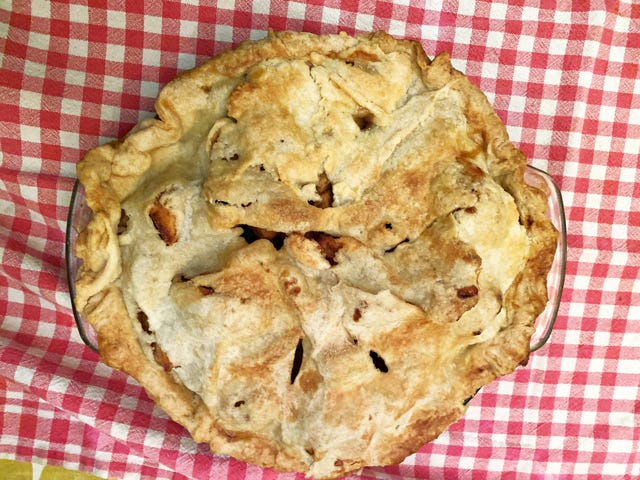 I used the pie recipe I have taped to my fridge: I don't even remember where I got it from! But here's a link to a post that explains everything I've learned about making apple pie.

As for what we ate before the pie, I braised a pork shoulder in white wine (using this post for guidance), cooked polenta in milk and finished it with butter and Parmesan cheese, and sautéed cabbage in butter and finished with apple cider vinegar. Here's the finished plate: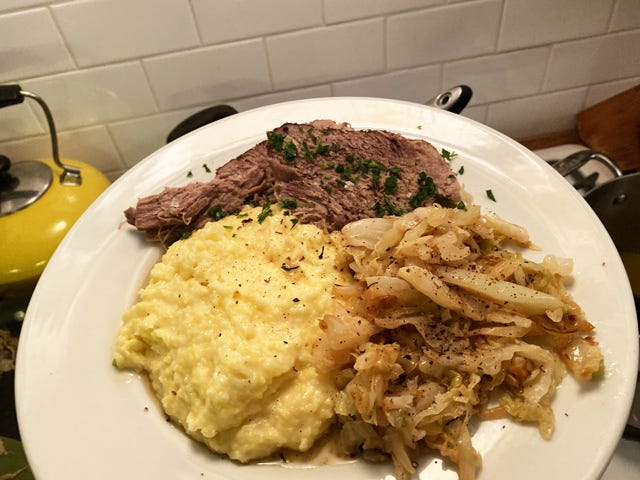 A hearty fall dinner indeed. (I love how the cabbage gets a little brown when you sauté it in butter; it's a pretty surprising side dish and so easy to do.)

That's all for this week, folks!

Until next time...

Your friend,
Adam (the "please review my podcast on iTunes" guy!)