Hey everyone,

Before we get to our regularly scheduled newsletter, I just wanted to say THANK YOU. In the three months since I started Lunch Therapy, my numbers have grown significantly. There are 107 five-star ratings and 42 heartfelt reviews from you loyal newsletter readers / podcast listeners. Today, as I hoped, the podcast was featured under "Food" in iTunes... which is what I've been shooting for all along. So thank you so much for your genuine support; it really means the world to me.

Which brings us to today's podcast with author and journalist, Mark Harris: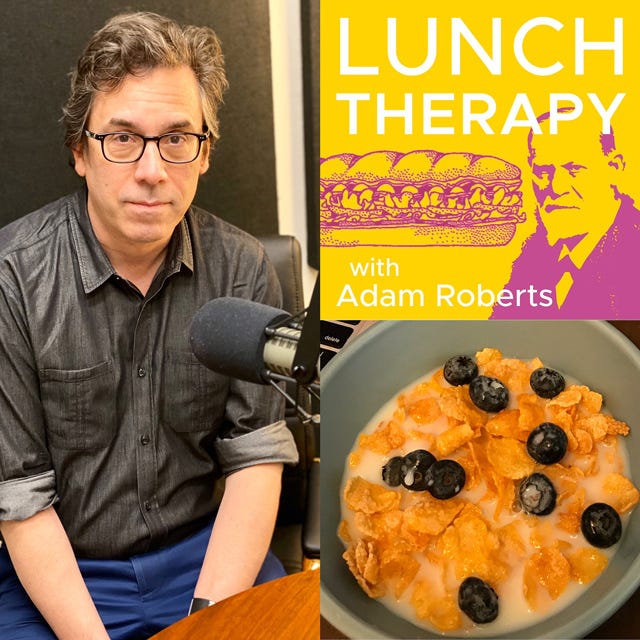 Mark has written two iconic books about film -- Pictures At A Revolution and Five Came Back (which was turned into a Netflix documentary) -- as well as articles for The New York Times, The Guardian, and most recently he's been covering the Oscars for Vanity Fair. He's currently at work on a biography of Mike Nichols, which I can't wait to read.

On today's podcast, we talk about whether great food can rise to the level of great art, the truth about his typical day-to-day lunch journey, his favorite cookbooks, his favorite recipes, and how he and his husband (Angels in America playwright, Tony Kushner) offer feedback when the other one cooks. Mark also waxes lyrical on his love for sandwiches: he has lots of funny rules about what makes a great sandwich, and he's also quite avant-garde about what he'll put between two pieces of bread (including leftover Chinese food).

CLICK HERE to listen.

Oh: and there's a bonus today. Craig (my husband, you know, I talk about him all the time) joined me for the intro. I grill him on HIS lunches and it's pretty funny. Here's a picture of Craig at the mic: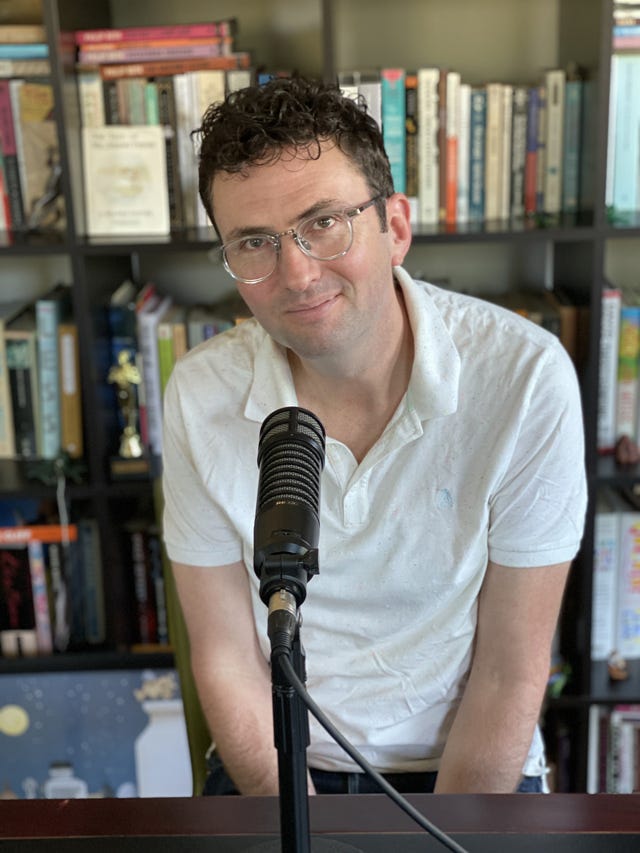 So, again, here's the LINK. And as always, if you can leave a review... I'd appreciate it!

Now, last week my French friend Cris came over for dinner. I always talk about him being French because cooking for a Frenchperson is very intimidating; he has such a great palate and is such a natural cook.

I decided to make salmon and rice and remembering that I had eggplant in the refrigerator, I decided to serve both of those things with a Caponata. What's Caponata? It's kind of like a ratatouille with more zip: there's eggplant, onion, garlic, peppers, but then you also add vinegar, sugar, raisins, and capers. I used Anne Burrell's recipe, and as for the rice I just boiled Arborio rice in salted water until it was cooked through, drained it, then fluffed it with lemon zest, lemon juice, olive oil, pepper, and lots of chopped mint, cilantro, and parsley.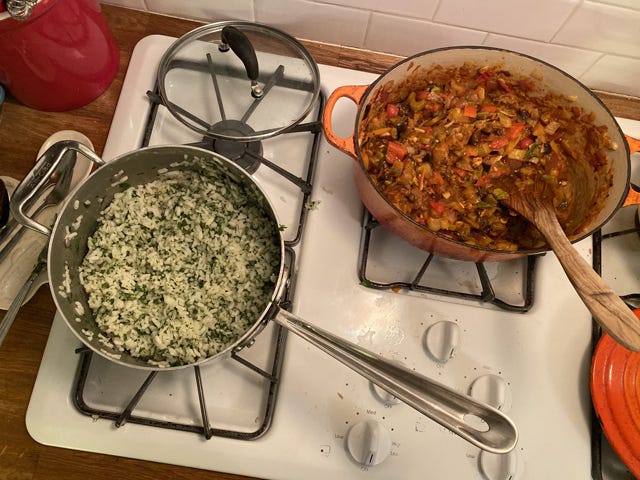 As for the salmon, I seared it flesh-side down first in a hot non-stick pan with a splash of grape-seed oil (this allows you to get the fish started) and then you flip it and finish it skin-side down, because it can sit on the skin longer. Winston was very jealous of the finished plate: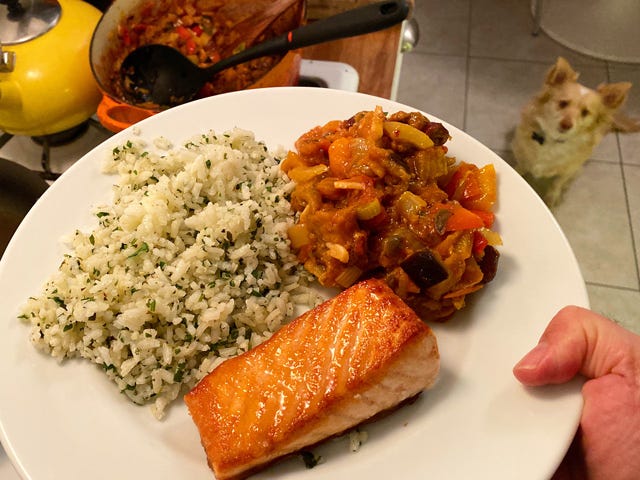 It is funny that I served adulterated ratatouille to a Frenchman, but he loved every bite.

As for our Halloween, Winston loved his dinosaur costume: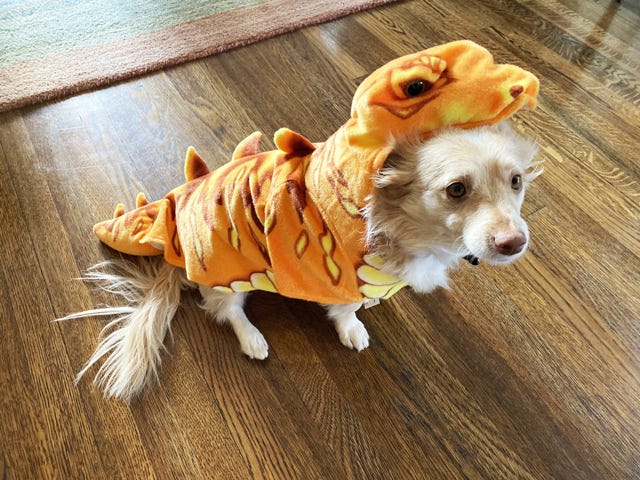 Our new neighbors went as Claire Saffitz and Chris Morocco from the Bon Appetit Test Kitchen: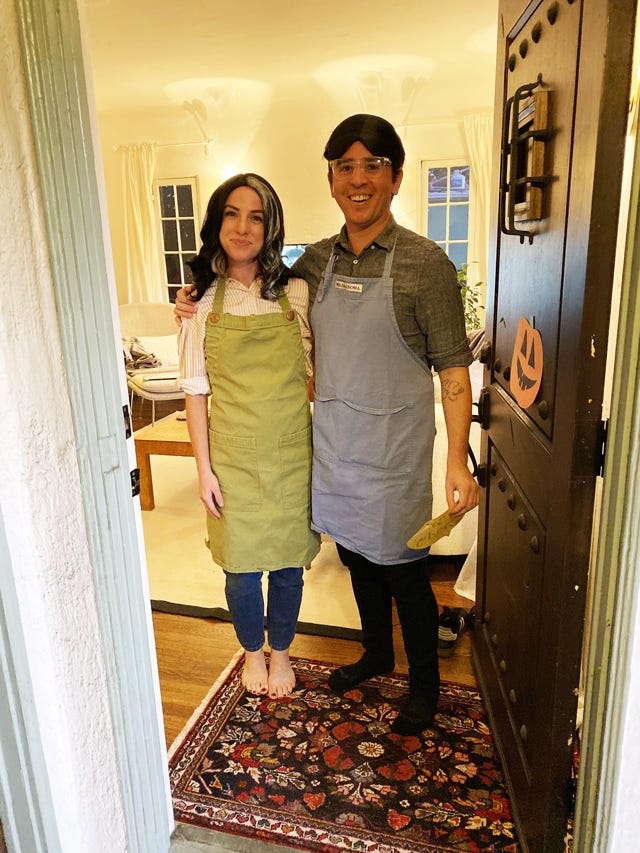 And I, once again, made the monster cookies from Sally's Baking Addiction. They have peanut butter, oats, M&Ms, and chocolate chips and everyone loves them.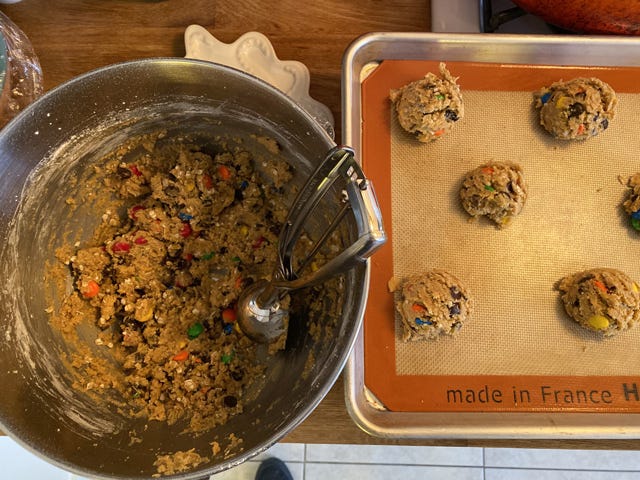 They've become something of a Halloween tradition.

Ok, folks, that's all for this week!

Thanks again for all your podcast support.

Until next time....

Your friend,
Adam (the "please review my podcast on iTunes!" guy)