Lewaa Nasserdeen's Bunless Burger on a Bun
Hey gang,

It's happening! Lunch Therapy is blowing up! Go right now to Apple Podcasts on your phone or desktop and look at what's on the homepage: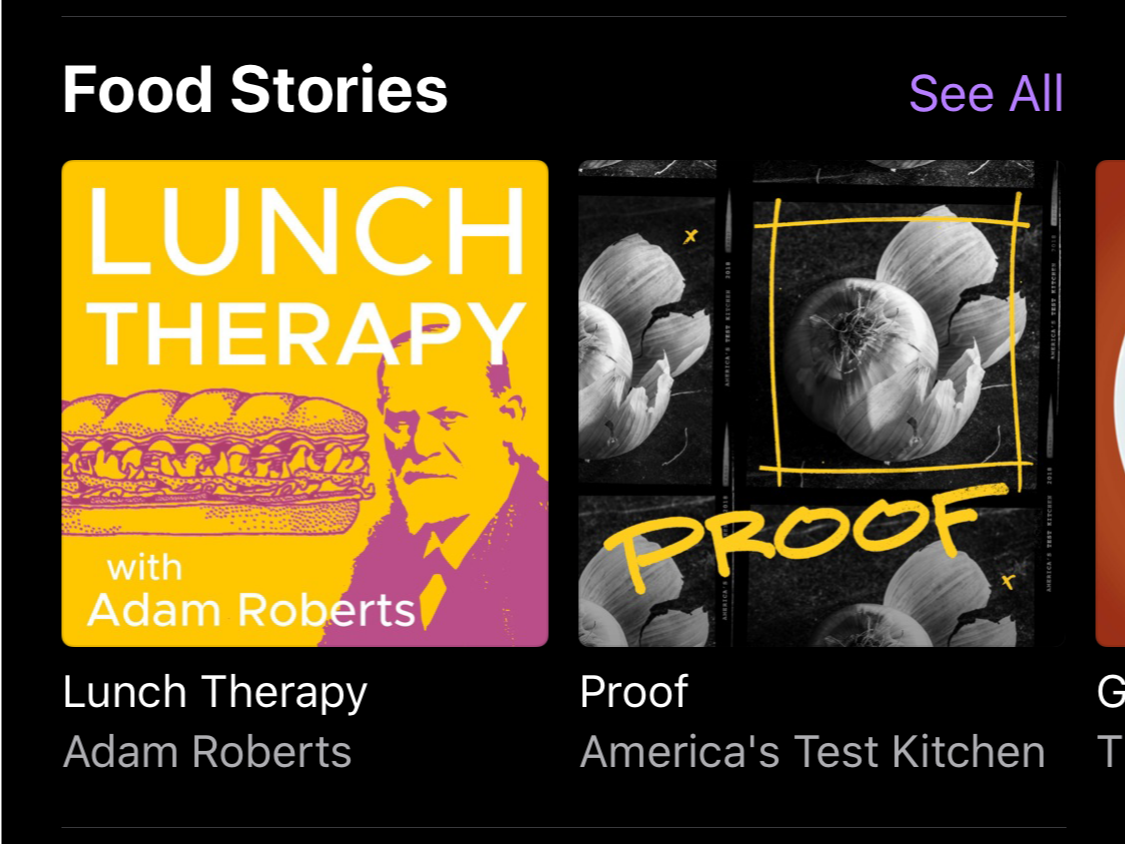 We're sharing space with David Chang and Christopher Kimball and Eater and I have all of you to thank. So thank you!

And don't miss this week's episode with my pal, Lewaa Nasserdeen: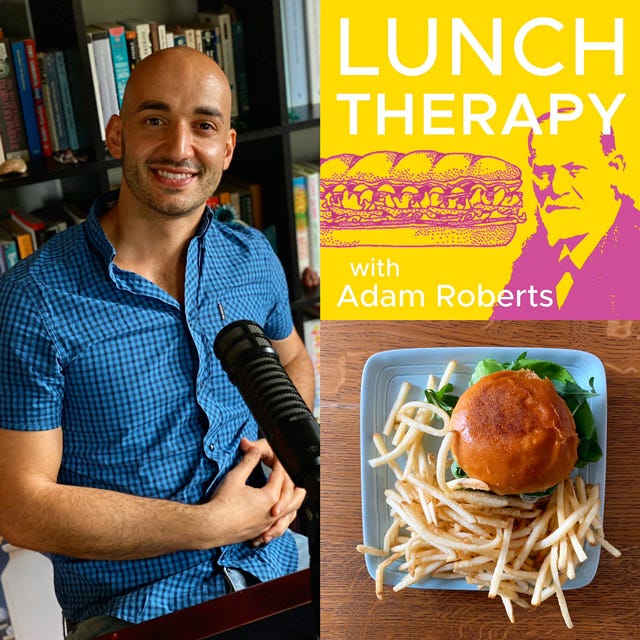 Lewaa is a superstar writer and actor; we met when we were both staff writers on ABC's The Real O'Neals, and since then he's written for and produced Netflix's Daredevil, acted on NCIS: New Orleans, and gotten an overall deal at Skydance TV.

In today's session, Lewaa talks about growing up Lebanese in Alberta, Canada, where his mother -- a pastry chef -- showed her love through cooking and the ripple effects that had for him later in life. We get into body image, developing a sense of humor as a defense mechanism, the first time he brought a boyfriend to his mother's house for dinner, and why he wouldn't dare try to recreate his mother's food in his own kitchen.

CLICK HERE to listen!

And believe it or not, I have a different prompt for you this week: I'd love it if you could Tweet, Facebook, or Instagram about the show. It's easy to post a link: just click the down arrow next to the podcast in iTunes and click "copy link." It's that easy!

OK and please review it while you're there. You know I love that.

As for cooking, I made some incredible pork chops with apple chutney the other night for our friends Jimmy and Raef, with whom we'll be in Tokyo for New Year's.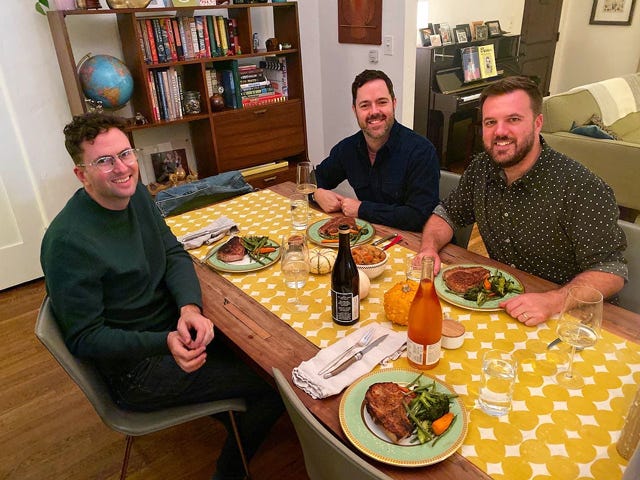 How did I do the chops? I bought really good ones from McCall's (that makes the difference; you want well-marbled chops on the bone) and the second I got home I salted them really well on both sides with Kosher salt and then made a spice rub with toasted coriander seeds, fennel seeds, and black peppercorns which I toasted in a skillet and then coarsely ground in a coffee grinder that I don't use for coffee and rubbed that all over the chops.

I put those on a wire rack in the fridge and an hour before the guests came, I took it out to come to room temperature. Then I put the chops fat-side down (not the flat-side of the chops, the fatty edge) in a cold cast iron skillet and cranked up the heat. Once the fat had rendered for a while (you'll hear lots of sizzling), I seared the chops on both sides, not moving them at all for a good 2 to 3 minutes until I really started to see color. Basically you flip back and forth like that, letting them go 2 to 3 minutes at a time, until a thermometer inserted reads 145. Then immediately take them out and let them rest for ten minutes. I served them with vegetables roasted with olive oil in a 425 oven: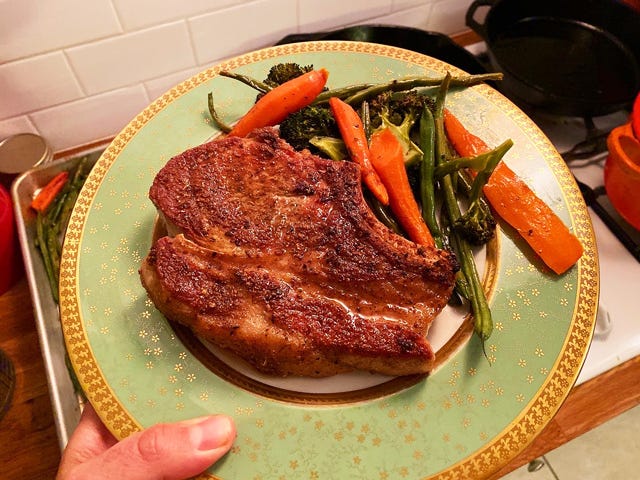 As for the apple chutney, I used Ina's recipe and added persimmons.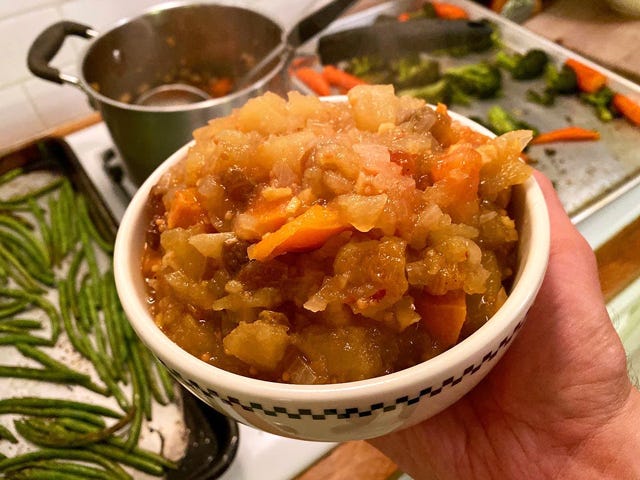 The combination of the salty, heavily-spiced chops with the sweet, gingery, and tart chutney was the most winning autumnal combination.

As for dessert, I had to make Ina's ginger cookies too. This picture shows the sink and lemon Joy because I always play a game when I make cookies: can I do the cookie dishes in the time it takes the cookies to bake? In this case yes: dishes done in thirteen minutes.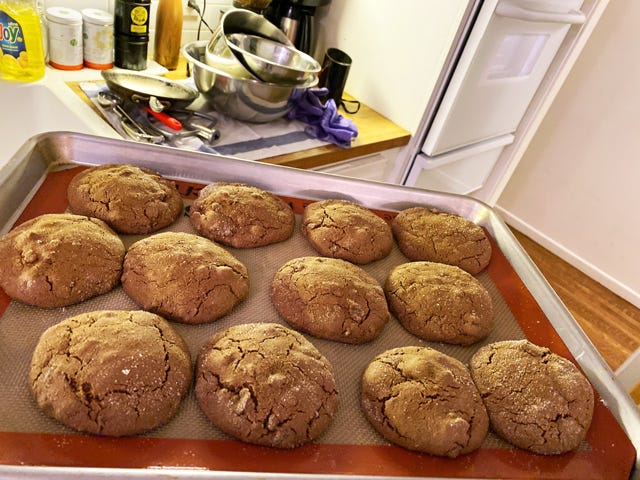 These ginger cookies are the best that I've ever had: they're soft on the inside, chewy on the outside, and heavily flavored with molasses and candied ginger and lots of cinnamon and nutmeg (which I grate myself, unlike Ina!).

Ok, that's all for this week, folks....

Until next time!

Your friend,
Adam (the "please review and link to my podcast" guy)